Nutella Brownies
This post may include affiliate links. As an Amazon Associate I earn from qualifying purchases.
Nutella Brownies that do NOT disappoint! These Nutella Brownies are packed with Nutella and melty chocolate chips, providing each bite with complete satisfaction. These brownies will easily become your new favorite dessert!
If you love brownies be sure to check out my lunch lady brownies and Biscoff brownies!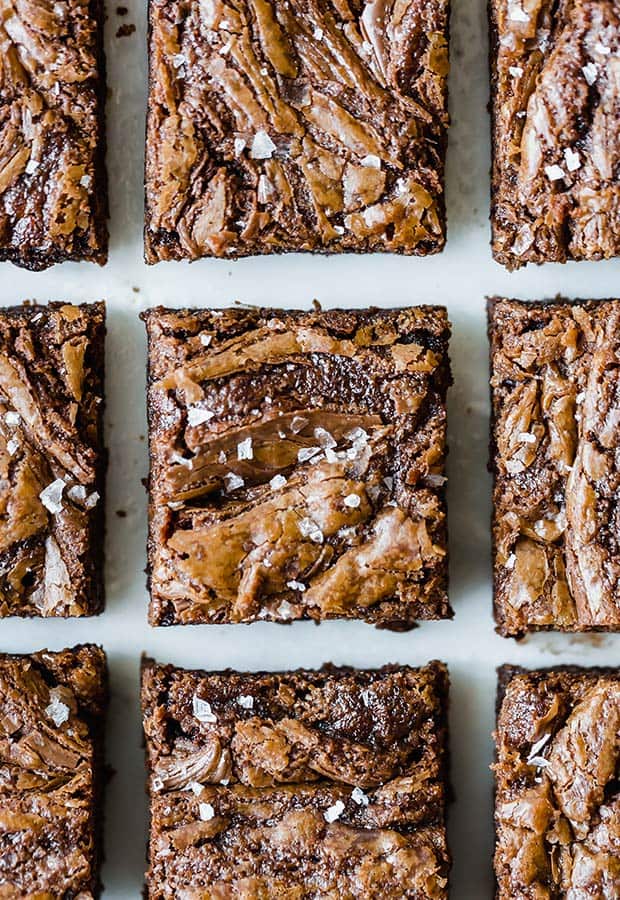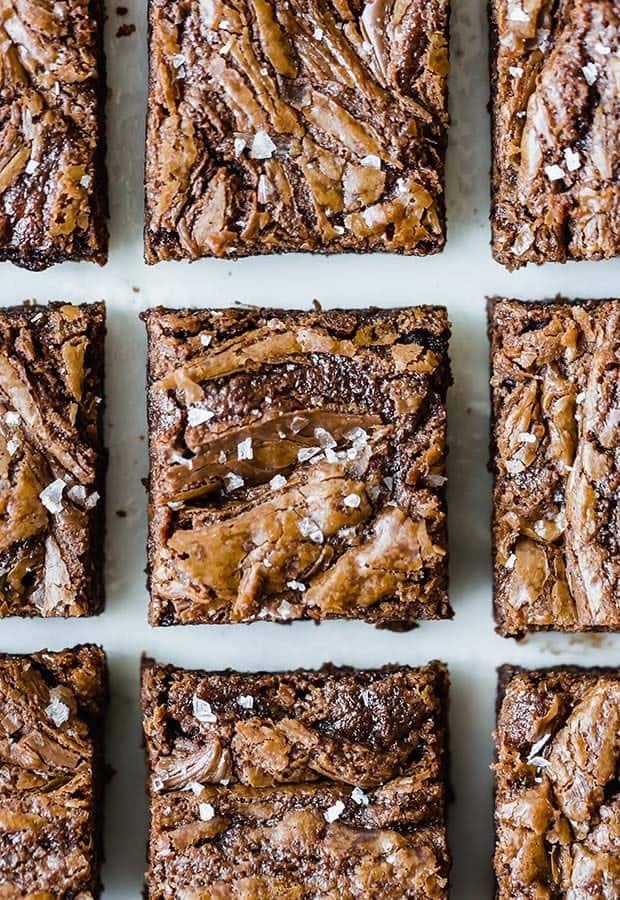 I buy my Nutella at Costco. You should do the same. Why? Because they come in a 2 pack, and each Nutella container is a whopping 33.5 oz! It's perfect.
However, it definitely puts my self control to the test. Having ample amounts of Nutella on hand is not good for the waistline, but it's fiiiiiine!! You have to enjoy the sweet things in life, am I right?
Well, turns out my self control was really good this past Costco-Nutella-purchase go around, because my Nutella was on the verge of expiring! *Gasp!*
So I grabbed my large Nutella jar and decided to make some Nutella Brownies. Such a good decision on my part. Or if you aren't feeling brownies I have Nutella Cookies and Nutella Cheesecake (all delicious options).
But these brownies are dang good! They're soft, thick, chewy, and loaded with Nutella.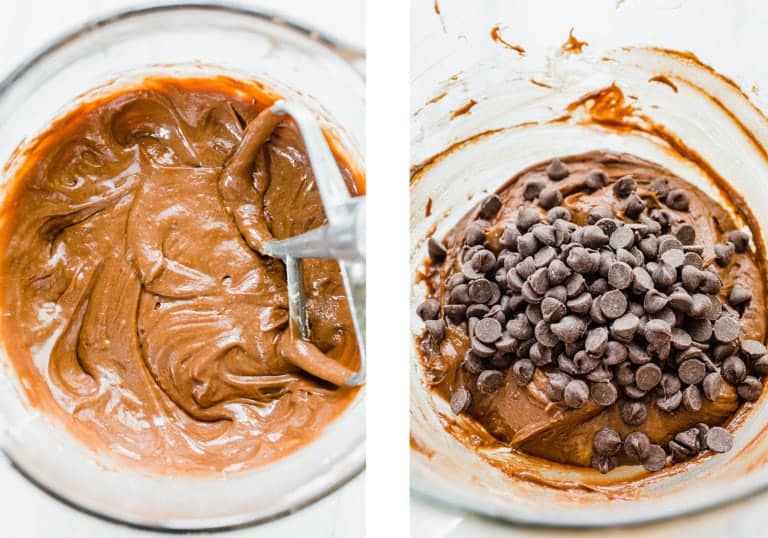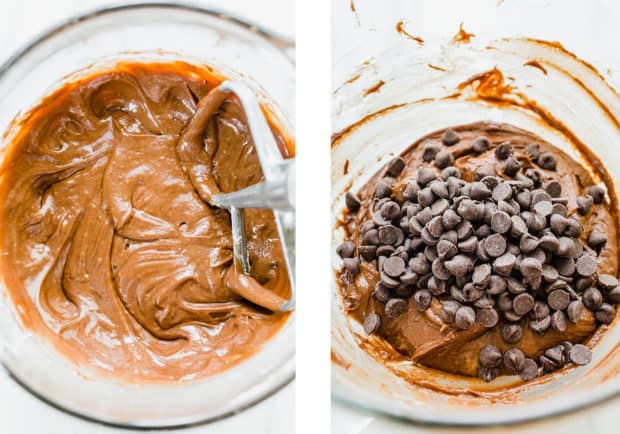 Chances are, you've heard of Nutella before. But I want to go over a few basic questions regarding Nutella and brownies.
What is Nutella?
Nutella is a brand of sweetened cocoa and hazelnut spread.
The main ingredients in Nutella are sugar, palm oil, cocoa powder (derived from the cocoa bean), and hazelnut.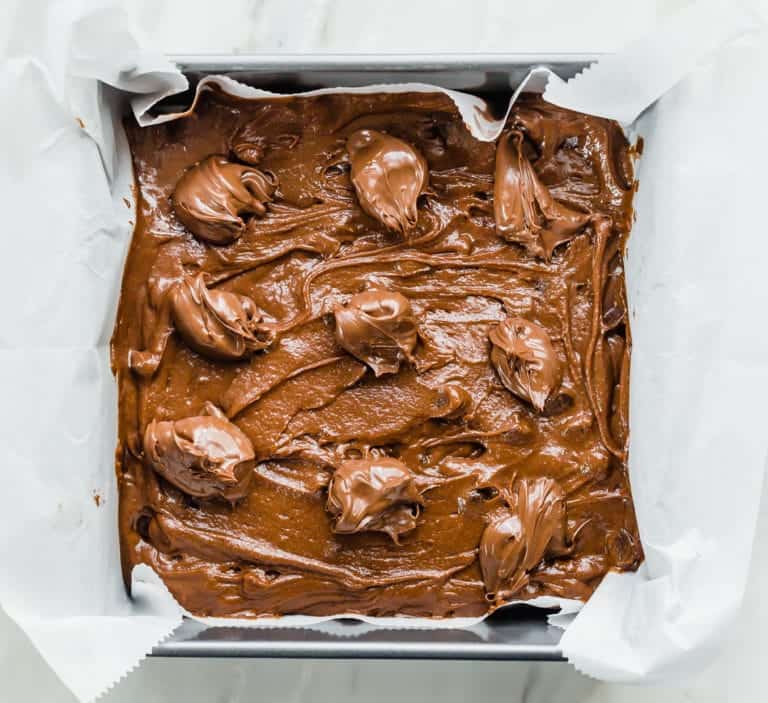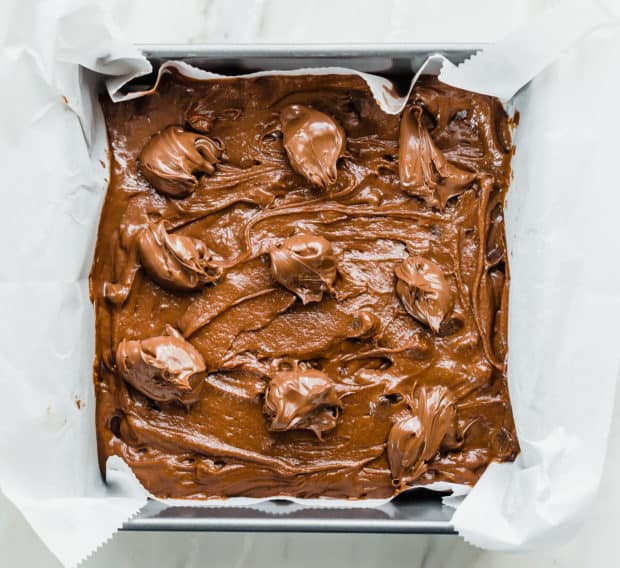 These brownies don't have any added cocoa powder. I've seen some Nutella brownie recipes that claim to be "Nutella Brownies" but really, they just have a little bit of Nutella and a good portion of cocoa powder in them… not working for me. I want all the Nutella!
I also enjoy a good fudgy brownie! I'm going to cover a few questions you might have as you prepare to make this sweet treat.
How to achieve a fudgy brownie
If your goal is a more dense and fudgy brownie, reduce the amount of flour in the recipe.
The general rule is this: the more flour in the recipe, the cakier the brownie.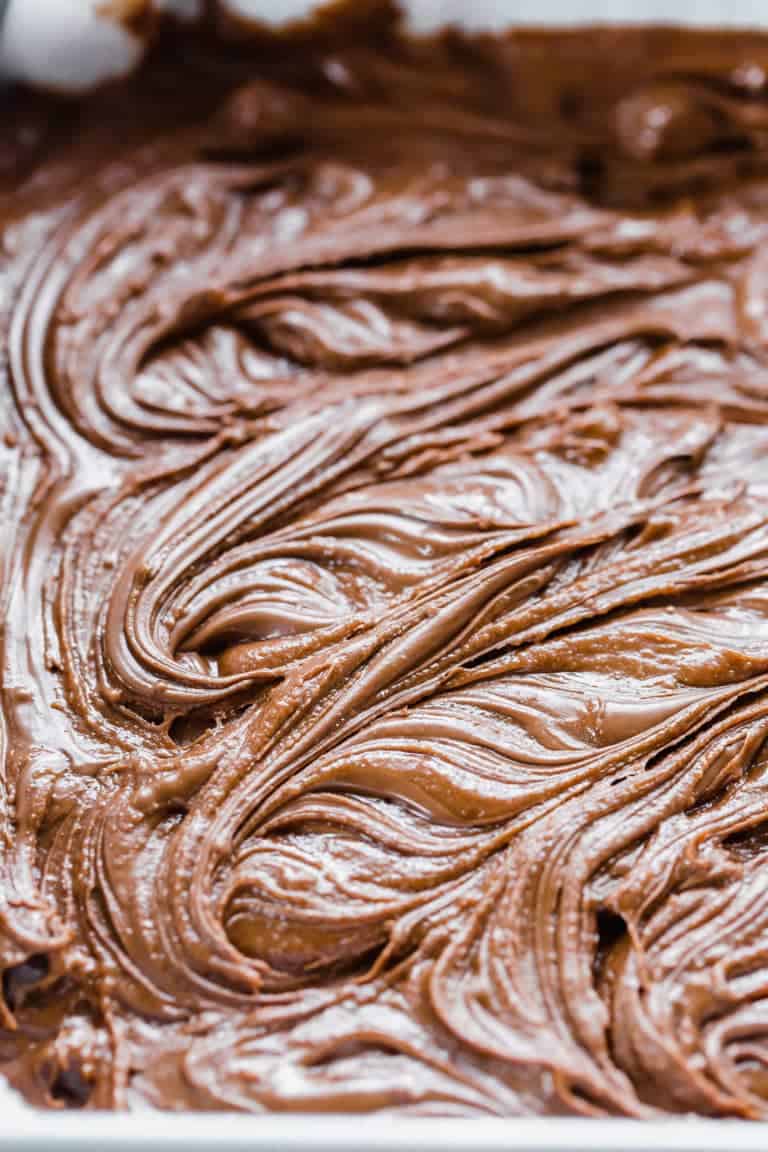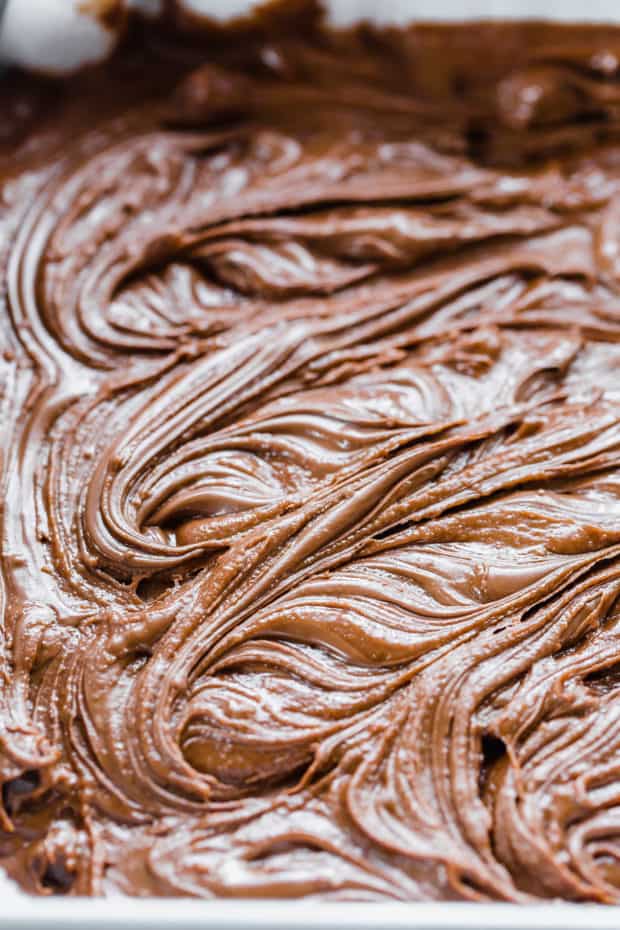 Why you will love these Nutella Brownies
This brownie recipe is a great place to start if you're new to making brownies. Which, let's be honest, I highly doubt this will be your first time making brownies. And if it is, please email me because that is just craziness.
This recipe is easy to follow, requires minimal ingredients, and is delicious.
This isn't a complicated dessert. This is the PERFECT Nutella dessert that will satisfy your sweet tooth AND impress anyone who eats them!
One thing I love about this recipe is that you only need one bowl, making clean up a breeze.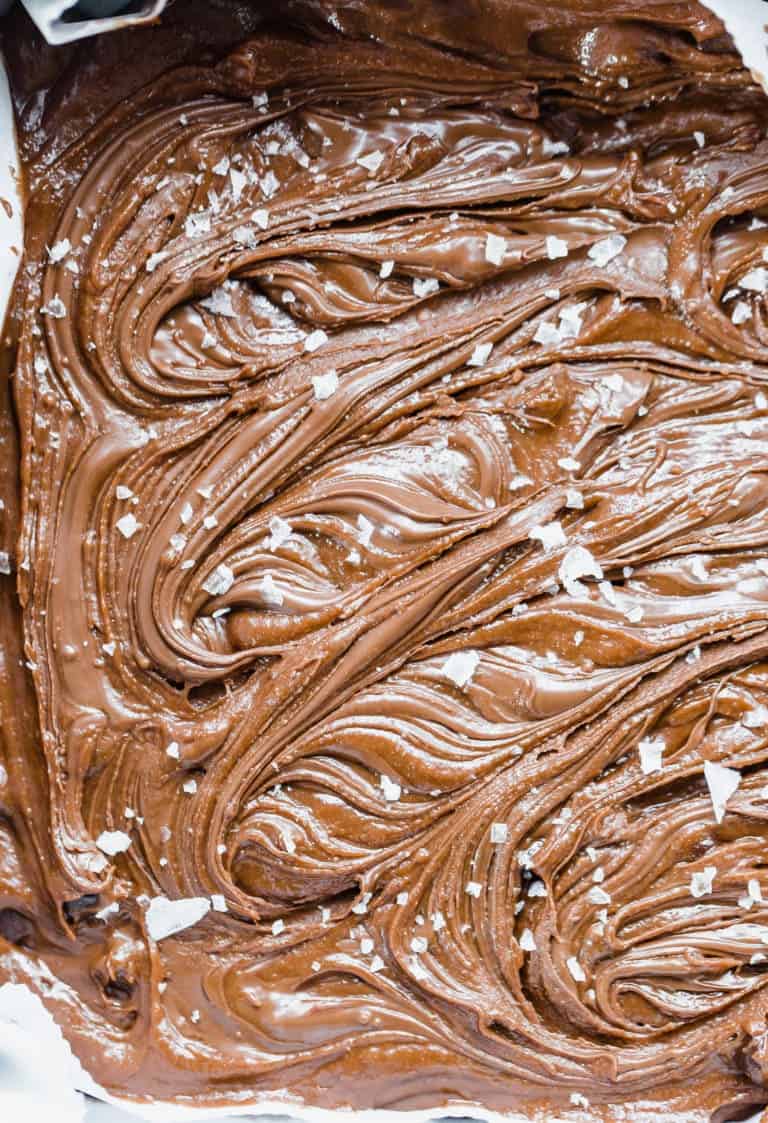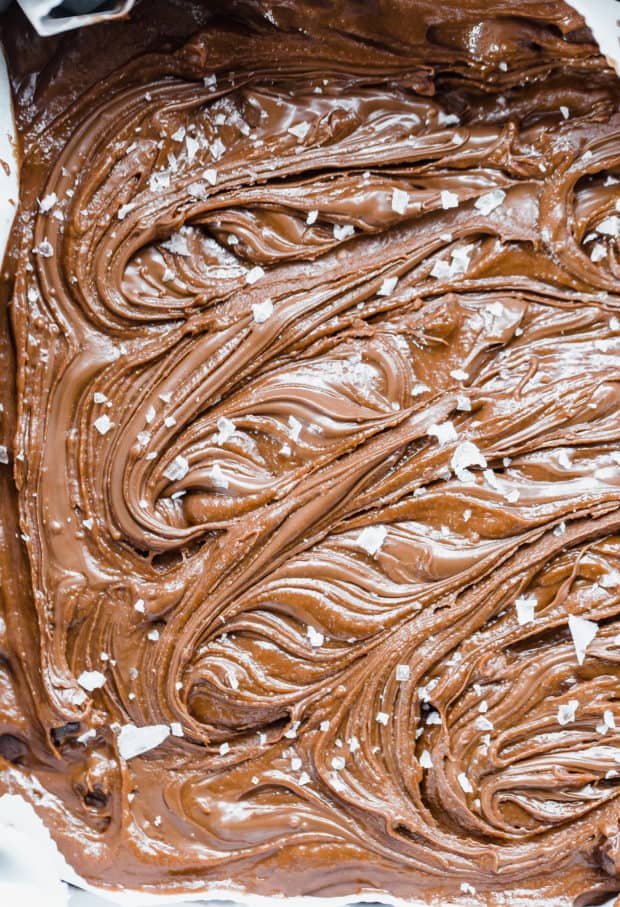 You'll notice in the picture above that I salted these brownies.
Have you ever salted your chocolate chip cookies before? The small addition of the flaky sea salt goes a long way! However, if you're skeptical about the flaky salt, feel free to omit it. But honestly, you should salt them. Just do it! It adds a nice depth to the flavor.
Can you freeze Nutella brownies?
Yes! Just like you can freeze baked scones, cookies, and breads, brownies can be frozen too! Bake the Nutella brownies, cool to room temperature, cover tightly and then freeze for 2-3 months.
When ready to eat, remove from the freezer and thaw in the fridge overnight and then bring to room temperature.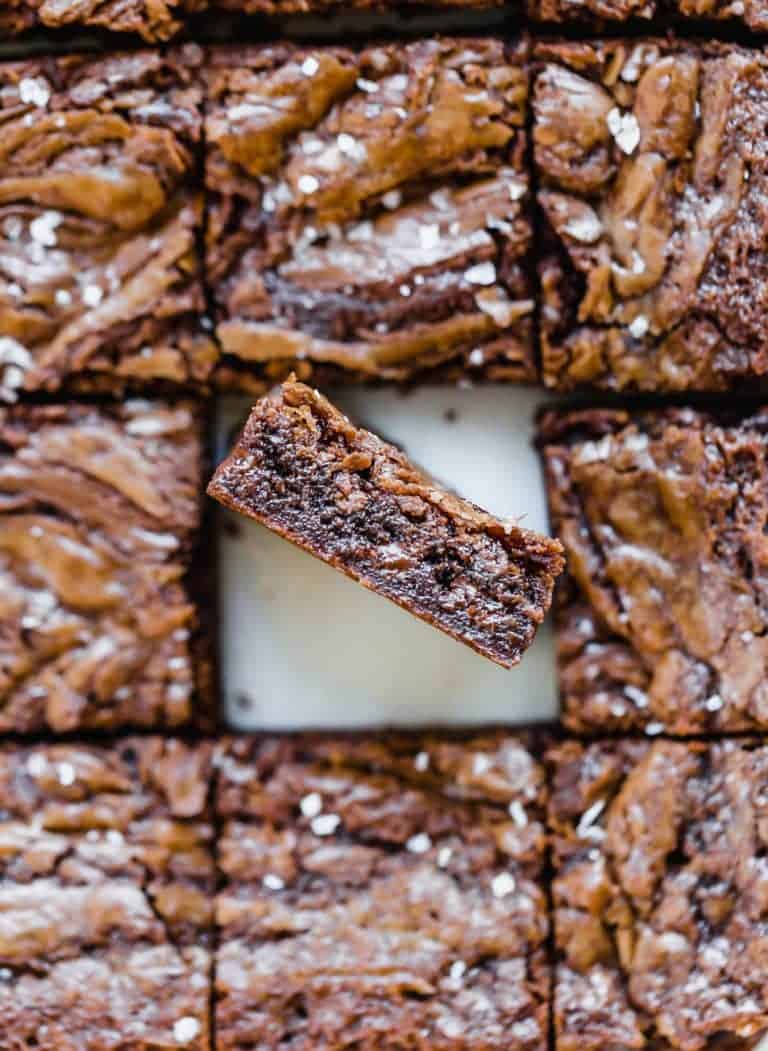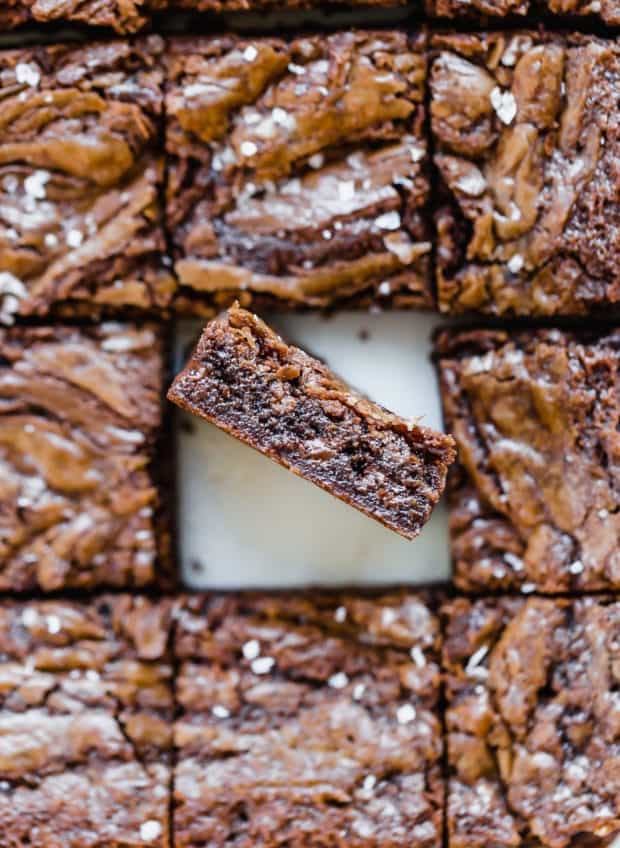 Truthfully, my husband couldn't get enough of these! It's a good thing it only makes an 8″x8″ pan otherwise we'd have been in trouble!
I hope you get a chance to make these mouthwatering Nutella Brownies! If you do be sure to leave a rating and comment on my blog!
Nutella Brownies Tutorial

Looking for more delicious recipes? Check out these 5 star review recipes:
Nutella Brownies
Densely packed Nutella Brownies! Soft, thick, and chewy! These brownies are loaded with Nutella and studded with chocolate chips, they are sure to a new favorite!
Ingredients
1/3

cup

unsalted butter, softened to room temp

1/2 cup + 1 Tablespoon

packed light brown sugar

2

eggs, room temperature

2

teaspoons

vanilla extract

1 1/3

cups

Nutella, divided

1/2

teaspoon

salt

2/3

cup

all-purpose flour

2/3

cup

semi-sweet chocolate chips
Instructions
Preheat the oven to 350°F. Line an 8"x8" pan with parchment paper. Set aside.

In the bowl of a stand mixer fitted with the paddle attachment, (or using hand beaters), cream the butter and sugar on medium-high speed until smooth and creamy, about 2 minutes. Using a rubber spatula, scrape down the sides of the bowl.

Add the eggs and vanilla extract. Beat until combined.

Add in 1 cup of Nutella, and the salt. Mix until smooth and fluffy. Scrape down the sides of the bowl as needed.

Add the flour. Mix until just combined. Do not overmix. Using a rubber spatula, fold in the chocolate chips.

Pour the batter into the prepared baking pan. Drop teaspoonfuls of the remaining 1/3 cup of Nutella along the top. Using a knife, swirl the Nutella into the batter. Top with a sprinkle of flaky sea salt.

Bake the Nutella Brownies for 32-35 minutes. Be careful not to over bake! Keep your eye on them. Test the brownies by using a toothpick to determine doneness. You want the brownies to come out with a couple of moist crumbs on the toothpick.

Remove from the oven and set on a wire rack to cool. When cool, carefully lift the parchment paper (or aluminum foil) out of the pan, and cut into squares. You can store these in an airtight container for up to 3 days.
Notes
*All ovens are different, you may want to check the brownies at the 30 minute mark, just to make sure you don't over bake them. Remember, you only want a few moist crumbs on the toothpick when you test the brownies.
Recipe adapted from: Sally's Baking Addiction, who got it from Cookies and Cups Cookbook 
Did you make this recipe?
snap a photo and tag @saltandbaker in your posts and stories so I can see what you're making!