Magnolia Bakery Banana Pudding
This post may include affiliate links. As an Amazon Associate I earn from qualifying purchases.
This Magnolia Bakery Banana Pudding recipe is the same recipe used in the Magnolia Bakery in New York City! It's layered with Nilla Wafers, sliced bananas, and vanilla pudding.
If you love this banana pudding recipe, then you will go crazy for my Crumbl Banana Cream Pie Cookies! They have the same delicious banana cream pudding topping!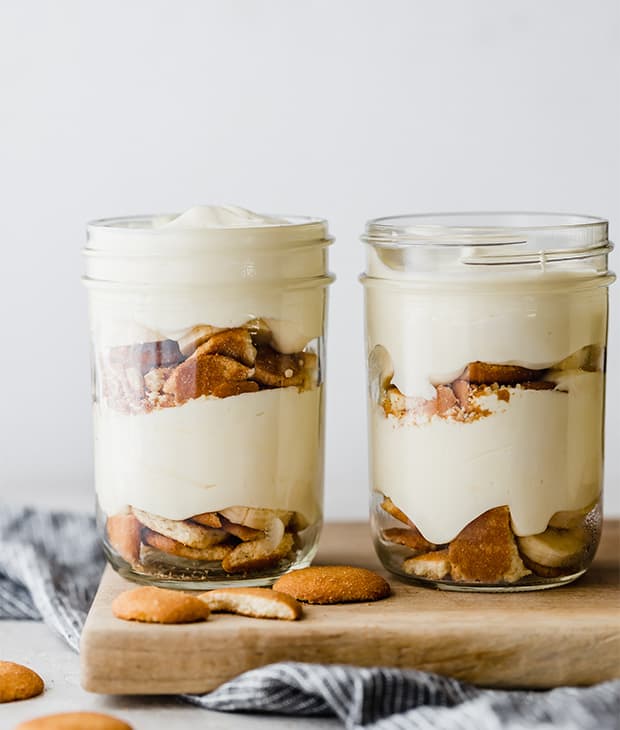 Last year my husband and I traveled to NYC. It was a short trip to celebrate his graduating from medical school.
We ate a lot of delicious food while there; but two places that I'll never forget would be Jacob's Pickles (an incredible and delicious brunch and dinner restaurant), and Magnolia Bakery's banana pudding.
For those of you who haven't had the pleasure of eating the famous Magnolia banana pudding while listening to the busy NYC traffic zoom by, don't fret! You can make it from your own home.
And you SHOULD! It's so good.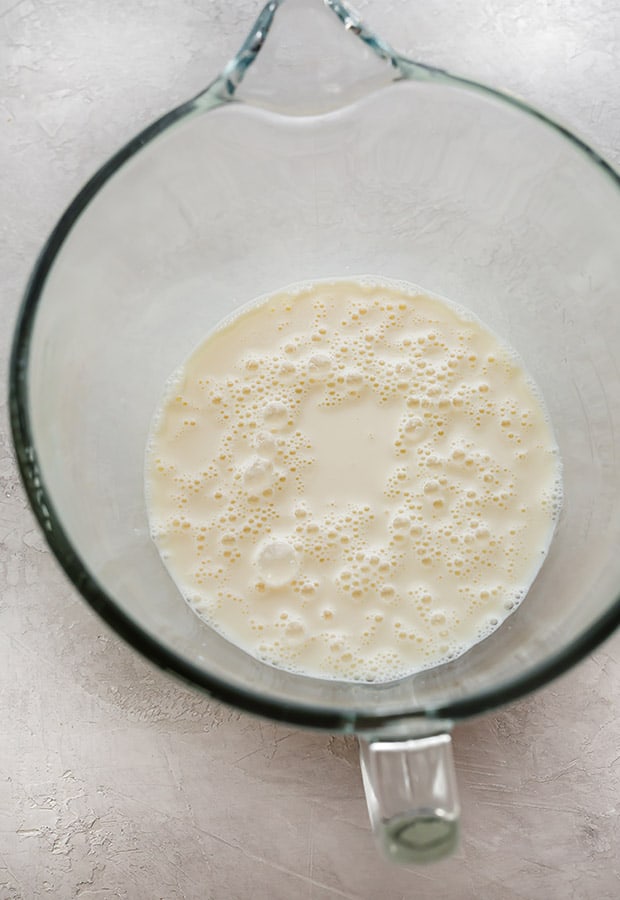 Ingredients
I love that this recipe uses simple ingredients. And the process to make the pudding is so easy. We'll go over how to make it in just a moment.
1 (14 oz) can of sweetened condensed milk
cold water
Instant vanilla pudding mix
heavy whipping cream
1 box of Nilla Wafers
5 bananas (or more if you're a banana lover)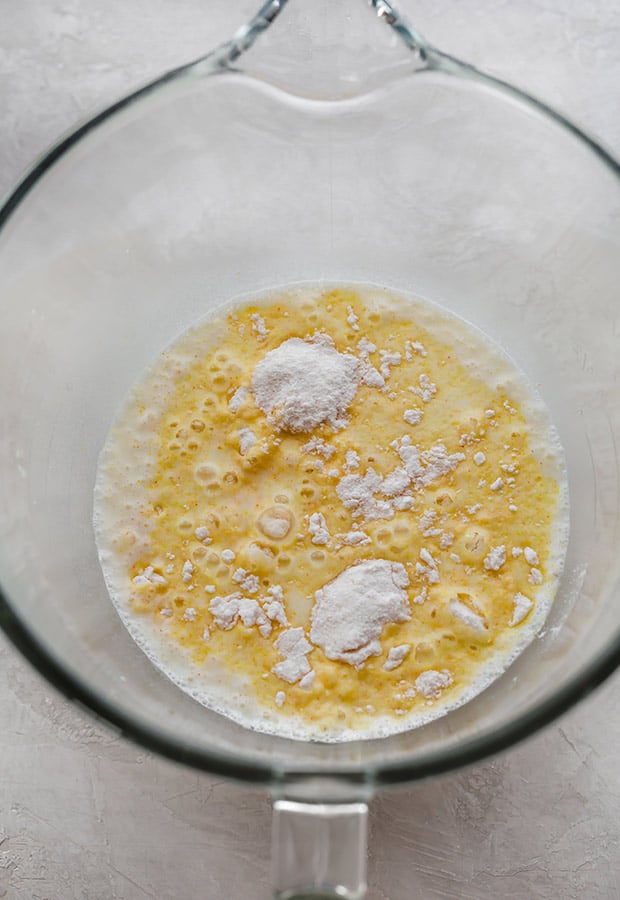 How to make Magnolia Bakery Banana Pudding
Make the vanilla pudding
This recipe is really easy and straight forward.
To begin, add the cold water and sweetened condensed milk to the bowl of a stand mixer (fitted with the whisk attachment). Mix until combined.
Next, add the instant vanilla pudding mix to the water and condensed milk mixture.
Mix on medium speed for 2 minutes.
Now you're going to transfer this mixture to a different bowl and cover. Place it in the fridge for 3-4 hours, or overnight.
Once chilled, it will be firm, as illustrated in the photo above.
Make the freshly whipped cream
Tip #1: Use cold heavy cream.
Tip #2: If it's a hot day, you can chill the metal bowl and whisk to keep the heavy cream cold.
To start, add the heavy cream to the bowl of your stand mixer (fitted with the whisk attachment). Turn the mixer to medium speed. The heavy cream will bubble and get frothy.
Once the cream thickens slightly, turn the speed to medium-high and mix until still billowy peaks.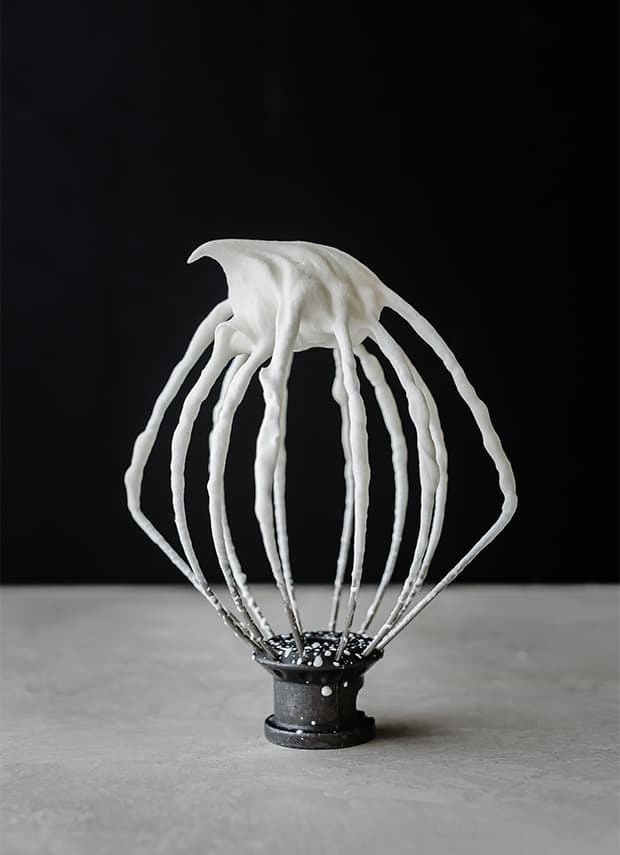 Combine the pudding and whipped cream
Scoop half of the firm pudding mixture to the freshly whipped cream.
Fold the pudding into the cream.
Once combined, add the remaining pudding and fold again, being careful to not completely deflate the whipped cream.
Now we layer!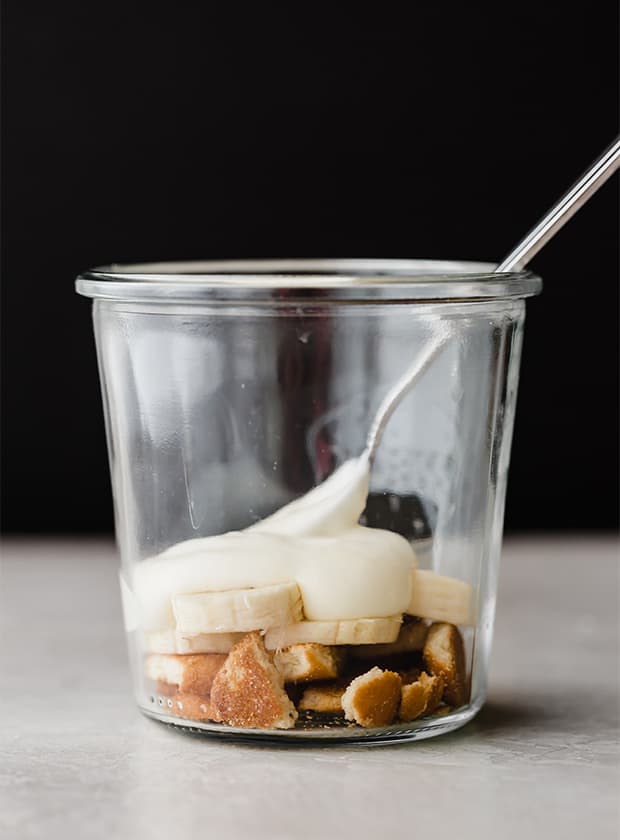 Assembling the Magnolia Bakery Banana Pudding
You can use whatever size of containers you'd like. You can divide everything into 12 smaller sized jars, or 1 large trifle dish.
To the bottom of the jars (or whatever dish you choose) add a layer of Nilla Wafers.
Next top with a layer of sliced bananas and then add a layer of vanilla pudding.
Do another layer!
And depending on the size of dish you chose, you can do a third layer.
Refrigerate the pudding for 1-6 hours. The Nilla Wafers will slightly break down and become cake-like. It's glorious!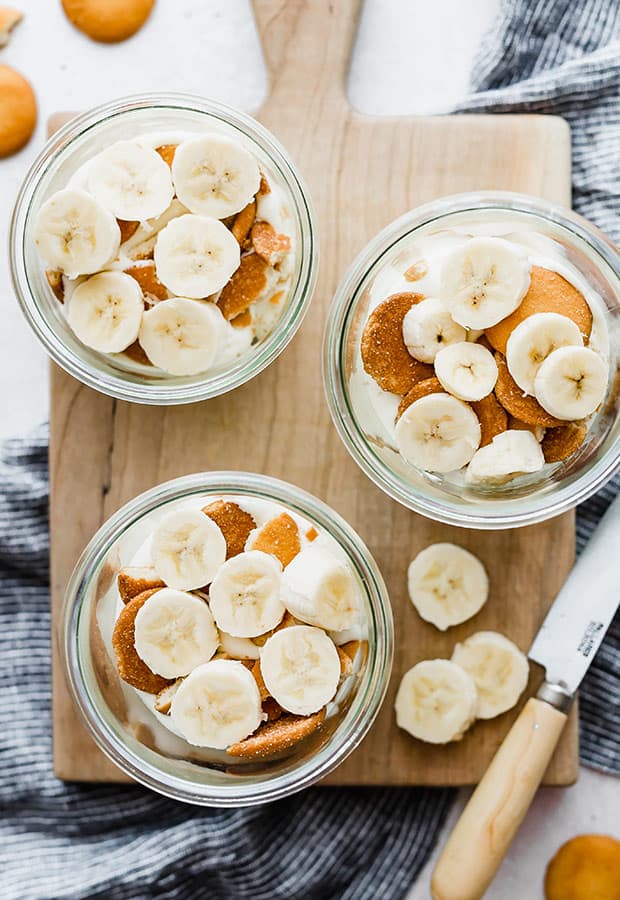 Recipe Tips
Use Nilla Wafer brand. There are certain times in life you should buy "name brand," this is one of those times. The Nilla Wafer brand tastes better and they'll softened beautifully. Some off-brands don't behave this way and will stay firm in the pudding. You don't want that, trust me.
FAQs
Can you use cook pudding mix to make Magnolia's Banana Pudding recipe?
Unfortunately, no. You need to use the instant vanilla pudding mix.
Can you freeze Magnolia Bakery Banana Pudding?
No. If you freeze it, you'll end up with soggy wafers and black bananas.
Can you refrigerate the banana pudding overnight?
Yes! It'll stay overnight perfectly. In fact, my husband thinks it tastes better the next day.
Can you use Cool Whip in place of the homemade whipped cream?
You can. However, I have't tried it for this recipe. Personally, the homemade whipped cream is best suited for this sweet treat.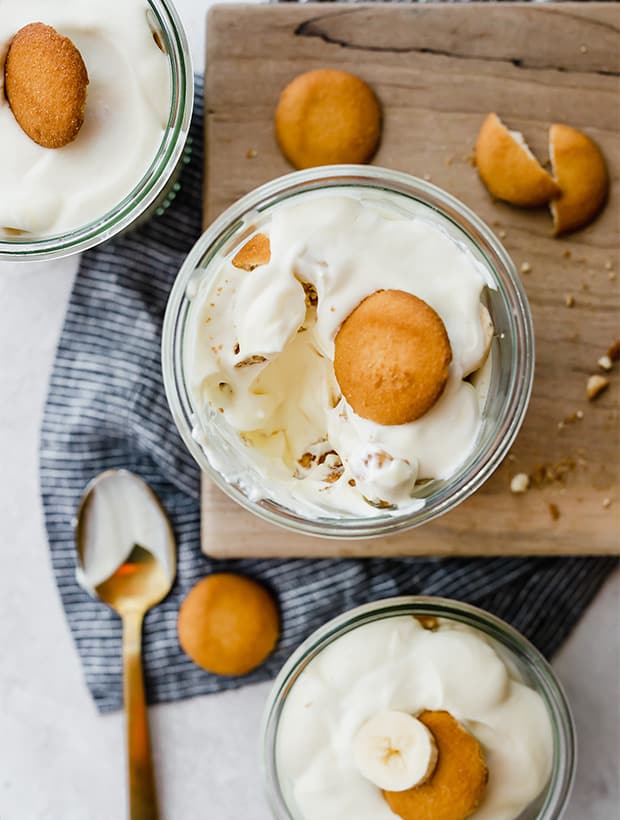 If you love this recipe try:
Magnolia Bakery Banana Pudding
This banana pudding is straight up irresistible! It's layered with Nilla wafers, sliced bananas, and fluffy vanilla pudding.
Ingredients
1

14 oz

can sweetened condensed milk

1 1/2

cups

cold water

1

3.4 oz

box instant vanilla pudding mix

3

cups

heavy whipping cream

-

cold

1

box

Nilla Wafers

-

broken into large chunks

5

medium bananas
Instructions
In the bowl of a stand mixer fitted with the whisk attachment mix the sweetened condensed milk and cold water until combined. Add the pudding mix and mix on medium speed for 2 minutes. Transfer the mixture to a bowl, cover, and refrigerate for 3-4 hours or overnight.

Remove pudding mixture from the fridge, it should be cold and firm

In the bowl of your stand mixer (with whisk attachment) or with hand beaters, beat the whipping cream until stiff peaks form.


Using a rubber spatula, fold half of the pudding mixture into the whipped cream. Once almost combined, add the remaining pudding mixture and fold until combined.


To your serving dish (you can use a trifle, or individual glass jars) add a handful of the Nilla wafer chunks to the bottom of the dish, then top with sliced bananas, and then a layer of pudding. Repeat with cookies, bananas, and pudding. Depending on the dish you're using you can do another layer of cookies, bananas, pudding.


Chill desserts for 1 hour or up to 6 hours.


Serve cold.

Did you make this recipe?
Leave a star rating and review on the blog post letting me know how you liked this recipe! Take a picture and tag @saltandbaker on Instagram and Facebook so I can see what you're making!