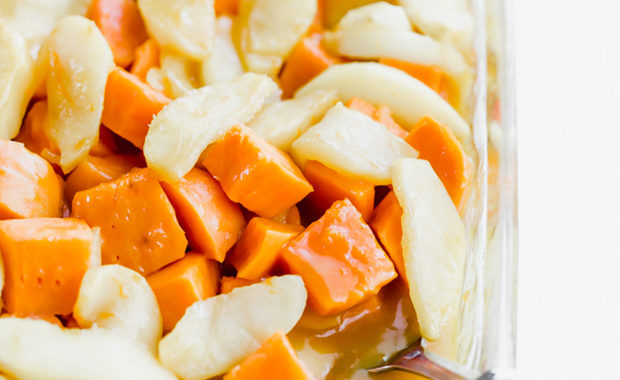 T
Today we're taking Candied Yams to a whole new level! These Candied Yams with apples are a traditional, yet unique, Thanksgiving side dish. These yams are topped with sliced apples and are bathed in a delicious apple and orange sauce.
The internet is swarming with Thanksgiving candied yams recipes. There's yams with marshmallows on top (my husbands favorite), yams with brown sugar and toasted pecans (one of my favorites). But I've yet to see a yams recipe that incorporates fresh apples.
This yams recipe is my mothers. She has made this dish for Thanksgiving every year for 20+ years. When I reminisce about Thanksgiving I rarely think about the turkey we ate or the mashed potatoes that were served. For me, Thanksgiving is all about the candied yams with fresh apples. I hold this recipe dear to my heart because it's associated with so many holiday memories.
Plus it tastes SO good! Like, soooo good!
I love that this is a unique candied yams recipe. The flavors are bright but not overwhelming.
I know you're gonna love it!