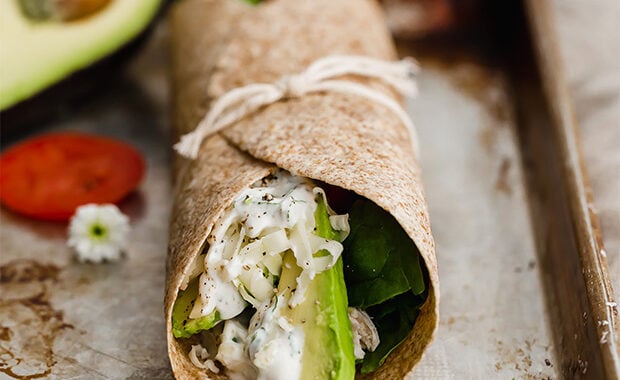 I
I received a lot of requests for healthier recipes on Salt & Baker. I heard you, so here you go! These healthy chicken wraps are loaded with spinach, chicken (of course), avocado, tomatoes, pepper jack cheese. To top it off we add a cilantro lime greek yogurt sauce. YUM! Healthy and delicious (just how I like it). 
Eating healthy can be a struggle. We don't want to eat healthy at the sacrifice of flavor and taste. Gosh, if we did that healthy eating habits would never last! When I eat something I want it to be DANG good!
So here's a great chicken wrap recipe that tastes good. It's one you can make for lunch or dinner. But seriously, it's perfect to take to work if you wanted.
It's a wrap so you can eat it cold, but sometimes I like to warm up the chicken so that the cheese gets a bit melty. Or another alternative would be to heat a skillet over medium heat and place the wrap on the skillet for 1-2 minutes per side. This will crisp up the tortilla and warm up the cheese on the inside. Not necessary but good!
I can't resist melty gooey cheese! It's a problem.
Back to the wraps, you're going to love them! They take 5 minutes to assemble and 3-4 minutes to make the greek yogurt sauce, so a total of 9 minutes max. Not bad if you ask me! PLUS this wrap has a lot of protein which means you'll stay feeling full for longer. 🙌🏼
Ingredients needed for chicken wraps Wheat tortillas Rotisserie chicken – I buy the one from Costco (makes my life so much easier). Spinach Avocado – I LOVE avocado so I usually go a bit overboard with this fruit. Tomato – also love tomatoes, so I add extras on mine as well. Pepper Jack Cheese – you can use mozzarella cheese or a Mexican blend cheese as well. Ingredients needed for Cilantro Lime Sauce Cilantro – freshly chopped. Greek yogurt – plain! Lime juice – about 1 lime will do that trick. Cumin – adds a bit of Mexican flare. Salt & pepper for seasoning.
To make the sauce, whisk all of the ingredients together in a bowl. Store leftovers in the refrigerator.