Olive Garden Zuppa Toscana Soup
This post may include affiliate links. As an Amazon Associate I earn from qualifying purchases.
Olive Garden Zuppa Toscana Soup has hearty potatoes, sausage, and bacon for great flavor and a creamy broth base, with fresh kale to keep things healthy and light! This heartwarming soup is one of my all-time favorites.
Give me all the cozy soup recipes during the winter months! Even if you don't live in a chilly climate during the winter, there is something so satisfying about a warm soup! Take my Sausage Tortellini Soup and Zupas Tomato Basil Soup recipes for example! Each have amazing flavor. Which will you try first?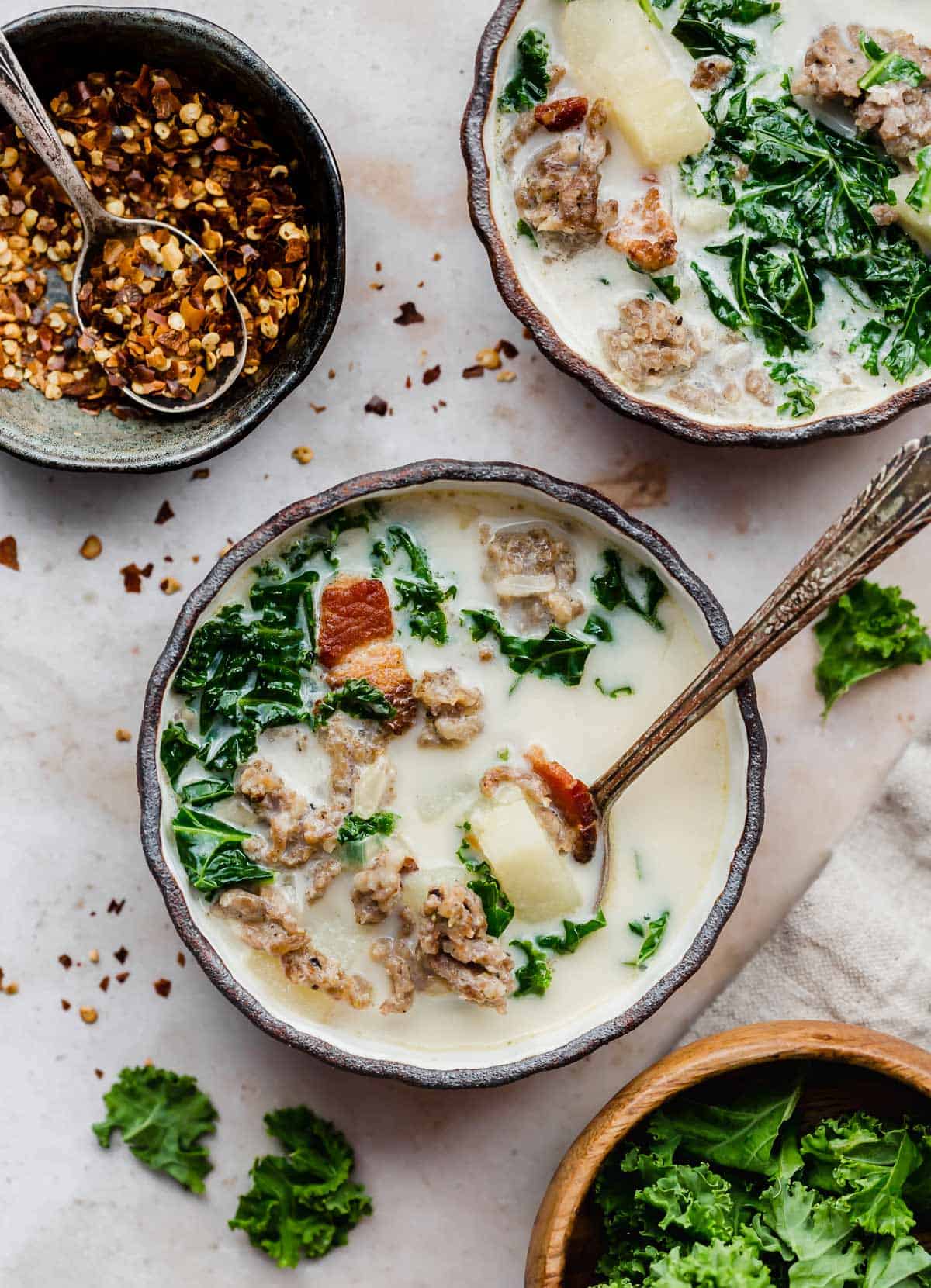 Why This Recipe Works
Light, but filling. Now, this Zuppa Toscana recipe is beautiful and light because of the creamy yet thin broth, but it's also a hearty soup because of the potatoes and meat. It strikes a perfect balance on all notes.
Better than Olive Garden! Instead of getting one serving of soup at the restaurant, make a whole pot at home! These restaurant version can't beat this homemade soup. 
One pot soup recipe. All you need is a large pot for this tuscan soup recipe! 
Ingredient Notes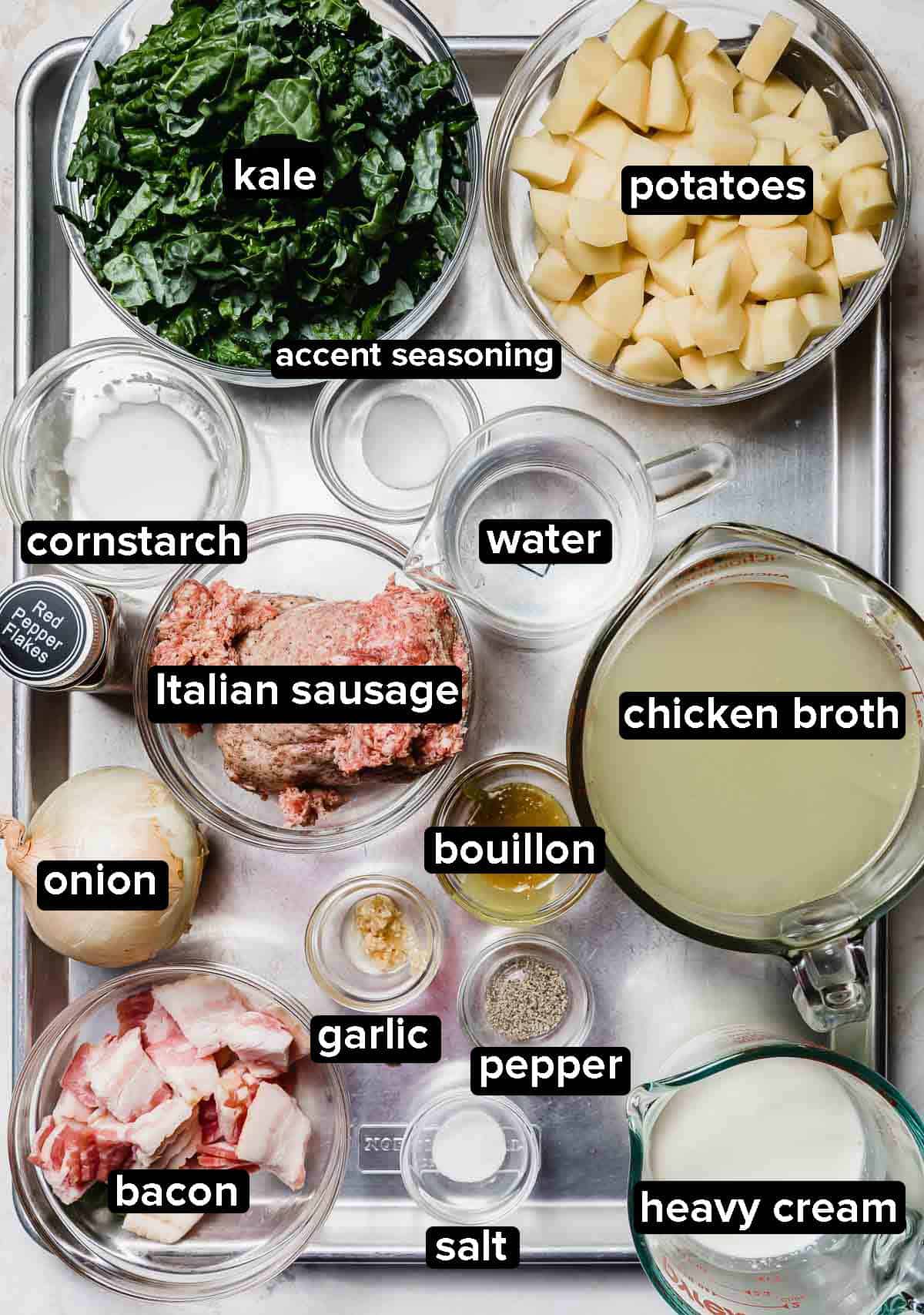 Thick Bacon: You'll want to use bacon that you need to cook instead of pre cooked bacon so that you have bacon grease to cook the sausage in — trust me, this is the best! 
Italian Sausage: You know I LOVE a good recipe with sausage! It adds the perfect flavor to this easy Olive Garden Zuppa Toscana soup! If you use regular sausage, I would add 1 tsp of Italian seasoning. I used mild sausage for my kiddos, but you can use hot sausage if you can take the heat! 
Potatoes: I used large russet potatoes, but you can also use Yukon gold if you'd like. 
Chicken Broth: Using chicken broth in soups in the way to go! It adds much more flavor. 
Cornstarch: The cornstarch will help to thicken the soup a bit. Always make a cornstarch slurry! Never add dry cornstarch directly to your soup or it will just go clumpy.
Fresh Kale: Be sure to wash and de-vein the kale (remove the big stalks) then chop.
Heavy Cream: The heavy whipping cream will add a nice creamy color and texture to the copycat Zuppa Toscana soup recipe. 
Step-by-Step Instructions
Cook the bacon. Add 5 slices of thick bacon to the a large soup pot. Cook until crispy, then use a slotted spoon to move the bacon to a plate lined with paper towels. 
Cook the sausage and onion. Leaving the bacon grease in the pan, add 1 lb Italian sausage and the diced onion. Break up the sausage as it cooks. Once fully cooked, drain any excess grease.
Add potatoes, broth, and seasonings. Add 2 minced garlic coves, 1/2 tsp salt, and 1/2 tsp pepper to the cooked sausage. Stir to combine. Then add the chopped potatoes, 6 cups chicken broth, 2 cups water, and 1 tsp chicken bouillon. Stir to combine. 
Cook the potatoes. Cook the Zuppa Toscana for 10-15 minutes on medium heat (potatoes will be almost fork tender). 
Make a cornstarch slurry. Add 2 1/2 tsp cornstarch and 1 tsp water to a small bowl. Stir until combined. Add the cornstarch slurry to the soup pot.
Add the bacon, kale and heavy cream. Chop the crispy bacon and add it to the pot. Add 3 cups chopped kale and 1 cup heavy cream. Stir to combine. Cook for 2-3 minutes or until the you have tender potatoes and cooked kale. Serve in soup bowls or bread bowls. Enjoy!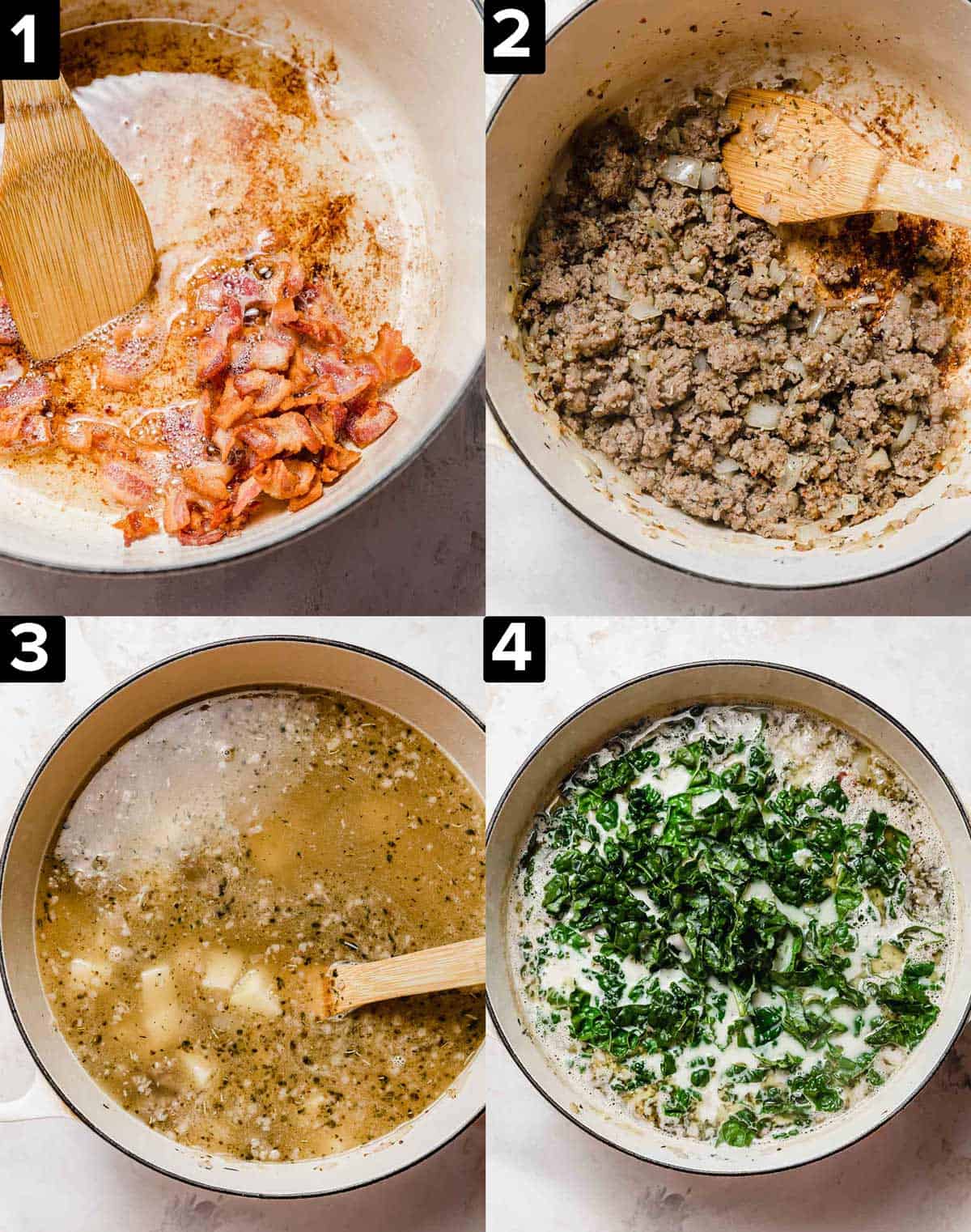 Recipe Tips
Don't drain the bacon grease (if any), you'll brown the sausage in it. Doing this adds AMAZING flavor to the dish!
You can replace the mild Italian sausage with hot Italian sausage if you'd like. If you choose to go this route, I would omit the red pepper flakes, otherwise you'd have a really hot and spicy Zuppa Toscana!
The heavy cream makes this creamy soup ultra delicious! But if you'd like it to be even lighter (trust, me it isn't that thick of a liquid because of the 8 cups of broth/water) you can use milk instead of cream.
This Olive Garden soup recipe is gluten free, but does contain dairy. For a dairy substitute, you can use coconut cream or the solid white cream at the top of a can of coconut milk. This will provide the creamy look and texture, minus the dairy — it will give a subtle coconut flavor too so keep that in mind.
Make Ahead, Storing, and Freezing
Make this Olive Garden Zuppa Toscana recipe easy by making elements ahead of time. You can cook the bacon and sausage/onions in advance and store that in an airtight container in the fridge. Then finish the soup later or on the next day.
Store any leftovers in an airtight container in the fridge for up to 7 days.
While you can technically freeze this Olive Garden Zuppa Toscana soup, I don't freeze it, for a few reasons: First, when potatoes in soup are frozen, they tend to go ultra mushy. Second, the kale may be discolored from freezing.
If you choose to freeze this Zuppa Toscana recipe, I would store in a freezer safe, airtight container for up to 3 weeks. Thaw in the fridge overnight.
Recipe FAQs
What's zuppa toscana?
Zuppa Toscana means "tuscan soup" in Italian. Zuppa is the word for soup and Toscana is the word for Tuscan! The soup is made famous by Olive Garden's Zuppa Toscana soup. It's a broth and cream based soup made with potatoes, sausage, bacon and kale. 
Can zuppa toscana be frozen?
Yes! However, it won't freeze for long. I would eat it within 3 weeks of freezing. And note, the kale might brown and the potatoes may appear a bit off color after you thaw and reheat the soup. Another thing to keep in mind is that once you freeze a soup that has potatoes in it, the potatoes will have a different texture, almost mush-like. So while yes this is freezer-friendly, I recommend you eat it over a few days time or share leftovers with a friend.
Can you make Zuppa Toscana with spinach?
Yes you can. The recipe traditionally calls for kale, but if you only have spinach, you can use that instead. 
Is this soup thick?
No, it's actually a very brothy soup. There are 8 cups of broth/water and just 1 cup of heavy cream. It doesn't make it that thick. Adding the cornstarch slurry helps to make it a tad thicker, but the nature of the soup is to be a broth base. If you want it thicker, you can add more cornstarch slurry replace the 2 cups of water with 2 cups heavy cream (bringing it to 3 cups heavy cream).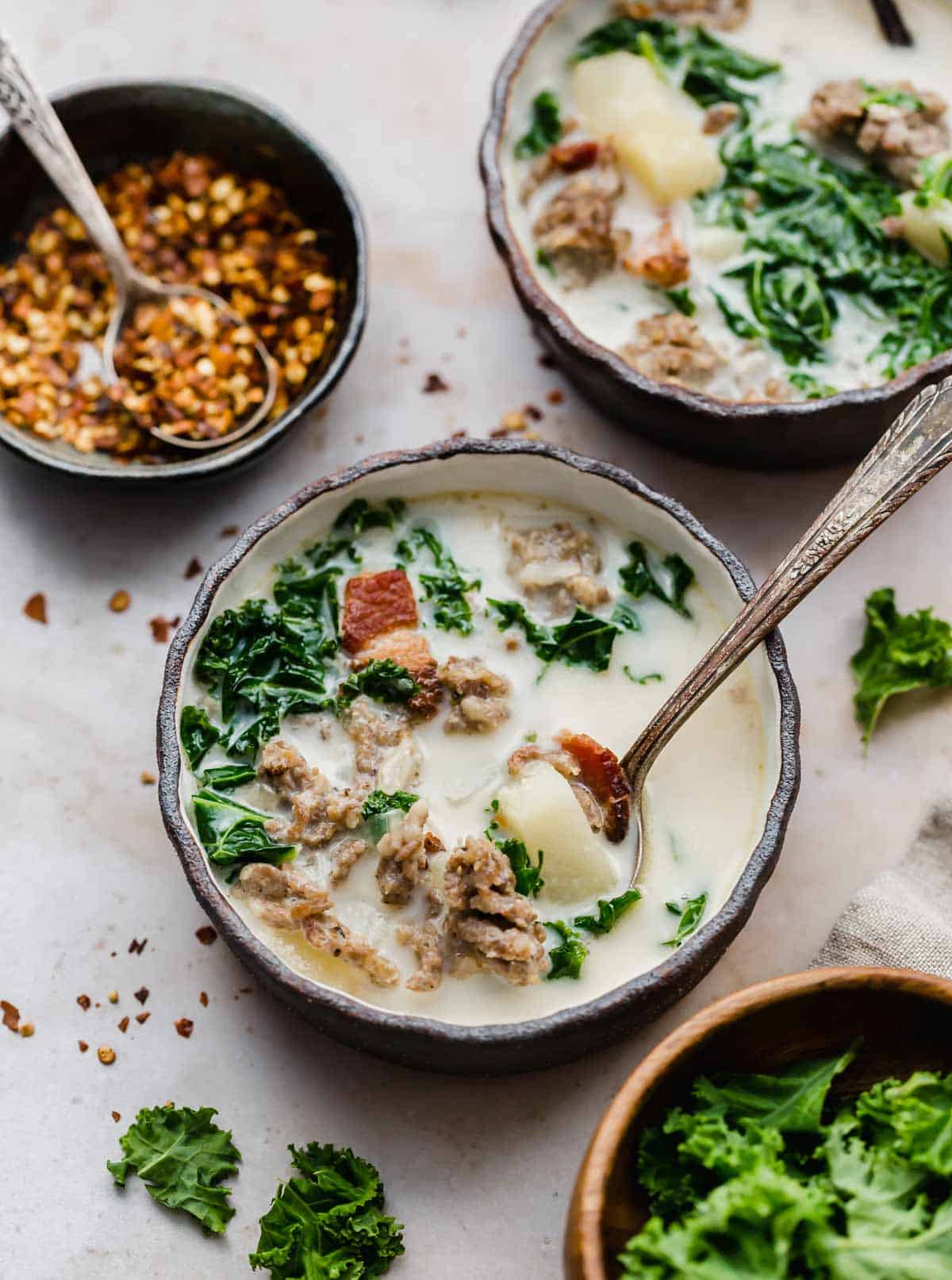 Olive Garden Zuppa Toscana Soup
This soup has a lot of my favorite flavors and ingredients: italian sausage, BACON, kale, red pepper flakes, and potatoes. This soup is the perfect soup to eat all year round.
Ingredients
5

slices

thick bacon

-

chopped

1

lb

iltalian sausage

-

casings removed

1

sweet onion

-

chopped

1/2

teaspoon

crushed red pepper flakes

2

garlic cloves

-

minced

1/2

teaspoon

salt

-

see note 1

1/2

teaspoon

pepper

1

teaspoon

accent seasoning

3

russet potatoes

-

washed, peeled and chopped into 1/2"-1" pieces

6

cups

chicken broth

2

cups

water

1

teaspoon

chicken bouillon

2 1/2

teaspoons

cornstarch mixed with 1 tsp water to make a paste

3

cups

packed kale

-

veins removed and chopped into thin strips

1

cup

heavy cream
Instructions
In the bottom of your soup pan add the bacon. Cook until crisp. Use a slotted spoon to transfer the bacon to a paper towel lined plate. To the bacon grease add the sausage, onion, and red pepper flakes. Brown the sausage by cooking over medium heat breaking up the sausage with a wooden spoon as you go.

Cook until the sausage is brown and no longer pink, the onions should be translucent as well. If there's excess grease in the pan, drain and discard before proceeding.

Add the garlic, salt, pepper, and accent seasoning. Cook for 1 minute more. 

Add the potatoes, chicken broth, water, and chicken bouillon to the pot. 

Cook on medium heat for 10-15 minutes or until potatoes are almost fork tender. Add the cornstarch slurry to the pot and simmer for 10 minutes. 

Add the chopped bacon, kale, and heavy cream. Cook for 2-3 minutes or until kale has wilted slightly. Serve warm!
Notes
If you're watching your salt intake, omit the salt in this recipe. 
Use bacon you need to cook instead of precooked bacon. This is because we'll cook the sausage in the leftover bacon grease. This amps up the flavor! 
Did you make this recipe?
Leave a star rating and review on the blog post letting me know how you liked this recipe! Take a picture and tag @saltandbaker on Instagram and Facebook so I can see what you're making!