Crock Pot Grape Jelly Meatballs
This post may include affiliate links. As an Amazon Associate I earn from qualifying purchases.
Crock Pot Grape Jelly Meatballs is a 3-ingredient recipe using frozen meatballs, chili sauce, and grape jelly. Add a slow cooker and you have the easiest appetizer recipe! 
This grape jelly meatball recipe is the perfect appetizer! It's a family favorite recipe for brunches, game day, and holiday parties along with some of our other delicious appetizer recipes like our Layered Taco Dip and Pizza Rolls.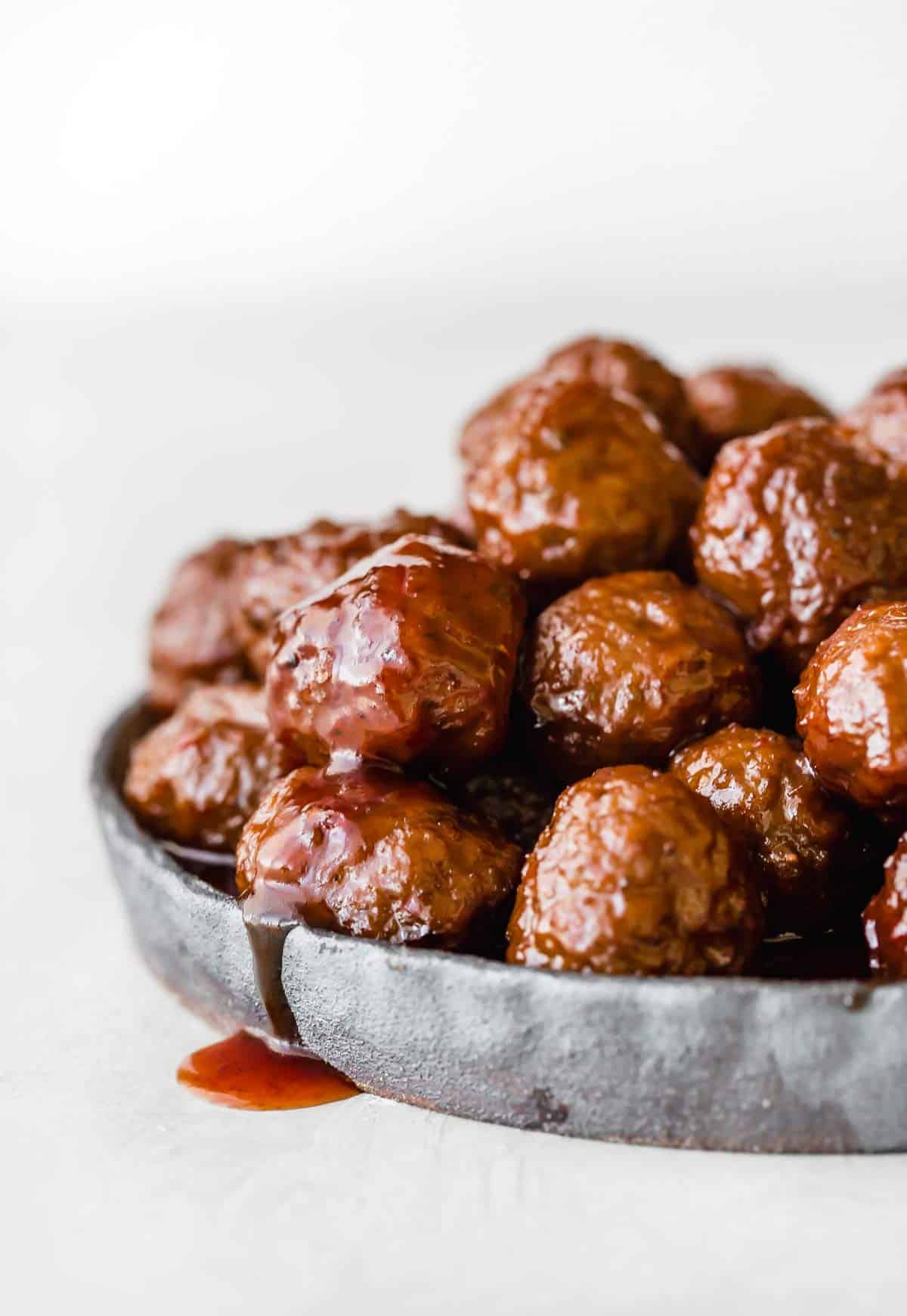 Why This Recipe Works
Amazing grape jelly sauce. The meatball and sauce combo is incredibly flavorful; sweet and savory!
3 ingredient easy recipe. You only need frozen meatballs, grape jelly and chili sauce! And it takes all of 4 minutes of prep time!
Easy slow cooker recipe. You set it, and forget it. Simply place the ingredients in your slow cooker and you're done. Not only are they dangerously DELICIOUS, they're made in the crock pot AND you need only 4 ingredients! Have I sold you yet?!
Ingredient Notes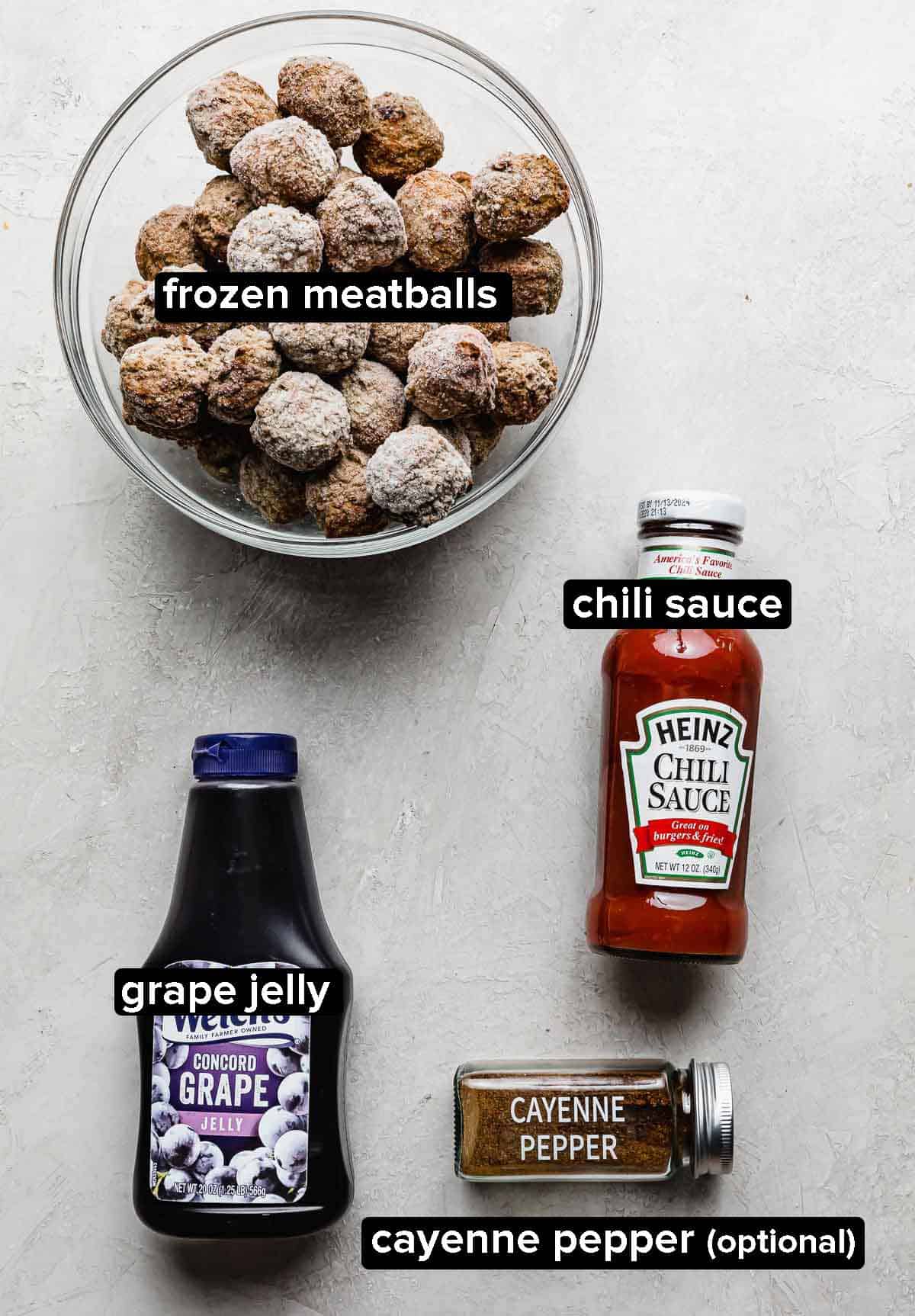 Frozen (Fully Cooked) Meatballs: I love the Italian style frozen meatballs from Costco! That's what I use but feel free to use whatever brand or type you love or have available at your local grocery store. Just be sure to use fully cooked meatballs. 
Grape Jelly: Don't worry if it's lumpy! Jelly usually is. Just try and combine is with the chili sauce as best as you can. 
Chili Sauce: Worried about the spice of these chili sauce meatballs? Don't! The chili sauce isn't that spicy at all. Paired with the grape jelly, it's a really sweet chili sauce flavor that has the perfect balance of sweet and savory. I use the Heinz chili sauce.
Step-by-Step Instructions
Add ingredients to a crock pot. Add the grape jelly, chili sauce, and cayenne pepper (optional) to the bottom of a slow cooker. Whisk to combine. Add about 50 meatballs and stir to coat the meatballs in the sauce. 
Cook. Cook the grape jelly meatballs on low for 5-6 hours or high for 2-3 hours.
Serve! Serve as an appetizer, for game day food, or make it a main course by serving with cooked rice and veggies. Enjoy!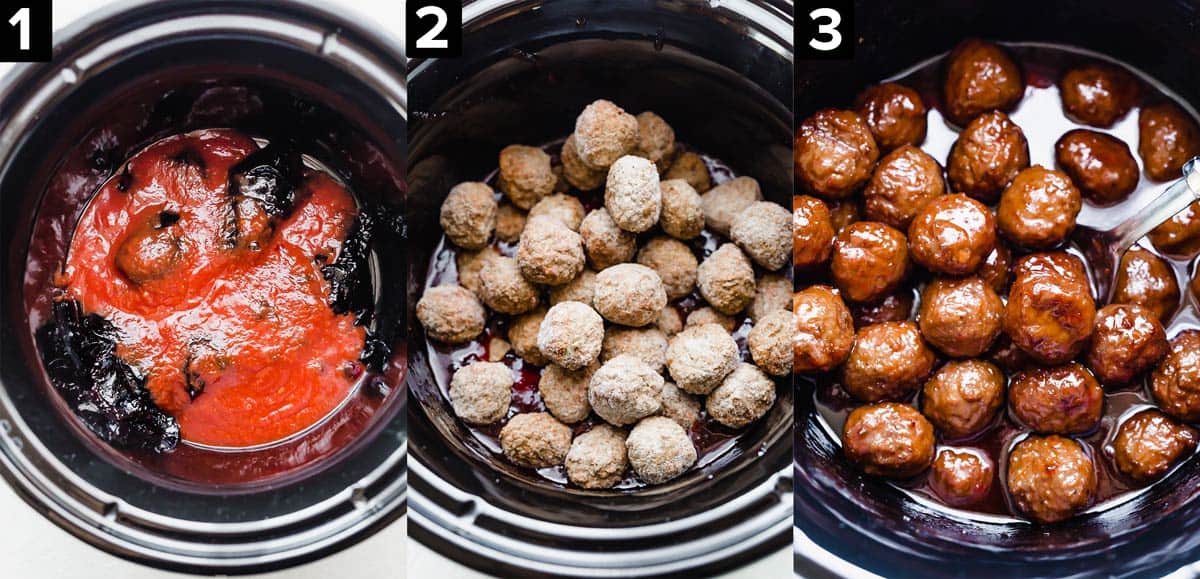 Recipe Tips
It's hard for grape jelly to reach a smooth consistency so don't worry if it's still a tad lumpy.
I use the meatballs from Costco to make this recipe. I think they are the best frozen meatballs! But any frozen (fully cooked) meatballs will do.
A great variation would be to make meatballs with grape jelly and BBQ sauce. Or try my BBQ Pineapple Meatballs recipe!
You can make this recipe with homemade meatballs too. I suggest cooking the meatballs before placing them in the slow cooker. If you didn't cook the meatballs the excess grease from the meat would be in the sauce.
You can control how spicy you want the meatballs by how much cayenne you add. In fact, you don't even have to add the cayenne pepper. It's totally optional.
Make the Meatballs in an Air Fryer and then combine at the sauce and warm in the microwave or on the stovetop for a quick air fryer grape jelly meatballs recipe!
Make Ahead, Storing, and Freezing
Store leftover meatballs in an airtight container in the refrigerator.
To freeze, place the cooled meatballs and sauce in an airtight container or freezer bag and store in the freezer.
When ready to eat, remove them from the freezer and thaw in the refrigerator. Warm the meatballs up in the crockpot, oven, or microwave.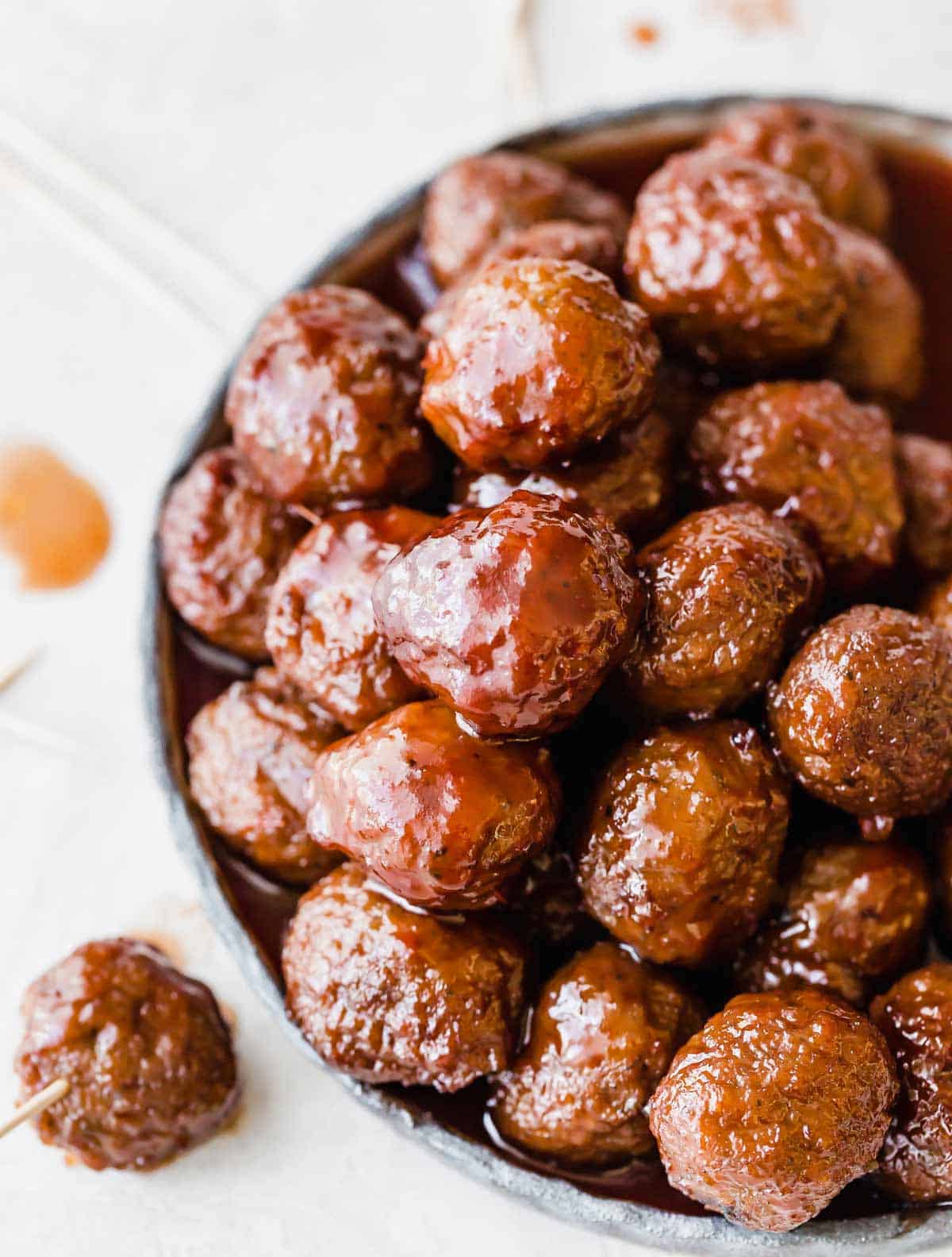 Recipe FAQs
Can you make grape jelly meatballs in the oven?
I've never made these grape jelly chili sauce meatballs in the oven. But you definitely can do the oven option if you want! I opt for crockpot meatballs because it just sits there all day. Combine all the ingredients and place in an oven safe dish with a lid or cover with tin foil. Bake at 325ºF for 25-30 minutes or until the sauce is bubbling and the meatballs are warmed through. 
What kind of meatballs do you use for crock pot grape jelly meatballs?
I use Costco's Italian meatballs. They are fully cooked and are amazing! 
How to serve grape jelly meatballs?
You can serve these as is (plain) with toothpicks for a fun appetizer for your Super Bowl party, game day, holiday parties (like Christmas Eve or New Years Eve), etc. Or if you'd like to make these slow cooker grape jelly meatballs a main dish for dinner, simply serve them over rice with some mixed vegetables or stick them in a bun for a delicious meatball sandwich. 
What can I use instead of chili sauce?
If you don't have chili sauce, or you don't want to risk the spice, you can substitute for barbecue sauce or ketchup. The chili sauce paired with the grape jelly isn't spicy though! The jelly tames it and the flavor is amazing!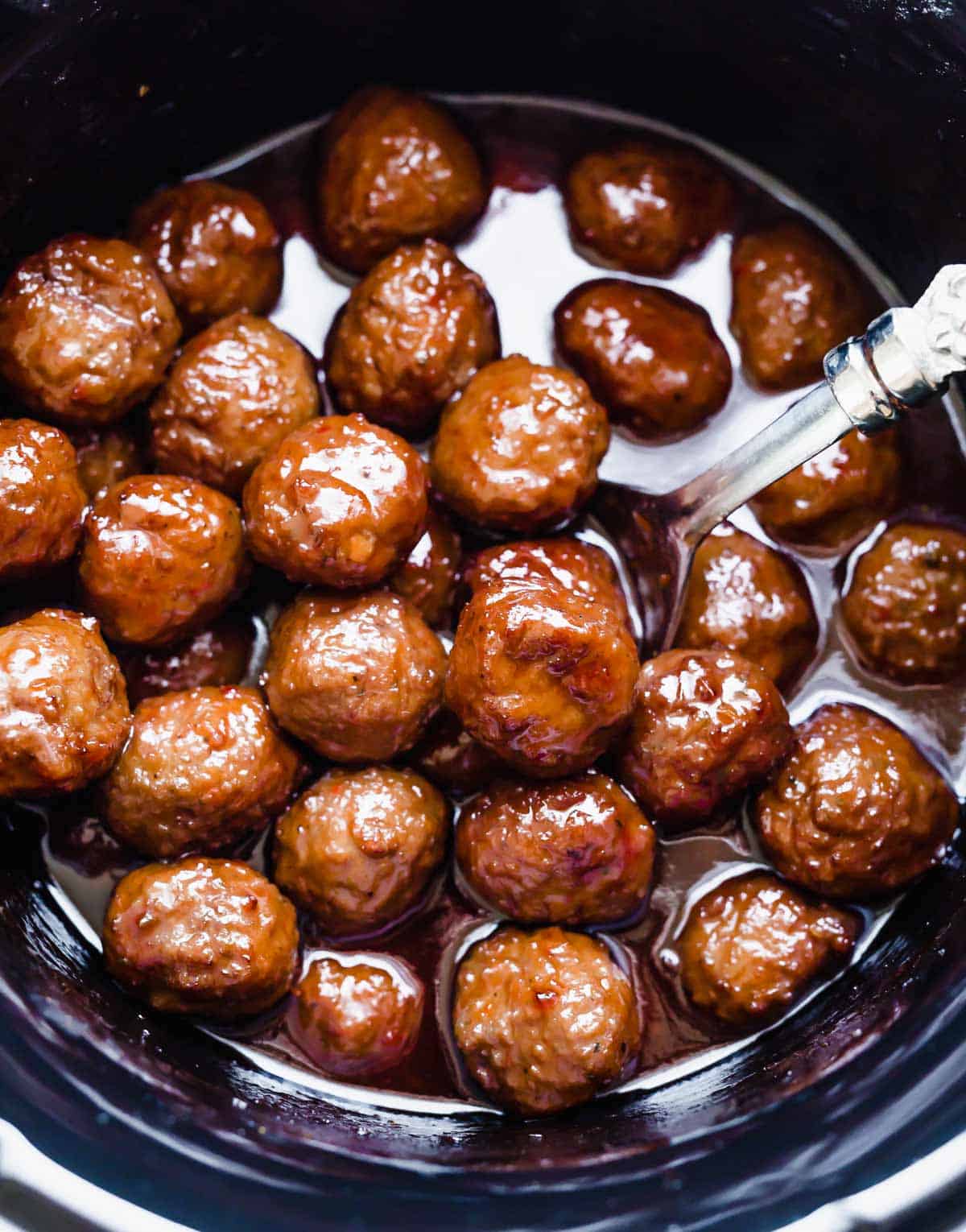 More Meatballs Recipes
Grape Jelly Meatballs
Traditional grape jelly meatballs are the perfect appetizer for game day or parties! These meatballs can also be served with rice and a side of veggies for a complete meal.
Ingredients
32

oz

frozen, fully cooked meatballs

-

about 50 meatballs

18

oz

jar grape jelly

12

oz

Chili Sauce

pinch

cayenne pepper
Instructions
In a large slow cooker add the grape jelly, chili sauce, and cayenne pepper. Whisk to combine. The sauce will be a tad lumpy because of the jelly, but do your best to whisk it until smooth.

Add the frozen meatballs to the sauce. Gently stir in the meatballs until fully coated by the sauce.


Cook on low for 5-6 hours. Or high for 2-3 hours.


Serve as an appetizer or over rice for a main dish.

Notes
A great variation would be to use BBQ sauce in place of the chili sauce. 
If using homemade meatballs, cook the meatballs before placing them in the slow cooker. If you don't cook the meatballs, excess grease from the meat will be in the sauce.
Did you make this recipe?
Leave a star rating and review on the blog post letting me know how you liked this recipe! Take a picture and tag @saltandbaker on Instagram and Facebook so I can see what you're making!