Homemade Pizza Rolls
This post may include affiliate links. As an Amazon Associate I earn from qualifying purchases.
Homemade Pizza Rolls are made with homemade pizza dough then stuffed with shredded mozzarella and lots of pepperoni then rolled up into balls and brushed with a delicious herbed butter sauce for that classic pizza flavor before baked to golden brown perfection! Serve with your favorite dipping sauce!
We love serving these buttery pizza rolls for family pizza night with Pizza Sauce with Tomato Paste. Other easy pizza recipes we love making as a family are my English Muffin Pizzas and Authentic Margherita Pizza.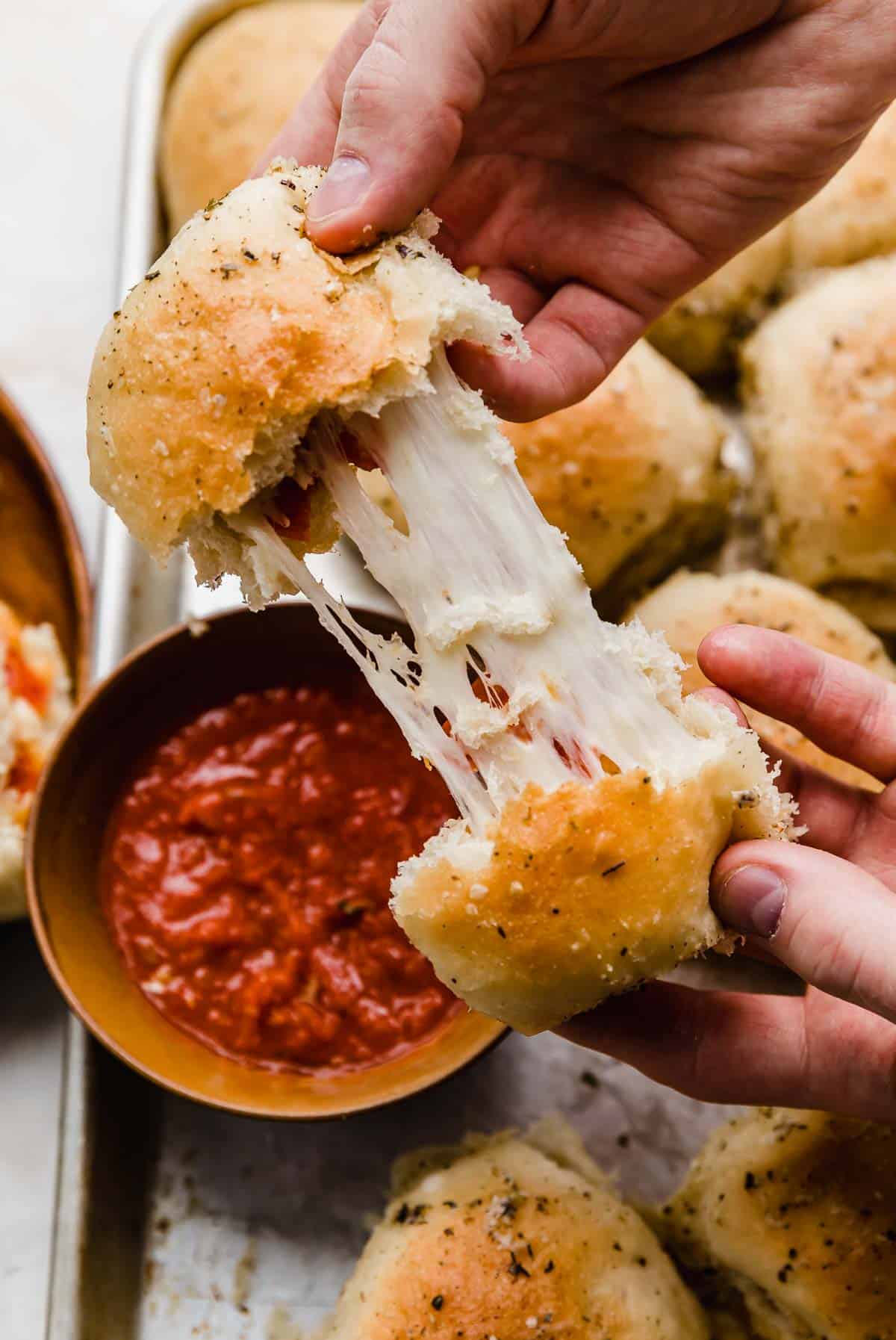 Why This Recipe Works
Homemade pizza rolls. Skip the totino's pizza rolls and make your own pizza roll recipe at home! The quality is WAY better and the taste is SO much more fresh and delicious!
Topped with herbed butter. The herbed butter topping is the perfect addition to the pizza balls to bring home the pizza flavor.
Made with homemade pizza dough. My pizza dough recipe is easy and foolproof! Instead of those greasy totinos pizza rolls from the freezer section, we use fresh pizza dough to make fluffy dinner rolls filled with your favorite pizza toppings.
Ingredient Notes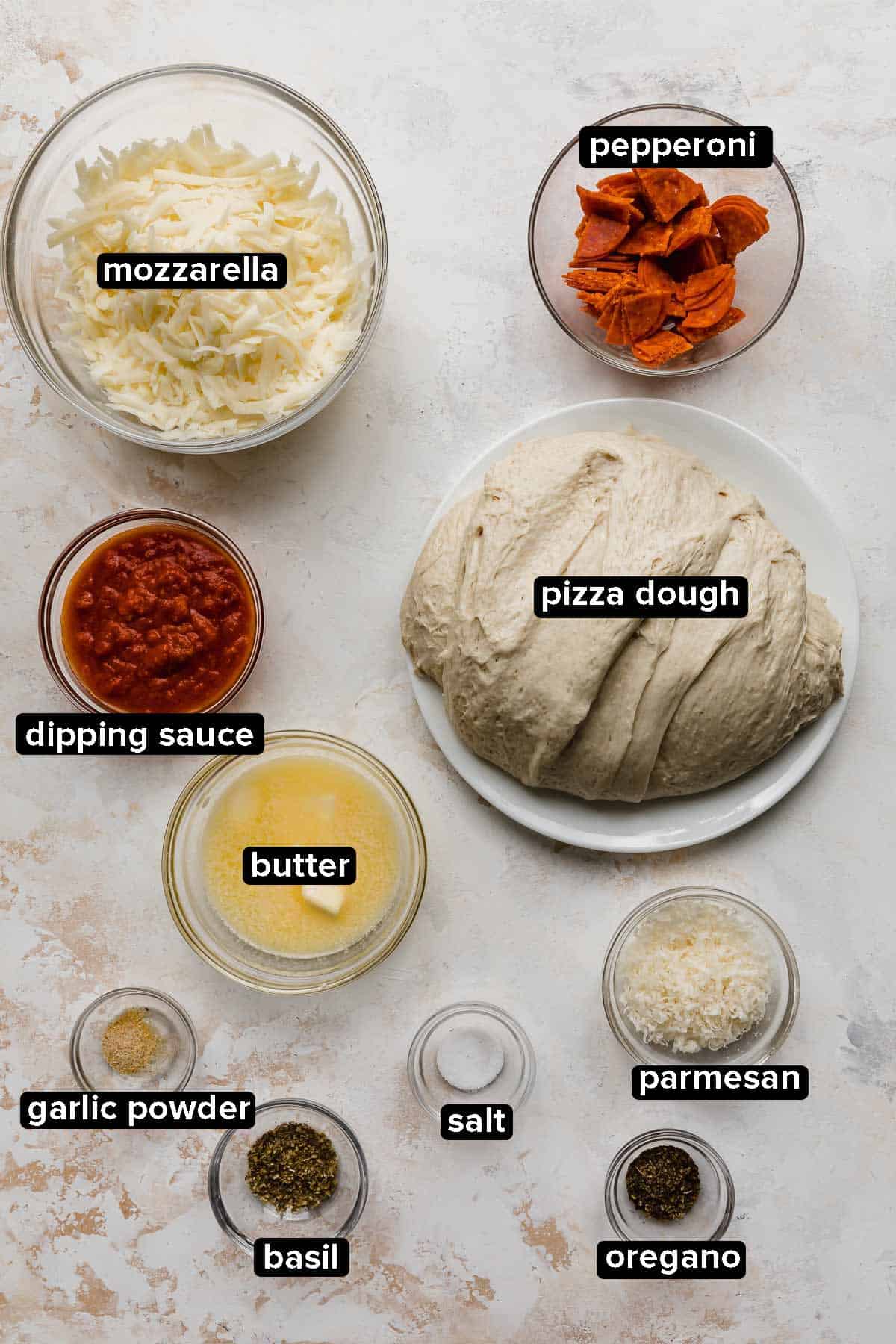 Homemade Pizza Dough: You'll need a full batch of my delicious (and easy!) homemade dough. Let it rise for the first rise, then you'll portion the dough into pizza balls.
Mozzarella Cheese: I love using fresh mozzarella inside these homemade pizza rolls because it melts beautifully and produces that stretchy cheese inside.
Pepperoni: You can feel free to add whatever inside the pizza rolls! Cut up normal sized pepperoni slices or use mini pepperoni.
Dipping Sauce: Dip your homemade pizza rolls in your favorite dipping sauce: your favorite pizza sauce, marinara sauce, Alfredo sauce, garlic butter, even a simple tomato sauce will work with some added Italian herbs.
Butter: The melted butter will be spruced up with parmesan and delicious herbs to create a flavorful herbed butter to brush on top of the pizza balls.
Herbs: Using a combination of basil, oregano and garlic, we will get a super flavorful Italian seasoning!
Parmesan Cheese: This is the kind of powdered parmesan from the can.
Step-by-Step Instructions
Make the pizza dough. Let the pizza dough complete the first portion of rising time. Punch down the dough, then portion the dough into 20 equal dough balls (about 1 3/4-2 ounces per ball). Use a serrated knife to cut the dough.
Fill the dough balls. Gently roll each dough ball and place a piece of fresh mozzarella in the center of the dough (if using shredded mozzarella, using a heaping tablespoon). Top with pepperonis then gather the ends of the dough and roll them up around the toppings, pinching the ends to make a ball. Repeat with all the dough balls.
Place balls on a greased jelly roll baking sheet. Once all the pizza balls are filled, place them on a jelly roll pan that has been sprayed with nonstick cooking spray. Let rise for 1 hour. The dough balls will puff up and be almost doubled in size (see images). Preheat the oven to 400ºF.
Make the butter topping. While the pizza balls are rising, make the butter topping. Add 6 tablespoons butter to a microwave safe bowl and microwave until fully melted. Add 3/4 tsp oregano, 3/4 tsp basil, a pinch of salt, and a pinch of garlic powder. Stir to combine.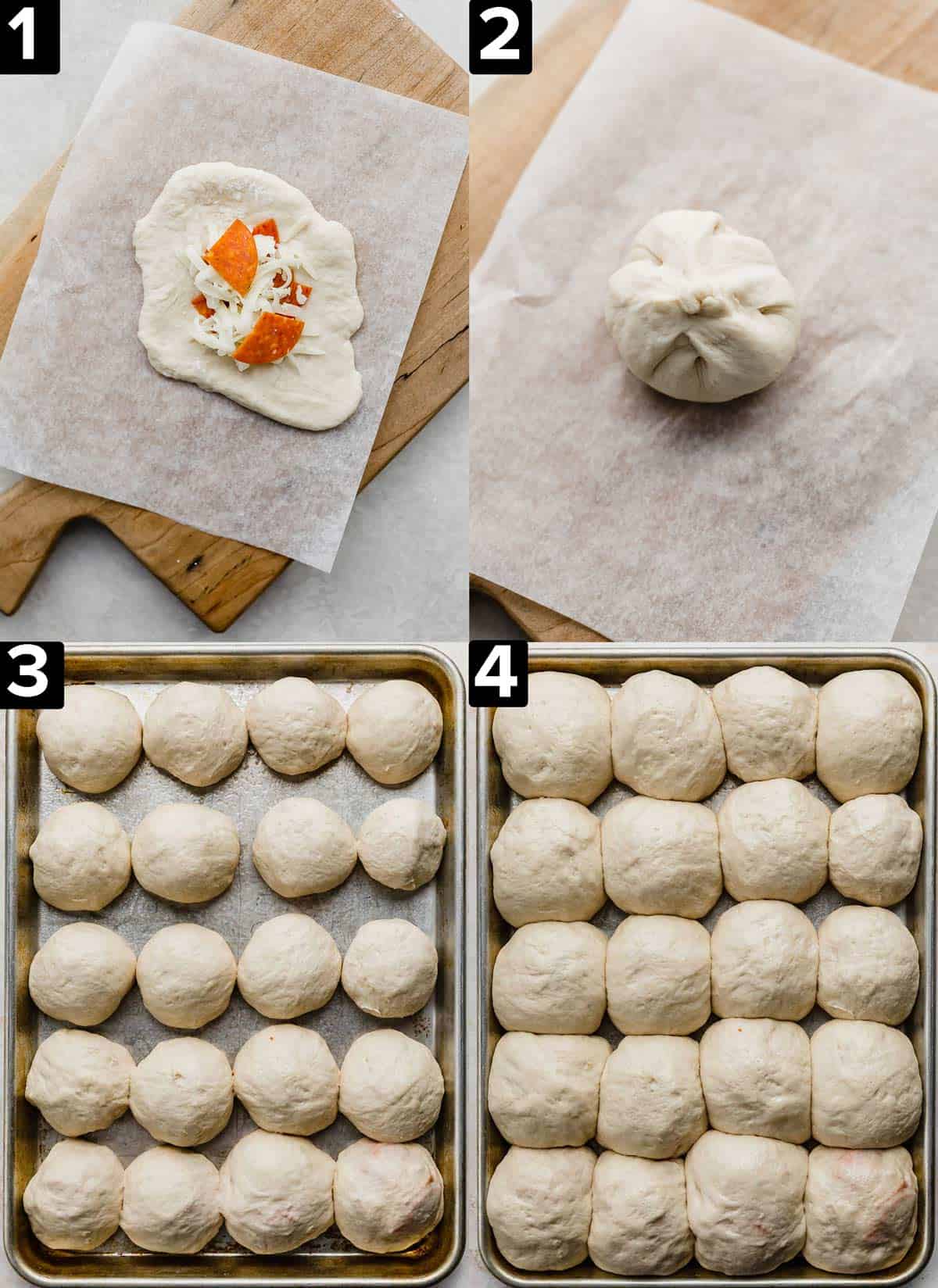 Brush the pizza balls with the herbed butter. Using a pastry brush or a spoon, brush half the butter mixture over the pizza dough balls.
Bake the pizza balls. Bake the homemade pizza rolls for 20-24 minutes. The pizza balls will be golden brown.
Add parmesan to the herbed butter. To the remaining herbed butter, add 2 tablespoons parmesan (the Kraft parmesan from the shaker can). Stir to combine.
Brush rolls with remaining butter. Take the herbed butter with parmesan and brush the rest of it on top of the fully baked pizza rolls. Serve with marinara sauce, pizza sauce, or your dipping sauce of choice. Enjoy!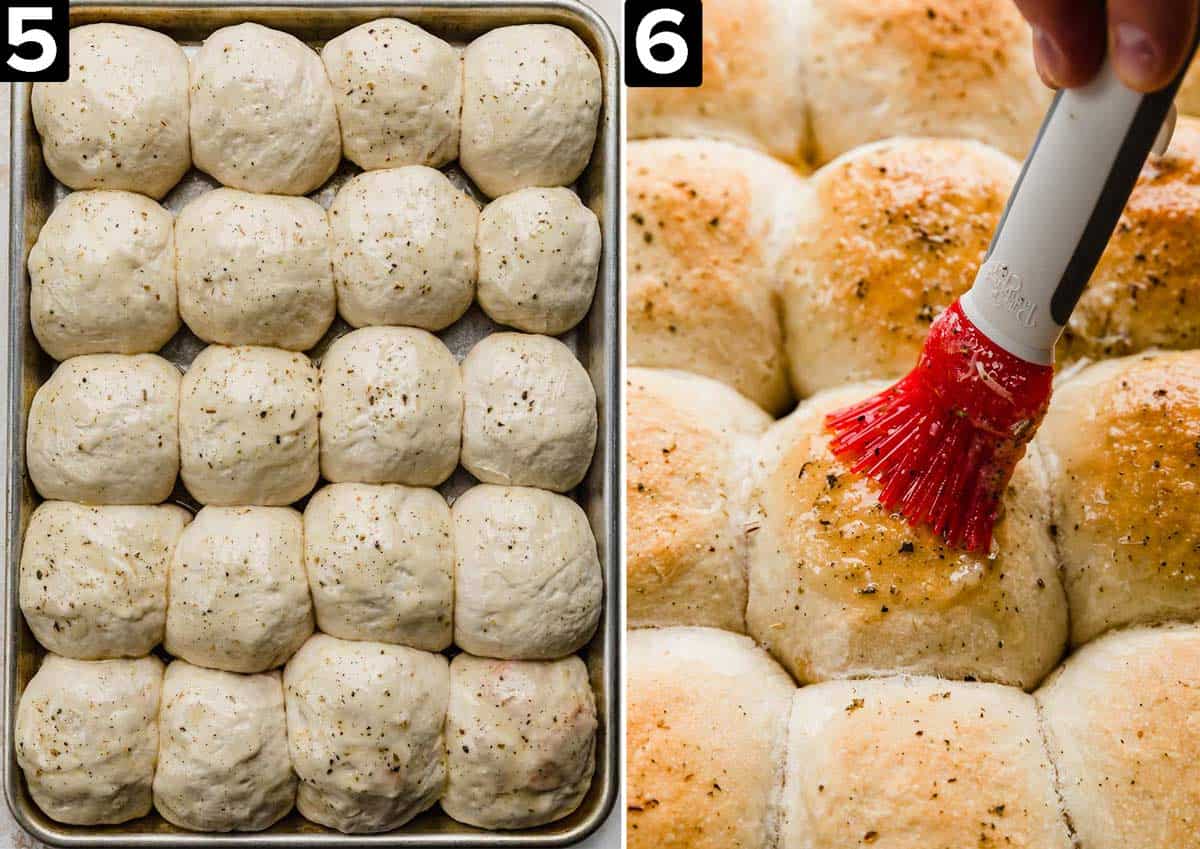 Recipe Tips
It's best to really pack the toppings in — Add as much as you can without the toppings poking out. I prefer using fresh mozzarella when making these because it melts really well and provides a really stretchy cheese.
You can make the baked pizza balls into smaller balls if you'd like. The baking time might vary as the rolls will be smaller.
I like rolling out the pizza dough onto a piece of parchment paper to make things less messy and so you don't have to introduce more flour into the dough by rolling the dough in flour (which can dry out the dough).
My kids love pepperoni pizza rolls, so we use pepperoni. You can cut up normal pepperoni or use the mini pepperoni. Other delicious additions could be sautéed mushrooms, diced peppers, olives, cooked crumbled sausage, Canadian bacon and pineapple chunks, etc.
We love serving these for pizza night, game day, family gatherings, etc.
Make Ahead, Storing, and Freezing
You'll need to make the dough slightly ahead of time so you can get 1 rise in before preparing the pizza rolls. Then remember you want the pizza rolls to rise for 1 hour again after you've filled them — this will help them fill up the pan.
Store any leftover pizza rolls in an airtight container or ziplock bag in the fridge for 4-5 days. Reheat in the microwave or oven until warm. One reader, Kimee says, "This is probably one of favorite recipes from saltandbaker. It is incredibly delicious, and has worked without fail every time. We fight over the leftovers. Just stick the leftover rolls in the microwave for 15 to 20 seconds and they taste just as amazing as fresh ones."
To freeze, you can roll up the pizza dough balls that have been filled and then flash freeze those until solid, then transfer the frozen pizza rolls to a freezer-safe container. Freeze for up to 2 months. Remove and let thaw, then do the final rise and bake.
You can also let the baked pizza rolls cool completely then freeze those.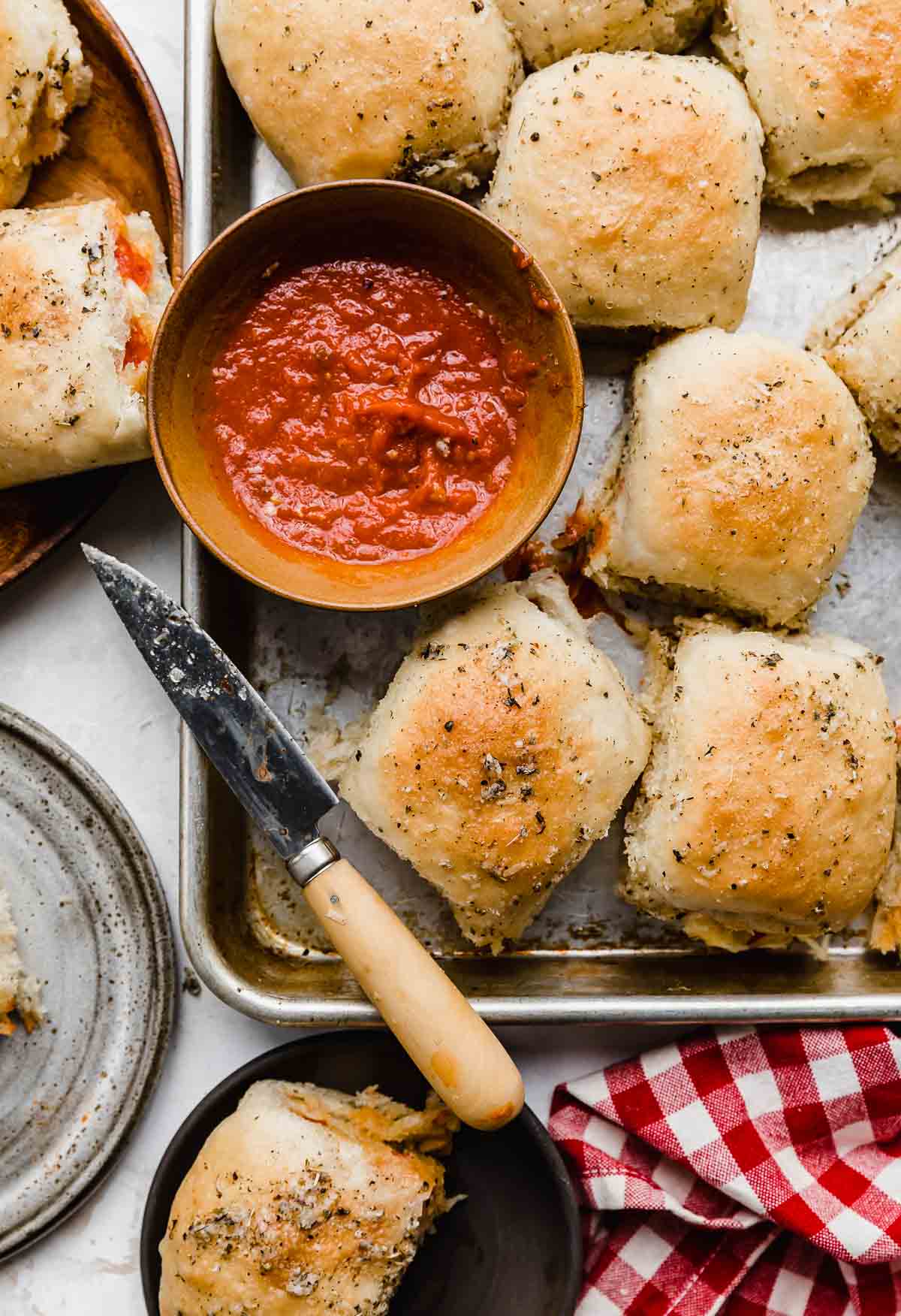 Recipe FAQs
Can I use store-bought pizza dough?
Yes you can. 
Do I add sauce to the inside of the pizza rolls?
I don't because it's a recipe for a big mess! It's much easier to simply dip the pizza balls in the sauce instead. 
What are in pizza rolls?
You can put whatever you'd like in them! Add cheese, pepperoni, olives, mushrooms, cooked Italian sausage, Canadian bacon and pineapple, etc. Basically whatever pizza toppings are your favorite! You could even add some cooked shredded chicken and grilled onions inside and then dip the rolls in barbecue sauce for a delicious barbecue pizza roll. The options are endless! 
Can I cook pizza rolls in an air fryer?
I've never tried this recipe in the air fryer. I would refer to your air fryer manual for the temperature and time required.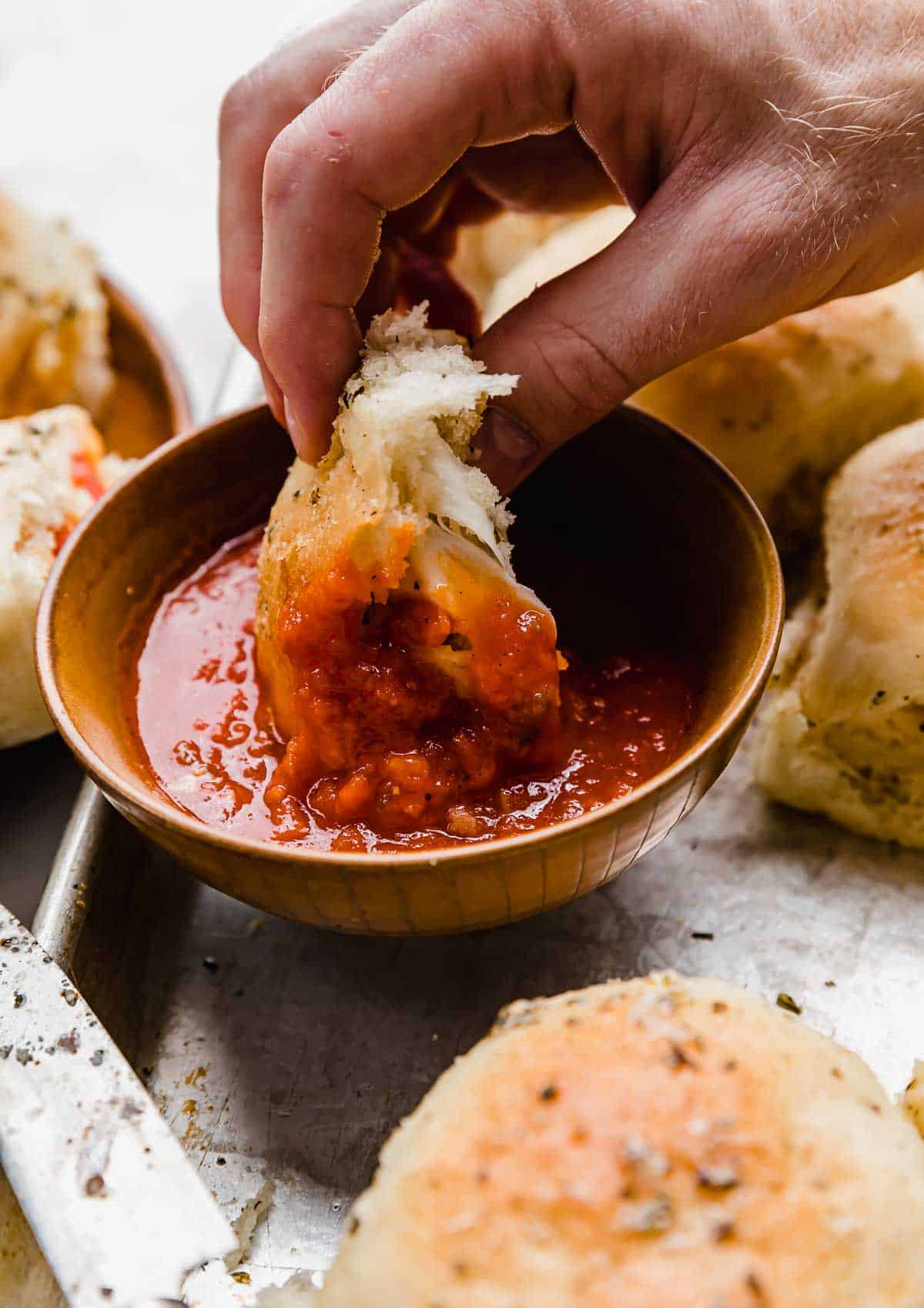 More Pizza Recipes
Pizza Rolls
Cheese and pepperoni are encased in a ball of pizza dough then topped with a butter, herb, and parmesan sauce. These pizza rolls can be served for dinner or at a party.
Servings:
20
large pizza rolls
Ingredients
1

batch

homemade pizza dough

3

cups

mozzarella cheese

-

shredded, OR about 8 oz fresh mozzarella cubed

1

cup

pepperonis

-

quartered

pizza sauce

-

or marinara sauce for dipping
Butter topping
6

tablespoons

butter

-

melted

3/4

teaspoon

dried oregano

3/4

teaspoon

dried basil

pinch

salt

pinch

garlic powder

2

tablespoons

grated parmesan cheese

-

from the green can
Instructions
Make the pizza dough, let the dough complete the first portion of rising time. Punch down the dough and then continue as follows…

If making larger sized rolls (like pictured in the blog post) portion the dough into 20 equal sized balls, about 1 3/4 -2 oz each. 

Gently roll out each portion of dough, place a heaping tablespoon of mozzarella in the center of the dough, or if using fresh mozzarella place some of the fresh mozzarella on the dough. Top with a small handful of pepperonis. Gather the ends of the roll and roll them up around the toppings, making sure to pinch the ends to make a ball. Repeat this process until all of the dough balls have been filled and rolled into balls.

Place the filled rolls on a greased jelly roll baking sheet.  

Cover the rolls with plastic wrap and let rise for 1 hour or until puffy and almost doubled in size. While the rolls are rising prepare the butter topping.
Butter Topping
In a medium bowl stir together the butter, oregano, basil, garlic powder, and salt. Brush half of the mixture over the filled dough balls.

Bake the rolls at 400° F for 20-24 minutes or until golden brown. 

To the remaining butter topping, add the 2 tablespoons of parmesan cheese. Stir to combine.

When rolls have finished baking remove them from the oven and brush the parmesan butter mixture overtop.

Serve the pizza rolls with pizza sauce for dipping.
Notes
Note: be generous when filling the rolls. You'll want a decent amount of cheese and pepperoni in the rolls! I prefer using fresh mozzarella when making these because it melts really well and provides a really stretchy cheese. 
You can make these into smaller balls if you'd like. The baking time might vary as the rolls will be smaller. 
Nutritional information does not include the pizza dough or pizza sauce.
Did you make this recipe?
Leave a star rating and review on the blog post letting me know how you liked this recipe! Take a picture and tag @saltandbaker on Instagram and Facebook so I can see what you're making!