Watermelon Juice Recipe
This post may include affiliate links. As an Amazon Associate I earn from qualifying purchases.
Watermelon Juice is a favorite drink to grab when you want to cool off during the hot summer months. This refreshing summer drink is made with one of the most hydrating foods (watermelon!) and is enhanced by adding lime juice and a touch of sugar (if you'd like). This is the perfect way to enjoy juicy watermelon during watermelon season!
Use the leftover watermelon to make this Watermelon Salad or Watermelon Feta Skewers. They are light and refreshing — perfect for hot summer days — and a great way to mix up how you serve watermelon this summer.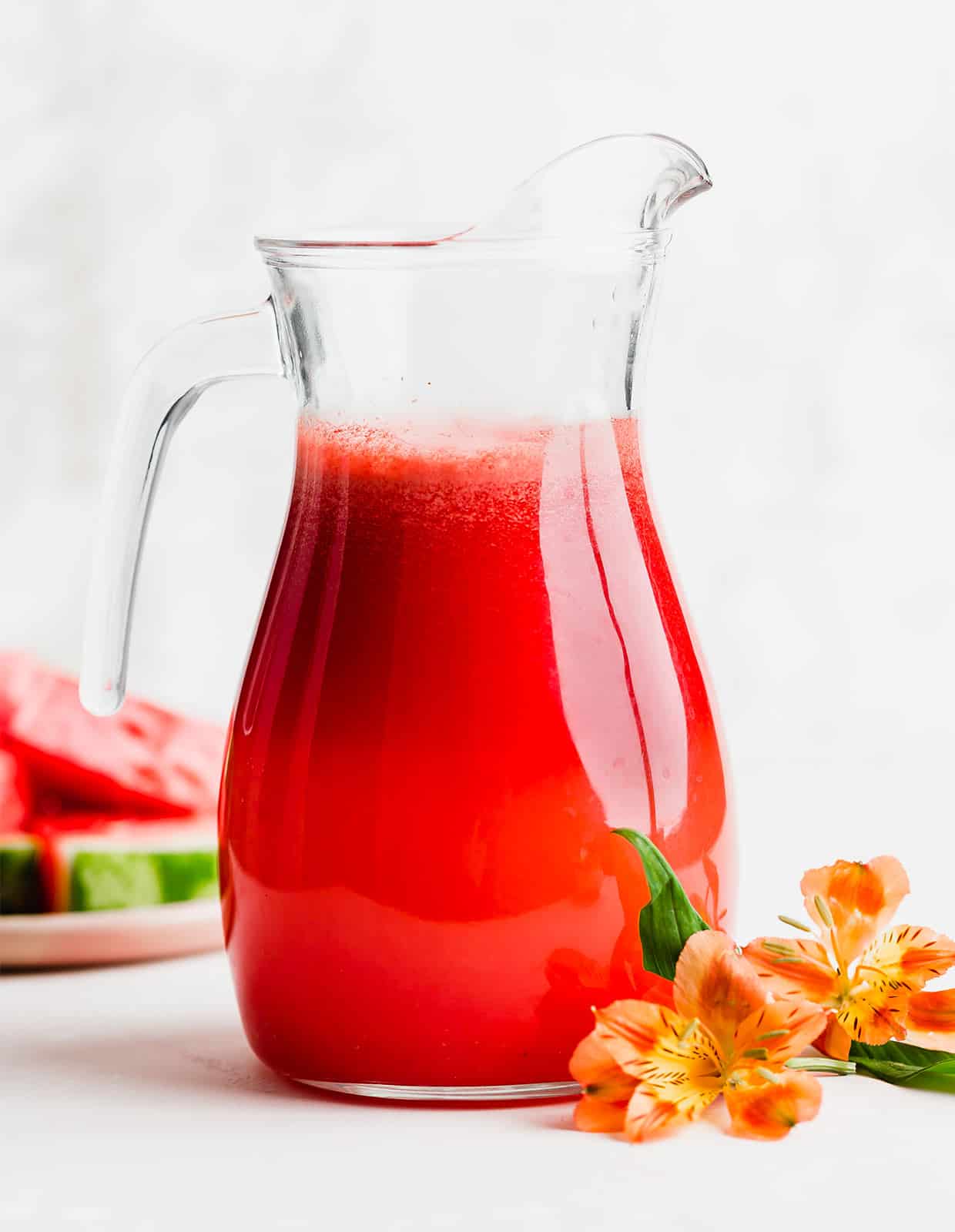 Why This Recipe Works
New way to serve watermelon! Everyone knows you can't experience a true summer without eating watermelon at least once throughout the scorching hot months. My family and I go to the beach on a regular basis in the summer. And every single time we go I always cut up a ripe watermelon to eat and enjoy while we're there. Now, with this homemade watermelon juice recipe, you have a new way of serving watermelon!
Easy watermelon juice recipe. By simply blending up watermelon (seedless) and adding lime juice, water, and a touch of sugar, you have the most delicious liquid form of watermelon out there — such a refreshing and easy recipe!
Ingredient Notes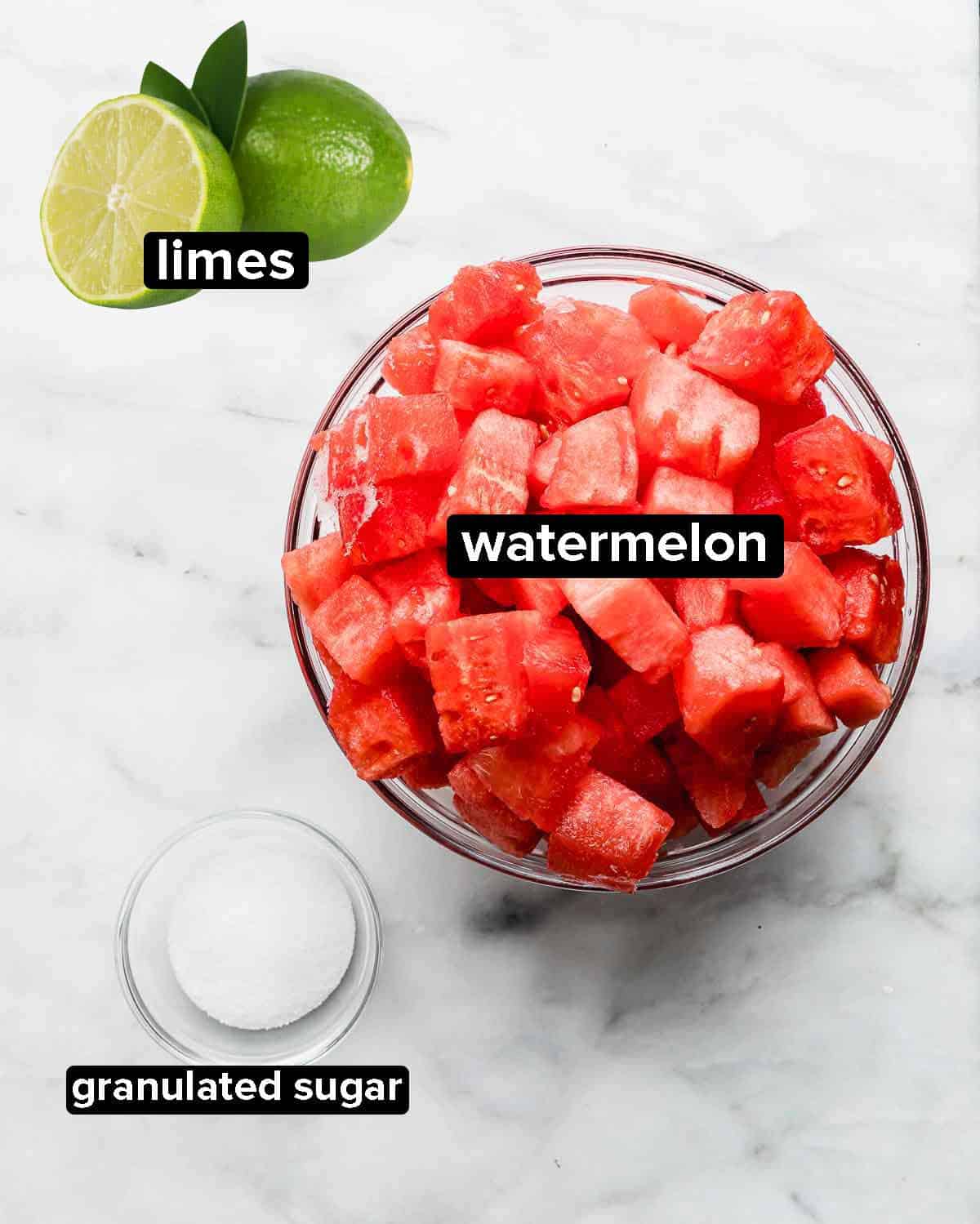 Seedless Watermelon: The riper the watermelon the sweeter the watermelon mint juice will be. You don't want any black seeds in the watermelon. White seeds are fine because they are smaller. Discard the watermelon rind.
Water: This is optional. If you want a very concentrated watermelon taste in the drink you can omit the water. You can also use sprite or sparkling water if you'd prefer.
Lime Juice: The lime flavor isn't too powerful, but just enough to catch your attention. If you want a stronger lime flavor consider adding some lime zest to the drink. Use lemon juice if you don't have lime juice.
Sugar: Just in case you picked an un-ripe watermelon. Added sugar will add some sweetness to the fresh watermelon juice. However, you don't have to add the sugar if you don't want to.
Step-by-Step Instructions
Blend the ingredients. To a high-speed blender add 8 cups watermelon cubes, 1/3 cup lime juice, and 1 cup water (if using). Blend until smooth.
Strain the watermelon mixture. Pour the mixture from the blender through a fine-mesh strainer set over a large pitcher. Discard anything that remains in the strainer.
Add the sugar. Stir in 2 tablespoons granulated sugar. Chill the delicious watermelon juice until cold. Pour into serving glasses with ice cubes and garnish the watermelon juice with mint leaves. Enjoy!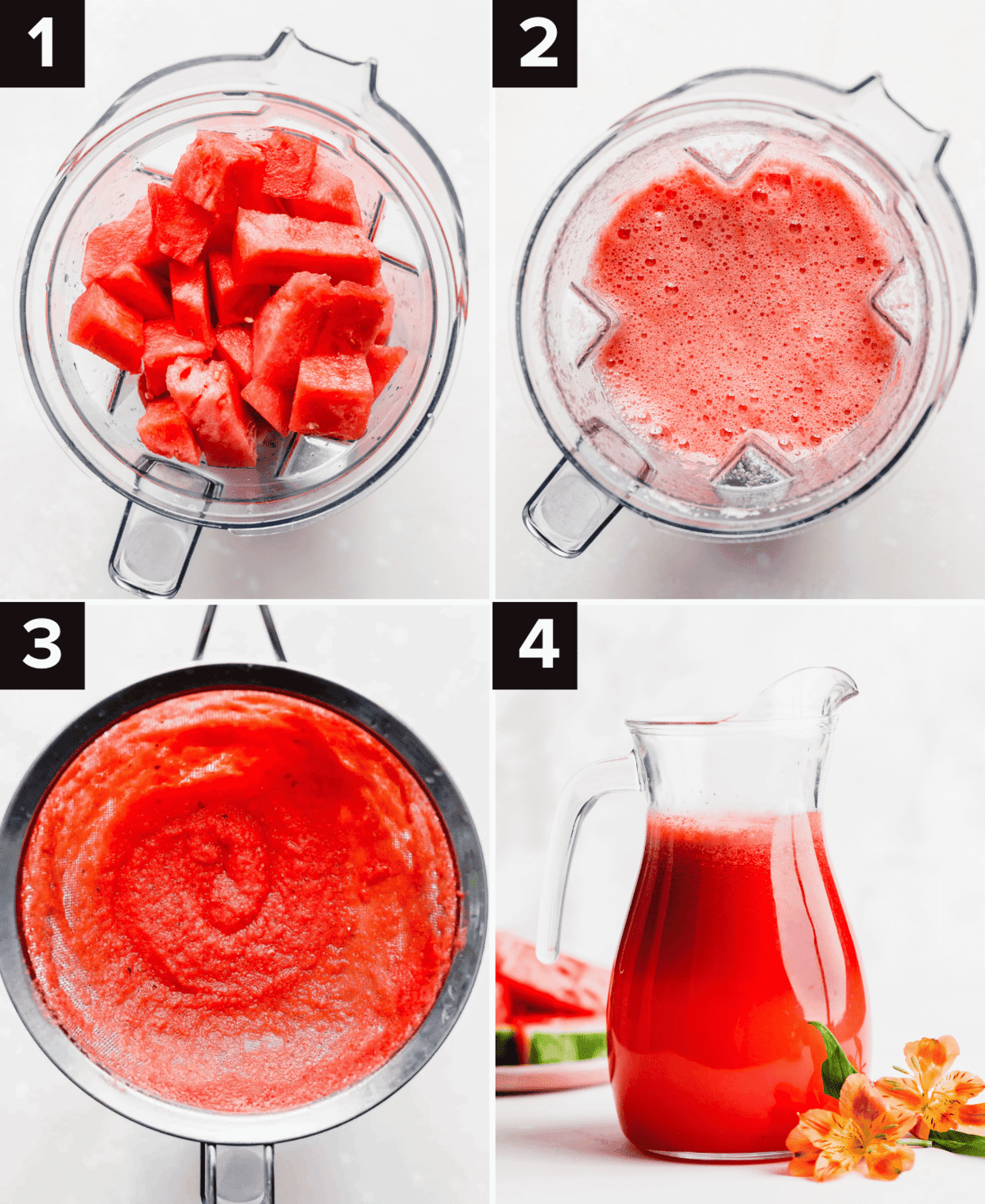 Recipe Tips
If you want a more pronounced lime flavor you can add fresh lime zest to the watermelon lime drink.
Instead of adding water you can add sparkling water, Gingerale, Sprite or 7-UP if you want a carbonated kick.
You can substitute honey or agave for the sugar. If you use agave you'll have a vegan watermelon juice!
You may need to add more or less sugar depending on the sweetness of your watermelon.
If you want your watermelon lime juice to be pulpy, no need to use the strainer.
The fresh mint leaves are just a garnish — you can feel free to use them or omit.
Feel free to use a whole watermelon instead of just 8 cups — and no need to cut the watermelon into cubes if you don't want to. That's just to help people get the ratios right. Adjust things to taste! If you feel like you need more sugar, add more sugar! If you feel like you need more lime, add more lime! If you need more watermelon .. .well you get the idea!
How to Pick a Ripe Watermelon
To pick the best watermelon, look for a field spot that is yellowish and creamy colored. The field spot is where the watermelon rested on the ground. If the field spot is more yellowish in color rather than white, it means the watermelon was left on the vine to ripen longer. This means you'll have a sweeter watermelon.
Look for web-like brown spots. The webbing (usually around the field spot) means there's usually more sugar in the watermelon.
Pick a watermelon that's heavy for its size.
Make sure the watermelon is firm.
It's also a good thing to tap on the watermelon with your knuckles. A ripe watermelon will have a deep hollow sound and an under-ripe or over-ripe melon will sound dull.
Make Ahead, Storing, and Freezing
You can make this watermelon limeade ahead of time and store it in the pitcher in the fridge for a few days.
Store leftover juice in the fridge for 3-4 days or freeze in a freezer-safe bag for up to 2 months. Remove and let thaw — serve as a slushy or let thaw completely until fully liquid again.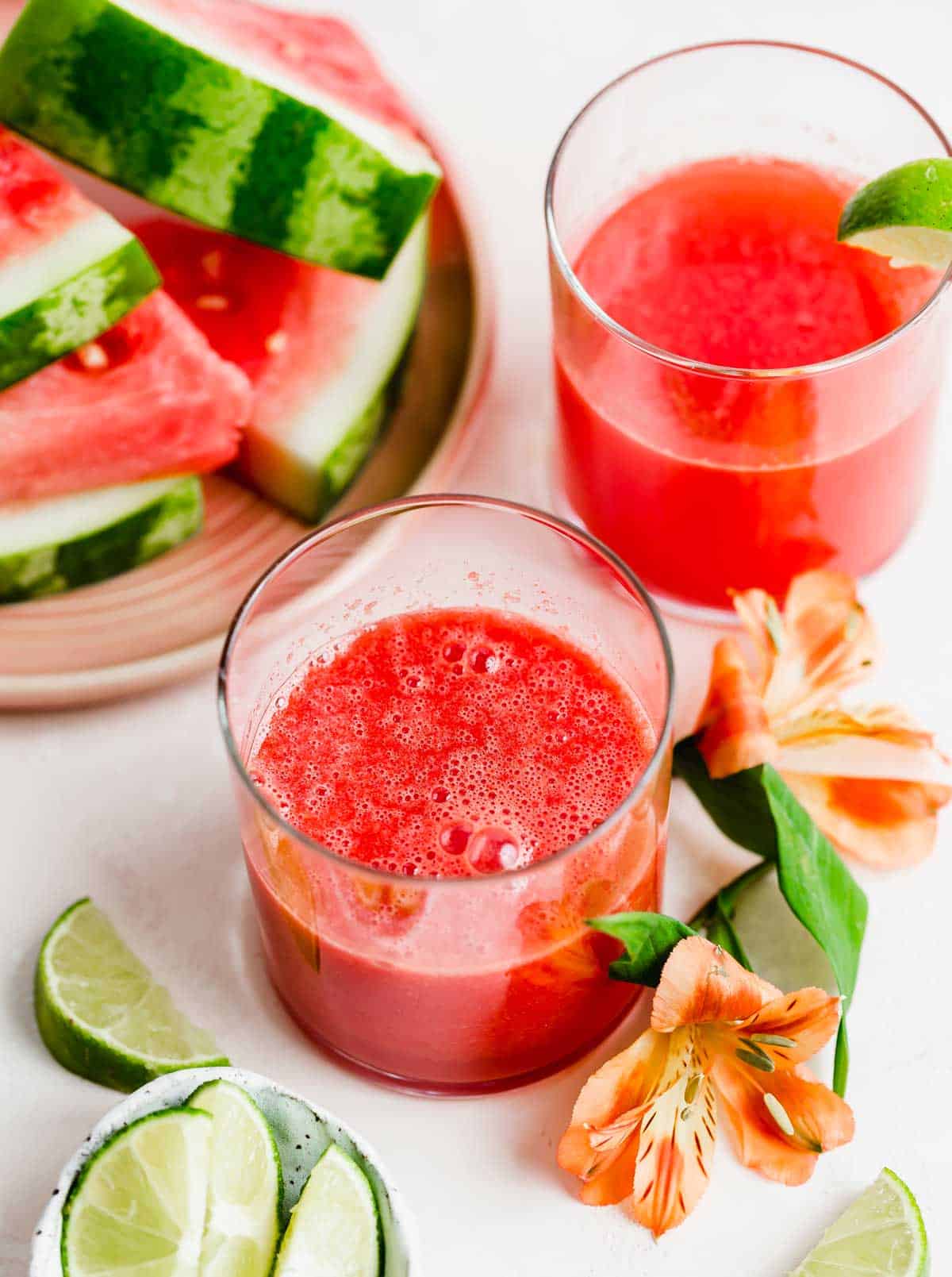 Recipe FAQs
How to pick a ripe watermelon? 
An easy way to pick a good watermelon, check for a field spot. That is the yellow spot on a side of the watermelon. This means the melon was left on the vine to ripen longer so you'll have a sweeter flavor. Web-like brown spots (usually around the field spot) also mean there is usually more sugar in the watermelon, which is another sign of a sweeter watermelon. Be sure the melon is firm and heavy for its size. If you tap it, it should have a deep hollow sound for a ripe watermelon instead of dull (an under-ripe or over-ripe melon). 
What does watermelon juice do for your body?
Watermelon juice promotes hydration (thanks to the high water content in watermelon), heart health, bone health, can help reduce inflammation, and has antioxidants.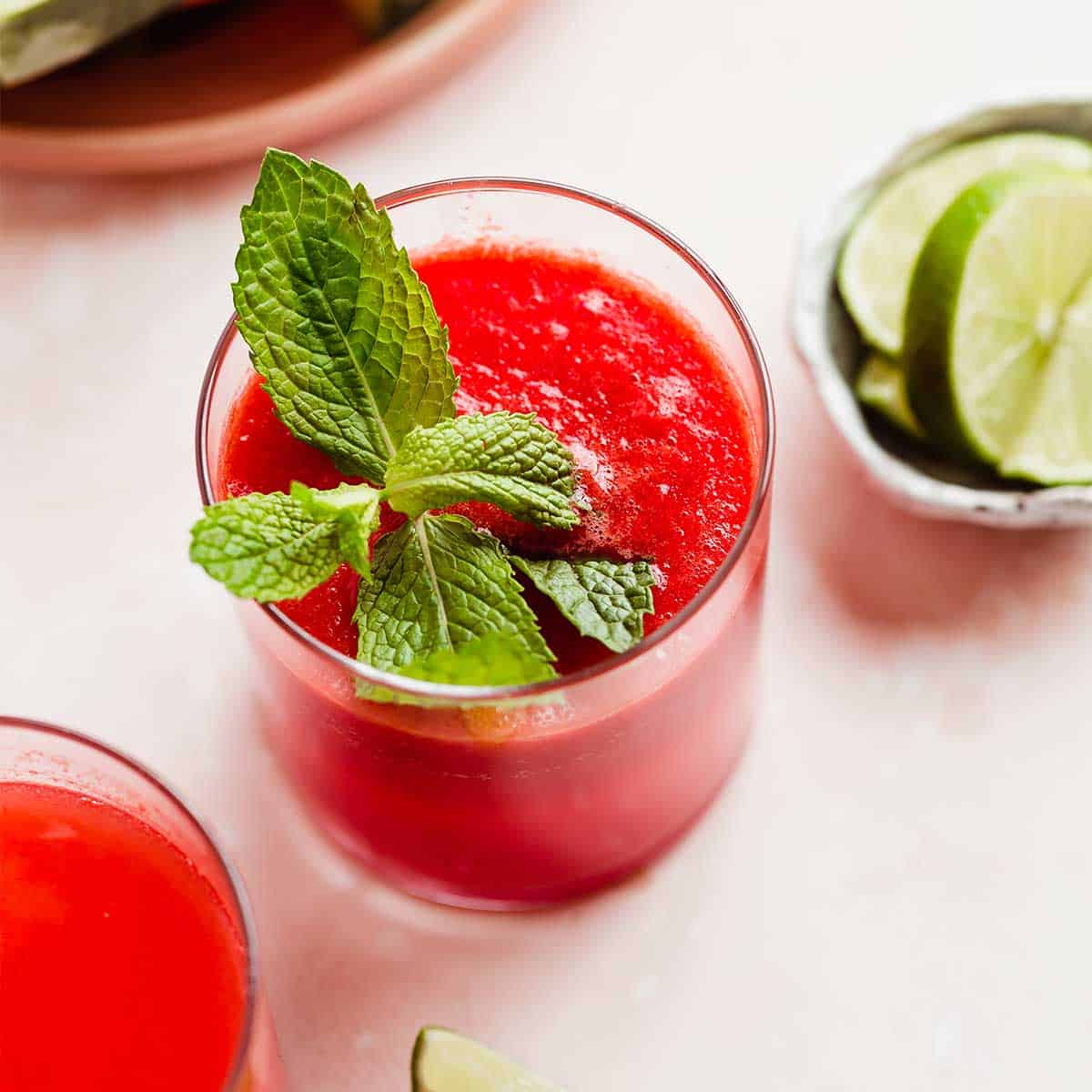 More Perfect Summer Drink Recipes
Watermelon Juice Recipe
A refreshing summer drink made with watermelon, limes, and water!
Ingredients
8

cups

seedless watermelon

-

cut into 1 inch cubes

1

cup

water

-

optional, see notes

1/3

cup

fresh lime juice

-

about 3-4 limes

2

tablespoons

granulated sugar

-

can substitute honey or agave, see notes

mint leaves

-

for garnish
Instructions
Blend watermelon, lime juice, and water in a blender and blend until smooth. You may need to work in batches depending on the size of your blender.

Pour the juice through a fine mesh strainer into a large pitcher, discard any solids.

Stir in the sugar (may need to add more sugar or less depending on sweetness of your watermelon). Chill the drink until cold.

Stir to recombine before serving. Serve over crushed ice with a garnish of fresh mint leaves. This drink will keep in the fridge for up to 5 days. 
Notes
You don't have to add the water to the drink. If you want a concentrated watermelon flavor then omit the water. 
If you have a very ripe, sweet, watermelon then you may not have to add any sweetener at all! Taste as you go for this recipe 🙂 
Did you make this recipe?
Leave a star rating and review on the blog post letting me know how you liked this recipe! Take a picture and tag @saltandbaker on Instagram and Facebook so I can see what you're making!