Margherita Flatbread
This post may include affiliate links. As an Amazon Associate I earn from qualifying purchases.
Go from hungry to completely satisfied in just 15 minutes with this easy Margherita Flatbread! Classic tomato sauce is spread over flatbreads then topped with pieces of fresh mozzarella and sprinkled with salt then baked to perfection! Top with fresh basil and you have the easiest and most delicious Italian dinner in mere minutes!
If you want a classic margherita pizza made with homemade pizza dough, my Authentic Margherita Pizza recipe is amazing! Other easy pizza recipes are my English Muffin Pizzas and French Bread Pizza recipes. They are family favorite recipes especially on busy nights.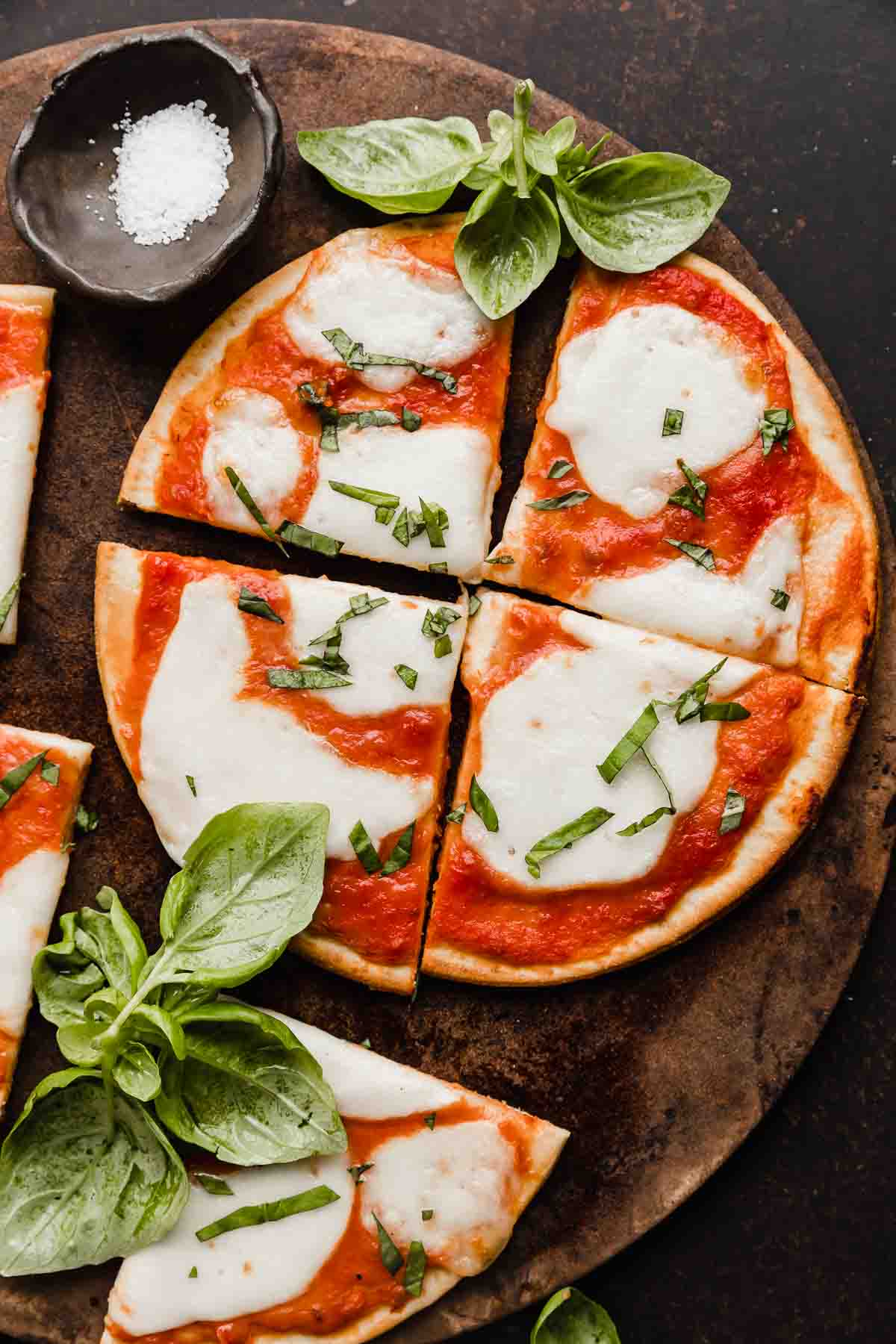 Why This Recipe Works
Easy margherita flatbread recipe. Since this pizza recipe uses flatbread crust, you don't have to worry about making any dough, letting it rise or adding that extra time in the oven for the crust to bake. Easy!
Fresh flavors from simple ingredients. You're going to love how fresh these flavors are. The simple recipe using crushed tomatoes with a dash of salt really lets the flavors of the basil and mozzarella cheese shine.
Ingredient Notes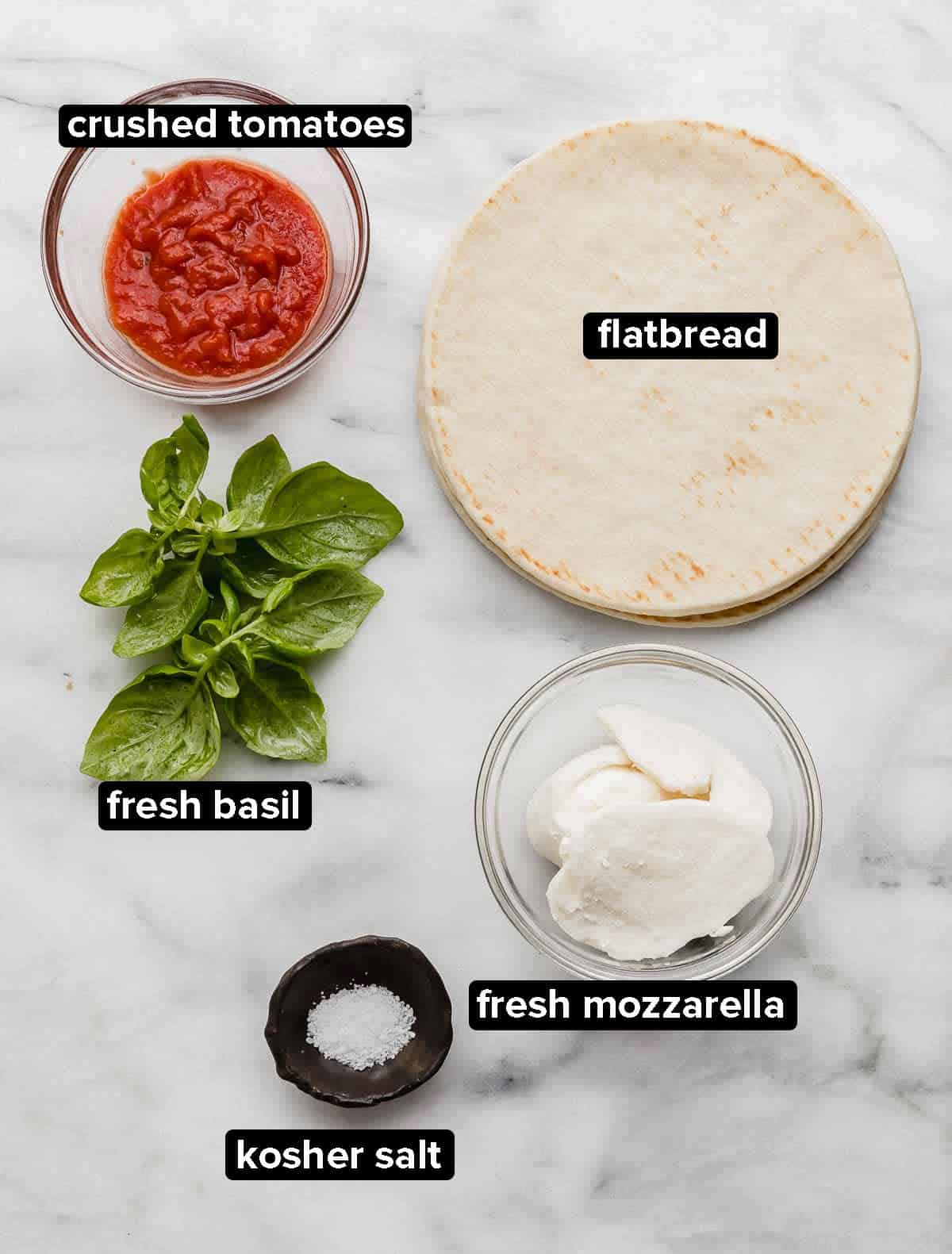 Flatbread: Use store-bought flatbread (pita bread) without pockets. Naan flatbread also works for this margherita flatbread recipe.
Crushed Tomatoes: In Italy, they use what's called passata for their tomato sauce on their pizzas. Crushed tomatoes (this is a canned item you can find in your grocery store by the canned tomatoes) I find is the closest thing to passata we have in the United States.
Fresh Mozzarella: I prefer using slices of fresh mozzarella and breaking them up into chunks and spreading those on the margherita flatbread. This just gives the homemade flatbread pizza the best flavor!
Kosher Salt: A sprinkling of kosher salt makes a BIG difference in the flavor!
Fresh Basil: Top the pizzas with some fresh chopped basil and you are set.
Step-by-Step Instructions
Preheat your oven. Preheat the oven to 500ºF and position the oven rack to the middle. If you have a pizza stone, place it on the middle oven rack to heat up with the oven.
Make the margherita flatbread. Place the flatbread or naan bread on parchment paper. Using a spoon, spread crushed tomatoes on top of the flatbread base and spread until it covers the entire flatbread. Add more or less sauce to your liking. Tear the mozzarella into smaller chunks and place the pieces on top of the sauce. Top with a sprinkle of kosher salt.
Bake the margherita flatbread pizzas. Using a pizza peel (or a few other hands) slide the parchment with the margherita flatbread pizzas onto the preheated pizza stone in the oven. Bake for 10-12 minutes or until the cheese is melted and the pizza is golden brown. Remove from the oven and transfer to a cutting board. Sprinkle with fresh basil leaves. Slice and serve!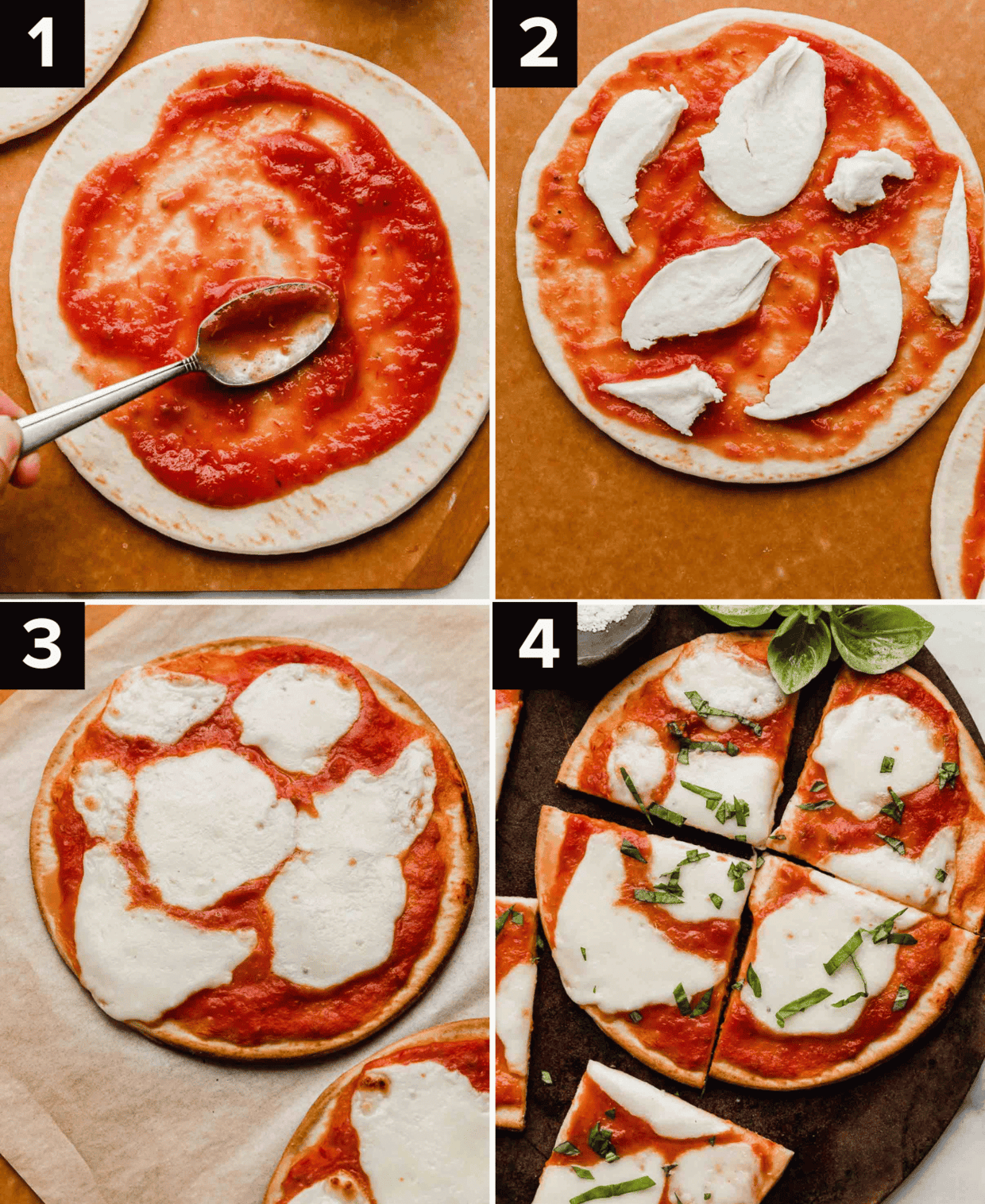 Recipe Tips
If you don't have a pizza stone you can bake the pizzas on a baking sheet.
If your oven doesn't reach 500°F, that's ok. Just do it to 475°F and bake until the cheese is melted and warmed through.
You can use more crushed tomatoes or less depending on how saucy you like your pizzas. You can use my Pizza Sauce with Tomato Paste recipe if you are looking for a more seasoned sauce or marinara sauce.
I recommend using fresh mozzarella over the shredded mozzarella to really make these margherita flatbread taste especially delicious! Plus you'll have pockets of gooey mozzarella cheese this way. Mozzarella pearls work nicely too.
To mix things up, add basil pesto, sliced grilled chicken, shredded chicken, capers, fresh tomato slices, parmesan cheese, balsamic glaze drizzled on top after baked, add minced garlic to the crushed tomatoes, etc.
Make your own dough with my Best Pizza Dough Recipe!
Make Ahead, Storing, and Freezing
Since this recipe only takes 15 minutes to make from start to finish, you won't need to do anything in advance!
Store any leftovers of the delicious flatbread pizza in an airtight container in the fridge for 4-5 days. Reheat in the oven or the microwave.
To freeze, let the pizzas cool completely, then wrap in plastic wrap then aluminum wrap and freeze. Or store in a freezer-safe bag or container. They will keep in the freezer for up to 1 month for best results.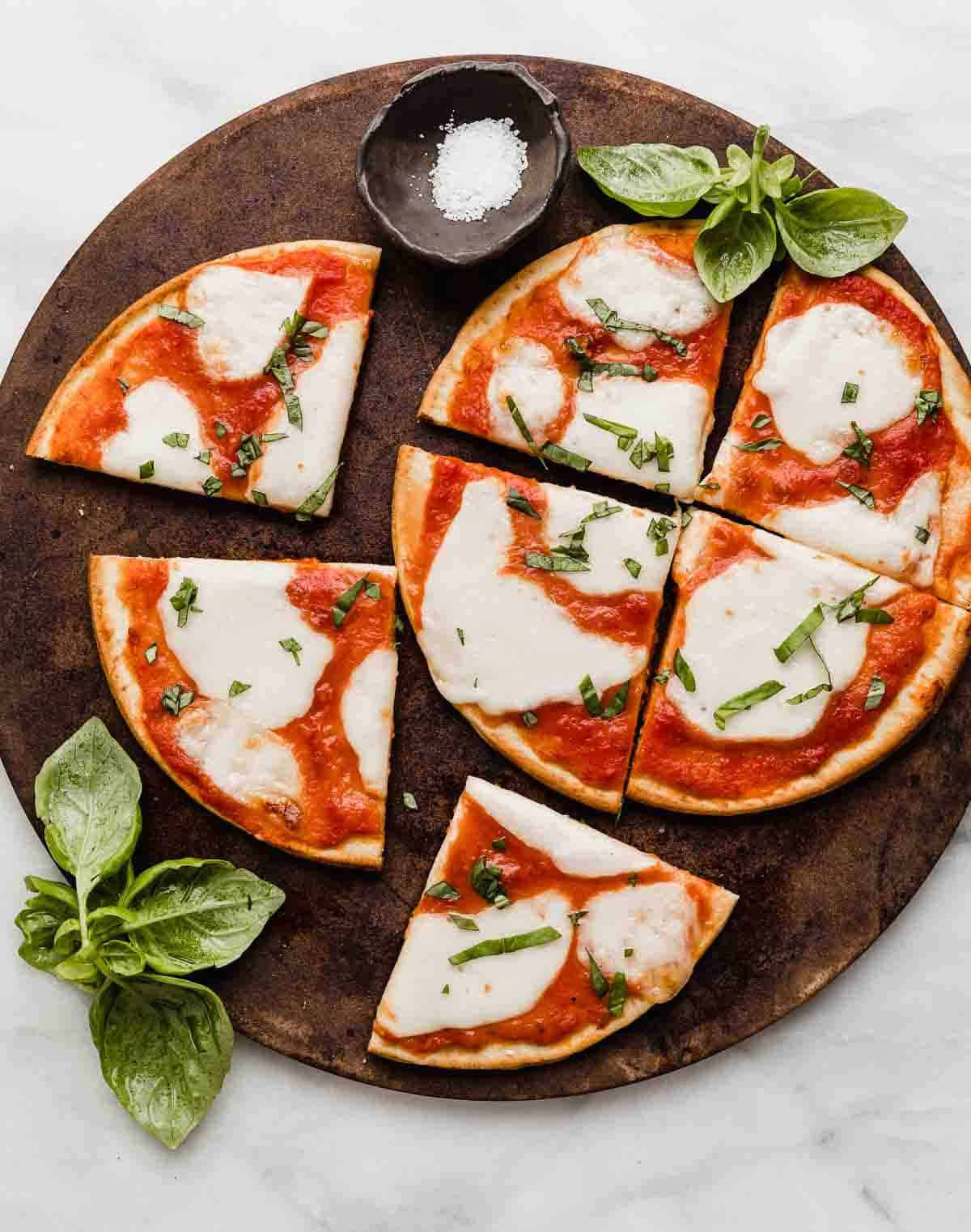 Recipe FAQs
How to make margherita flatbread pizza?
Simple! Take the flatbread, spread the crushed tomatoes on top, rip up the fresh mozzarella and sprinkle with kosher salt. Bake! Then top with fresh basil. See my full recipe for details. 
Can I use regular pizza sauce?
Yes you can. If you prefer a store-bought pizza sauce in the jar, you can use that. I love the simplicity of the crushed tomatoes and it tastes more like authentic Italian margherita pizza to me! But whatever you prefer or have is great. 
What if I don't have fresh basil?
If you don't have fresh basil you can sprinkle the margherita flatbread with some Italian seasoning, oregano, or dried basil.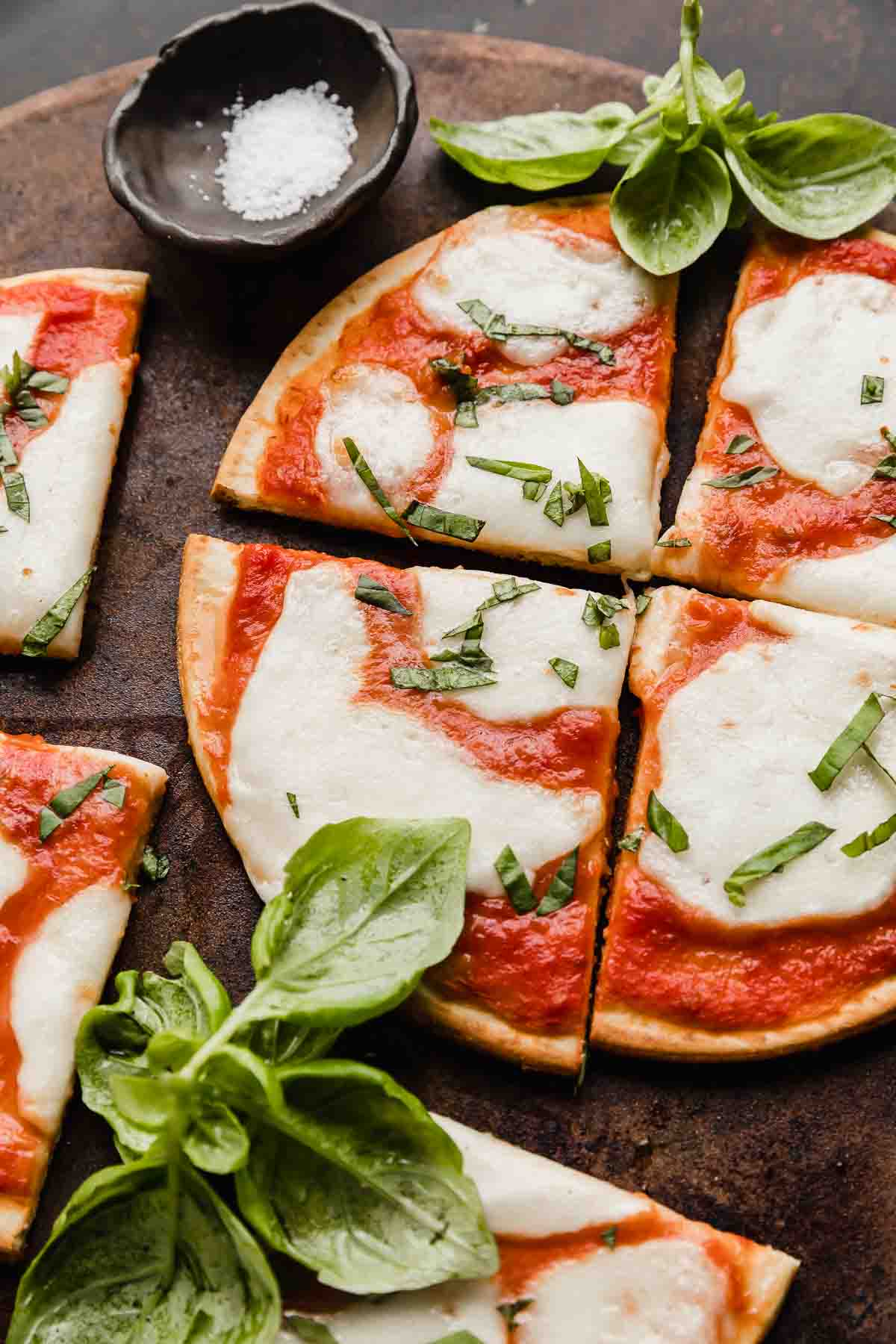 More Pizza Recipes
Margherita Flatbread
These easy Margherita Flatbread pizzas require minimal and simple ingredients to deliver a classic (yet easy) authentic margherita flavor!
Ingredients
2

flatbreads

-

pita – without pockets, or naan bread

1/4

cup

crushed tomatoes

-

divided

4

oz

fresh mozzarella

-

divided

fresh basil

-

torn or chopped

kosher salt

-

for seasoning
Instructions
Preheat the oven to 500°F. Position the oven rack to the middle position of the oven. If you have a pizza stone, place it on the oven rack. 

Place the two flatbreads on a piece of parchment paper. Using a spoon, spread the crushed tomatoes over each flatbread, using the back of the spoon to smear it around. If you like a lot of tomato sauce, you can add more! And vice versa, if you don't like a lot of sauce, add less. 

Place 2 oz of fresh mozzarella on one flatbread, and 2 oz on the other. I like to tear the mozzarella so that it's in smaller chunks. Sprinkle a pinch of kosher salt over each pizza.

Grab a corner of the parchment paper and carefully slide the parchment and flatbread pizzas onto a pizza peel. Transfer the parchment and pizzas to the pizza stone. Bake for 10-12 minutes or until cheese is melted. Slide the pizza peel underneath the parchment and pizzas and carefully remove them from the oven. Place the pizzas on a cutting board.  

Sprinkle fresh basil over both pizzas. Slice and serve.
Notes
If you don't have a pizza stone you can bake the pizzas on a baking sheet, and if your oven doesn't reach 500°F, that's ok. Just do it to 475°F and bake until the cheese is melted and warmed through.
Did you make this recipe?
Leave a star rating and review on the blog post letting me know how you liked this recipe! Take a picture and tag @saltandbaker on Instagram and Facebook so I can see what you're making!