Homemade Pizza Dough
This homemade pizza dough is easy to make and comes out perfectly every time!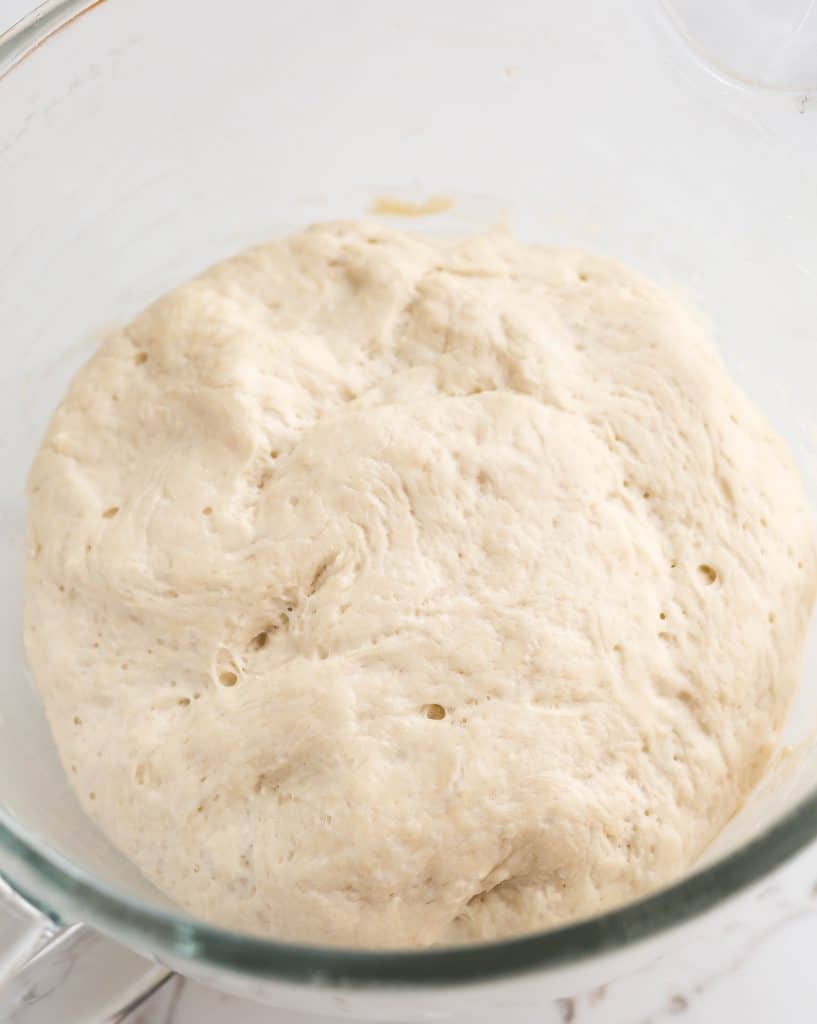 Making pizza from scratch use to scare me. I thought it was this huge process that required a lot of ingredients and time. I figured why not order pizza. It's faster, better, and cheaper.
WRONG.
Homemade pizza is sooo much better! And it's incredibly easy too.
I love that pizza is so forgiving. You can place an array of vegetables and ingredients on the pizza and it turns out tasting delicious. Did you see my Prosciutto Blackberry Pizza? Who knew blackberries would taste good on pizza?! Well they do, so go try it!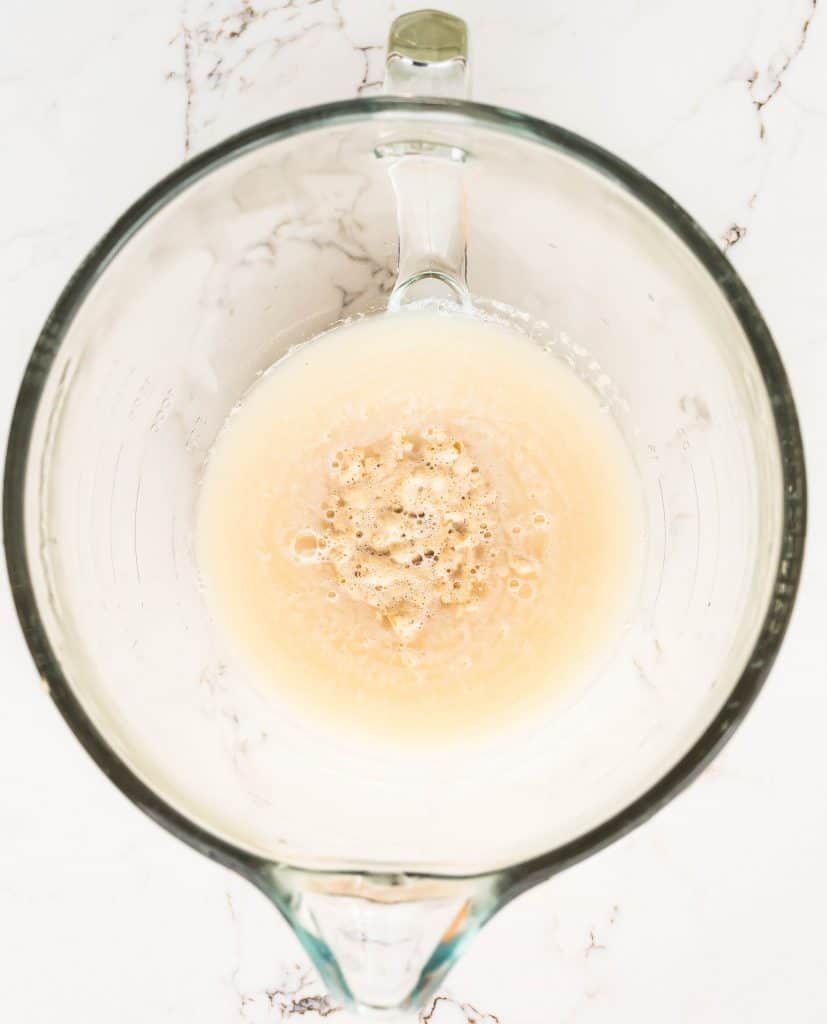 How to make homemade pizza dough
Place warm water in your mixing bowl, and a little sugar, and then the yeast.
Adding a small amount of sugar to the yeast increases the yeasts activity. The yeast will feed on the sugar.
Now, when working with yeast you want to make sure it's not expired. Fresh yeast is important because it forces the dough to rise. If you add the yeast to the warm water and after 10 minutes there's no bubbling action going on, you need to buy new yeast.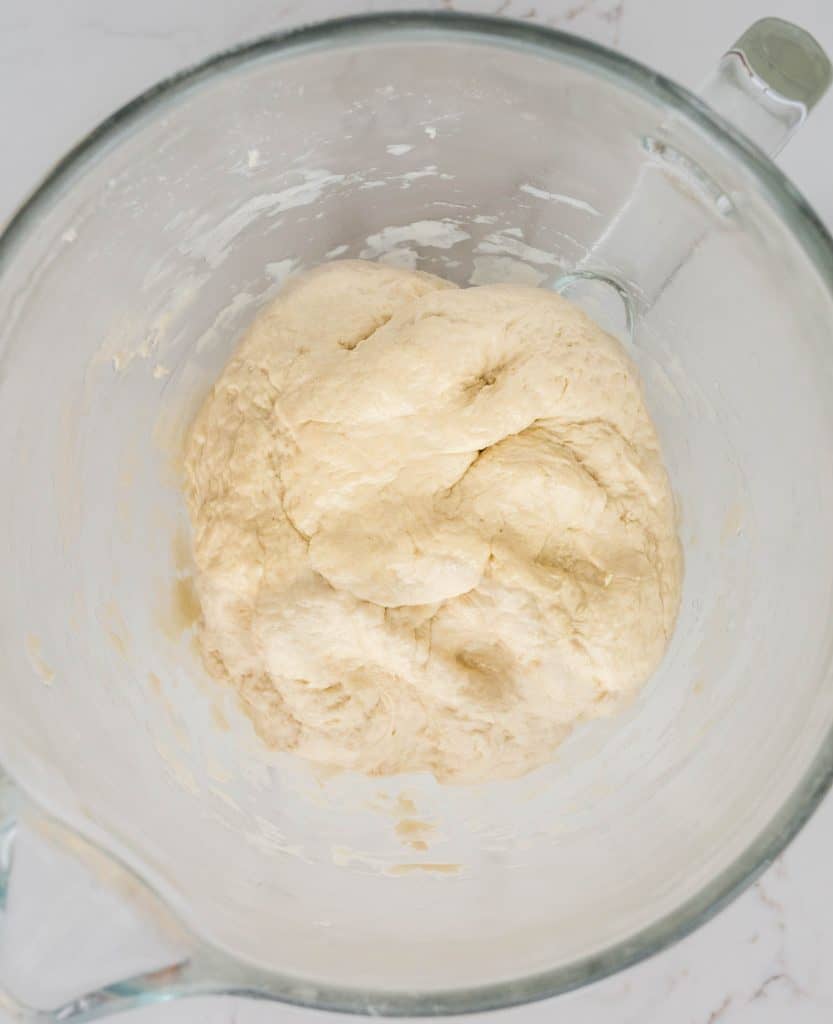 Now that the yeast is activated, lets add the flour!
I add 3 cups of all purpose flour, the salt, and then knead it with my Kitchenaid's dough hook.
Once it's combined, add the remaining 2 cups of flour. You want the dough to be tacky, but not overly sticky. If your dough is sticky, add 1 tablespoon of flour at a time until you reach the perfect tackiness.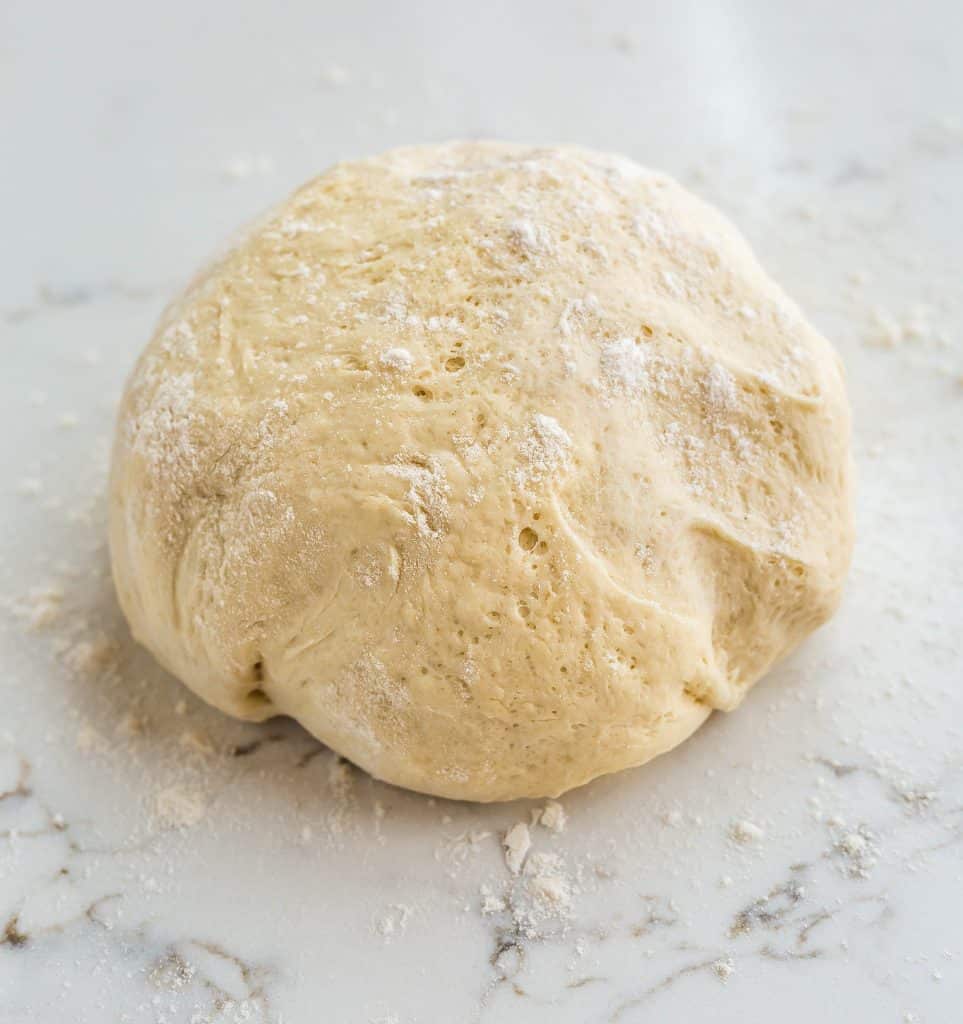 Add about 1 tsp of oil to a bowl. Rub the oil around so that it covers the entire inside surface of the bowl.
Place the ball of dough in the bowl and flip it over so that the dough has a light coating of oil on all sides. Cover the bowl with plastic wrap. Let rise for 30 minutes.
When I make dough, I cover my bowl with a hot towel. Again, not necessary, but I do it to speed up the rising process. And oddly, it makes me feel better about the dough rising.
After the dough has risen for 30 minutes transfer the dough to a lightly floured surface. Divide the dough in half. Roll out the dough to your desired thickness, top with your favorite toppings, bake, and enjoy!
I suggest you use this homemade pizza dough to make these delicious recipes:
Prosciutto Blackberry Basil Pizza
Craving more?  SUBSCRIBE TO SALT & BAKER to get new recipes delivered straight to your inbox! Simply enter your email in a subscription box located on the right hand side of the blog or scroll below the recipe and sign up there!
And stay in touch on Facebook, Pinterest and Instagram for all of the latest updates.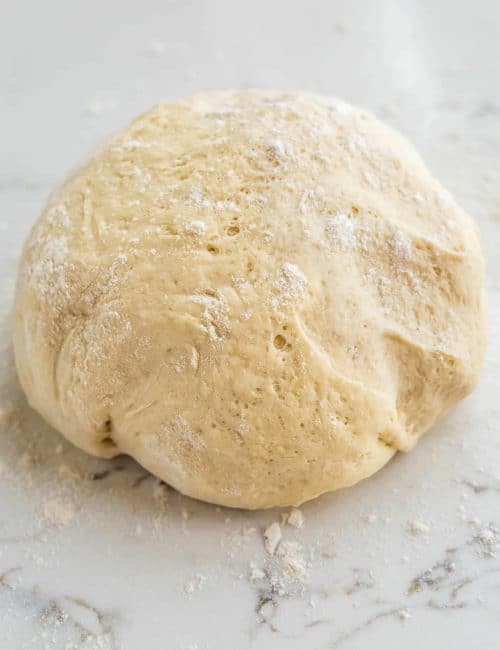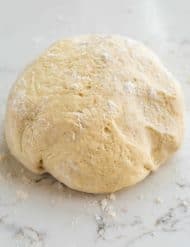 PRINT
Homemade Pizza Dough
A perfect pizza dough recipe resulting in the BEST homemade pizza dough every single time!
INGREDIENTS
2

cups

warm water

1/2

tsp

sugar

1

T

yeast

5

cups

all-purpose flour

1

T.

salt

oil
INSTRUCTIONS
In the bowl of a stand mixer, add the warm water. Then add the sugar and yeast. Let the yeast sit for 10 minutes or until the yeast is bubbly (signifying it has been activated).

Add 3 cups of flour and the salt to the yeast mixture. Using the dough hook, mix until flour is combined. Add remaining 2 cups of flour. Stir until the dough comes away from the sides of the bowl. If the dough is really sticky, add flour 1 tablespoon at a time. You don't want to add too much flour. You want the dough to still have a tacky feel to it. (We just don't want overly sticky)!

Add about 1-2 tsp of oil (I use Canola oil) to a bowl. Using your hand or a paper towel, make sure the oil is covering the entire bowl. Place the pizza dough ball in the bowl. Then turn the dough ball over, so that the oil is lightly covering both sides of the dough.

Cover the bowl with plastic wrap. * Let it rise for 30 minutes.

Transfer the dough to a lightly floured countertop. Divide the dough in half. Roll out to your desired pizza size. (We like thin crust pizzas so I roll it out fairy thin). When ready to cook, place in the oven, either on a olive oil greased pan, or a pizza stone, and bake at 450°F for 15-17 minutes. Or until the crust is cooked all the way through, and the cheese is melted and golden in color.
RECIPE NOTES
*After covering the bowl with plastic wrap, I will also cover the bowl with a hot towel. It just helps speed up the rising process. Or if your kitchen isn't very warm, the warm towel helps as well!   This recipe adapted from
Chef-In-Training
.
Calories:
1161
kcal
|
Carbohydrates:
241
g
|
Protein:
34
g
|
Fat:
3
g
|
Sodium:
215
mg
|
Potassium:
391
mg
|
Fiber:
10
g
|
Sugar:
1
g
|
Calcium:
5.4
%
|
Iron:
81.3
%
Did you make this recipe?
Leave a comment or share a photo on Instagram and tag @saltandbaker and hashtag it #saltandbaker.