The Best Pizza Dough Recipe
This post may include affiliate links. As an Amazon Associate I earn from qualifying purchases.
Master the art of homemade pizza with this Best Pizza Dough Recipe! This quick pizza dough recipe produces a foolproof, soft pizza crust that can be used for any pizza recipe — perfect to level up your pizza night.
We loving using this pizza dough recipe to make my Pepperoni Pizza Dip, Pesto Arugula Pizza, or my Blackberry Pizza. There are so many delicious options!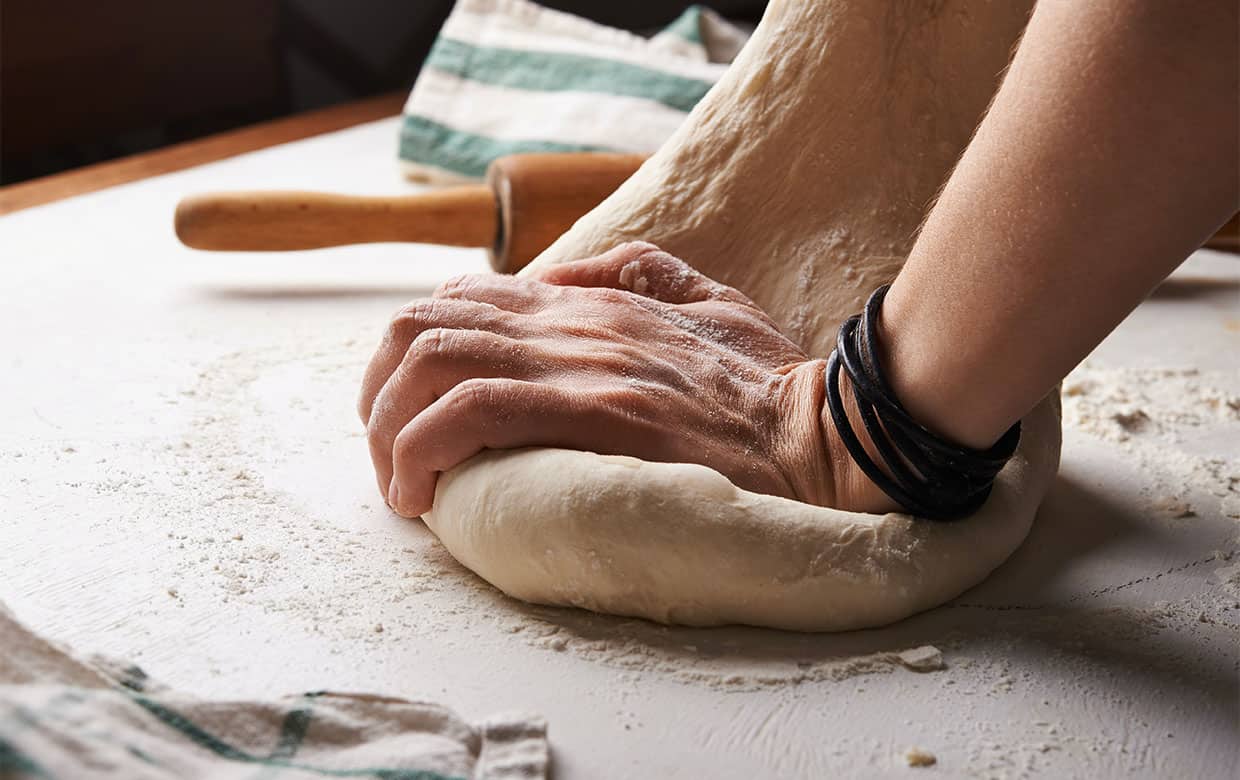 Why This Recipe Works
Makes dough for 2 pizzas. No need to double this homemade dough recipe! You'll get 2 medium pizzas (I sometimes can get 3 depending on how thin I roll out my crust). Making dinner for a big family easy peasy.
Best pizza dough recipe. You'll love how easy this pizza dough recipe is as well as the flavor and texture you get when baked! It's a family favorite recipe.
Easy pizza dough recipe. This easy homemade pizza dough recipe is just what you need, with an easy-to-follow recipe, you'll get the perfect pizza dough every single time! In fact, this recipe has never failed me.
Ingredient Notes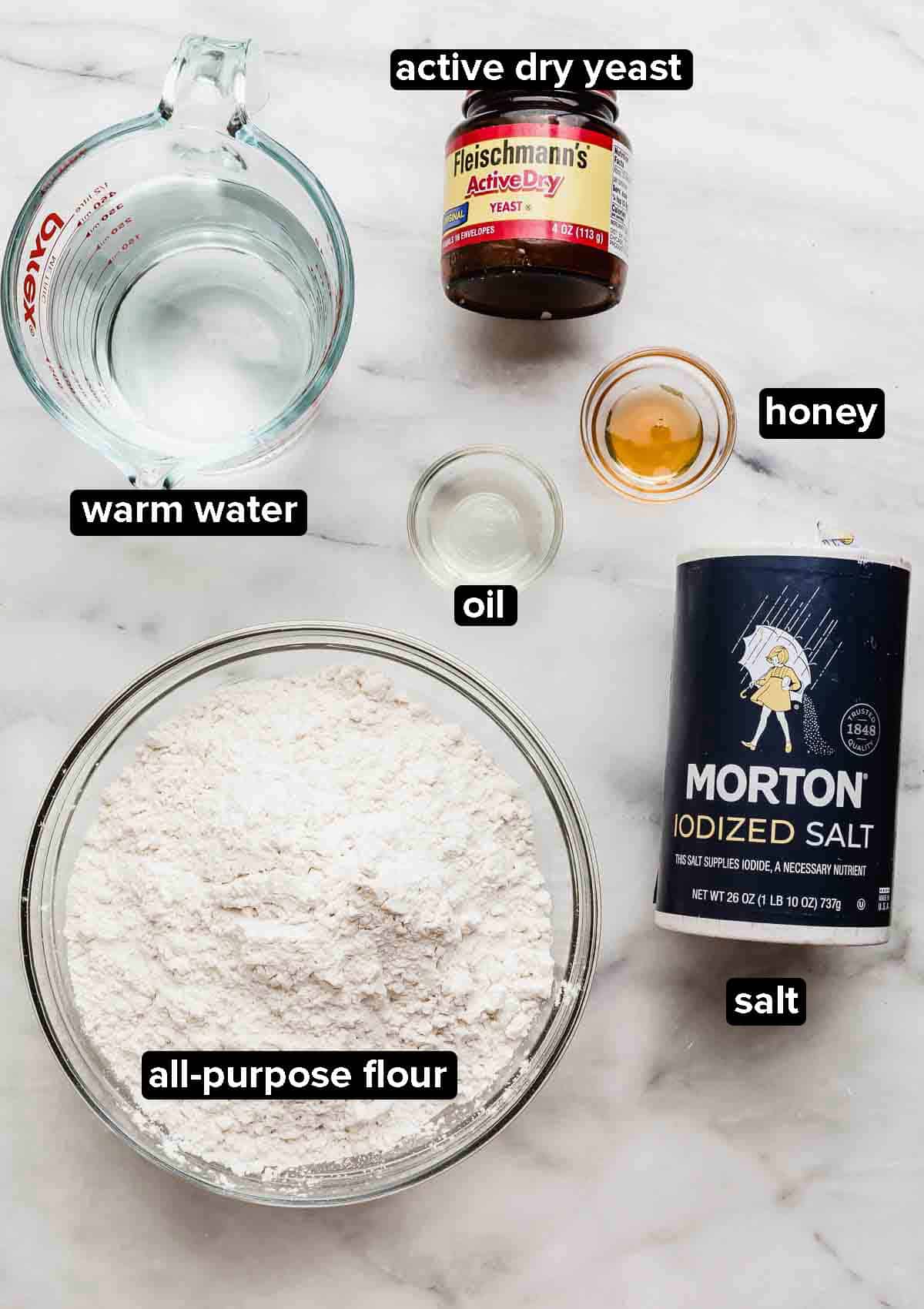 Flour: Use all purpose, bread flour, or wheat flour. This recipe uses all purpose flour.
Yeast: The yeast gives rise and lift to the pizza crust.
Honey: While not absolutely necessary for a pizza crust, I like to include a small amount of sugar for my active dry yeast to feed on. Yeast loves a bit of sugar and so that will help it activate and give a good rise to your crust. You can use granulated sugar if you'd like to instead of honey.
Salt: For flavor and tightening the gluten.
Oil: You'll want oil to lightly grease the bowl so the dough won't stick to the bowl and to keep it from drying out as it rises. You can use olive oil for added flavor or vegetable oil or canola oil works great too.
Step-by-Step Instructions
Let the yeast sit. To the bowl of a stand mixer, add 2 cups warm water. Add 1/2 tsp honey and 1 tablespoon yeast. Stir. Let sit for 10 minutes.
Add flour and salt. Once the yeast is bubbly, add 3 cups flour and 1 tablespoon salt. Using a dough hook, mix until the flour is incorporated. Add 1 1/2 cups flour and mix until the dough comes away from the sides of the bowl (it will still stick to the very bottom of the bowl). If overly sticky, add 1 tablespoon of flour at a time until the dough pulls away from the bowl.
Let dough rise. Add 1 tsp oil to a large bowl and rub it around to cover the entire bowl. Place the ball of dough in the bowl and turn the dough ball over so the oil covers both sides. Cover with plastic wrap and let rise in a warm place for 45-60 minutes or until doubled in size. 
Roll out. Once the pizza dough has risen, transfer to a lightly floured surface and divide in half. Using a rolling pin, roll out each to your desired shape.
Baking instructions. Once your pizza is rolled out, transfer the flat pizza dough to a piece of parchment paper. Add your desired sauce and your favorite toppings. Preheat your oven to 500ºF (if using a pizza stone, preheat the stone with your oven). Using a pizza peel, transfer the pizza on the parchment paper onto a baking sheet or directly onto the pizza stone in the oven. Bake for 12-14 minutes or until golden brown and cooked through. Enjoy!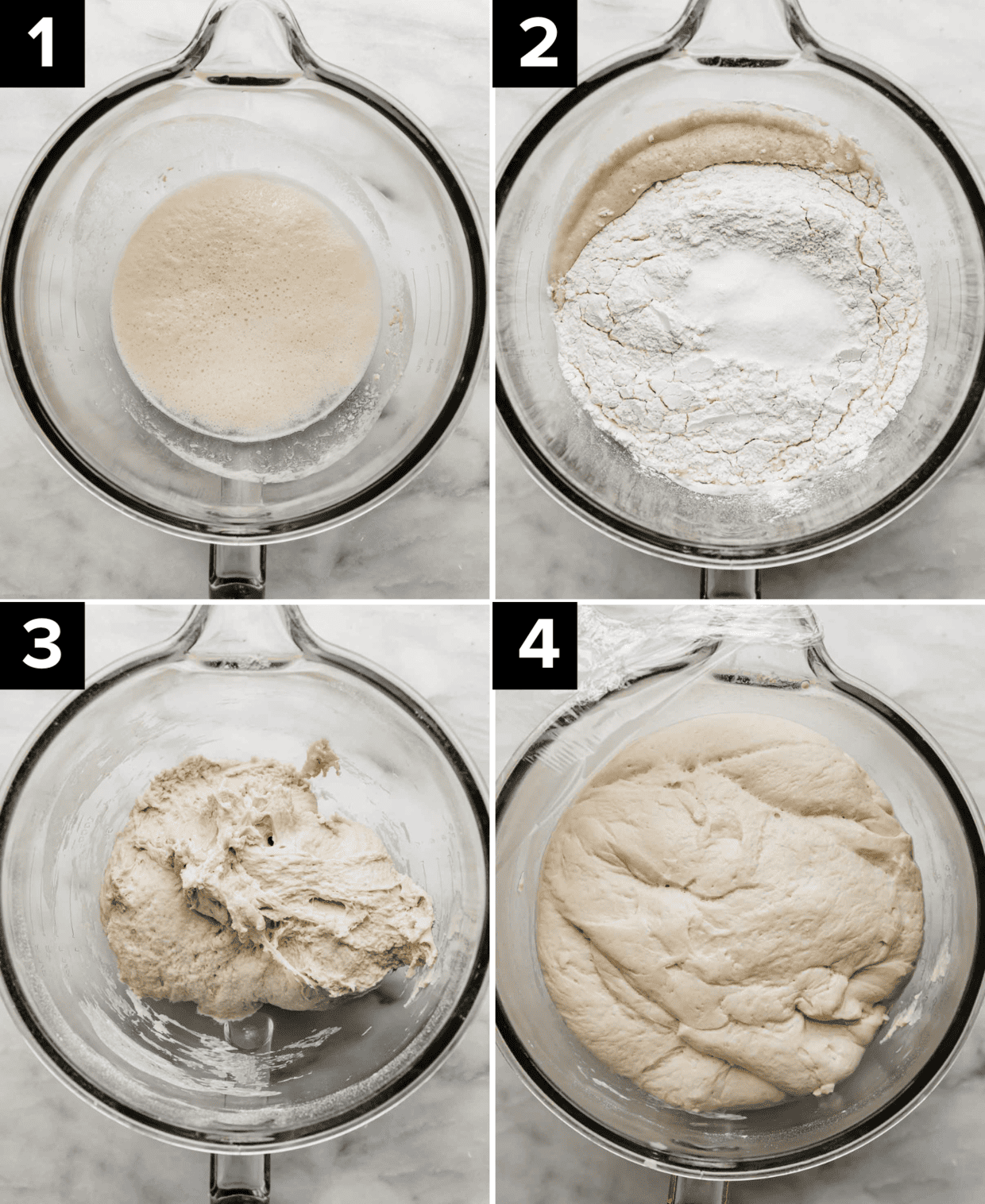 Recipe Tips
Make sure to let the yeast sit for the full 10 minutes. Bubbling yeast is a sign of activation, ensuring your dough will rise beautifully.
The dough should be tacky, but not overly sticky.
The amount of flour will differ depending on your climate, humidity, elevation, etc. Add flour in increments to prevent over-drying the dough. Adjust the final flour amount as needed to achieve the desired consistency.
Using oil to grease the bowl and coat the dough prevents sticking, aids in a smooth rise, and keeps the dough from drying out.
Find a warm, draft-free spot for your dough to rise—it should double in size within the specified time frame.
Looking for a homemade pizza sauce? Try my Pizza Sauce with Tomato Paste!
Make Ahead, Storing, and Freezing
To make ahead of time, store the dough in the fridge for a day or two, then roll out when ready to bake.
For storing, you can make the pizza dough, let it rise and make the pizzas right away, or you can make the pizza dough, wrap it in plastic wrap and store it in the refrigerator in an airtight container until you need it.
Pizza dough will keep in the fridge for up to 3 days.
To freeze, divide the dough into do balls and lightly coat with oil. Place in a freezer bag an seal fully, removing all the air. Place in the freezer. Freeze for up to 3 months.
To thaw frozen dough, I like Taste of Home's directions: Let the dough sit in the fridge overnight, then in the morning move the pizza dough from the fridge to the counter for 30 minutes to an hour before rolling it out.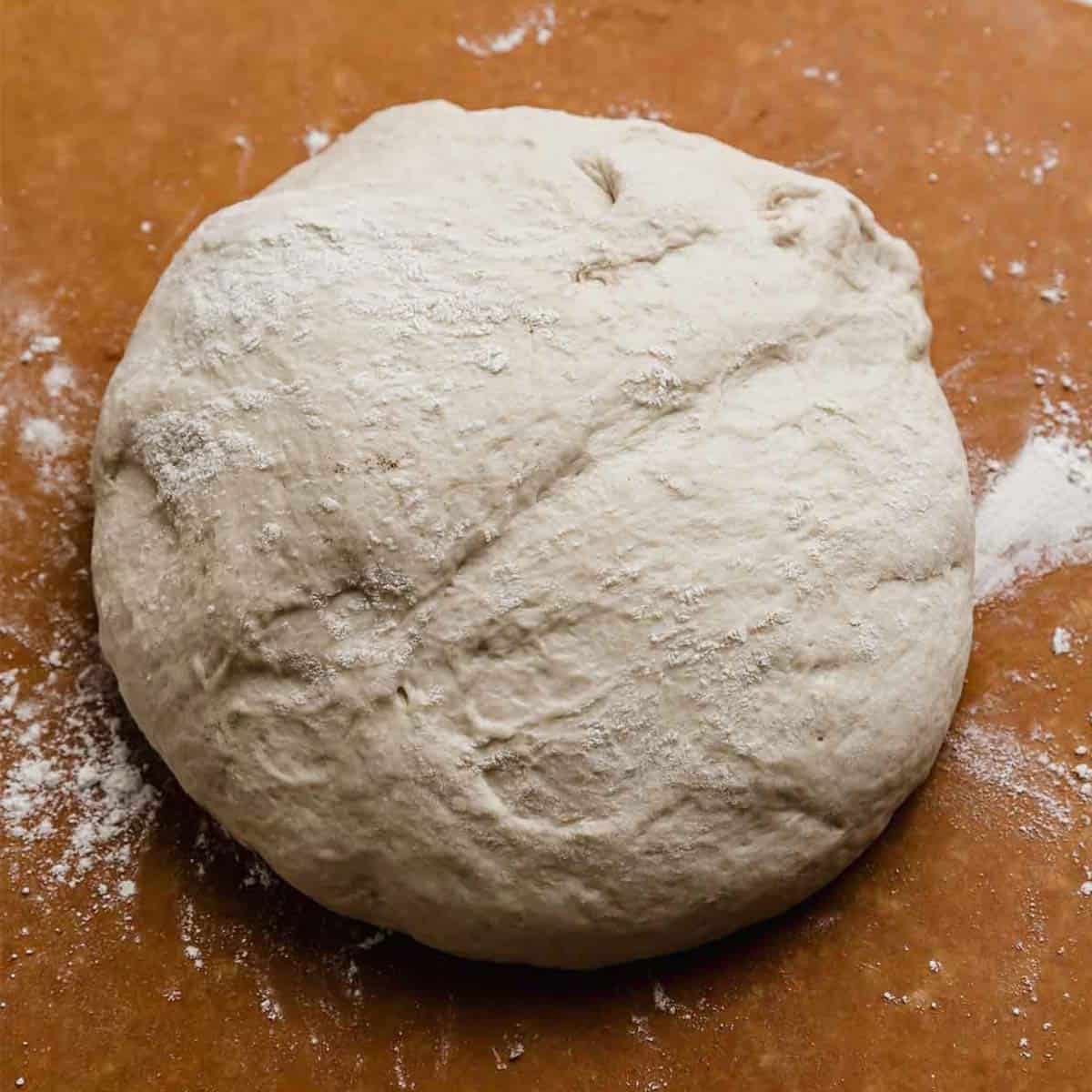 Recipe FAQs
What is the best flour for pizza?
The best flour for pizza is one with high gluten, so all purpose (10%-12% gluten) or bread flour (12%-14% gluten) are great options. Don't use pastry flour or cake flour for pizza dough as their gluten levels are much lower.
Why salt in pizza dough?
Salts major role is to boost flavor, without it Weekend Bakery says, "Breads will taste flat." In addition to adding flavor, salt strengthens the dough by tightening gluten structure.
Do you have to put salt in pizza dough?
Nope! It isn't absolutely necessary, although (from the question above) it can aid in gluten development. Ultimately it's your call, but without salt the pizza dough won't taste or act the same.
Can I use instant yeast instead of active dry yeast?
Yes, you can. Instant yeast can be added directly to the dry ingredients, skipping the proofing step. Use the same amount as the active dry yeast in the recipe.
Can you make pizza dough by hand?
You can make this pizza dough without a mixer by hand. Simply use a wooden spoon to stir everything.
How do I know when the dough has risen enough?
The dough should visibly double in size. Gently press it with your finger—if it springs back slowly, it's ready. Rising time can vary due to factors like room temperature.
How long does thin crust pizza take to bake?
If you make a thin crust pizza, your bake time might be around 12-14 minutes depending on the thickness of the crust and your oven's temperature.
Can you freeze pizza dough?
Yes! I'm a big proponent of things you can make ahead of time. If you want to free some pizza dough for later, Taste of Home has easy directions to follow: Simply divide the dough into balls that, when rolled out, will make the size of pizza you'd like. Lightly coat the pizza dough balls with olive oil. Put the balls in a sealed freezer bag, removing all the air before putting in the freezer. 
Pizza Recipes
The Best Pizza Dough Recipe
It's important to have the best pizza dough recipe, as it serves as the base upon which all the toppings and sauce are added. This is a simple recipe that produces a high quality pizza crust!
Ingredients
2

cups

warm water

1/2

teaspoon

honey

1

T

yeast

4 1/2

cups

all-purpose flour

-

may need more or less depending on your location, climate, altitude etc.

1

T.

salt

oil

-

for greasing the bowl
Instructions
In the bowl of a stand mixer, add the warm water. Then add the honey and yeast. Stir. Let the yeast sit for 10 minutes or until the yeast is bubbly (signifying it has been activated). 

Add 3 cups of flour and the salt to the yeast mixture. Using the dough hook, mix until flour is combined. Add remaining 1 1/2 cups of flour. The dough should come away from the sides of the bowl but still stick at the very base. If the dough is really sticky, add flour 1 tablespoon of flour at a time to reach this consistency. The dough should be tacky, but not overly sticky.

Add about 1 tsp of oil (I use Canola oil) to a bowl. Using your hand or a paper towel, make sure the oil is covering the entire bowl. Place the pizza dough ball in the bowl. Then turn the dough ball over, so that the oil is lightly covering both sides of the dough. 

Cover the bowl with plastic wrap. Let dough rise in a warm area for 45-60 minutes or until doubled in size.

Transfer the dough to a lightly floured countertop. Divide the dough in half. Roll out to your desired pizza size. (We like thin crust pizzas so I roll it out fairy thin).

When ready to cook, place in the oven, either on a olive oil greased pan, or a pizza stone, and bake at 500°F for 12-14 minutes. Or until the crust is cooked all the way through, and the cheese is melted and golden in color. 
Notes
This recipe makes about 2 lbs 8 oz of pizza dough.
Did you make this recipe?
Leave a star rating and review on the blog post letting me know how you liked this recipe! Take a picture and tag @saltandbaker on Instagram and Facebook so I can see what you're making!