Pesto Arugula Pizza
This post may include affiliate links. As an Amazon Associate I earn from qualifying purchases.
This Pesto Arugula Pizza with Balsamic Drizzle is exploding with flavors! Topped with diced onions, chicken, ricotta, nectarines, corn, arugula, and a balsamic reduction, the flavors marry together for a beautiful combination fit for your next pizza night!
If you're making homemade pizza, you need a solid pizza dough recipe. This is my go-to pizza dough recipe. It's fantastic! This pizza dough recipe yields 2-3 pizzas, so you can refrigerate the leftover dough and use it for another night, or make breadsticks to go along with your pizza! You can also use my homemade basil pesto recipe for a homemade pesto option.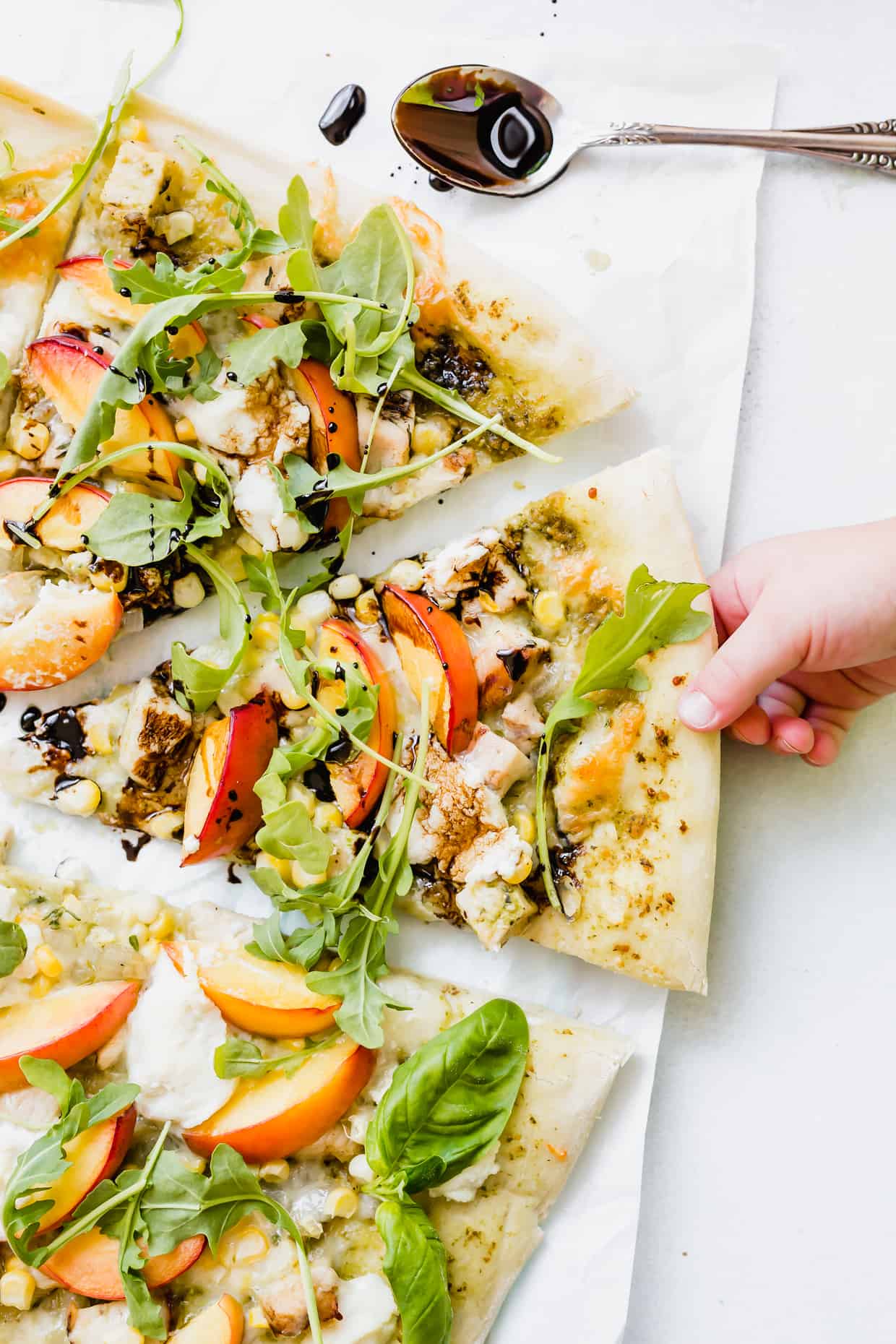 Why This Recipe Works
A symphony of flavors. Let me tell you when I say this is the perfect pizza topping combination! I made this pizza from a "build your own pizza" night at our house. I went for a unique and creative pizza and boy was everyone asking for more! You'd never think that ricotta, corn, pesto, chicken, onion, nectarines, fresh arugula and a balsamic glaze would all marry together so well but this is pizza heaven!
Fresh ricotta. I have a newfound weakness for ricotta on pizzas. I can't get enough of it! My husband doesn't love ricotta, but he loved it on this pizza. So don't be shy with the ricotta!!
Fresh corn, nectarines and arugula. This pesto arugula pizza is, of course, served with fresh arugula! But that isn't the only fresh ingredient on top. The fresh corn and juicy nectarines are the perfect complement to this delicious arugula pizza!
Arugula pizza with balsamic glaze. The balsamic reduction is necessary! We're talking finger-licking good! It adds the perfect end note to a beautiful symphony of flavors!
Ingredient Notes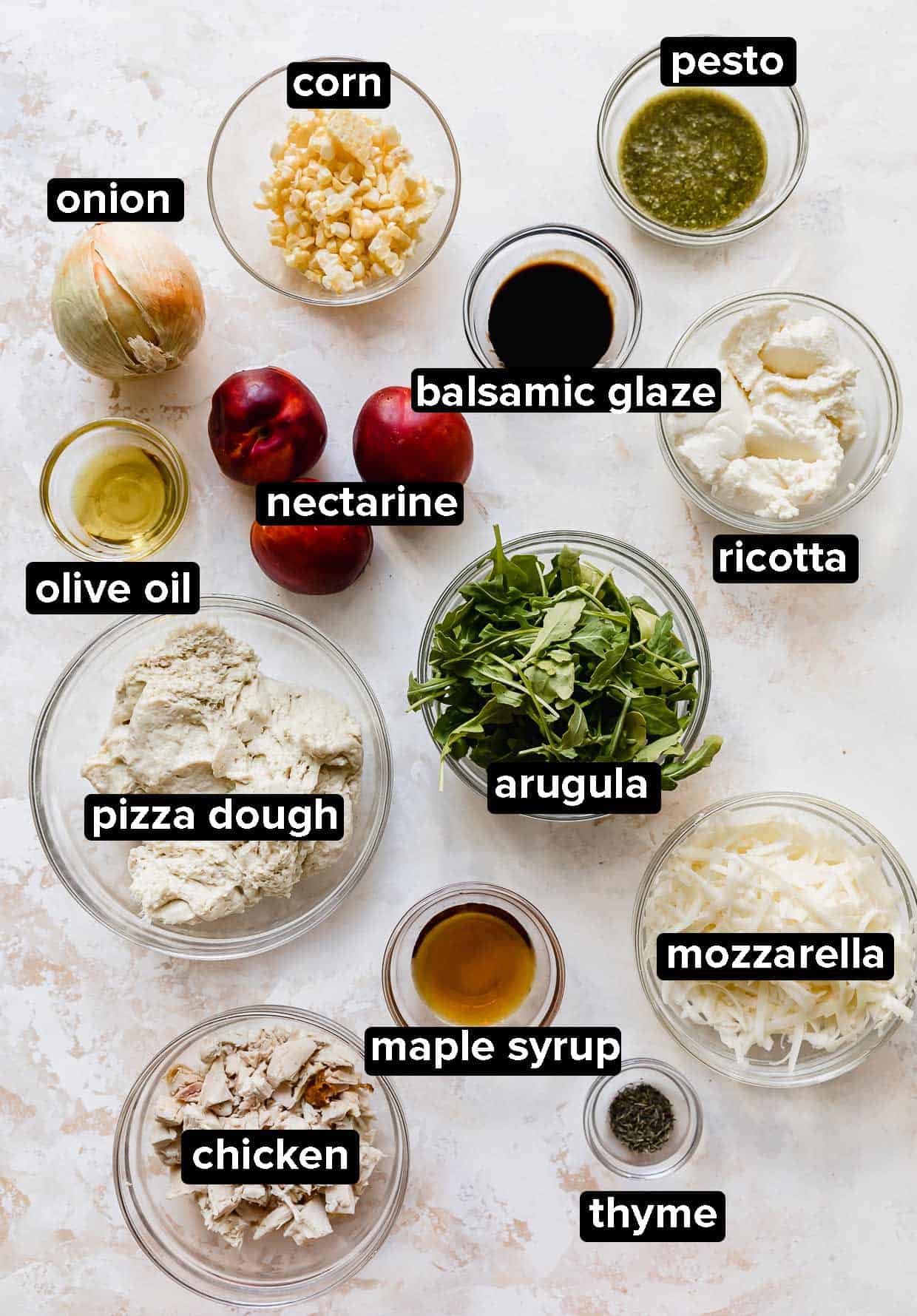 Pizza Dough: My Homemade Pizza Dough Recipe is amazing! If you want to make your own homemade dough, hop on over to that recipe and make the dough. You can use store bought pizza dough if you are short on time.
Cooked Chicken Breast: Cook the chicken breast and cut it into cubes. You can also use grilled chicken, rotisserie chicken or shredded canned chicken, whatever you'd prefer. I think grilled chicken or cubed cooked chicken yields the tastiest results!
Real Maple Syrup: This adds a deliciously sweet maple flavor to the chicken and onion mixture. If you don't have real maple syrup, you can use imitation maple or honey. Just note that the flavor will be a tad different.
Nectarines: You don't have to use nectarines here! You can use sliced peaches or sliced pears.
Arugula: The arugula will be added on fresh just prior to serving. Feel free to add more handfuls of arugula to your liking!
Ricotta Cheese: Trust me on this! You will love the pocket of ricotta on this pesto arugula pizza! It adds a delicious moisture to the pizza.
Corn: You can use fresh corn cut off the cob, canned corn that has been drained or frozen corn that has been thawed for this pesto pizza.
Step-by-Step Instructions
Make the pizza dough. If you are using store bought pizza dough, skip this step. If you are using homemade pizza dough, follow along in my homemade pizza dough recipe!
Make the chicken and onion mixture. Add the olive oil and onion to a sauce pan and cook for 5 minutes over medium heat. Add the cooked chicken, syrup, fresh thyme and salt and pepper to taste. Cook for a few minutes and remove from heat.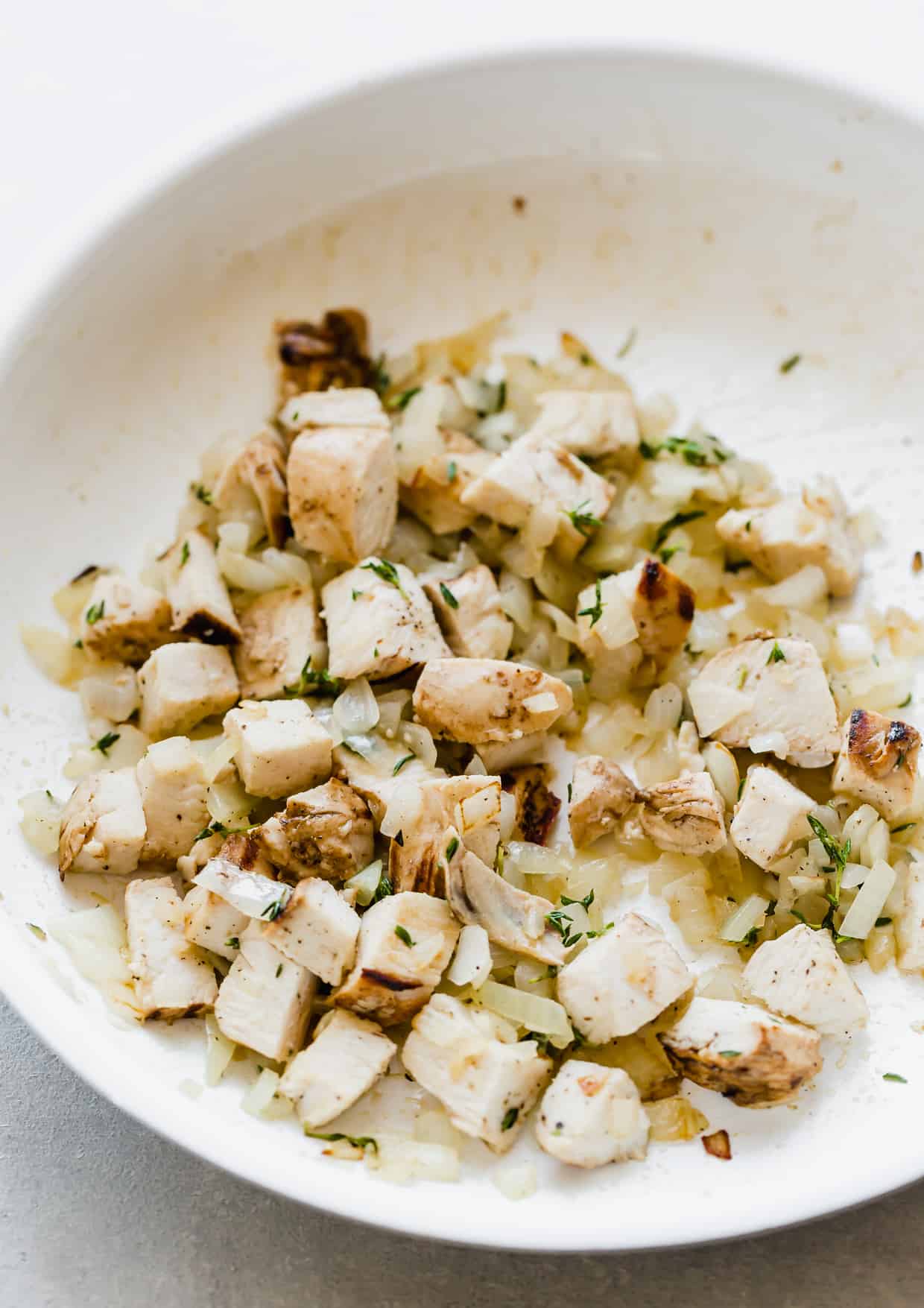 Roll out the dough. Roll out the pizza dough to about 14-15 inches around. This will be a thin crust pizza. Place on a baking sheet covers in a few teaspoons of olive oil to prevent from sticking.
Top with basil pesto. Spread the pesto on top of the pizza dough. Add the chicken and onion mixture evenly on top, leaving 1/4 inch on the edges for the pizza crust.
Add mozzarella, corn, nectarines and ricotta. Top with the shredded mozzarella cheese, the corn and nectarine slices. Finish by dolloping the ricotta into little piles on the pizza.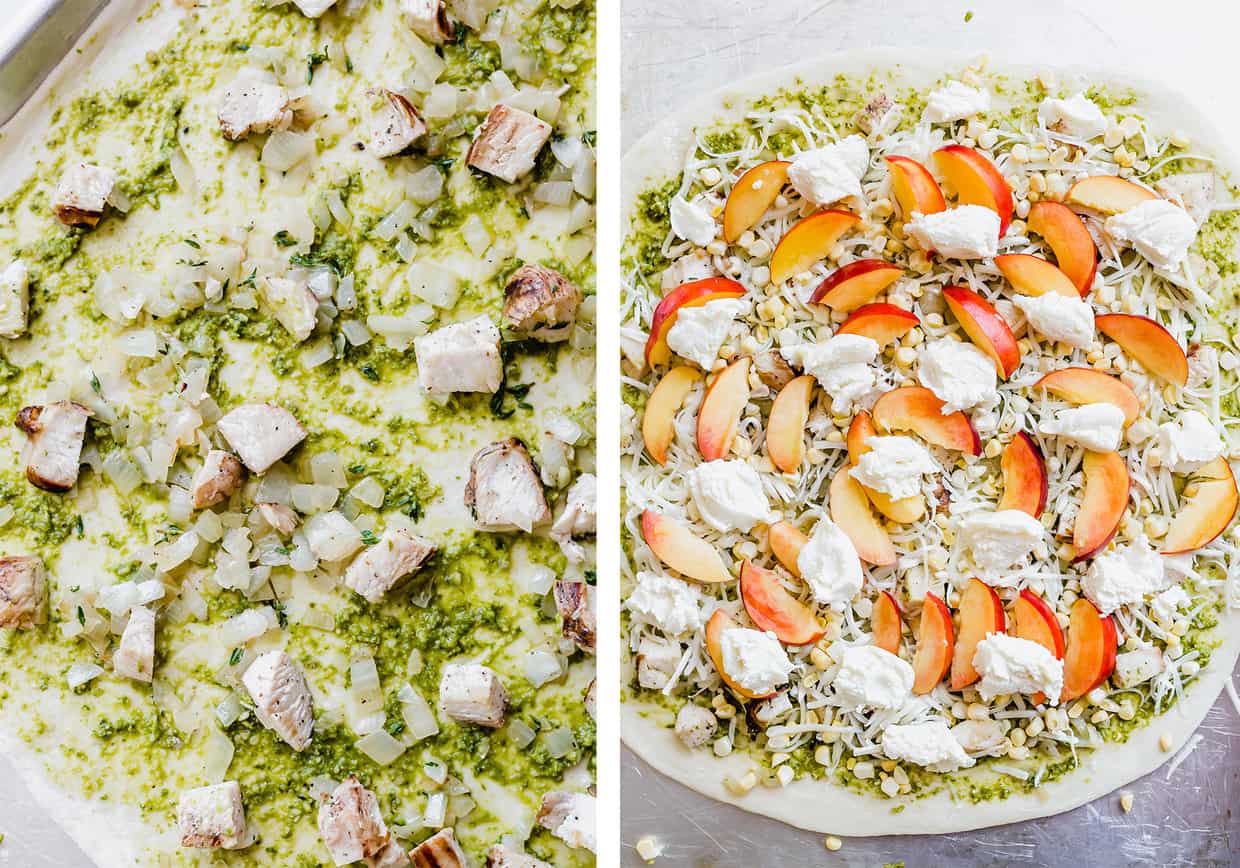 Bake the pesto arugula pizza. Bake the pizza in a hot oven preheated to 450°F for 12-16 minutes or until fully cooked. Remove and top with the peppery arugula and drizzle with balsamic glaze. Serve immediately!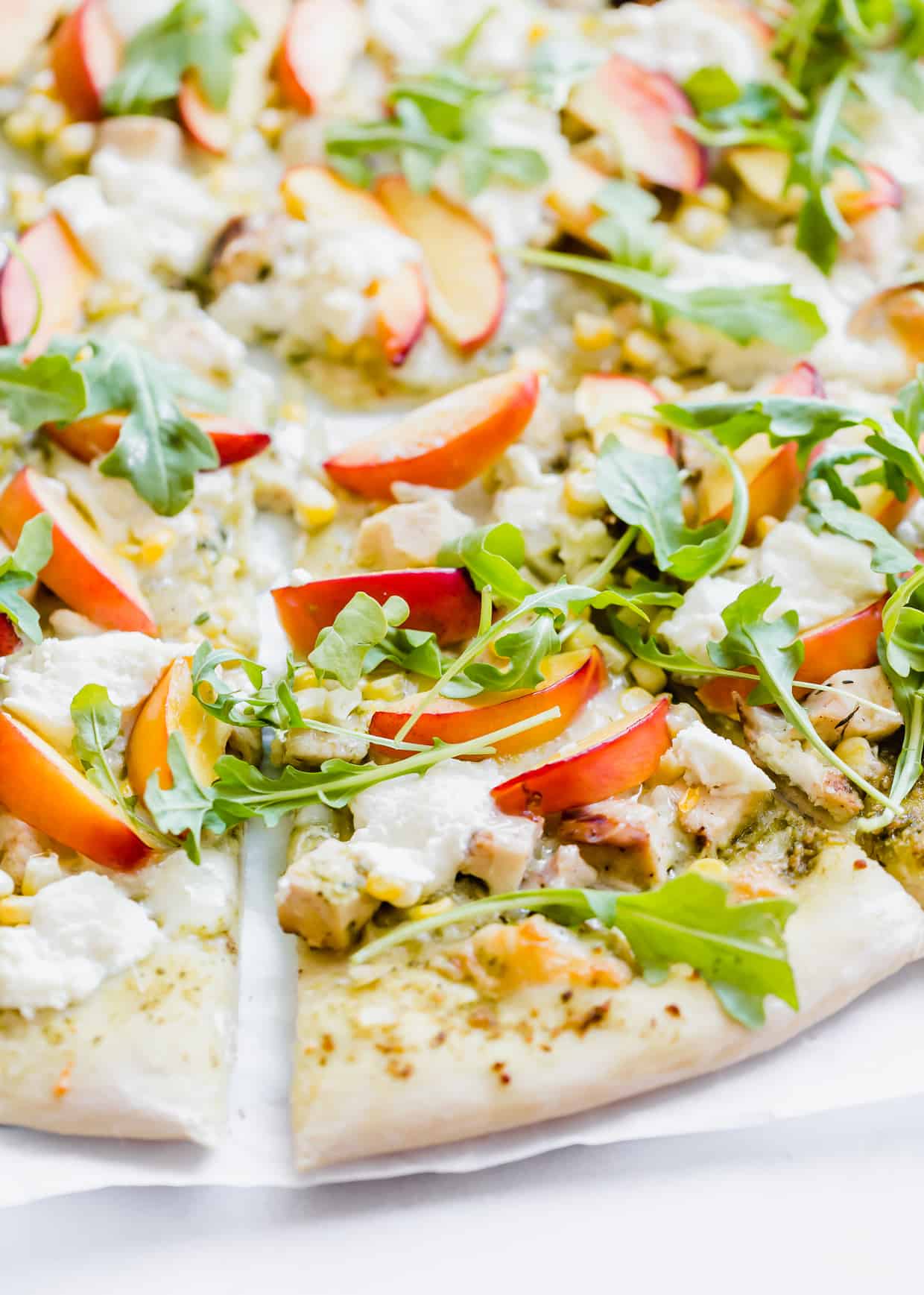 Recipe Tips
To make your own balsamic reduction (known as balsamic glaze if bought at your local grocery store), add 1 cp of balsamic vinegar to a small saucepan. Simmer for 15-18 minutes or until reduced by half. Remove and let cool. The mixture will thicken slightly once it cools. Store any leftover homemade balsamic glaze in an airtight container in the fridge.
I love a nice thin crust pizza, so I rolled mine to about 15 inches in diameter, give or take an inch.
Feel free to mix up the fruit on this pesto arugula pizza! I used nectarines, but you can use fresh peaches, fresh pears, fresh blackberries, etc.
If using a pizza stone, you want the stone to warm in the oven as your oven is preheated to avoid cracking. Because of this, you'll need to prepare the pizza on a separate plate and then transfer the pizza to the pizza stone. If you have one of those fancy pizza boards, this would be a time to use it! It can be hard to transfer the pizza to the hot stone without it sticking and while keeping the pizza and toppings in tact. If this is the case for you, you can prep the pizza directly on the stone and then put it in the oven and preheat. This will cause for a longer bake time.
Make Ahead, Storing, and Freezing
You can make the pizza dough ahead of time and store it in the fridge overnight or freeze and thaw to use later. Check out my homemade pizza dough post for more details on storing and freezing the dough.
Store any leftover pesto arugula pizza in an airtight container or Ziploc bag in the fridge for 2-3 days. Reheat in the microwave or oven until warm. You may want to pull the arugula off prior to reheating so it doesn't wilt.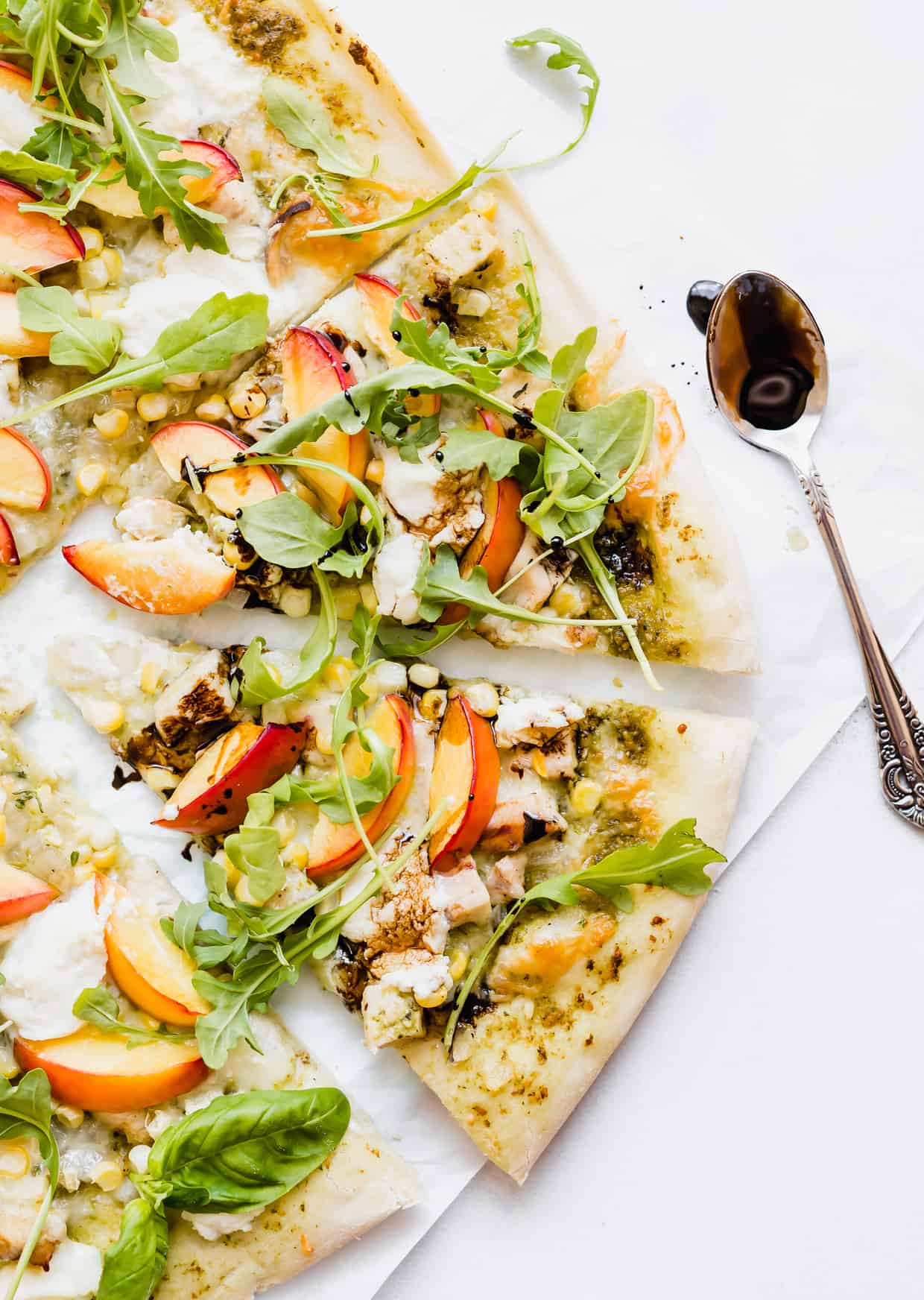 Recipe FAQs
Is arugula and rocket the same?
Yes! It is known as arugula in the U.S. and Canada. Rocket comes from "rucola" which means arugula in Italian. 
Is arugula good on pizza?
Yes it is! This pizza recipe is served with fresh arugula on top. It adds a deliciously subtle pepper flavor to the pizza from the arugula. It's also adds a nice fresh leafy component to the pizza. 
Do you cook the pizza with arugula on it?
No. Add the arugula after cooking. You want the arugula to be fresh and not cooked. 
What can I use besides ricotta?
If you are looking for a ricotta substitute, then the closest bet will be cottage cheese. Ricotta has a mellow flavor to it, so cottage cheese will be the nearest in terms of flavor. You can, however, use feta cheese or goat cheese instead. These cheeses are saltier than ricotta so the flavor will be more prominent.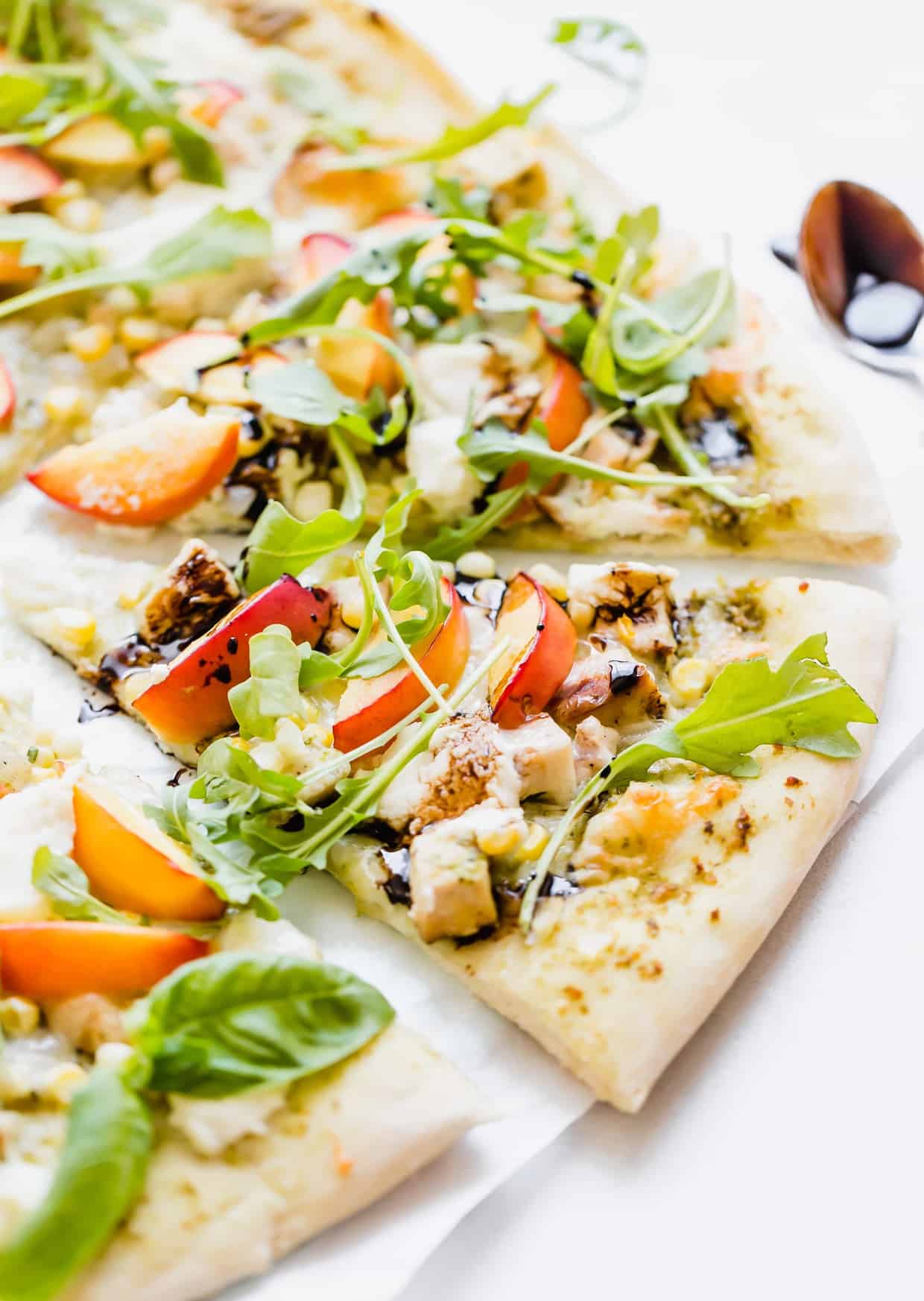 More Pizza Recipes
Pesto Arugula Pizza
This arugula pizza is so good! It's topped with basil pesto, onions, fresh corn, diced chicken, nectarines, ricotta, and arugula! It's a mouthful of flavors that come together beautifully!
Ingredients
14

oz

pizza dough

2

teaspoons

olive oil

1

yellow onion

-

diced (about 1 1/4 cup)

1

chicken breast

-

cooked and diced (will yield about 1 1/4 cups)

1/2

tablespoon

real maple syrup

2-3

teaspoons

fresh thyme

-

chopped

1/4

cup

basil pesto

3

nectarines

-

sliced

3/4

cup

arugula

-

(more or less to your liking)

1

cup

ricotta cheese

2

cups

mozzarella cheese

-

grated

1

ear of corn

-

cut off the cob (about 3/4 cup)

balsamic glaze

-

for topping, optional
Instructions
Preheat the oven to 450°F. Lightly brush a baking sheet with a couple teaspoons of olive oil. Set aside.

In a saute pan over medium heat, add the olive oil and onions. Cook until tender, about 5 minutes.

Add the diced chicken, maple syrup, thyme, and salt and pepper to taste. Cook for 2-3 minutes. Remove from heat and set aside.
Assembling the pizza
Roll out the pizza dough to a thin crust pizza, about 14-15 inches round. Place on the prepared baking sheet.

Spread basil pesto evenly on the dough. Add the onion and chicken mixture overtop the pesto. Spread to evenly cover the dough, leaving about a quarter inch of dough around the edges for a "crust."

Top with grated mozzarella.

Add the corn and sliced nectarines to the pizza, and then dollop the ricotta in small chunks overtop the pizza.

Bake at 450°F for 12-16 minutes or until fully cooked. Mine took 15 minutes.

Remove from the oven and place arugula overtop. Salt and pepper the pizza to taste.

Drizzle balsamic glaze overtop right before eating. You can also make your own balsamic glaze/reduction by following the instructions below.
Balsamic Reduction
In a small sauce pan, add 1 cup of balsamic vinegar. Simmer on stovetop for 15-18. minutes or until reduced by half. Remove from heat to cool. Mixture will thicken slightly once it cools. Store leftovers in an airtight container in the fridge.
Did you make this recipe?
Leave a star rating and review on the blog post letting me know how you liked this recipe! Take a picture and tag @saltandbaker on Instagram and Facebook so I can see what you're making!