Caramel Apple Dip
This post may include affiliate links. As an Amazon Associate I earn from qualifying purchases.
This homemade Caramel Apple Dip is made with butter, brown sugar, sweetened condensed milk, vanilla and cinnamon for a deliciously warm and smooth dessert dip! Serve this caramel apple dipping sauce with sliced apples or straight from a spoon!
If you are a fan of caramel and apple recipes, then you'll have to try my copycat Rocky Mountain Chocolate Factory Apple Pie Caramel Apples! They are divine! Then be sure to make my Caramel Apple Cookies for a cookie twist on the delicious combo.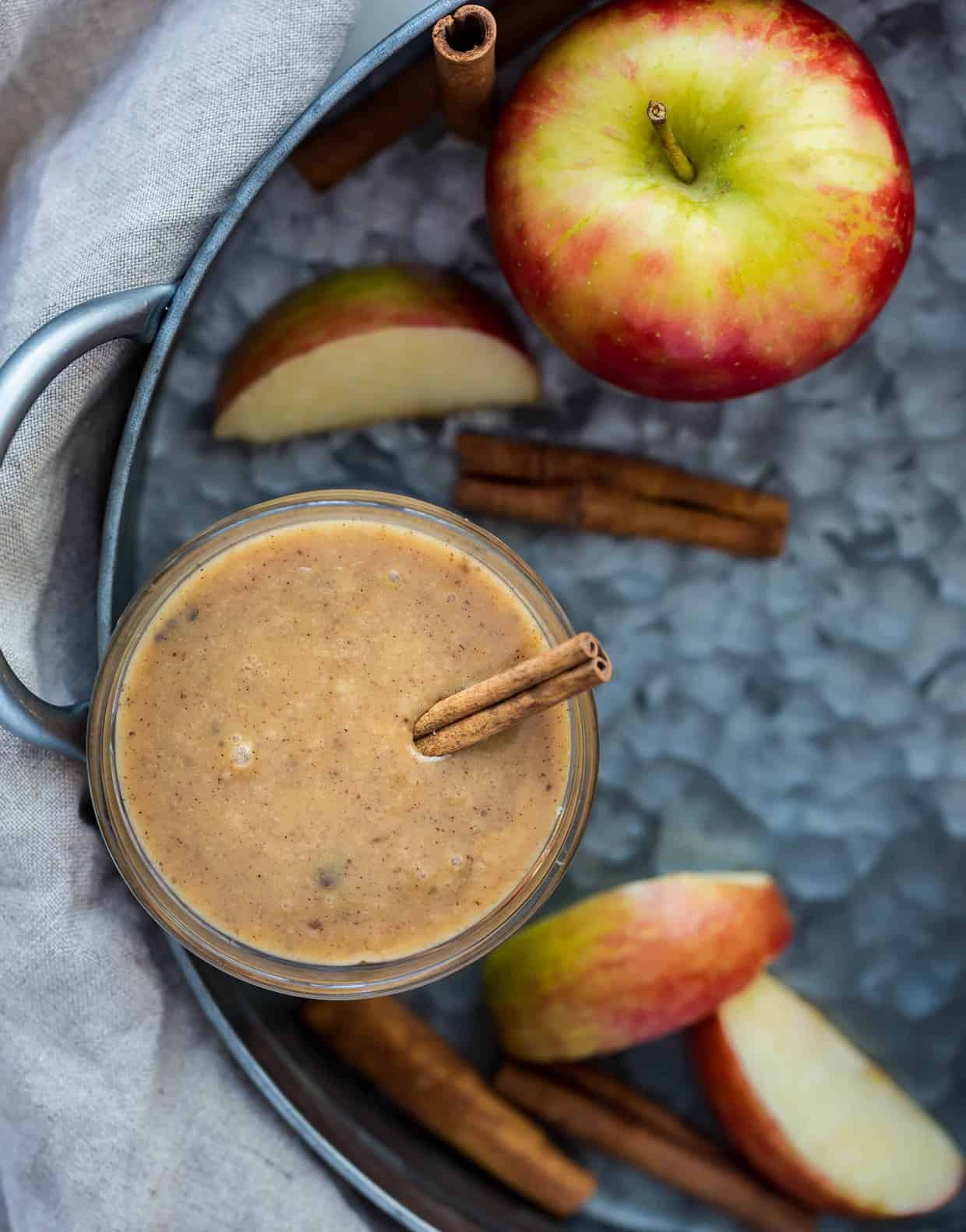 Why This Recipe Works
Made from scratch! This caramel apple dipping sauce is made completely from scratch! No pre-made caramel tubs or anything. It's the best caramel dip too because of the cinnamon! 
Cinnamon caramel apple dip. The best part of this dip is the cinnamon! It adds a nice depth of flavor and gives the apple dip a bit of warmth. Cinnamon + apple = fall flavor paradise.
Uses simple ingredients. This easy caramel apple dip uses 5 ingredients, all of which are most likely sitting in your pantry/refrigerator (and the best part is there is no corn syrup!)
Perfect for large or small gatherings. This creamy caramel apple dip is a huge hit at holiday parties or can even be served as an after school snack! Drizzle on top of ice cream or serve with sliced apples!  
Ingredient Notes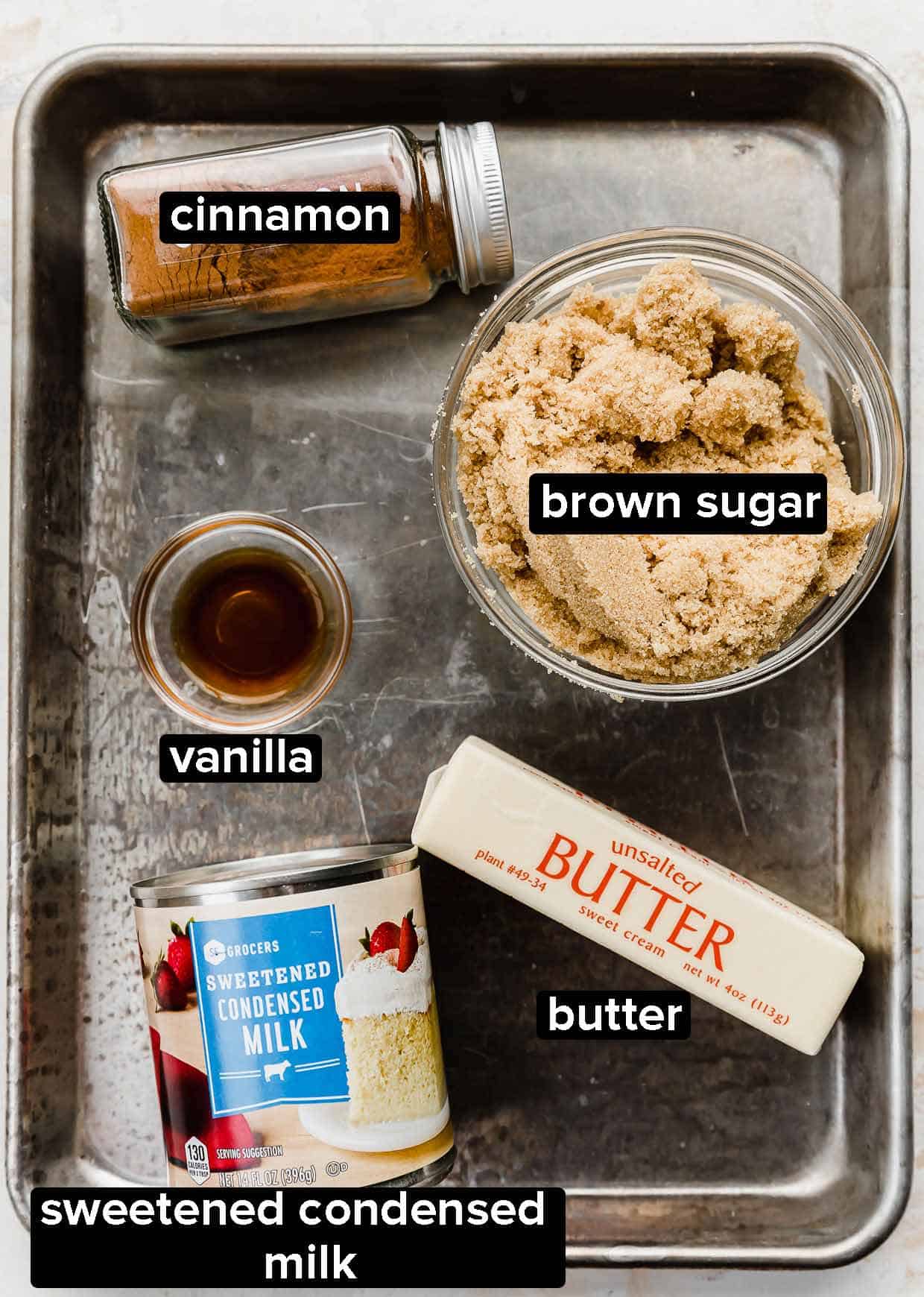 Butter: You can use frozen, refrigerated or room temperature butter. It just depends on how long you want to wait for the butter to melt in the pan. 
Brown Sugar: You can use light or dark brown sugar. You'll get a slightly lighter color if using the light brown sugar. 
Sweetened Condensed Milk: Caramel apple dip with sweetened condensed milk provides the sweetener for this sauce (instead of using granulated sugar). It also gives the caramel apple dip a soft texture. 
Cinnamon: The cinnamon adds a delicious flavor to the caramel apple dip recipe. 
Step-by-Step Instructions
Melt the butter and brown sugar. Add the butter, brown sugar, and sweetened condensed milk to a small saucepan. Melt over medium low heat. Once melted, add the cinnamon and vanilla extract and stir to combine. 
Serve! Remove the cinnamon caramel apple dip from the heat and serve with fresh apple slices!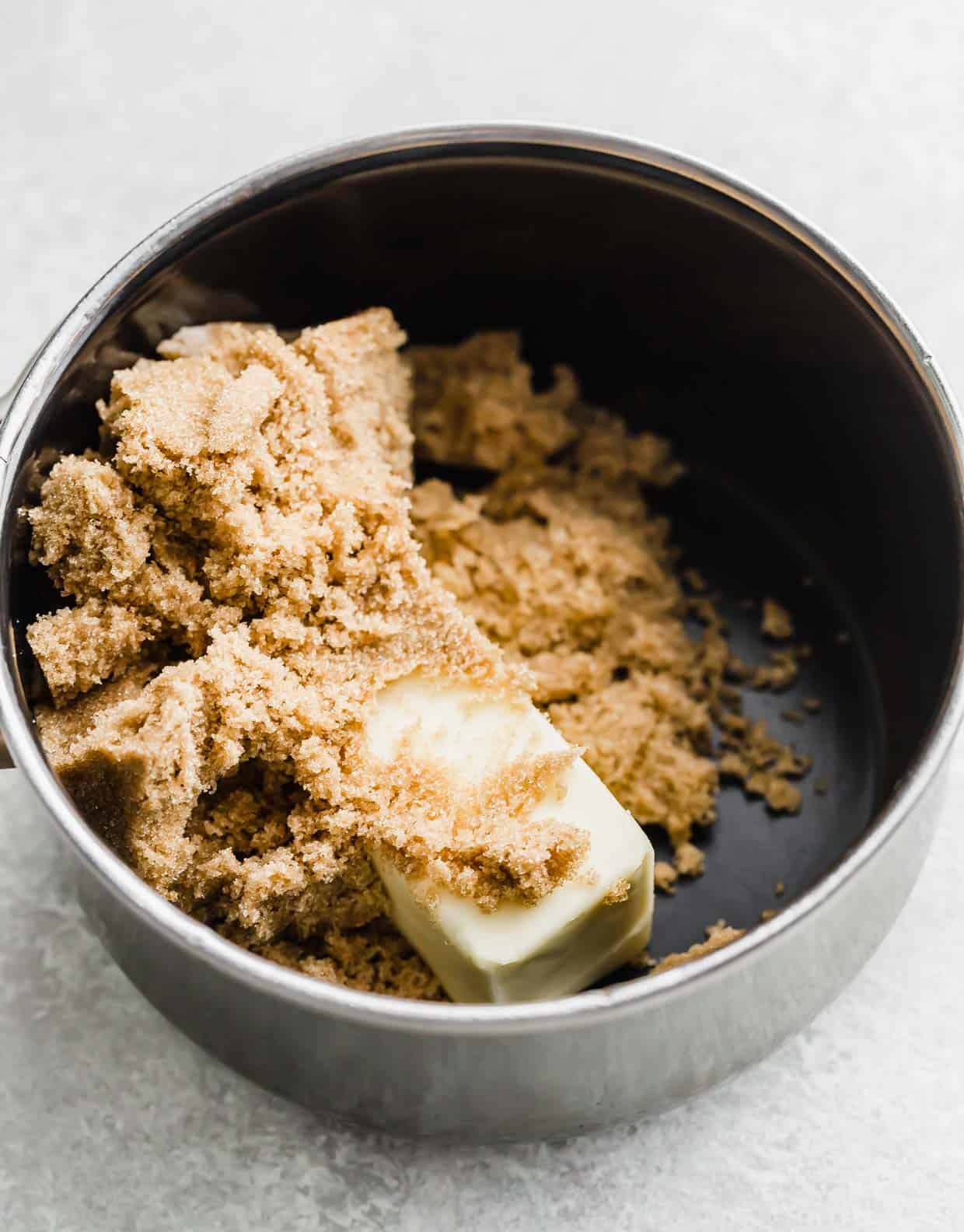 Recipe Tips
This caramel apple dipping sauce has a thinner consistency. It will thicken a bit as it cools, but it isn't like thick, sticky caramel.
Eat the caramel dip while it's warm. Eating a cold crisp apple dipped into a warm cinnamon caramel sauce is like tasting the autumn season!
If serving with sliced apples, spritz a little lemon juice on the bowl of apples and toss. This will keep the apples from browning while they sit out as people eat them with the cinnamon caramel apple dip.
Make Ahead, Storing, and Freezing
Store in an airtight container in the fridge for 1-2 weeks. Refrigerate after sitting at room temperature for 2-3 hours.
Because this recipe uses sweetened condensed milk, we base the shelf life from when the sweetened condensed milk was opened. This caramel dip will last for about 2 weeks stored in an airtight container in the refrigerator.
Typically with thick caramel sauce, I wouldn't freeze it. However, this sauce isn't your traditional caramel sauce. It's made with butter and sweetened condensed milk. So, you can technically freeze it. Store in an airtight container in the freezer for up to 2 months. Remove and let thaw.
Since this caramel apple dipping sauce contains dairy, there's a chance for separation once frozen and thawed. Keep that in mind if you choose to freeze it.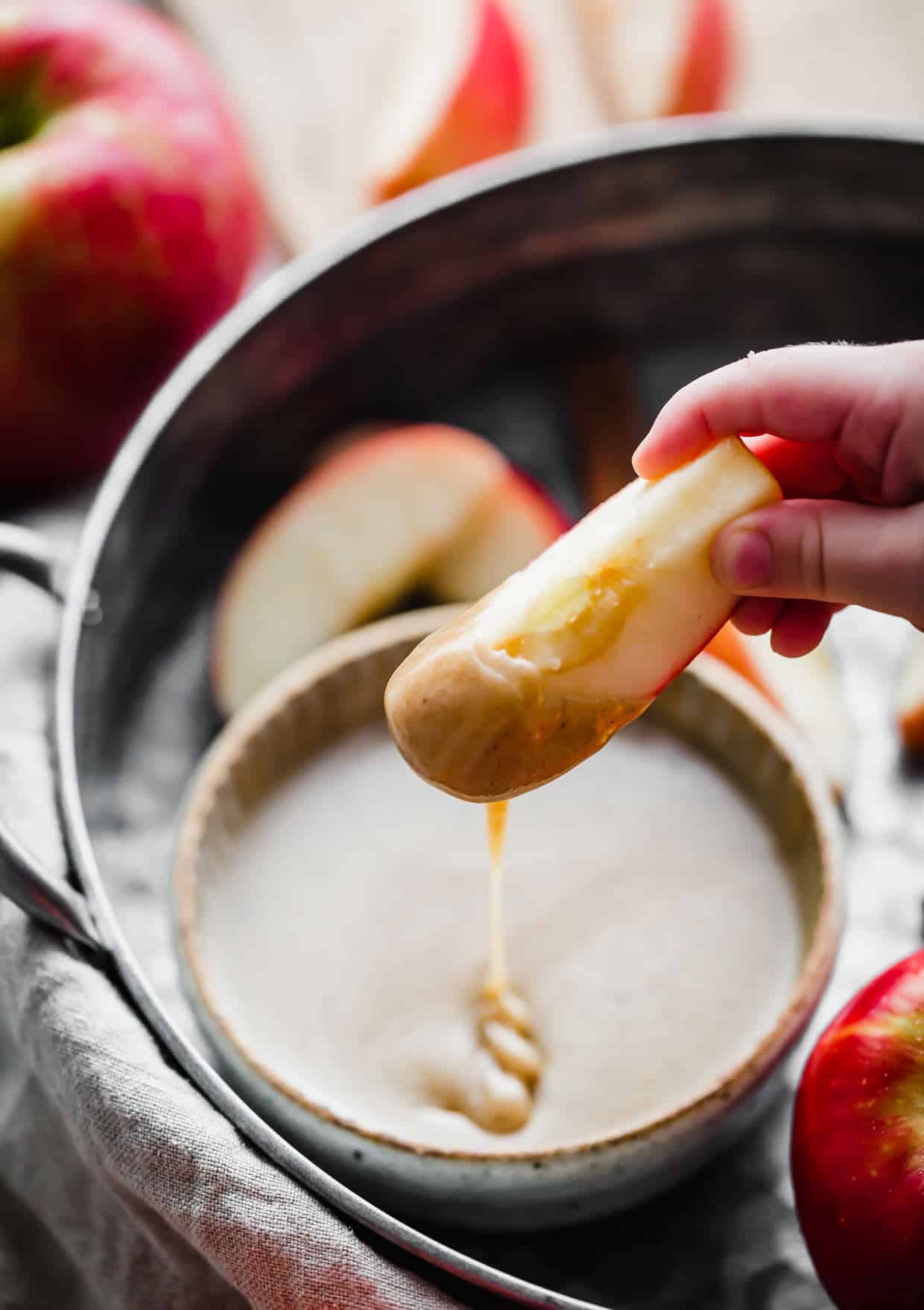 Recipe FAQs
What are the best apples to use for caramel dipping? 
All of them are great! It doesn't matter the apple variety you use to enjoy this dip. You can use Granny Smith apples, Gala apples, Golden delicious, etc.
Is caramel apple dip gluten free? 
Yes, it is!
What can I serve with this caramel apple dipping sauce?
You can dip sliced apples, graham crackers, ritz crackers, and more in this delicious caramel dip!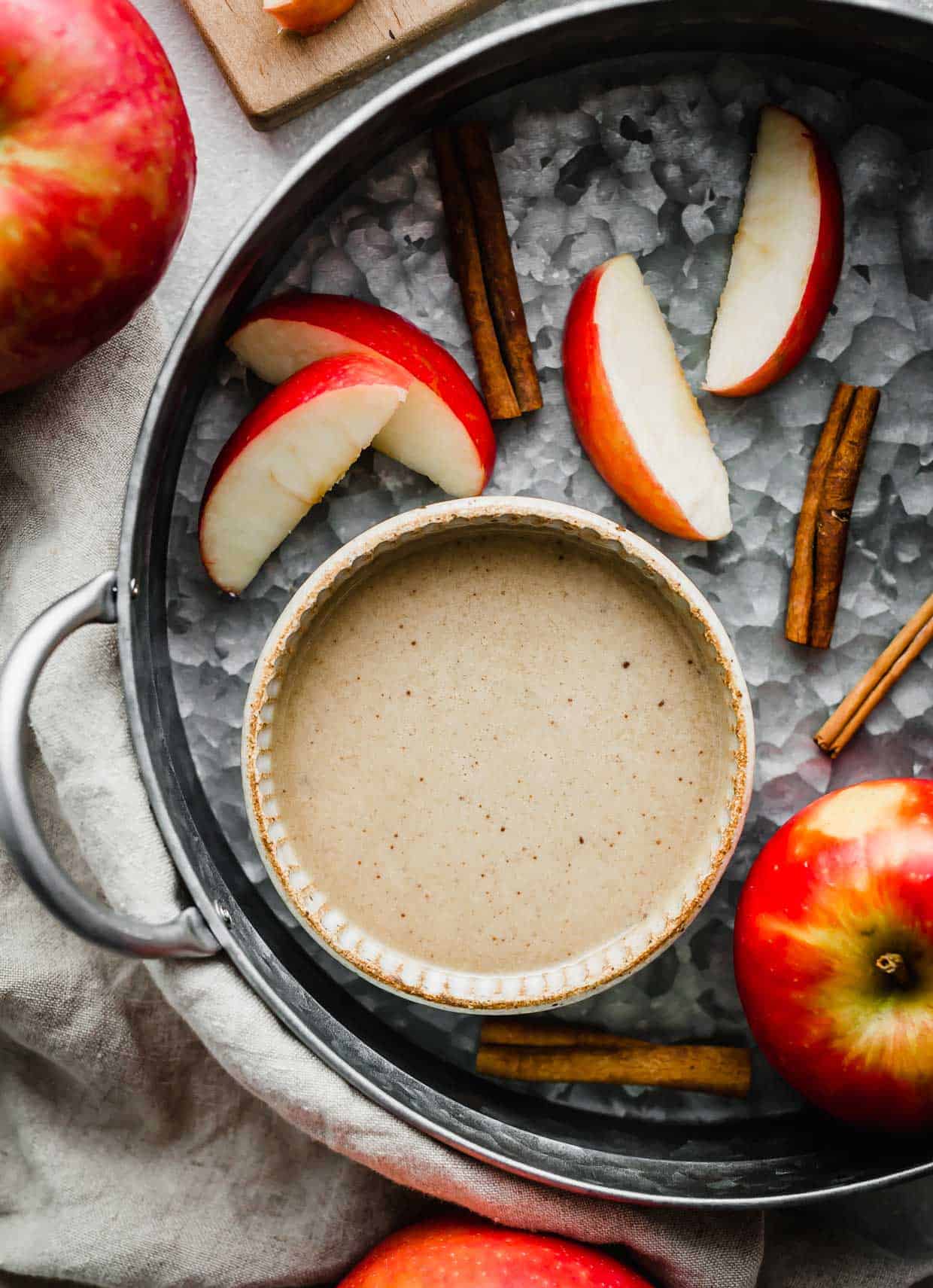 Caramel Apple Dip
Hands down the BEST apple dip you'll ever eat!
Ingredients
1/2

cup

butter, room temperature

1

cup

brown sugar

1

can

sweetened condensed milk

1

tsp

vanilla

1/2

tsp

cinnamon
Instructions
In a small saucepan over medium low heat, add the butter, brown sugar, and sweetened condensed milk. Stir. Once everything has melted, add the cinnamon and vanilla. Stir to combine.

Remove from heat and serve. The dip will thicken as it cools. *
Notes
*I prefer eating this apple dip warm. It's amazing when it's warm. 
Store covered in the fridge for up to 2 weeks. 
Did you make this recipe?
Leave a star rating and review on the blog post letting me know how you liked this recipe! Take a picture and tag @saltandbaker on Instagram and Facebook so I can see what you're making!
This post was first published October 2017 and has been updated with new pictures and more detailed instruction on how to make the recipe.