Reeses S'mores Dip
This post may include affiliate links. As an Amazon Associate I earn from qualifying purchases.
Reese's S'mores Dip is the perfect way to enjoy s'mores any time of year, no matter the weather! With just 3 ingredients and 15 minutes, you'll have a melty and delicious peanut butter s'mores treat to share with family and friends.
We're gearing up for National S'mores Day with this delicious peanut butter cup s'mores dip! And when it comes to S'mores, I don't mess around! I love making S'mores in the Oven because you can make a lot at once! Then you can catch me making S'mores Cookies because you guys know how much I love cookies here! I've even got an ultimate S'mores cake that has all the elements of s'mores in every single bite!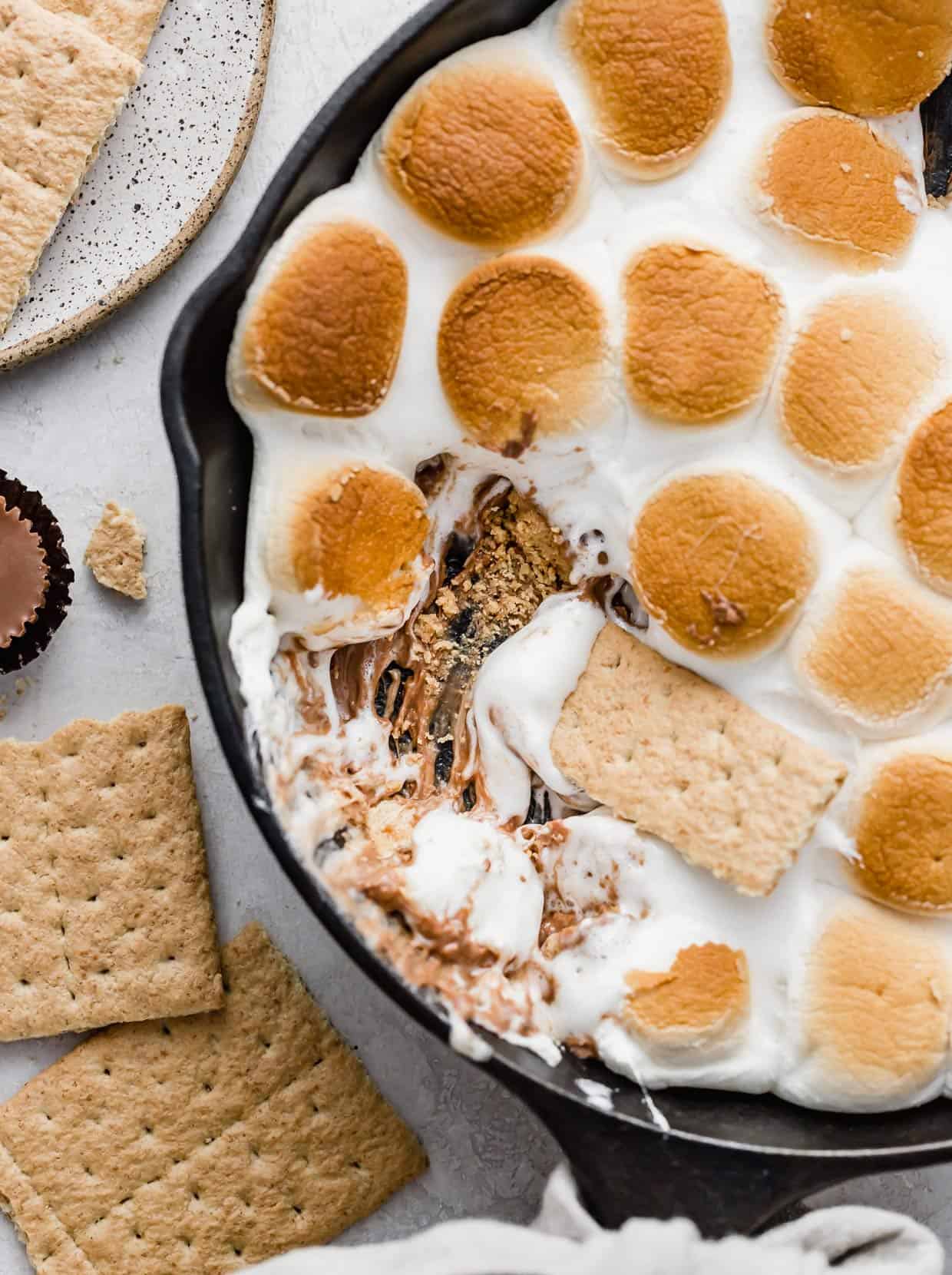 Why This Recipe Works
Make s'mores at home. Whether you are a big camper or more of a glamper, this Reese's s'mores skillet is the perfect way to enjoy your favorite campfire classic (with a tasty twist) right from home! 
Few and simple ingredients. All you need are 3 ingredients (Reese's, marshmallows, and graham crackers) and you are ready to go! This is the perfect s'mores for you peanut butter lovers! 
Party-sized s'mores. A s'mores skillet is the perfect way to make s'mores for a large crowd. This Reese's s'mores dip is the perfect complement for any gathering or party!
Ingredient Notes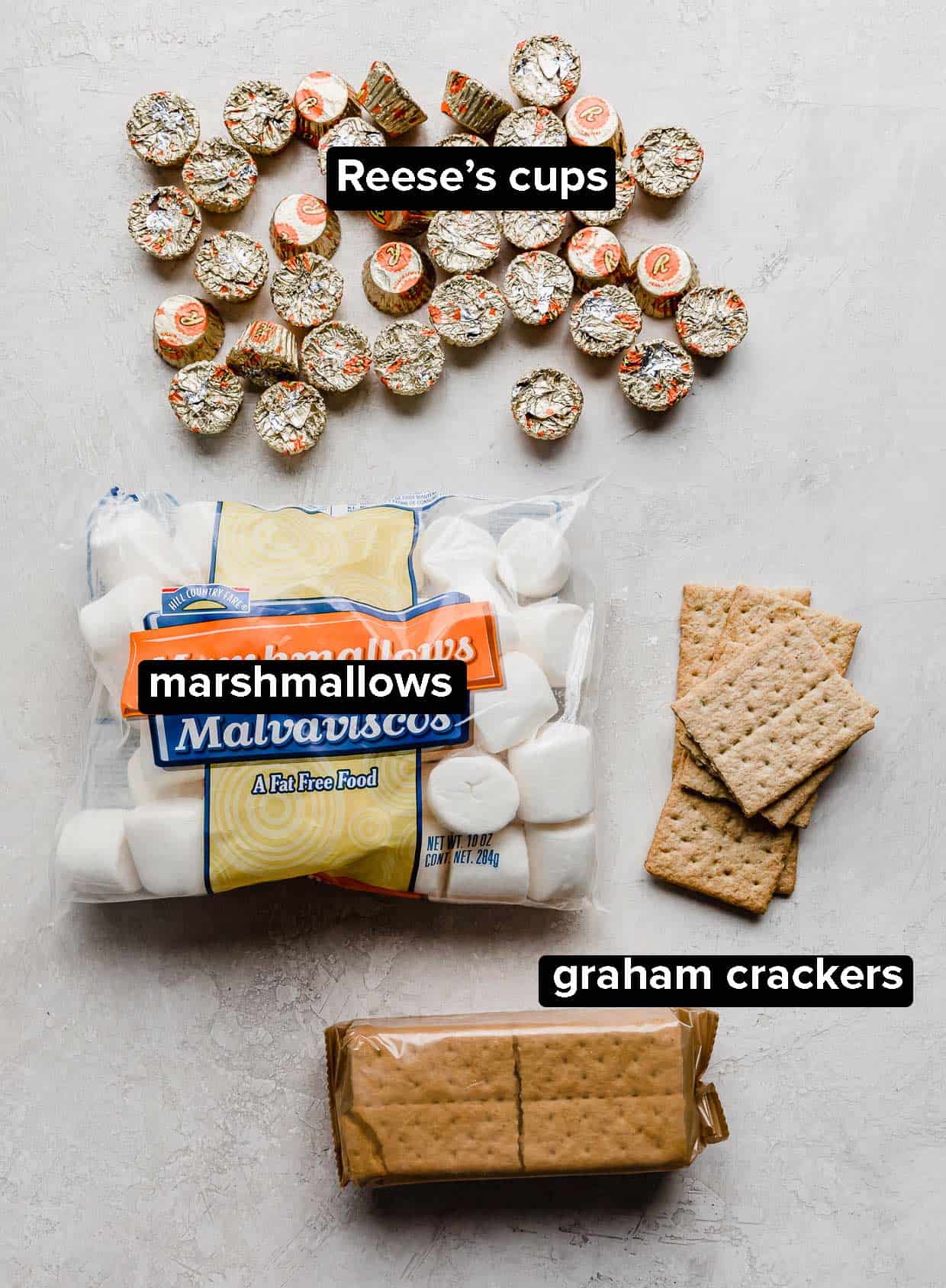 Miniature Reese's Peanut Butter Cups: You'll need about 33 or so. A 10.5 oz bag will do the trick.
Marshmallows: I use the larger marshmallows, but you can use mini marshmallows if you'd like. Rather than having them in one even layer, you can sort of mound the small marshmallows overtop of the peanut butter cups.
Graham Crackers: Use graham crackers for serving this smores dip recipe. 
Step-by-Step Instructions
Preheat the oven. Heat oven to 425°F.
Layer the Reese's peanut butter cups. Unwrap the Reese's and place them in a 9-inch skillet to line the bottom in a single layer. 
Top with marshmallows. Place the marshmallows on top of the Reese's.
Bake. Bake for 10-12 minutes or until the marshmallows are nicely golden. Remove and serve the Reese's s'mores with graham cracker pieces!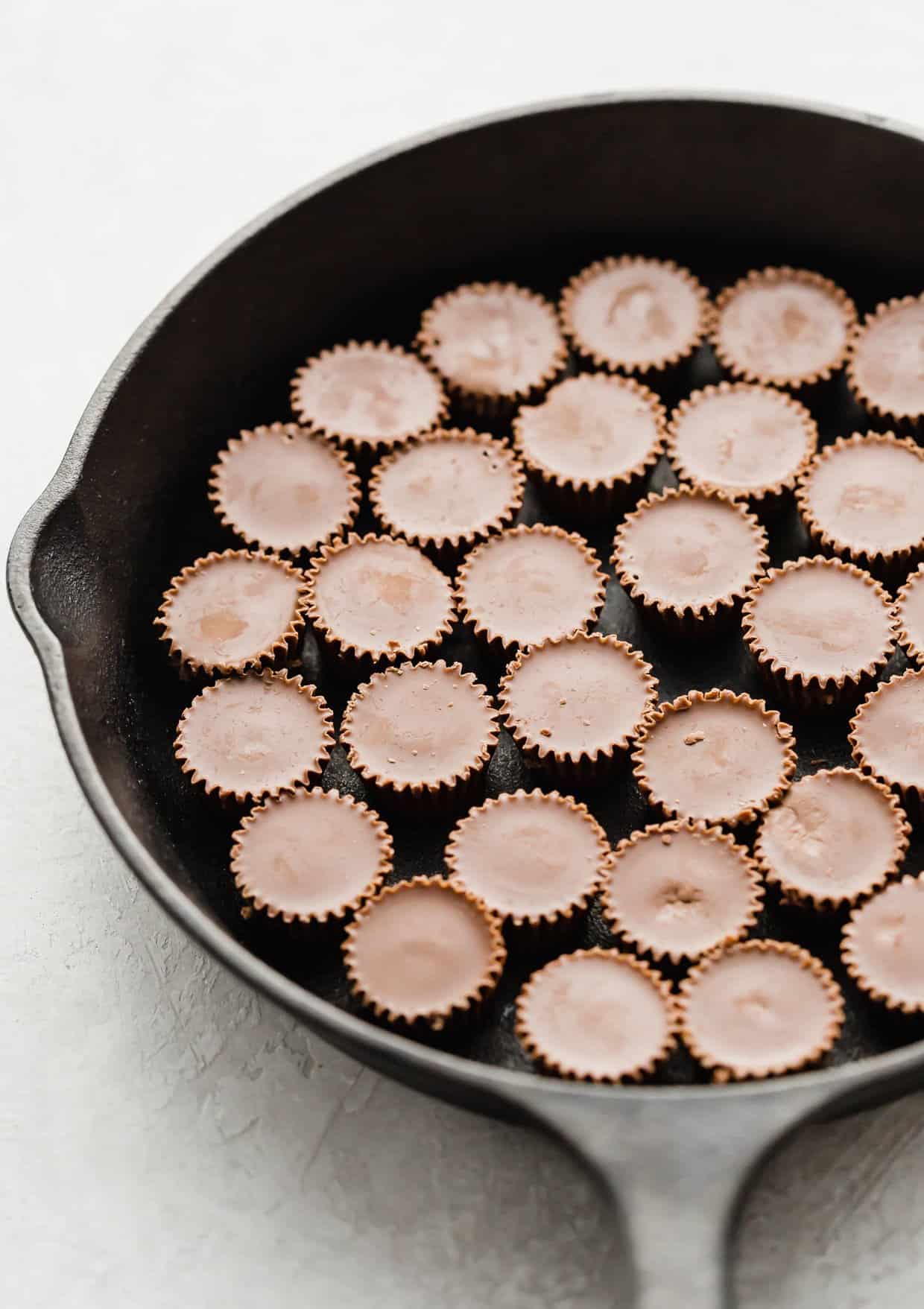 Recipe Tips
I wanted the marshmallows a beautiful golden brown with a nice crisp top. I ended up baking mine for about 12 minutes. Make sure you keep an eye on it because the marshmallows can burn!
If you're the type of camper who likes to place their mallow in the center of the fire pit and get the marshmallow on fire, then feel free to burn those mallows just how you like it. Ha!
This peanut butter s'mores skillet doesn't store well. Best to devour the same day and within 1-2 hours of making it.
Scale down or scale up the dish by making it in whatever size pan you need. Use a large pan or a mini skillet for a large or small group. Just note that the smaller the dish, the quicker it will bake up in the oven so keep a close eye on it!
Coat the bottom of the skillet in butter to make clean up easier.
You can use semi-sweet chocolate chips and peanut butter chips in place of the peanut butter cup candies.
If serving to kiddos, you can line the skillet with aluminum foil. Once the skillet is ready, remove from the skillet by grabbing onto the aluminum foil and transfer the Reese's s'mores dip to a plate or dish to avoid little fingers and a hot skillet! 
Make Ahead, Storing, and Freezing
This s'mores skillet is best served warm to get the dipping texture. If you wait for it to cool, the marshmallows won't be melty and you won't be able to dip.
This Reese's s'mores dip shouldn't be made ahead of time. Put it in the oven just prior to serving it.
While you can store leftovers, note that this is best enjoyed right after baking. However, if you have leftovers, store in an airtight container in the fridge for 1-2 days. Reheat by returning to the oven. You may want to cover with aluminum foil so you can warm the dish without burning the marshmallows. Don't tightly wrap in the aluminum foil or it will stick to the marshmallows.
Do not freeze.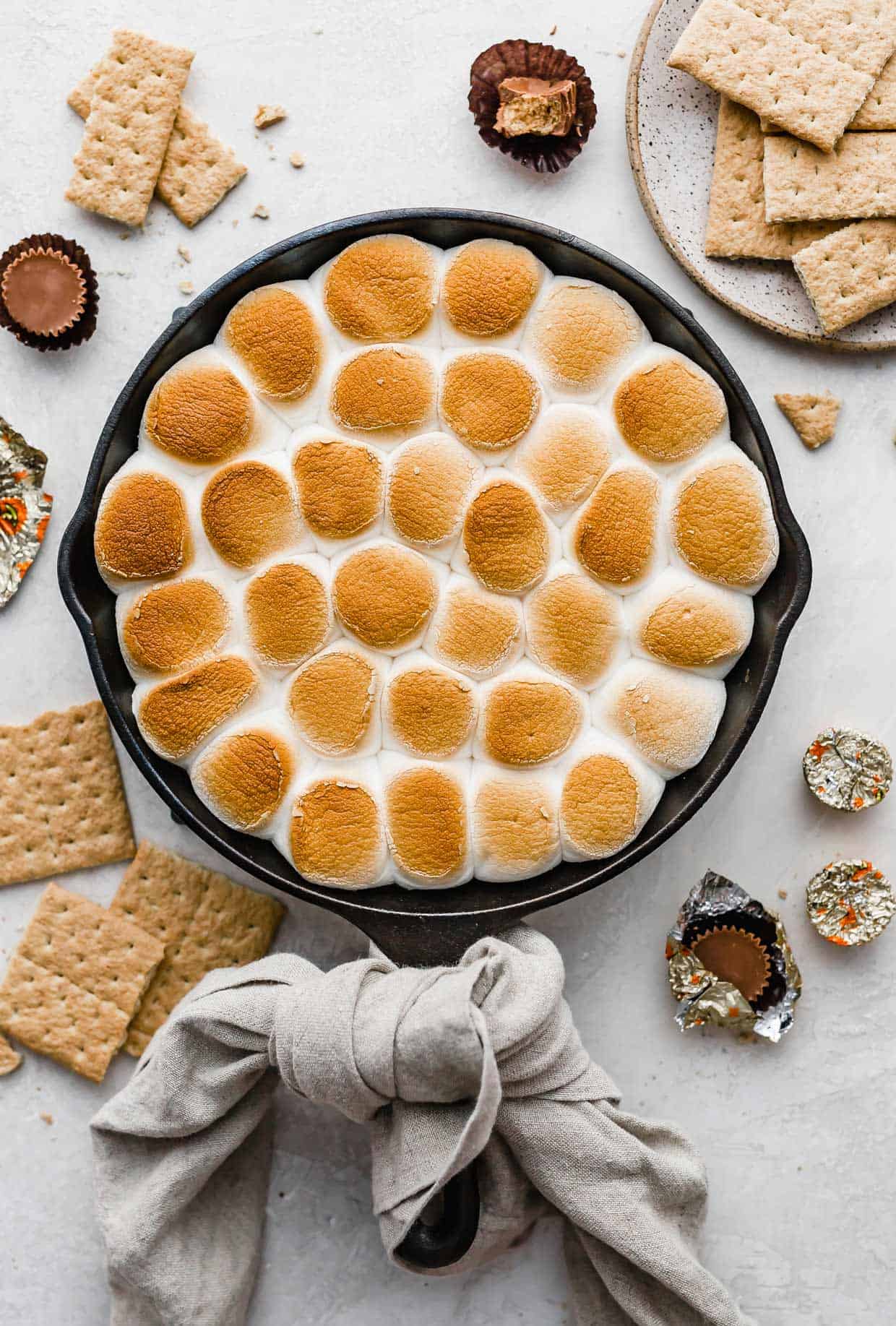 Recipe FAQs
Can you make this in the microwave?
You can certainly try! You would need to use a microwave safe dish. And in order to get the peanut butter cups to melt thoroughly, you will want to heat it at a reduced power, maybe half power. The marshmallows won't brown and get toasty in the microwave either. But you could always use a kitchen safe blow torch. Note: I haven't tried it in the microwave, but if I were to do so, that would be my approach.
Can I use miniature marshmallows?
Yes you can. I used the large marshmallows, so mine I placed in one layer. If you don't want to worry about placing tiny marshmallows in one layer, you can just pile them on top of the Reeses' peanut butter cups. You can also use the jumbo marshmallows if you are wanting a bigger pile of gooey marshmallows on top! 
Can I use something besides Reeses' peanut butter cups?
Sure thing! Feel free to use your favorite chocolate bars. Rolos, snickers, there are plenty of candy bars out there that would be delicious in place of the Reese's!
What if I don't have a cast iron skillet?
No problem! If you don't have a skillet or cast iron pan, you can use an 8-inch baking dish instead. 
Can I use marshmallow fluff instead?
I wouldn't The marshmallow fluff doesn't have the structure to it that regular marshmallows have.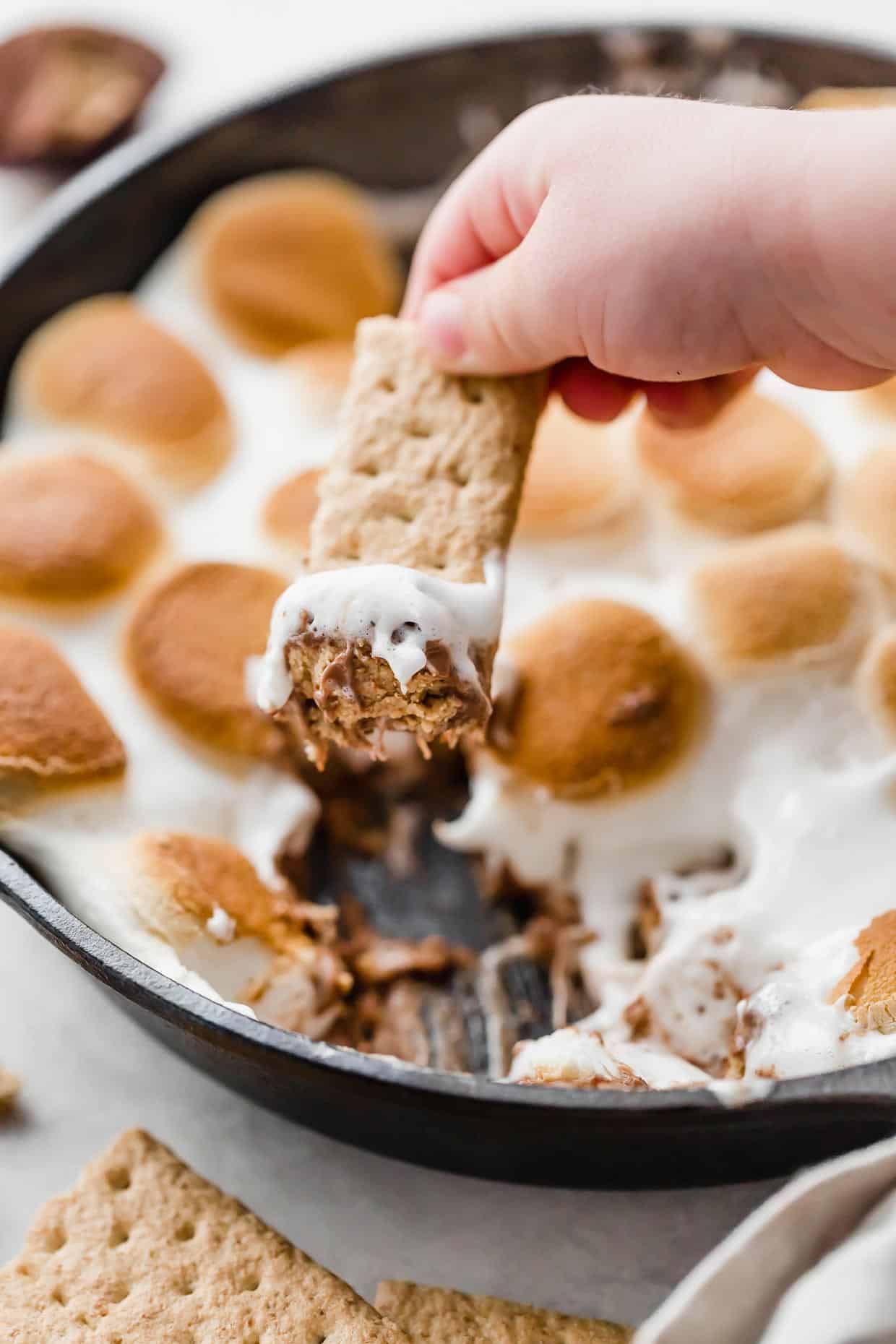 More Dessert Recipes
Reeses S'mores Dip
Just 2 ingredients and 15 minutes will get you this melty Reese's S'mores skillet dip! It's big enough to share with friends and family or size down for a treat for 2.
Ingredients
33

mini

Reeses peanut butter cups

-

(about a 10.5 oz bag)

33

large

marshmallows
Instructions
Unwrap the mini peanut butter cups. 

In a 9in skillet place the PB cups upright and fairly close to one another. 

Once the bottom of the skillet is covered by the PB cups place the large marshmallows on top. 

Place in oven for 10-12 minutes or until the marshmallows are golden and melty. 

Remove from the oven and serve immediately with graham cracker squares 
Notes
Enjoy within 1 hour of making. 
Did you make this recipe?
Leave a star rating and review on the blog post letting me know how you liked this recipe! Take a picture and tag @saltandbaker on Instagram and Facebook so I can see what you're making!