Jimmy Dean Breakfast Burritos
This post may include affiliate links. As an Amazon Associate I earn from qualifying purchases.
Jimmy Dean Breakfast Burritos are packed with delicious Jimmy Dean sausage, eggs that are fluffy and scrambled to perfection, and melted cheese! It's the perfect breakfast to make for your small family or to scale up for large gatherings or make ahead frozen breakfast burritos.
I love eggs for breakfast because it's a great way to start the day off with some good protein! For more delicious breakfast recipes featuring eggs, try my Breakfast Burrito with Black Beans, Scrambled Eggs on Toast, or my Homemade Sausage and Egg McMuffin!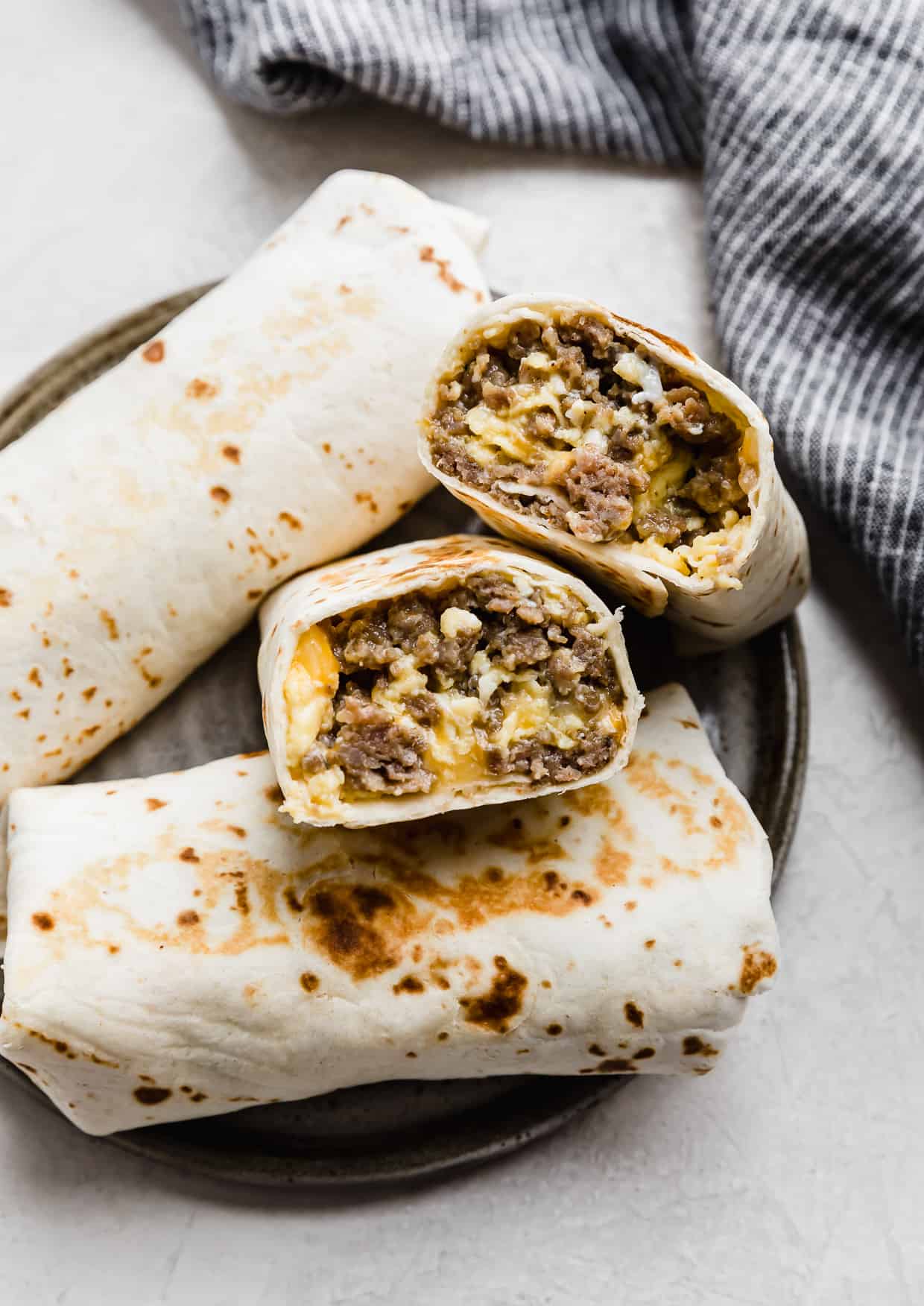 Why This Recipe Works
Perfect for big breakfasts! This Jimmy Dean breakfast burrito recipe is perfect if you are making breakfast for a large crowd! I just got back from a family reunion and I made these delicious Jimmy Dean breakfast burritos for the breakfast I was in charge of. It's perfect to scale up for a large crowd (I was feeding 27 people!) and it's super easy because you don't need a ton of ingredients.
Few ingredients needed. Like I just mentioned, this is such an easy breakfast recipe because you only need 4 ingredients. Thanks to the delicious Jimmy Dean sausage, the burritos turn out super flavorful! Top with your favorite cheese and you will be asking for more and more! 
Filling. These Jimmy Dean sausage breakfast burritos are perfect because they are packed with protein, making for a filling breakfast to start your day! 
Ingredient Notes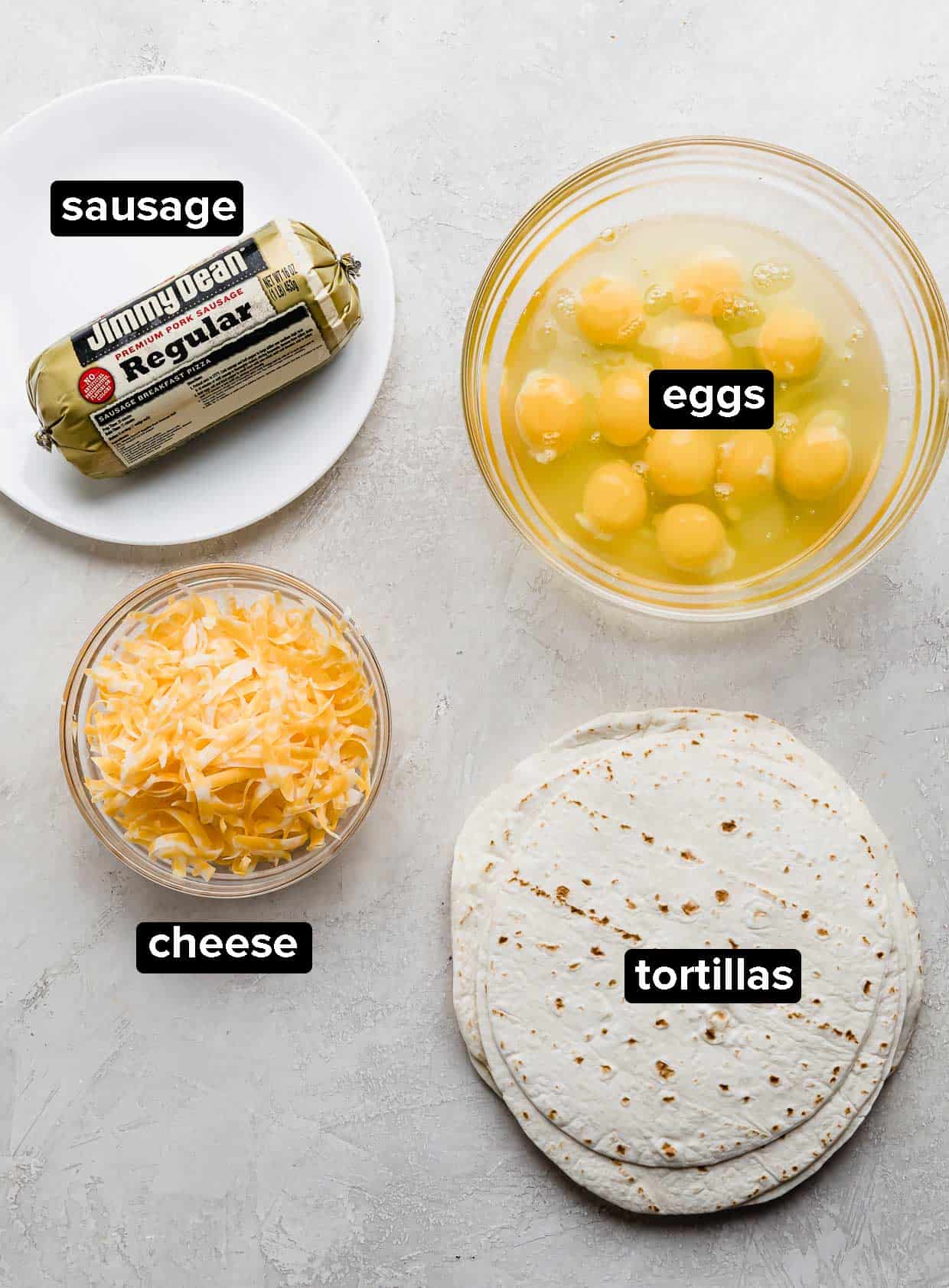 Jimmy Dean Sausage: Can't have Jimmy Dean breakfast burritos without delicious Jimmy Dean sausage! I use the regular kind, but if you want spicy you can use the hot sausage. 
Eggs: The trick to getting the best Jimmy Dean breakfast burrito is how you cook the eggs! Be sure to follow my Recipe Tips to learn how to get them nice and fluffy! 
Cheese: You can use cheddar cheese, Colby Jack cheese, Monterey Jack, etc. 
Flour Tortillas: Use flour tortillas. If you use corn tortillas, they won't roll as well or hold up as easily. 
Step-by-Step Instructions
Brown the sausage. In a skillet over medium heat, cook the sausage until no longer pink, breaking up the sausage as you go. Drain excess grease, reserving 1-2 teaspoons for cooking the eggs. Set the sausage aside.
Cook the eggs. Whisk the eggs in a medium bowl. Pour into the skillet and cook while slowly moving the egg mixture around. Do not chop or roughly scramble. Cook for 2-3 minutes. The egg should look like a pile of soft, custardy looking egg folds.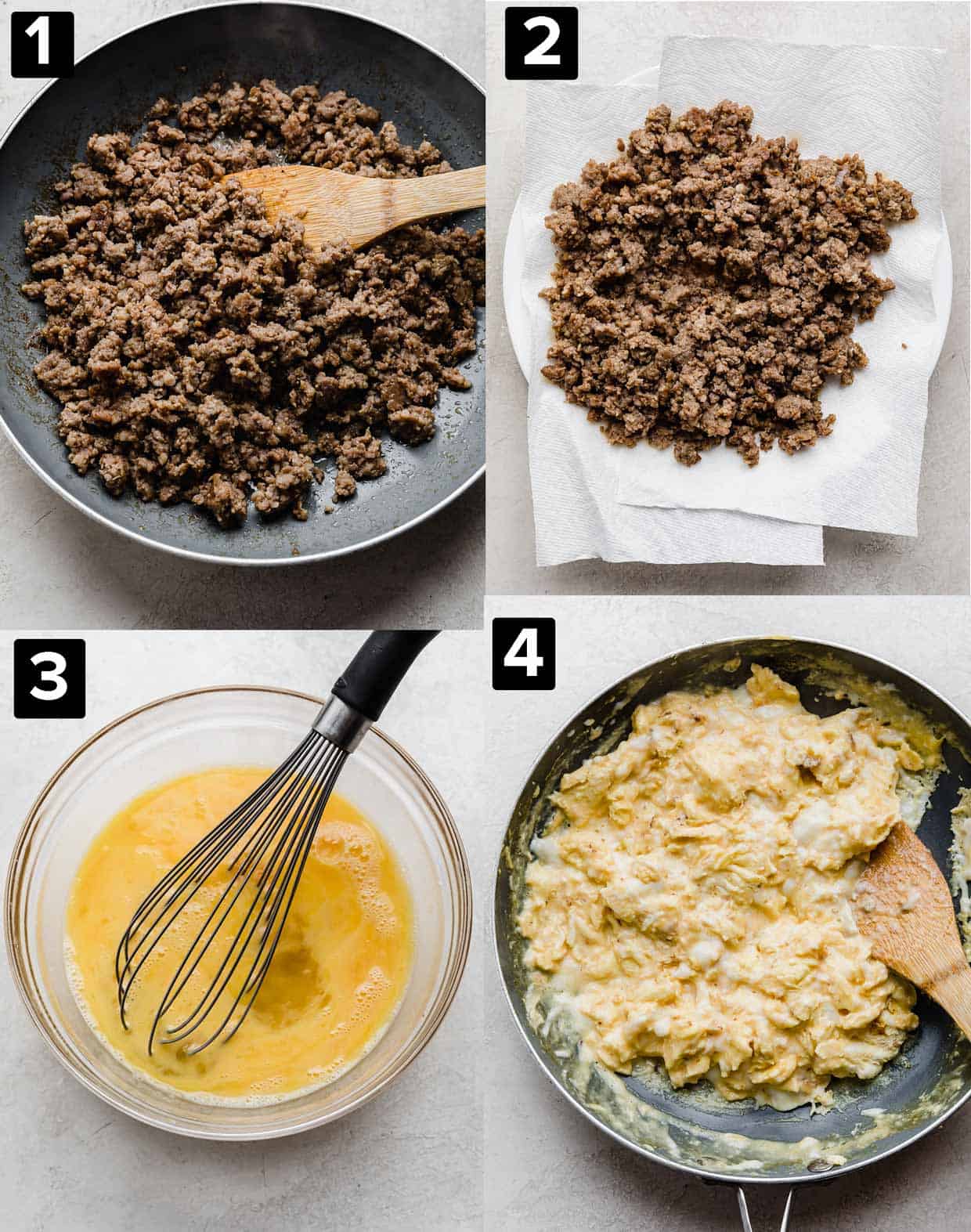 Make the Jimmy Dean sausage burrito filling. Add the sausage to the eggs and gently mix. Remove from the heat and add the cheese. Let sit for a minute so the cheese can melt. 
Add to tortillas and roll. Spoon the mixture into tortillas and roll up. Enjoy these Jimmy Dean breakfast burritos plain or with salsa!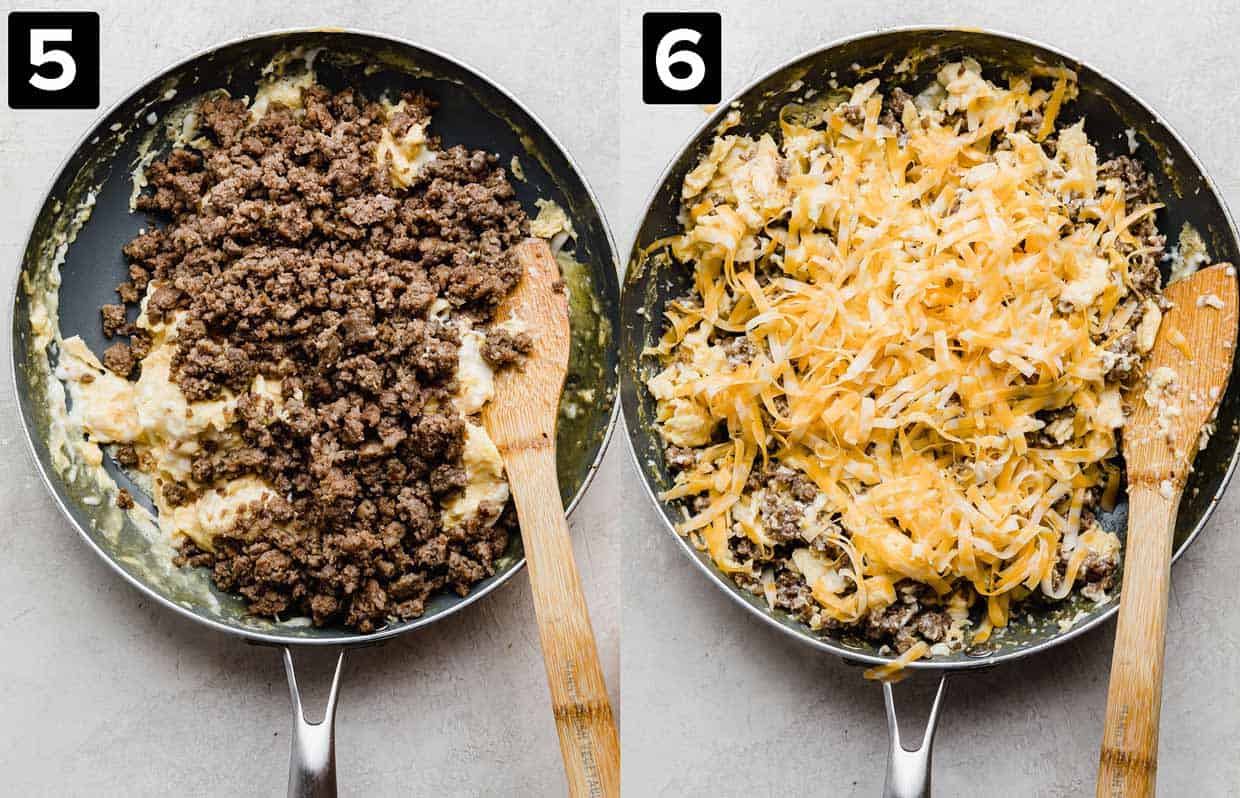 Recipe Tips
When you set the cooked sausage aside, let it rest on a plate with a paper towel to soak up any additional grease.
Sometimes I will roll into a burrito and then pan fry the breakfast burritos so that they are crisp.
To roll into a burrito, take one side of the tortilla and roll up. Fold the ends of the tortilla in and finish rolling. This will keep the Jimmy Dean sausage and egg burrito mixture contained in the tortilla.
When cooking the eggs, do not roughly scramble or chop/break the eggs apart. This creates tiny pebbly egg pieces. You want big, fluffy folds of egg. My Cheesy Scrambled Eggs Recipe goes into more detail on getting the perfect scrambled eggs.
Serve alongside hash browns, Old Fashioned Buttermilk Pancakes and Oven Bacon.
Make Ahead, Storing, and Freezing
You can make the sausage and egg burrito mixture again of time and store in the fridge in an airtight container for 3-4 days. Warm before rolling in the tortillas.
Store any leftovers in the fridge for up to 4 days. Store covered or in an airtight container.
To freeze, let the sausage, egg and cheese mixture cool completely, then roll into tortillas. Wrap each Jimmy Dean breakfast burrito in aluminum foil. Once all the breakfast burritos have been rolled and wrapped in aluminum foil, store in an airtight container or Ziploc bag. Freeze for up to 3 months. Remove and pan fry to warm up and crispen up the tortillas.
Recipe FAQs
What's a good breakfast burrito sauce?
My family loves eating these Jimmy Dean breakfast wraps plain, but you are welcome to dip them in salsa or add some salsa to the inside of the tortillas. 
How do you reheat breakfast burritos?
You can heat them in the oven until warm, or you can pan fry them (I just use a nonstick skillet without any butter or nonstick spray). Warm on medium low so the inside of the burrito will warm without burning the tortillas. The tortillas will get a bit crisp on the outside. 
Is this Jimmy Dean breakfast burrito recipe spicy?
Nope! I use the regular Jimmy Dean sausage so it isn't spicy at all. If you want a spicy breakfast burrito, you can use the hot Jimmy Dean sausage. Or you can add a medium or hot salsa as a dip if desired.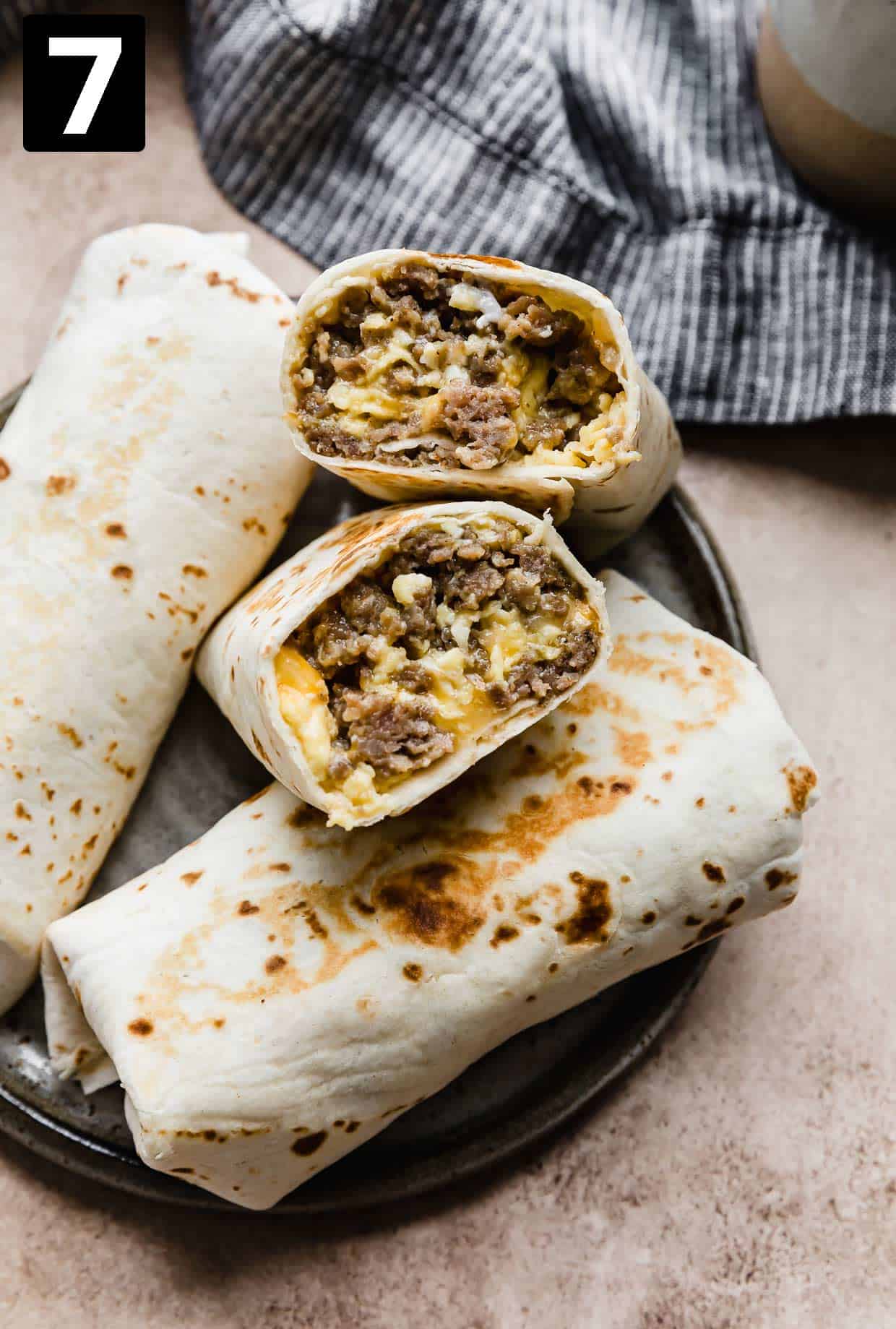 More Breakfast Recipes
Jimmy Dean Breakfast Burrito
These easy breakfast burritos feature Jimmy Dean sausage, soft scrambled eggs, and melty cheese. They're quick and easy to make, perfect for breakfast and/or dinner!
Ingredients
16

oz

Jimmy Dean regular sausage

12

large

eggs

1

cup

cheddar cheese

-

grated

flour tortillas for serving
Instructions
Add the sausage to a skillet over medium heat. Use a wooden spoon to break up the sausage into bite size pieces. Cook until no longer pink. Transfer the cooked sausage to a plate that has 2-3 paper towels on it. Drain excess fat from the skillet, leaving behind 1-2 teaspoons to cook the eggs in. Turn the heat to low.

Add the eggs to a bowl and whisk until smooth. Pour the egg mixture into the skillet, using a wooden spoon or rubber spatula slowly move the egg mixture, cook for about 2-3 minutes. The egg should be a pile of custardy and soft scrambled egg folds. 

Add the sausage to the eggs and mix to incorporate. Turn off the heat. Sprinkle the cheese overtop and let sit for a minute to allow the cheese to melt. 

Spoon the sausage and egg mixture into a flour tortilla, roll up and enjoy! 
Notes
Store any leftovers in the fridge for up to 4 days. Store covered or in an airtight container. 
My Cheesy Scrambled Eggs Recipe goes into more detail on getting the perfect scrambled eggs. 
Did you make this recipe?
Leave a star rating and review on the blog post letting me know how you liked this recipe! Take a picture and tag @saltandbaker on Instagram and Facebook so I can see what you're making!