Homemade Buttermilk Pancakes
This post may include affiliate links. As an Amazon Associate I earn from qualifying purchases.
Today I'm sharing all of my tried and true tips for making the best Homemade Buttermilk Pancakes (from scratch)! These pancakes are light, ultra fluffy, and full of the most amazing buttery flavor. Slather some butter, syrup, or fruit on top and you have the perfect breakfast!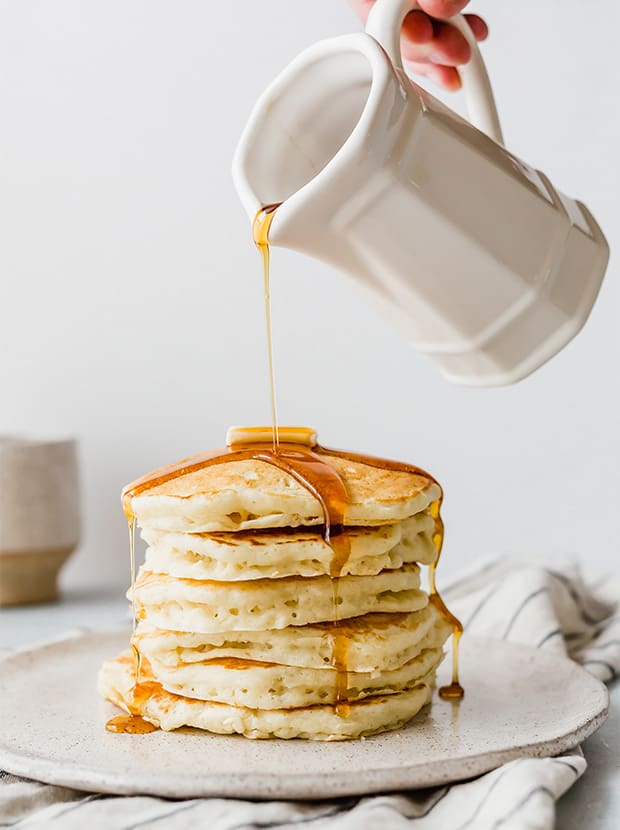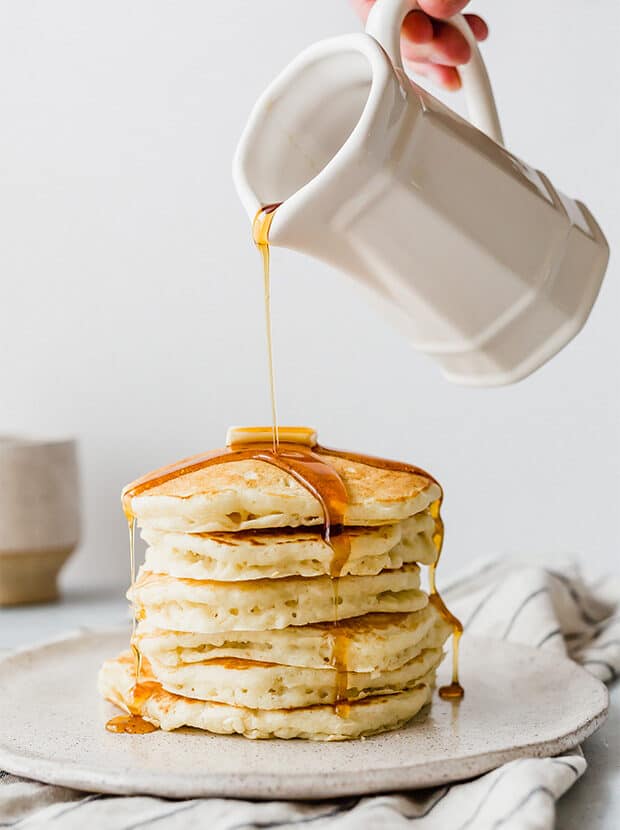 Breakfast is a highly celebrated meal around here, and it shows! I have a huge array of breakfast recipes on my site.
My personal favorites include:
Is it ok to have too many favorites?
The Best Buttermilk Pancakes
Adding to my list of favorites is this classic, fool-proof, flavor-loaded buttermilk pancakes recipe.
We love these pancakes so much, I used this recipe to make Cinnamon Chip Pancakes. Ooooh they are heavenly!
Making pancakes from scratch is simple. But there is one profound secret to obtaining light and fluffy pancakes.
Separate the egg yolks from the egg whites. I've found that whipping the egg whites until soft peaks form adds volume and stability to the pancake batter.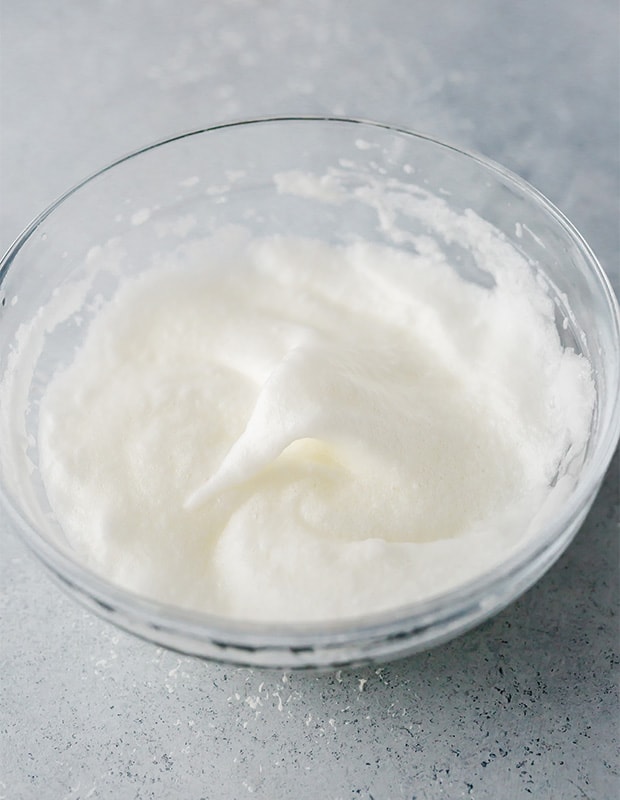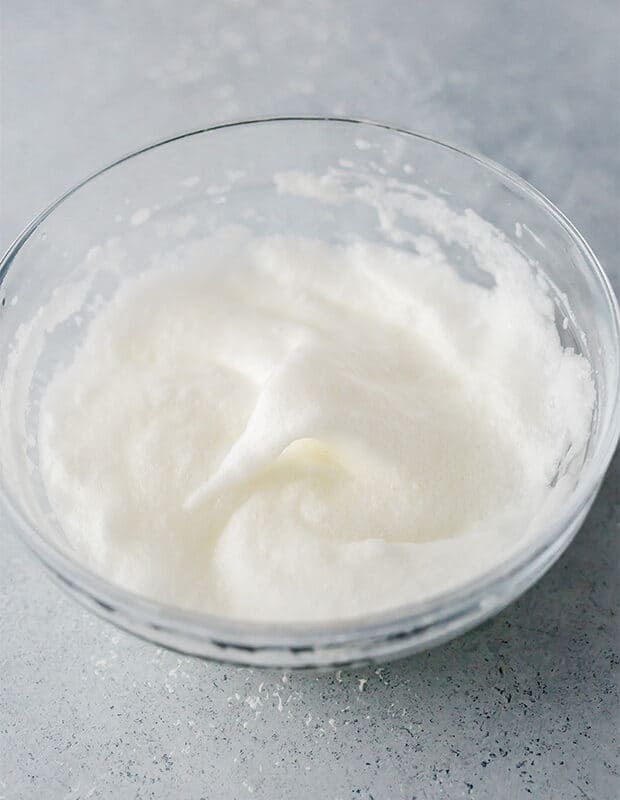 Doing this simple step will result in sky-high, light and fluffy pancakes. I promise.
Pro tip: even if you're unable to whip the egg whites, you can follow the recipe by adding the egg whites and egg yolks separately. Additionally, you can follow a tip one reader made:
"Alright, these are the best pancakes I've ever had the honor of making and eating. Not gonna lie, I didn't whip the whites but I let the batter rest and rise for an hour and they were tall and perfect! Thank you thank you!!"
How to make fluffy pancakes
As mentioned above begin by separating the egg yolk and egg whites. Whip the egg whites until soft peaks form. (SUPER IMPORTANT!)
Don't substitute the buttermilk for a homemade buttermilk concoction. They don't taste the same. You need real buttermilk. (Sorry. But I promise, it's worth it).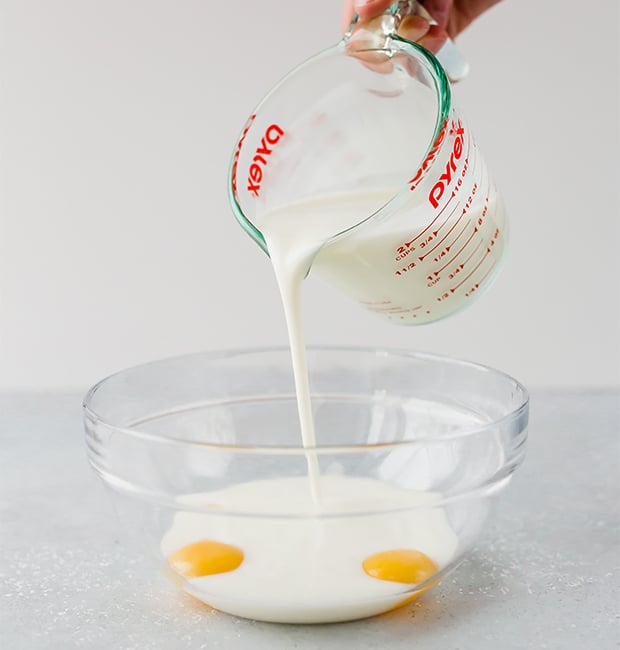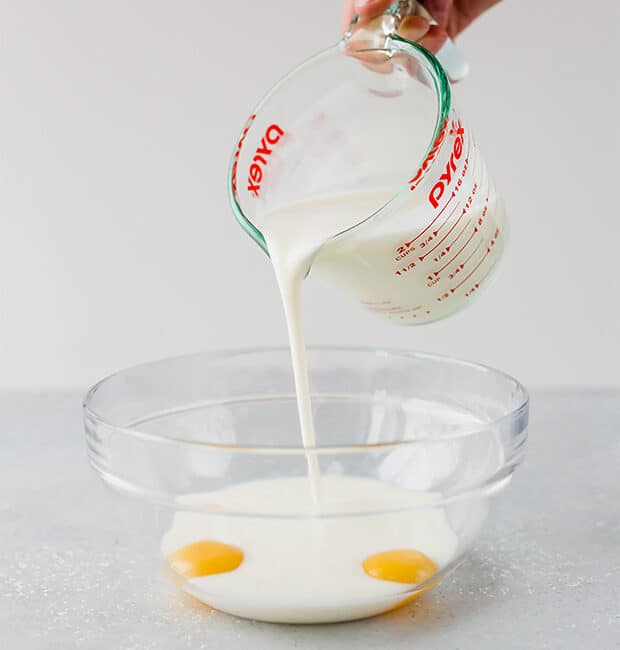 Once you've agreed to follow steps 1 and 2. It's a matter of following the recipe. Combine the dry ingredients in one bowl and the wet ingredients in another.
Mix wet ingredients with the dry ingredients. DON'T OVER MIX. Lumpy pancake batter is good.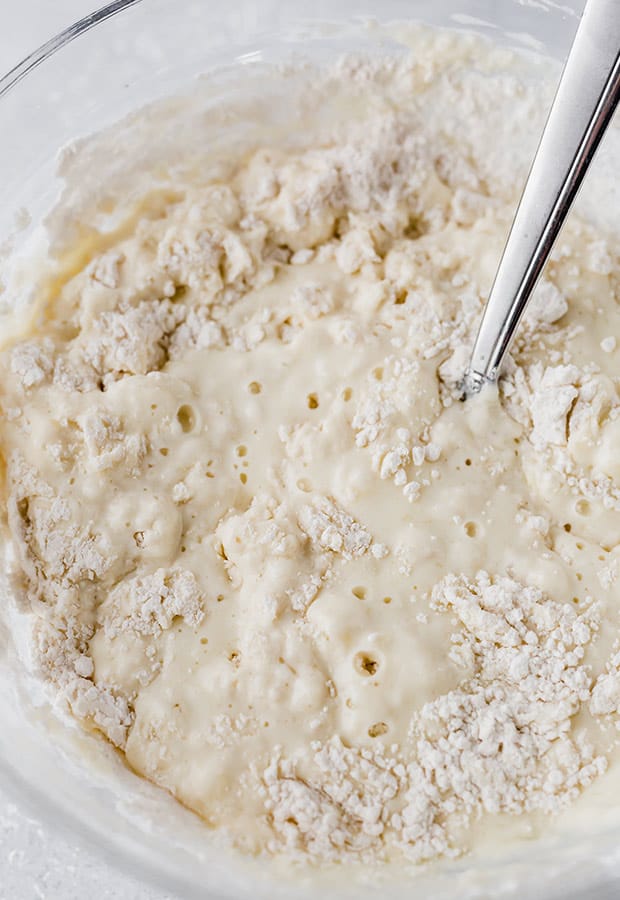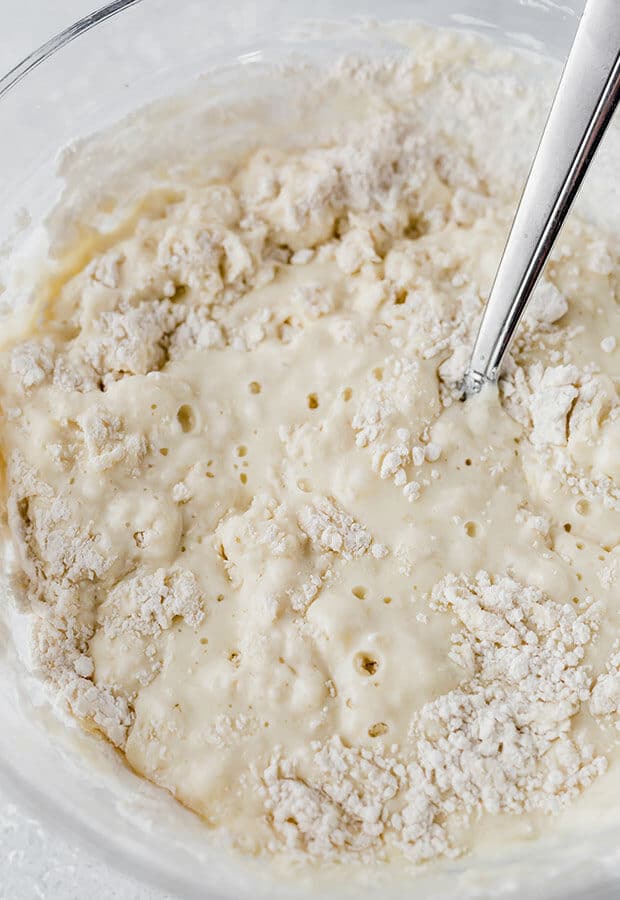 Gently fold the egg whites into the batter being careful not to deflate them.
Let the batter sit at room temperature for 10-15 minutes while you preheat a pan or griddle.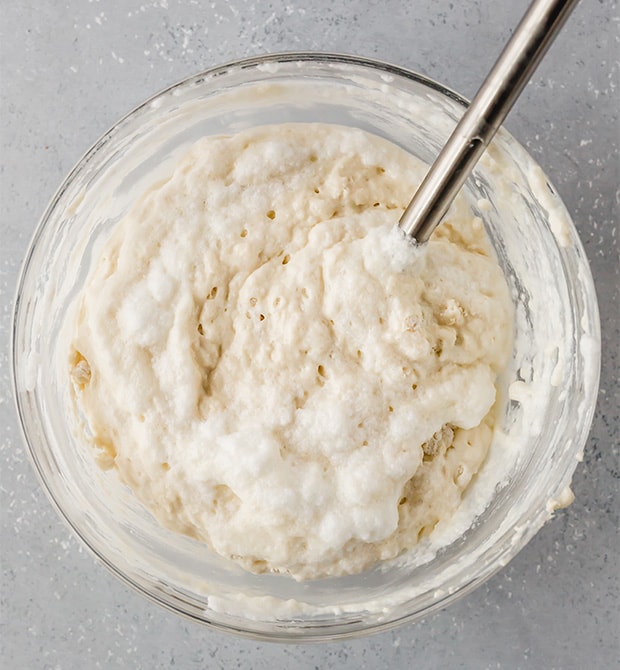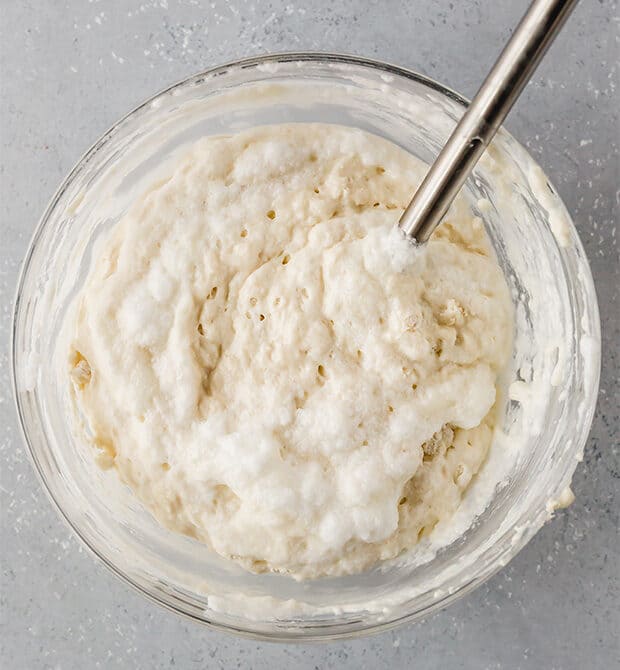 Cooking the pancakes
Using a 1/3 cup measuring spoon, dollop pancake batter on a butter coated 300°F griddle. Cook both sides until golden brown, about 3-4 minutes per side.
Note: cooking times will vary depending on the griddle or pan you use.
Serve the buttermilk pancakes warm with your favorite syrup.
That's it! Isn't this a really easy pancake recipe?
Now, I've made this recipe more times then I can count so I thought I'd share several tips and tricks I've learned along the way.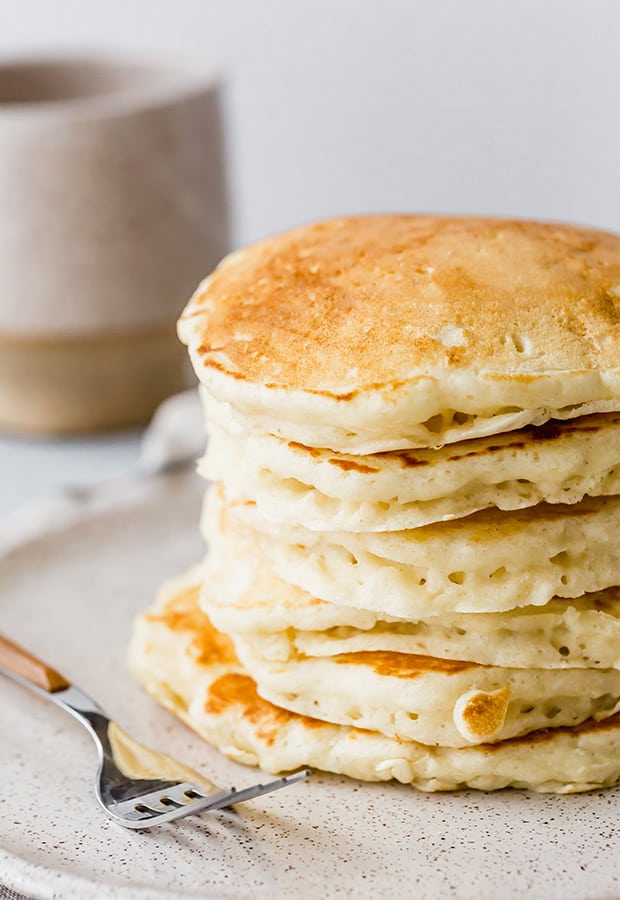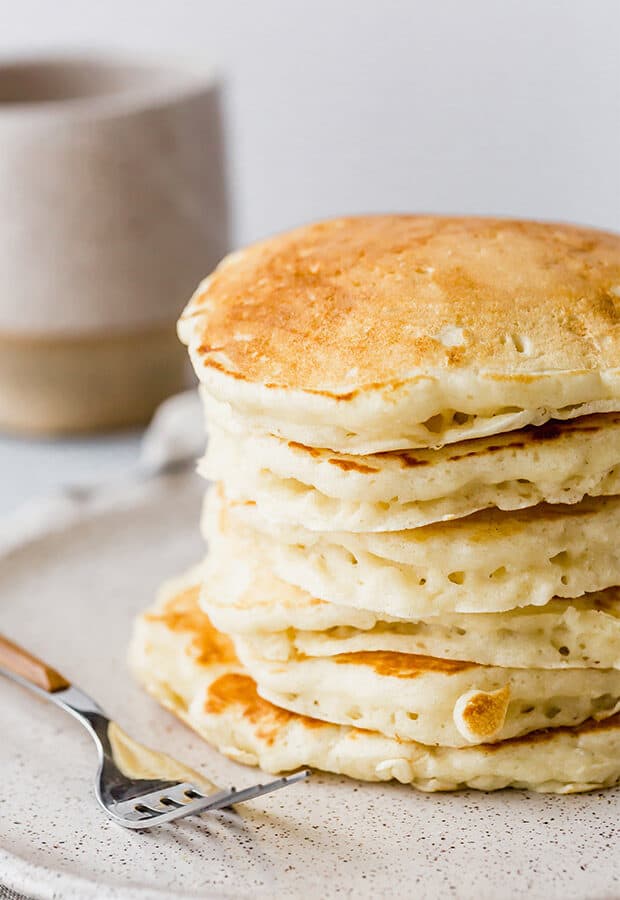 Tips for fluffy pancakes
A trick I use with my banana chocolate chip muffins is to let the batter sit before baking them. This same tip applies for pancakes: let the pancake batter sit for at least 10 minutes before cooking the pancakes. This "resting time" lets the baking powder work its' magic.
How do you achieve a light and fluffy pancake? Introducing air and not deflating it. That's the only way you can successfully get that fluffy pancake texture. And trust me, if you do it correctly, you WILL NOT have a saggy pancake. ❤
Another great tip for making pancakes… DO NOT over-mix the batter. The key to pancake (and waffle batter) is to mix the batter until combined but lumpy. This allows the gluten proteins in the batter to link together in a relaxed and weblike way. When cooked large air bubbles are formed between the loosely combined gluten proteins resulting in a light and fluffy pancake.
Over-mixed batter has overdeveloped gluten. Meaning, the gluten has linked tightly in a strong weblike manner. This strong gluten connection means there is less space for air pockets to develop between the tightly wound gluten proteins, resulting in thin and flat pancakes. (Whomp whomp).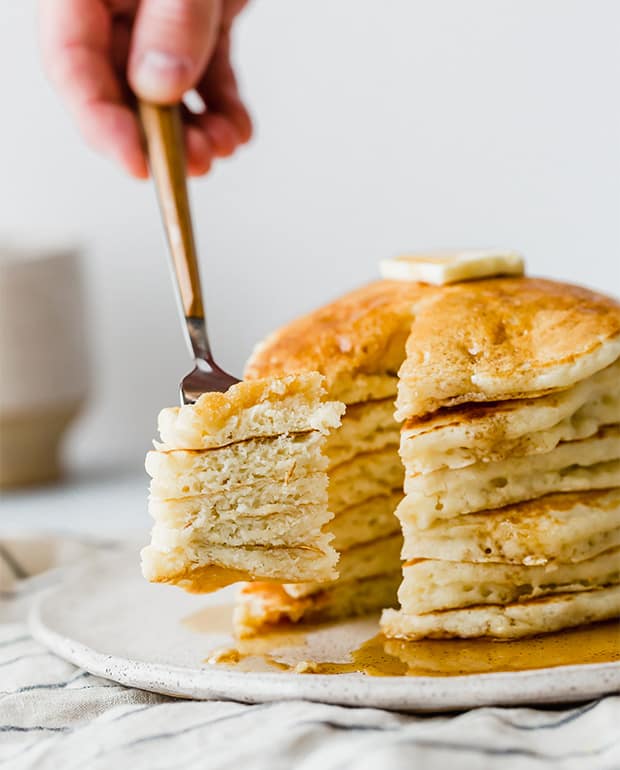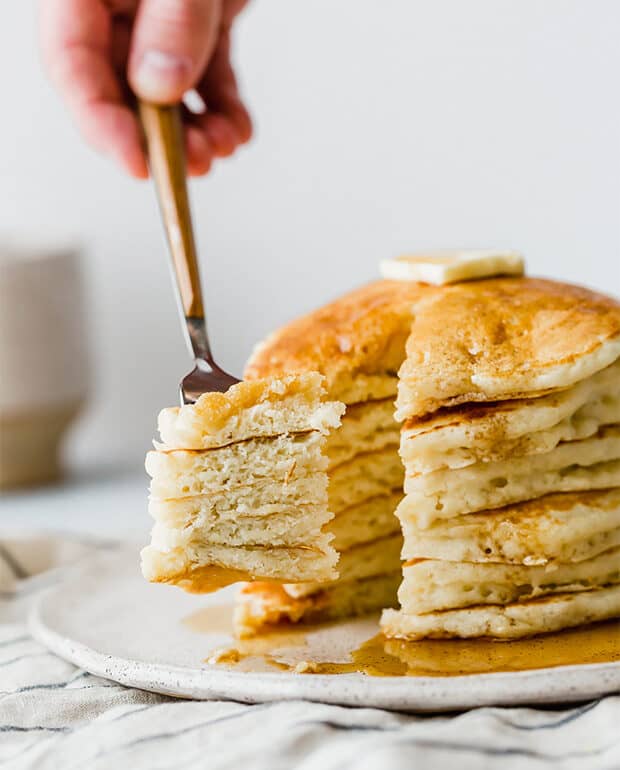 TIPS FOR MAKING THE BEST HOMEMADE PANCAKES
Room temperature buttermilk will help the wet ingredients mix together more smoothly. If the buttermilk is cold and the unsalted butter is freshly melted and still very warm, once the cold buttermilk touches the hot butter, the butter will slowly get hard and develop chunks. This isn't necessarily a bad thing as it doesn't affect the taste of the pancakes. When making pancakes, (cookies, and cakes) it's always a good idea to use room temperature ingredients.
I've found that a griddle heated around 300°F works perfectly. This temperature cooks the pancakes fully without overcooking them on the outside and leaving them uncooked in the middle. Every pancake griddle varies so you may need to finagle with the temperature as you go.
Don't be afraid to add mix-ins to the batter; toss in a handful of chocolate chips, nuts, or blueberries. One reader left this comment after making these homemade buttermilk pancakes:
"Wish I could give 10 stars! Made these this morning with chocolate chips and they're the best pancake I've ever had! They are SO LIGHT and AIRY!"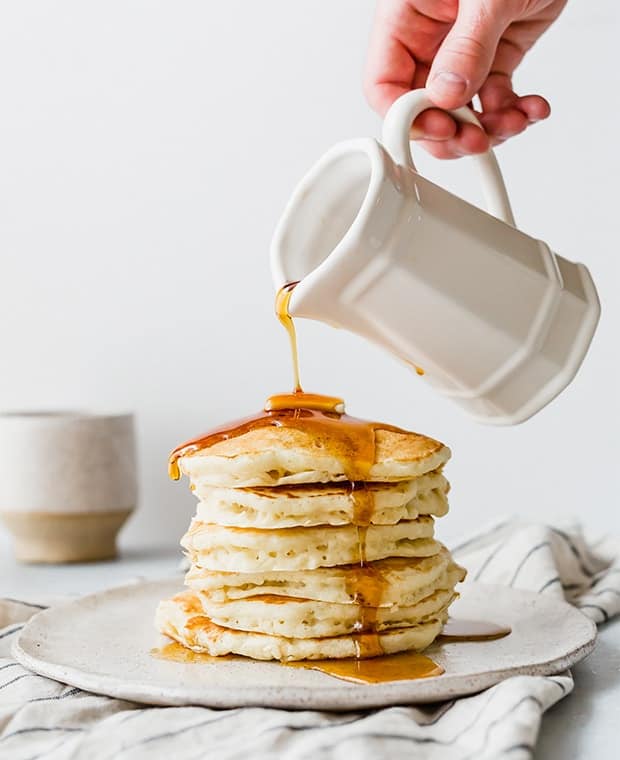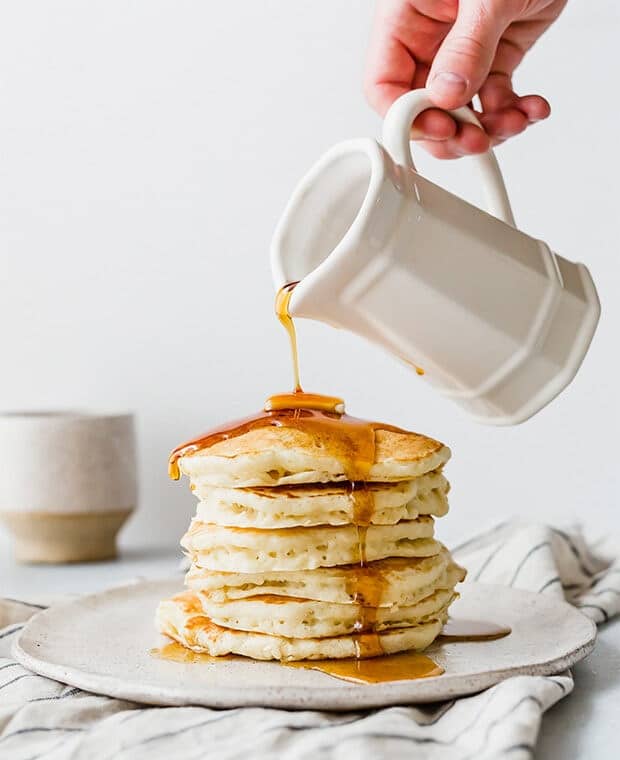 There's nothing like a hot fluffy buttermilk pancakes fresh off the griddle topped with butter and warm maple syrup!
I'm so confident in this recipe, I can guarantee you'll never make pancakes from a box ever again.
---
If you make this recipe, leave a rating, comment, and review down below! And don't forget to subscribe to Salt & Baker… it's FREE! You'll receive new recipes straight to your inbox.
Homemade Buttermilk Pancakes
The most delicious buttermilk pancakes made from scratch! You'll never make pancakes from a box ever again!
Ingredients
1

teaspoon

salt

2

teaspoons

baking powder

1

teaspoon

baking soda

2

cups

all purpose flour

2

tablespoons

granulated sugar

2

eggs, separated

2

cups

buttermilk *

1/2

teaspoon

vanilla extract

2

tablespoons

unsalted butter, melted
Instructions
In a large bowl, whisk the salt, baking powder, baking soda, flour, and sugar. Set aside.

In a medium size bowl add the egg yolks, buttermilk, vanilla extract, and melted butter. Mix to combine. I keep it simple and just use a fork and mix until the yolk is nice and broken up and combined with the other ingredients.

In a small bowl beat the egg whites until soft peaks form. Set aside.

Combine the wet ingredients with the dry ingredients. Mix for a few seconds (again, I just use a fork). When the flour and wet ingredients are partly combined fold in the fluffy egg whites. Don't over mix. It's fine to have small pieces of flour here and there. Let the pancake batter sit at room temperature for 10 mintues or so to rest. In the meantime, preheat a griddle or pan to cook the pancakes on.

Using a 1/3 measuring cup, scoop the batter onto a buttered 300°F griddle. Cook on each side for approximately 2-3 minutes. Serve warm with butter and maple syrup drizzled over the top.
Notes
*use REAL buttermilk!
Allowing the pancake batter to rest for 10 minutes at room temperature lets the baking powder and baking soda work it's magic!
Did you make this recipe?
snap a photo and tag @saltandbaker in your posts and stories so I can see what you're making!
This post was published in January 2018 and has been updated with more photos and tips.