Homemade Buttermilk Pancakes
The BEST homemade buttermilk pancakes are right here folks! These buttermilk pancakes are light, ultra fluffy, and full of the most amazing buttery flavor. Slather some butter, syrup, or fruit on top and you have the perfect breakfast!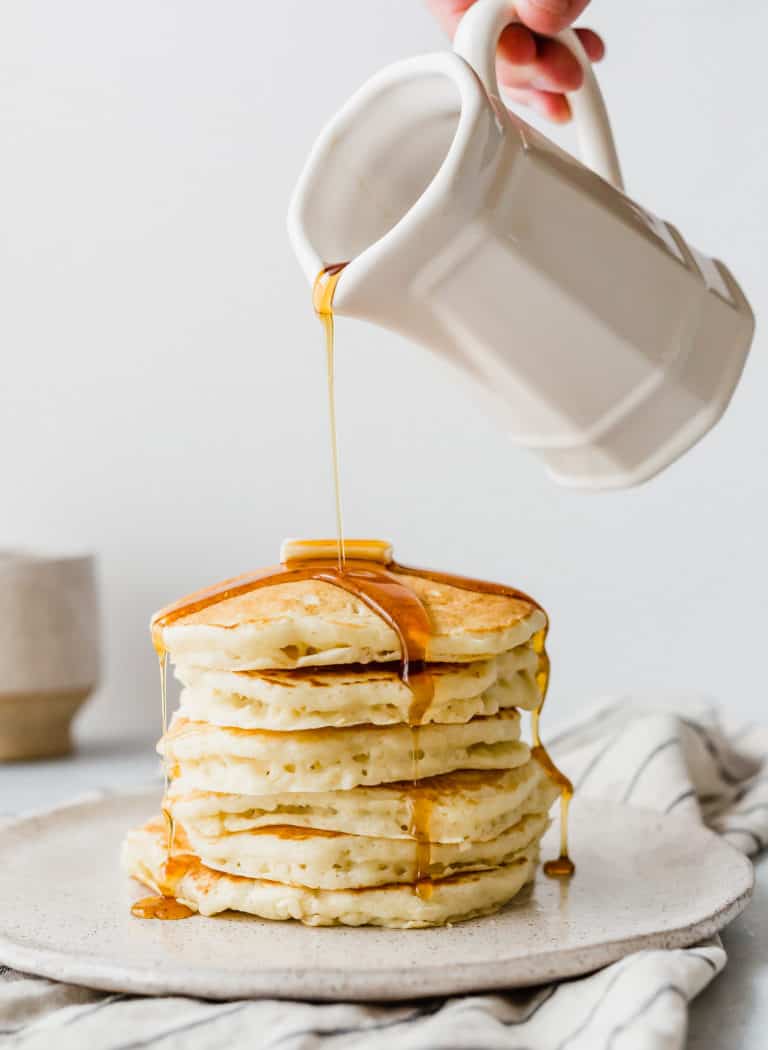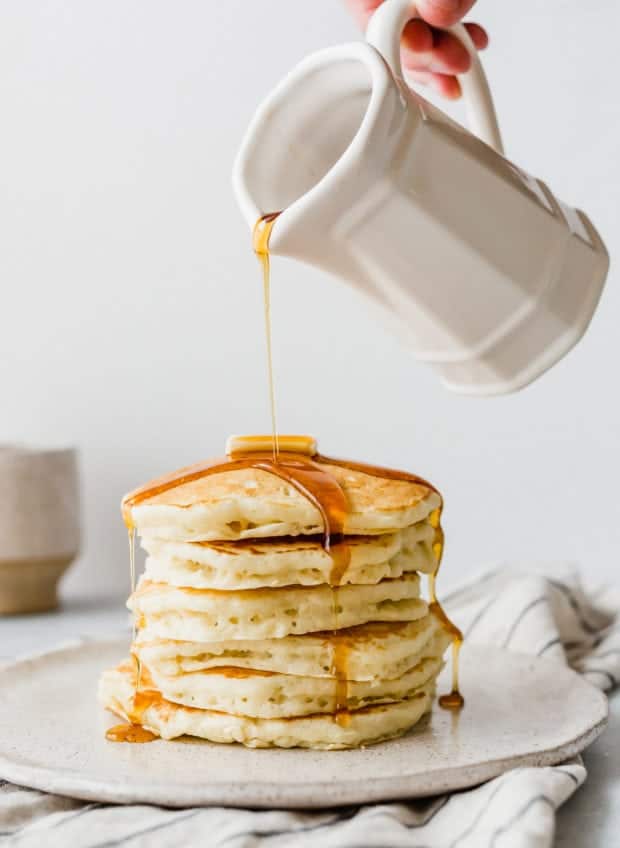 I've finally found the perfect buttermilk pancake recipe, from scratch. This one here. In fact, we love these pancakes so much, I've used this pancake recipe and adapted it to make Cinnamon Chip Pancakes. Ooooh are they heavenly!
Making pancakes from scratch is simple. But there is one profound secret to obtaining light and fluffy pancakes.
Separate the egg yolks from the egg whites. I've found that whipping the egg whites until soft peaks form adds volume and stability to the pancake batter.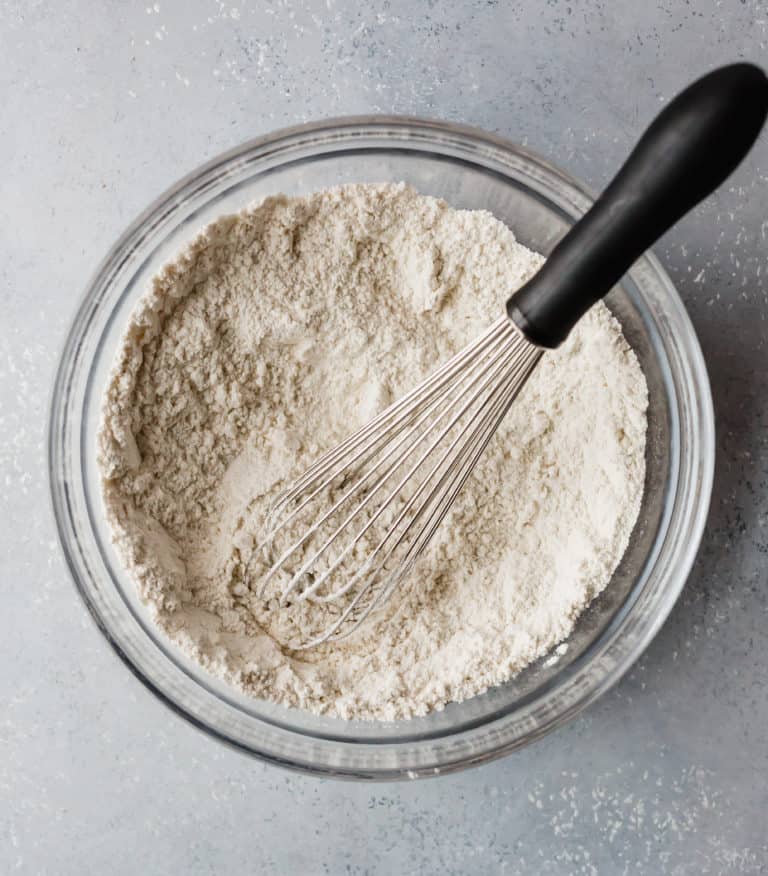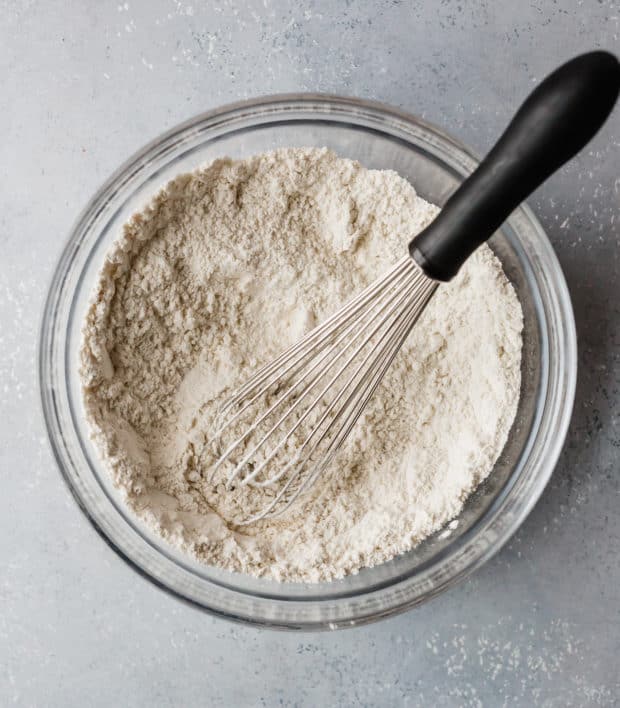 How to make the best buttermilk pancakes
Separate the egg yolk and egg whites. Whip the egg whites until soft peaks form. (SUPER IMPORTANT!)
Don't substitute the buttermilk for a homemade buttermilk concoction. They don't taste the same. You need real buttermilk. (Sorry. But I promise, it's worth it).
Once you've agreed to follow steps 1 and 2. It's a matter of following the recipe. Combine dry ingredients.
Mix wet ingredients with the dry ingredients. DON'T OVER MIX. Lumpy batter is good.
Gently fold in the egg whites.
Place dollops of pancake batter on a 300°F griddle. Serve with your favorite syrup.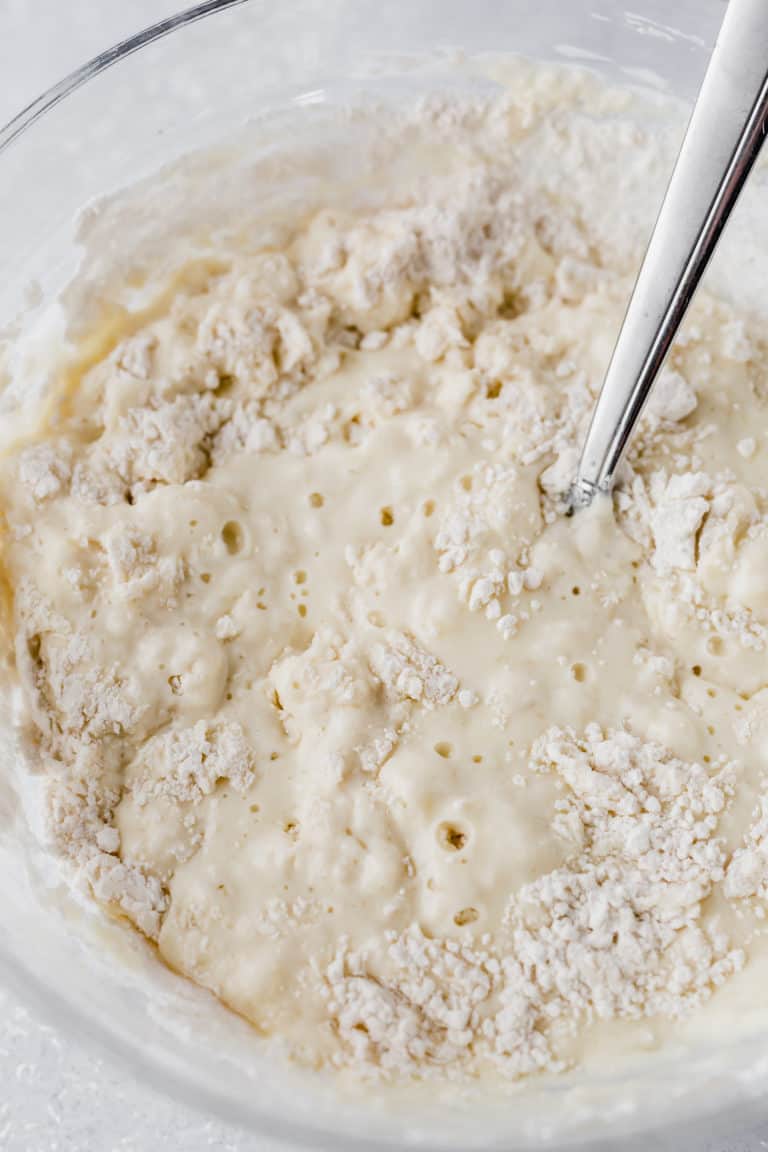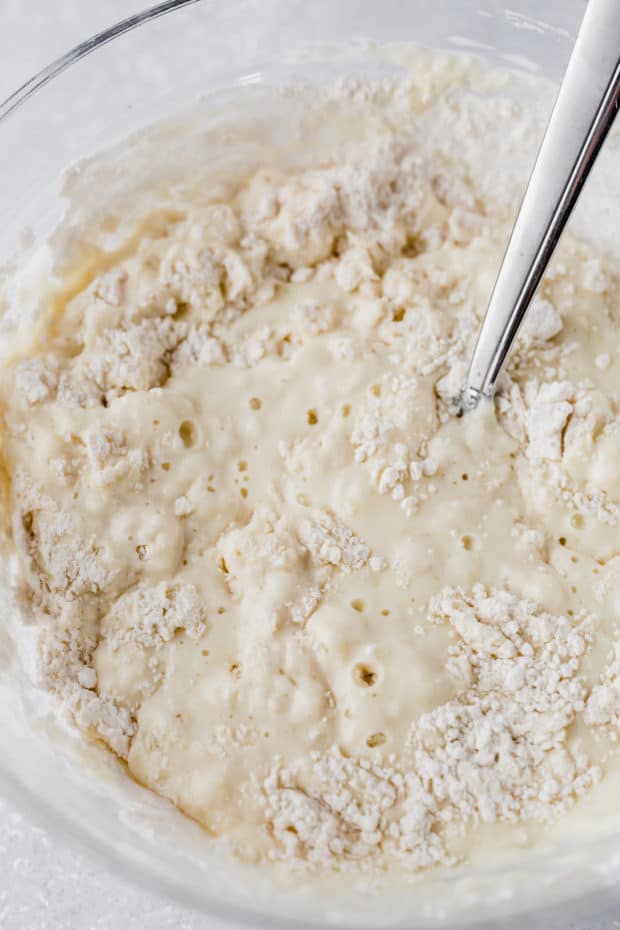 HOW TO MAKE FLUFFY PANCAKES
DO NOT over-mix the batter. The key is mixing the batter until combined but lumpy. This allows the gluten proteins in the batter to link together in a relaxed and weblike way. When cooked, large air bubbles are formed between the loosely combined gluten proteins resulting in a light and fluffy pancake.
Over-mixed batter has overdeveloped gluten. Meaning, the gluten has linked tightly in a strong weblike manner. This strong gluten connection means there is less space for air pockets to develop between the tightly wound gluten proteins, resulting in thin and flat pancakes. (Whomp whomp).
How do you think you get light and fluffy pancakes? Introducing air and not deflating it. That's the only way you can successfully get that fluffy pancake texture. And trust me, if you do it correctly, you WILL NOT have a saggy pancake. ❤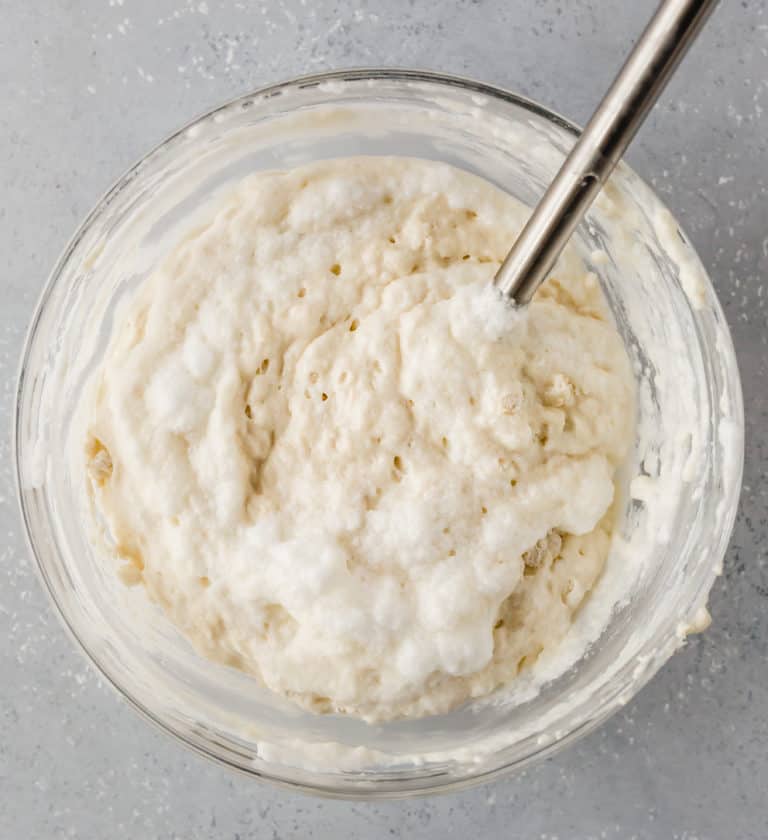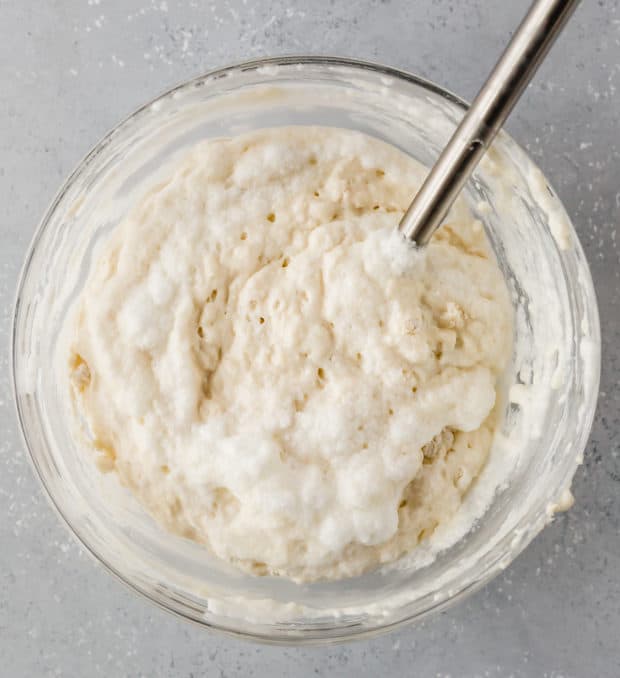 TIPS FOR MAKING THE BEST HOMEMADE PANCAKES
*Room temperature buttermilk will help the wet ingredients mix together more smoothly. If the buttermilk is cold and the unsalted butter is freshly melted and still very warm, once the cold buttermilk touches the hot butter, the butter will slowly get hard and have some chunks. This isn't necessarily a bad thing as it doesn't affect the taste of the pancakes. For piece of mind and ease in making the pancakes, it's always a good idea to use room temperature ingredients.
*I've found that a griddle heated around 300°F works perfectly. This temperature cooks the pancakes fully without overcooking them on the outside and leaving them uncooked in the middle. You'll have to finagle with your griddle as you go.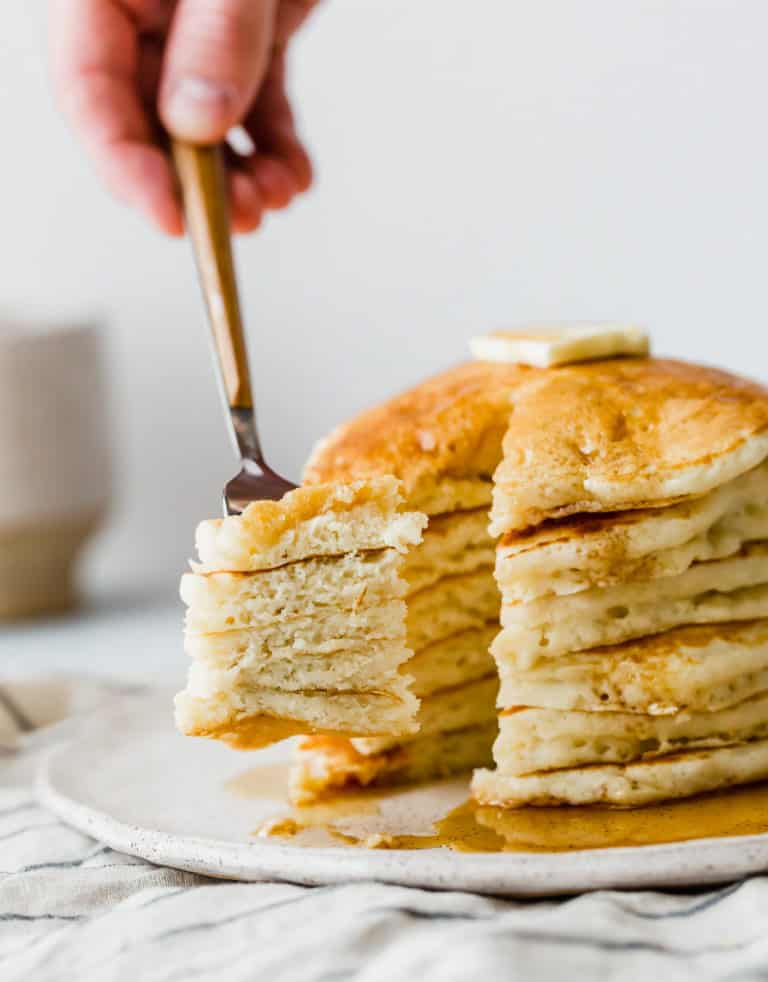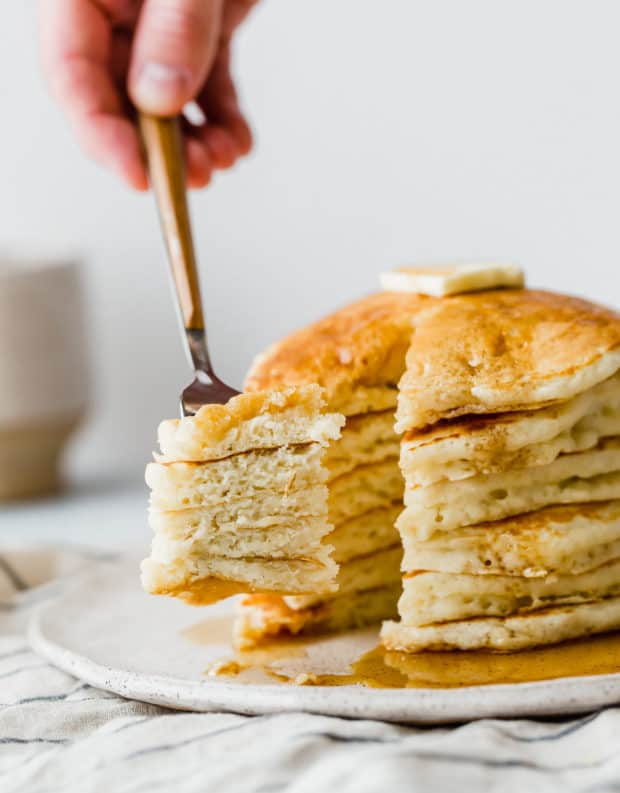 There's nothing like a hot fluffy buttermilk pancakes fresh off the griddle topped with butter and warm maple syrup!
I'm so confident in this recipe, I can guarantee you'll never make pancakes from a box ever again.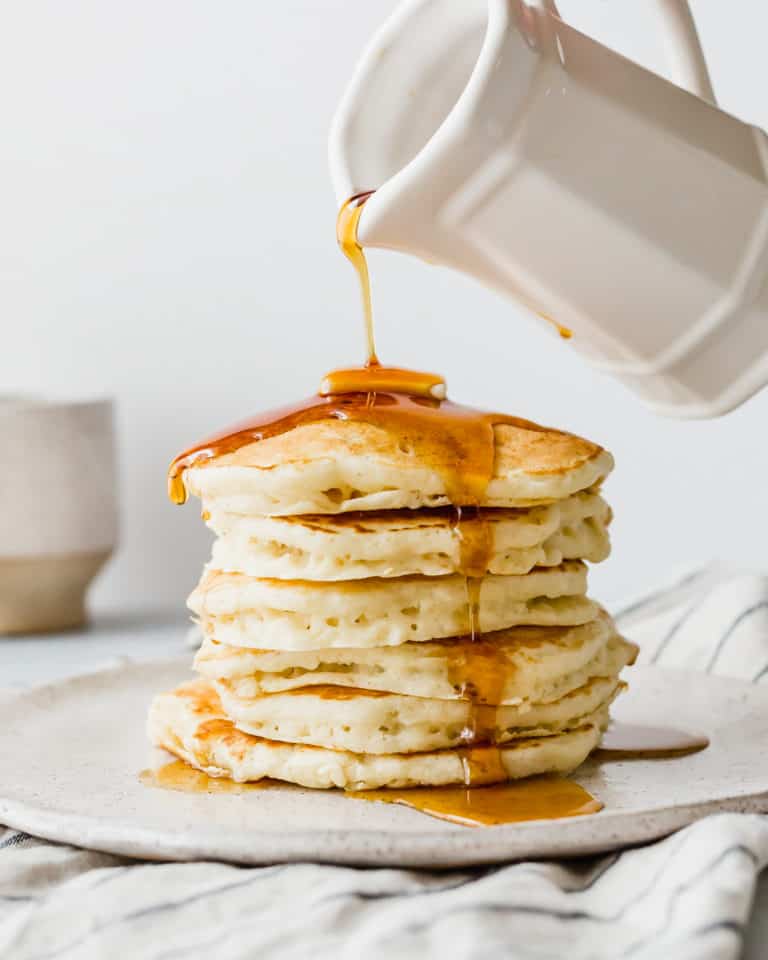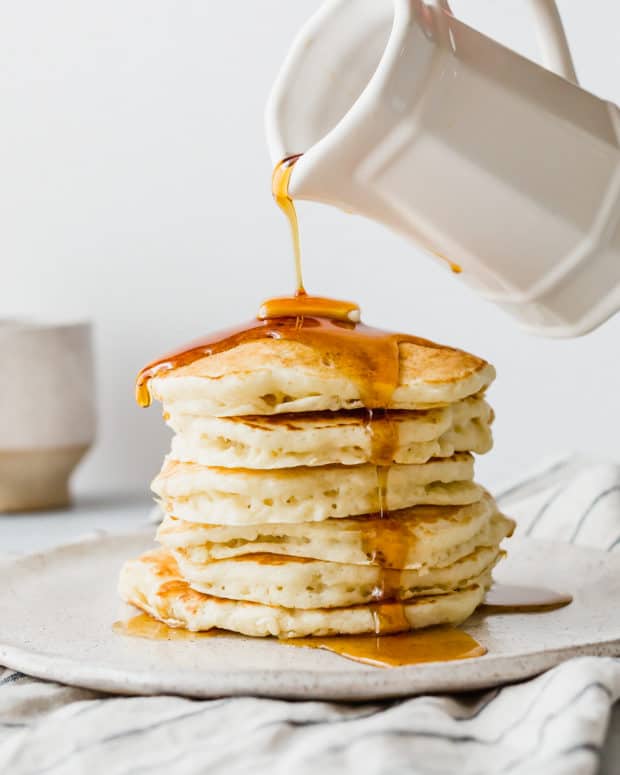 ---
Craving more? You'll love these breakfast recipes:
SUBSCRIBE TO SALT & BAKER to get new recipes delivered straight to your inbox! Simply enter your email in a subscription box located on the right hand side of the blog or scroll below the recipe and sign up there!
And stay in touch on Facebook, Pinterest and Instagram for all of the latest updates.
---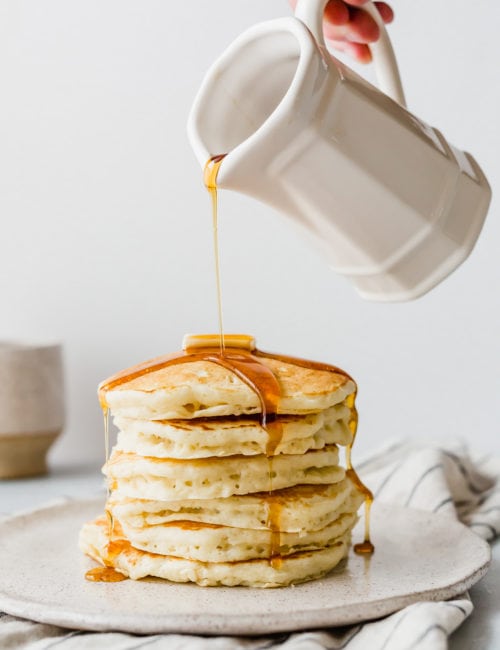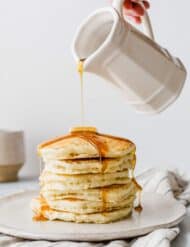 PRINT
Homemade Buttermilk Pancakes
The most delicious buttermilk pancakes made from scratch! You'll never make pancakes from a box ever again!
INGREDIENTS
1

teaspoon

salt

2

teaspoons

baking powder

1

teaspoon

baking soda

2

cups

all purpose flour

2

tablespoons

granulated sugar

2

eggs, separated

2

cups

buttermilk *

1/2

teaspoon

vanilla extract

2

tablespoons

unsalted butter, melted
INSTRUCTIONS
In a large bowl, whisk the salt, baking powder, baking soda, flour, and sugar. Set aside.

In a medium size bowl add the egg yolks, buttermilk, vanilla extract, and melted butter. Mix to combine. I keep it simple and just use a fork and mix until the yolk is nice and broken up and combined with the other ingredients.

In a small bowl beat the egg whites until soft peaks form. Set aside.

Combine the wet ingredients with the dry ingredients. Mix for a few seconds (again, I just use a fork). When the flour and wet ingredients are partly combined fold in the fluffy egg whites. Don't over mix. It's fine to have small pieces of flour here and there.

Using a 1/3 measuring cup, scoop the batter onto a buttered 300°F griddle. Cook on each side for approximately 2-3 minutes. Serve warm with butter and maple syrup drizzled over the top.
RECIPE NOTES
*use REAL buttermilk!
Calories:
136
kcal
|
Carbohydrates:
20
g
|
Protein:
4
g
|
Fat:
4
g
|
Saturated Fat:
2
g
|
Cholesterol:
36
mg
|
Sodium:
338
mg
|
Potassium:
153
mg
|
Sugar:
4
g
|
Vitamin A:
3.3
%
|
Calcium:
8.2
%
|
Iron:
6.4
%
Did you make this recipe?
Leave a comment or share a photo on Instagram and tag @saltandbaker and hashtag it #saltandbaker.