Low Calorie Banana Pancakes
This post may include affiliate links. As an Amazon Associate I earn from qualifying purchases.
Low Calorie Banana Pancakes are healthy, gluten free, dairy free, and delicious, and made in the blender for easy prep and clean up.  
We also have Almond Milk Pancakes, Banana Steel Cut Oats, Healthy German Pancakes if you're in the mood for more delicious breakfast recipes!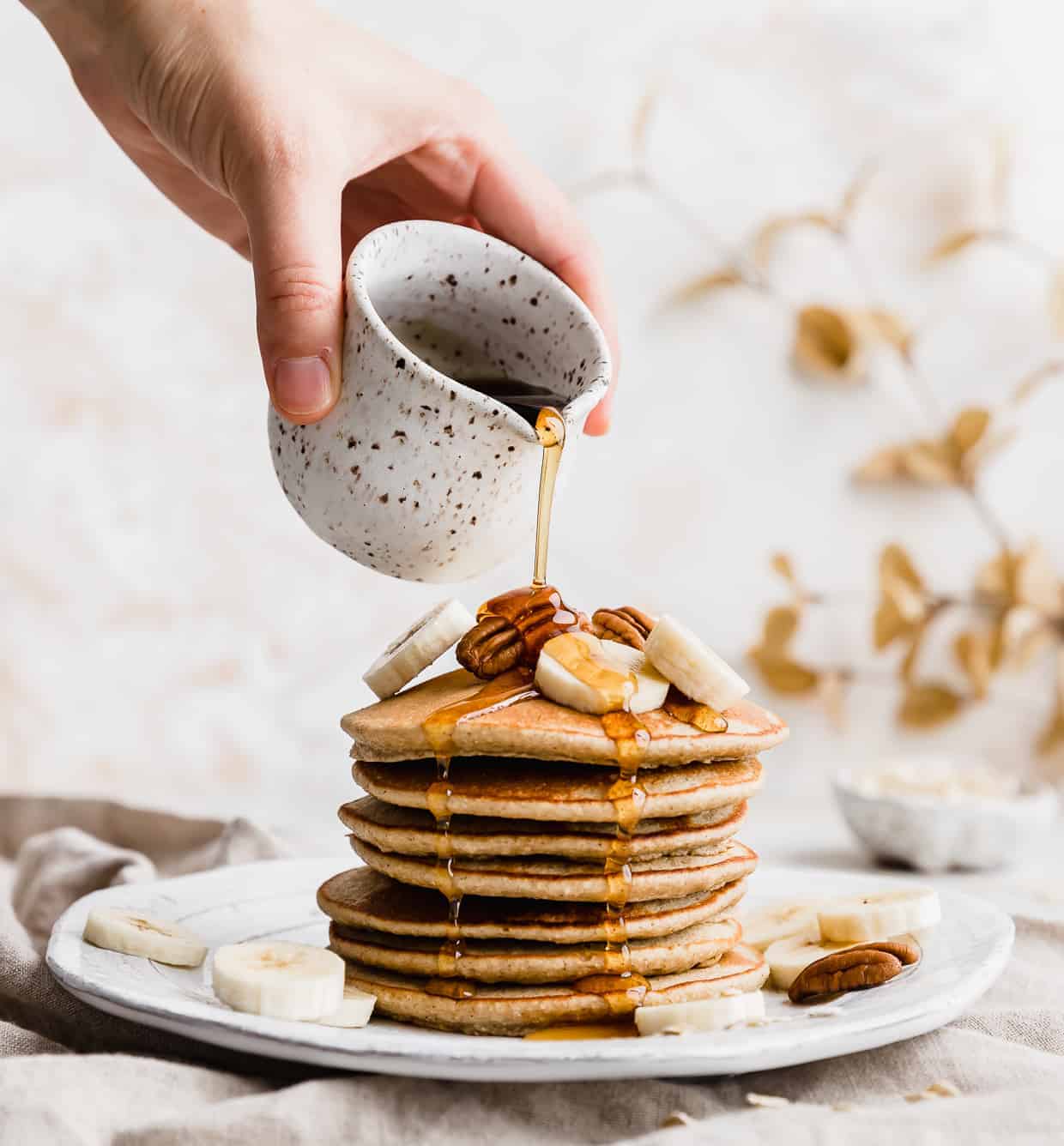 Why This Recipe Works
LOW calorie! There is no oil, no flour, and no butter in these low calorie banana pancakes. Using oats instead of flour and almond milk instead of regular milk, we get amazing whole grain and low calorie pancakes! 
Easy banana pancakes recipe. One word or you: blender! Simply shove all of the ingredients in, and blend until smooth.
Delicious banana cinnamon pancakes. Banana, cinnamon, and oats all come together for the perfect pancake! 
Healthy banana oat pancakes. You'll leave breakfast or brunch feeling satisfied and filled thanks to healthy ingredients! With fresh ripe bananas, oats, and eggs in every bite, these healthy pancakes are protein-packed and full of flavor.
Banana bread pancakes. Every pancake is cooked to golden perfection and tastes a bit like banana bread. 
Ingredient Notes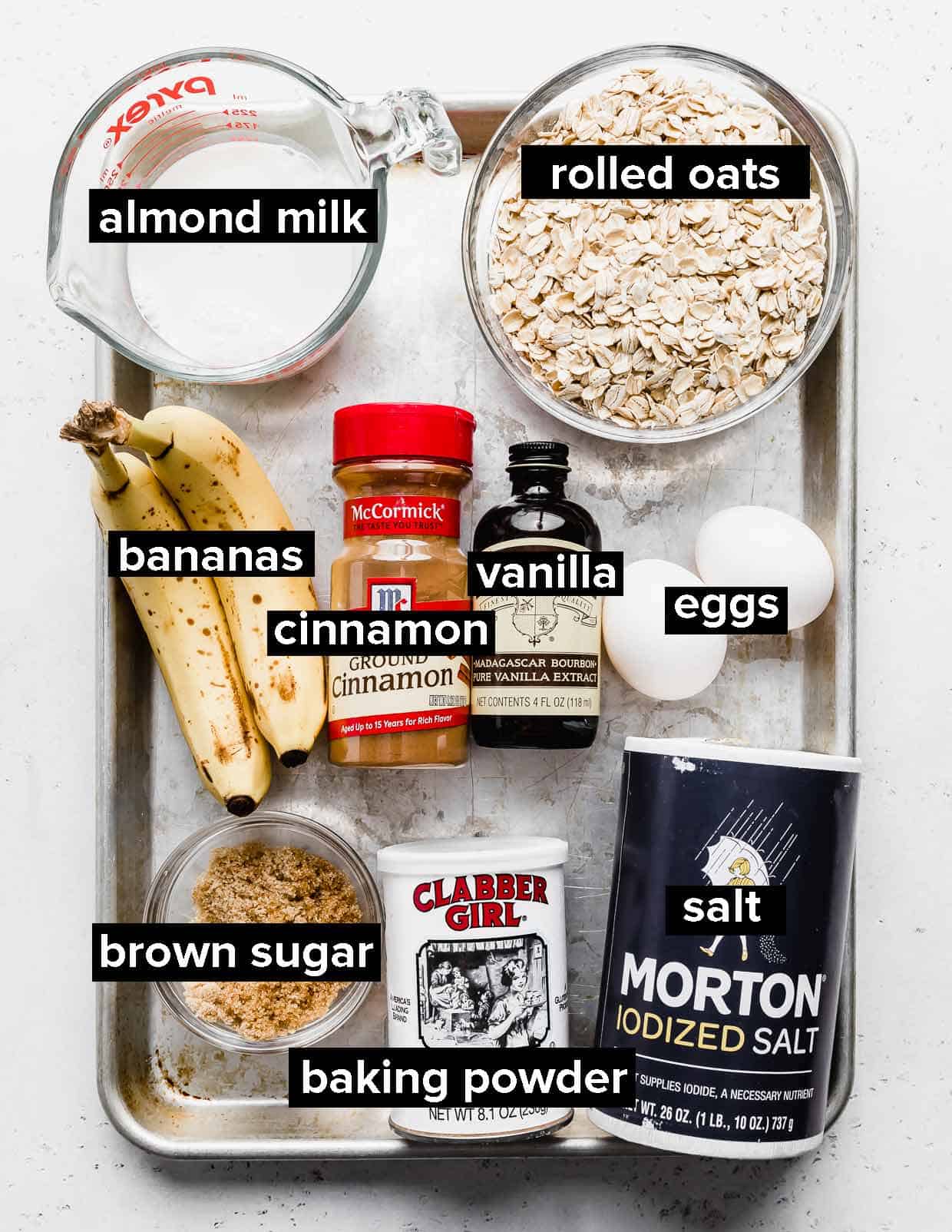 Unsweetened Almond Milk: We want to use unsweetened almond milk to help thin our pancakes down and keep them healthier, but other milk will work fine too.
Eggs: This is crucial to helping the pancakes cook better. I forgot the eggs when making this banana oatmeal pancake recipe once and they weren't as good! Don't forget the eggs! 
Bananas: Use extra ripe bananas. Ripe bananas will give us natural sweetness and more of a banana flavor in every bite.
Cinnamon: Everyone loves a pinch of cinnamon!
Brown Sugar: The small addition of brown sugar will give a slight sweetness that makes these banana pancakes extra delicious without being overly sweet.
Old Fashioned Rolled Oats (certified gluten free if celiac): Using old fashioned rolled oats are my preferred choice but I've seen variations of similar pancakes using other oats as well.
Baking Powder: The baking powder will help the pancakes rise. 
Step-by-Step Instructions
Add ingredients to a blender. To a blender, add 1/2 cup unsweetened almond milk, 1/2 tsp vanilla extract, 2 eggs, 2 medium ripe bananas, 1/2 tsp ground cinnamon, 2 T brown sugar, 1 2/3 cups old fashioned rolled oats, 2 tsp baking powder, 1/4 tsp salt.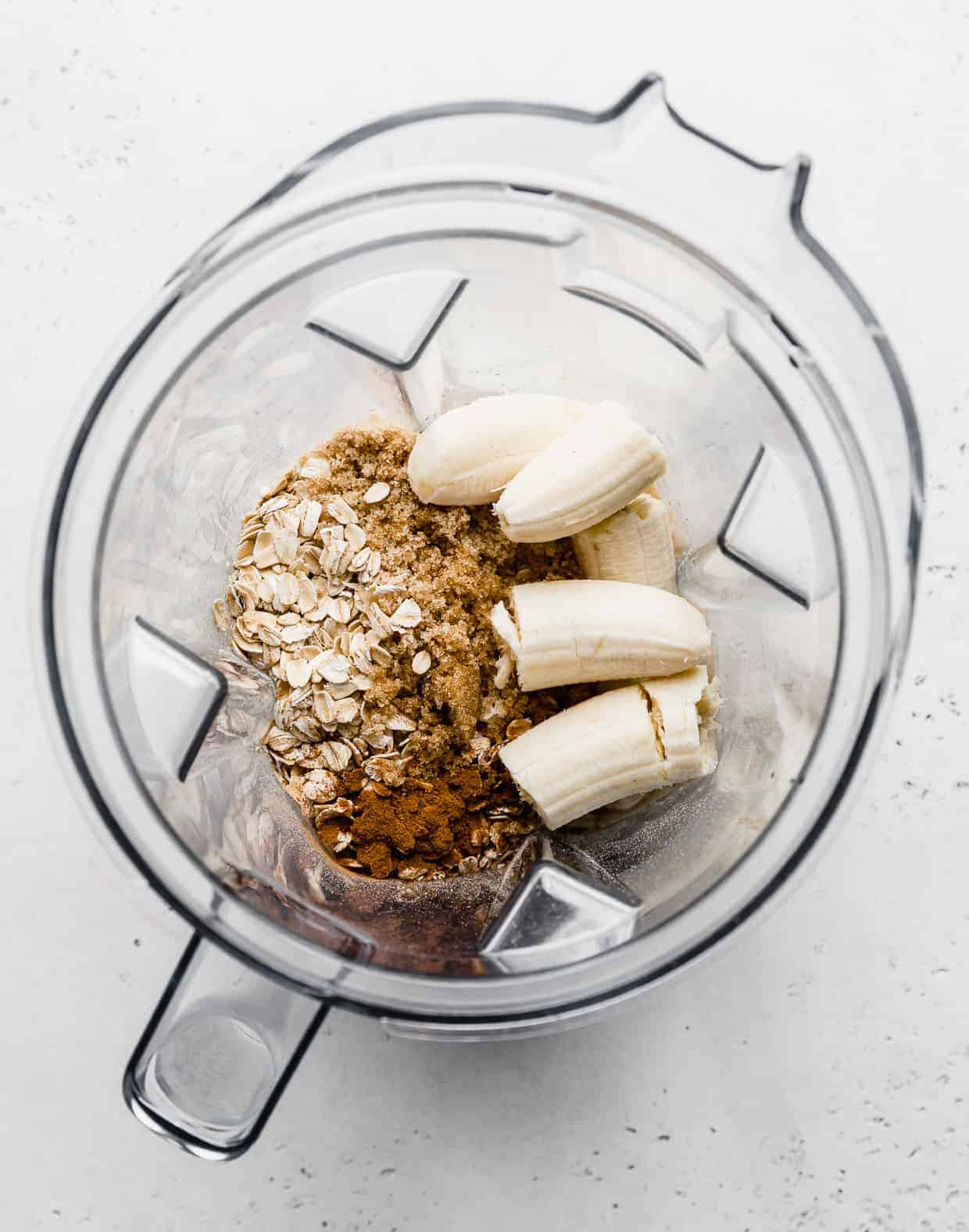 Blend until smooth. Set aside while the griddle heats.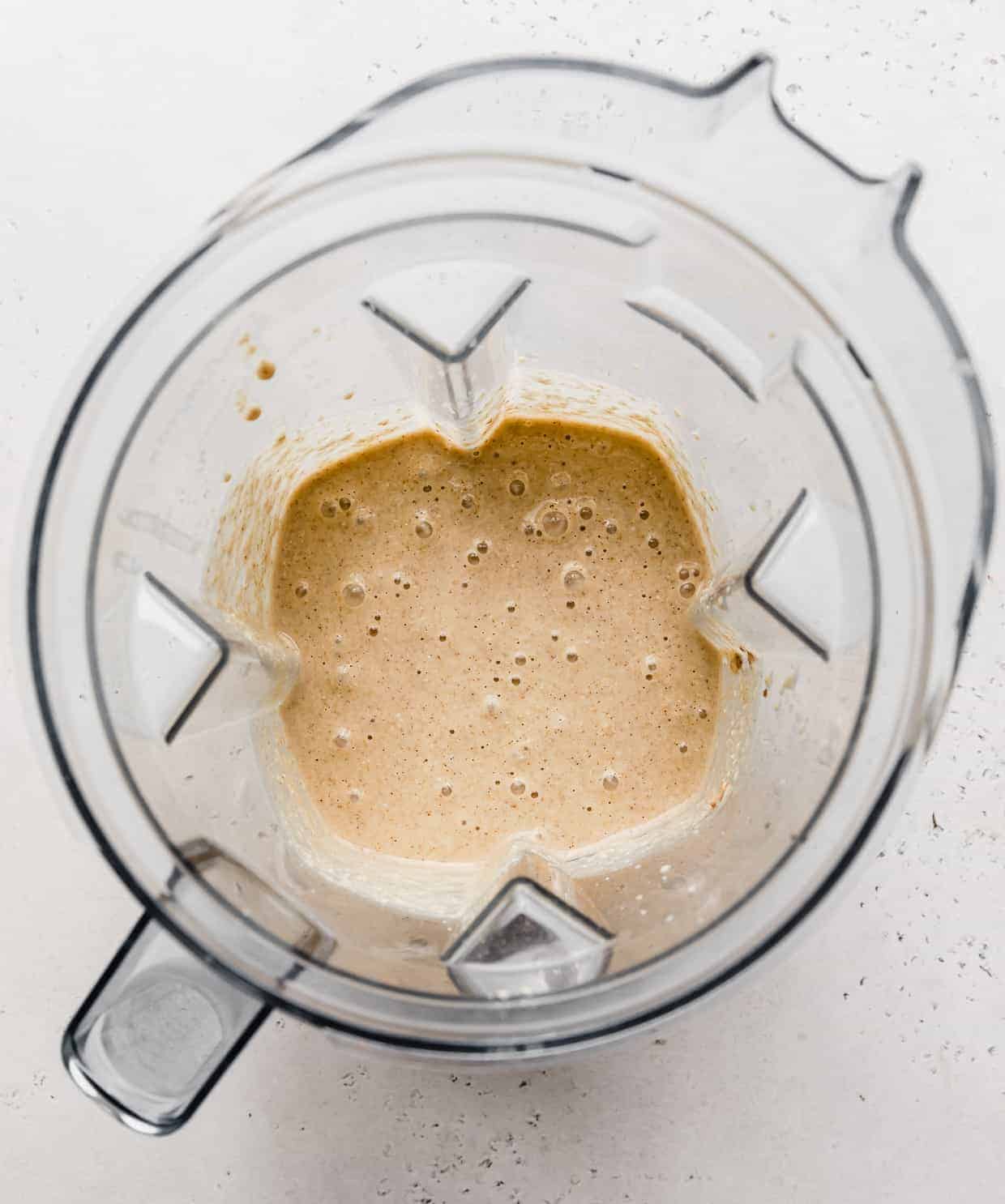 Cook the banana oatmeal pancakes. Heat your pancake griddle to 300-3235ºF. Grease the pan with butter, coconut oil or other desired cooking spray. Using a 1/3 cup, measure out the pancake batter onto the griddle. Cook for 2-4 minutes or until the pancakes are golden. Flip once the underside is golden brown.
Repeat with the remaining batter. Serve this delicious stack of pancakes with fresh banana slices, fresh berries, cream and/or syrup. Enjoy!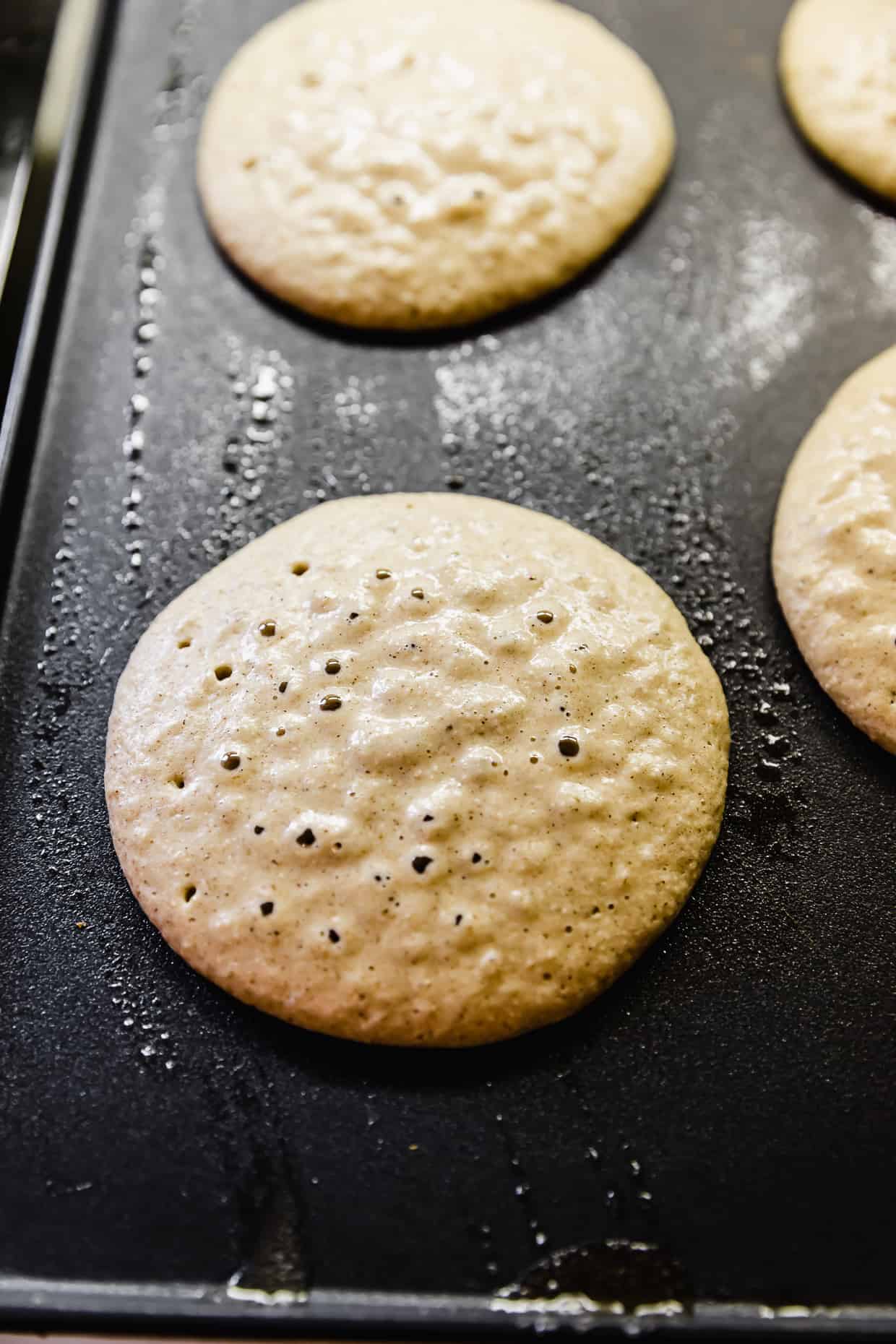 Recipe Tips
Using overripe bananas will make for sweeter pancakes.
Add some protein powder for an extra boost if you'd like!
Optional mix-ins — for mix-ins, add them to the batter at the end or drop them on the top of the pancakes as they are cooking — chopped nuts (pecans are my favorite with these cinnamon banana oat pancakes); diced bananas, or mini chocolate chips.
Cook these best banana pancakes low and slow. Since there isn't any oil, butter or flour, you'll want to cook these low calorie banana pancakes slowly on low heat so they don't burn before they cook through.
I like to serve these delicious pancakes with fresh fruit and a dollop of yogurt or cream but feel free to opt for your favorite syrups too!
Swap out the toppings on your pancakes by switching between nuts, Greek yogurt, powdered sugar, fruits, syrups, or jams. Everything tastes great and you can make this meal as healthy or as fun as you want it to be! So many possibilities!
Make Ahead, Storing, and Freezing
I wouldn't let your batter sit for longer than an hour before making these pancakes.
Store leftover blender banana oatmeal pancakes in an airtight container or ziplock bag in the fridge for 2-3 days for best results.
To freeze any leftover pancakes, flash freeze on a baking sheet in the freezer then transfer to a freezer-safe ziplock bag or container and freeze for up to 3 months. Remove from the fridge and thaw. Reheat on a skillet or in the toaster.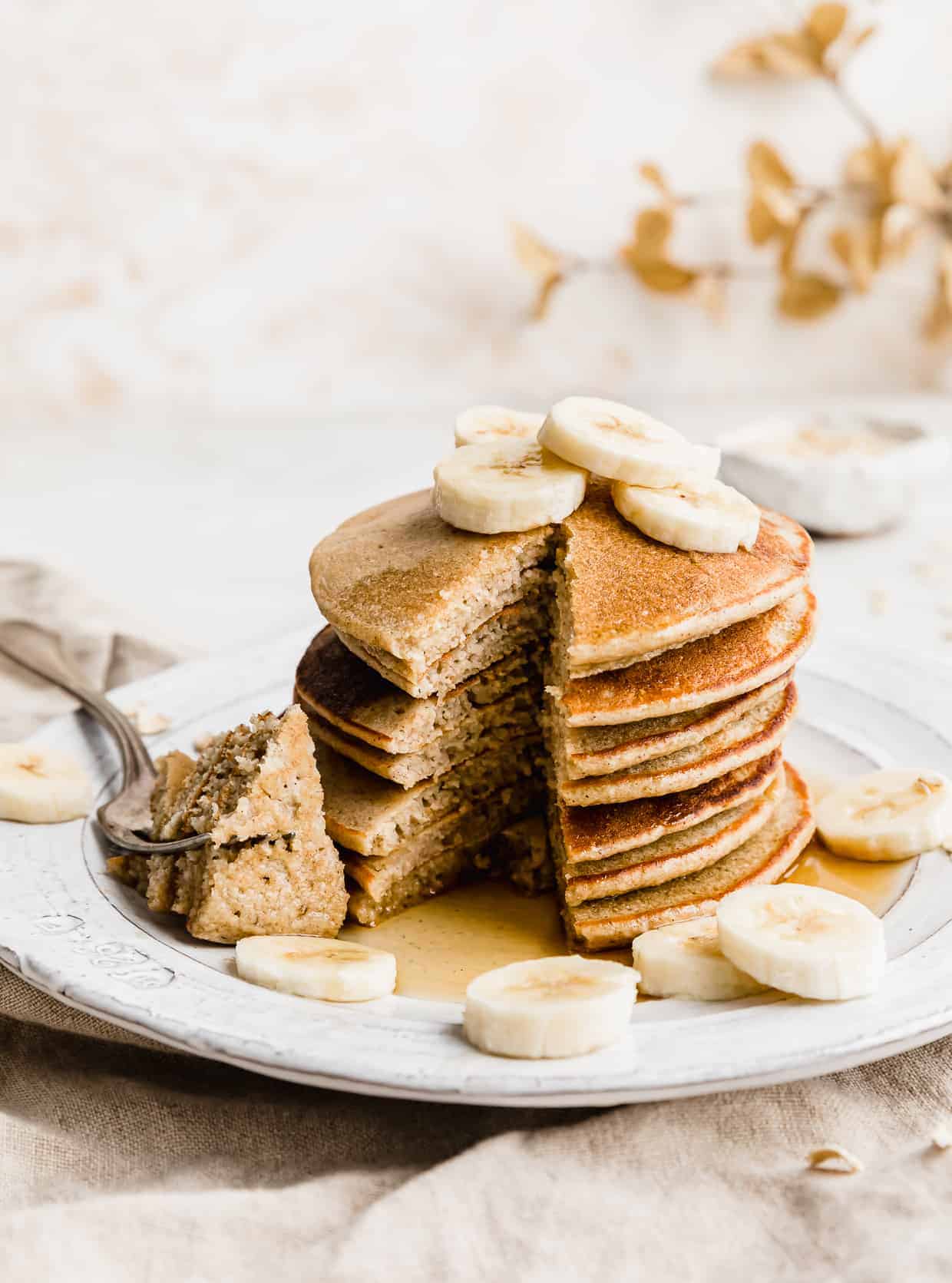 Recipe FAQs
Are banana oatmeal pancakes healthy?
Everyone's definition of "healthy" varies per person but these are a healthier choice than many other breakfast alternatives. You can make these healthy banana pancakes healthier by reducing or omitting the added sugar, swapping for honey or other sweetener, choosing smarter sides, toppings, and additions that help to enhance the benefits ion your plate.
Can you freeze banana oatmeal pancakes?
Yes, simply make as directed and allow the pancakes to cool. Flash freeze them on a baking sheet for about an hour until solid and then transfer them to a zipper topped bag or airtight container and freeze for up to 3 months. Thaw and reheat on a skillet or microwave for a few seconds to warm before eating.
What kind of oats for banana oatmeal pancakes?
You can use any type of oat but rolled old fashioned oats are my favorite. They hold a great texture and have a few more benefits than a more processed alternative. You can even use certified gluten free oats for these pancakes to make them gluten-allergy friendly!
Are these banana oat pancakes gluten free?
Yes! However, be sure to buy certified gluten free oats! Some oats are made in facilities that have gluten. 
Why are my banana pancakes not cooking?
They'll take a bit longer than traditional pancakes to cook. Keep the temperature low and be patient! Also, did you add the eggs? I forget the eggs once and it made it much harder for them to cook! 
What if I don't have a blender?
That's fine! You'll just need to use something (like a food processor) to pulverize the oats. The blender helps to blend everything together, turning the oats into oat flour.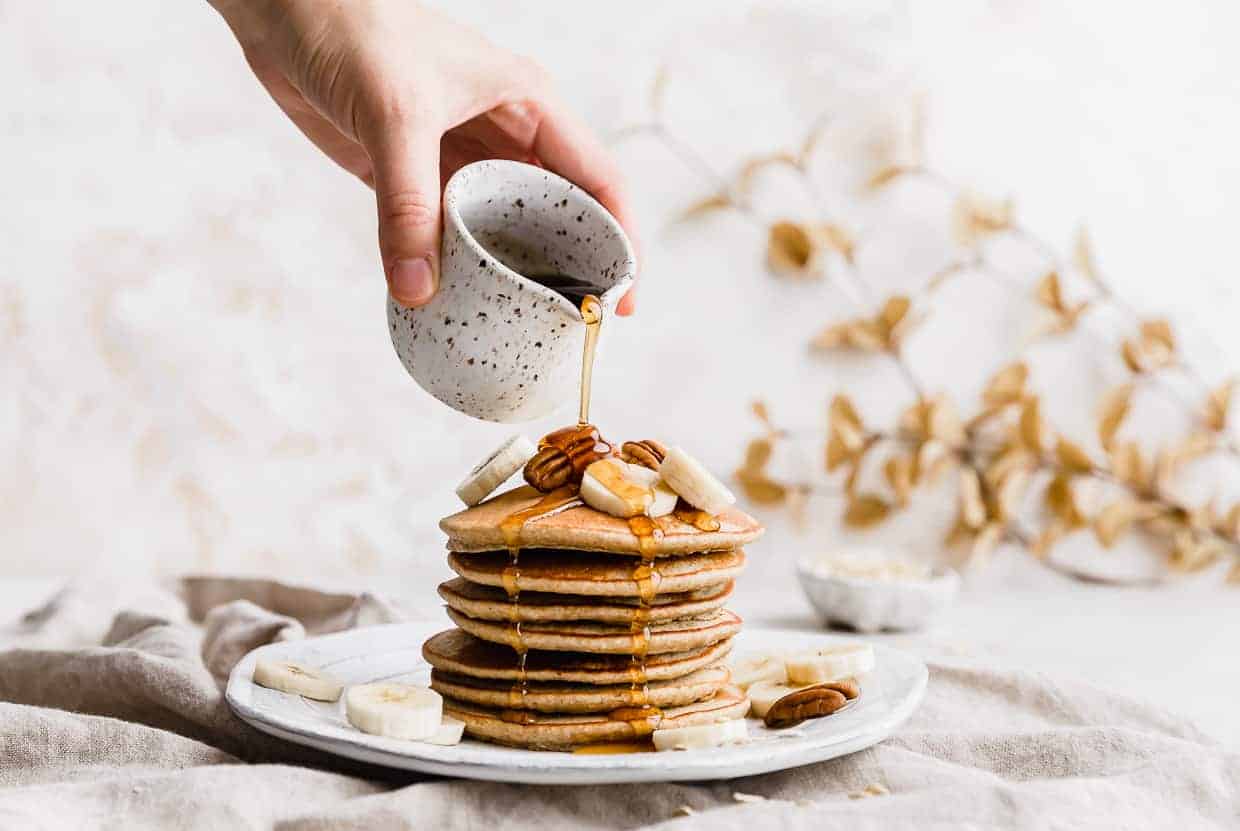 More Delicious Breakfast Recipes
Banana Oat Pancakes
Banana oatmeal pancakes are easy and delicious! All you have to do is add the ingredients to a blender, cook, and you're done! These low calorie pancakes are a great way to start your day.
Ingredients
1/2

cup

unsweetened almond milk

1/2

teaspoon

vanilla extract

2

eggs

2

medium

bananas

-

ripe, or 1 large banana

1/2

teaspoon

ground cinnamon

2

tablespoons

brown sugar

-

packed

1 2/3

cups

old fashioned rolled oats

2

teaspoons

baking powder

1/4

teaspoon

salt
Instructions
Add all ingredients to a blender and blend on medium high for 1 minute or until batter is smooth. Let the batter sit while you heat a griddle. 

Heat a griddle to 300-325°F. Use butter, coconut oil, or vegetable oil to grease the pan/griddle. Using a 1/3 measuring cup scoop the batter onto the griddle. Cook for 2-4 minutes or until pancakes are golden and cooked through. Be careful not to heat the pan too hot as this will result in a nicely cooked exterior but mushy interior. 

Serve warm with fresh fruit and a dollop of yogurt or cream, or your favorite syrup.
Notes
Use overripe bananas for a sweeter flavor. You can reduce, omit, or swap out the brown sugar for a different type of sweetener.
Store leftovers in the fridge in an airtight container for 2-3 days. 
Did you make this recipe?
Leave a star rating and review on the blog post letting me know how you liked this recipe! Take a picture and tag @saltandbaker on Instagram and Facebook so I can see what you're making!