Small Batch Buttermilk Biscuits
This post may include affiliate links. As an Amazon Associate I earn from qualifying purchases.
This Small Batch Buttermilk Biscuits recipe makes 8 delicious biscuits that are light, fluffy, flaky and buttery! It's made with butter (no crisco here!) and buttermilk for the most amazing flavor and texture.
I could eat one of these soft, golden brown, and mega flaky biscuits any time, any day, anywhere. They are perfect with my Homemade Sausage Gravy for a delicious biscuits and gravy meal! Yo can also serve them alongside some of my delicious soups such as my Sweet and Spicy Chili or Zupas Tomato Basil Soup.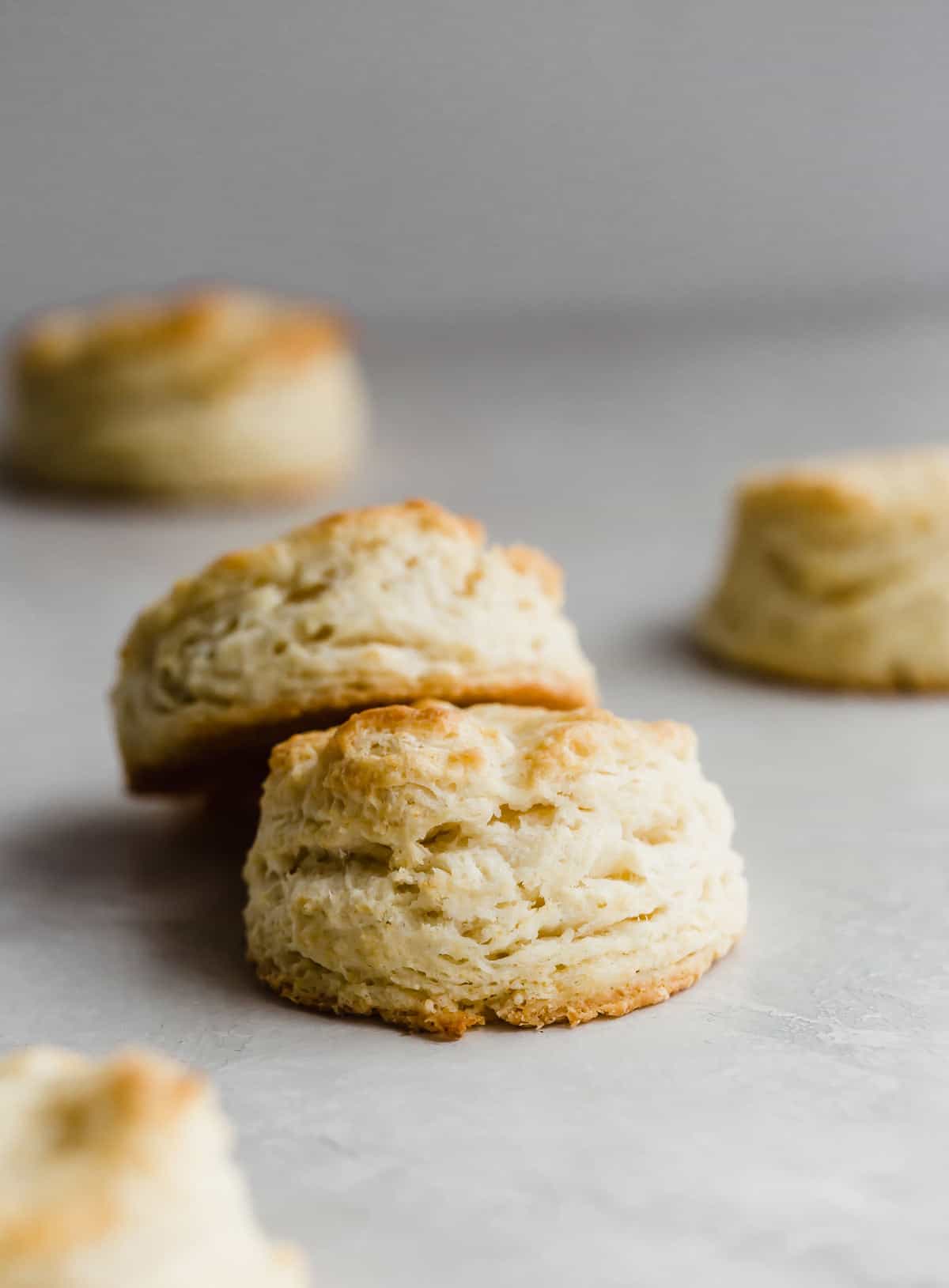 Why This Recipe Works
Easy buttermilk biscuits with no crisco. We just use butter here friends! No crisco, just basic ingredients. 
Ridiculously easy buttermilk biscuits. Making homemade buttermilk biscuits from scratch is easy! I'll walk you through the dough folding process so you don't have to worry at all! My step-by-step instructions make this the easiest buttermilk biscuits recipe you'll ever make! 
Sky-high biscuits. These homemade biscuits are fluffy, tall, light, amazing, delicious … all the things 🙂 
Small batch buttermilk biscuits. This recipe makes 8 delicious biscuits. 
Ingredient Notes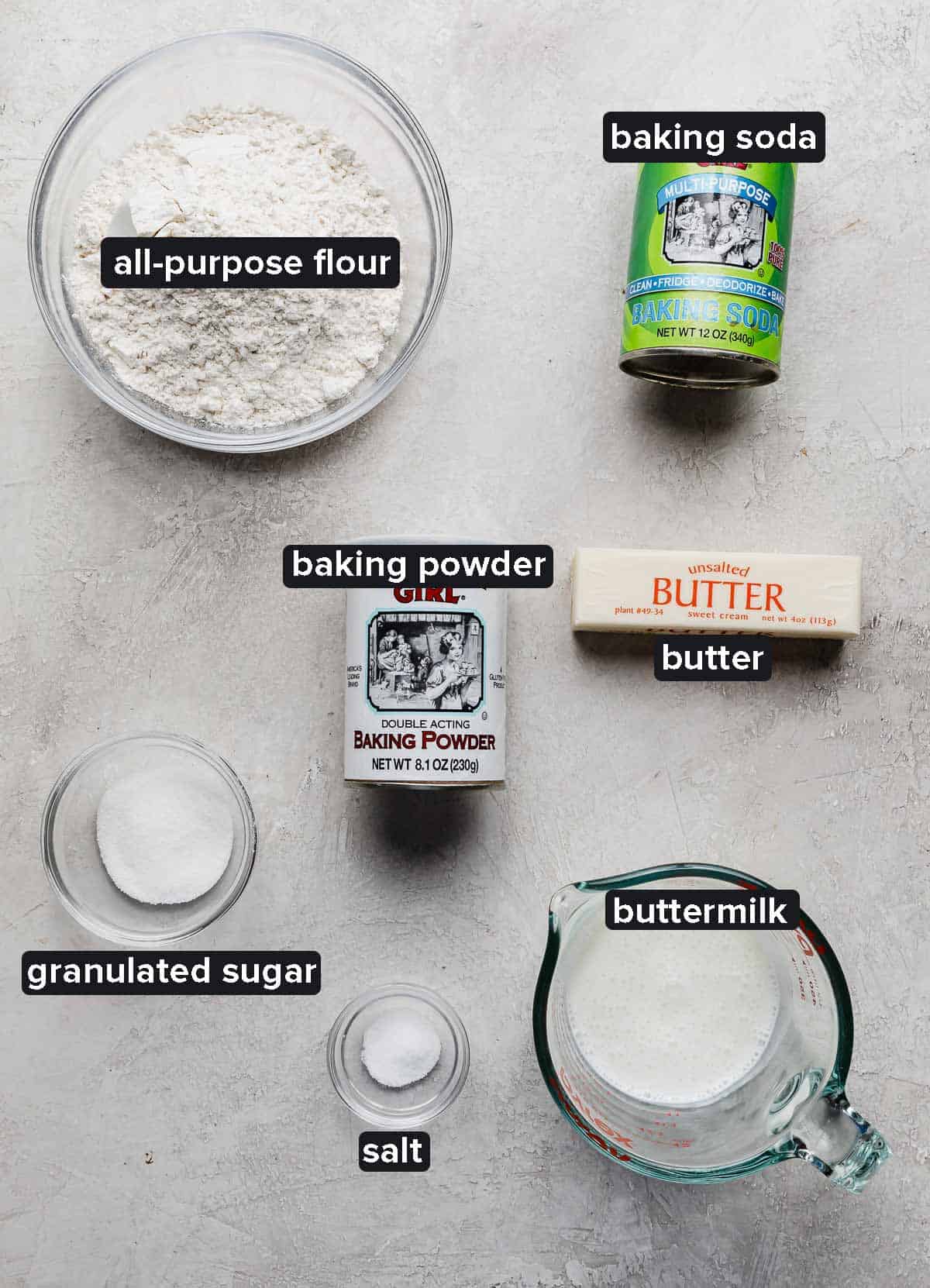 Flour: You can use regular all-purpose flour. 
Unsalted Butter: I use unsalted butter for low sodium biscuits. Using salted butter just adds unnecessary added salt. The butter needs to be cold cold cold. Chill in the freezer after cutting into cubes for best results. 
Sugar: A touch of sugar will help give a nice flavor to these biscuits. 
Baking Powder & Baking Soda: Be sure that both of these are fresh! These are the leavening agents to help get super fluffy, sky-high biscuits!
Salt: This small batch buttermilk biscuits calls for 1 tsp salt. It is just enough to bring out a delicious flavor. 
Buttermilk: The crucial ingredient in classic buttermilk biscuits! PS you want cold buttermilk. 
Step-by-Step Instructions
Measure and cube the butter. Cut 1/2 cup unsalted butter into cubes. Place in the freeze while you prepare the other ingredients. 
Combine the dry ingredients. Preheat the oven to 450ºF. Add 2 cups flour, 1 T sugar, 1 tsp salt, 1 T baking powder and 1/4 tsp baking soda to a food processor. Pulse for 5 seconds. 
Add the butter. Add the cold cubed butter to the flour mixture in the food processor (or use a pastry cutter) and pulse until the butter resembles coarse crumbs. Transfer to a large bowl. 
Add the buttermilk. Add 3/4 cup cold buttermilk to the biscuit dough mixture. Mix until just combined. Do not over mix. 
Gently pat and fold the dough. To reduce overworking the dough, gently pat the dough onto a lightly floured surface into a 6×9-inch rectangle about 1/2-inch thick. Fold the dough like a business letter — 1/3 of the dough into the center and the other 1/3 folded over. Turn the dough horizontal and repeat that same folding patter 2 more times.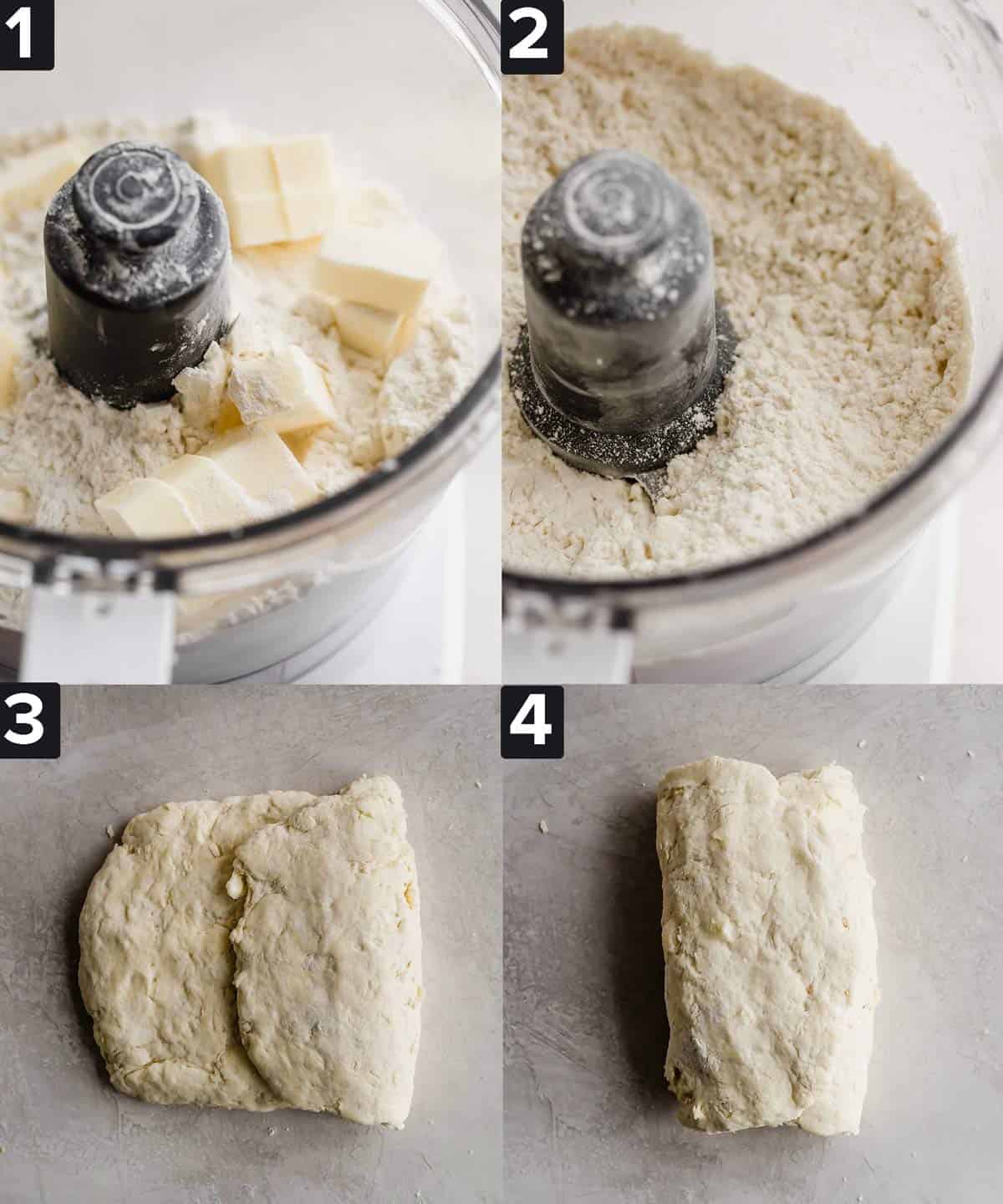 Cut out the buttermilk biscuits. Using a round biscuit cutter or a 3-inch sized round cookie cutter, press the cutter into the dough and pull up. Do not twist. Place biscuits on a baking sheet lined with parchment paper. Have the edges gently touching each other. 
Bake. Bake the buttermilk biscuits at 450ºF for 12-16 minutes or until the biscuits are golden brown on the top. Remove and brush with melted butter. Top with Sausage Gravy or Homemade Raspberry Jam. Enjoy!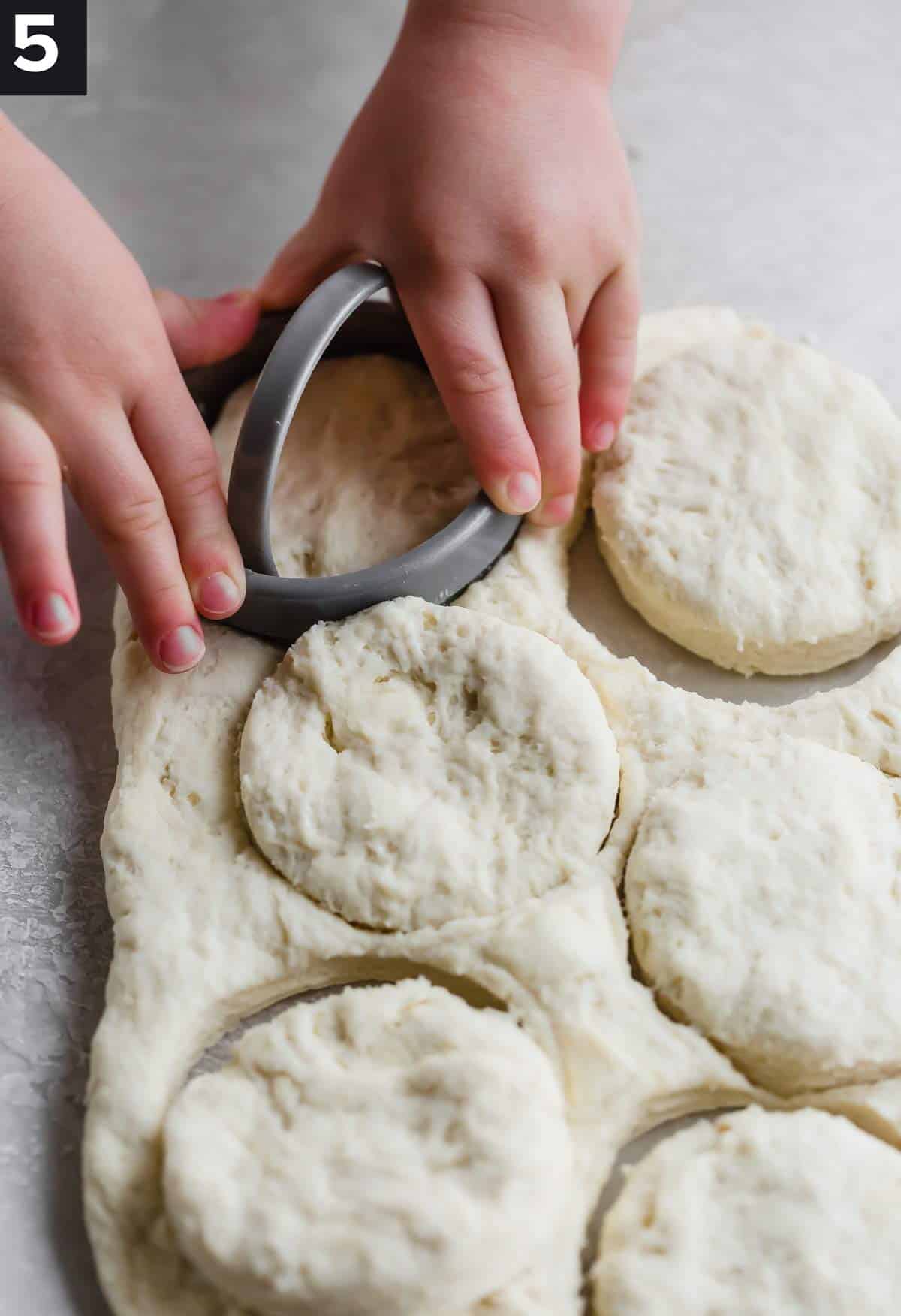 Recipe Tips
Place the butter in the freezer to keep cold while you measure out the dry ingredients. Cold butter is necessary when making pie crusts, scones, and biscuits. Butter contains both fat and water. At normal baking temperatures, water creates steam. By laminating chilled butter between layers of dough, you create pockets to contain the steam formed during heating. When little crumbles of butter melt in the biscuits as they cook, they release steam and thus create small pockets of air in the biscuit. The end results in a better rise and the flakiest biscuits!
Don't over mix the biscuit dough. Overworking the biscuit dough will result in a dense, flat, and tough biscuit. Rather, mix the biscuit dough ingredients until just combined. The dough will be flaky.
I don't use a rolling pin to avoid overworking the dough. Just gently pat it into shape.
The proper folding pattern step is important in achieving the flaky layers in the highly sought after flaky buttermilk biscuits.
Press biscuit cutter down, but DON'T twist. Twisting the biscuit cutter in the dough will cause the biscuit edges to seal off, preventing a high rise on the biscuits. Brush the tops of the biscuits with buttermilk using a pastry brush if desired. This will help golden the tops better in the oven.
If your dough feels pretty warm after working it, I would place the sheet of biscuits in the freezer for 5-10 minutes to make them colder and then bake them.
Biscuits bake well when snuggled up next to one another. Having the biscuits touching each other on the baking sheet helps them bake up nice and tall and keep their sides soft. Sky-high biscuits is what we're after.
Make sure your baking powder and baking soda are fresh. Both of these ingredients are important for getting a good rise and fluffy biscuits.
I realize not everyone has a food processor. If you don't have one, don't fret. Whisk the dry ingredients together, and then use a pastry blender when you need to cut the butter in.
Make Ahead, Storing, and Freezing
Enjoy these homemade buttermilk biscuits the day they are made! Fresh is best. But if you have leftover biscuits, store them in an airtight container at room temperature for 2-3 days.
You can freeze the buttermilk biscuit dough prior to baking or after. If freezing before, place the cut biscuit dough on the baking sheet and flash freeze until solid. Then transfer the frozen dough disks to a freezer safe bag and freeze for up to 3 months. Bake from frozen and add an additional minute or two. If they begin browning prematurely, cover with a sheet of aluminum foil.
To freeze baked biscuits, let the biscuits cool completely and then store in a freezer safe container for up to 3 months. Remove and let thaw in the fridge. Warm in the microwave or oven.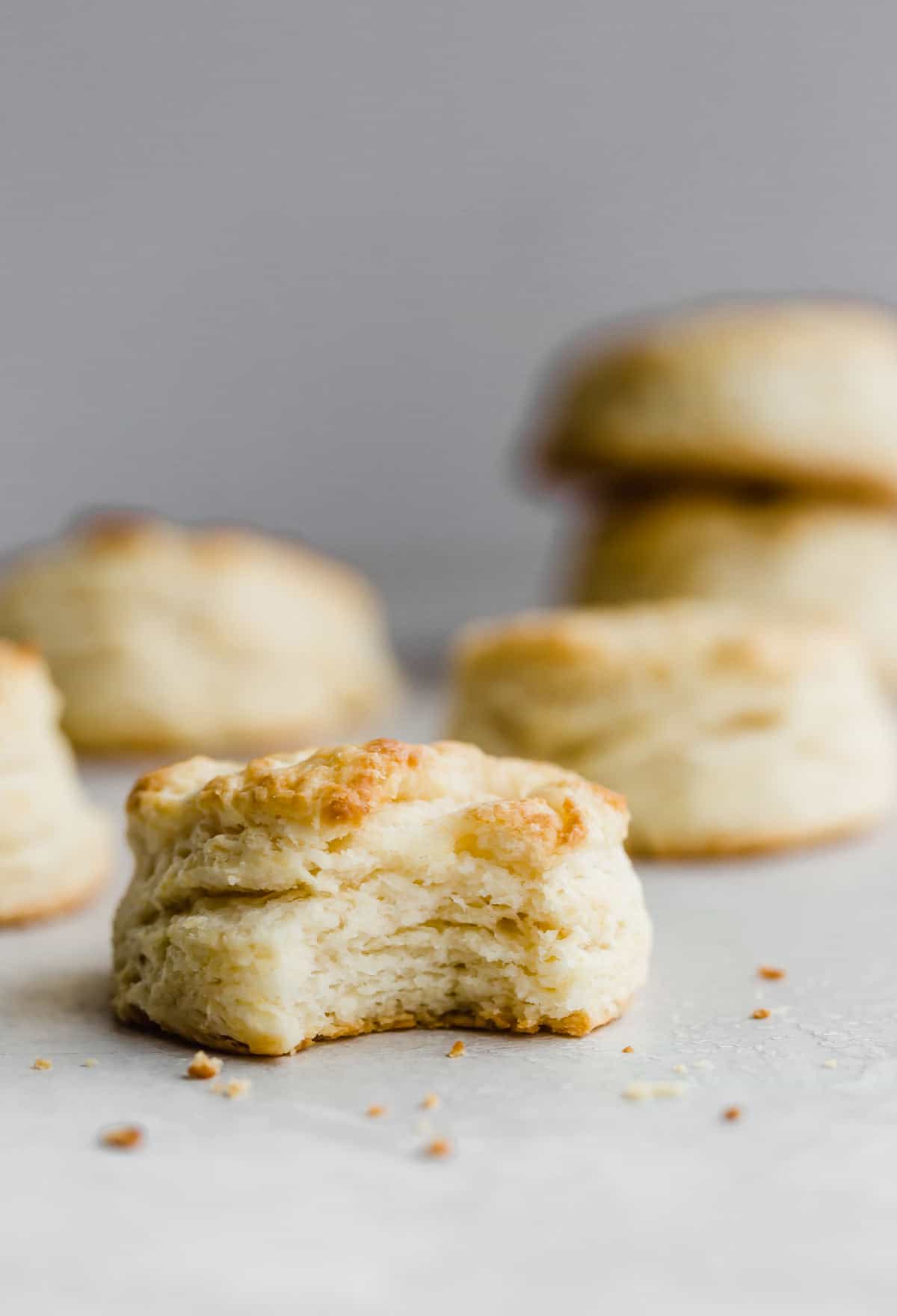 Recipe FAQs
Can you make biscuits without salt? 
Yes, but be prepared for them to taste different. Salt adds flavor in cooking and baking, so when you remove it, you'll lose flavor.
Can I replace the butter with margarine? 
Personally, I never ever bake or cook with margarine. I always, always, always use butter.
Are buttermilk biscuits sweet?
No they aren't sweet. There isn't enough sugar in the recipe for these to register as sweet. However, if you want to lean into the sweetness, you can top with a honey butter rub. 
What does buttermilk do in biscuits?
The acid in the buttermilk reacts with the baking soda, helping to give a nice rise. It also provides a tangy flavor component. Because buttermilk is low in fat, it offsets the high fat butter. 
Do I have to use sugar?
You do want a touch of sweetness to balance out the salt and enhance the flavor. If you don't want to use sugar, you can use 2 tsp of honey. Just drizzle it on top of the buttermilk when you are adding that. 
What can I use instead of buttermilk?
Pour 3 T of milk into a 3/4 cup, then add sour cream or plain yogurt to fill the 3/4 cup. Or you can use 1/2 T of lemon juice or vinegar + enough milk to make a 3/4 cup.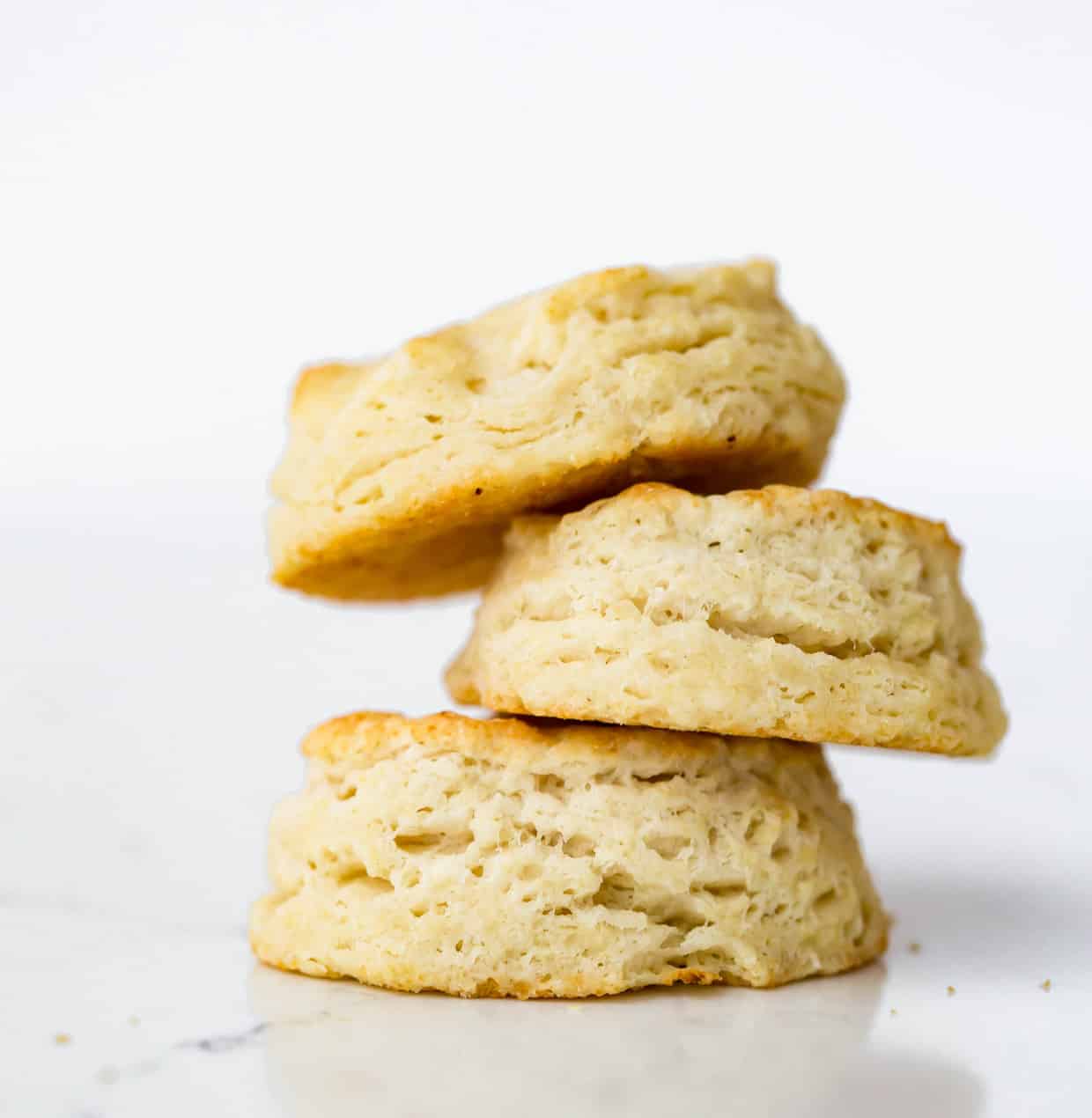 Easy Buttermilk Biscuits
Soft and tender buttermilk biscuits are perfect as a side or with sausage gravy!
Ingredients
2

cups

flour

1/2

cup

unsalted butter, cubed, cold

1

tablespoon

sugar

1

tablespoon

baking powder

1

tsp

salt

1/4

tsp

baking soda

3/4

cup

buttermilk, cold
Instructions
Cube the butter and place it in the freezer while you prep the other ingredients/begin.

Preheat oven to 450°F. In a food processor add the flour, sugar, salt, baking powder, and baking soda. Pulse for 5 seconds. Add the butter. MAKE SURE THE BUTTER IS COLD. (See notes).

Once you've added the butter, pulse until the butter becomes the size of peas. If you don't have a food processor you can use a pastry blender, and that works just as well. 

Transfer the butter and flour mixture to a large bowl. Add the cold buttermilk. Stir to combine, but don't overmix.

Flour a clean surface. Pat the dough, or gently roll out the dough, into a rough 6"x9" inch rectangle. The dough should be at least 1/2" inch thick. Fold one third of the dough over top, towards the center, and then fold the other side over, like a business letter. Turn the folded dough horizontal, and continue the folding process two more times. This step is important in achieving the classic and highly sought after flaky buttermilk biscuits. 

Now it's time to cut out the biscuits. The biscuit dough should be at least 1/2" or thicker before cutting the biscuits. Using a biscuit cutter (mine was about 3 inches in diameter), firmly press the biscuit cutter into the dough, but don't twist the biscuit cutter. Doing so will seal off the dough edges and preven the biscuits from rising as much.

Place the biscuits next to each other (edges gently touching) on a parchment lined baking sheet.

Bake at 450 for 12-16 minutes or until golden brown on top.

Remove the biscuits from the oven and brush with melted butter.
Notes
If you don't have a food processor that's ok. You can use a pastry blender to cut in the butter. 
Did you make this recipe?
Leave a star rating and review on the blog post letting me know how you liked this recipe! Take a picture and tag @saltandbaker on Instagram and Facebook so I can see what you're making!