Chocolate Peanut Butter Protein Balls
This post may include affiliate links. As an Amazon Associate I earn from qualifying purchases.
These chocolate peanut butter protein balls taste like a Reeses peanut butter cup. Dead serious. When you're searching for a pick-me-up snack, or just a low calorie protein ball recipe.. this is it! Not to mention it tastes AMAZING! In fact, my husband made multiple comments saying, "These are by far the best protein balls you've ever made."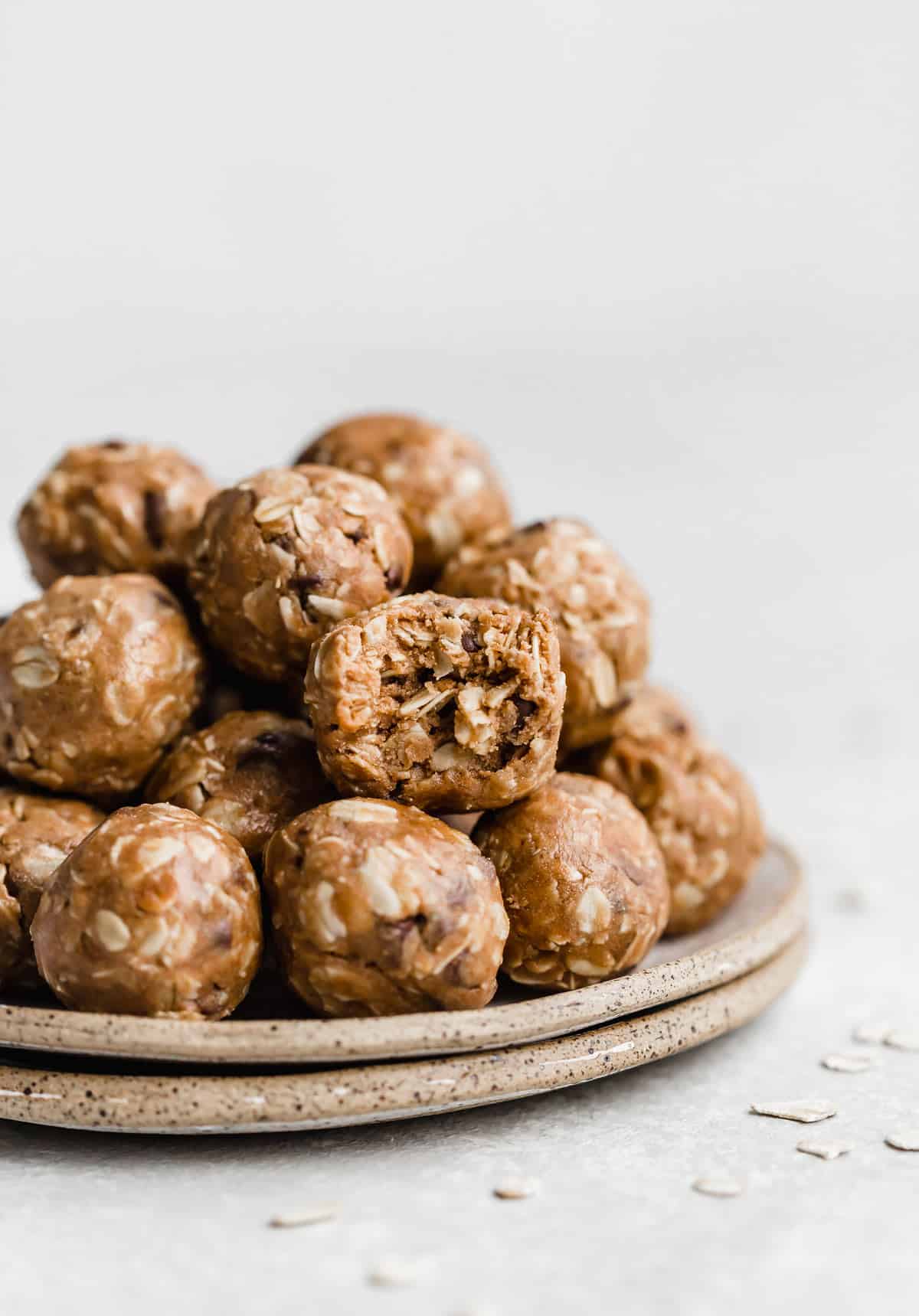 It doesn't stop there. He continued with:
"These are so good, I eat them as dessert."
"When are you making more of those chocolate peanut butter protein balls?"
"Are you planning on posting them to your blog? Because you should. I really like them."
And last but not least, Sunday night we sat down to eat a slice of leftover chocolate birthday cake and my husband turned down the cake because he'd rather eat one of these healthy balls. You guys!! I was stunned.
For another delicious and healthy peanut butter treat, try my Peanut Butter Bliss Balls!
Never before has he made soooo many comments about one particular recipe.
I'm considering this hands down the BEST protein ball recipe ever. Obviously I needed a breakfast recipe that tastes just like this one, so I made chocolate peanut butter protein oatmeal. It's amazing!
I also have a snickerdoodle protein balls recipe that is absolutely delicious too!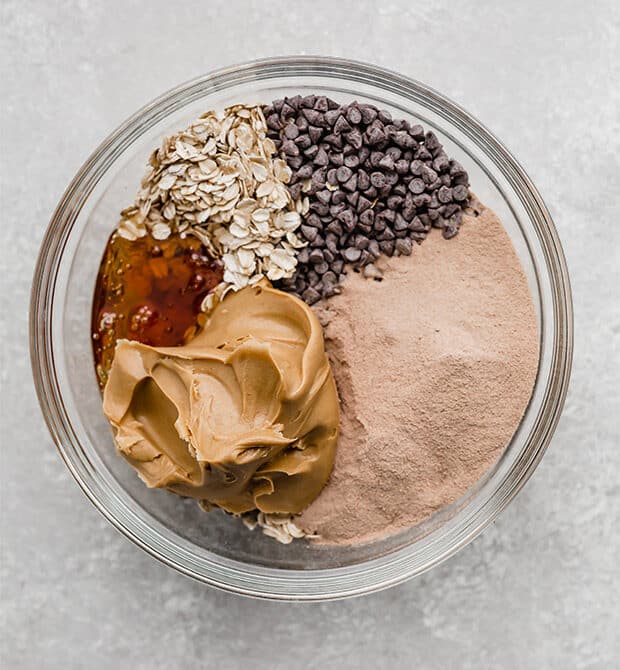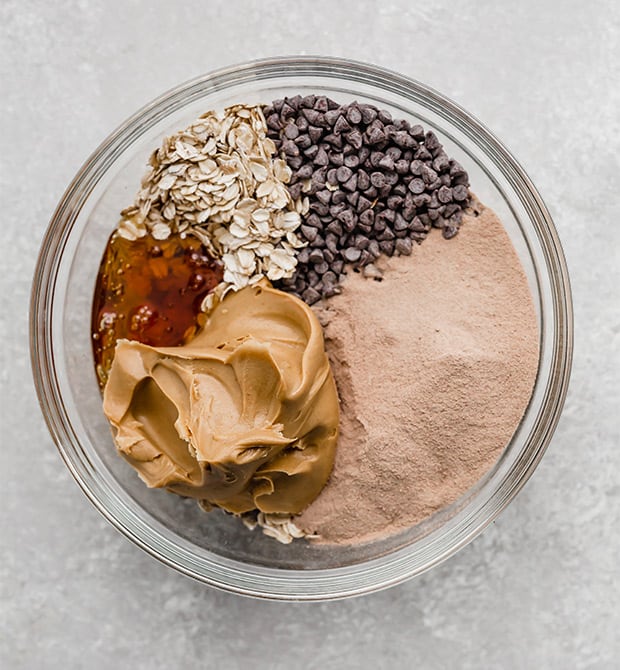 Ingredients
If you're wondering, "What's in protein balls?" It's quite simple. Only a few ingredients are needed to make this easy snack. An added bonus is that this recipe is naturally gluten-free and can be made vegan with simple substitutions.
Old fashioned rolled oats
Mini chocolate chips – totally optional, but I love the slight crunch it adds to the recipe.
Chocolate protein powder – any brand will do.
Peanut butter – I use creamy, you can also use a natural peanut butter.
Honey
Water
How to make Chocolate Peanut Butter Protein Balls
Place all of the ingredients in a large bowl.
Using a large spoon, wooden spoon, or spatula, stir the ingredients until combined.
Pro tip: if the "dough" is too dry add more water, a teaspoon at a time, until the mixture reaches your satisfaction.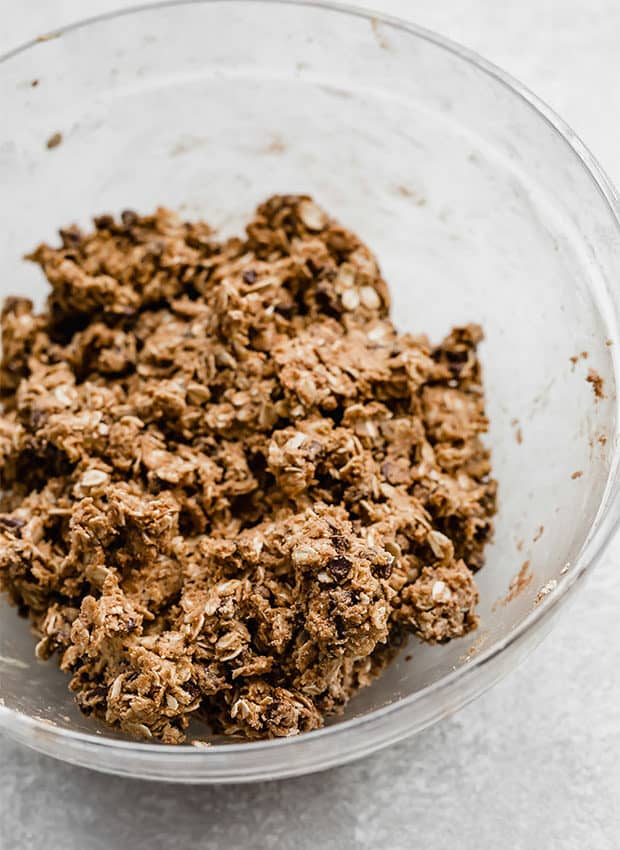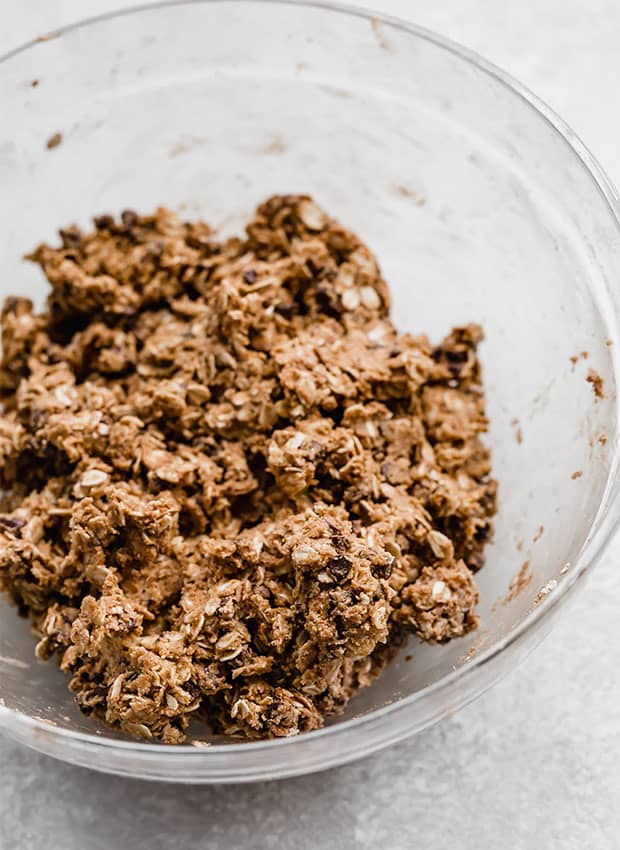 Using a small cookie scoop, portion the dough and then use your hands to roll the portioned dough into balls.
Place the balls on a parchment lined plate or small cookie sheet and refrigerate for 20 minutes.
Remove from the refrigerator and transfer the balls to a ziplock bag or an airtight container.
These Reese's-type protein balls will last in the fridge for 9-10 days or in the freezer for 2-3 months.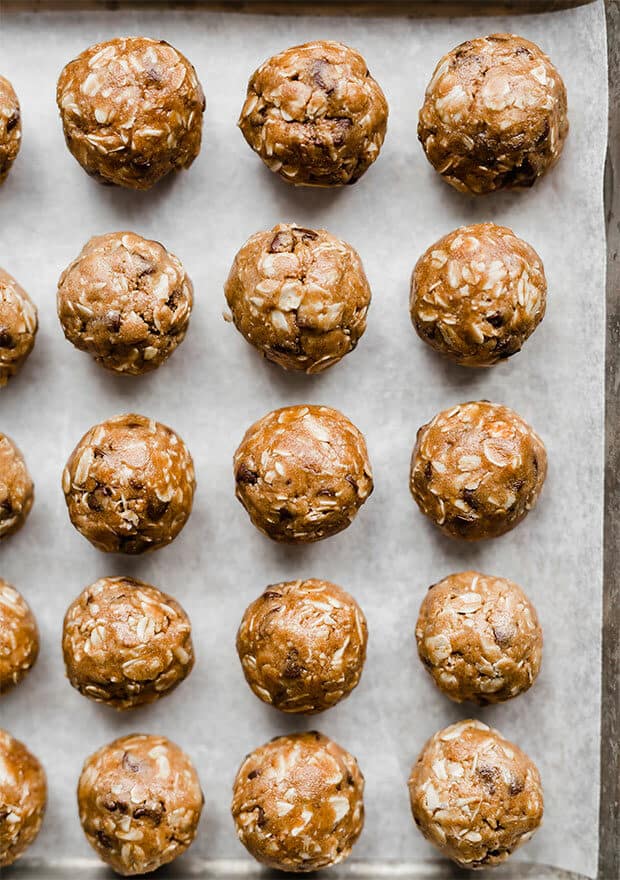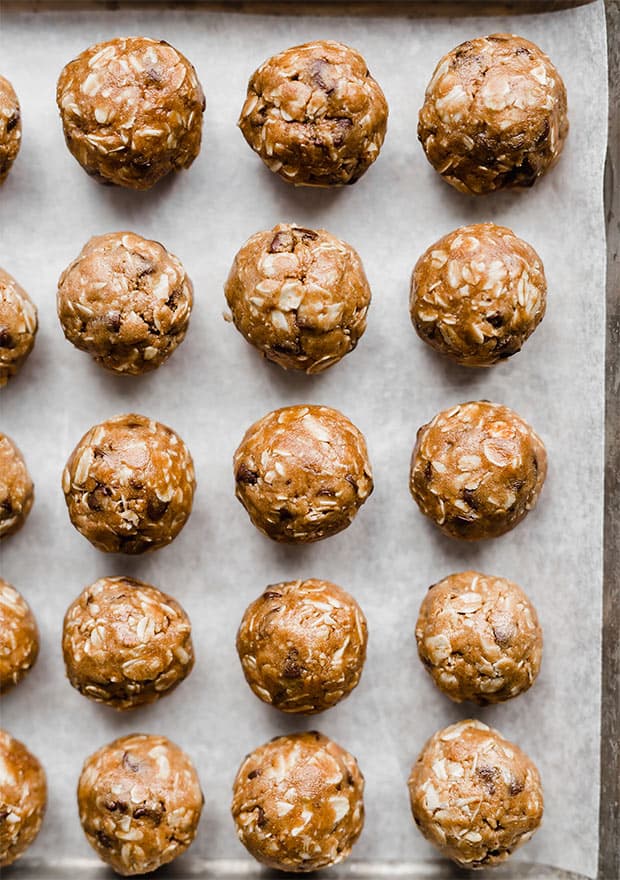 FAQs
How to make protein balls vegan?
Omit the honey and use a different sweetener perhaps maple syrup or agave. Also make sure you're using a vegan protein powder.
How should you store protein balls?
In an airtight container or ziplock bag.
How long are protein balls good for?
They will last for 9-10 days stored in the fridge or up to 2-3 months in the freezer.
How to make protein balls low carb
Use a natural peanut butter.
Can protein balls be frozen?
Yes! Freeze for up to 3 months.
Why are protein balls good for you?
While this is more of a personal based question, protein balls are "good for you," in that they're full of protein. Protein makes you feel more full with less food. Rather than eating empty calorie foods, some people note that eating healthy protein balls helps curb their appetite and not snack on unhealthy foods throughout the day.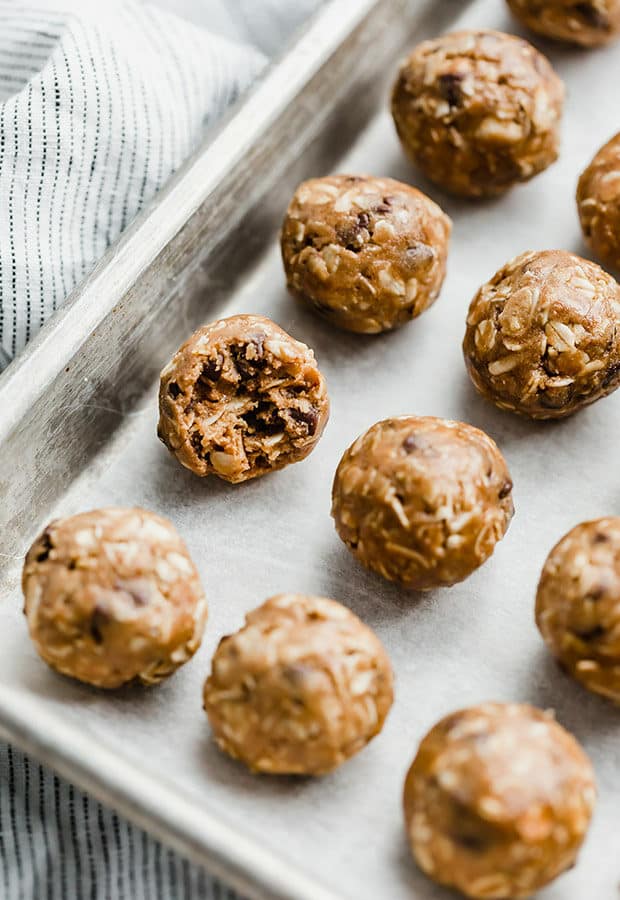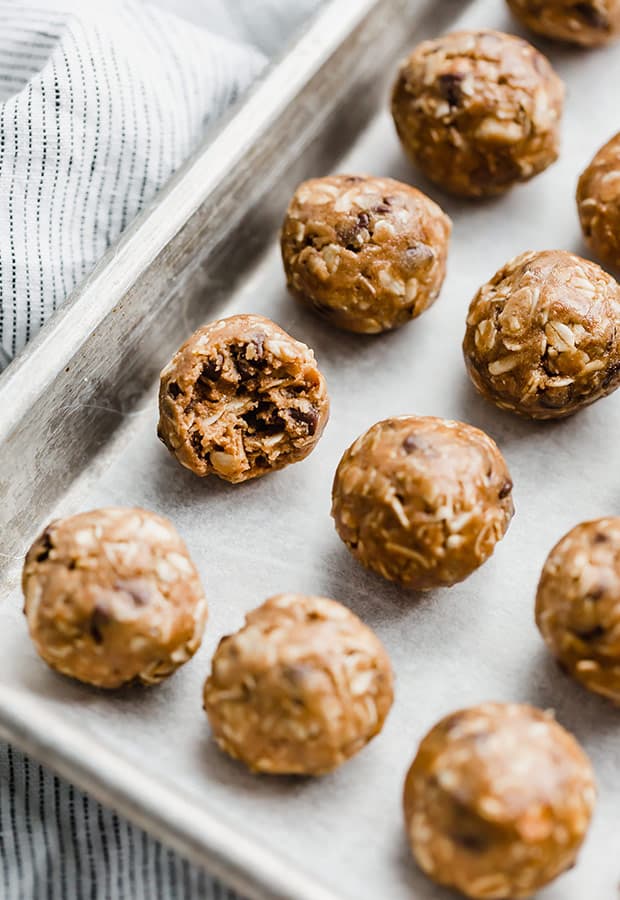 More Protein Ball Recipes
Chocolate Peanut Butter Protein Balls
An easy protein ball recipe that will have you eating this for breakfast, snack, and dessert! 😉
Instructions
Add all of the ingredients to a medium sized bowl. Use a wooden spoon, large spoon, or spatula to mix everything together. If too dry, add an additional teaspoon or two of water to the "dough."

Roll into 1-1 ½ inch size balls. 

Place the balls on a small baking sheet or large plate lined with wax paper. Place the plate in the refrigerator to chill for 20 minutes. Transfer the balls to an airtight container and store in the fridge or freezer.

If you love this recipe, I would love if you left a rating and comment on saltandbaker.com. Thank you!
Notes
Serving size might vary, it depends on how big you make the balls. You can make them really small for a bite size snack, or larger. 
Did you make this recipe?
Leave a star rating and review on the blog post letting me know how you liked this recipe! Take a picture and tag @saltandbaker on Instagram and Facebook so I can see what you're making!