Peanut Butter Bliss Balls
This post may include affiliate links. As an Amazon Associate I earn from qualifying purchases.
Peanut Butter Bliss Balls are a nutrient-dense snack, packed with protein and made with no added sugar! Made with dates, oats, peanut butter, and PBfit, this is a low-calorie yet highly satisfying sweet treat or snack!
Similar to energy balls, this peanut butter bliss balls recipe is easy to make, takes just 10 minutes, and uses simple ingredients! If you're a big fan of bliss balls and energy balls, be sure to check out my Chocolate Peanut Butter Protein Balls, Snickerdoodle Protein Balls, No-Bake Energy Bites, and Oatmeal Raisin Protein Balls! These protein bites are the perfect pre-workout snack, energy boost during the day, or the perfect treat for your next road trip!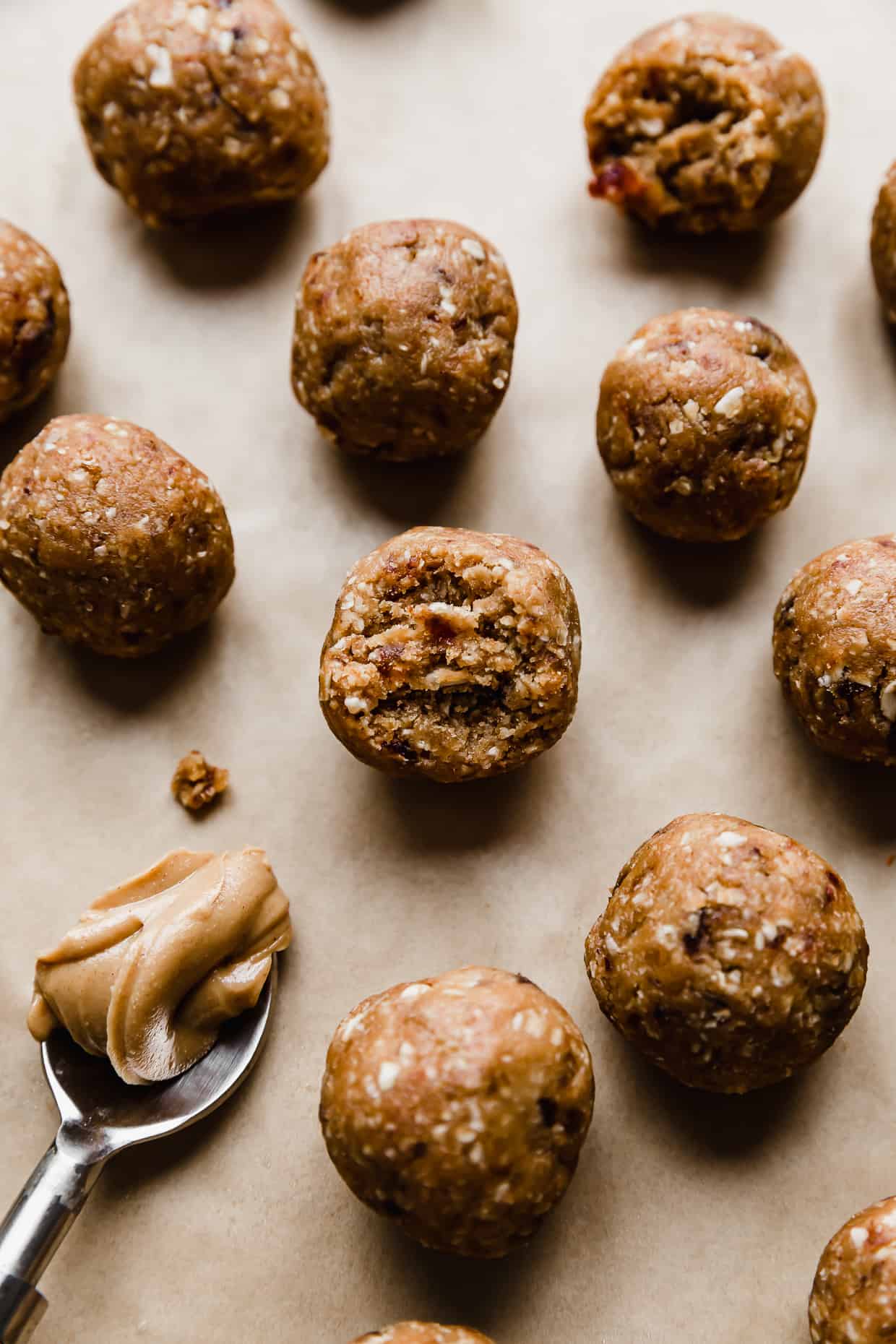 Why This Recipe Works
Only 5 ingredients. These peanut butter bliss balls are amazing because you only need 5 ingredients! 
Healthy snack in just 10 minutes! Not only do these bliss balls need only 5 ingredients, but these are nutritious ingredients too! Just 10 minutes, easy prep and easy clean up, and these protein bliss balls are going to be your favorite go-to healthy treat! 
Sugar free energy balls. These peanut butter bliss balls are the perfect energy balls! They are packed with protein and have zero sugar added! The dates are the magic sweeteners in this recipe. Dates are a fruit that has a high natural sugar content, so the sweetness in this peanut butter bliss balls recipe comes from a natural source instead of refined sugar! 
Low sugar, low calorie, highly satisfying! I've reduced the amount of peanut butter in this recipe and added the PB fit. Some peanut butters can be high in sugar, so I wanted to reduce that risk. This is a low sugar treat! Thanks to the dates and the combination of peanut butter and PBfit, you can be confident to eat 5-6 of these peanut bliss balls with no hesitation or guilt whatsoever! 
Ingredient Notes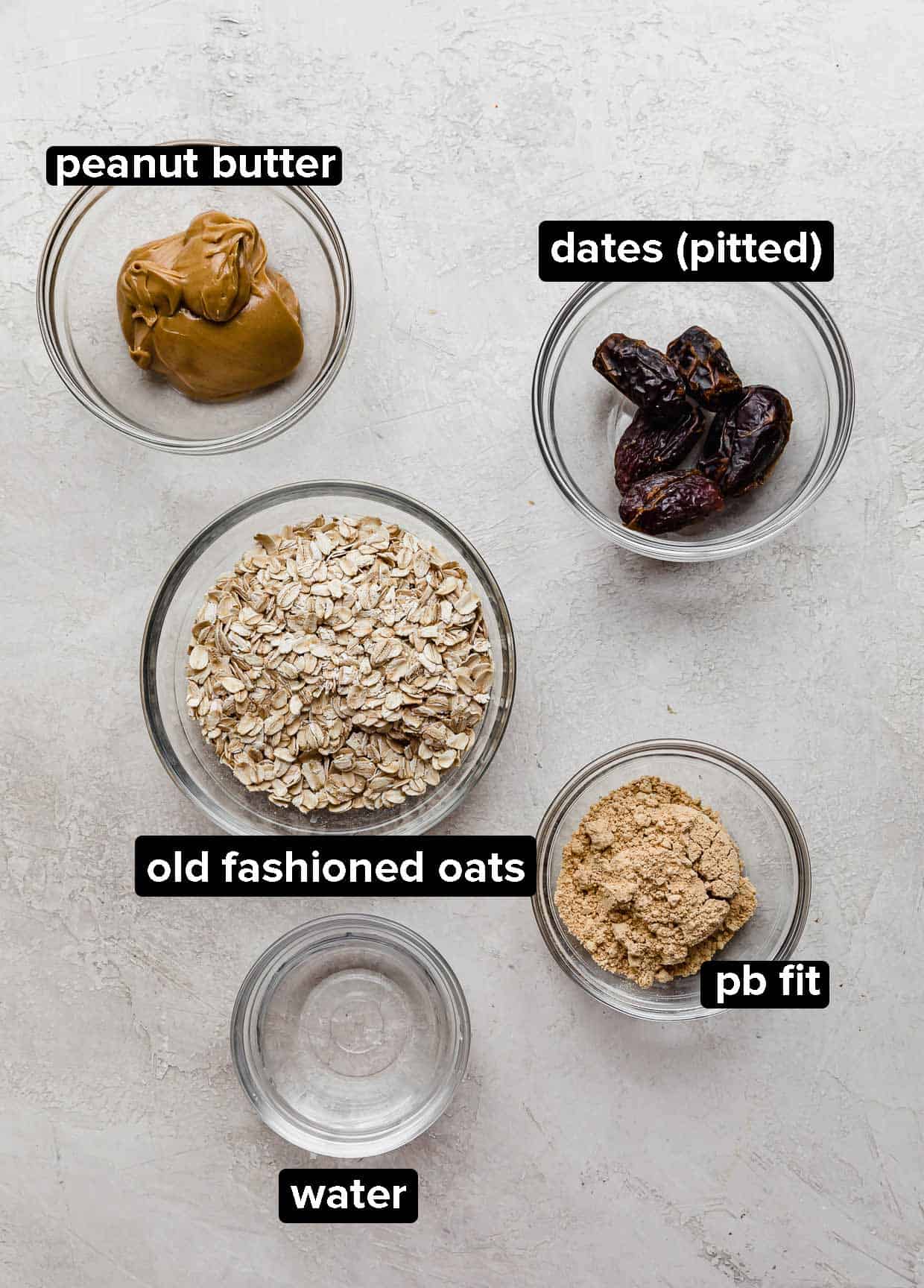 Old Fashioned Oats: You can use old fashioned oats or quick oats. Since these are going into a food processor, I find using the old fashioned oats works better because then the oats hold up a little better.
Medjool Dates: Although their wrinkled appearance may make you think these are a dried fruit, medjool dates are actually fresh. Their sugar content is really high which makes them a great substitute for refined sugar. 
Peanut Butter: I used creamy peanut butter, chunky peanut butter is fine too. Because you are combining the ingredients in a food processor, you won't be able to really tell the difference between the creamy or the chunky peanut butter. 
PB Fit: Feel free to use any powdered peanut butter brand. I love PB fit, so that's what I use. This will provide a strong peanut butter flavor with 1/3 the calories of regular peanut butter.
Step-by-Step Instructions
Combine the ingredients and blitz. Add the oats, dates, peanut butter, PBfit and water to a food processor. Pulse until smooth and a type of dough forms.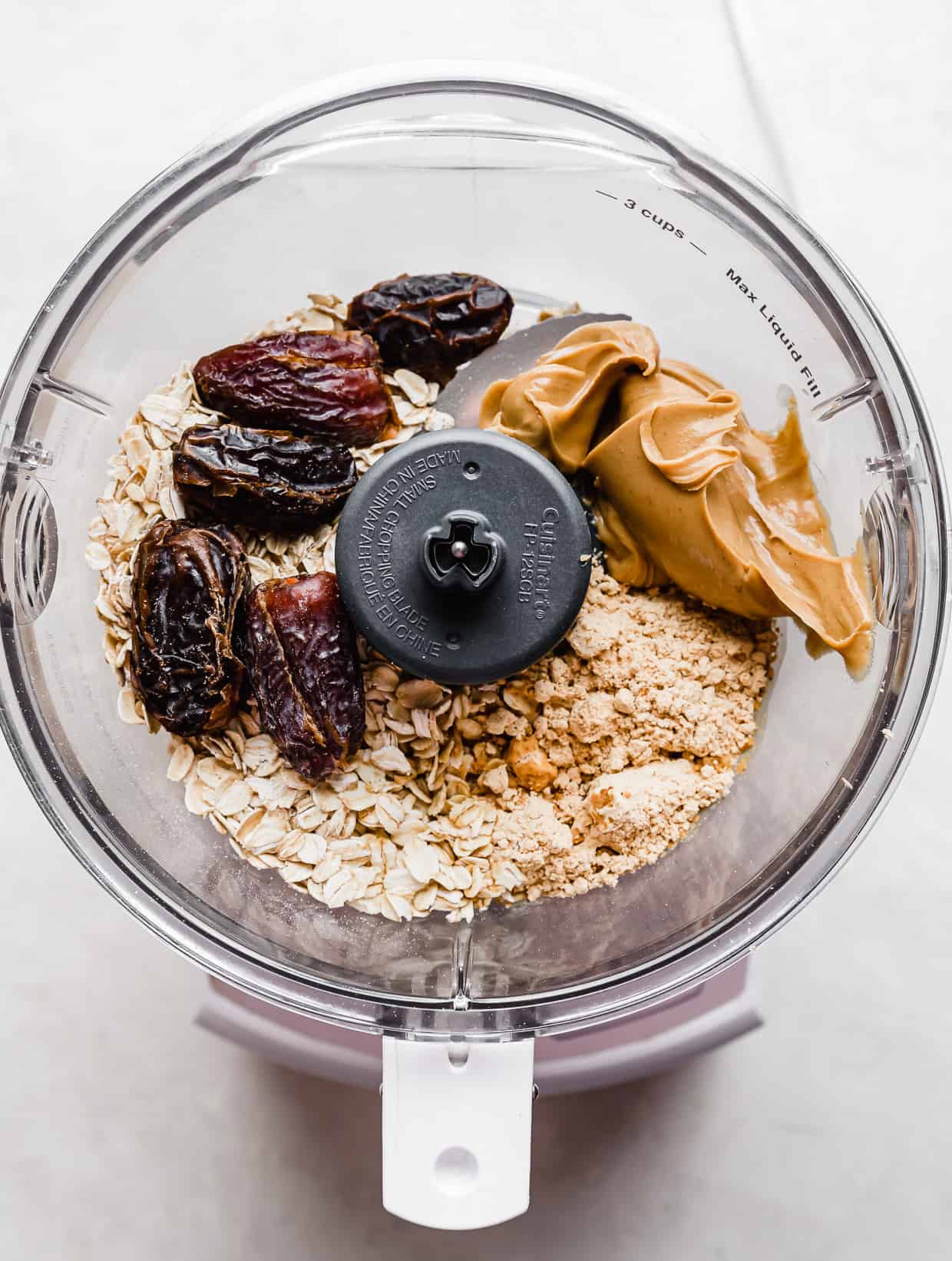 Form into balls. Using a small cookie scoop or a spoon, portion into balls. Rolls between your hands to make a round ball. Enjoy at room temperature or chilled!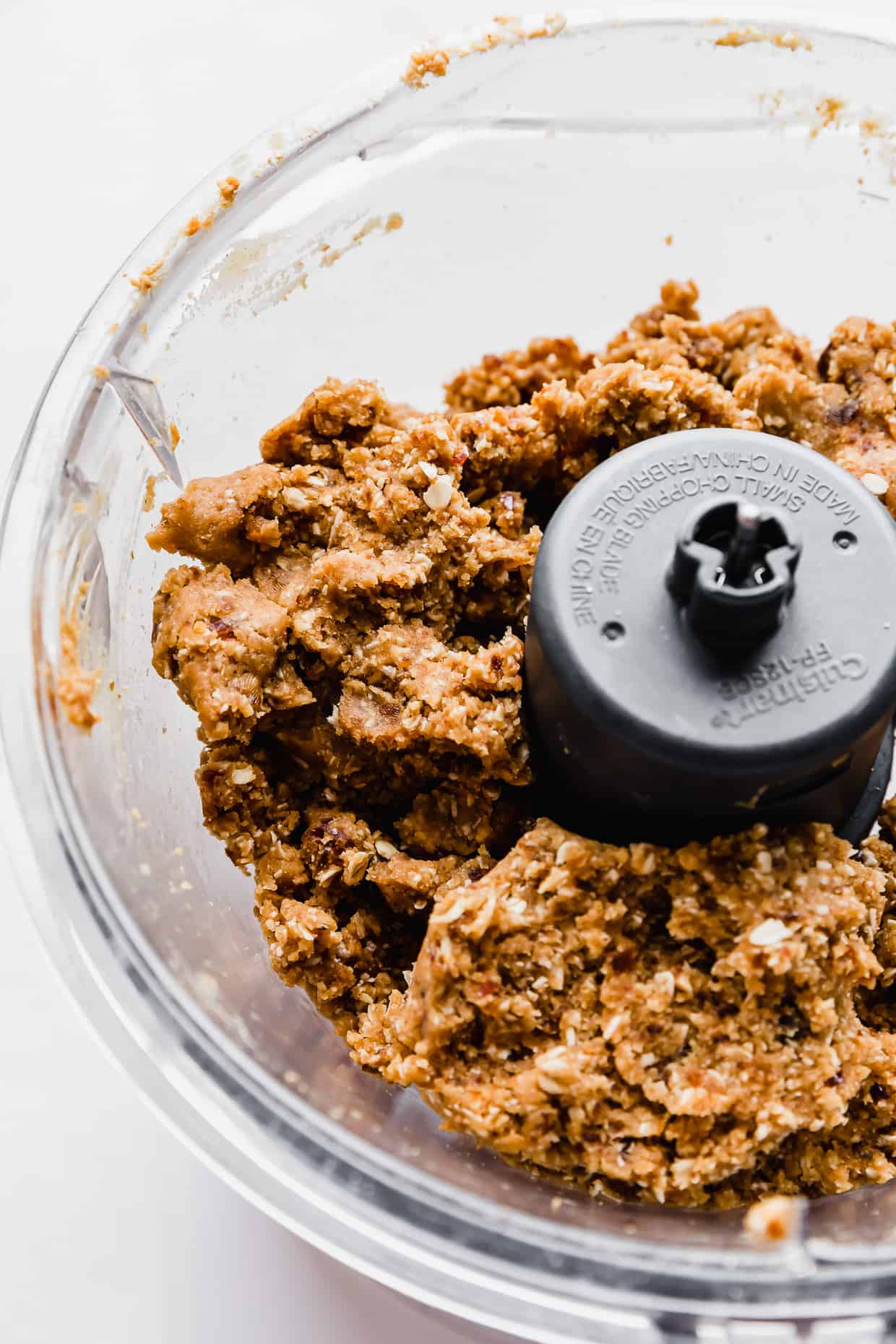 Recipe Tips
Scrape down the sides of the food processor bowl and blend again to make sure the mixture is smooth.
The dates provide a subtle sweetness to the peanut butter bliss balls.
Using a food processor is key in this recipe. It helps the peanut bliss balls form into a type of dough. The dates are quite large, and you need to break them (and the oats) down in order to get an even distribution of sweetness throughout. The peanut butter and the dates, once pulverized, help bring the mixture together.
Make Ahead, Storing, and Freezing
Store the peanut butter bliss balls in an airtight container or Ziplock bag in the fridge for up to 14 days.
These can also be frozen! Store in an airtight container or bag for 3 months.
You can definitely make these ahead of time! 1x or 2x the recipe and refrigerate or freeze extras for later!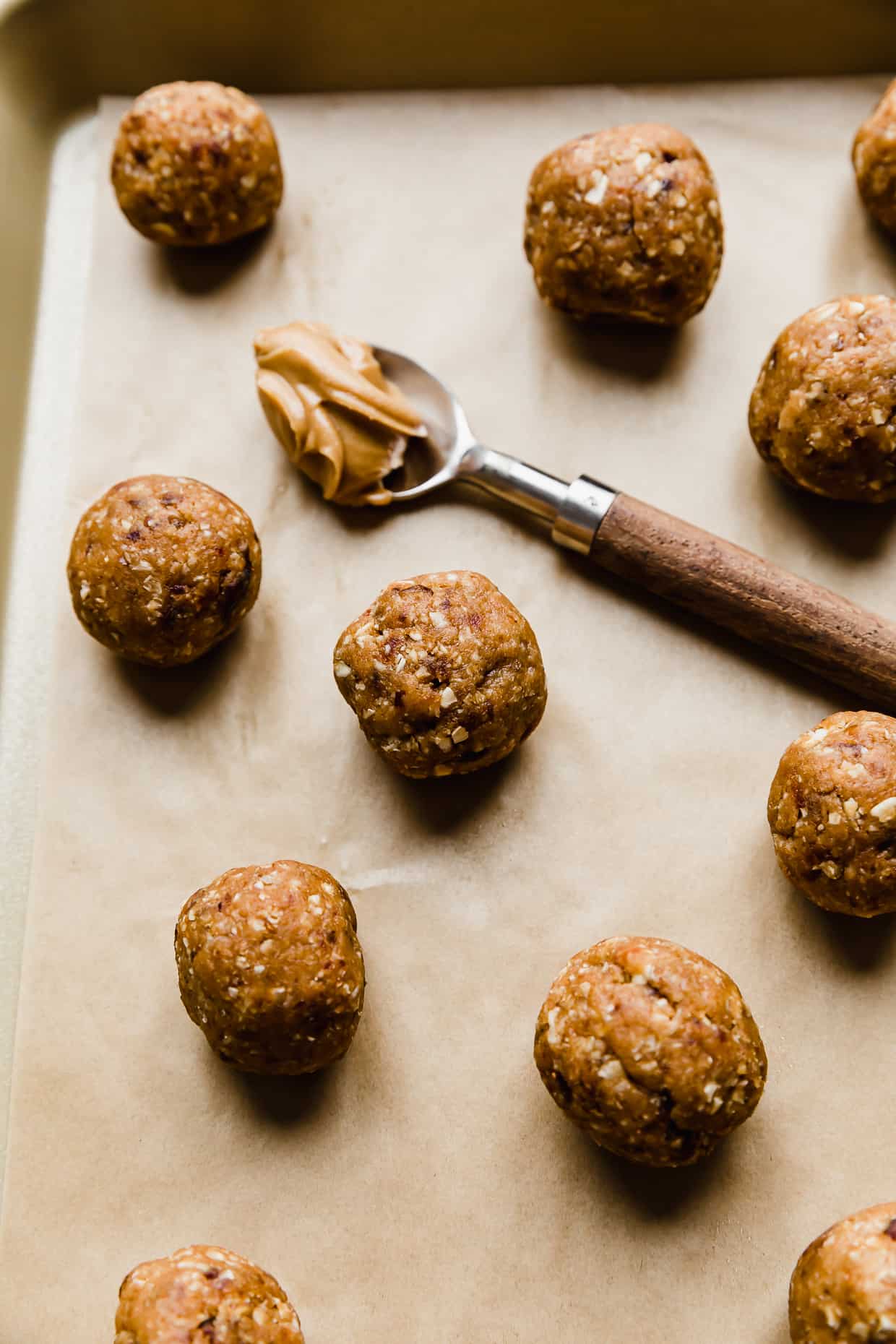 Recipe FAQs
Are peanut butter bliss balls healthy?
Yes! This recipe is sugar free, dairy free, nutrient dense and high in fiber and protein! The sweetness from the dates is what gives a subtle sweetness to the peanut butter bliss balls. Combine that with the oats, peanut butter and PB fit and this is an easy healthy snack!  
Can I use a different nut butter?
This recipe uses not only peanut butter but a powdered peanut butter alternative called PBfit. You can try swapping out the peanut butter for something like almond butter, but you would need tor remove the PBfit as well (if you're working with a peanut allergy). I've never made this with such drastic substitutions and omissions, so keep that in mind if you try it. The consistency of peanut butter balls will be affected since you're removing the powdered peanut butter. Try reducing the water to see if that helps. I will admit that the flavor of these bliss balls won't be at all the same if you use almond butter. 
Are these dairy free and gluten free?
They can be if you need them to be! This recipe is dairy free as written. The PBfit is gluten free. Some peanut butters aren't gluten free so be sure to check the label. The oats would need to be verified to be gluten free. Most oats are but some are processed in a facility that has gluten products. If you have celiac, be sure to verify that your oats are GF. 
What's the difference between energy balls and bliss balls?
They are the same! It's just a different name. Both are typically made with oats, some form of nut butter, and a sweetener. 
Can I add additional mix-ins?
You can, but note that it can affect the flavor and the texture of the bliss balls. This recipe as written is the perfect snack, so if you change it up too much, be prepared that the flavor and texture will be affected. With that being said, you can try adding cacao nibs as a healthier option to mini chocolate chips for chocolate peanut butter bliss balls.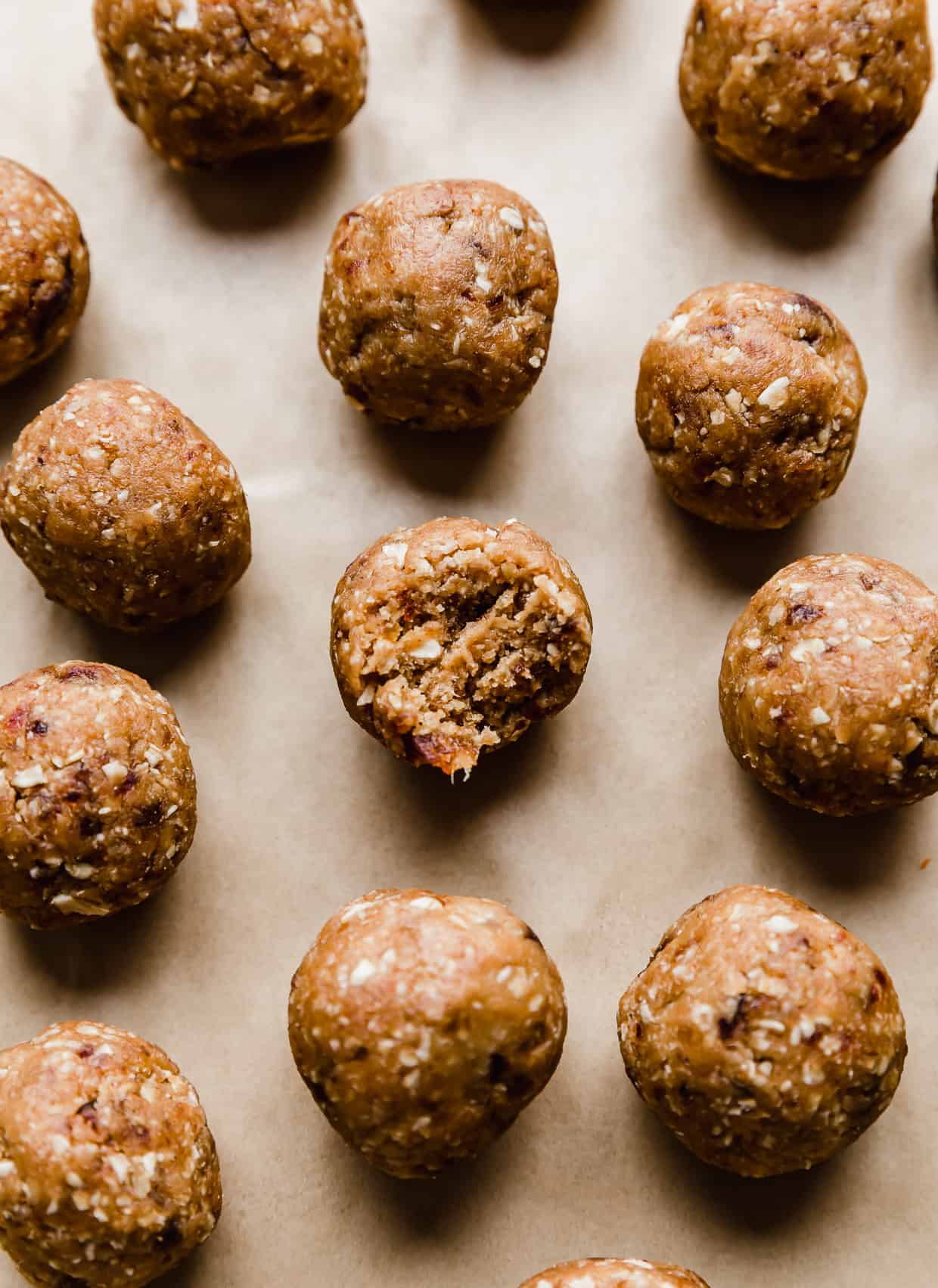 More High Protein Recipes
Peanut Butter Bliss Balls
These Peanut Butter Bliss Balls are an easy 10 minute healthy snack. Store them in the fridge or the freezer for added convenience!
Ingredients
1

cup

old fashioned oats

-

not steel cut oats

6

pitted

medjool dates

-

about 2/3 cup

1/3

cup

peanut butter -

I used creamy, chunky is fine too

1/4

cup

PB fit

-

or any powdered peanut butter brand

6

tablespoons

water

-

may need more or less to bring the "dough" together
Instructions
Add the oats, dates, peanut butter, pb fit, and water to a food process. Blend until smooth and combined. Scrape down the sides of the bowl and blend again to make sure the mixture is smooth. 

Use a small cookie scoop to portion the "dough." Roll the dough between your hands to make each one a nice round ball. 

Place in an airtight container and store in the fridge for 2 weeks. 
Notes
These can also be frozen! Store in an airtight container or bag for 3 months. 
Did you make this recipe?
Leave a star rating and review on the blog post letting me know how you liked this recipe! Take a picture and tag @saltandbaker on Instagram and Facebook so I can see what you're making!