Doritos Taco Salad
This post may include affiliate links. As an Amazon Associate I earn from qualifying purchases.
This Doritos Taco Salad always gets rave reviews because it only takes 15 minutes to make, is packed with fresh veggies and delicious flavors, and is the perfect potluck dinner addition!
Using tortilla chips is such an easy way to make taco dinners! My Walking Taco Casserole Recipe and Easy Taco Soup use Fritos! Then of course there's my Loaded Nachos dish that is another quick and easy meal for large gatherings!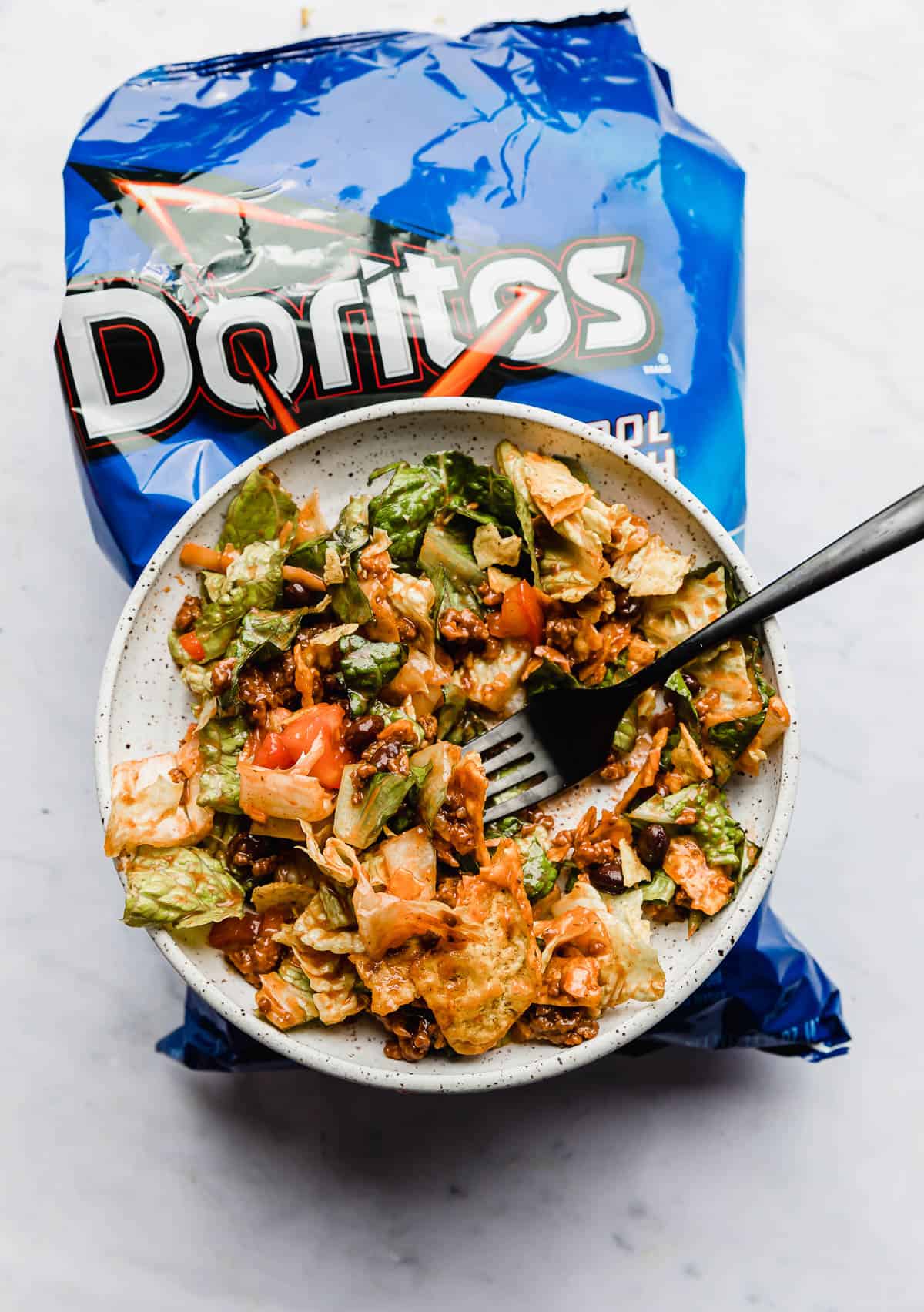 Why This Recipe Works
Fast and easy recipe to make. My family loves this recipe because it is super yummy! I love this recipe because it is super easy! The combination is a major win in my book! 
Moist Doritos salad. This Doritos taco salad is a delicious salad because it is not dry! The taco meat is simmered with the taco seasoning and a bit of water so the meat gets creamy. On top of that, the taco salad with Catalina dressing and Doritos stays moist because of the dressing! It is the perfect sauce and dressing for the salad to keep things moist and delicious! 
Easily customizable. This is the perfect dish because you can add or omit any mix-ins you'd like! Want some avocado in there? Go ahead and add it! Not a fan of cheddar cheese? Use Monterey Jack instead. The options are endless! 
Ingredient Notes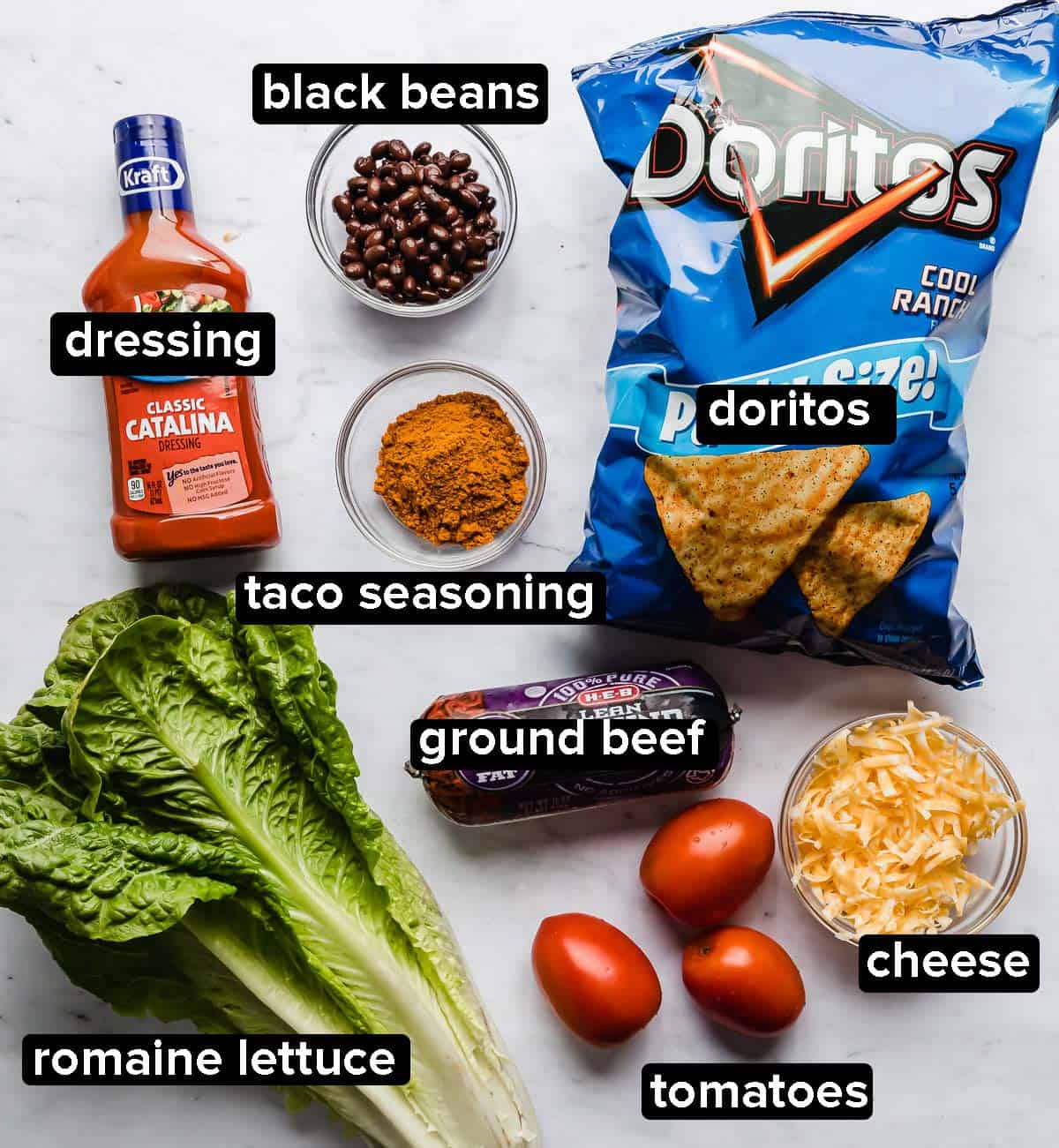 Romaine Lettuce: You can use romaine lettuce or a head of iceberg lettuce if you prefer. Chop the lettuce into easy-to-eat pieces. 
Ground Beef: If you are looking for a healthier option, you can use ground turkey instead. 
Taco Seasoning: Use a packet of taco seasoning or follow my Mild Taco Seasoning recipe if you want to make your own taco seasoning! 
Black Beans: The beans add an additional layer of protein and substance to the Doritos taco salad. Feel free to use your preferred bean: kidney beans, pinto beans, or a combination. 
Roma Tomatoes: Use fresh tomatoes! This provides a beautiful color to the Doritos taco salad, while also providing a burst of juicy, fresh flavor. 
Cool Ranch Doritos: Feel free to use your favorite type of Doritos chips. We love the Cool Ranch Doritos taco salad, but you can use nacho cheese Doritos if you prefer. 
Catalina Dressing: This is the special ingredient in my opinion! It is the perfect sauce for this Doritos salad. The tangy Catalina dressing is thicker than an oil-based salad dressing, so it creates a creamy texture in the dish. It has a tomato-based flavor and is the perfect balance of sweet and savory! 
Step-by-Step Instructions
Brown the meat. In a large skillet over medium heat, cook the ground beef until browned. Be sure to break it up as it cooks. Drain any excess grease. Add the taco seasoning and 3/4 cup water and simmer until most of the water is absorbed or evaporated. Cool to room temperature.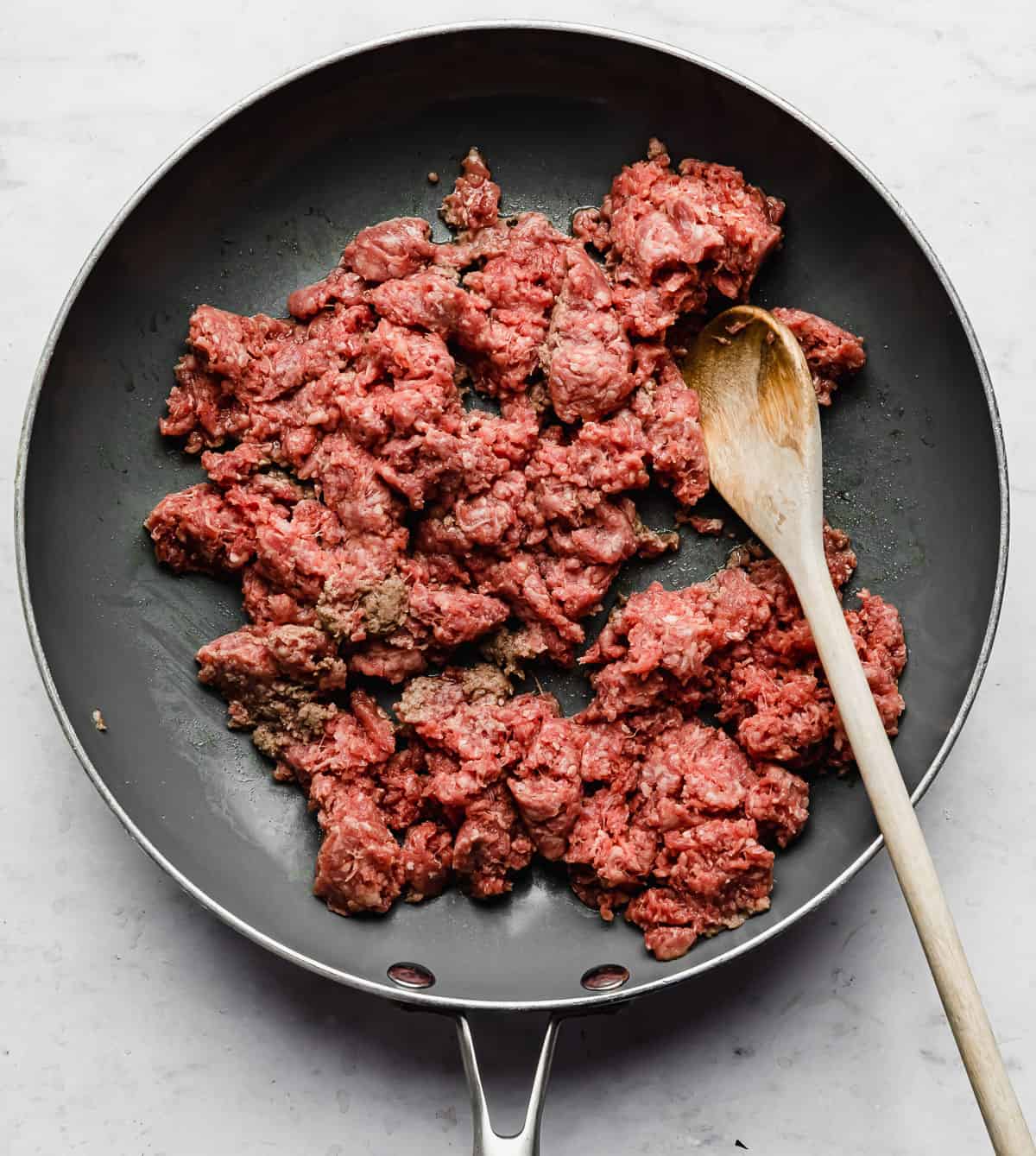 Prepare the veggies and mix-ins. Wash and cut the lettuce and tomatoes. Drain the liquid from the beans and shred the cheese.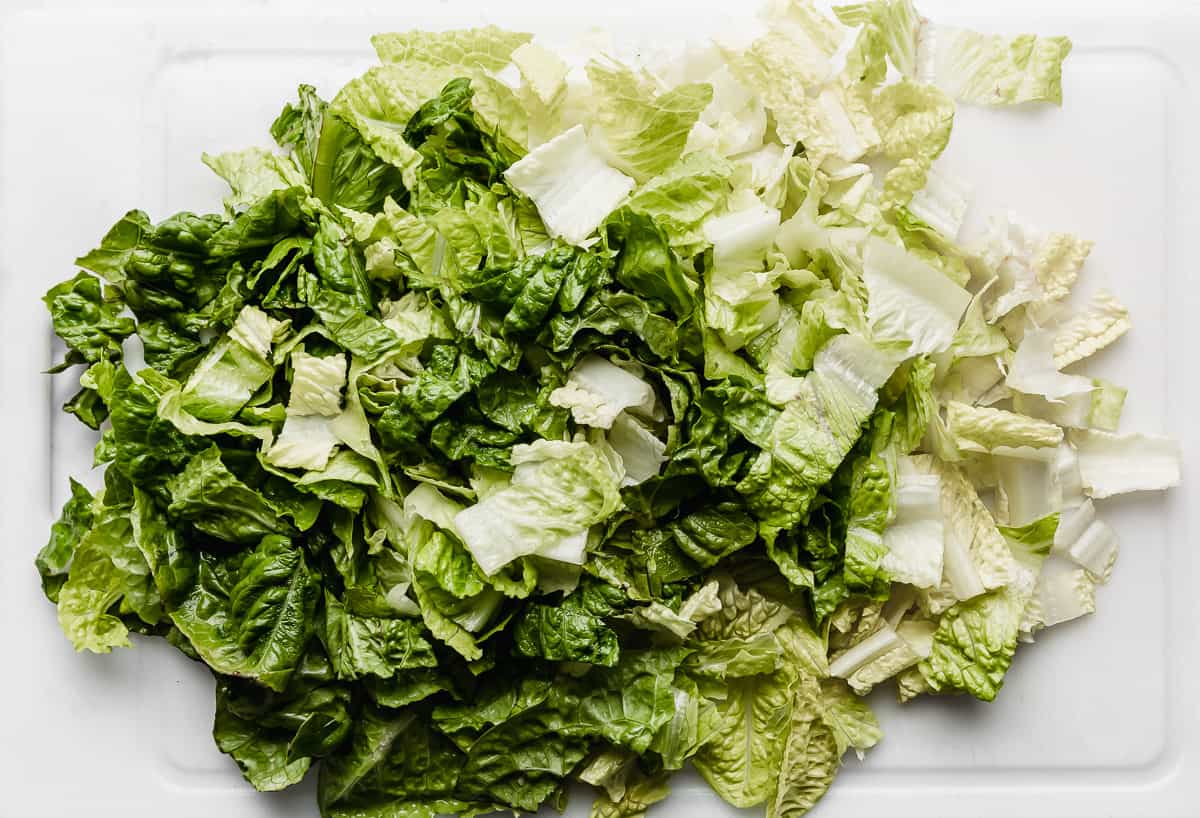 Combine the Doritos taco salad ingredients. Add the chopped lettuce, tomatoes, beans, shredded cheese, taco meat and Doritos to a large bowl. Pour the dressing and toss to coat. Enjoy immediately!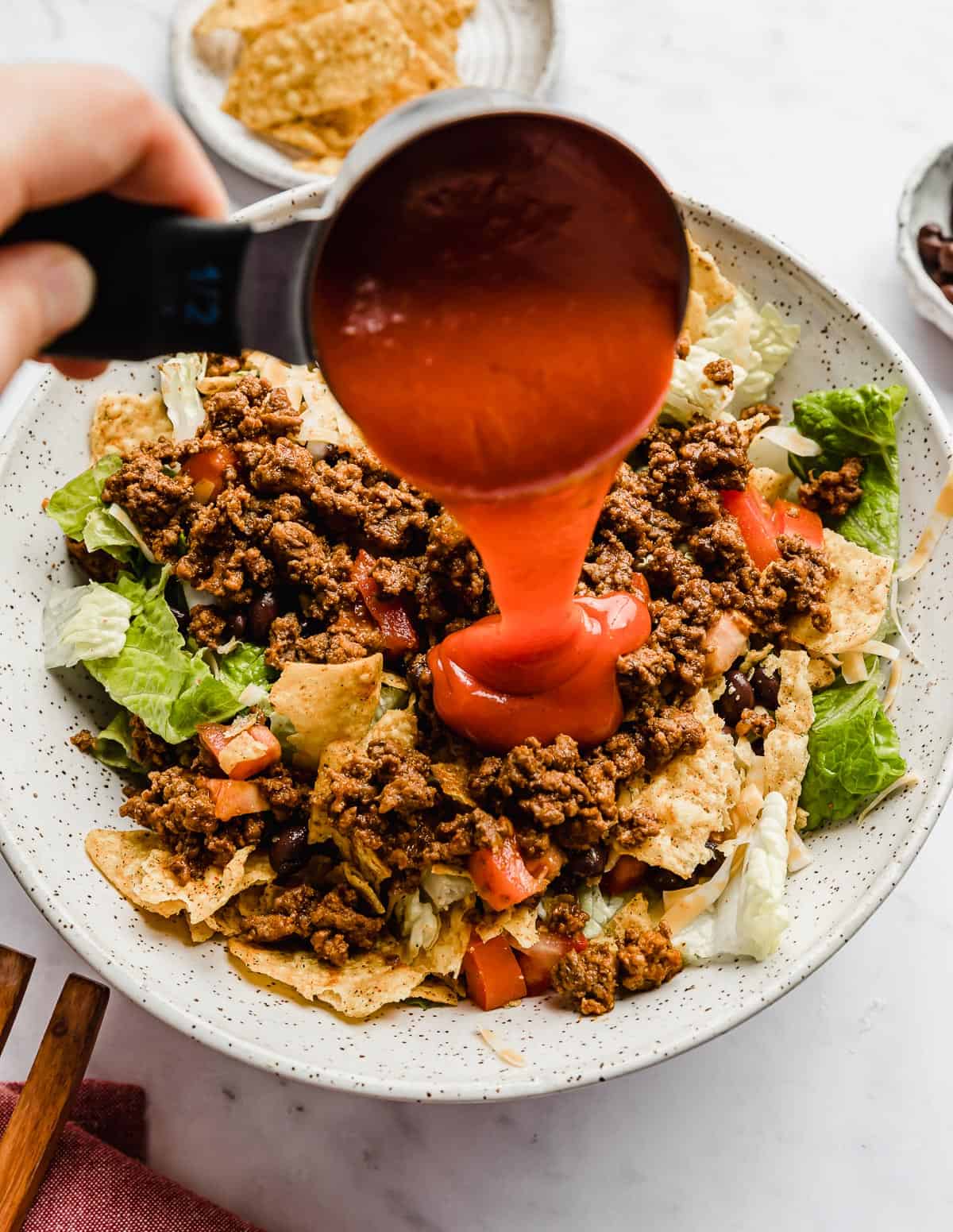 Recipe Tips
We usually use Cool Ranch Doritos for this salad, however you can experiment with any Doritos flavor.
Don't add the Doritos or the salad dressing until right before serving!
My family loves the Dorito taco salad with Catalina dressing, but if you aren't a fan, feel free to make this taco salad with French dressing, ranch dressing or my Creamy Cilantro Lime Dressing.
Variations:
Beans: use kidney beans, black beans, pinto beans, etc.
Veggies: Add some chopped bell peppers, red onions, avocado slices, black olives, or some cooked corn!
Cheese: Some great options for cheese would be cheddar, Monterey Jack, or pepper jack for a bit of a kick.
It doesn't need to end there, simply add your favorite taco toppings to this easy Dorito taco salad recipe!
This recipe makes enough to feed a family of 6. If you are preparing this for a smaller group, either half the recipe or mix together 1/2 of the recipe and store the remaining ingredients separately in the fridge for a later meal.
This taco salad with Catalina dressing and Doritos is perfect for any picnic, potluck, or summer party!
Make Ahead, Storing, and Freezing
You can make the taco meat ahead of time and wash and cut the tomatoes and lettuce. Do not mix the salad until just prior to eating.
You'll want to eat the salad right when it's ready. Once the Doritos and the lettuce have been sitting in the mixture for too long, they will begin to get soft.
If you want to make enough to have leftovers, store the ingredients separately. Any Doritos taco salad that has been fully prepared and mixed should be enjoyed that day!
You can freeze the taco meat. Let cool completely then transfer to a freezer-safe bag or airtight container. Store in the freezer for up to 3 months. Remove and let thaw in the fridge overnight.
Eat the leftovers cold. And remember to store the ingredients separately so nothing gets soggy! If you are worried about having enough for everyone, just mix some of the salad together, then add the rest of the ingredients and mix again.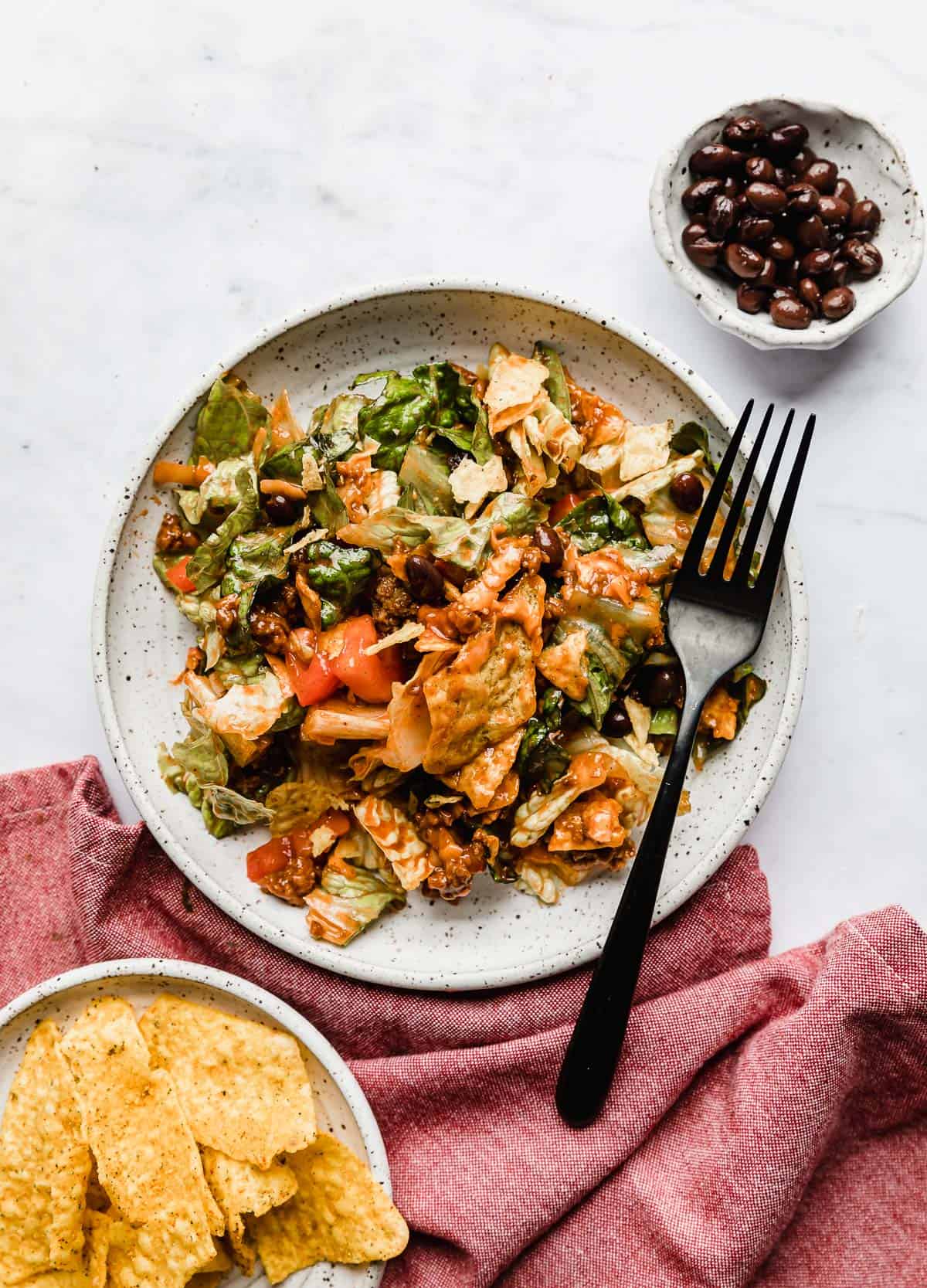 Recipe FAQs
Is this salad served cold?
Yes! You'll want to taco meat to cool to room temperature or colder. If the meat is warm at all, it will make the lettuce wilt much quicker. 
Is Doritos taco salad healthy?
This Doritos salad is packed with fresh and healthy ingredients! I will admit that the Doritos do not fall into that category. However, there are additional ways to make this recipe a bit healthier: swap out ground beef for ground turkey and omit the cheese. 
What dressing for Doritos taco salad?
Our favorite dressing is the Catalina dressing! But you can use ranch dressing, creamy Cilantro Lime Dressing, French dressing, or another salsa-like dressing.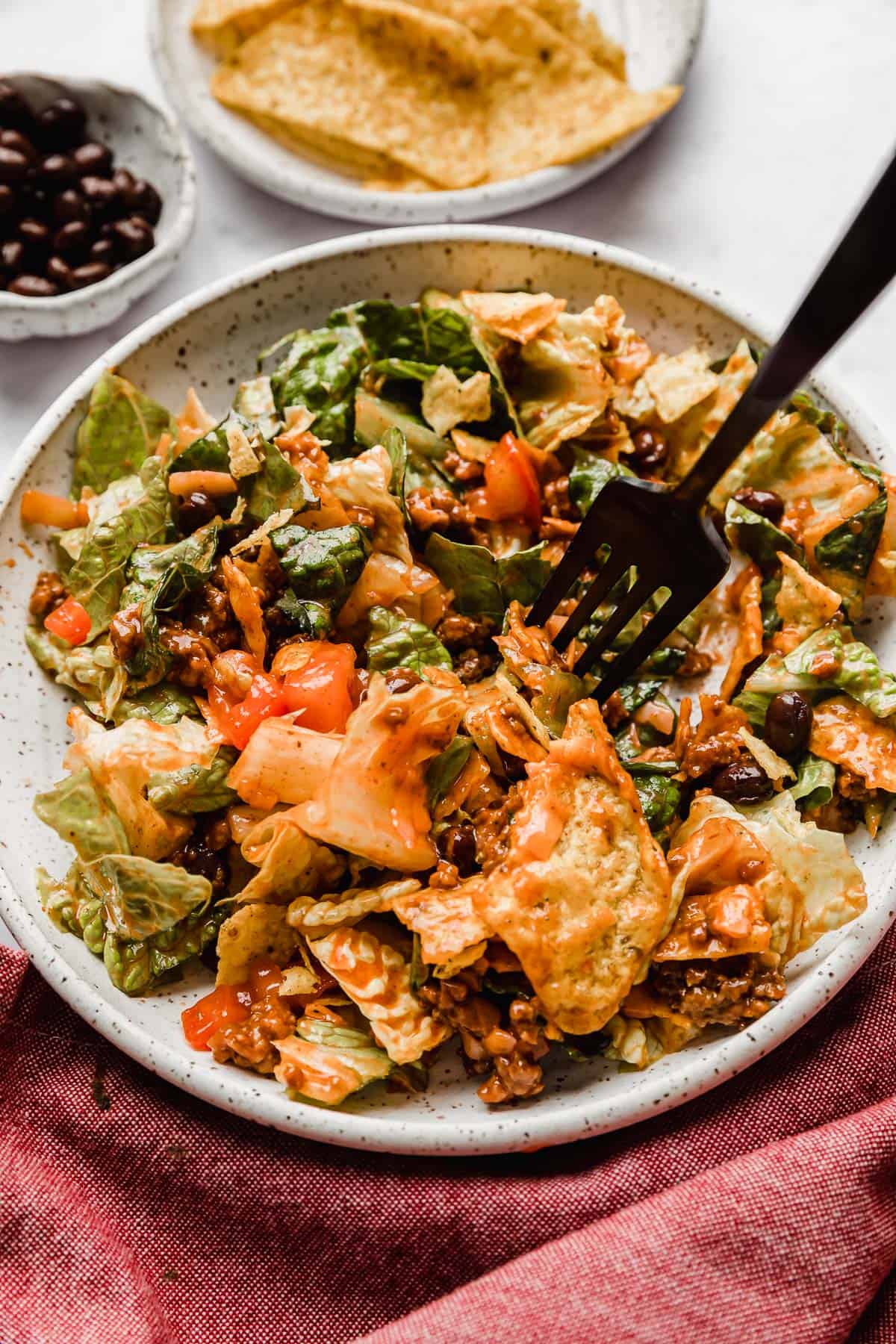 More Taco Recipes
Doritos Taco Salad (with Catalina dressing)
This easy flavorful taco salad is made with taco seasoned ground beef, lettuce, black beans, tomatoes, Doritos, and Catalina dressing. This easy recipe takes just 15 minutes to make!
Ingredients
1

large

bunch romaine lettuce

-

rinsed and chopped

1

pound

lean ground beef

3

tablespoons

taco seasoning

-

about 1 oz

1/2

cup

black beans

-

drained and rinsed, can add more if desired

3

roma tomatoes

-

chopped

1

cup

cheddar cheese

-

grated

3

cups

Cool Ranch Doritos

-

broken into bite size chunks

1

cup

Catalina dressing
Instructions
In a skillet over medium heat add the ground beef, cook breaking up the meat with a wooden spoon until cooked through. Drain grease, and discard.

Add the taco seasoning and 3/4 cup water. Bring to a simmer and simmer for 5 minutes or until most of the water is absorbed or has evaporated. Remove from heat and cool until room temperature. 

In a large bowl add the lettuce, tomatoes, black beans, cheese, Doritos, and taco meat. Pour dressing overtop and toss to coat. Enjoy immediately. 
Notes
We usually use Cool Ranch Doritos for this salad, however you can experiment with any Doritos flavor. 
This salad is to be served cold. 
Store the ingredients separately if you expect leftovers. Only toss what you will eat day of. 
Did you make this recipe?
Leave a star rating and review on the blog post letting me know how you liked this recipe! Take a picture and tag @saltandbaker on Instagram and Facebook so I can see what you're making!