Beef Loaded Nachos
This post may include affiliate links. As an Amazon Associate I earn from qualifying purchases.
Dig into the explosion of flavors in this Beef Loaded Nachos recipe! With layers of crunchy tortilla chips, seasoned ground beef, black beans, and a medley of your favorite taco toppings like avocado, salsa, tomatoes, sour cream, and cilantro, these ultimate nachos are a fiesta on your taste buds.
These sheet pan nachos are the ultimate appetizer to make for game nights, a game day snack, summer gatherings, a quick lunch, or an easy dinner. We love serving some fresh Pico de Gallo and some of our favorite guacamole recipe with it!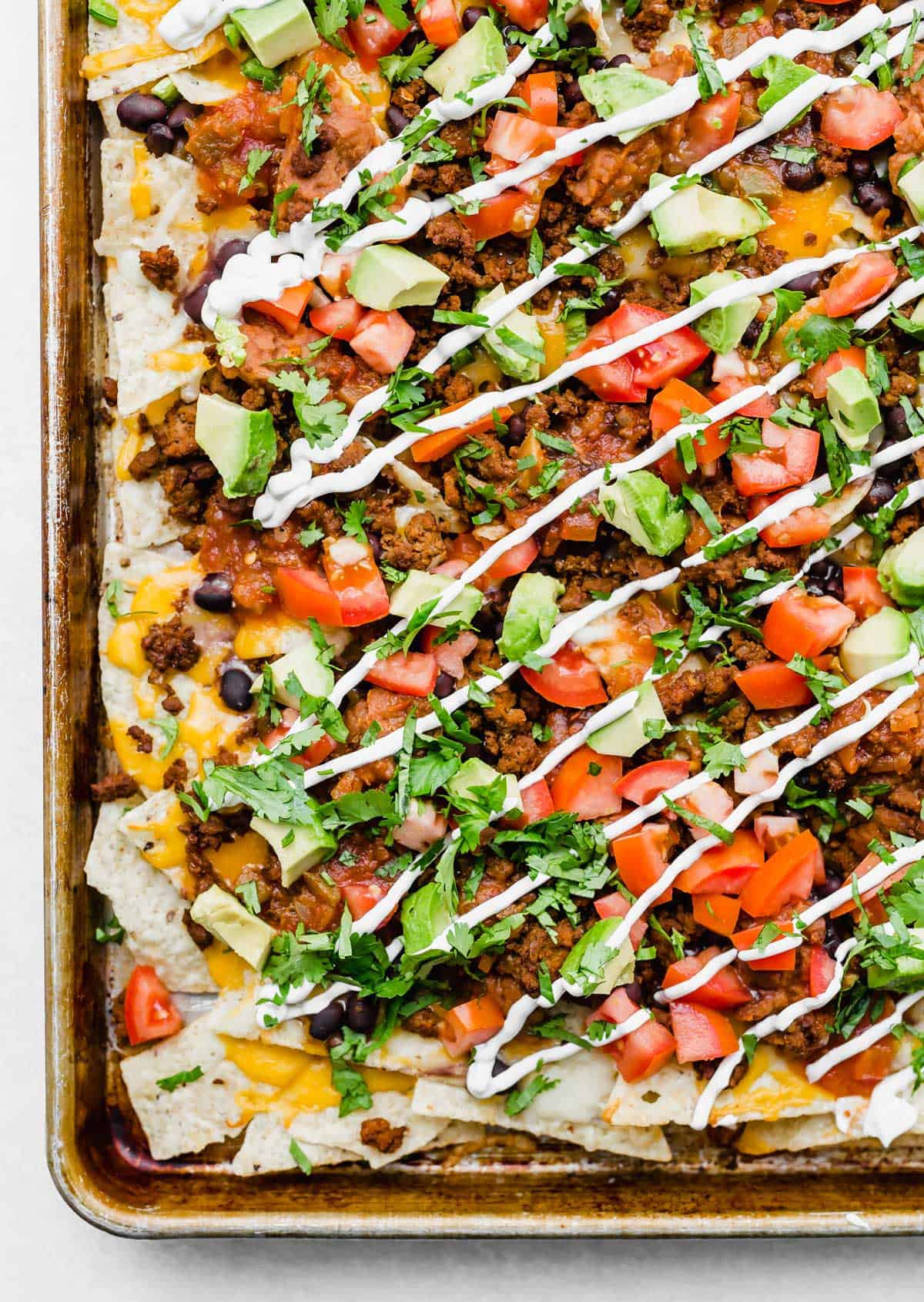 Why This Recipe Works
Ultimate nacho recipe. The combination of crunchy tortilla chips, well-seasoned ground beef, hearty black beans, and your favorite nacho toppings creates a mouthwatering and satisfying experience with every bite.
Best party nachos. Whether you're hosting a game day party, a casual get-together, or simply craving a satisfying meal, these fully loaded nachos are sure to be a crowd-pleaser.
Customizable. The versatility of this loaded beef nachos recipe makes it the best choice for any gathering or mealtime. The best toppings are up to you! Choose based on your preferences or cater to dietary restrictions.
Ingredient Notes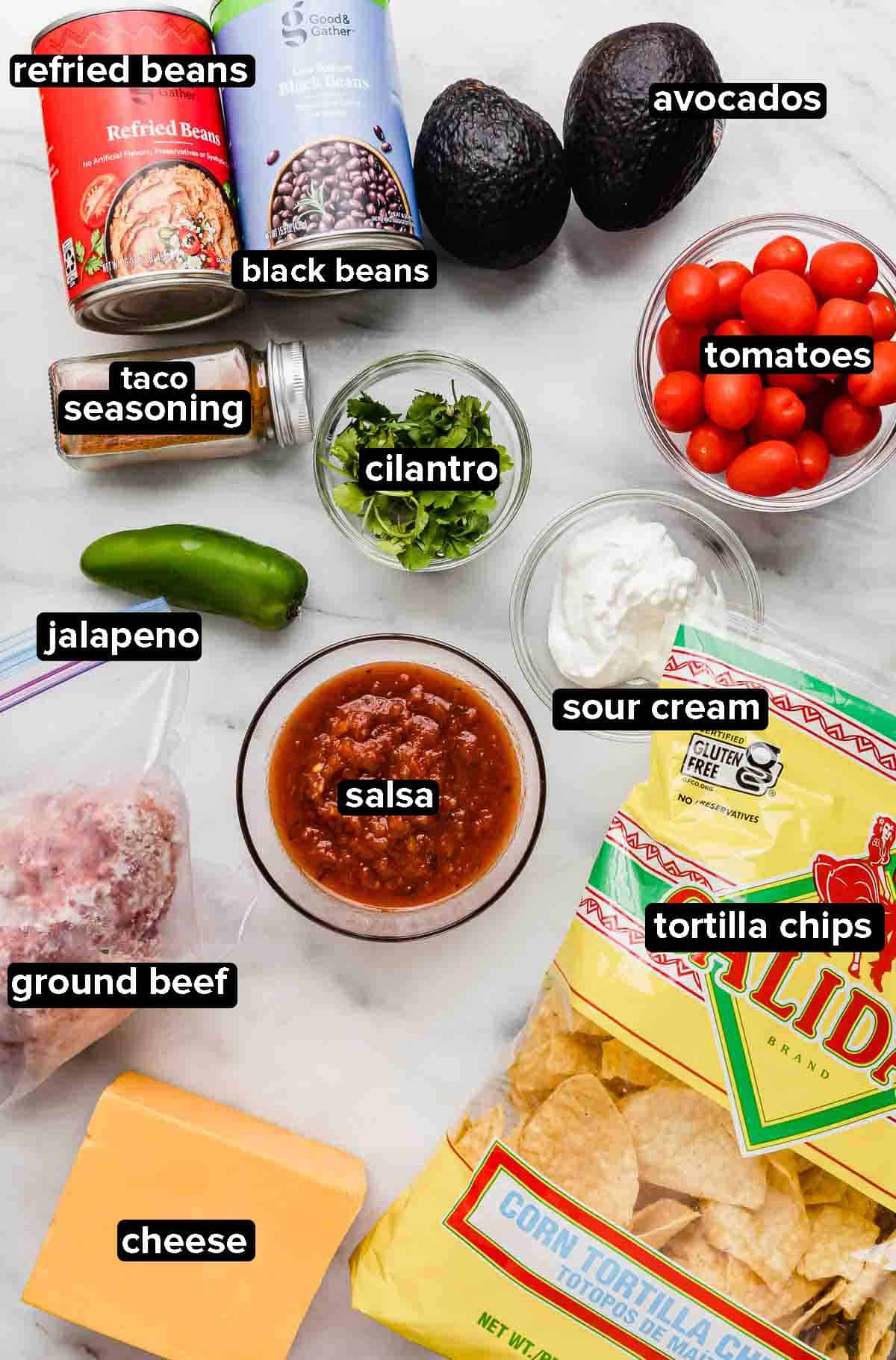 Crispy Tortilla Chips: Use whatever brand you like for the layer of chips.
Ground Beef: You can substitute ground turkey if you'd like.
Mild Taco Seasoning: Use this homemade taco seasoning recipe if you are in a pinch.
Cheese: I used a mix of cheddar cheese and Monterey Jack cheese. You can use a pre-shredded cheese blend if you'd like. Use whatever types of cheese you prefer.
Black Beans: Drain and rinse the beans.
Refried Beans: You don't need to spread the refried beans on the nachos, simply dollop the beans over the chips for best results.
Salsa: Another place you can select heat preference. I love medium salsa, so that's what we used. Feel free to use some homemade fresh salsa, salsa verde, etc.
Avocados: Use 1-2 avocados, depending on how much you like. Tip: forgo the avocados and use my favorite guacamole recipe if you'd like!
Step-by-Step Instructions
Brown the meat. Add the ground beef to a large skillet over medium heat. Add 2 tablespoons taco seasoning and cook fully, breaking up the meat as you go. Once browned, drain excess grease then add another 1 tablespoon taco seasoning.
Make the loaded nachos. Place tortilla chips on a baking sheet and spread into a single layer, with some overlapping. Sprinkle the layer of tortilla chips with grated cheese and top with the black beans, dollops of refried beans, the ground beef and diced jalapeños.
Bake nachos. Bake at 425ºF for 6-8 minutes or until the cheese is fully melted.
Add toppings. Remove the loaded beef nachos from the oven and top with avocado, tomatoes, fresh cilantro and sour cream. Enjoy!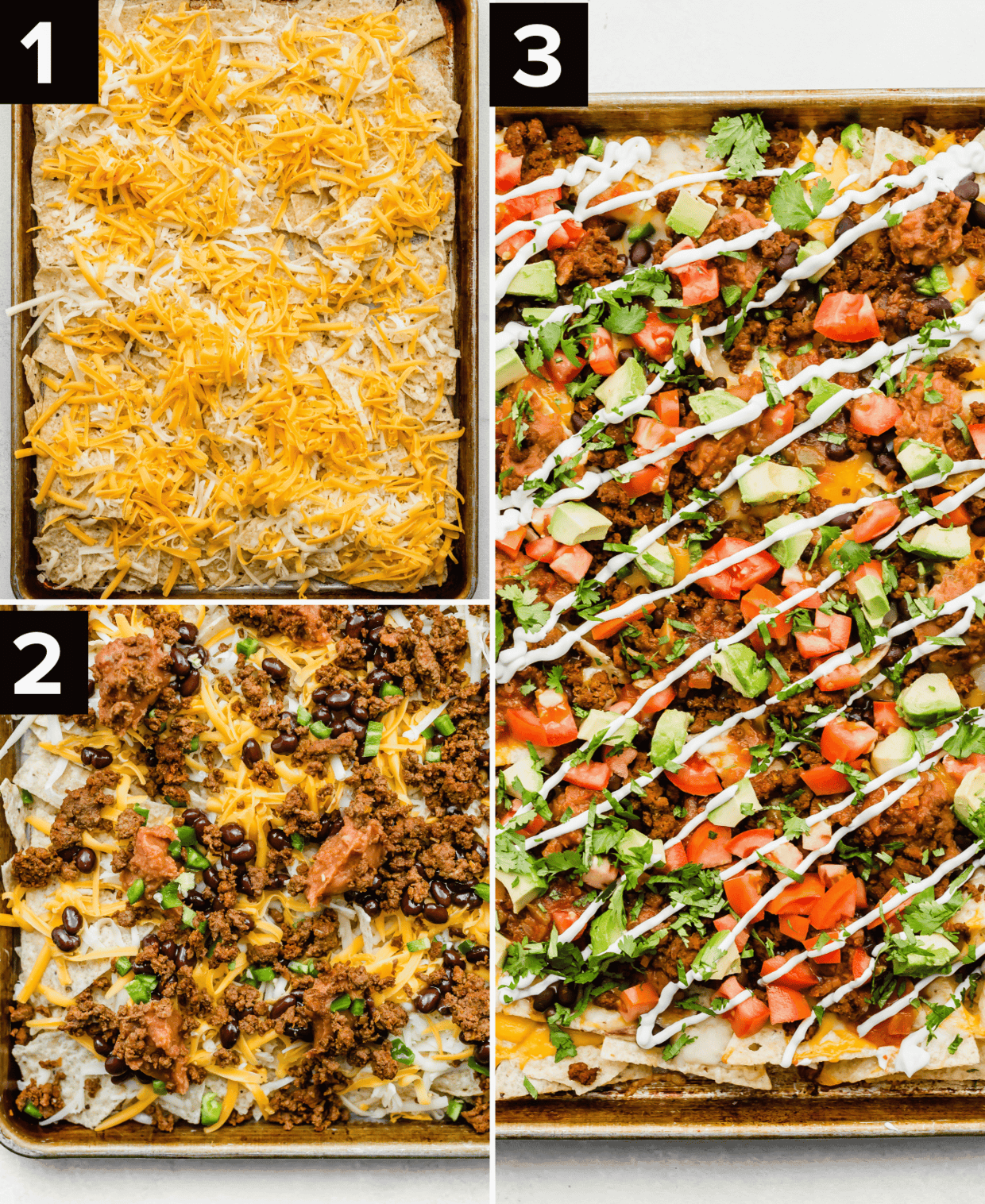 Recipe Tips
If you don't have fresh jalapeños you can use pickled or canned jalapeños.
To drizzle the sour cream overtop, spoon the sour cream into a small ziplock bag, snip the corner of the bag, then drizzle overtop of the finished nachos.
To make this more of a meal, you can serve the nachos over a bed of shredded lettuce.
When layering the cheese, ensure it covers the entire nacho surface. This allows the cheese to melt and bind the ingredients together as it bakes.
Keep an eye on the oven to avoid overcooking the nachos to make sure the melty cheese doesn't burn.
Feel free to serve these loaded nachos with other favorite toppings like diced onions, pickled jalapeños, black olives, red bell pepper, rotisserie chicken, green onions guacamole, or hot sauce.
Nachos are best enjoyed hot and fresh out of the oven. Once assembled, serve them immediately, as they tend to lose their crispiness and become soggy over time.
If you're serving beef loaded nachos for a party, consider preparing the toppings ahead of time and assembling the nachos just before serving to ensure maximum crunchiness.
Make Ahead, Storing, and Freezing
Prepare the toppings ahead of time and then cook the nachos just prior to serving. You want to serve these immediately.
If you do end up having leftover nachos, store in the fridge. Note that the chips will soften.
Recipe FAQs
Can I use other types of beans for loaded nachos?
Yes, you can experiment with different types of beans to add variety to your loaded nachos. Besides black beans, try using pinto beans, kidney beans, or cannellini beans to suit your taste preferences. You can even mix different beans for a colorful and flavorful twist.
Can I make loaded nachos in advance?
While it's best to assemble and serve loaded nachos right away, you can prep the individual toppings ahead of time. Cook the seasoned ground beef, prepare the beans, and chop the toppings in advance. When you're ready to serve, quickly assemble the nachos and bake them to melt the cheese.
How to reheat loaded nachos?
Reheating in the oven helps to maintain the nachos' crispy texture and ensures the toppings are warmed evenly. Avoid using the microwave for reheating as it can result in soggy nachos and uneven heating of the toppings.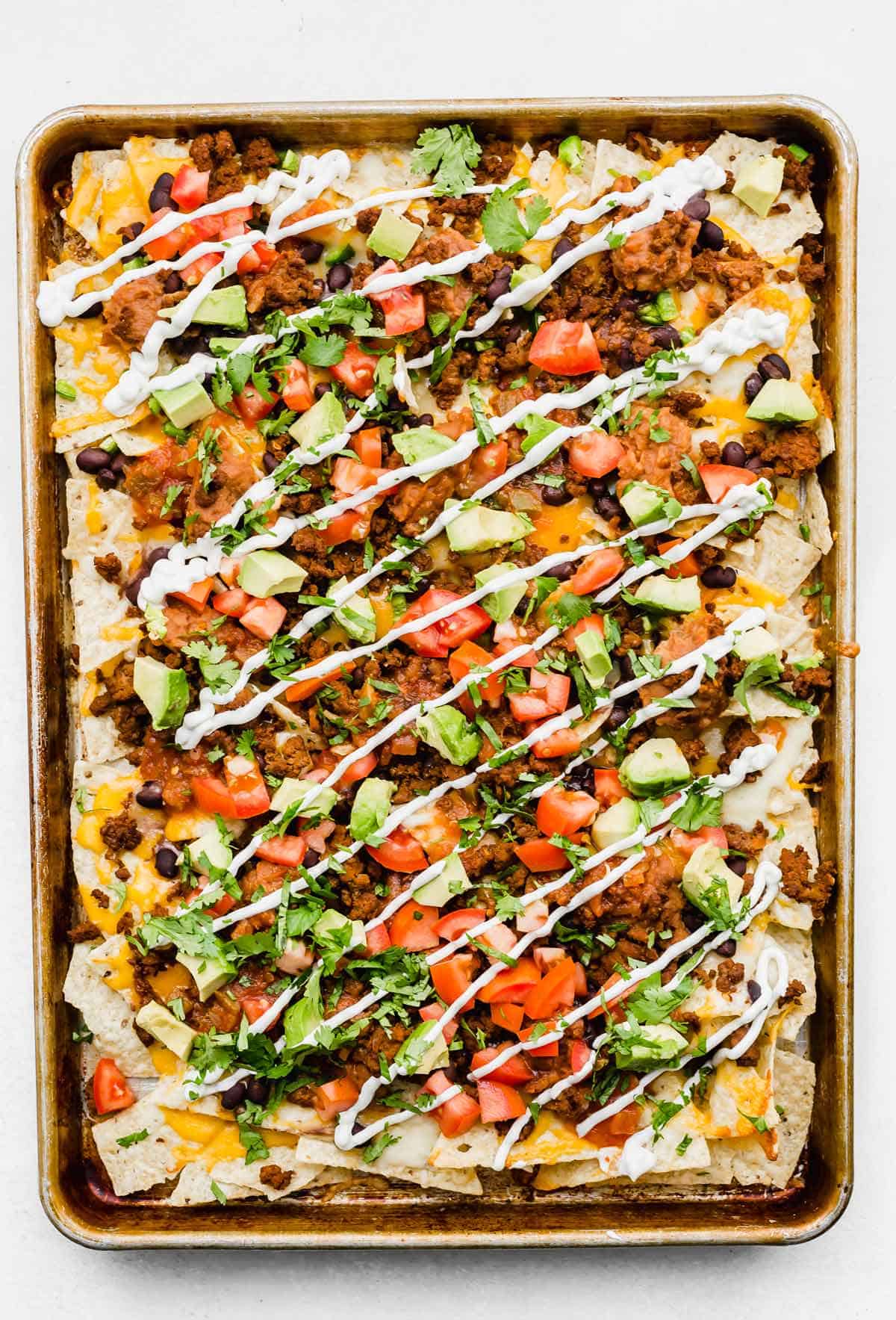 Party Appetizers
Beef Loaded Nachos
These loaded nachos are just that… LOADED! Topped with ground beef, CHEESE, beans, salsa, tomatoes, avocado, and sour cream. This is a great appetizer or game day food.
Ingredients
11

oz

bag of tortilla chips

8

oz

lean ground beef

3

tablespoons

taco seasoning

-

divided

2

cups

sharp cheddar cheese

-

shredded (about 6 oz)

2

cups

Monterey jack cheese

-

shredded (about 6 oz)

3/4

cup

black beans

-

drained and rinsed

3/4

cup

refried beans

1-2

jalapeños

-

small diced

1

cup

salsa

1-2

avocados

-

chopped

1

cup

tomatoes

-

chopped (See note #1)

1

cup

sour cream

-

(See note #2)

1/4

cup

cilantro

-

chopped
Instructions
In a skillet over medium heat brown the beef with 2 tablespoons of taco seasoning. Drain any excess grease. Then stir in the remaining 1 tablespoon of taco seasoning.

Place the tortilla chips on a a baking sheet, spread into a single layer. (some chips will overlap). 

Sprinkle both cheeses over the chips (try to get the cheese on all chips, even ones that are overlapping), then top with the black beans, dollop the refried beans, add the ground beef, and diced jalapenos. 

Bake for 6-8 minutes or until cheese has melted.

Remove from oven and drizzle the salsa overtop. Then top with the avocado, tomatoes, dollops of sour cream (or drizzle… see note #2), and cilantro. 
Notes
Notes:
I used Roma tomatoes for this recipe. However, instead of using fresh tomatoes you could use pico de Gallo. 
To drizzle the sour cream overtop, spoon the sour cream into a small ziplock bag, snip the corner of the bag, then drizzle overtop of the finished nachos.
This recipe is merely a guide, if you want more or less jalapeños, that's fine. If you want more cheese, add more cheese…. you get the picture. 
Did you make this recipe?
Leave a star rating and review on the blog post letting me know how you liked this recipe! Take a picture and tag @saltandbaker on Instagram and Facebook so I can see what you're making!