Sausage Dip
A sausage dip you can count on! This spicy cream cheese sausage dip is highly addicting and loved by everyone! It's the perfect appetizer and chip dip for game day or parties!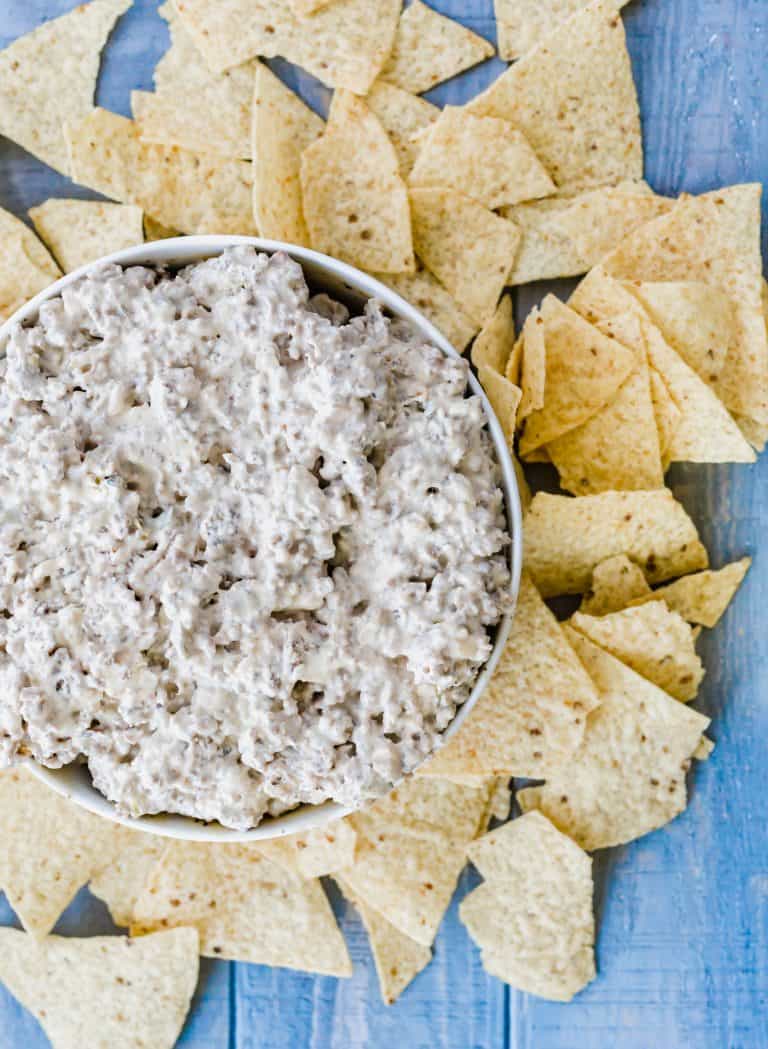 If I could only eat one chip dip for the rest of my life, it would be this sausage dip! It has the perfect amount of spice and creaminess. We make it every year for the Super Bowl, New Years Eve, and Thanksgiving.
My mother-in-law was the one who introduced me to this cream cheese sausage dip, and folks, it's the greatest dip of all time!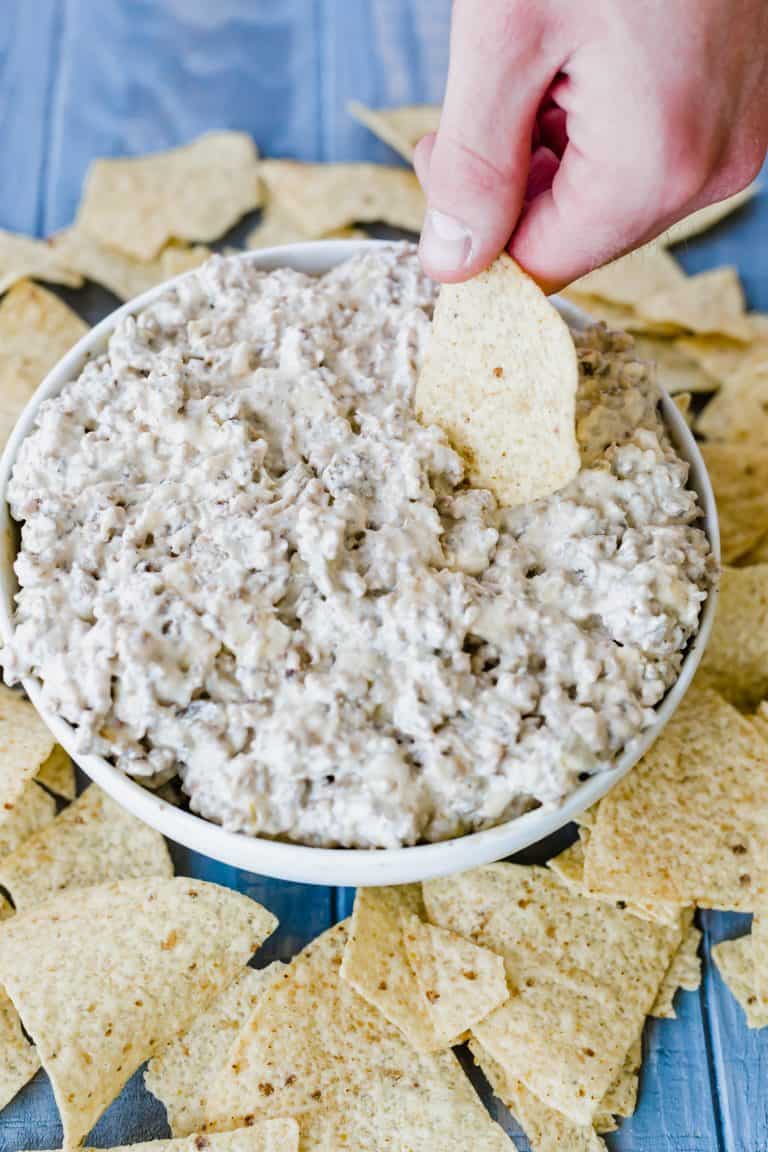 How do you make a Sausage Dip?
You need sausage. I use 1 lb of regular Jimmy Dean Sausage and 1 lb of hot Jimmy Dean sausage.
Brown the sausage.
Add the cream cheese and sour cream. Once that is all mixed in…
Add the canned jalapeños (you can use fresh, but I always use canned, so whatever you want is just fine).
Add onion powder. Stir to combine everything.
Serve warm, with tortilla chips.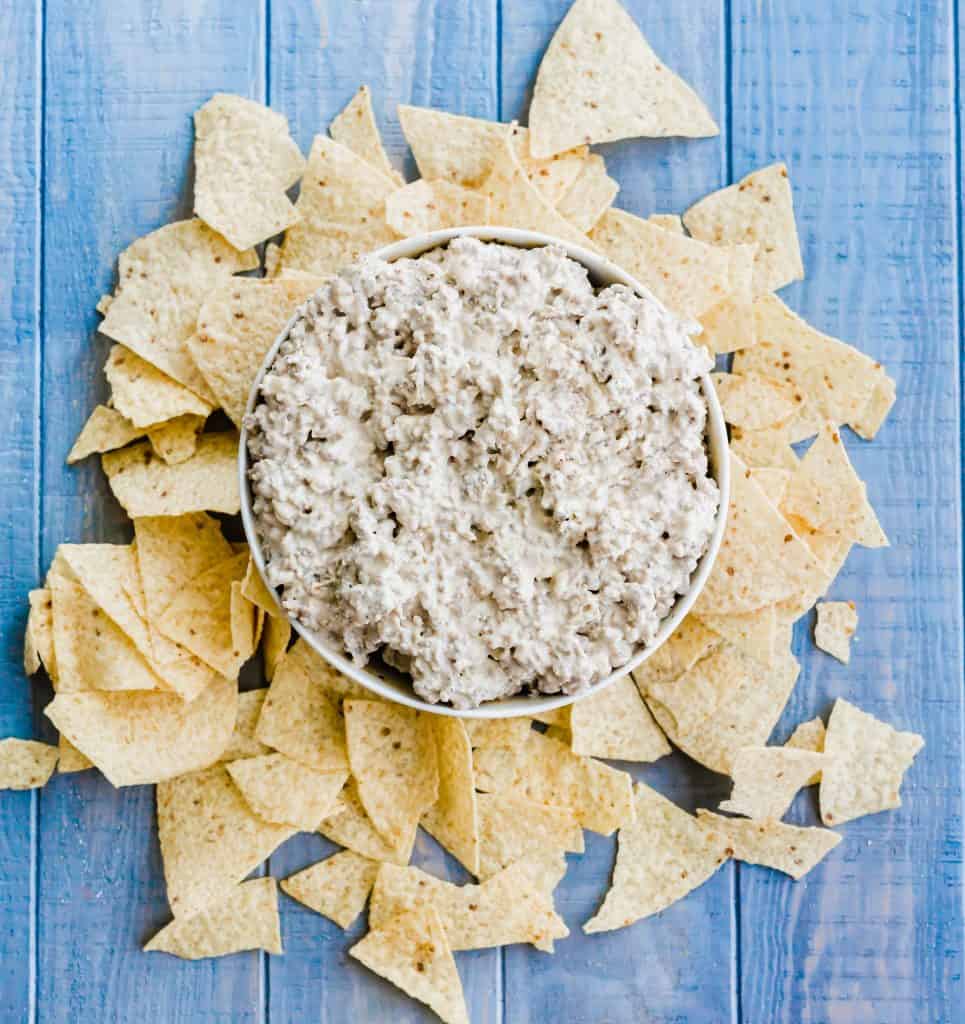 This sausage dip is creamy, delicious, and so easy to make! If you're looking for a game day appetizer or a chip dip to serve at a party, make this! You'll be so glad you did!
And if you're lucky you might have leftovers. But I wouldn't count on it 😊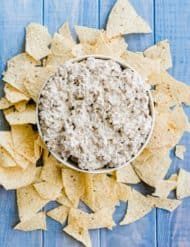 Sausage Dip
The most addicting sausage chip dip!
Ingredients
16

oz

Hot pork sausage, I use Jimmy Dean brand

16

oz

Regular pork sausage, I use Jimmy Dean brand

2 T + 1 tsp

canned diced jalapeños, I don't drain the liquid.

16

oz

sour cream, can use light

8

oz

cream cheese

1

tablespoon

dried chopped onion*

1

tsp

onion powder
Instructions
In a large pan over medium heat, brown the sausage. Crumbling it up into small pieces as you go.

Once the sausage is brown and cooked all the way through, drain any liquid. Add the cream cheese, sour cream, diced jalapeños, dried chopped onion, and onion powder.

Turn heat down to medium-low. Stir until cream cheese is melted and all of the ingredients are incorporated

Serve warm with tortilla chips.
Recipe Notes
*I use dried onion because that's what my mother-in-law uses when she makes this dip. If you don't have dried onion, feel free to chop up half and onion (about 1 cup or so) and add it when you are browning the sausage.
Do you love this Sausage Dip? Here are more great recipes from Salt & Baker: