Caramelized Onion Dip
This post may include affiliate links. As an Amazon Associate I earn from qualifying purchases.
Creamy, flavorful, and 100% addicting, this Caramelized Onion Dip will be the star of every party!! This is the perfect chip dip to serve for game day, get togethers, or gatherings.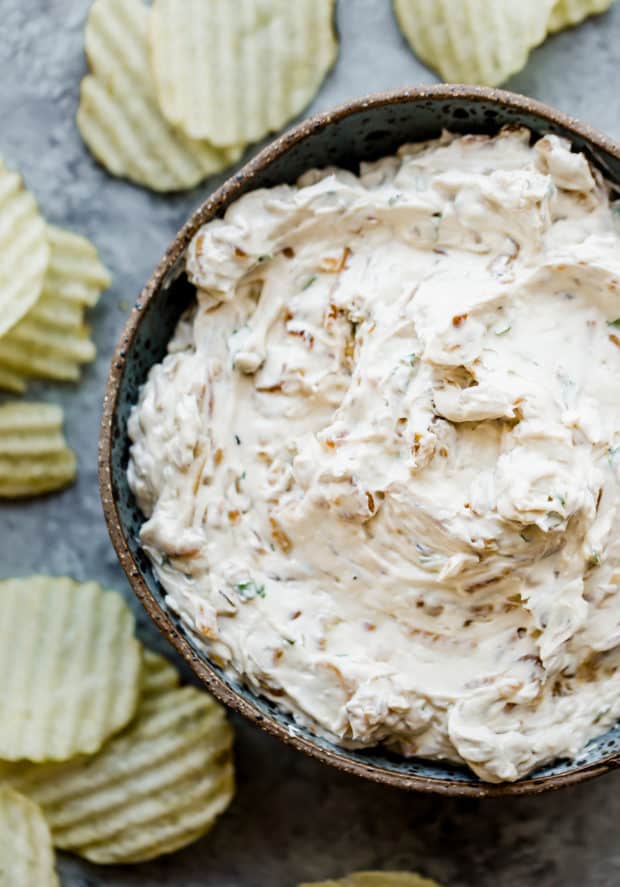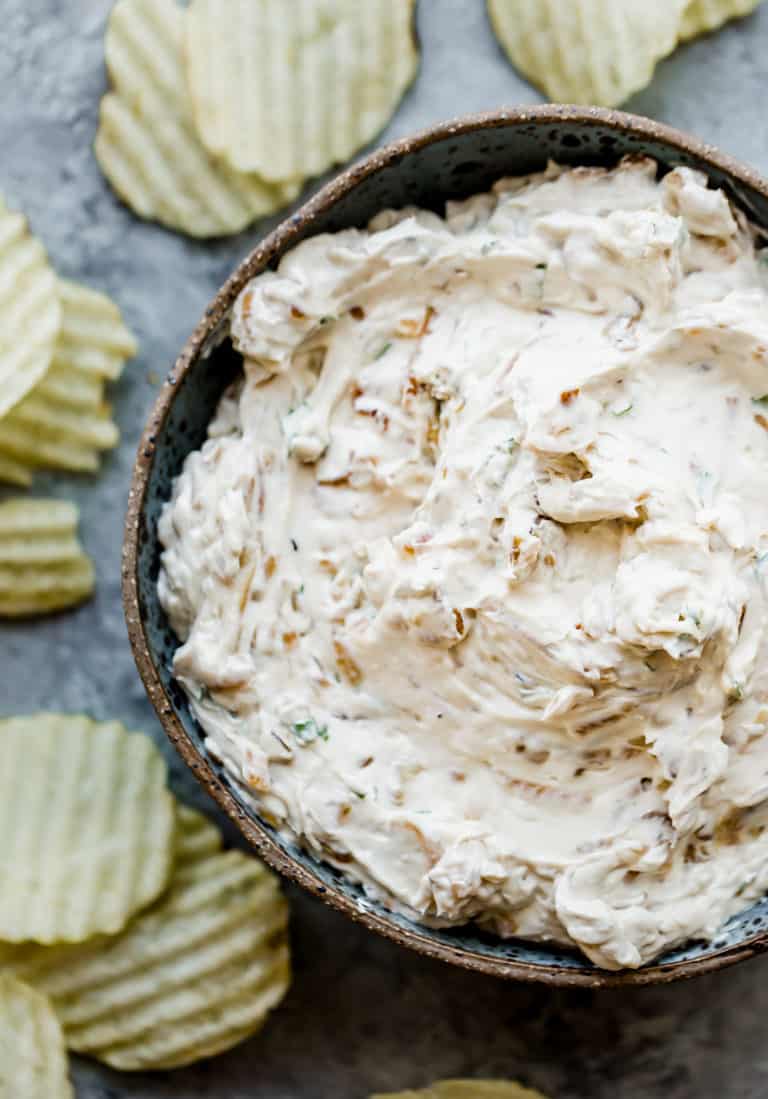 Either you like onions or you don't. That's what I've observed at least. I LOVE onions! This caramelized onion dip is my kind of finger food! A creamy, flavorful dip with fresh parsley dispersed throughout, this chip dip is absolutely addicting! Served alongside some salty potato chips you have yourself a party food hit!
Some people see caramelizing onions as a daunting task, but don't worry! I've got you covered! I'm going to share all of the tips and trips to getting the perfect caramelized onions. Spoiler alert: IT'S NOT HARD! You just need a little patience.
What kind of onion should you use to caramelize?
Any onion will caramelize. I use the yellow onion as they tend to caramelize more readily.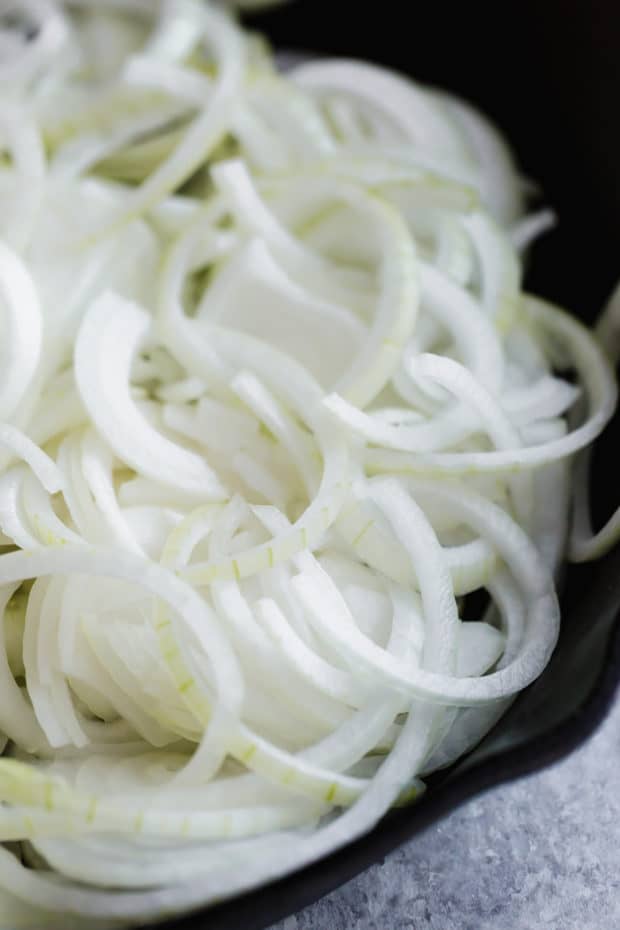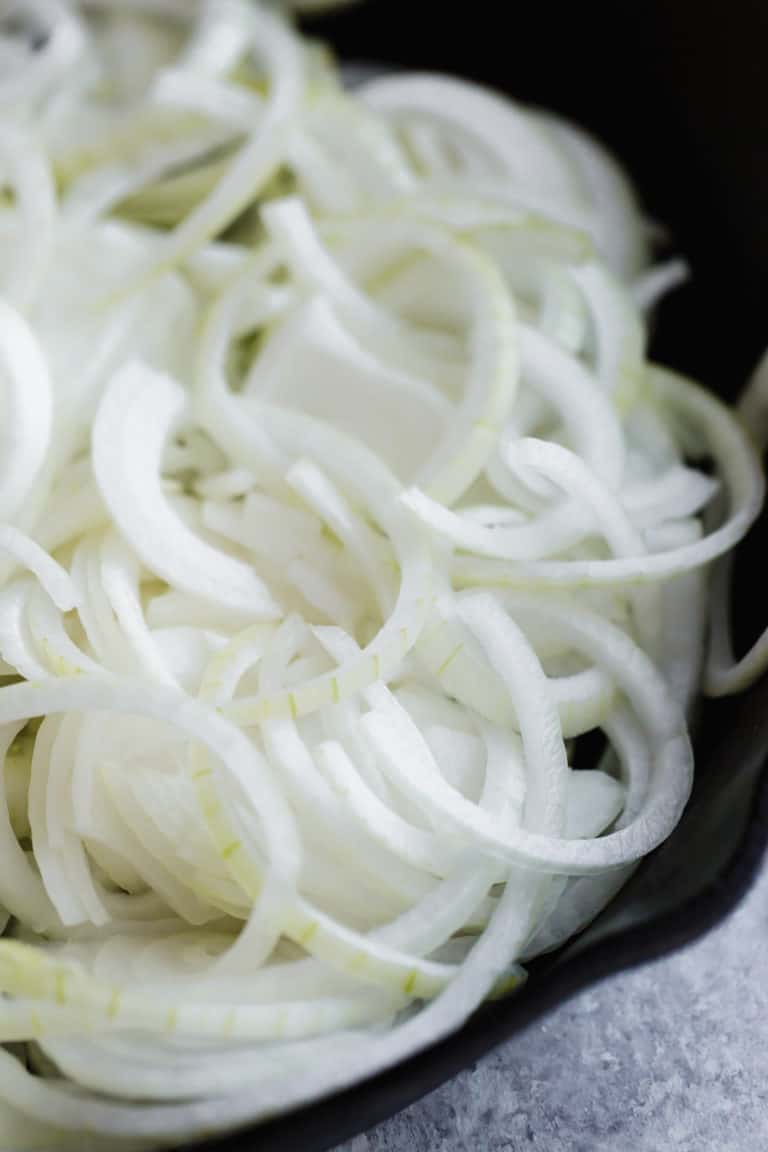 Tips for caramelizing onions
Slice the onions 1/8″ thick. This thickness works wonderfully because they aren't TOO thin but they still have some substance without being too thick. If you choose to slice them thinner than 1/8″ thickness just remember that thinly sliced oinions burn faster and stick to the pan so be careful.
Use olive oil rather than butter when caramelizing onions. Olive oil has a higher smoking point than butter. Butter also tends to burn easily, so I opt to use olive oil when cooking onions and the results are always phenomenal!
Pan size
Use a 12" cast iron skillet. I love to use my enamel cast iron skillet because it distributes the heat evenly. The bigger pan size gives more room for the onions to be near the hot surface. Hello faster cook time!
You're going to be tempted to turn up the heat. DON'T do it. Keep the temperature around medium-low and don't change it. Onions will burn and once they burn, there is no going back. Caramelizing onions is the process of slowly coaxing the flavor out of the onions. It takes a long time for the onions' sugars to caramelize.
TIP TO REMEMBER: Don't heat pan too high! Do NOT go past medium heat. Medium-low is a very safe place to stay in regards to temperature.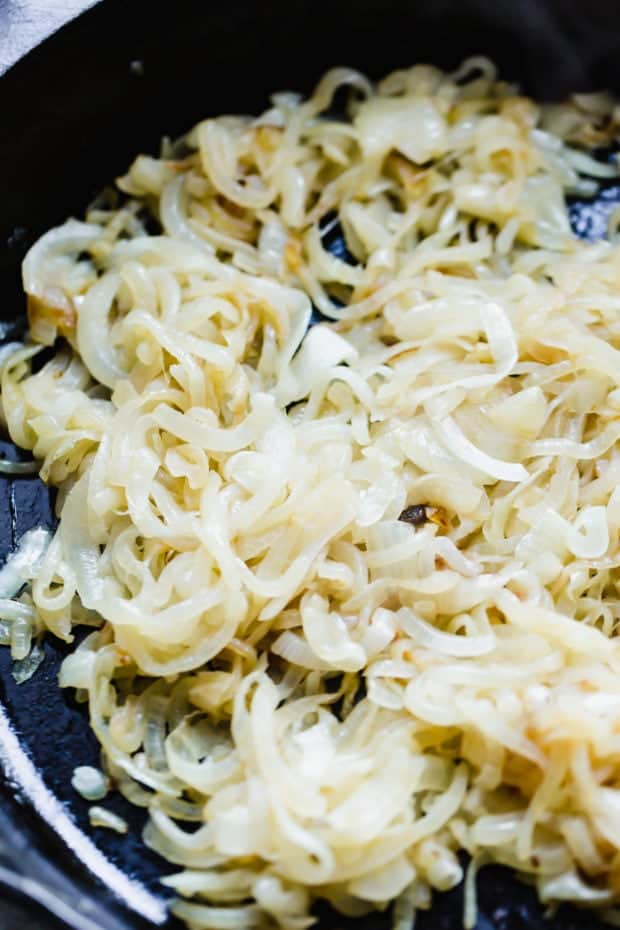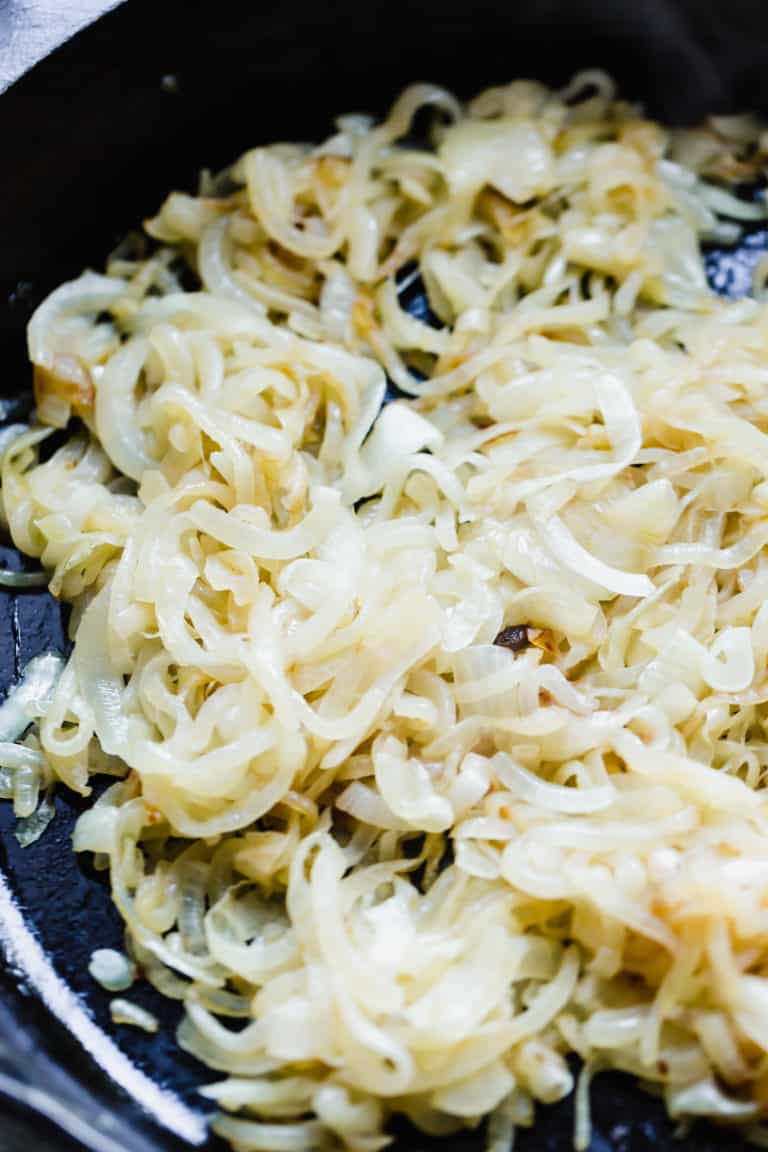 Blonde-colored onions are achieved around 20 minutes of cooking (pictured above). This is about the point of doneness for French Onion soup.
How to tell the onions are fully caramelized
It takes about 40-45 minutes to caramelize onions. When finished the onions should be a rich brown color, soft but not mushy.
Why do we caramelize onions?
Sauteeing and slowly cooking onions draws out the natural sweetness in them as the sugars in the onion caramelize. The end result is a sweet and tender, dark brown onion that adds an intense and wonderful flavor to countless recipes from soups, to meats, and breads.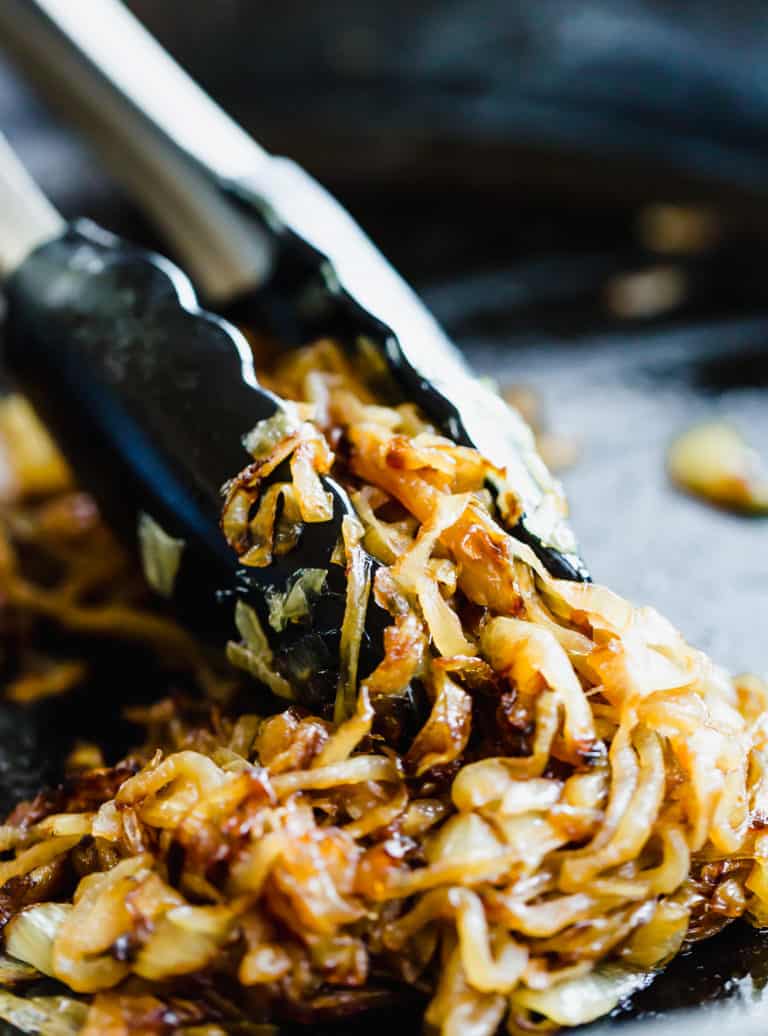 Stir the onions every few minutes to prevent them from sticking to the bottom of the pan and from coloring too much in one place.
Assembling the onion dip
Now that you have perfectly caramelized your onions, its time to assemble the onion dip! Grab the cream cheese, sour cream, mayo, and Worcestershire sauce. Stir those together until they are nice and creamy.
Chop the caramelized onions into bite size pieces and add them to the cream cheese mixture. Toss in a generous amount of fresh parsley, salt and pepper to taste, and your dip is ready to serve!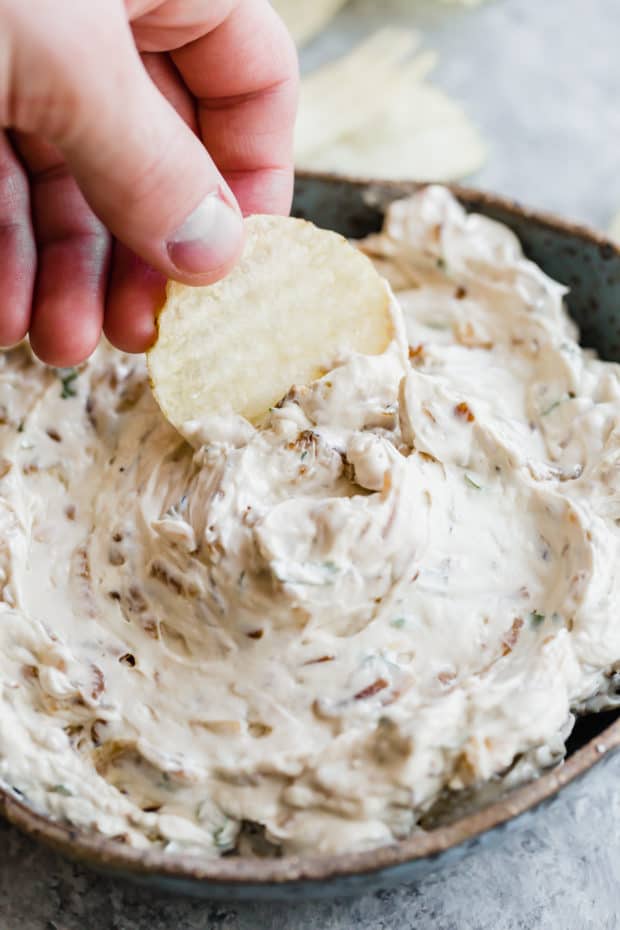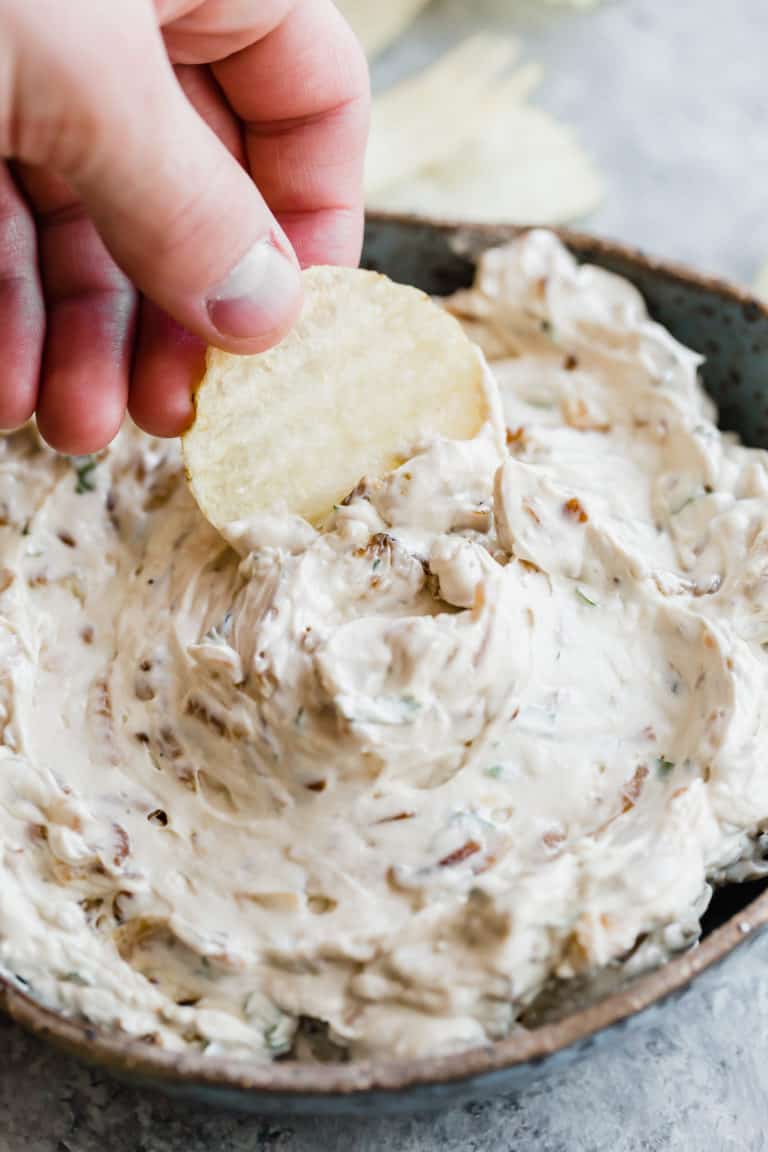 More appetizer recipes
Caramelized Onion Dip
This caramelized onion dip is the perfect party food for any gathering! It's flavorful and delicious!
Ingredients
3

yellow onions

-

thinly sliced (1/8" thick)

2

tablespoons

olive oil

1

cup

sour cream

1/4

cup

mayonnaise

1 1/4

teaspoon

Worcestershire sauce

8

oz

cream cheese

-

softened

1/4

teaspoon

salt

3

tablespoons

fresh parsley

-

chopped (you can add more if you'd like)

potato chips

-

for serving
Instructions
Slice onions in half length wise and then slice to 1/8" thickness. I used a mandolin which made it fast and easy.

In a 12 inch skillet over medium-low heat add the olive oil and onions. Stir occasionally. Keep the heat at the medium-low setting, you don't want to get overzealous and use too hot of heat and then burn the onions.

Caramelizing onions takes about 40-45 minutes. You want the onions to be a rich brown, soft but not mushy.

Once the onions have caramelized, remove from heat. Set aside.

In a large bowl combine the cream cheese, sour cream, mayo, salt, and Worcestershire sauce. Using hand beaters, cream the mixture until it's a smooth consistency.

On a cutting board, slice the onions so that they are bite sized pieces.

Add the onions and fresh parsley to the cream cheese mixture and stir to combine. Serve with potato chips!
Did you make this recipe?
Leave a star rating and review on the blog post letting me know how you liked this recipe! Take a picture and tag @saltandbaker on Instagram and Facebook so I can see what you're making!