Almond Joy Protein Balls
This post may include affiliate links. As an Amazon Associate I earn from qualifying purchases.
These Almond Joy Protein Balls are packed with chocolate protein powder, delicious almond butter, and your favorite flavors of almond joy candy bars such as almonds, coconut, and chocolate! Easy high protein snacks have never been so healthy and delicious!
If you love almond and coconut, then you'll enjoy a big bowl of my high protein almond joy oatmeal for breakfast! Then, add to your protein balls recipes with my Chocolate Peanut Butter Protein Balls, Oatmeal Raisin Protein Balls and my Snickerdoodle Protein Balls recipes!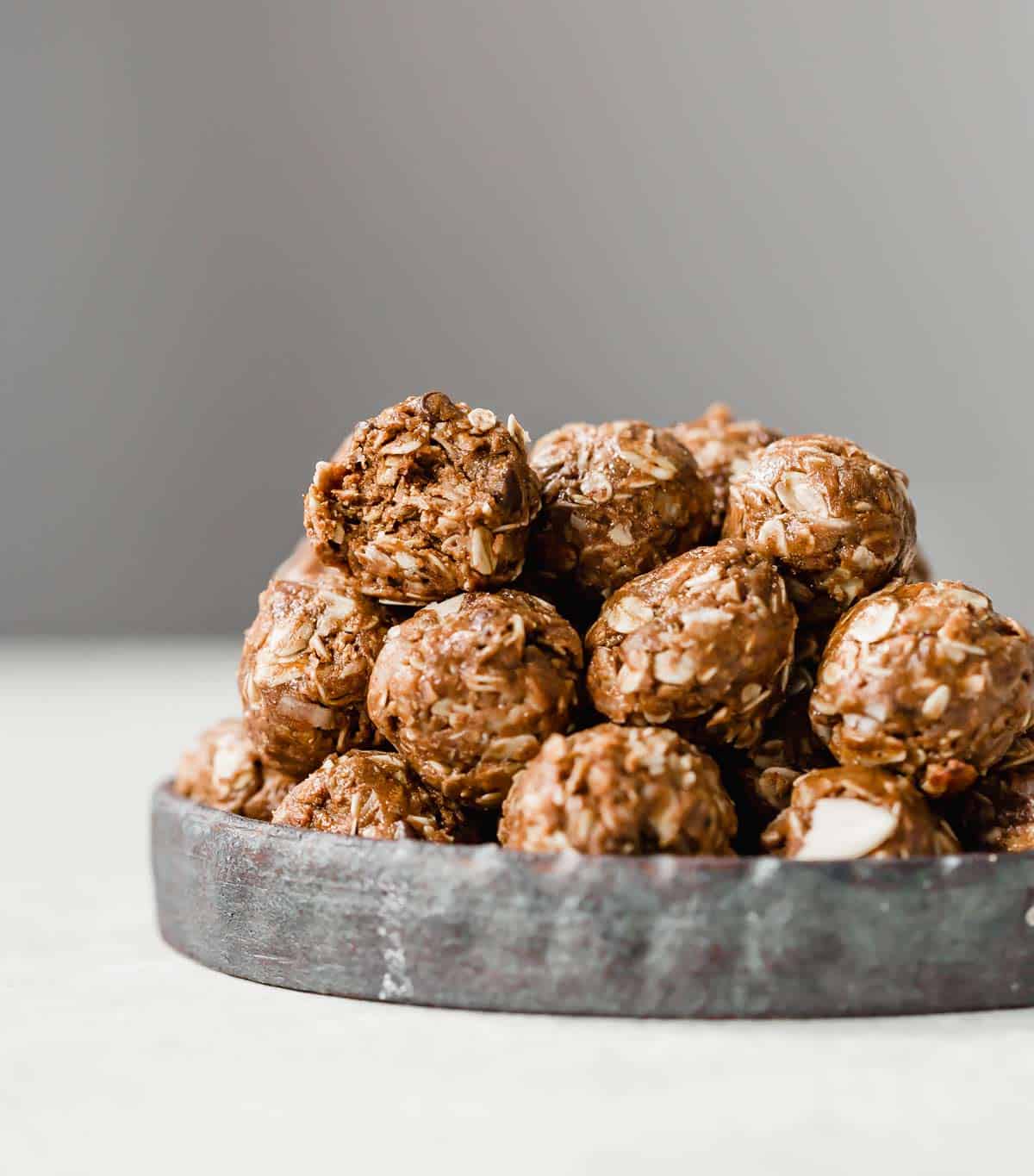 Why This Recipe Works
Delicious almond joy bites. These almond joy protein balls will remind you of an almond joy bar! 
Packed with protein. The almond butter and chocolate protein powder make these almond joy energy balls packed! I can only eat so many apples and grapes in a day. I need something filling that will keep me going for longer — protein balls for the win!
No bake protein balls. This almond joy protein balls recipe comes together easily and doesn't require any cooking or baking! It's the perfect snack recipe! 
Ingredient Notes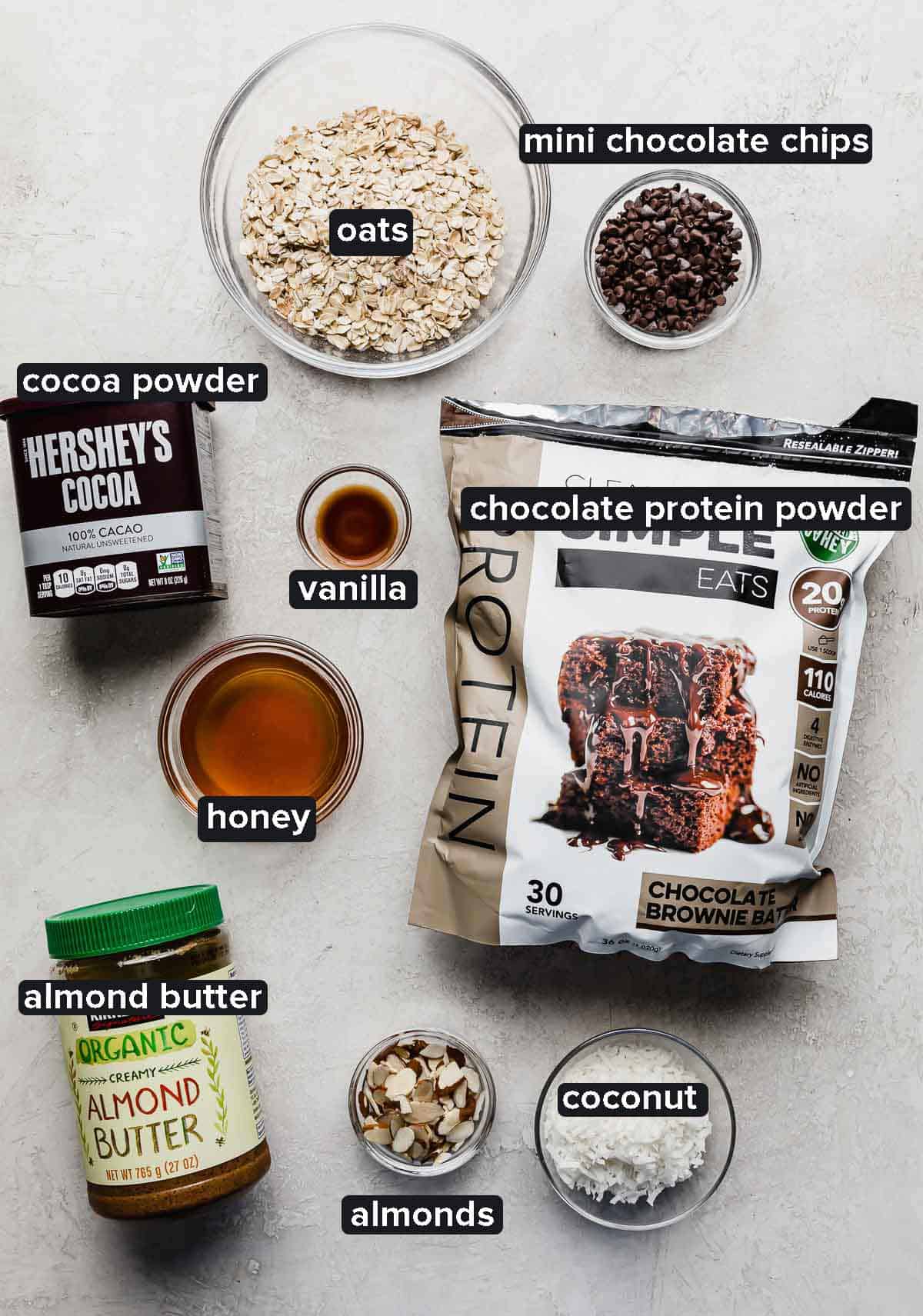 Almond Butter: The almond butter will help the protein balls stick together, but it also gives that delicious almond flavor from almond joys! 
Old Fashioned Oats: I use old fashioned oats because they are big enough to give you the perfect chewy texture. 
Chocolate Protein Powder: Feel free to use your favorite chocolate protein powder in this power balls recipe! 
Unsweetened Cocoa Powder: Adding just a bit of extra cocoa powder will enhance the chocolate flavor of these almond joy balls. 
Shredded Coconut: I like to use sweetened shredded coconut. But you can use unsweetened coconut flakes if you'd prefer.
Honey: Feel free to use whatever natural sweetener you'd like. Agave, maple syrup, etc. 
Sliced Almonds: Almond slices or almond slivers will work best because the bigger the almond, the trickier it will be to form the balls. 
Mini Chocolate Chips: Mini chocolate chips are the way to go! Normal-sized chocolate chips will be too big and the ratio will be off. Plus, the bigger the chocolate chip, the harder to keep the balls intact — especially with the almond pieces in there too. 
Step-by-Step Instructions
Combine all ingredients. To a large bowl add 1 cup of almond butter, 1 2/3 cup Old Fashioned Oats, 1/2 cup chocolate protein powder, 1 T unsweetened cocoa powder, 1/2 cup shredded coconut, 1/2 cup honey, 1/2 tsp vanilla extract, 3 T sliced almonds, 1/4 cup mini chocolate chips. Mix until combined.
Portion into almond joy protein bites. Using a small cookie scoop, portion into 1 1/2-2 inch balls. Roll into small balls. Place balls in an airtight container and store in the fridge or freezer to set. Enjoy!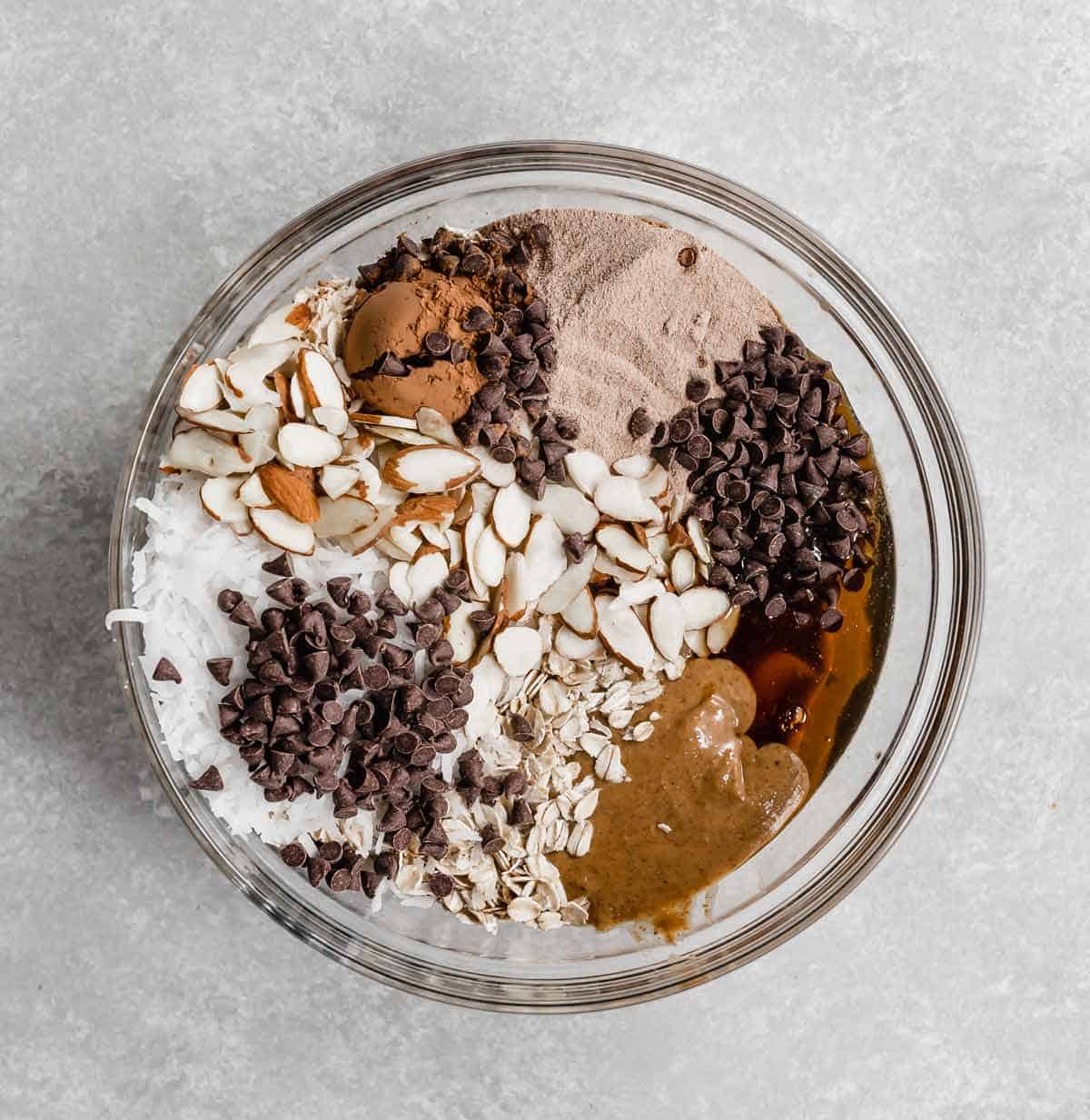 Recipe Tips
Add some ground flax seed for an added boost of fiber.
You can also line an 8×8-inch pan with parchment paper and press the mixture into the pan. Store in the fridge to set then cut into no bake energy bars.
Instead of honey you can use maple syrup or agave. You can also use dark chocolate chips for a bit of a healthier option.
Are you a big almond fan? Add some extra flavor with a drop or two of almond extract to really amp things up!
Add a splash of water if needed.
Make Ahead, Storing, and Freezing
Place the balls in an airtight container or ziplock bag and store them in the fridge. I like to place them on a baking sheet lined with parchment paper and then chill them in the fridge. This helps them set. Then you can transfer to the freezer.
If kept in an airtight container these protein balls will keep in the fridge for 1-2 weeks or up to 3 months in the freezer.
These chocolate loaded protein bites are the perfect batch snack recipe! Make them ahead and freeze them to enjoy as needed. I hope you love them as much as we do!
Recipe FAQs
Why are my energy balls crumbly?
Some nut butter can be drier than others. If you need to, add a splash of water to help the mixture come together better. 
Can I use quick oats?
Yes you can. I like the old fashioned oats because it gives a slightly chewier texture, but it will work with quick oats as well.  
What if I don't have protein powder?
If you don't have protein powder, you can use the chocolate breakfast essentials packets (found at Costco or your local grocery store). Or you can use cocoa powder, but you'll want to add additional sweetener to balance out the bitterness of the cocoa powder.
More Healthy Snacks
Almond Joy Protein Balls
These Almond Joy Protein Balls are packed with chocolate protein powder, delicious almond butter, and Almond Joy ingredients such as almonds, coconut, and chocolate! Such an easy to make snack that's healthy and portable.
Instructions
In a large bowl combine all of the above ingredients and mix until combined.

Form into 1 ½ – 2 inch balls.

Place in a air tight container or ziplock bag and store in the fridge or freezer. 
Did you make this recipe?
Leave a star rating and review on the blog post letting me know how you liked this recipe! Take a picture and tag @saltandbaker on Instagram and Facebook so I can see what you're making!