Maple Popcorn with Bacon
This post may include affiliate links. As an Amazon Associate I earn from qualifying purchases.
This Maple Popcorn with Bacon is the perfect sweet and salty snack made with just 4 ingredients! The popcorn kernels are cooked in bacon grease then coated in a delicious maple syrup and butter mixture, made complete with bacon pieces.
Popcorn is such a simple snack, but there are plenty of ways to mix things up with different flavors! Add some cinnamon for a delicious Cinnamon Roll Popcorn treat! Or you can add white chocolate and Oreos in my amazing Oreo Popcorn confection! Parmesan Popcorn is another delicious way to lean into that amazingly salty flavor.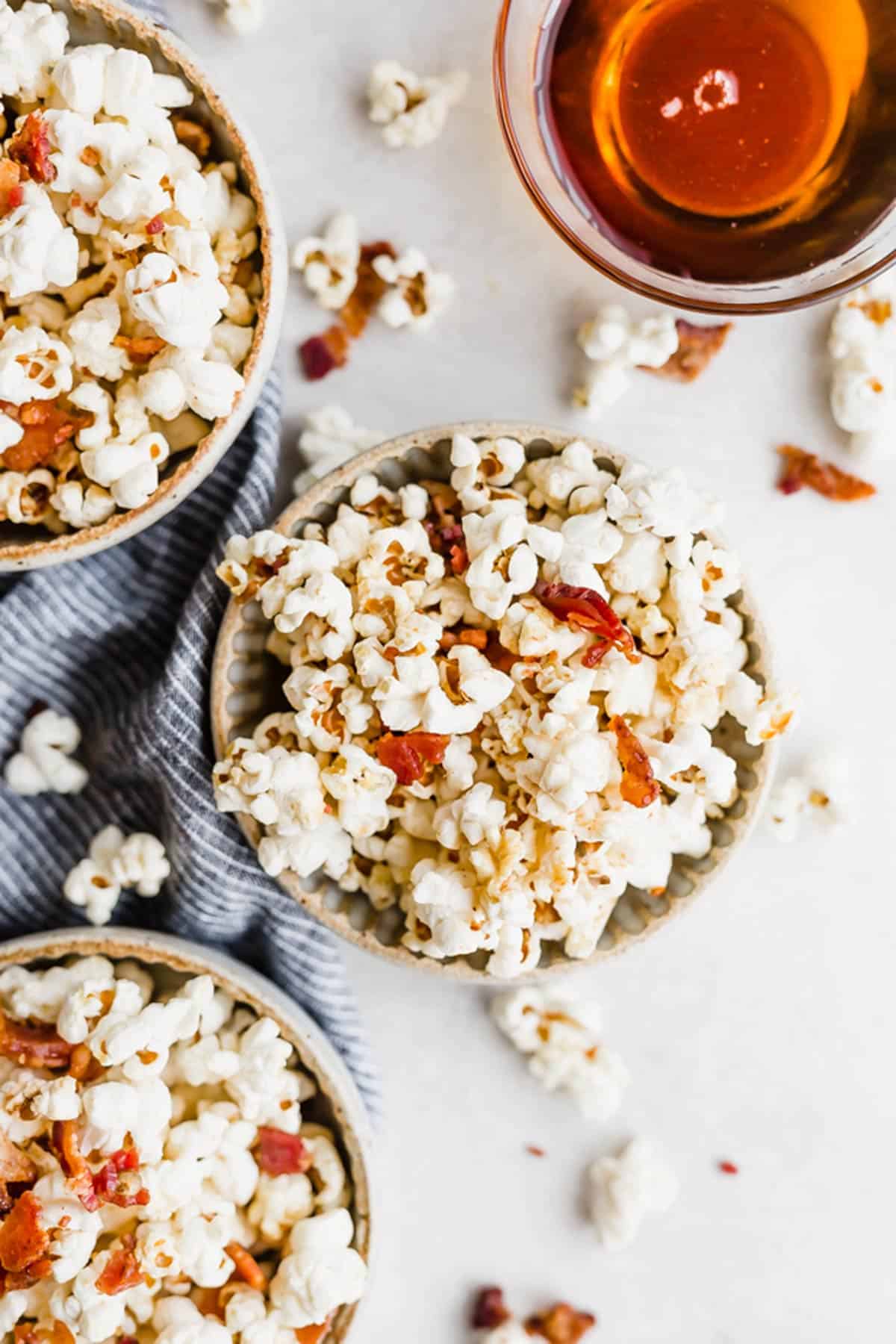 Why This Recipe Works
Easy stovetop popcorn recipe. Making popcorn on the stove is easy with this delicious maple bacon popcorn!
Favorite party snack. If you bring it to your next party EVERYONE will rave about it! And I guarantee it'll disappear in minutes! Bits of maple coated bacon tossed with freshly popped popcorn satisfies the tastebuds on every level.
Delicious maple popcorn. I love combining the butter and maple syrup to drizzle on to the popcorn. It's the perfect combination. Then, with the bacon pieces? So good!
Ingredient Notes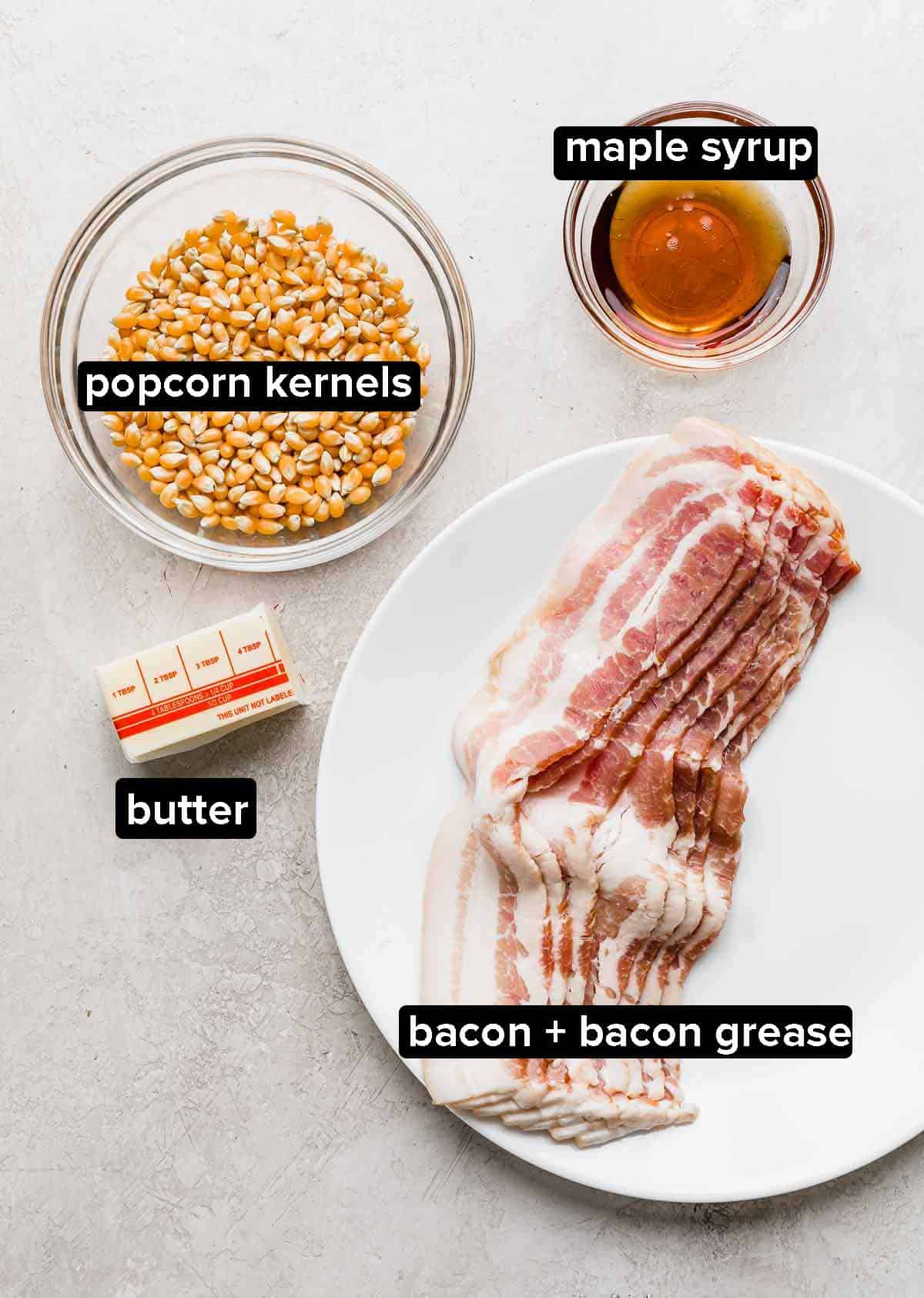 Bacon/Bacon Grease: You'll use the bacon grease from cooking the bacon to pop the popcorn kernels. If you're a bacon lover, this bacon popcorn will be your new favorite combination!
Popcorn Kernels: This maple popcorn is cooked in bacon grease (we gotta cook the popcorn in something, may as well be the bacon grease for extra flavor!)
Maple Syrup: Using maple syrup as a base sweetener flavor for this maple popcorn is amazing! Include the bacon pieces and you have yourself the most amazing sweet and salty treat!
Butter: Can't forget the delicious buttery popcorn element.
Step-by-Step Instructions
Cook the bacon. Using a large skillet with a skillet lid, cook 8 thick bacon slices. Once cooked, transfer to a plate lined with paper towels. Let cool then crumble into small pieces. Be sure to reserve 3 tablespoons of bacon grease.
Pop the popcorn kernels. Add the reserved bacon grease to a large pot set over medium heat. Once the grease is warm, add 3/4 cup popcorn kernels and cover the pot with a lid.
Shake the pot. Once you hear kernels popping, shake the pop carefully! Shake every 20 seconds until the popping stops (about 7 minutes). Transfer the popped popcorn to a large bowl.
Make the maple topping. Add 2 1/2 T maple syrup, the crumbled bacon and 4 T melted butter to a small bowl. Mix to combine. Pour the maple bacon mixture over the popcorn and toss to combine. Sprinkle with salt if desired. Enjoy!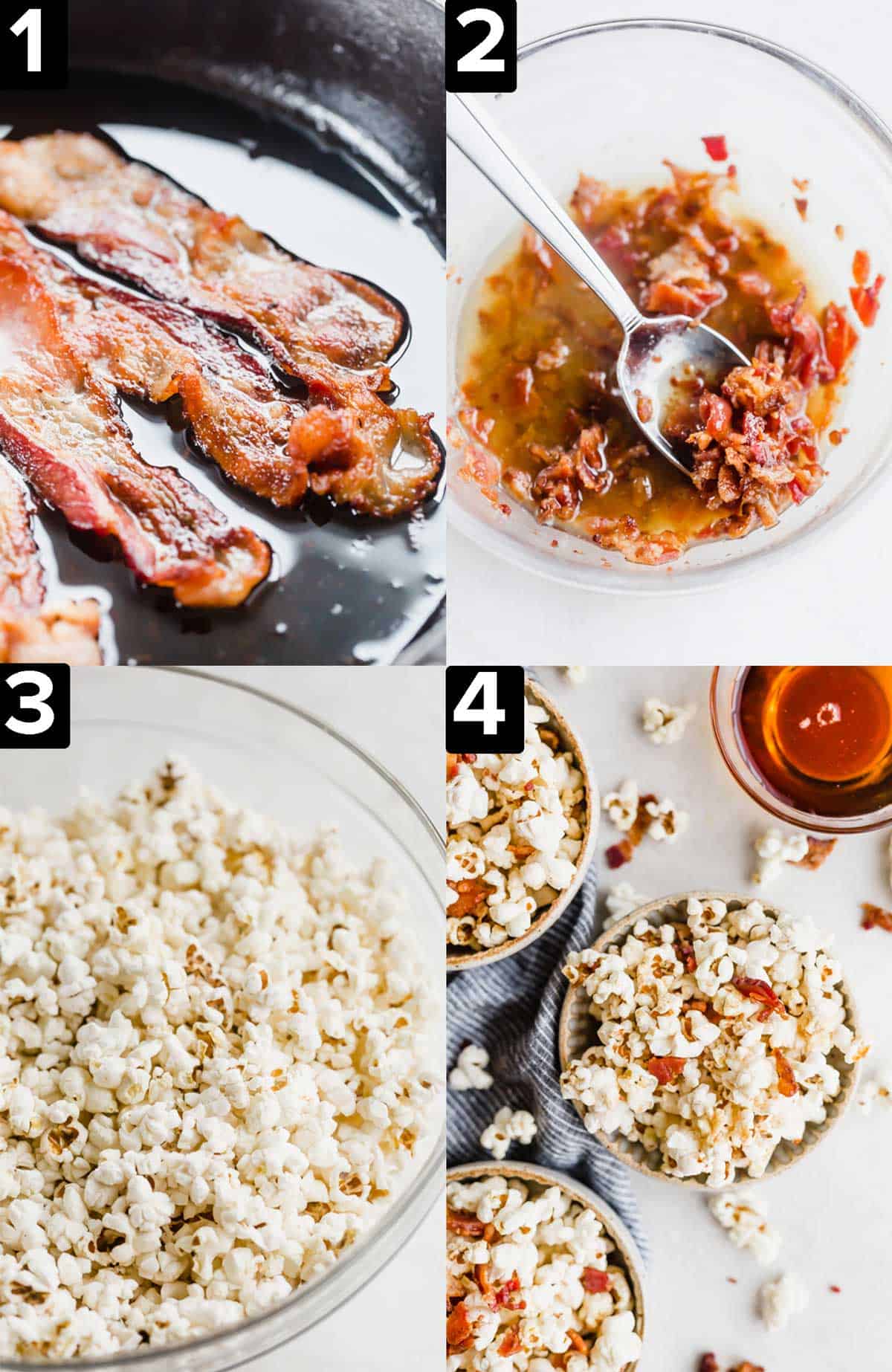 Recipe Tips
Cooking bacon can be a huge mess! Normally, I prefer the simple route of microwave bacon. However, we need the bacon grease, so microwave bacon won't work for this recipe.
Whenever I cook bacon on the stove, I use my large skillet with a skillet lid to reduce mess from the grease splatters.
Don't cook the popcorn kernels for too long or it will burn.
Make Ahead, Storing, and Freezing
Make ahead of time and store in an airtight container or ziplock bag at room temperature for 2-3 days.
You can freeze popcorn if you'd like! It just keeps the shelf life a bit longer. Just note that the maple syrup glaze on this maple bacon popcorn will solidify and so you'll want to let the popcorn come back to room temperature before eating.
Recipe FAQs
Can you pop popcorn with maple syrup? 
No. Popcorn should be popped with oil (or bacon grease in this case!) Using a sticky syrup won't work because the syrup will burn. Simply drizzling the maple syrup on top of the popcorn will give you enough maple flavor. 
Is maple syrup good on popcorn?
Yes it is! And the combination of maple bacon popcorn is even more delicious because of that salty bacon element! 
Can I use microwave bacon?
You can, but then you'll need to cook the popcorn in a different oil (since we cook the popcorn in bacon grease in this maple popcorn recipe). You can use vegetable oil, olive oil or coconut oil. Don't use butter to pop popcorn because it will just burn. You want to use oil because it has a higher smoking point. 
Can I pop popcorn with butter?
No. You need to use oil. Butter has a lower burning point than oil.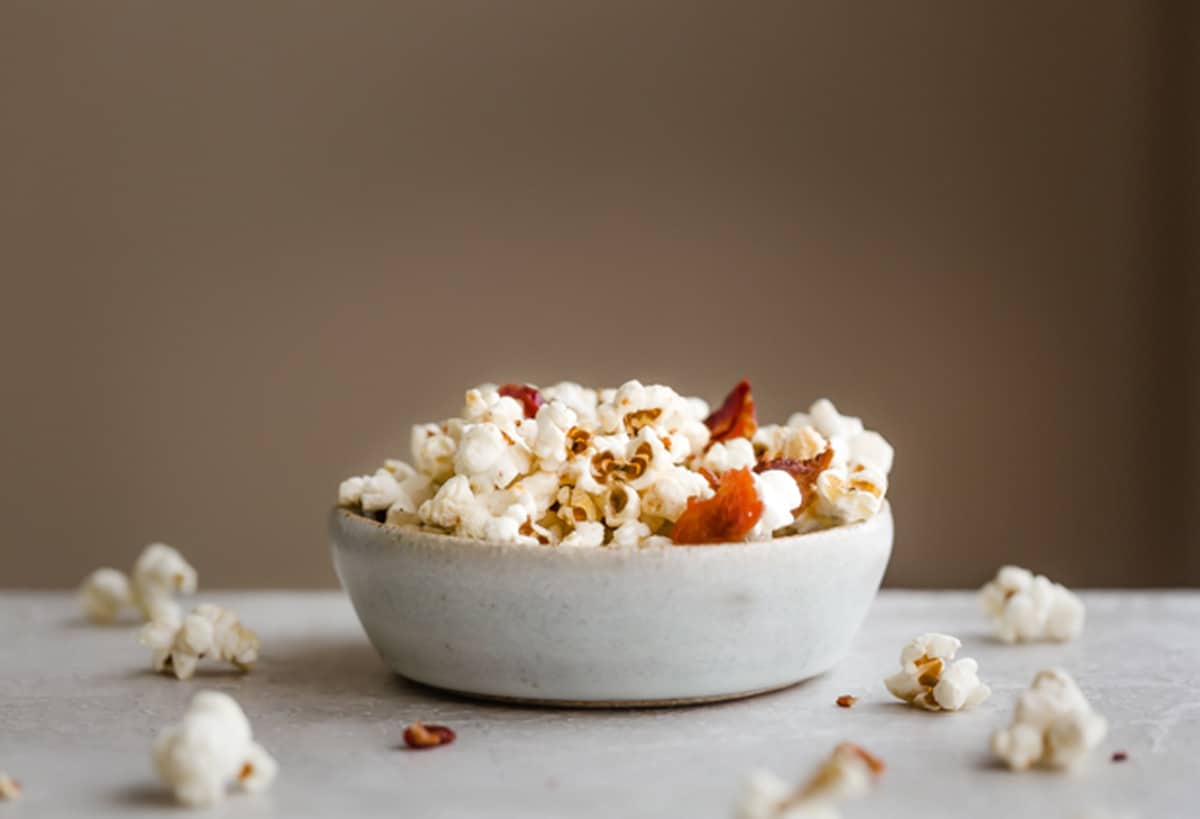 More Popcorn Recipes
Maple Bacon Popcorn
This maple bacon popcorn is the perfect sweet and salty snack!
Ingredients
3

tablespoons

bacon grease

3/4

cup

popcorn kernels

8

thick bacon slices

2 1/2

tablespoons

maple syrup

4

tablespoons

melted butter
Instructions
Cook bacon. When finished cooking, transfer the bacon to a paper towel lined plate. Crumble the bacon into small bite size pieces. Reserve 3 T. of the bacon grease. Set bacon grease aside.

In a LARGE pot set over medium heat, add the bacon grease. Once the bacon grease is warm, add the popcorn kernels to the pot. Cover the pot with a lid.


When you hear the kernels begin to pop, shake the pot. (Do so carefully)!! Do this every 20 seconds or so, until done cooking. About 7 minutes or until most of the kernels have successfully popped.


When popcorn has finished popping transfer the popped popcorn to a large bowl.


In a small bowl combine crumbled bacon, maple syrup, and melted butter. Mix to combine. Pour overtop the popped popcorn. Season the popcorn with salt to taste.

Notes
*Make sure you use a LARGE pot when popping the popcorn kernels.
Did you make this recipe?
Leave a star rating and review on the blog post letting me know how you liked this recipe! Take a picture and tag @saltandbaker on Instagram and Facebook so I can see what you're making!