Red Velvet Popcorn
This post may include affiliate links. As an Amazon Associate I earn from qualifying purchases.
Red Velvet Popcorn is made by drizzling melted white chocolate on top of popped popcorn and tossing in red velvet cake crumbs. It's a bright red popcorn that is perfect for Valentine's Day, Christmas, the Fourth of July, or any special occasions!
For some reason, red velvet is the unofficial cake/dessert for Valentines Day. So, if you're on the look out to try some delicious red velvet recipes, then be sure to add my Oreo Red Velvet Cake, Red Velvet Brownies and Red Velvet Donuts to your list!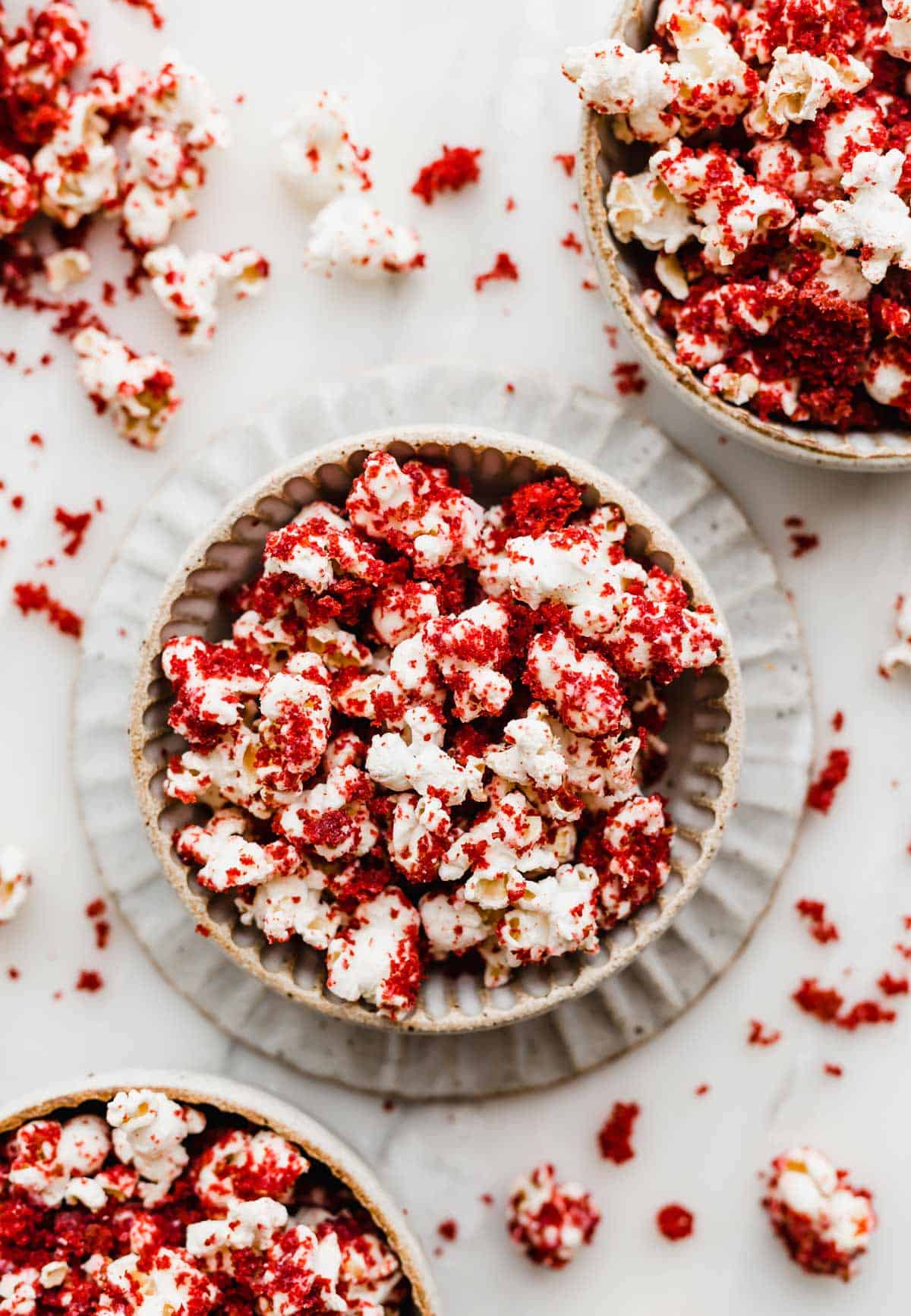 Why This Recipe Works
White chocolate cake popcorn. This sweet snack is delicious with the melted white chocolate and the bright red velvet cake! It's a festive treat for any holiday or special occasion. 
Red popcorn. If you ever need a red popcorn recipe, this is an amazing and easy recipe! The popcorn isn't died red, but the red pieces of cake add that pop of red color. 
Perfect Valentine's treat. Bag this red velvet popcorn up and give away as little gifts for Valentine's Day or Christmas! Or make for a family movie nights, date nights … the options are endless. 
Ingredient Notes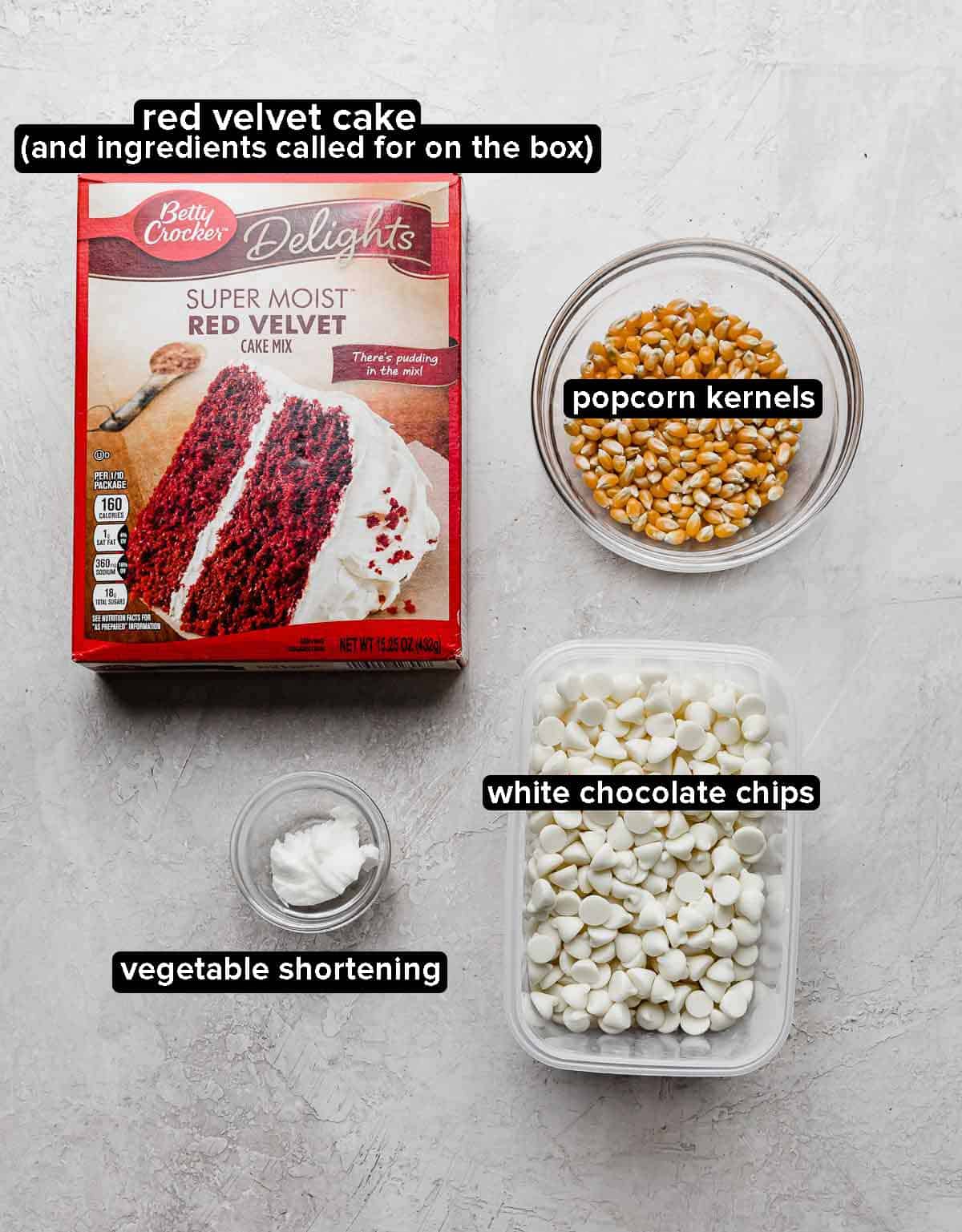 Red Velvet Cake Mix: You need 1 boxed red velvet cake mix, already made. However, we only use the crumbs from about 1/3 of the cake. So this is a great popcorn recipe to make when you have a few leftover red velvet cupcakes! 
White Chocolate Chips: To help chocolate chips melt better, I add 1 tsp vegetable shortening or coconut oil. This will just keeps this a lot more even and smooth. 
Freshly Popped Popcorn: If you are popping your own from popcorn kernels, you'll need about 1/3 cup popcorn kernels. If using microwave popcorn, I would opt for one without butter — just plain! 
Step-by-Step Instructions
Bake and crumble the red velvet cake. Using a red velvet cake mix (or my Homemade Red Velvet Cake), make the cake according to the package directions. Remove from the oven and let cool. Take 1/3 of the cake and crumble it! Invite your children to help because they love it! 
Pop the popcorn. Time to pop some popcorn! I used my air popper for this. You need 12 cups of freshly popped popcorn for this red velvet cake popcorn. 
Melt the white chocolate chips. Add 1 1/2 cups white chocolate chips and 1 tsp vegetable shortening or coconut oil to a microwave safe bowl. Microwave in 30-second increments, stirring after each, until fully melted and smooth. Or melt in a double boiler. 
Coat the popcorn in the melted chocolate. Place the popcorn on a cookie sheet or in a large bowl. Drizzle the white chocolate on the popcorn (toss to coat if you placed the popcorn in a large bowl). 
Sprinkle with red velvet cake crumbs! Immediately after adding the white chocolate, add the cake crumbs to the chocolate coated popcorn and gently toss to coat. Let the chocolate set, then serve! Enjoy.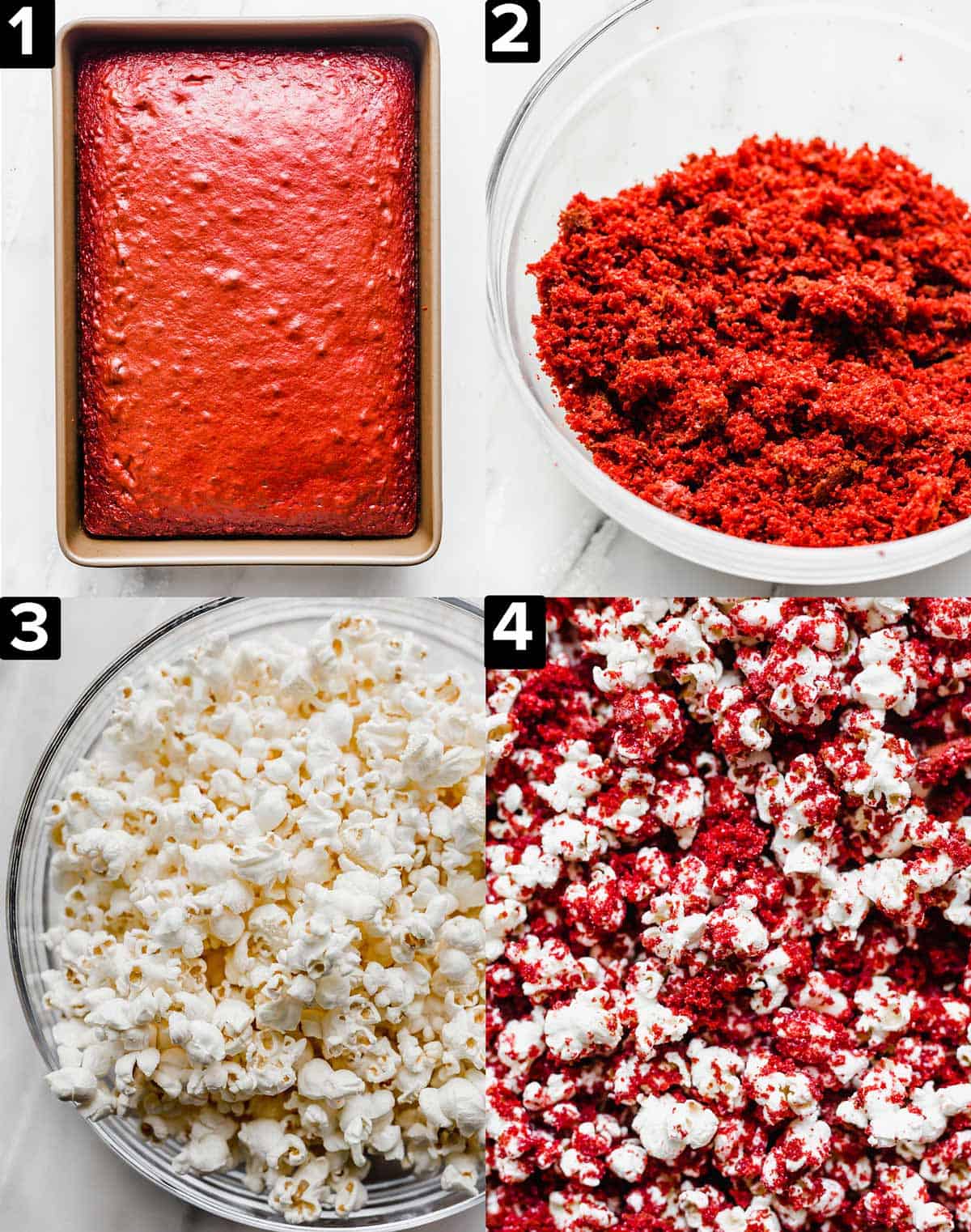 Recipe Tips
To crumble the cake, I simply dug into the cake and starting breaking the cake into small pieces. It was a lot of fun! If you have children or grandchildren, get them involved in this step!
You want to add the cake crumbs right after the chocolate so you have more cake crumbs that stick to the popcorn and stay there when the chocolate sets.
This would be so cute packaged and gifted to friends, family, and loved ones.❤️
Make Ahead, Storing, and Freezing
Make this red velvet popcorn ahead of time and store in an airtight container for 2-3 days.
I hear that freezing popcorn can help make it last longer, so if that's your jam and you want to give it a try — go for it! I can't keep this popcorn around long enough to freeze any leftovers.
Recipe FAQs
Can I use a different type of cake?
Definitely! This would be a fun recipe to adapt for any cake mixes — lemon or funfetti would be yummy! 
Can I use homemade red velvet cake?
Yes. I have an amazing recipe for Old Fashioned Red Velvet Cake you can use. You don't need a whole cake for this red velvet popcorn recipe, so feel free to make a homemade cake you can enjoy PLUS the popcorn! Win win, my friends. 
Can I use white candy melts?
For sure!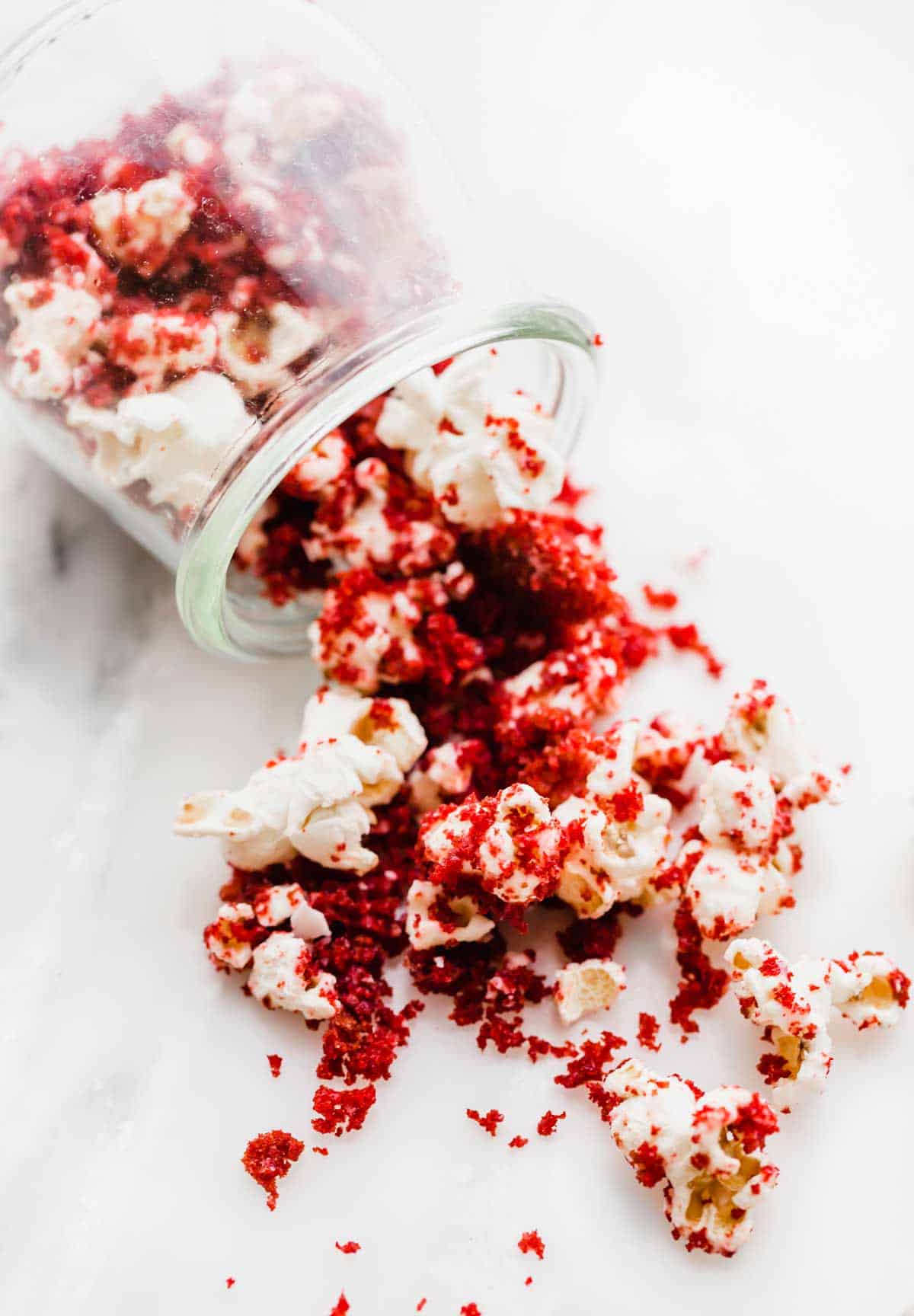 More Gourmet Popcorn Recipes
Red Velvet Popcorn
Popped popcorn coated in melted white chocolate and covered in crumbled red velvet cake. 
Ingredients
1

box

red velvet cake mix

-

baked according to package directions

1 1/2

cups

white chocolate chips

1

teaspoon

vegetable shortening

12

cups

freshly popped popcorn

-

about 1/3 cup popcorn kernels
Instructions
Once the cake has been baked, remove it from the oven and let it cool. Once cool, crumble about 1/3 of the cake into small pieces. You'll need 4 cups of crumbled cake.

In a medium size bowl add the white chips and vegetable shortening. Microwave at half power in 30 second intervals, stirring after each, until fully melted. *


Line 1 baking sheet with wax paper. Spread the popcorn over the baking sheet. Drizzle the melted white chocolate over the popcorn, and gently toss to coat. **


Immediately sprinkle the red velvet cake crumbs over the white chocolate covered popcorn. Gently toss until the popcorn is evenly coated with the cake crumbs.


Let the chocolate set. Serve!
Notes
* You can also melt the chocolate over a double boiler if you'd prefer.
**OR you can place the popcorn in a large bowl and drizzle the white chocolate over the popcorn. Toss to coat. THEN spread the white chocolate covered popcorn on the wax paper lined baking sheet and sprinkle the cake crumbs overtop. 
Did you make this recipe?
Leave a star rating and review on the blog post letting me know how you liked this recipe! Take a picture and tag @saltandbaker on Instagram and Facebook so I can see what you're making!