Kettle Corn Popcorn
This post may include affiliate links. As an Amazon Associate I earn from qualifying purchases.
Kettle Corn Popcorn is easy to make at home with simple ingredients — all you need is oil, sugar, popcorn kernels and a large pot. It comes together in less than 10 minutes and makes the most delicious kettle corn you'll ever have! You'll go back for more and more!
There are so many ways to level up your popcorn game for family movie night! Make movie-theater quality popcorn with my Cinema Popcorn. Or sweeten things up with some different popcorn flavors like my Cinnamon Roll Popcorn, Chocolate Drizzled Popcorn, and Oreo Popcorn.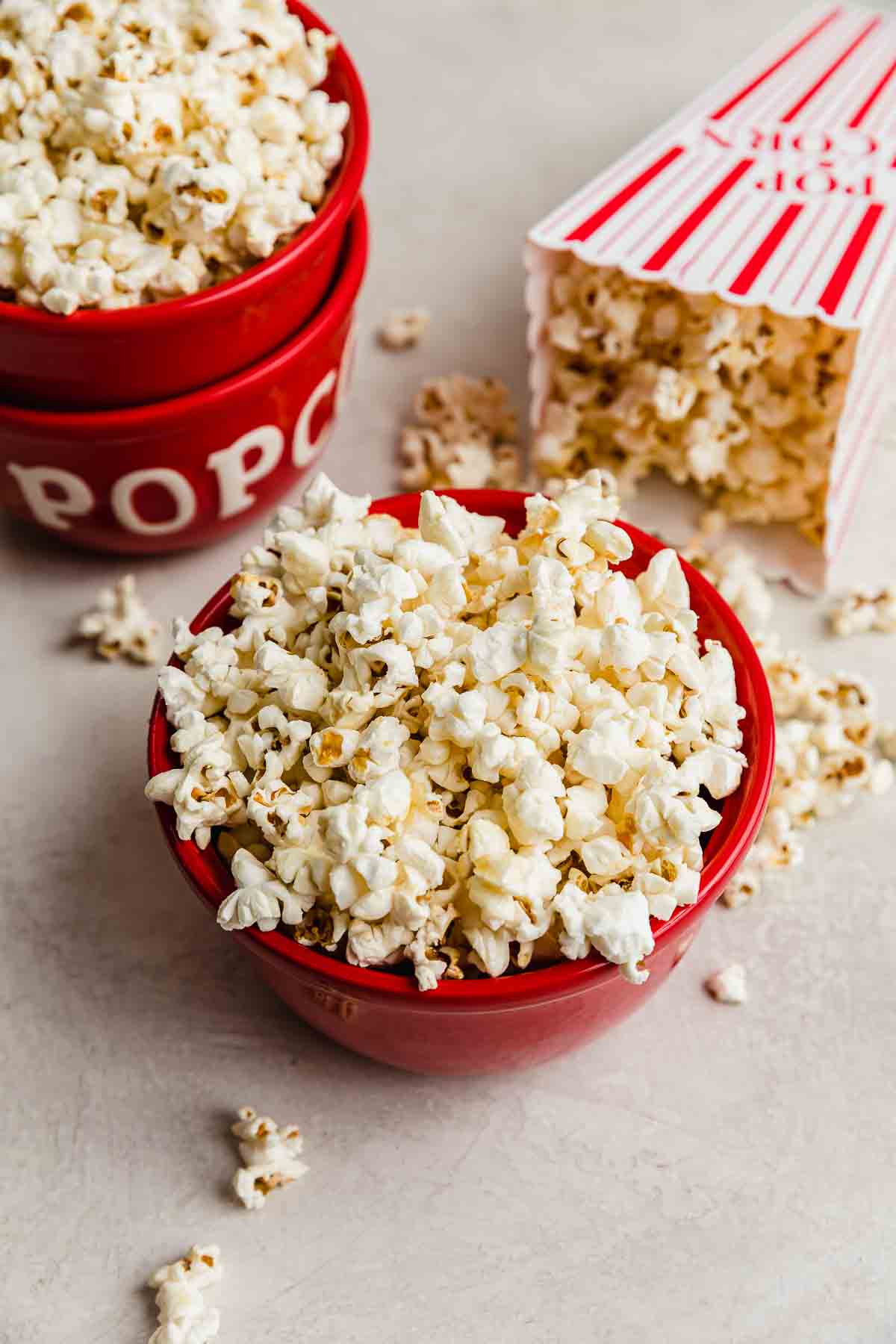 Why This Recipe Works
Delicious sweet and salty treat. The big question is kettle corn vs popcorn, right? Well kettle corn has a bit of sugar in it so it's sweeter than regular salty popcorn. The result is the perfect combination of sweet AND salty, fit for any party or family movie night.
Homemade kettle corn. You can make kettle corn at home with simple kettle corn supples! All you need is popcorn, two kinds of oils, sugar, and some salt. You don't even need a bunch of kettle corn equipment — no special popcorn popper required. Just a large pot!
Ingredient Notes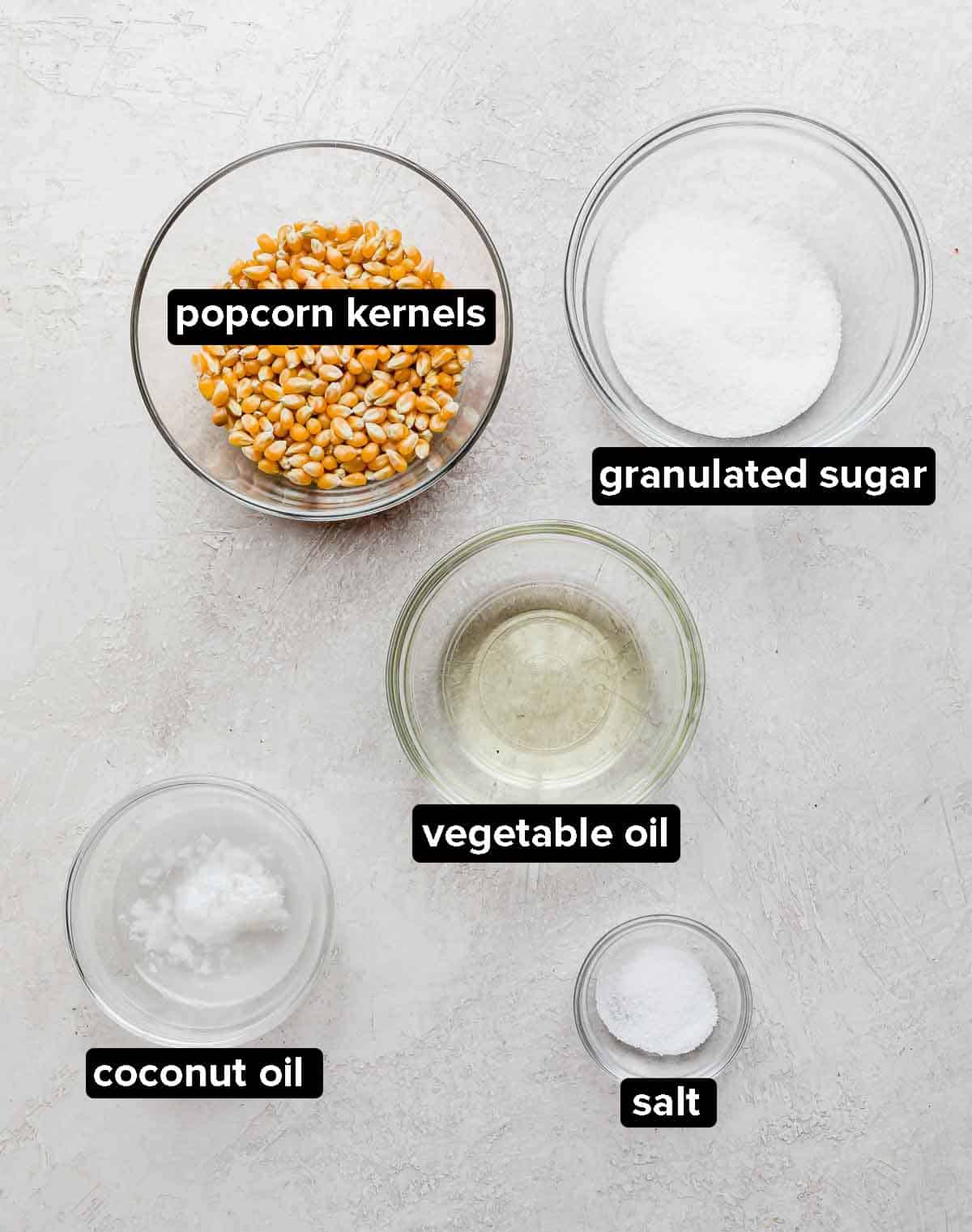 Oil: Using a mixture of vegetable oil AND coconut oil will give you the right flavor and the right types of oil to get hot enough to pop the popcorn kernels.
Popcorn Kernels: You need fresh popcorn kernels, not a bag of microwave popcorn for this kettle corn popcorn recipe.
Sugar: Kettle corn popcorn has sugar in it to make it sweet.
Step-by-Step Instructions
Heat the oil. Add 2 tablespoons coconut oil and 2 tablespoons vegetal oil to a large pot. Add 3 individual popcorn kernels. Set over medium-high heat, heat until all three kernels pop.
Add the sugar. Add 1/4 cup granulated sugar to the hot oil and stir. Add 1/2 cup unpopped kernels.
Cover and pop. Cover the pot with a lid and shake the pot every 3 seconds so the sugar doesn't burn. Continue until the popping has slowed down.
Remove and serve. Remove the pot from the heat and sprinkle with table salt. Shake out into a large bowl and let cool. Break apart any clumps. Portion the kettlecorn popcorn into bowls and serve. Enjoy!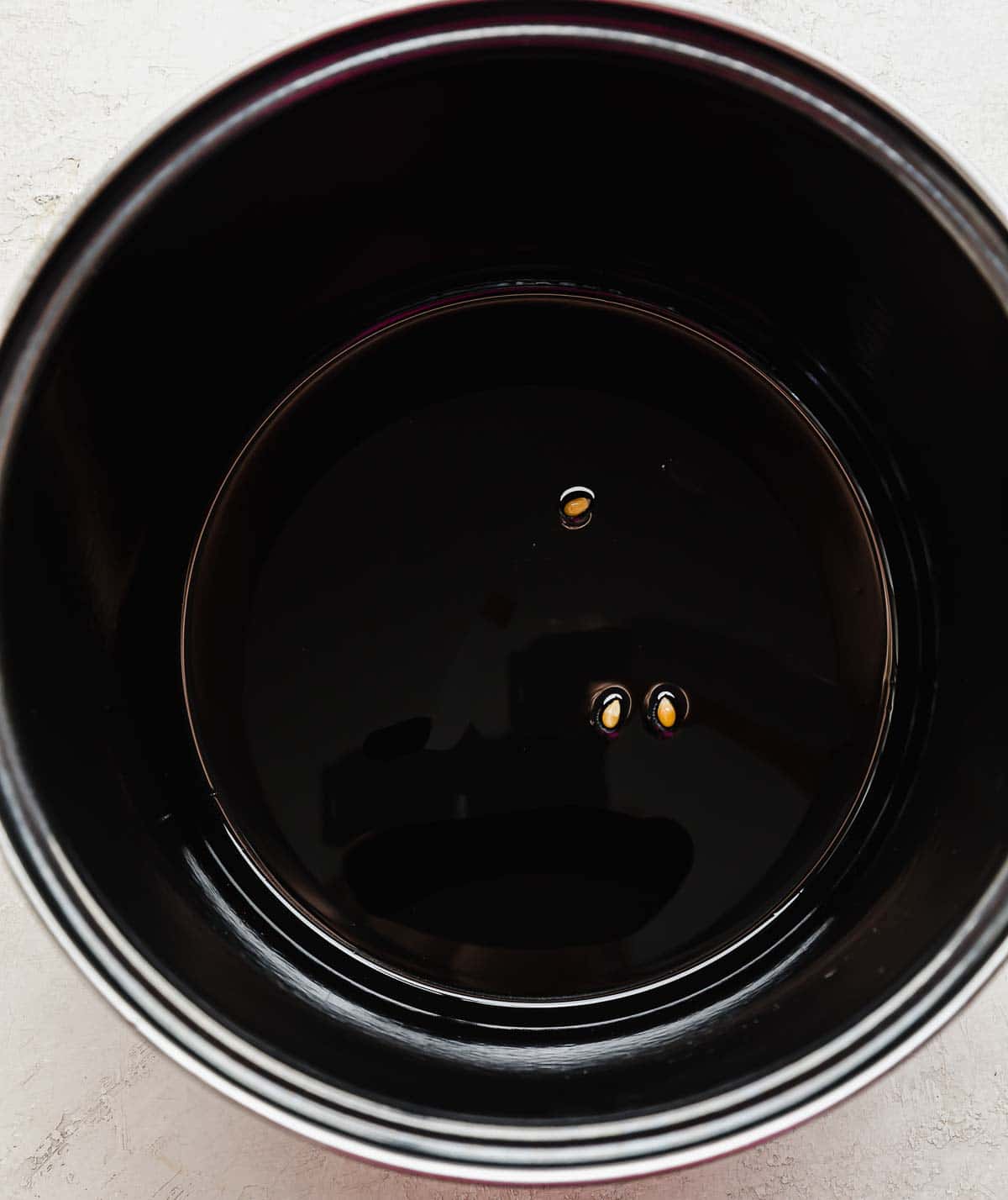 Recipe Tips
Make sure the lid for your pan is made for that pan — this will mean the lid will fit well so the popcorn can fully pop.
I like to wear hot pad gloves and lift the pot up, shake it, then set it down for 3 seconds and then repeat. It's a bit of an arm workout, but it is necessary to make sure the sugar doesn't burn at the bottom of the pan.
No special equipment required for this type of popcorn, but I would use a LARGE pot! The popcorn needs to have room to move around. If you don't have a very large pot, I would half this homemade kettle corn recipe to make it work.
Make Ahead, Storing, and Freezing
Store any leftover kettle corn popcorn in an airtight container at room temperature for up to 2 weeks. If stored in a plastic bag (like what it's sold in at local fairs), it may not last that long.
You can freeze popcorn to lengthen the shelf life.
Recipe FAQs

How is kettle corn different from popcorn?
Kettle corn has sugar in it, so it is sweeter than regular buttered and salted popcorn.  
Is kettle corn healthier than popcorn?
No. In fact, I would say it is less healthy than regular popcorn due to the added sugar. 
Why is it called kettle corn?
It used to be made in a large kettle! 
Is kettle corn sweet?
Yes! That's because it is made with sugar. 
How long does kettle corn last?
If you store it properly in an airtight container it can last up to 2 weeks.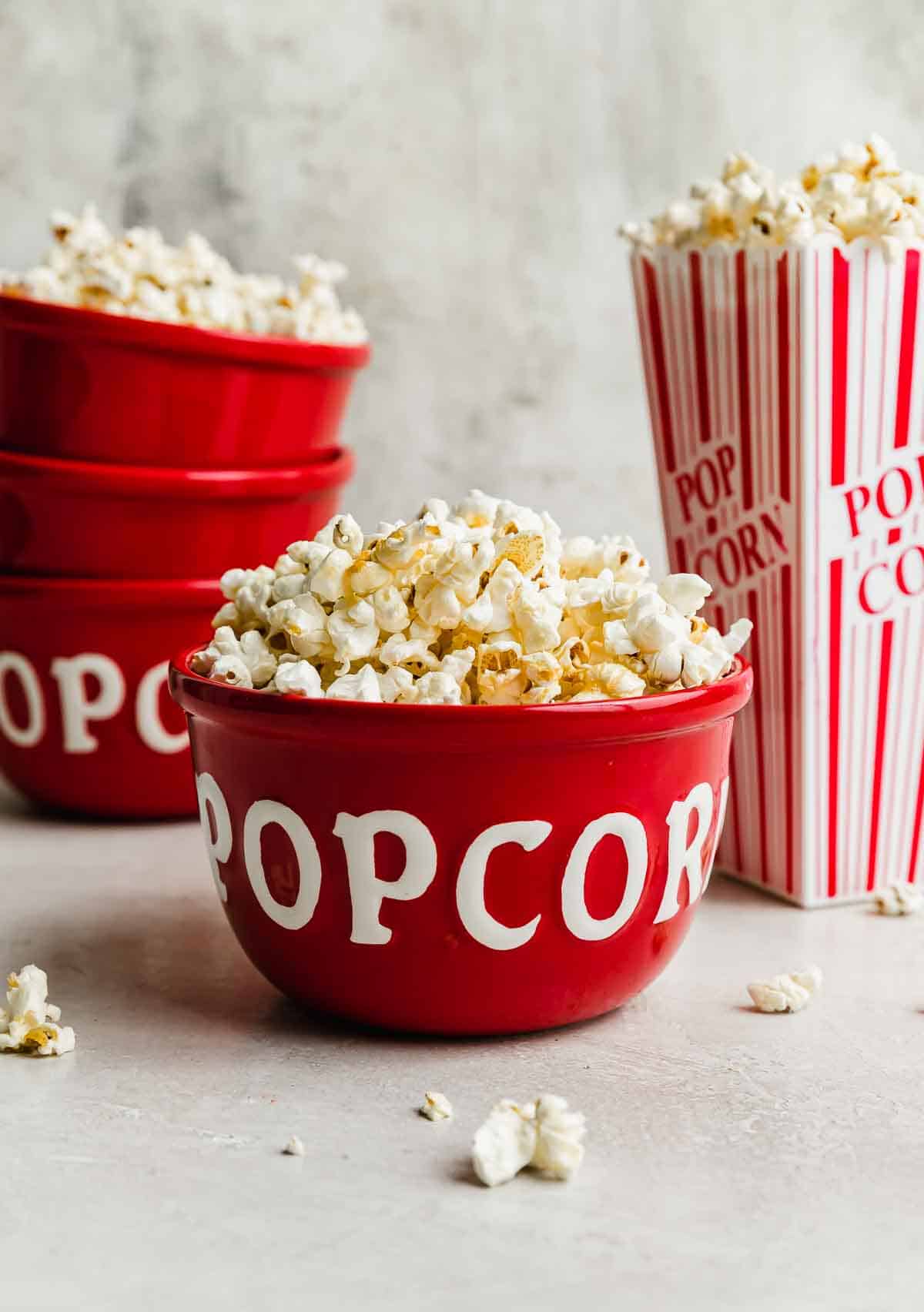 More Gourmet Popcorn Recipes
Kettle Corn Popcorn
My favorite sweet and salty snack! This homemade kettle corn popcorn is so easy to make, y'all will love it!!
Ingredients
2

tablespoons

vegetable oil

2

tablespoons

coconut oil

1/2

cup

fresh popcorn kernels

1/4

cup

granulated sugar

salt

-

to taste (about 1/4-1/2 teaspoon)
Instructions
Add oil to a large pot set over medium – high heat along with 3 popcorn kernels. When all three kernels pop, stir in the sugar then add the rest of the popcorn kernels. 

Cover the pot with a tight fitting lid and shake the pot every 3 seconds to prevent sugar from burning. I like to lift the pot from the burner and shake it, then place it on the burner for 3 seconds, and repeat until popping has slowed. This is a bit of an arm workout but necessary to prevent scorching. 

When the popping has slowed remove the pot from the heat, sprinkle some salt into the pot and give it one last shake before transferring to a large bowl. Let cool, then break apart any large clumps. 
Did you make this recipe?
Leave a star rating and review on the blog post letting me know how you liked this recipe! Take a picture and tag @saltandbaker on Instagram and Facebook so I can see what you're making!