Cinema Popcorn
This post may include affiliate links. As an Amazon Associate I earn from qualifying purchases.
This Cinema Popcorn tastes just like the movies! With just 3 ingredients, you can learn how to make movie theater popcorn right at home.
Friday nights are movie nights at our house, and it isn't complete without my kids' favorite movie popcorn! They love the flavor, and it really does make it feel like a they are getting their popcorn right from the movie concession stand! Sometimes we mix the popcorn flavors up by serving some Oreo Popcorn, Cinnamon Roll Popcorn or Chocolate Drizzled Popcorn!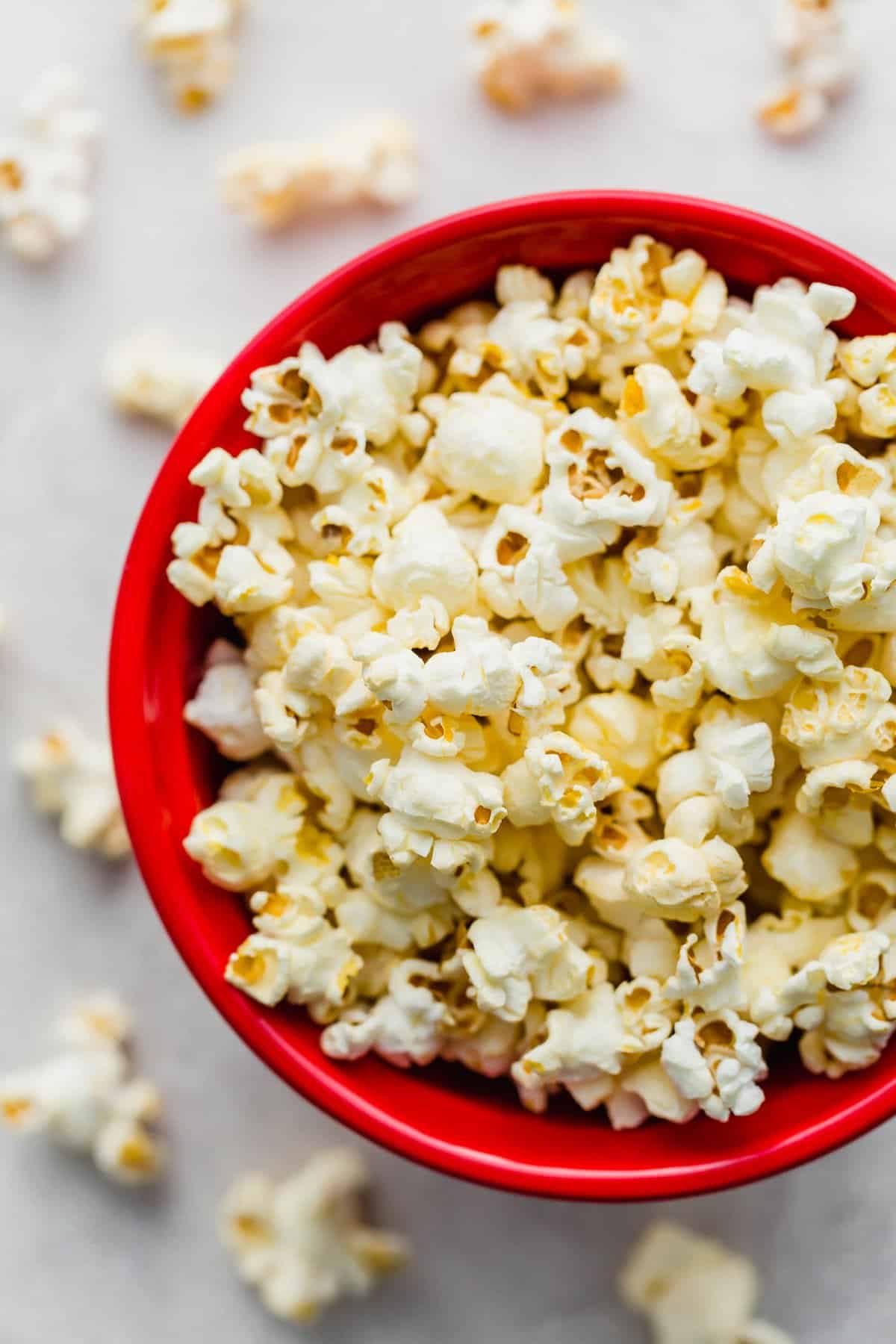 Why This Recipe Works
Only need 3 ingredients. That's right! You only need 3 ingredients to make cinema popcorn right at home!
Tastes just like movie theater popcorn. The secret to this movie theater popcorn recipe is using flavacol. Trust me on this, it's a must have and yes you'll want to go buy it just for this recipe!
Popcorn without butter. I know what you're thinking, "where's the butter?" Thanks to the flavacol, this is a no butter popcorn! Just grab some coconut oil and you are set! The flavacol contains artificial butter flavor, no actual butter is in the product. It's the best way to make dairy free popcorn!
Ingredient Notes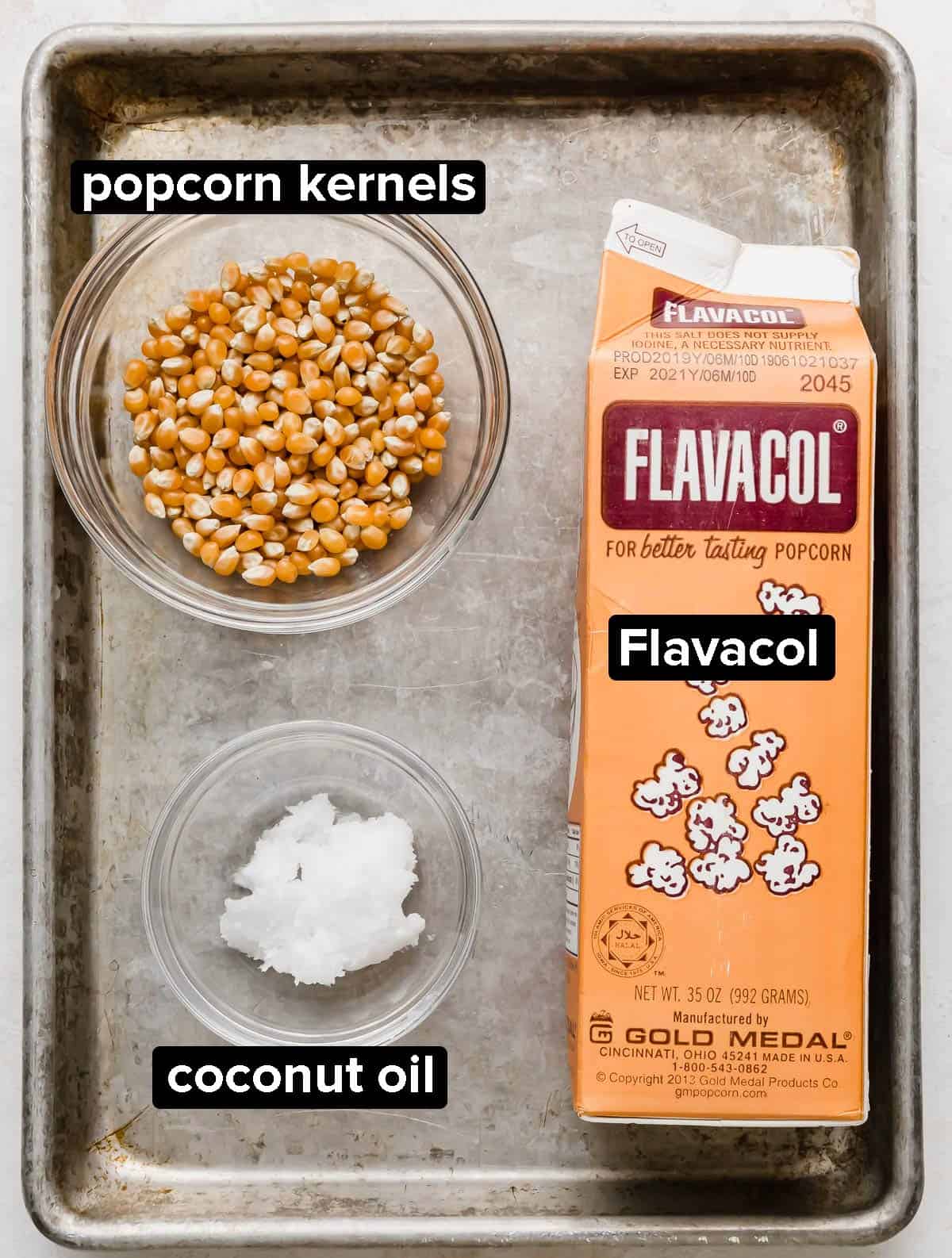 Coconut Oil:While you can use vegetable oil or canola oil, movie theaters use coconut oil to make their popcorn. Totally works for me because it is much healthier! It adds a nice depth of flavor but don't worry, you wouldn't even know there is coconut oil.
Flavacol Seasoning: This is the key ingredient so you'll for sure want it! Flavacol is popcorn salt made by Gold Medal which provides the buttery popcorn flavor without using regular butter. Some Home Depots carry it (it's hit or miss) but you can order it online which is what I did. It's a serious game changer so without the flavacol, you really won't get the cinema popcorn flavor.
Popcorn Kernels: Any brand will do!
Step-by-Step Instructions
Heat the pan. Place a large pot over medium high heat. Add the coconut oil and flavacol. Stir until the flavacol is dissolved.
Add the popcorn kernels. Once the oil is hot, add the popcorn kernels and cover the pot with the lid.
Stir. With the lid still one, and while using glove hot pads, shake the pot every 15 seconds to stir the popcorn and prevent burning.
Remove and serve. After about 2 minutes, the popcorn should be done. Do not burn! Remove from the heat and enjoy with a movie!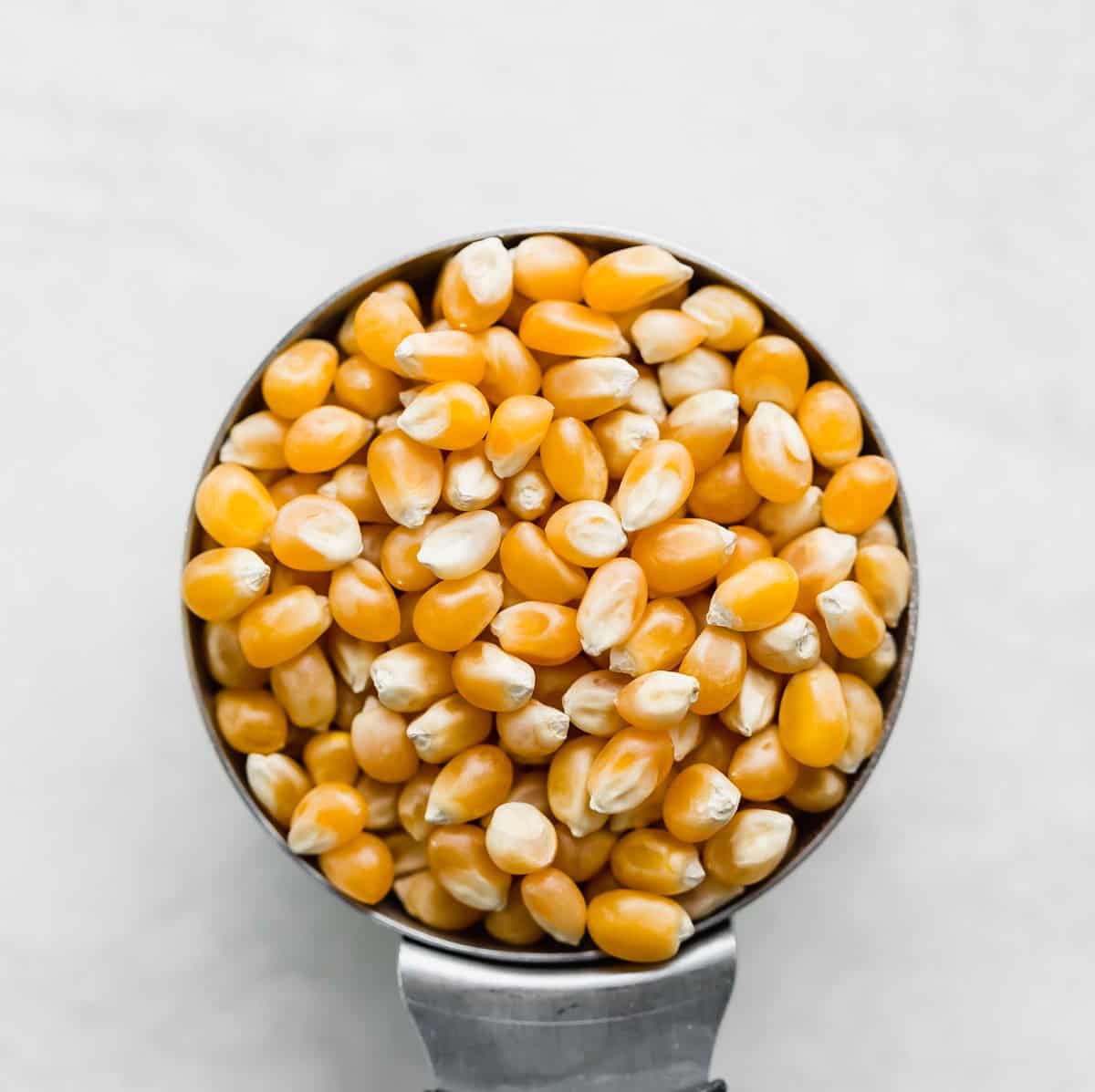 Recipe Tips
You can use less than the noted 1 tsp of flavacol. 3/4 teaspoon will give you a lighter and more subtle "salty" taste.
I use these glove style hot pads. They are the best!
You can scale up this recipe to make more, but be sure to not do too much popcorn in the pan so you run out of room for it to pop. If you have a really large pot, you can double the recipe, or just make a few batches right after another. 
If you're more of a kettle corn lover, try my homemade kettle corn recipe.
Make Ahead, Storing, and Freezing
Store the cinema popcorn in an airtight container or Ziplock bag at room temperature for 1-2 days.
I recommend making a fresh batch of movie popcorn right when you want to enjoy it!
Recipe FAQs
Why does movie theater popcorn taste better?
That's all thanks to the flavacol! You really won't get the same movie theater flavor without it! 
How do I make my popcorn taste like the movies?
Flavacol is the popcorn seasoning movie theaters use that makes their popcorn so much better! See the next question for what flavacol is exactly. 
What is flavacol?
Flavacol is what is used to make movie theater popcorn. It's a seasoning salt that is really fine, which helps it stick to the popcorn better. It also contains artificial butter for the added butter flavor and some yellow color to make the popcorn nice and yellow like the movies! 
Is flavacol dairy free? Is flavacol gluten free?
Yes and yes! There is no dairy and no gluten in flavacol. Flavacol contains artificial butter flavor but no actual butter. It's the perfect dairy free popcorn!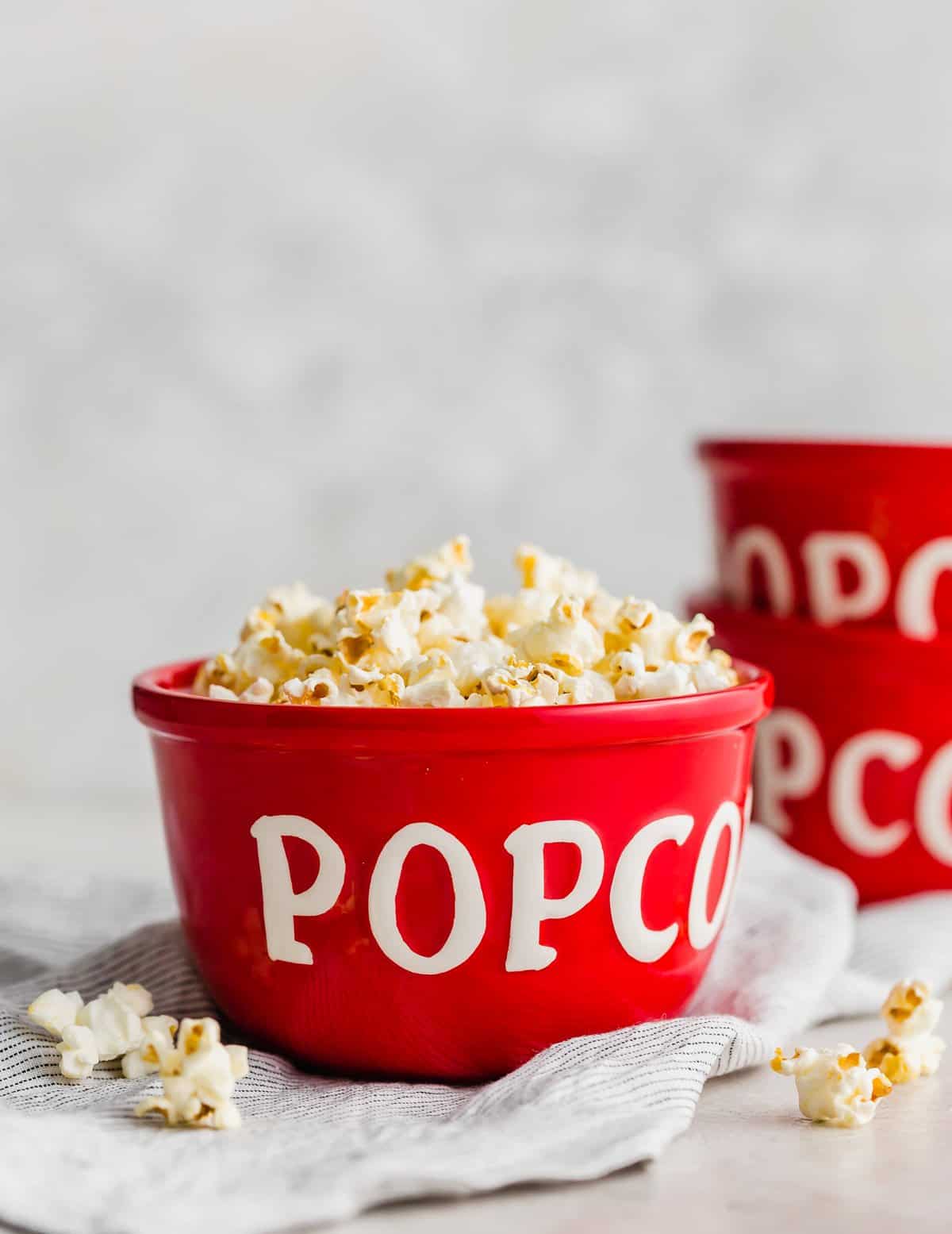 More Popcorn Recipes
Cinema Popcorn
This 3 ingredient movie theater popcorn tastes JUST like the popcorn served at the theaters!
Ingredients
1 Tablespoons + 1 teaspoons

coconut oil

1

teaspoon

Flavacol

1/3

cup

popcorn kernels
Instructions
Set a large pot over medium high heat. Once the pan is warm, add the coconut oil and Flavacol. Stir the flavacol until it is dissolved in the oil.

The oil should be fairly hot after a minute. Once hot, add the popcorn kernels to the pot and cover the pot with a lid.

Wearing hot pads (see notes), shake the pot every 10-15 seconds to ensure the popcorn kernels don't burn.

Once all of the kernels have popped, remove the pot from the heat and trasnfer the popped popcorn to a large bowl. Serve!
Notes
You can use less than the noted 1 tsp of flavocal. 3/4 teaspoon will give you a lighter and more subtle "salty" taste. 
I use these glove style hot pads. They are the best! 
Did you make this recipe?
Leave a star rating and review on the blog post letting me know how you liked this recipe! Take a picture and tag @saltandbaker on Instagram and Facebook so I can see what you're making!