Beetroot Hummus
This post may include affiliate links. As an Amazon Associate I earn from qualifying purchases.
Beetroot Hummus is as delicious as it is beautiful — the bright hot pink is the perfect pop of color for any appetizer or party spread. Made with roasted beets, ricotta, chickpeas, tahini, and coriander, this homemade hummus will be your new favorite!
If you're looking for another homemade hummus, my Sweet Potato Hummus is equally delicious! And another favorite dip and sandwich spread of mine is my Amazing Green Sauce Recipe! It's perfect on everything!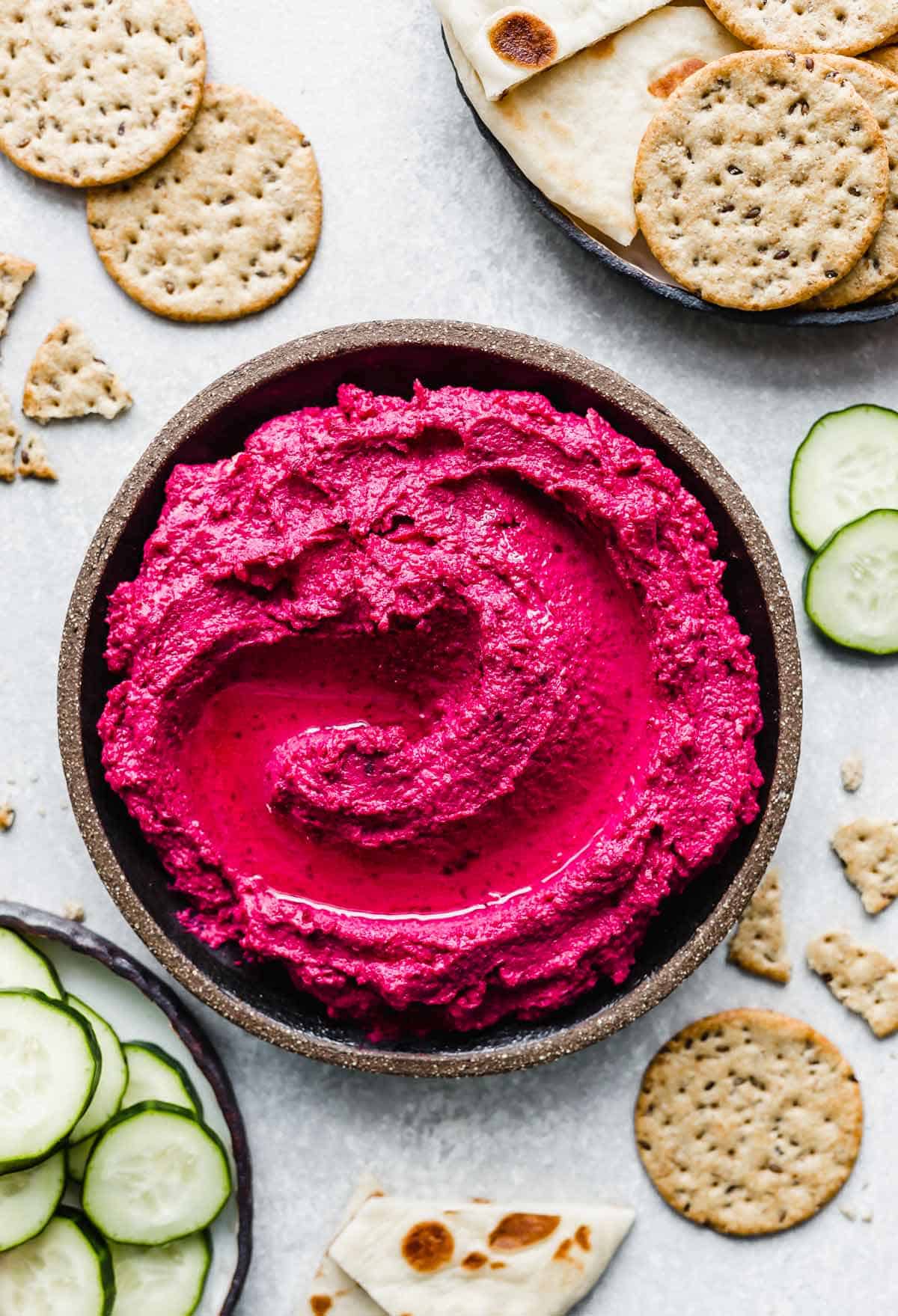 Why This Recipe Works
Easy hummus recipe. Making hummus at home is super easy! Plop everything into a food processor and you're good to go. It's easy to whip up for a quick healthy snack or for spontaneous get-togethers.
Best beetroot hummus recipe. This beet hummus recipe is the best! It's made with beautifully oven roasted beets, coriander (for the perfect spice touch), ricotta (for a creamy element), tahini and chickpeas (for the iconic hummus flavor and texture)!
Bright pink hummus. Thanks to the beets, this hummus has some seriously bright color! It's the perfect appetizer to brighten any day.
Ingredient Notes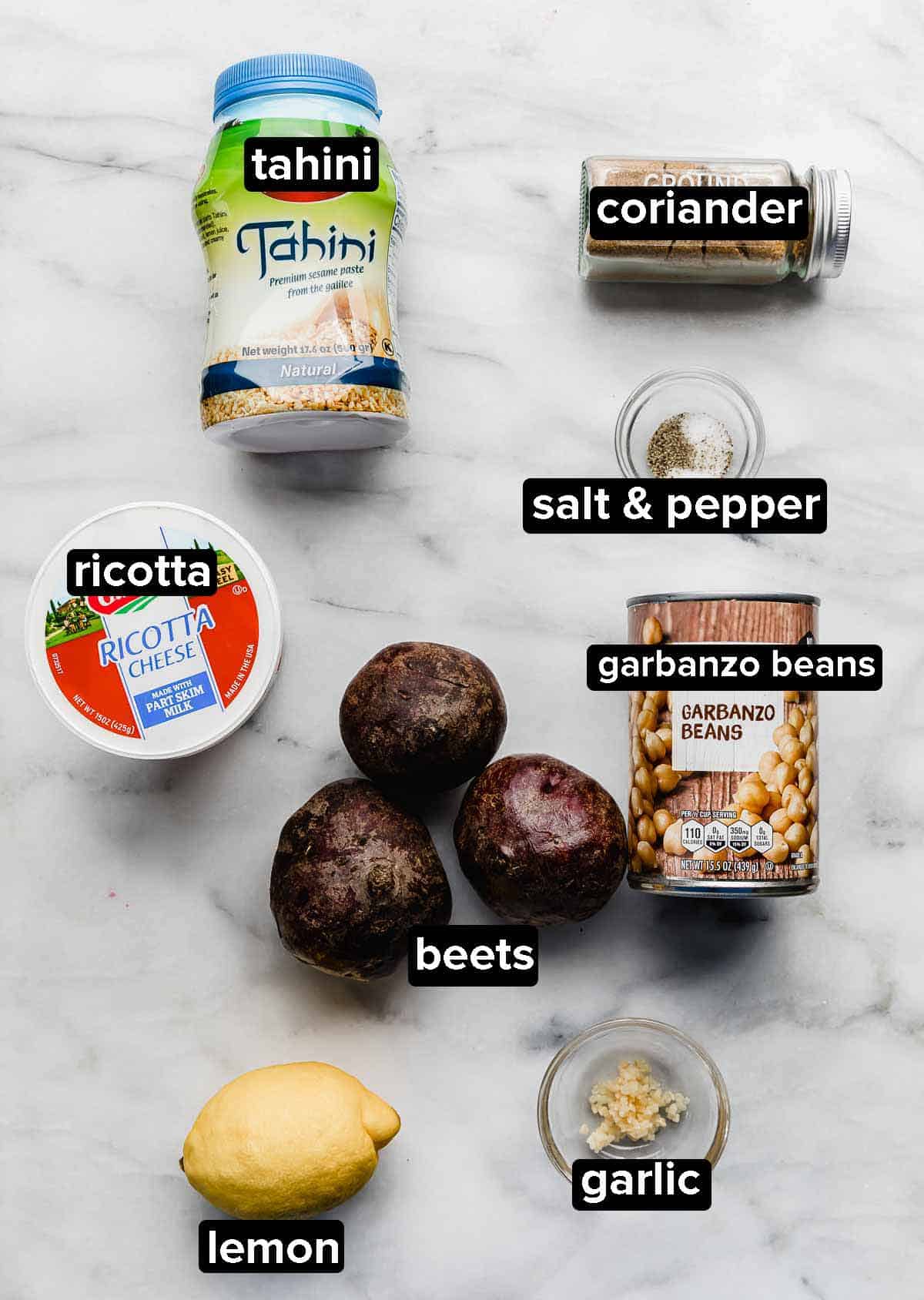 Red Beets: You'll need about 6 oz of fresh beetroot, so depending on the size of the beets, you may need more than one. 
Chickpeas: Be sure to drain and rinse the chickpeas prior to using them. Chickpeas are also known as garbanzo beans. 
Tahini: Tahini (or sesame paste) is a spread made from sesame seeds. It is one of the main ingredients of traditional hummus. You should be able to find tahini in your local grocery store. Mine is located by the nut butter spreads. 
Lemon Juice: The fresh lemon juice adds a burst of zesty lemon flavor and a nice acidic balance to the beetroot dip. You can even add some fresh lemon zest for additional flavor if you'd like. 
Ricotta: The ricotta cheese provides the perfect creamy texture to the roasted beetroot hummus and add a depth of flavor to the mixture. 
Ground Coriander: The coriander is the perfect bold spice to add to the homemade beet hummus with ricotta. 
Step-by-Step Instructions
Roast the beets. With the skin on, but scrubbed clean, wrap the each beet in aluminum foil and place on a foil-lined baking sheet. Roast in an oven preheated to 425ºF for 60-75 minutes or until easily pierced with a fork. Let cool for 20 minutes.
Remove the beet skin. To remove the skin, rub the beets with a paper towel until all the skin falls off. Trim the root off and chop the beet into chunks. 
Create the hummus mixture. To a food processor add the canned chickpeas, 1/3 cup tahini, 3 T lemon juice, 1/4 cup ricotta, the minced garlic, 1 tsp kosher salt, 1/4 tsp black pepper, and 1/4 tsp ground coriander. Process until the mixture is smooth. 
Add the beet chunks. Add the chunks of cooked beets to the food processor. Process again until smooth. This is the fun part! The hummus turns bright pink, and it's stunning! 
Serve. Transfer the roasted beet hummus to a serving bowl and top with a drizzle of extra virgin olive oil. Serve with crackers, pretzels, naan, carrots, cucumbers, pita bread, bagel chips, etc. Enjoy!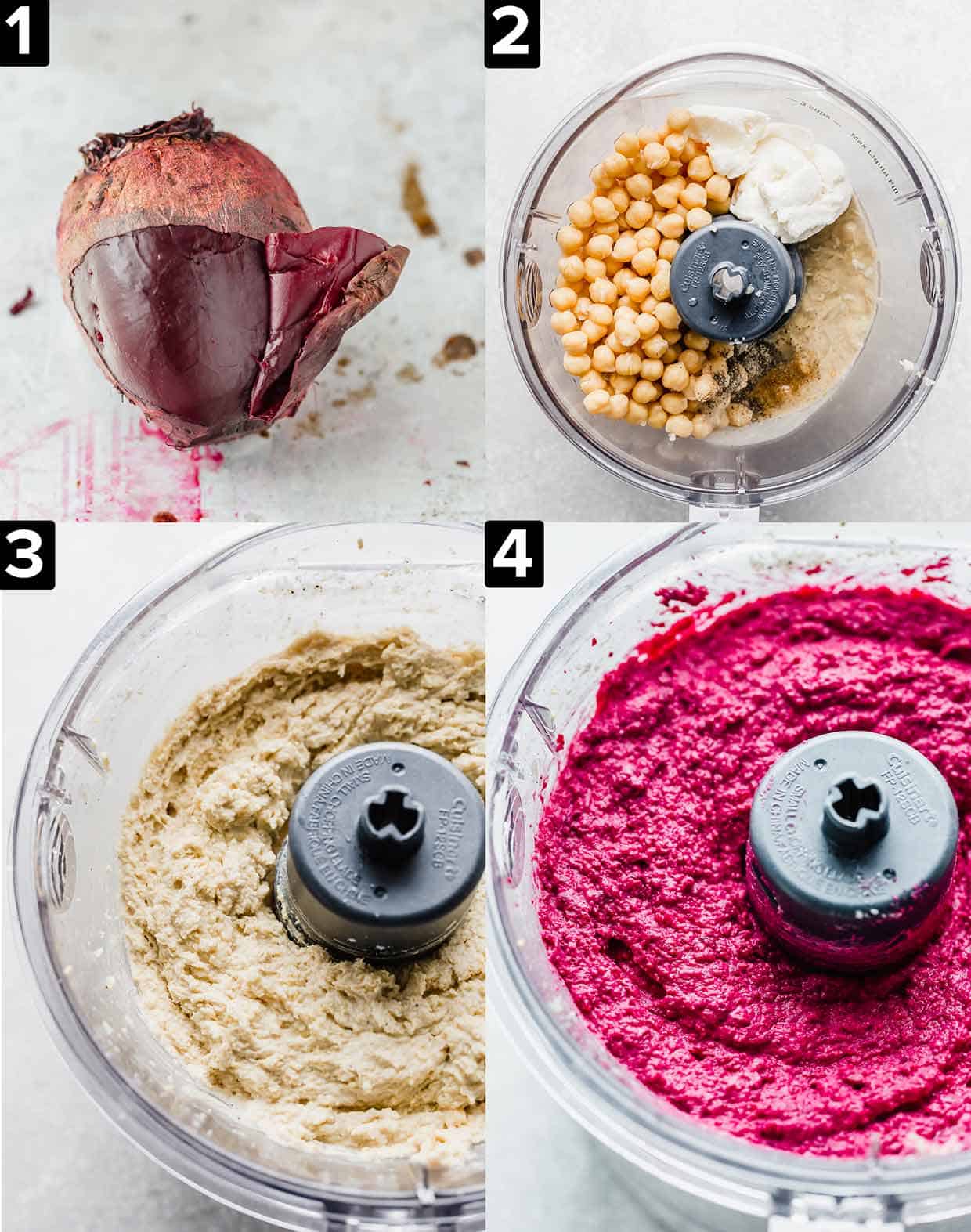 Recipe Tips
The size of your beets will differ from mine. If you're using a large beet chances are you'll need to keep yours in the oven longer.
If you don't love coriander, then another spice option to is to use a little cumin.
Don't peel the skin off the beets. You'll keep the skin on, wrap the beets in aluminum foil and then roast them. This will make removing the skin so much easier (after they are cooked).
If you need a dairy free option, you can omit the ricotta. It just adds a nice flavor and texture element to the hummus.
Make Ahead, Storing, and Freezing
Store any leftover beet and ricotta hummus in an airtight container in the refrigerator for 4 days.
If you know you'll have more leftovers than you can get through in 4 days, I recommend freezing the hummus. Store the hummus in an airtight container in the freezer for up to 3 months. Remove and let thaw in the fridge overnight for best results.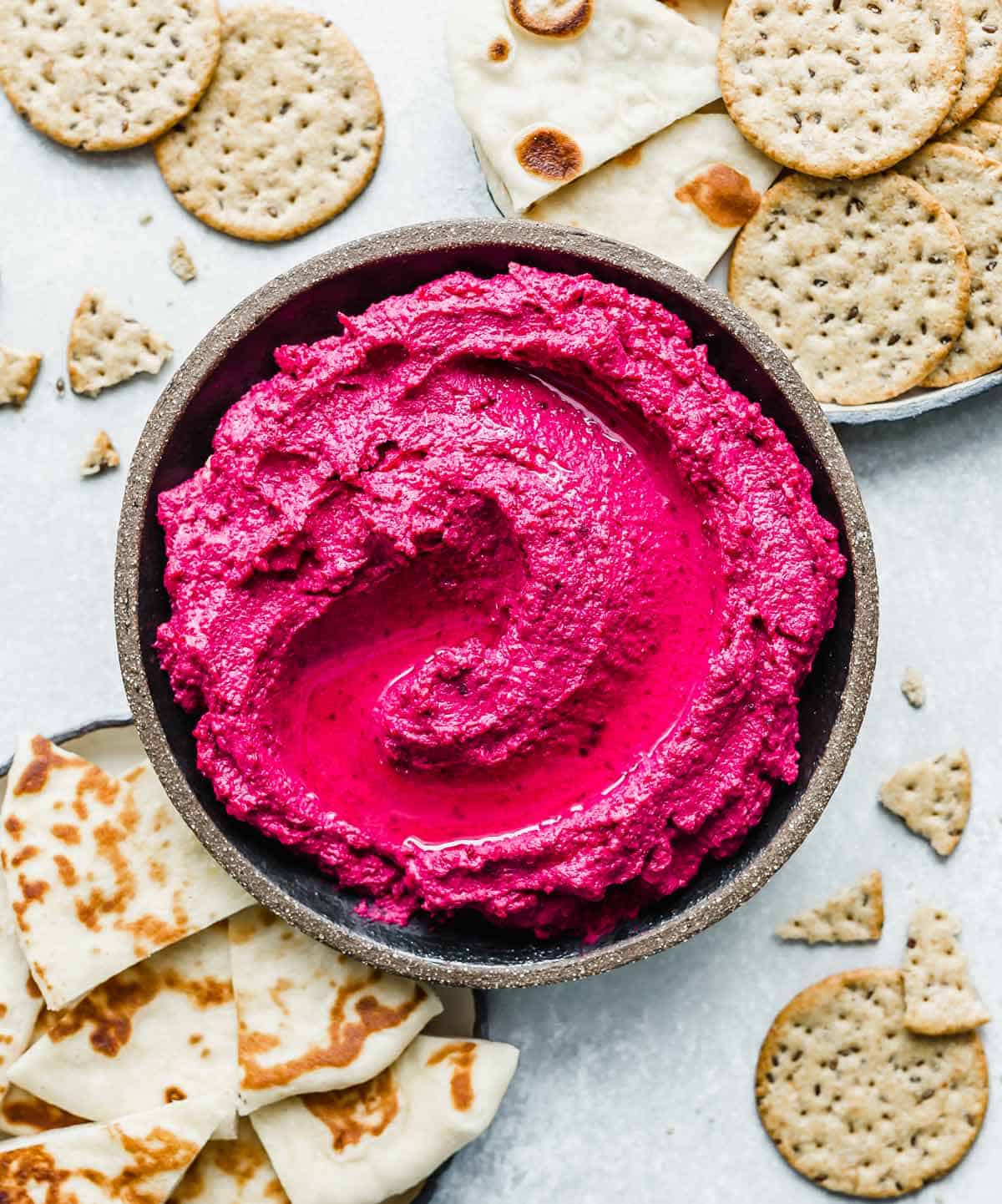 Recipe FAQs
How to remove skin from beets?
First, scrub the beets until clean. Then, wrap in tin foil and roast in the oven. Let the beets cool for 20 minutes or until they aren't hot to the touch. Taking a paper towel, rub the skin off the beets. The skin should peel right off.  
What to eat with beetroot hummus?
A few of my favorite things to dip in this delicious hummus are naan, whole wheat crackers, carrot sticks, cucumber slices, pretzels, bell peppers, or really any kind of bread! It's also delicious as a sandwich spread. 
What is a substitute for tahini?
You don't need tahini to make hummus, but it is one of the building block ingredients in any classic hummus recipe. You can omit it or you can use avocado, Greek yogurt, or nut butters (such as almond butter or sunflower butter). If using a substitution for tahini, I would start by adding a tablespoon at a time to make sure you like the taste. 
Can I make hummus without tahini?
Replacing the tahini in this beetroot hummus will result in a different texture and flavor. However, it can be done! Experiment until you find what you like. See my substitution suggestions in the FAQ above. 
Can you freeze hummus?
Yes you can! I like to freeze the hummus in smaller containers, so I can just take out what I want for a snack or for a sandwich spread. Store in an airtight container in the freezer for up to 2 months. Remove and thaw in the fridge overnight for best results.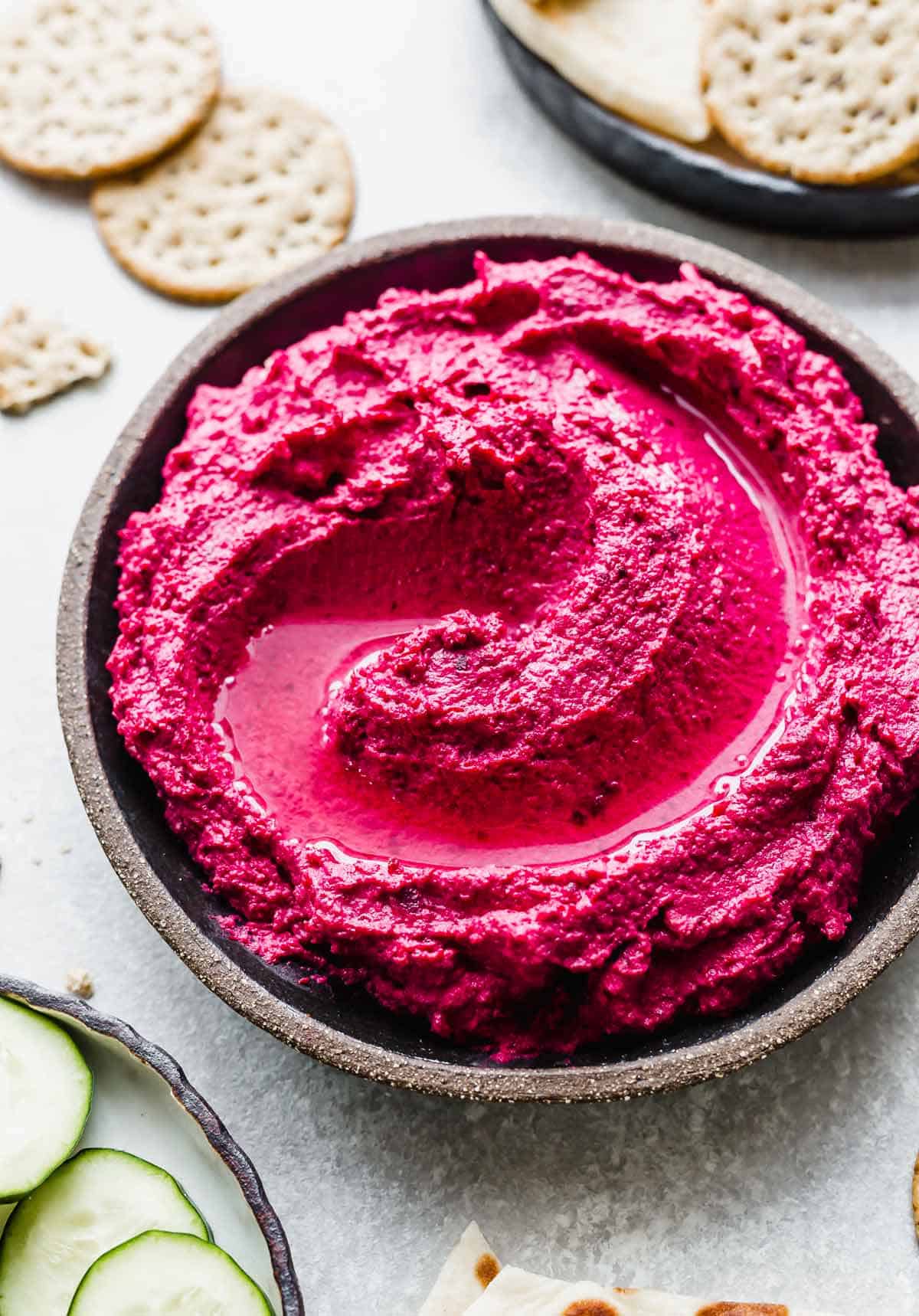 More Dips and Spreads
Beetroot Hummus
Delicious beet hummus with ricotta, chickpeas and coriander.
Ingredients
6

oz

red beet

-

scrubbed clean

1

15.5 oz

can chickpeas

-

rinsed and drained

1/3

cup

tahini

3

tablespoons

lemon juice

-

(I use fresh lemon juice)

1/4

cup

ricotta

1

garlic clove

-

minced

1

teaspoon

kosher salt

1/4

teaspoon

black pepper

1/4

teaspoon

ground coriander

olive oil for serving
Instructions
Preheat oven to 425. Wrap beet in foil and place on a foil lined baking sheet. Roast for 60-75 minutes or until a fork pierces the center of the beet with ease. Let cool 20 minutes or until cool enough to handle.

Rub the beet with a paper towel to remove the skin. (should fall off easily). Trim the root end off. Chop the beet into large chunks.


In a food processor, add chickpeas, tahini, lemon juice, ricotta, garlic, salt, pepper, and coriander. Process until smooth.


Add the large beet chunks to the pureed foods. Process again until smooth. 1-2 minutes.


Transfer the beet hummus to a bowl and top with olive oil. 

Serve with naan, crackers, pretzels, carrots, cucumbers, and/or bagel chips.

Notes
Hummus will last for 4 days. Store in airtight container and keep in refrigerator.
Did you make this recipe?
Leave a star rating and review on the blog post letting me know how you liked this recipe! Take a picture and tag @saltandbaker on Instagram and Facebook so I can see what you're making!
I am a participant in the Amazon Services LLC Associates Program, an affiliate advertising program designed to provide a means for us to earn fees by linking to Amazon.com and affiliated sites.