Beet Hummus
This post may include affiliate links. As an Amazon Associate I earn from qualifying purchases.
This beet hummus is as beautiful as it is tasty! Eat hummus with crackers, pretzels, vegetables, or slather it on a slice of bread for lunch. However you choose to eat it, you'll have no regrets.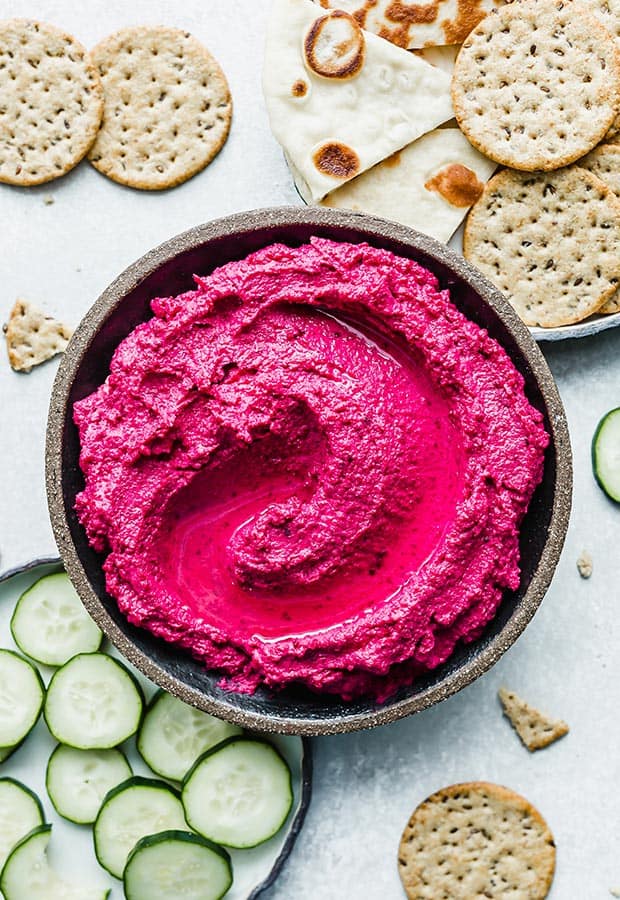 If this is your first time making hummus I have good news for you, hummus is easy to make and it tastes amazing.
It's one of those foods you should have in your fridge in case hunger strikes.
The ingredients used to make hummus are on the healthier side, which I'm allll for!
Whether you're a parent, grandparent, or single, we all need healthy snacks that will fuel us with energy.  Some of my favorites include my sweet potato hummus, energy bites recipe, oatmeal protein balls, and coconut chia pudding.
You can't go wrong with any of those recipes!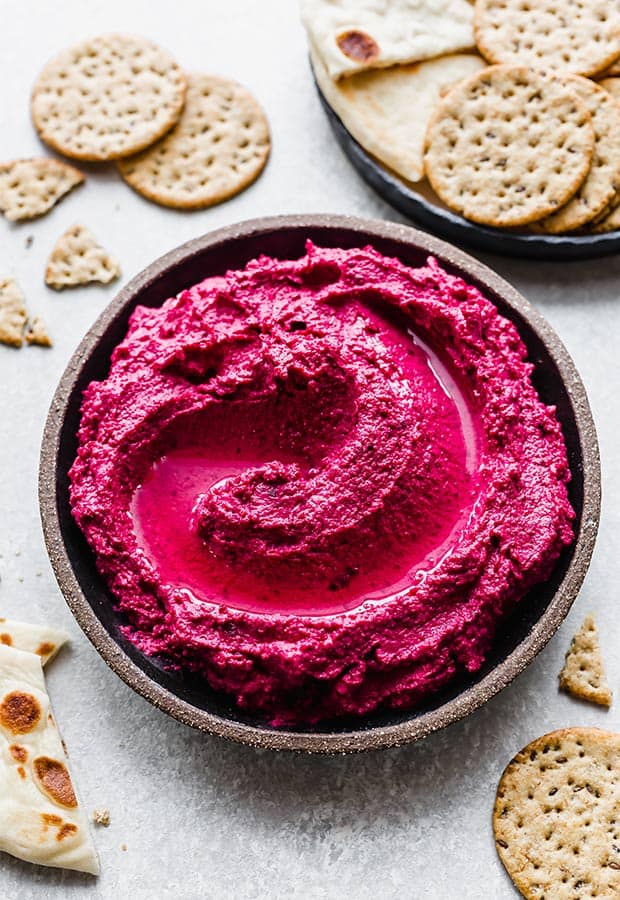 Roasting Beets
In order to have that true beet flavor coming through, we're going to roast some beets in the oven.
This recipe need 6 oz of beets. My beets were on the small side so I roasted a few. Here's what you need to do:
First, scrub the beets and clean the exterior.
Next, individually wrap the beets in aluminum foil.
Place the aluminum foil wrapped beets on a baking sheet.
Bake/roast for 60-75 minutes or until you can pierce the beets with ease.
Tip: The size of your beets will differ from mine. If you're using a large beet chances are you'll need to keep yours in the oven longer.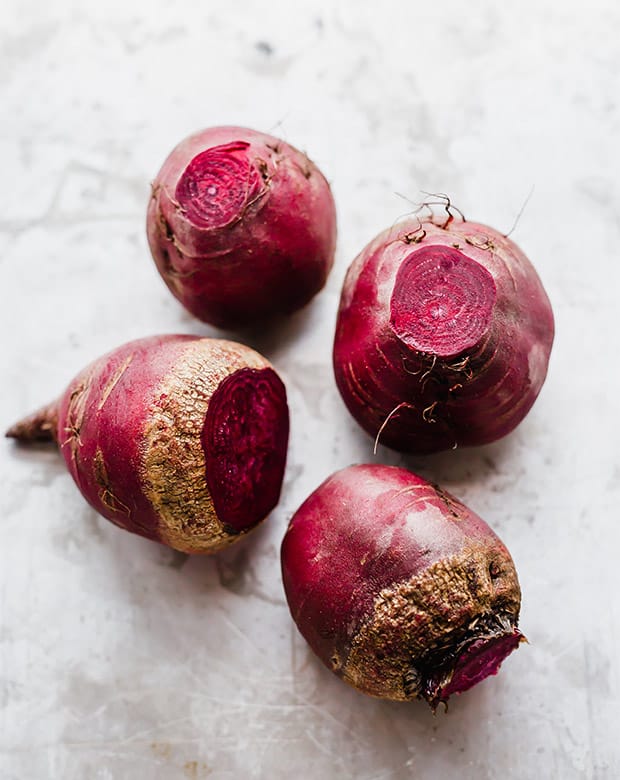 Removing skin from beets
Once you've roasted the beets, remove them from the oven and allow them to cool for 20 minutes or so.
Beets will stain your hands! That's an obvious statement. So if you want to prevent your hands from turning pink wear disposable gloves, or use a paper towel for this next part.
Remove the skin from each beet. 
Cradle a beet between two paper towels; gently rub the exterior of the beet. The skin should peel right off.
Discard the skin and then cut the beet into large chunks.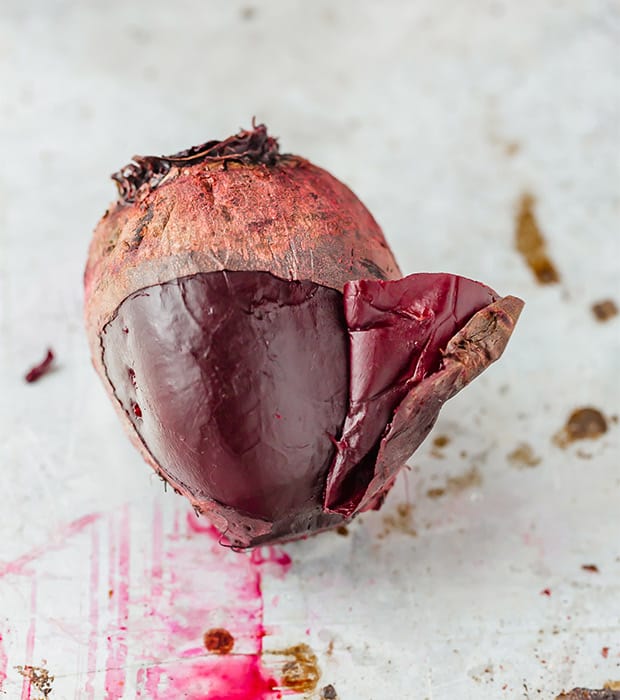 How to make Beet Hummus
To the bowl of a food processor add chickpeas (garbanzo beans), ricotta, tahini, lemon juice, and seasonings.
Puree the ingredients until nice and smooth.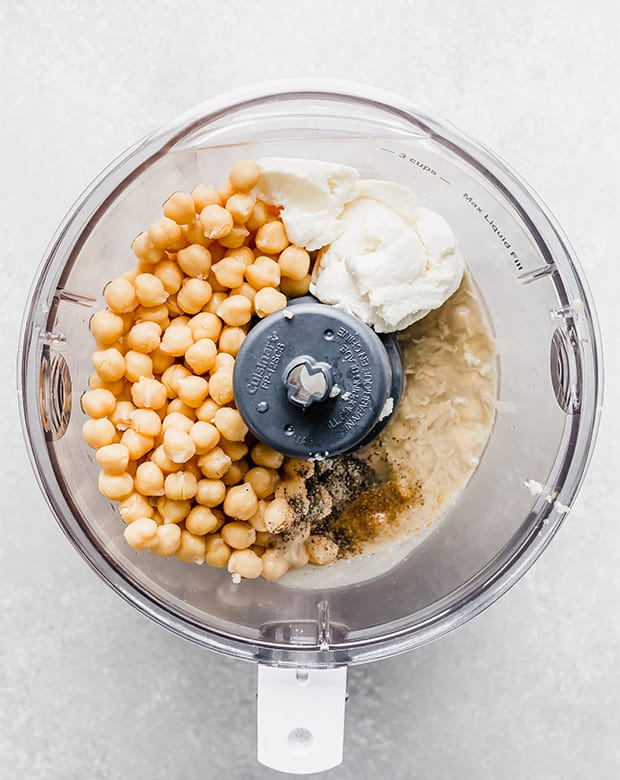 Once the mixture is smooth, add the beet chunks to the food processor and puree until smooth. This is the fun part! The hummus turns bright pink and it's stunning!
While you're making the hummus you'll need to stop once or twice to scrape the sides of the bowl. This just ensures that all of the ingredients are mixed together thoroughly.
And that's it! You just made homemade hummus with beets. YUM!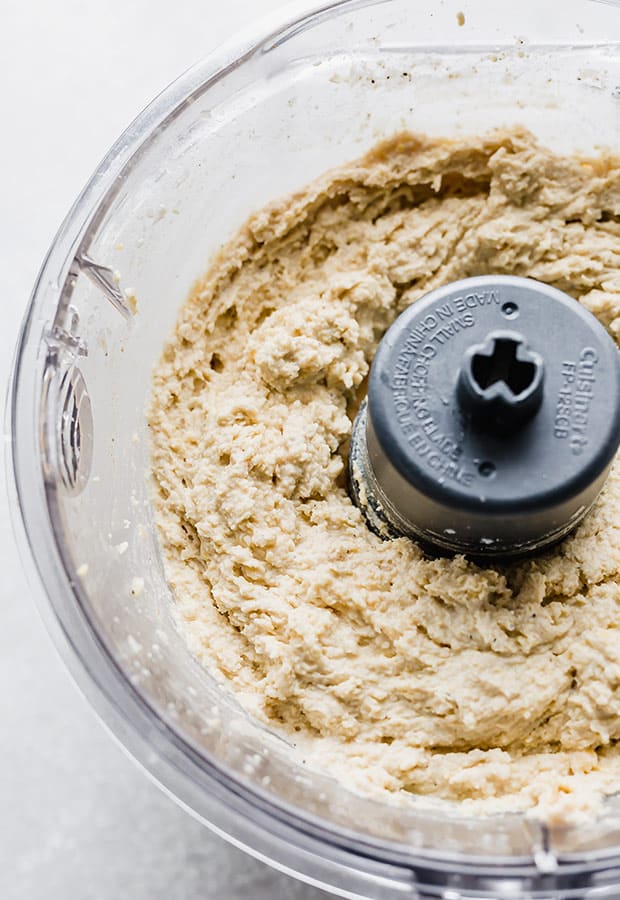 Substitute for Tahini in Hummus
Do you need tahini for hummus? No, not necessarily.
Tahini is the sesame paste that adds richness, texture, and flavor to traditional hummus. Ultimately yes, tahini helps amp up the flavor in hummus.
But it just so happens that some people don't like tahini *gasp!* So what's a good tahini substitute in hummus? Here are a few options:
Don't add the tahini. Simply skip it. It won't taste the exact same, but if you don't love tahini, don't add it.
Use Greek Yogurt.
Replace the tahini with avocado.
Use a nut butter such as almond butter or sunflower butter.
Note: replacing the tahini in this beet hummus will result in a different texture and flavor. However, it can be done! Experiment until you find what you like.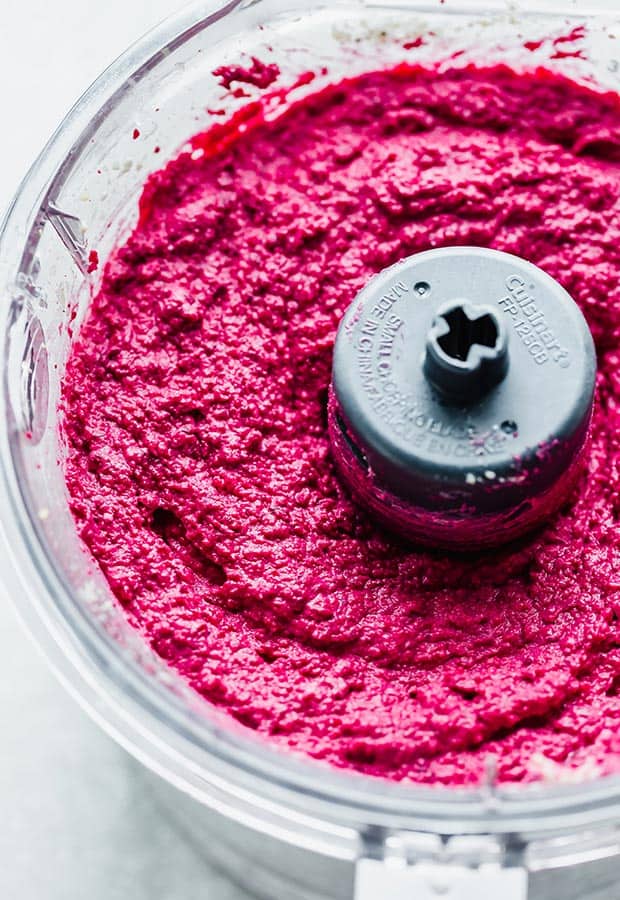 What to dip in Hummus
So many options! A few of my faves:
Whole wheat crackers
Carrots
Cucumbers
Pretzels
Bell peppers
Tools I used to make this recipe:
Food Processor – if you don't have one, you need one. They're a pain to clean, but nothing can replace the work of a food processor.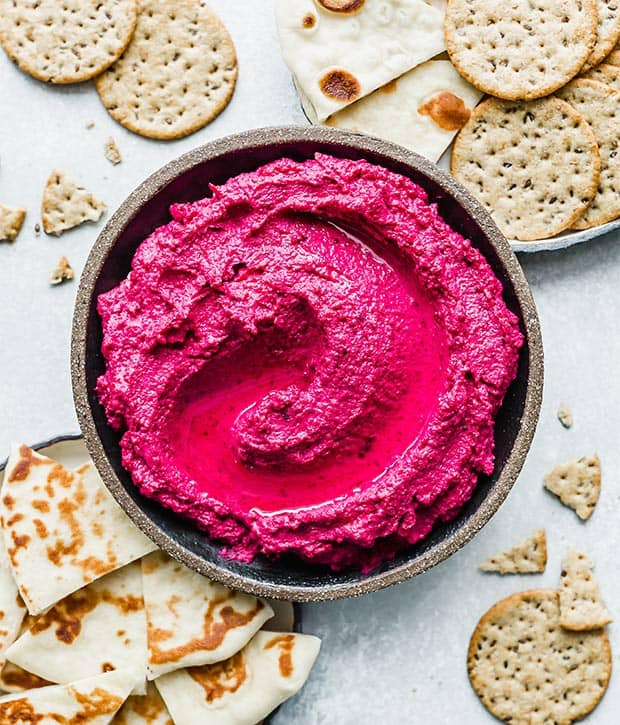 If you make this recipe or any others on my blog, don't forget to come back and leave a comment and review! Or share a photo on social media and tag @saltandbaker and #saltandbaker.
And if you like delicious food, sign up below and you'll receive a recipe straight to your inbox each week… for FREE!
Beet Hummus
Delicious beet hummus with ricotta, chickpeas and coriander.
Ingredients
6

oz

red beet

-

scrubbed clean

1

15.5 oz

can chickpeas

-

rinsed and drained

1/3

cup

tahini

3

tablespoons

lemon juice

-

(I use fresh lemon juice)

1/4

cup

ricotta

1

garlic clove

-

minced

1

teaspoon

kosher salt

1/4

teaspoon

black pepper

1/4

teaspoon

ground coriander

olive oil for serving
Instructions
Preheat oven to 425. Wrap beet in foil and place on a foil lined baking sheet. Roast for 60-75 minutes or until a fork pierces the center of the beet with ease. Let cool 20 minutes or until cool enough to handle.

Rub the beet with a paper towel to remove the skin. (should fall off easily). Trim the root end off. Chop the beet into large chunks.


In a food processor, add chickpeas, tahini, lemon juice, ricotta, garlic, salt, pepper, and coriander. Process until smooth.


Add the large beet chunks to the pureed foods. Process again until smooth. 1-2 minutes.


Transfer the beet hummus to a bowl and top with olive oil and a sprinkle of poppy seeds if desired.


Serve with naan, crackers, pretzels, carrots, cucumbers, and/or bagel chips.

Notes
Hummus will last for 4 days. Store in airtight container and keep in refrigerator.
Did you make this recipe?
Leave a star rating and review on the blog post letting me know how you liked this recipe! Take a picture and tag @saltandbaker on Instagram and Facebook so I can see what you're making!
I am a participant in the Amazon Services LLC Associates Program, an affiliate advertising program designed to provide a means for us to earn fees by linking to Amazon.com and affiliated sites.