Cinnamon Chip Pancakes
This post may include affiliate links. As an Amazon Associate I earn from qualifying purchases.
These Cinnamon Chip Pancakes are easily THE BEST homemade pancakes you'll ever eat!  These fluffy pancakes are studded with mini cinnamon chips that melt into perfection when cooked! This is the perfect breakfast recipe to start your day off on the right foot!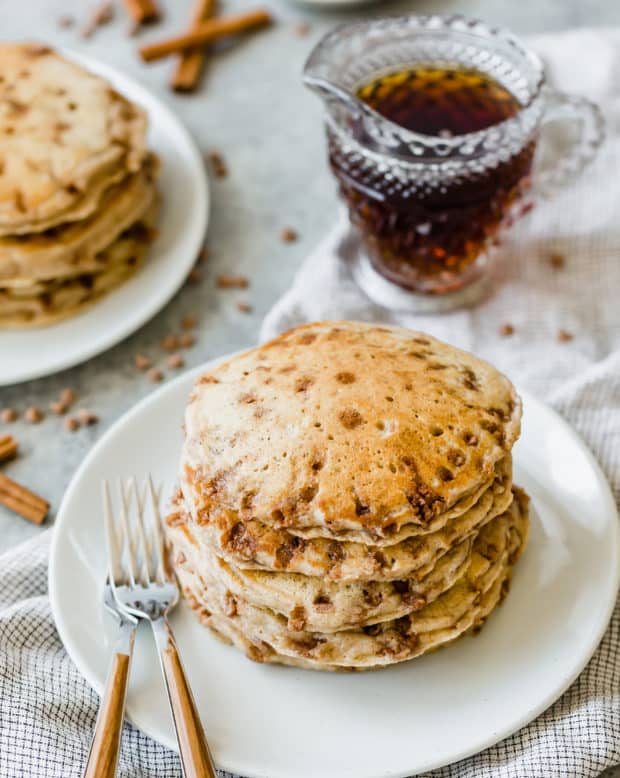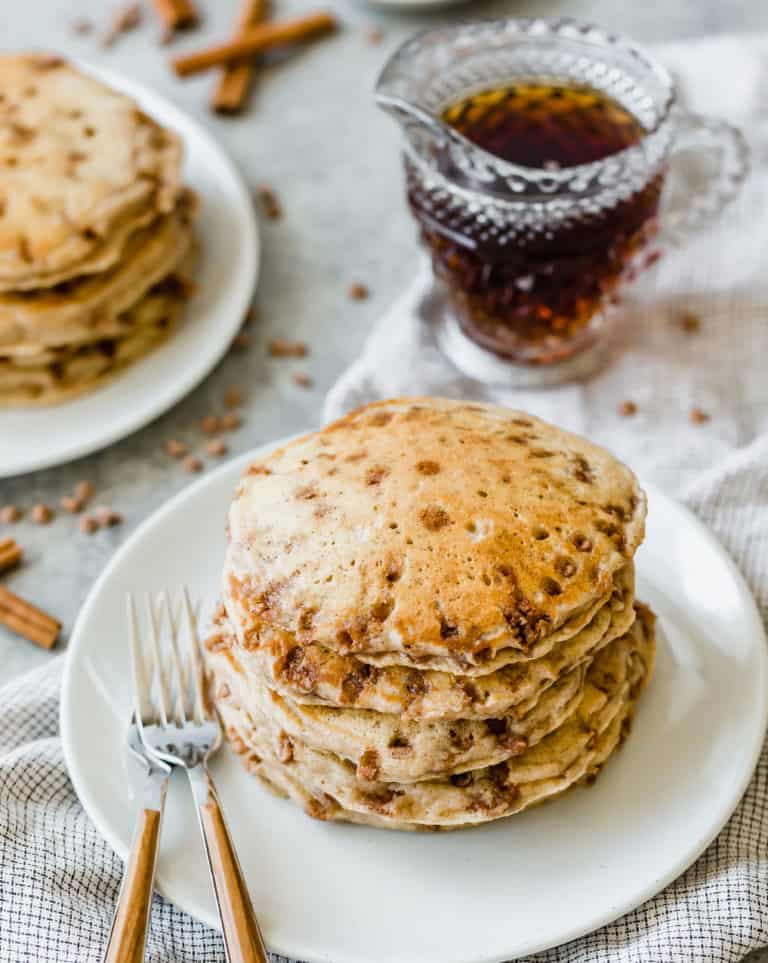 I've been SOOOOOO excited to share this pancake recipe with you! These pancakes are thick, fluffy, and incredibly flavorful! I've taken my Homemade Buttermilk Pancake recipe and made it even better by adding mini cinnamon chips and a touch of ground cinnamon to the batter.
I'm going to brag for a minute. These pancakes are heavenly.
NO JOKE! You need to make them. I don't even know what to say to convince you of their pure awesomeness.
In fact, when I was recipe testing these cinnamon pancakes my husband commented about how delicious the leftover pancakes tasted! Yes, I said leftovers.
He then continued to say that the leftover pancakes taste 10X better than some pancake recipes straight off the griddle. (Picture me doing a happy dance after he told me this)! I was thrilled!
So there you have it friends, I give you the BEST HOMEMADE PANCAKES… aka Cinnamon Chip Pancakes!
Let's go over this recipe in a bit more detail: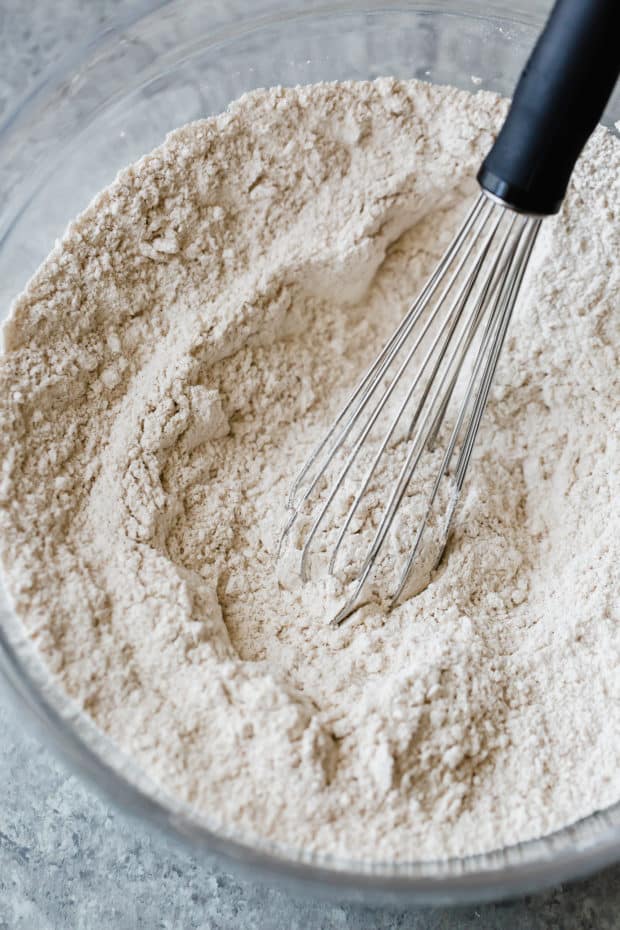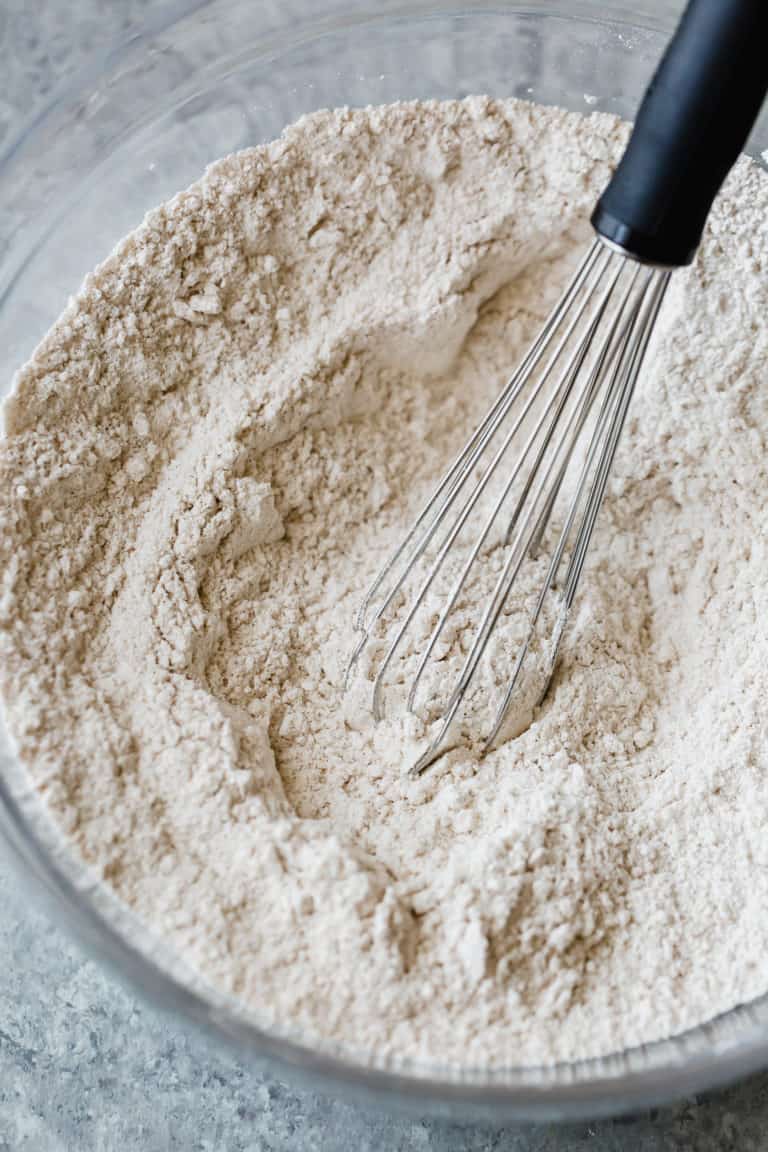 How do you make Cinnamon Chip Pancakes?
Begin by whisking the dry ingredients together. (Pictured above).
In another bowl add the egg yolks, buttermilk, vanilla extract, and melted butter. Mix these ingredients together. I use a fork to do this, it's quick and easy.
Add the egg whites to another bowl. Using hand beaters whip the egg whites until soft peaks form.
Now, lets combine the ingredients to make the batter. Add the wet ingredients to the dry ingredients and mix until slightly combined. Don't over-mix! (I'll explain why in the next paragraph).  Next, fold in the egg whites and mini cinnamon chips.
You're ready to cook them! Using a 1/3 measuring cup, scoop the batter onto a 275°F-300°F buttered griddle. Cook for 3-4 minutes on each side or until golden brown and cooked through.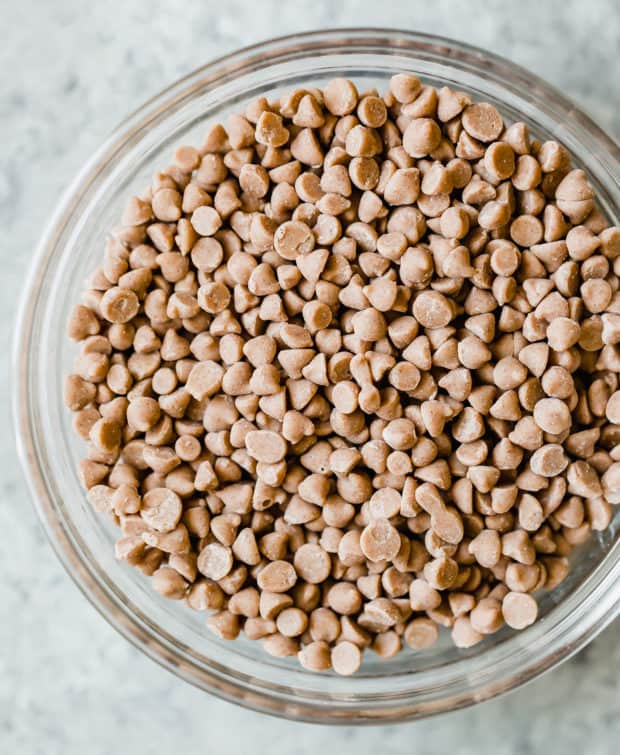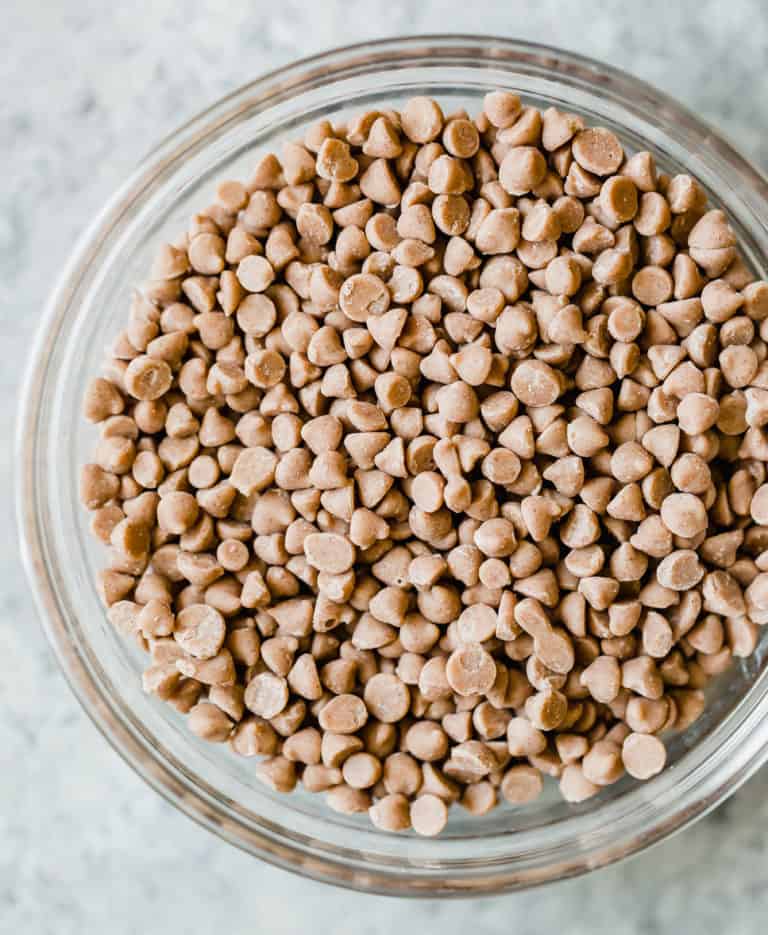 How to make fluffy pancakes
DO NOT over-mix the batter. The key is mixing the batter until combined but lumpy. This allows the gluten proteins in the batter to link together in a relaxed and weblike way. When cooked, large air bubbles are formed between the loosely combined gluten proteins resulting in a light and fluffy pancake.
Over-mixed batter has overdeveloped gluten. Meaning, the gluten has linked tightly in a strong weblike manner. This strong gluten connection means there is less space for air pockets to develop between the tightly wound gluten proteins, resulting in thin and flat pancakes. (Whomp whomp).
Separate the egg yolks from the egg whites. I've found that whipping the egg whites until soft peaks form adds volume and stability to the pancake batter.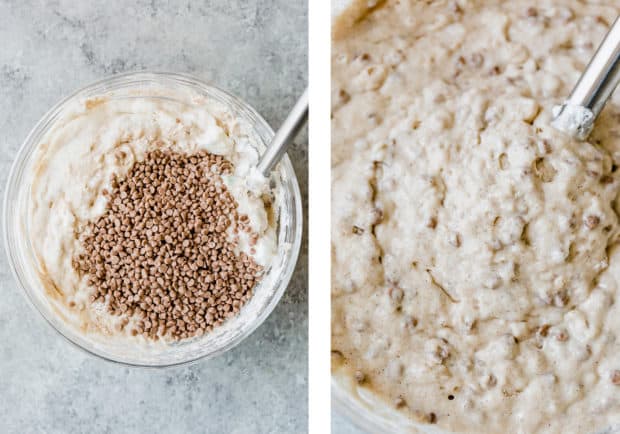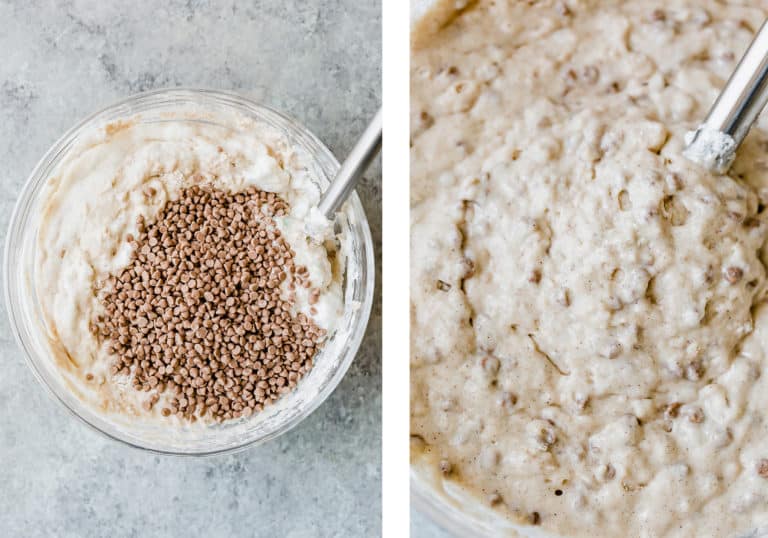 Tips for making the best homemade pancakes
*Room temperature buttermilk will help the wet ingredients mix together more smoothly. If the buttermilk is cold and the unsalted butter is freshly melted and still very warm, once the cold buttermilk touches the hot butter, the butter will slowly get hard and have some chunks. This isn't necessarily a bad thing as it doesn't affect the taste of the pancakes. For piece of mind and ease in making the pancakes, it's always a good idea to use room temperature ingredients.
*I've found that a griddle heated around 275°F-300°F works perfectly. This temperature cooks the pancakes fully without over cooking them on the outside and leaving them uncooked in the middle. You'll have to finagle with your griddle as you go.
*These mini cinnamon chips are AMAZING! I love them because:
They're mini.
They have great flavor!
They get melty when cooked, which results in tons of melty cinnamon chip pockets. YUMMM!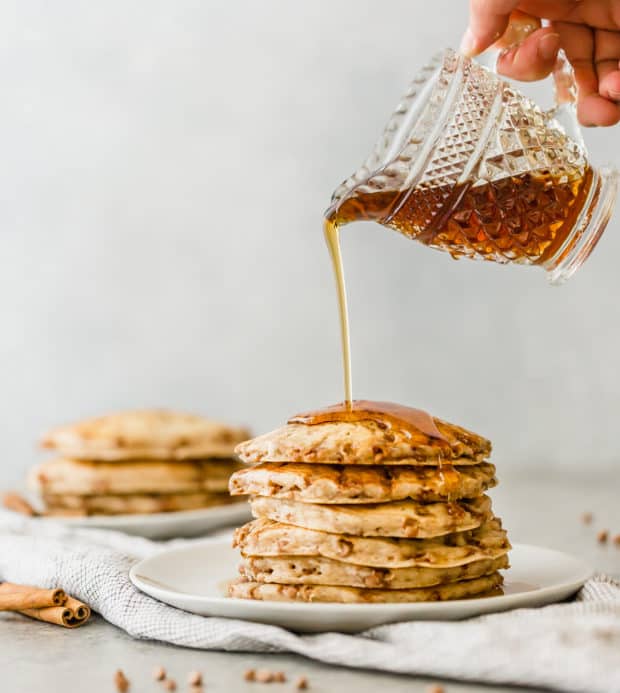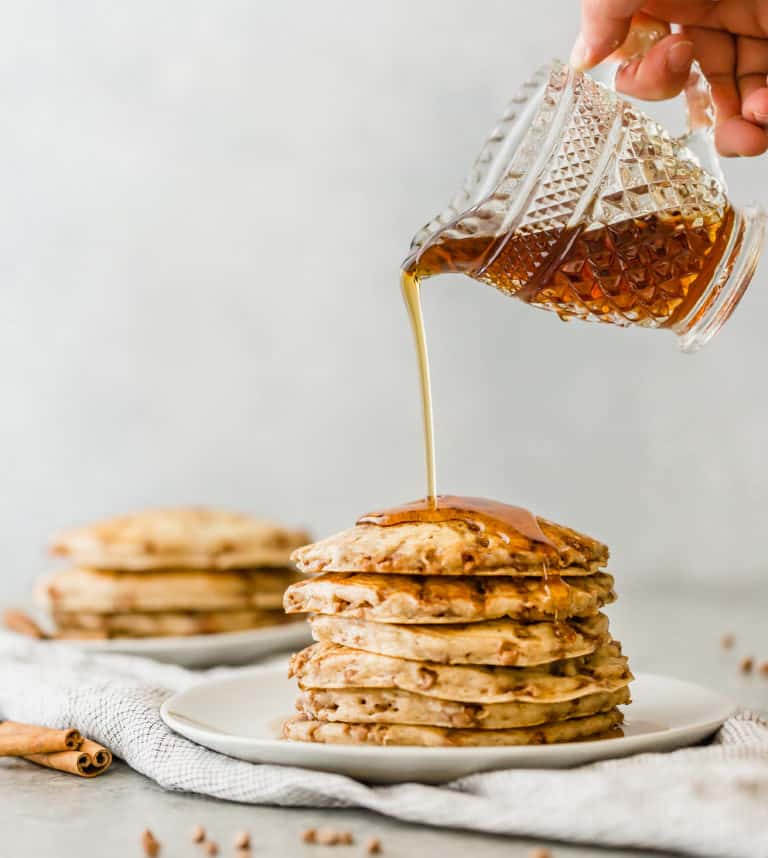 These Cinnamon Chip Pancakes melt in your mouth!  This is the perfect breakfast recipe to start your day! If you love these pancakes I know you'll love my Homemade Buttermilk Pancakes and my Pumpkin Pancake recipe.
And if you're looking for an easy overnight healthy breakfast recipe be sure to make my coconut chia pudding.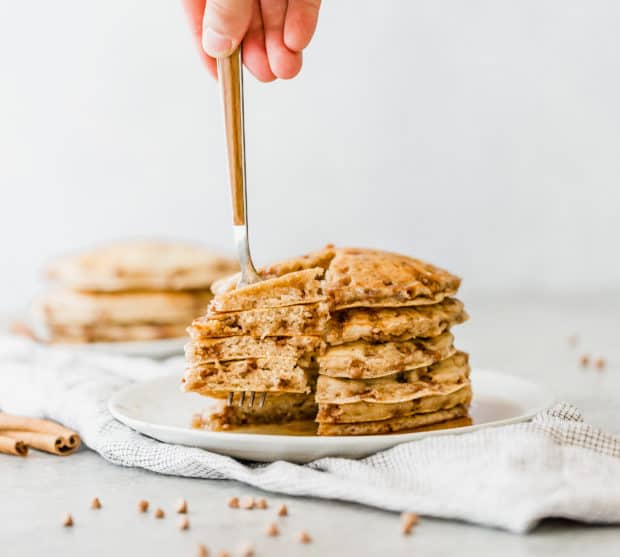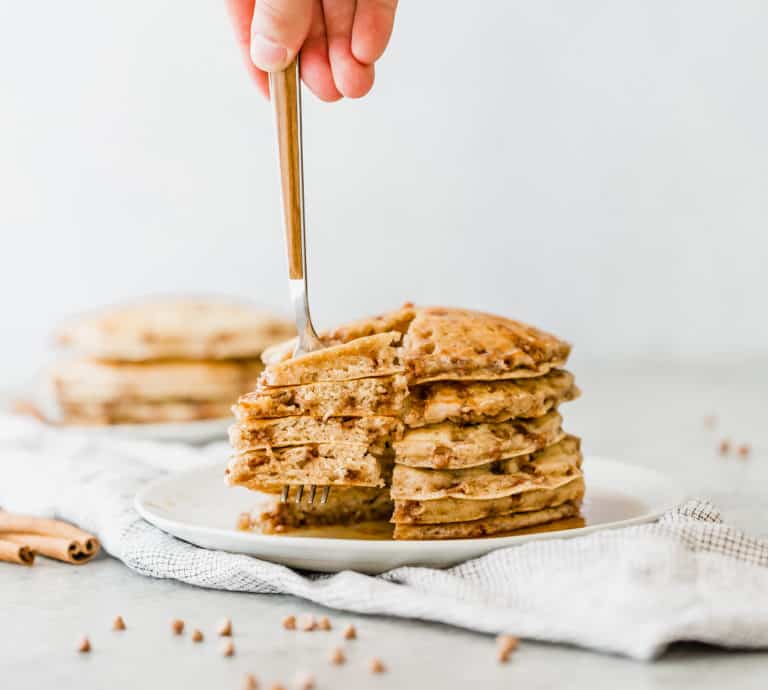 ---
Craving more?  SUBSCRIBE TO SALT & BAKER to get new recipes delivered straight to your inbox! Simply enter your email in a subscription box located on the right hand side of the blog or scroll below the recipe and sign up there!
And stay in touch on Facebook, Pinterest and Instagram for all of the latest updates.
---
Cinnamon Chip Pancakes
The MOST AMAZING pancakes ever!!! These fluffy buttermilk pancakes are studded with mini cinnamon chips that turn melty when cooked.
Ingredients
1

teaspoon

salt

2

teaspoons

baking powder

1

teaspoon

baking soda

2

cups

all purpose flour

2 1/2

tablespoons

granulated sugar

1 1/2

teaspoons

ground cinnamon

2

eggs

-

separated

2

cups

buttermilk

-

at room temperature

1/2

teaspoon

vanilla extract

2

tablespoons

unsalted butter -

melted

1

cup

mini cinnamon chips
Instructions
In a large bowl, whisk the salt, baking powder, baking soda, flour, sugar, and cinnamon. Set aside.

In a medium size bowl add the egg yolks, buttermilk, vanilla extract, and melted butter. Mix to combine. I keep it simple and just use a fork and mix until the yolk is nice and broken up and combined with the other ingredients.


In a small bowl beat the egg whites until soft peaks form. Set aside.


Combine the wet ingredients with the dry ingredients. Mix for a few seconds (again, I just use a fork). When the flour and wet ingredients are partly combined fold in the fluffy egg whites and cinnamon chips. Don't over mix. It's fine to have small pieces of flour here and there.


Using a 1/3 measuring cup, scoop the batter onto a buttered 300°F griddle. Cook on each side for approximately 2-3 minutes. Serve warm with butter and maple syrup drizzled over the top.

Did you make this recipe?
Leave a star rating and review on the blog post letting me know how you liked this recipe! Take a picture and tag @saltandbaker on Instagram and Facebook so I can see what you're making!