Cinnamon Rolls
Friends, I give you the perfect cinnamon rolls. This cinnamon roll recipe is by far the BEST and only cinnamon roll recipe you'll ever need!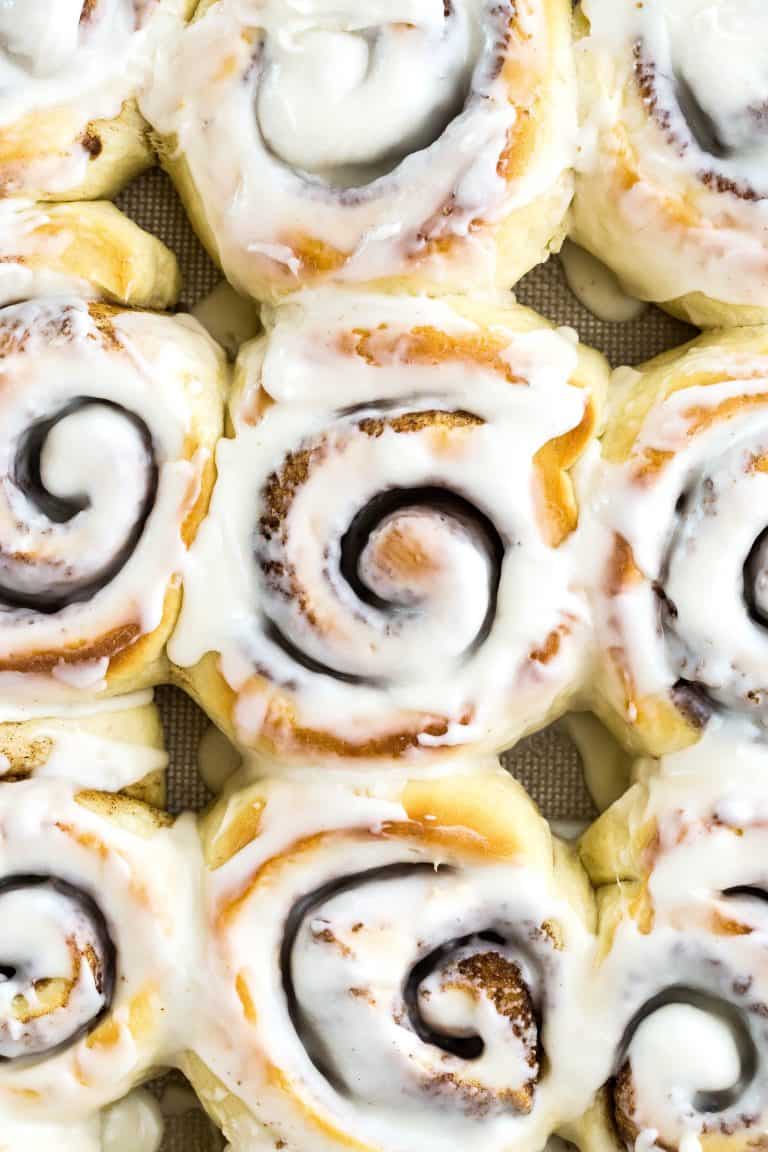 I know… everyone claims their cinnamon roll recipe is the best. Well, they haven't tried mine! Years ago I was too intimidated to make cinnamon rolls. They seemed daunting! When I was a teenager my younger sister and I made a batch of cinnamon rolls from the Taste of Home Cookbook and they did not impress. Granted, we were inexperienced bakers back then, and I'm certain we messed up somewhere as we followed the recipe. I'm picky about my baked goods. I want them perfectly soft, not overdone, and the cinnamon sugar filling needs to make a statement. This homemade cinnamon roll recipe has everything I've ever wanted in a cinnamon roll. These homemade cinnamon rolls would be the perfect addition to breakfast, brunch, or any holiday gathering.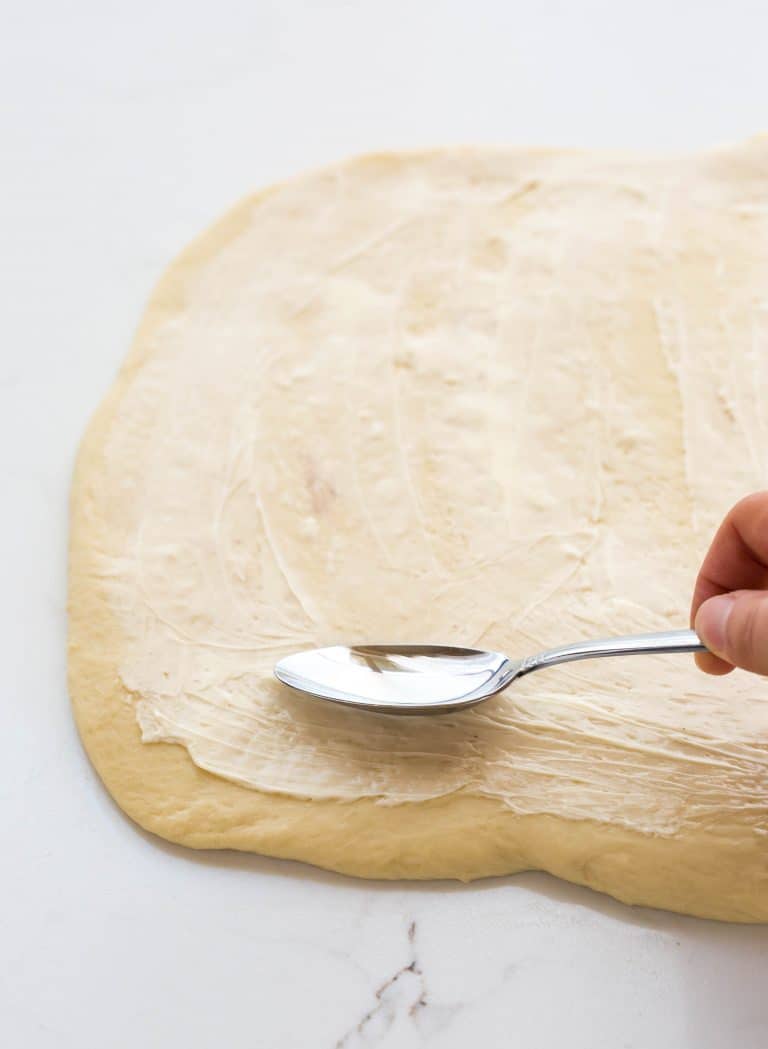 I've made oodles of cinnamon roll recipes over the last 4 years. After I made these I text my husband and told him I'd found the winner. This cinnamon roll recipe deserves a blue ribbon, gold star, medal of honor… you name it! The cinnamon roll dough recipe comes from Leigh Ann at Your Home Based Mom. But the filling and frosting come from me and my many trial and error attempts at making the best homemade cinnamon rolls. What I love about this cinnamon roll recipe is how easy it is to make. Let me answer a few questions you might have:
How do you make cinnamon rolls?
Cinnamon rolls aren't difficult to make. You need a tried and true cinnamon roll recipe to get started. And that's what I'm giving you!
Begin by gathering the necessary ingredients. Add the sugar, water, buttermilk, melted butter, and yeast to a bowl. Mix. And then wait 15 minutes for the yeast to proof. Once the mixture has turned bubbly, add the flour, salt, and eggs. Mix for 8-10 minutes. After a few minutes of mixing, the dough will come away from the bowl. Keep mixing until the 8-10 minutes are up!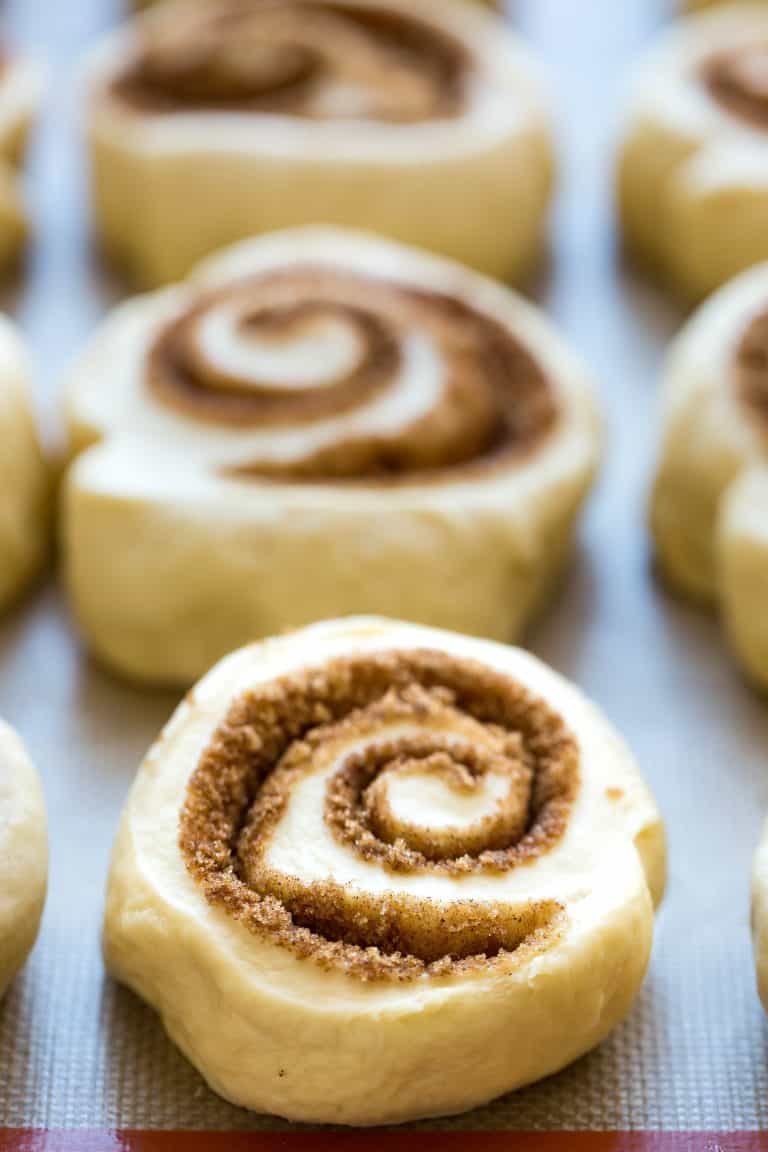 How to roll out cinnamon rolls?
Spray a clean countertop with cooking spray. Don't spray too much. A little goes a long way. I used Bakers Joy. Spraying your countertops is such much easier than using flour. Try it. You'll love it!
Take the homemade cinnamon roll dough you just made, and roll it out to a 13″x18″ rectangle. Spread softened butter over the surface area of the dough. Generously cover the softened butter with the cinnamon brown sugar mixture. I add just a hint of almond extract to my cinnamon sugar mixture. I love it! It adds just the faintest warmth to the cinnamon rolls. If you are a hard core almond extract lover, I'd suggest upping the amount you add… instead of 1/8 tsp like I suggest, go for 1/4 tsp.
Roll the dough up so that you create a dough log. Using thread or floss, cut the cinnamon rolls into 12 large rolls.
Bake.
How do you make the best cinnamon roll frosting?
Don't use cream cheese.
Cinnamon rolls are better with a simple frosting/glaze. I realize saying this might offend someone, everyone has a right to their own opinion. If you choose to make these cinnamon rolls with a cream cheese frosting, email me and let me know how they turn out!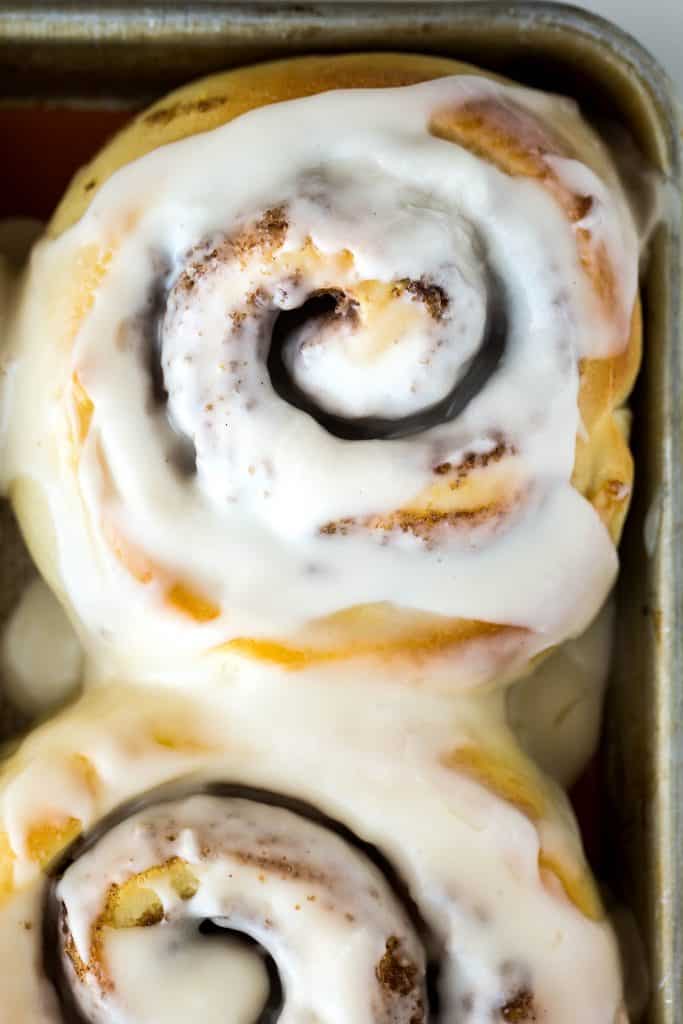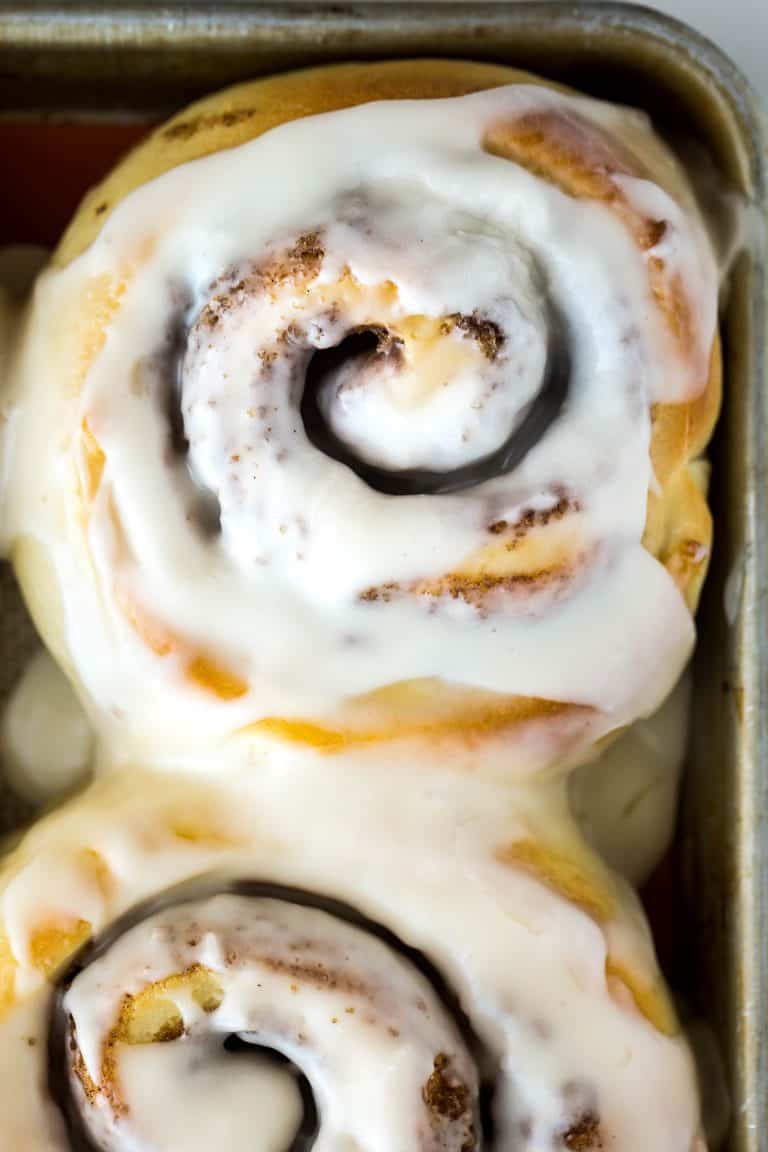 How long do cinnamon rolls last?
Homemade cinnamon rolls are best when eaten the same day they are made <– isn't everything? 😊. However, you can keep them in an airtight container, or covered with tin foil, or plastic wrap for 2 days. They can also be refrigerated in an airtight container for up to 5 days.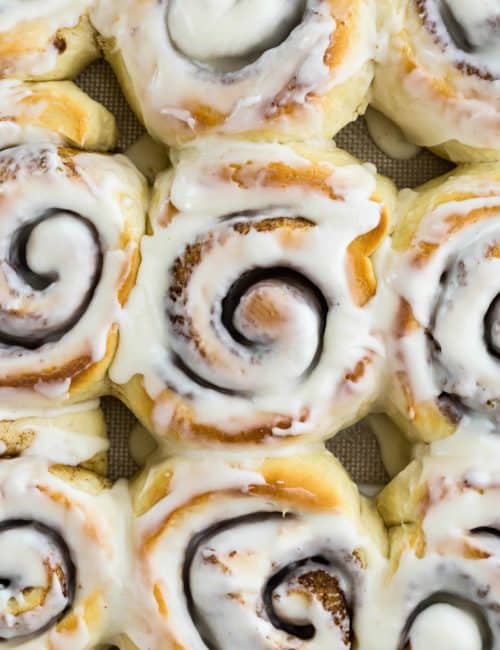 Servings
:
12
large cinnamon rolls
Cinnamon Rolls
The only Cinnamon Roll recipe you'll ever need! These cinnamon rolls are soft, fluffy, and loaded with the perfect cinnamon sugar mixture.
Ingredients
Dough
1

cup

warm water

3/4

cup

buttermilk, room temp

1/2

cup

sugar

1/4

cup

melted butter

3

tablespoons

regular yeast

1/2

tablespoons

salt

2

eggs

5-6

cups

bread flour
Filling
1

cup

brown sugar

1 1/2

tablespoons

cinnamon

4

tablespoons

salted butter, room temp

1/2

tsp

vanilla extract

1/8

tsp

almond extract
Frosting
4

tablespoons

milk

3/4

tsp

vanilla extract

3 1/2

cups

powdered sugar

1/4

cup

softened butter
Instructions
In the bowl of a stand mixer fitted with the dough hook, add the water, buttermilk, sugar, melted butter, and yeast. Mix. Let sit for 15 minutes. Add salt, eggs, and flour. Mix for 8-10 minutes. After mixing, allow the dough to rest for 10 minutes.

In the meantime, prepare the filling. In a small bowl add the brown sugar, cinnamon, vanilla extract, and almond extract. Stir to combine.

Preheat the oven to 400°F. Place a silat mat on a baking sheet. Roll out dough on a greased countertop. (I lightly spray my counter top with cooking spray... I used Bakers Joy). Roll the dough into a 13 (or 14)"x18" rectangle. Using the back of a spoon, smear the softened butter over the top of the dough. Sprinkle the cinnamon brown sugar filling evenly over the softened butter.

Roll the dough up. Making sure to start rolling on the longer side, so that then resulting cinnamon roll measures 18" in length. Cut into 12 large rolls.* Place the rolls onto the prepared baking sheet. 3 rolls across, and 4 rolls down. Let the cinnamon rolls rise for 15 minutes. Bake for 18-20 minutes or until lightly golden brown on top, and cooked throughout.
Frosting
In the bowl of a stand mixer, or with a hand held mixer, beat the butter until smooth. Add the powdered sugar, milk, and vanilla extract. Beat until well incorporated.

When the cinnamon rolls are finished baking, remove from the oven, and let them sit for 3 minutes or so. Frost the rolls when warm.

Best when served warm and eaten in the same day. However, you can store these in an airtight container for 3 days.
Recipe Notes
*When cutting the cinnamon rolls I use thread or floss. I've found that it doesn't pinch the edges as much and the cinnamon rolls stay intact.
Recipe Source: Adapted from Your Home Based Mom.

Love these Cinnamon Rolls? Try some of my other favorite recipes: