Buffalo Chicken Bites
This post may include affiliate links. As an Amazon Associate I earn from qualifying purchases.
Perfectly crispy on the outside and moist and tender on the inside, these Buffalo Chicken Bites are the perfect appetizer for any game day or holiday celebration — complete with homemade buffalo sauce and homemade blue cheese dipping sauce! 
Chicken bites is a classic food for your next party or game day! Complete your appetizer spread with my Layered Taco Dip, BBQ Pineapple Meatballs, and Hawaiian Ham and Swiss Sliders! Party planning has never been so easy and delicious! My Buffalo Chicken Dip Recipe is another one of my favorite buffalo recipes that uses rotisserie chicken.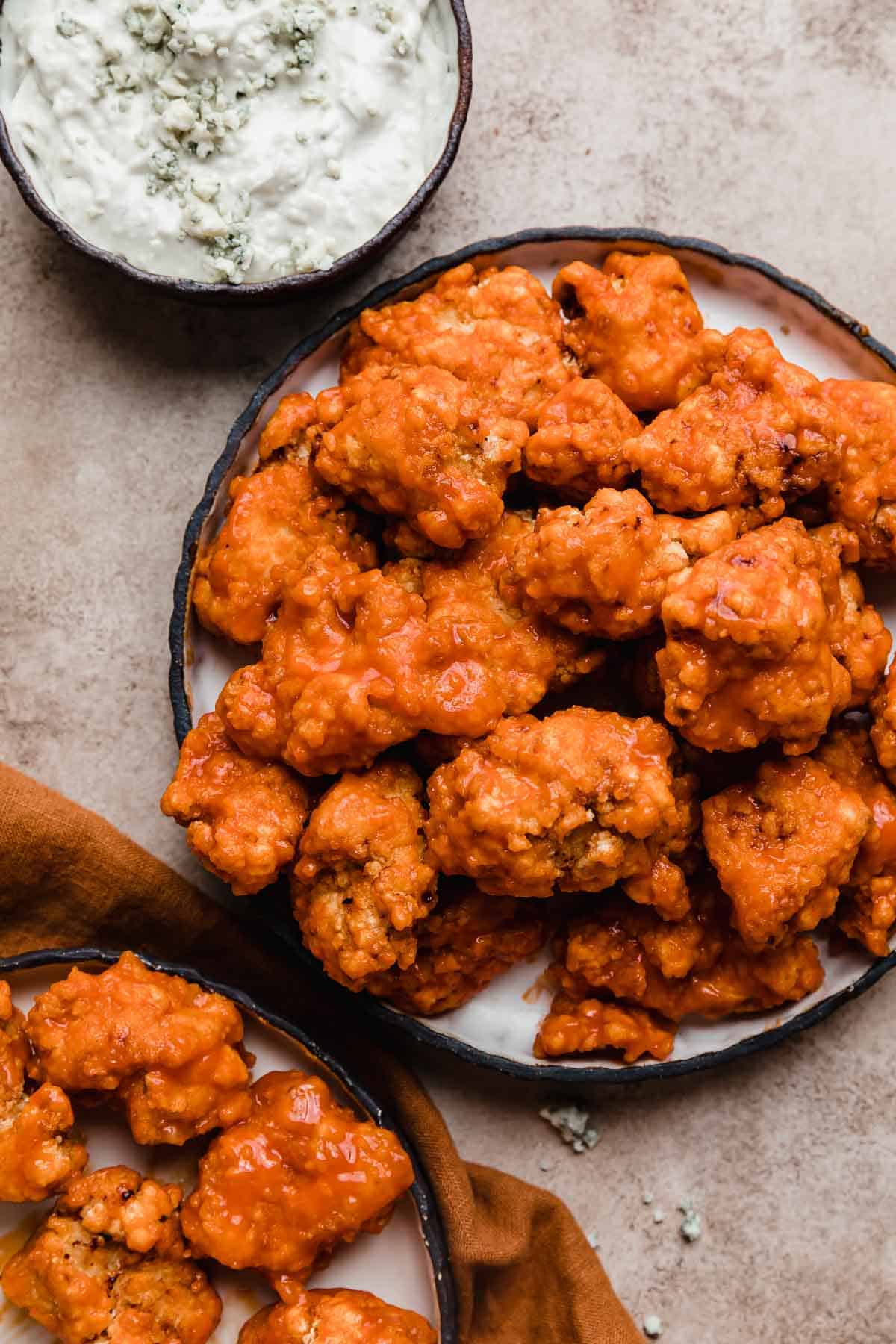 Why This Recipe Works
Delicious chicken bites and dip. I really like this dip because the flavor is present but not completely overpowering. The buffalo chicken + bleu cheese dressing is a perfect pairing.
Homemade bleu cheese dressing + homemade buffalo sauce. The dip for the buffalo chicken bites and this best buffalo sauce are both completely homemade! 
Buttermilk chicken marinade. The buffalo marinade uses buttermilk which helps to tenderize the chicken and make them deliciously moist and tender! 
Crispy buffalo chicken bites. This homemade buffalo chicken bites recipe produces perfectly crispy chicken pieces — and did I mention they are boneless buffalo bites? Added plus! 
Ingredient Notes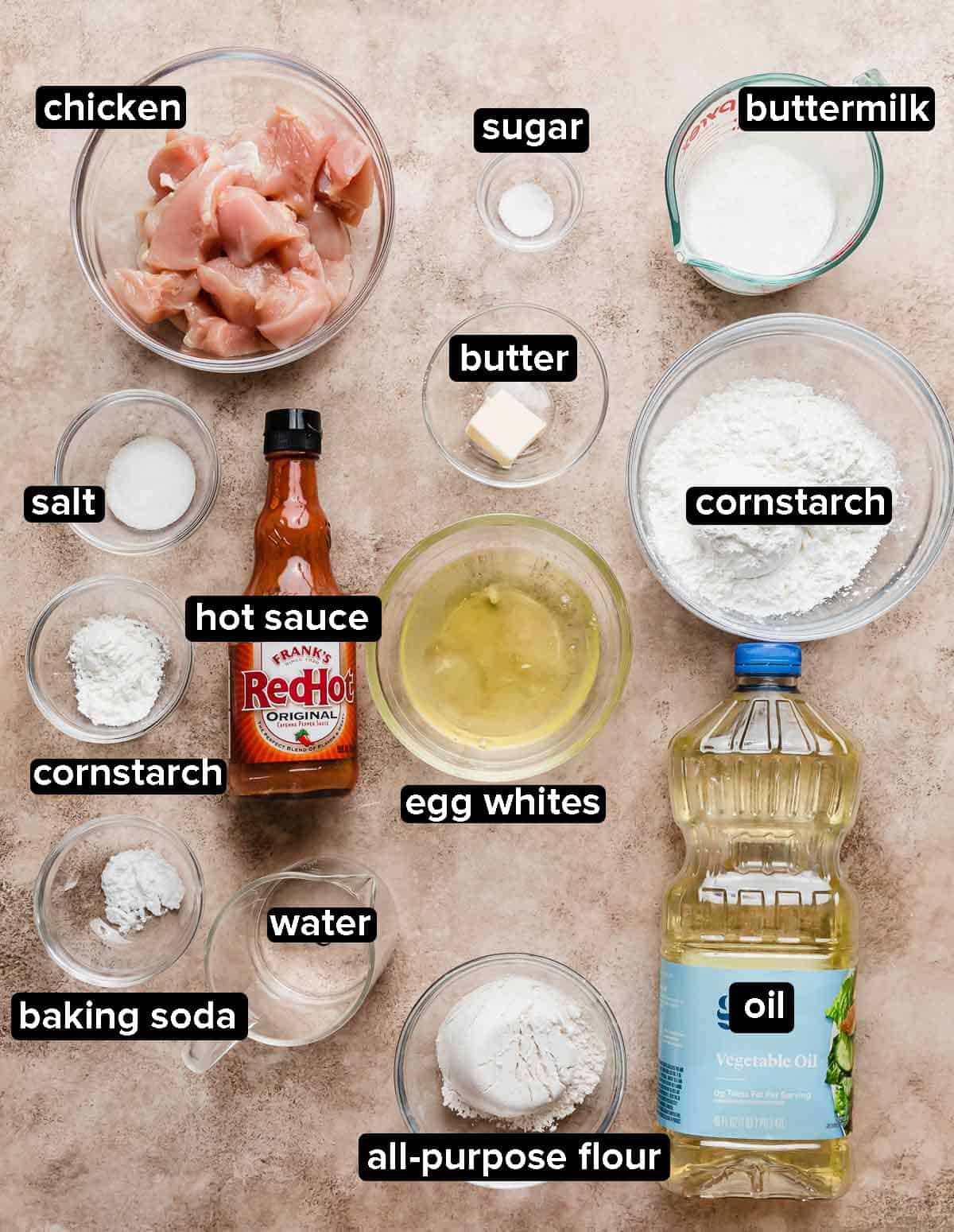 Bleu Cheese: The bleu cheese should be crumbled to help intersperse through the dip better. 
Sour Cream: Using a combination of sour cream and mayo will create the perfect base consistency for the blue cheese dressing. 
Cider Vinegar: Adding a bit of cider vinegar to the bleu cheese dip will give the perfect balance of acidity. 
Chicken Breasts: Since we are using chicken breasts, these will be boneless buffalo chicken bites! No having to worry about those pesky bones. 
Buttermilk: The buttermilk is used for the chicken marinade. The acid from the buttermilk helps to tenderize the chicken. 
Hot Sauce: Use your favorite hot sauce. I used Frank's red hot sauce.  
Cornstarch: The cornstarch will help thicken the buffalo sauce and some of the cornstarch will be used to make the flour coating for the chicken pieces. 
Vegetable Oil: This is for frying the chicken bites. Feel free to use whatever oil you prefer frying in. 
Step-by-Step Instructions
Make the bleu cheese dip. Add 3 oz bleu cheese, 2/3 cup mayo, 6 T sour cream, 1 1/2 T cider vinegar, 1/2 tsp pepper, and a pinch of salt and pinch of garlic powder to a food processor. Process until smooth and incorporated. Store in the fridge until ready to use. 
Prepare the chicken. Add 1/2 cup buttermilk, 1 1/2 tsp salt, and about 2 large chicken breasts cut into chunks into a large ziplock bag. Let marinate in the fridge for 1-2 hours. 
Make the buffalo chicken sauce. To a small saucepan, add 2/3 cup hot sauce, 1/3 cup water, 1/2 tsp sugar, 1 T butter, and 3 tsp corn starch. Cook over medium heat and whisk to combine. Once thickened, remove from the heat and set aside. 
Prepare to bread the chicken. Add 4 egg whites to a small bowl and whisk until foamy. In a medium bowl, add 1/2 cup flour, 1/2 tsp baking soda, 1 1/2 cups cornstarch, and 1/3 cup of the buffalo chicken sauce from the saucepan. Mix until the mixture resembles cornmeal.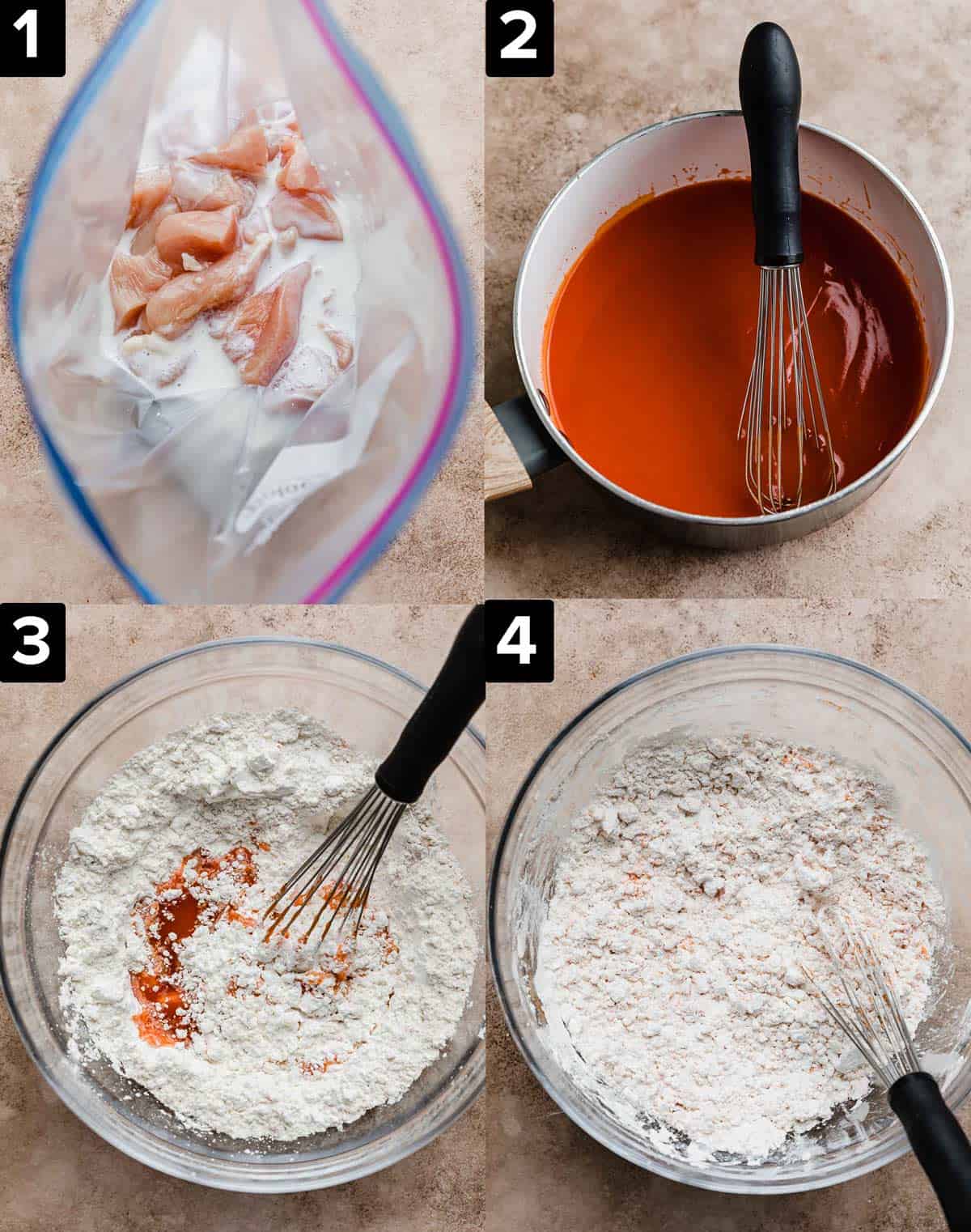 Bread the chicken. Remove the chicken breast pieces from the buttermilk marinade and lightly pat dry with paper towels. Toss half of the chicken into the egg whites, coating all the chicken. Transfer to the flour mixture and make sure each piece of chicken is fully coated. Gently press the flour mixture to the chicken pieces to more fully adhere it. Transfer chicken to a separate plate. Repeat with all the chicken. 
Pan fry the buffalo chicken bites in batches. Heat 3 1/2 cups vegetable oil in a large Dutch oven over medium heat. Use an instant read thermometer to heat the oil to 350ºF. Cook half of the chicken bites for 2 minutes, flip and cook for another 2-3 minutes. Place chicken on a plate lined with paper towels. Make sure oil reaches 350ºF before adding the next batch of chicken. Repeat.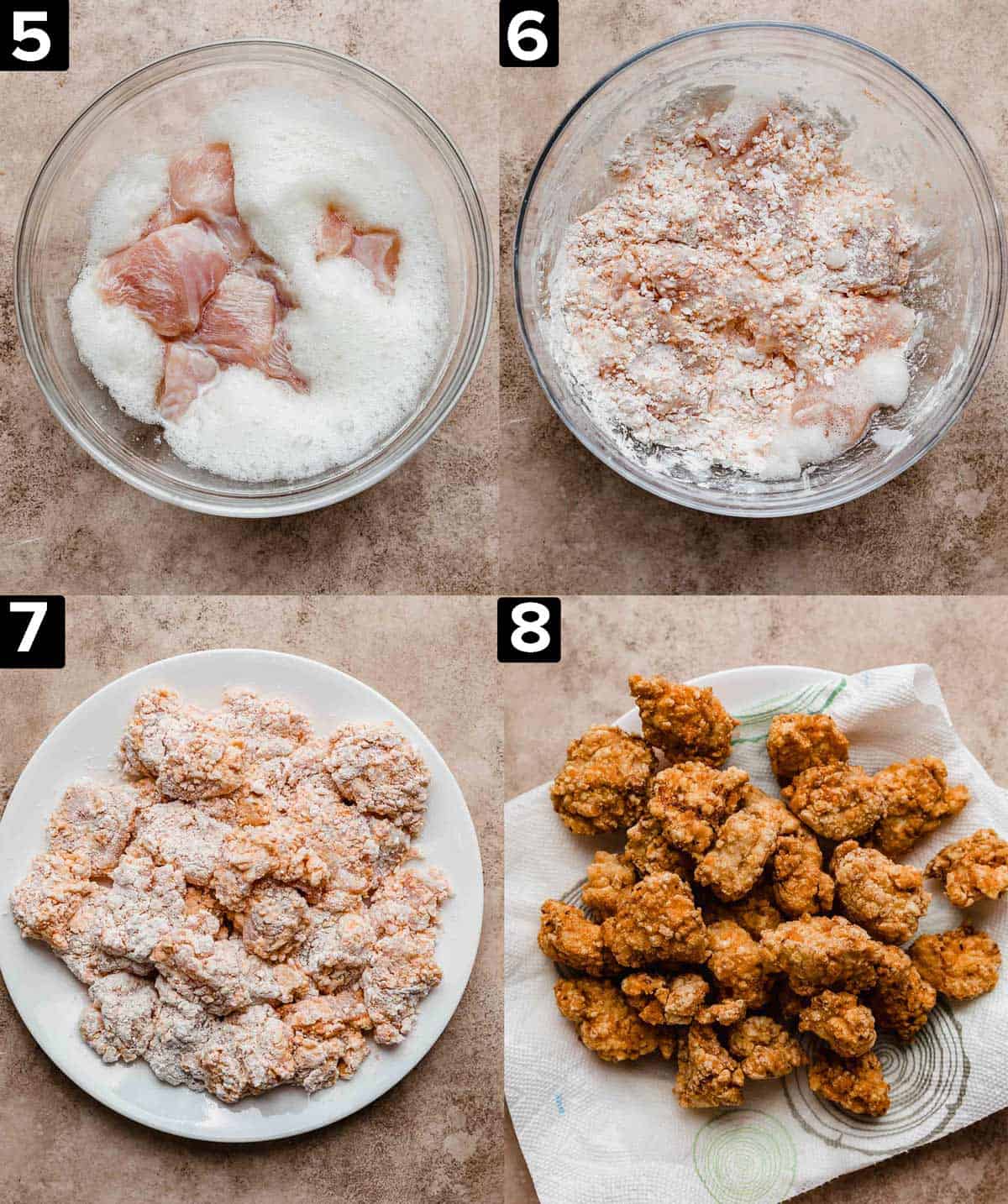 Coat chicken bites in buffalo sauce. Warm the sauce in the saucepan back up. Place the buffalo chicken bites in a large bowl and pour the buffalo sauce on top. Toss the chicken until all pieces are fully coated. Serve with homemade bleu cheese dressing or your favorite dipping sauce. Enjoy!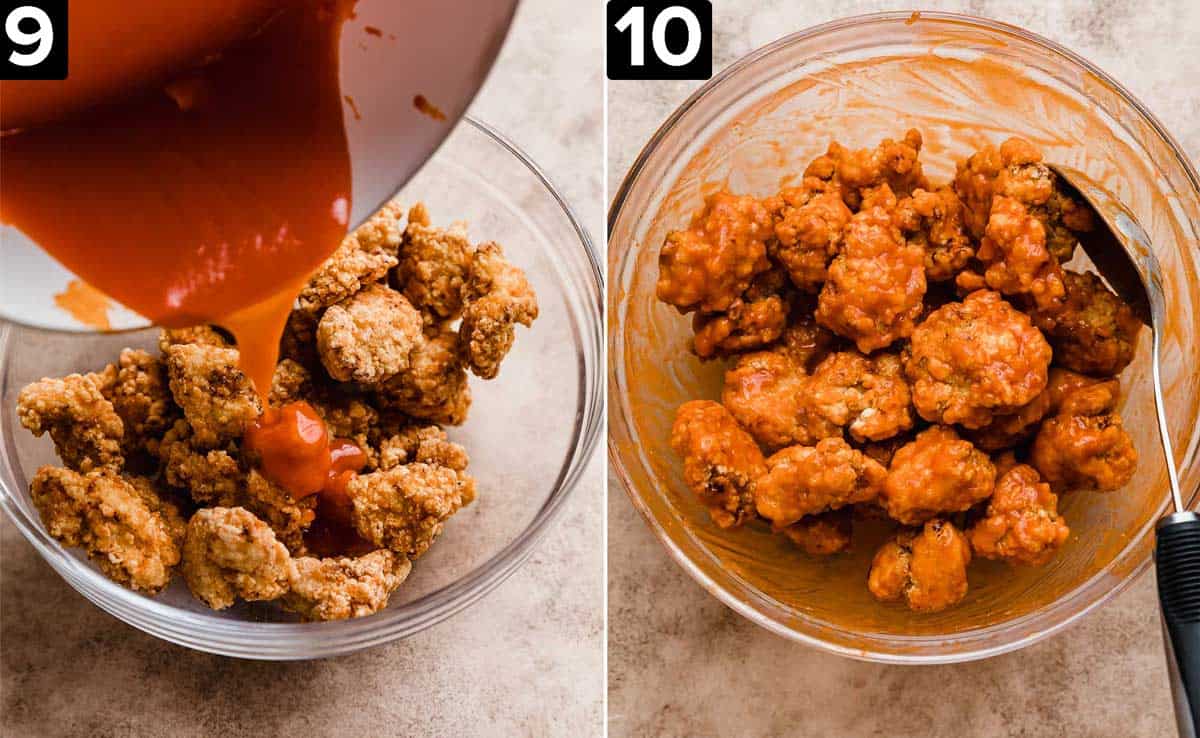 Recipe Tips
If you plan on frying chicken, make sure you marinate the chicken in buttermilk beforehand! Marinate anywhere from 2-8 hours. The buttermilk will give you a perfect juicy on the inside, crispy on the outside fried chicken.
Remember to reheat the oil between each pan fried batch of chicken. The oil should reach 350ºF. Because the chicken is cold, it will reduce the heat of the oil, creating the need to bring the oil back up to temperature.
Lightly patting dry the chicken pieces after marinating and before dipping will help the egg and the breading mixture stick better.
Cut the chicken into similar sized pieces so they'll cook more evenly and take about the same time to cook. This will make doing the batch much easier.
Be sure to cook the chicken in a single layer for best results. Cooking time will depend on the size of your pan, the number of chicken pieces you are cooking at once and the size of the chicken bites. Little bites will cook quicker. Internal temperature of chicken should reach 165ºF.
You can use a cooling rack on top of a baking sheet instead of a paper towel lined plate when removing the bite-sized buffalo chicken bites from the hot oil. The chicken should be golden brown. The darker color of the pieces comes from the buffalo sauce.
Add these spicy chicken bites on top of lettuce for a delicious buffalo chicken salad.
Make Ahead, Storing, and Freezing
You can definitely make the bleu cheese dip ahead of time. Make it, store it in an airtight container in the fridge and then pull it out when ready to use.
These buffalo bites are much better enjoyed fresh! The breading is crispy, the chicken is warm and the experience is divine! So that's why I don't recommend making these chicken bites ahead of time or else the exteriors will go soft when you have to reheat them.
Store leftover buffalo chicken in an airtight container in the fridge for 2-3 days for best results. I would warm them in the oven to try and help restore some of that crispy texture.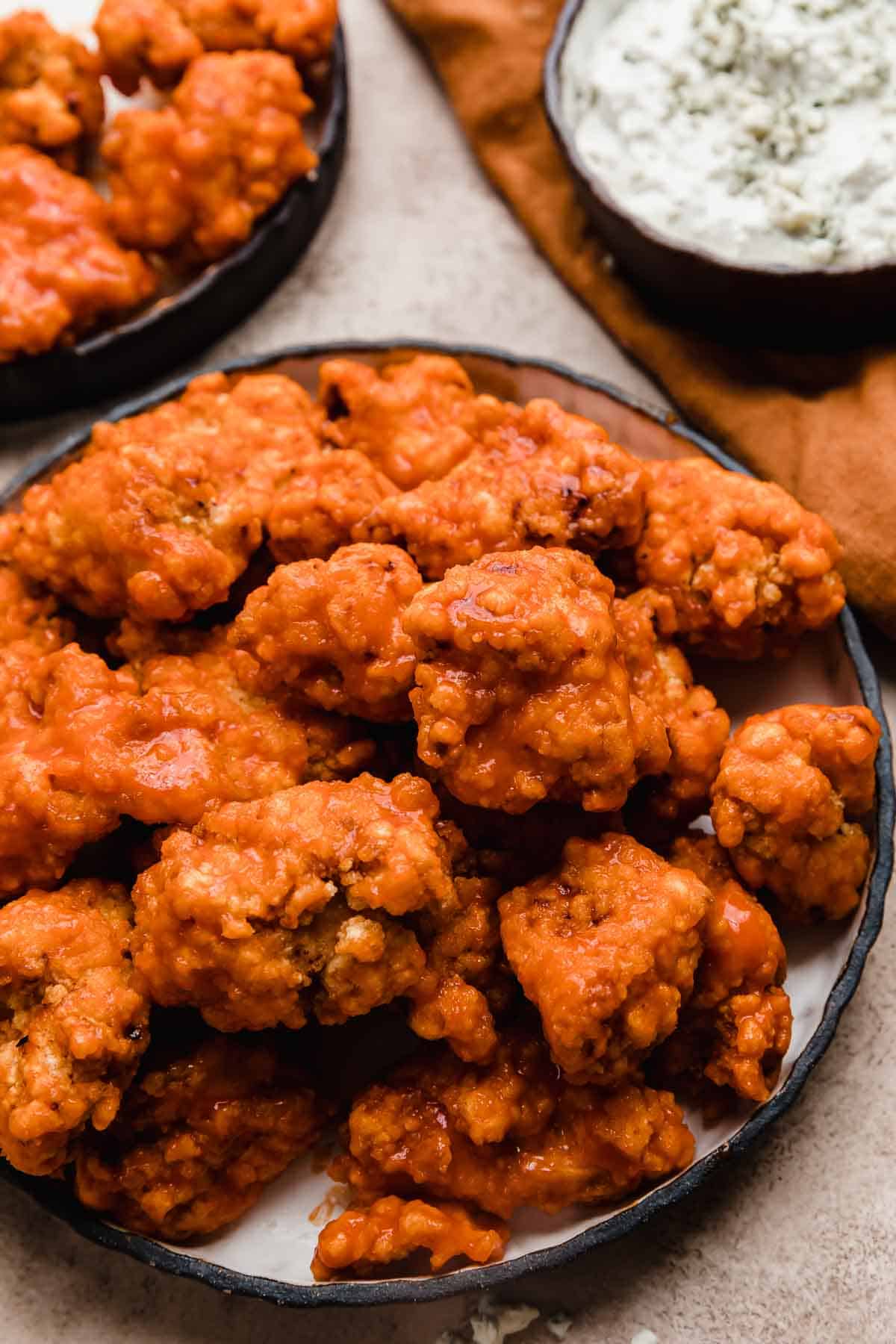 Recipe FAQs
What can I use instead of buttermilk?
I would use plain yogurt or milk. Add 1/2 tsp of lemon juice to the milk or yogurt. 
Are buffalo chicken bites spicy?
Yes. Buffalo sauce is inherently spicy because of the hot sauce you use to make the buffalo sauce. 
Can the buffalo chicken dip be frozen?
I wouldn't recommend freezing the blue cheese dip because of the sour cream base. Freezing it then thawing it will cause it to separate and become grainy. No good. 
Can do baked buffalo chicken bites? 
You can, but they breading won't be as crispy. Bake at 400ºF for 6-7 minutes and then flip the chicken pieces over and bake for another 6-7 minutes. The internal temperature of the chicken pieces should reach 165ºF.  
Is buffalo sauce spicy?
Yes it is. One of the ingredients in buffalo sauce is hot sauce.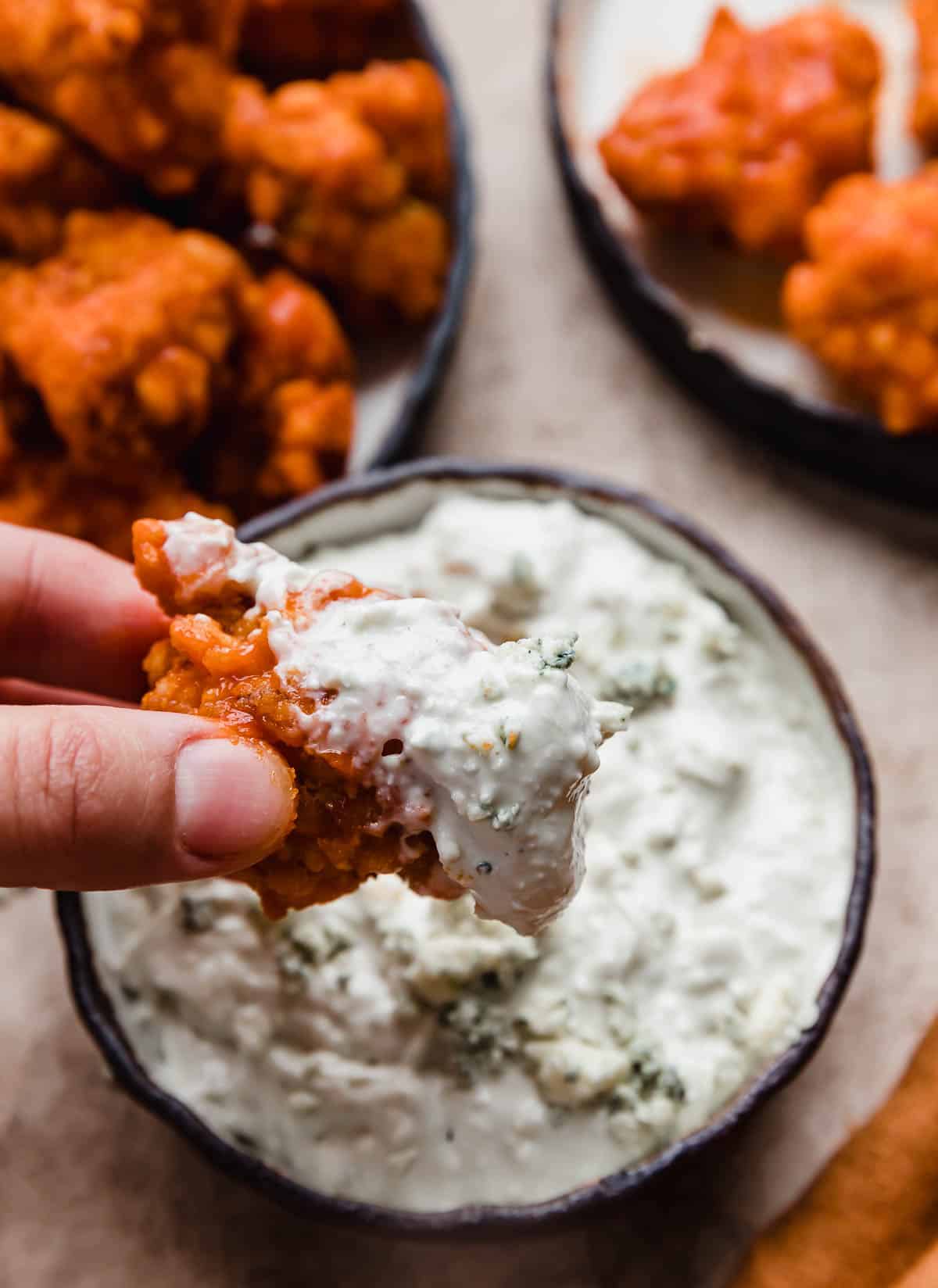 Buffalo Chicken Bites
Perfectly crisp buffalo chicken bites with a homemade bleu cheese dip is a classic appetizer that everyone loves!
Ingredients
Bleu Cheese Dip
3

oz

bleu cheese

-

crumbled

2/3

cup

mayo

6

tablespoons

sour cream

1 1/2

tablespoons

cider vinegar

1/4

teaspoon

pepper

pinch

salt

pinch

garlic powder
Chicken
1 1/2

lbs

boneless, skinless chicken breasts

-

cut into 1 1/2 inch chunks (about 2 large chicken breasts)

1/2

cup

buttermilk

1 1/2

teaspoons

salt

2/3

cup

hot sauce

-

(I used Franks)

1/3

cup

water

1/4

teaspoon

sugar

1

tablespoon

unsalted butter

1 1/2

cups

cornstarch

3

teaspoons

cornstarch

4

egg whites

1/2

cup

all-purpose flour

1/2

teaspoon

baking soda

3 1/2

cups

vegetable oil
Instructions
Bleu Cheese Dip
Combine dressing ingredients in a food processor and process until smooth. Refrigerate until ready to use.
Chicken
Place the buttermilk, salt, and chicken in a large Ziploc bag. Refrigerate for1- 2 hours.


In a small saucepan add the hot sauce, water, sugar, butter, and 3 teaspoons of cornstarch. Whisk over medium heat until thickened. Set aside.


In a small bowl, whisk the egg whites until foamy.


In a medium bowl combine the flour, baking soda, 1 ½ cups of cornstarch, and 1/3 cup of the hot sauce mixture (from the saucepan). Mix until combined and it resembles cornmeal.


Remove chicken from the buttermilk marinate and lightly pat dry with a paper towel.


Toss a third of the chicken in the egg white mixture, making sure the chicken has been covered. Then transfer to the flour mixture and dredge the chicken until all of the pieces are coated (press to adhere the flour). Transfer the coated chicken to a plate. Repeat until all of the chicken has been dunked in the egg whites and dredged in the flour mixture.


Heat the oil in a large Dutch oven over medium heat. The oil should register 350°F. (I use my instant read thermometer to check the temperature). Cook half the chicken at a time. Cook for 2 minutes, flip them over, and cook an additional 2-3 minutes.


Transfer fried chicken to a towel lined plate. Repeat frying for the second half of chicken. *Note, make sure the oil returns to the 350°F temp before adding the chicken to it!


At this point, you'll need to rewarm the hot sauce. Simply place it over low heat until it starts to simmer. Place the now fried chicken in a large bowl, pour the hot sauce overtop and toss the chicken until all of the pieces are coated in the sauce. Serve immediately with the homemade bleu cheese dressing.

Notes
These are best enjoyed fresh to get the best crispy results. 
Note: buffalo sauce is made with hot sauce so it is spicy. 
Recipe Source: Adapted from Americas Test Kitchen 
Did you make this recipe?
Leave a star rating and review on the blog post letting me know how you liked this recipe! Take a picture and tag @saltandbaker on Instagram and Facebook so I can see what you're making!