Homemade Creamy Vanilla Ice Cream
A Homemade Vanilla Ice Cream recipe that is velvety smooth and saturated with a pure vanilla flavor. This Homemade Vanilla Ice Cream recipe has become a family favorite and will always be a classic in our home.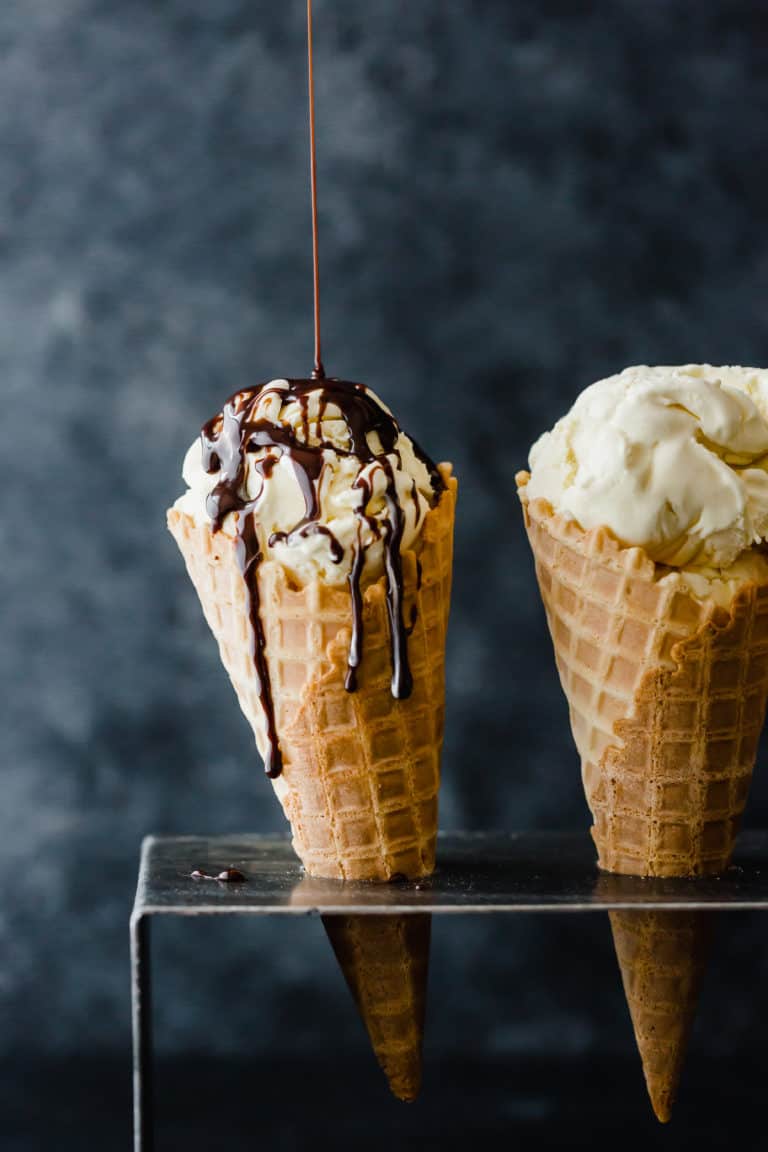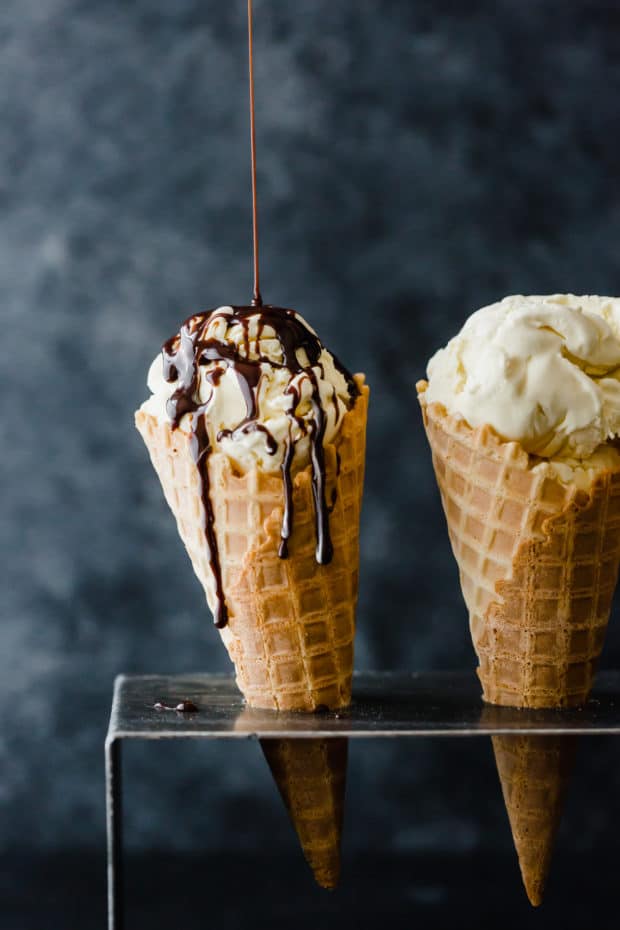 Truth be told, I go in and out of liking ice cream.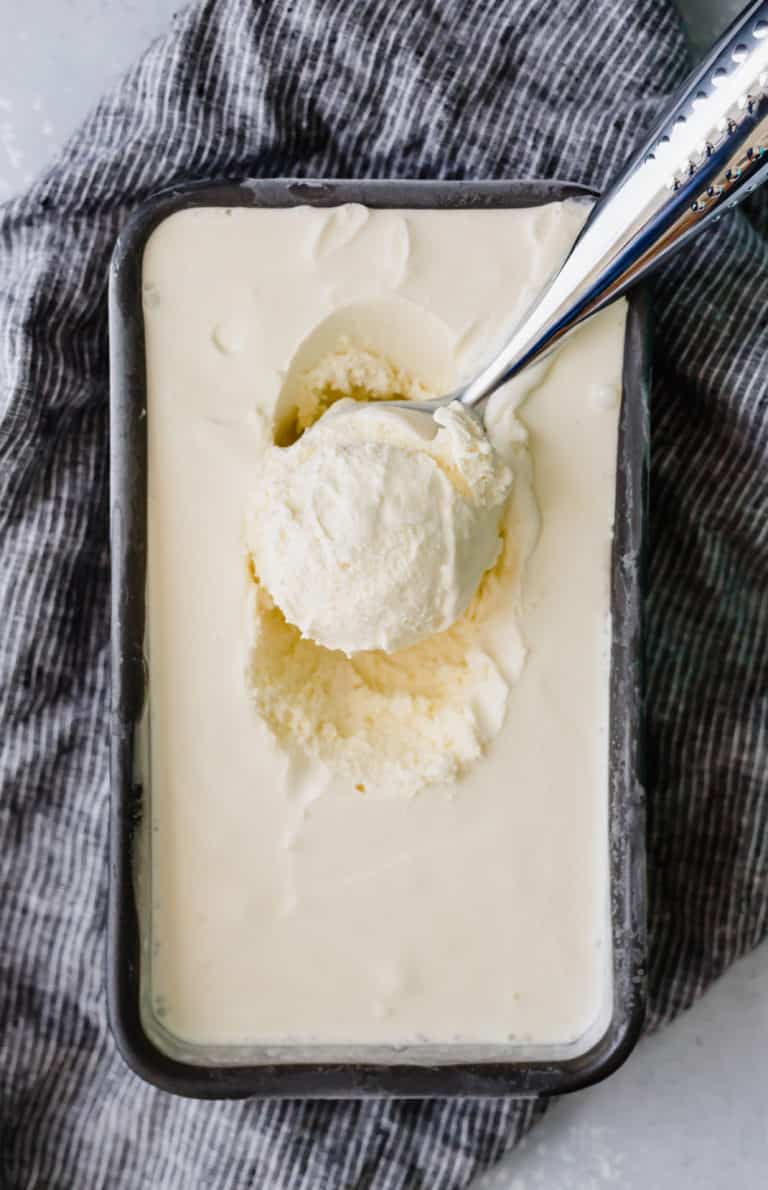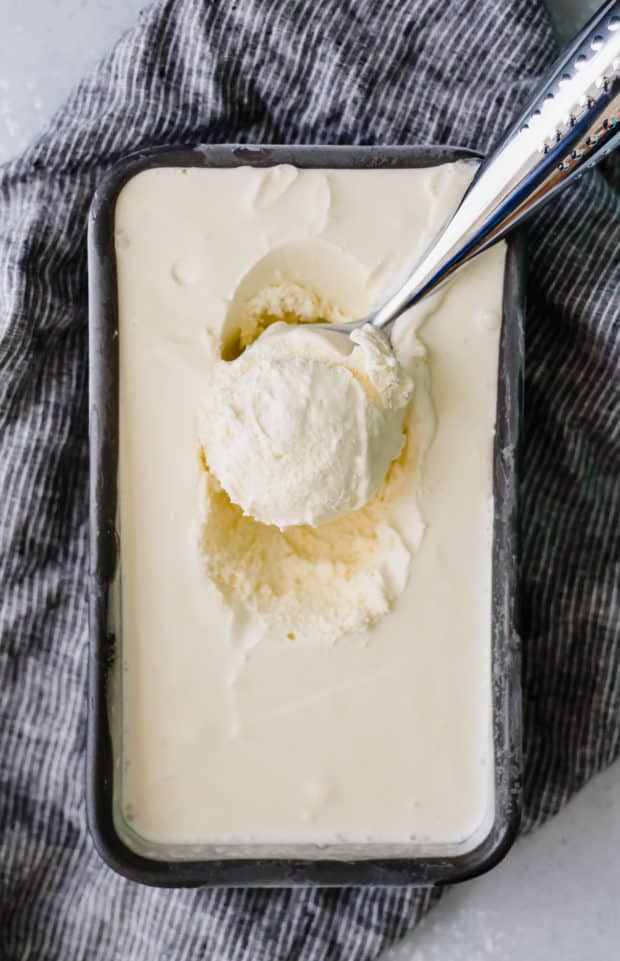 Homemade Vanilla Ice Cream
Store bought ice cream, I can live without. But homemade raspberry sorbet, Oreo ice cream, and vanilla ice cream, I need. The undeniably fresh flavor that accompanies a fresh batch of homemade ice cream is hard to resist!
Each year as the temperatures slowly rise into the upper 80°'s I begin making all the delicious frozen desserts.  My Oreo ice cream cake has quickly become a family favorite.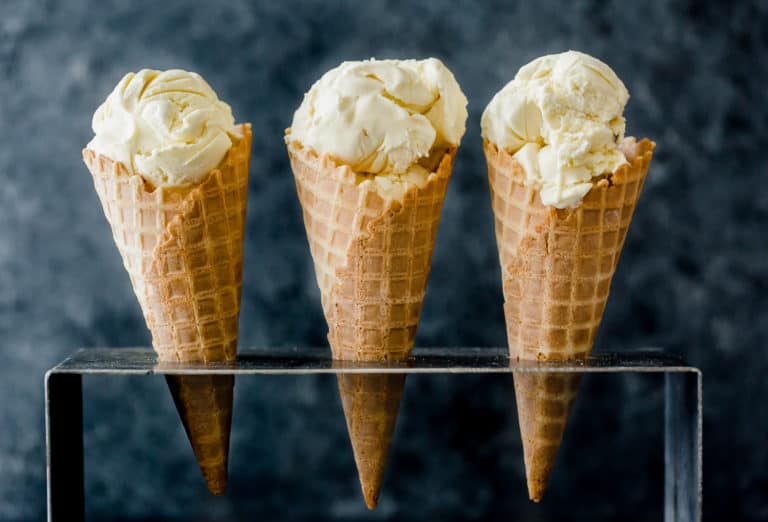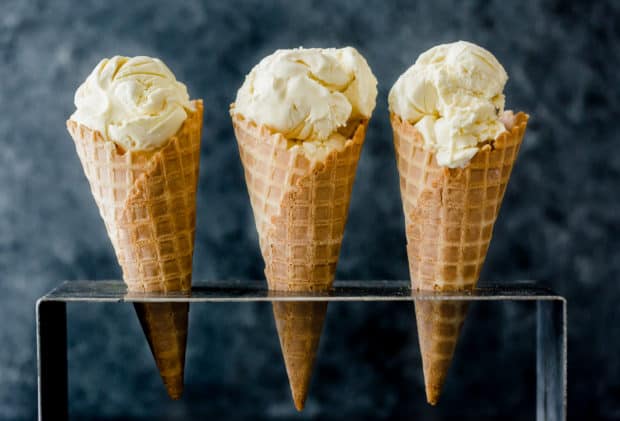 Homemade Vanilla Ice Cream is always a great ice cream recipe to dabble your feet in if you haven't made ice cream before. This recipe might be deemed a tad more involved than your regular "no churn vanilla ice cream" recipes you see floating around Pinterest.
This Homemade Vanilla Ice Cream recipe PROMISES a silky smooth, ultra creamy, richly vanilla flavored ice cream.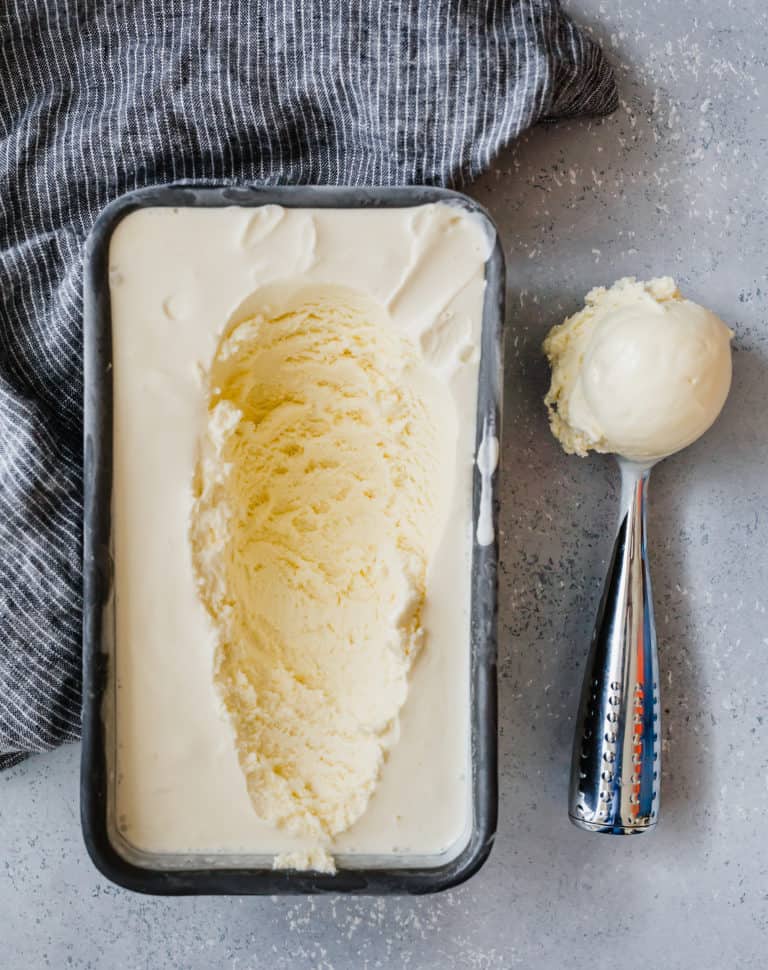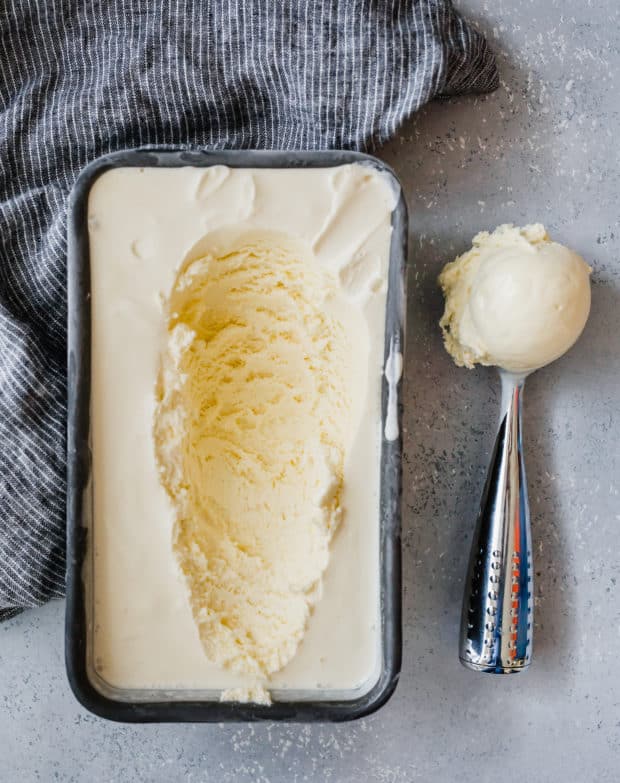 What does churning ice cream do?
Churning ice cream is the process of an ice cream maker simultaneously freezing the mixture while churning so as to aerate the mixture and keep the ice crystals small.
How long does it take to churn ice cream?
You should follow the recommended suggestions on the manufacturers instructions, however, a general guideline is that ice cream takes 25-40 minutes to churn. The amount of ice cream in the unit will affect the churn time.
Tip: Be sure to place a fully chilled cream and milk mixture into the ice cream machine for optimal results.
The great thing about vanilla ice cream is that you can customize it! If you want to add crushed Oreos, mini chocolate chips, a caramel ribbon, or brownie bits to the ice cream feel free to do so! The sky's the limit with homemade ice cream!
If you have left over ice cream be sure to make these Chocolate Cookie Ice Cream Sandwiches! So yummy!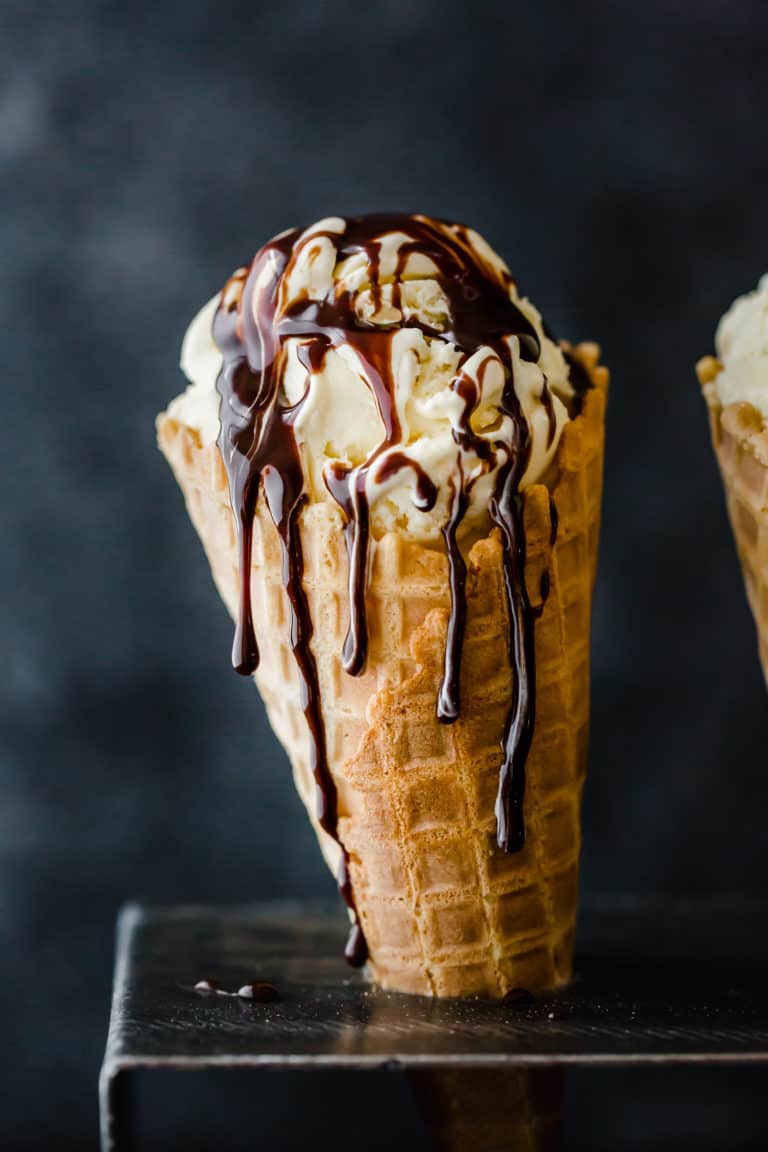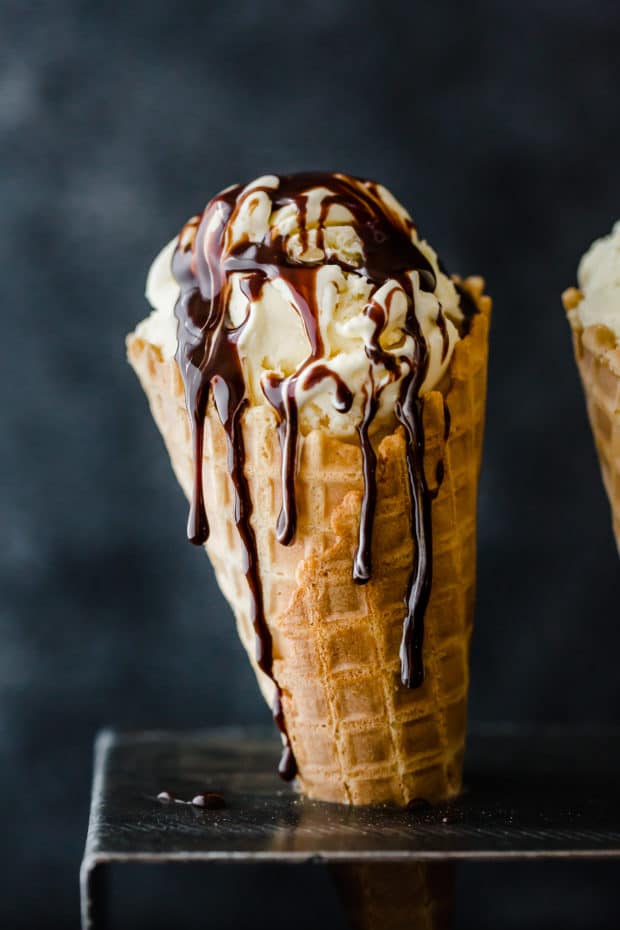 If you've tried this Homemade Vanilla Ice Cream or any other recipe on the blog, don't forget to rate the recipe and let me know what you thought in the comments below! I love hearing from you!
---
Craving more?  SUBSCRIBE TO SALT & BAKER to get new recipes delivered straight to your inbox!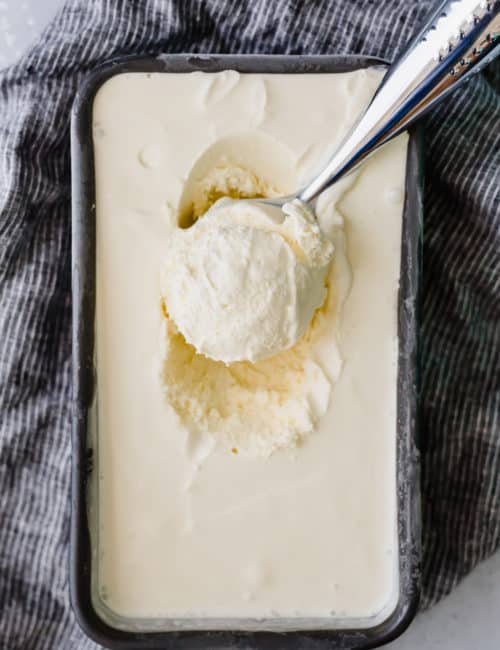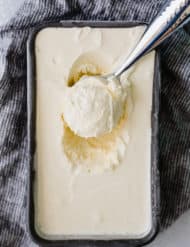 PRINT
Homemade Vanilla Ice Cream
A homemade vanilla ice cream that is creamy, silk smooth, and full of pure vanilla flavor.
INGREDIENTS
8

egg yolks

1 1/3

cup

granulated sugar

1/4

teaspoon

salt

3

cups

heavy cream

1

cup

whole milk

1

tablespoon

vanilla extract
INSTRUCTIONS
In the bowl of your stand mixer add the egg yolks, sugar, and salt. Using the paddle attachment, beat on medium speed until pale yellow and light and airy. About 4-5 minutes.

In a large pan heat the cream and milk over low heat, stir occasionally. If you have an instant read thermometer the mixture will reach 155-160°F. If you don't have a thermometer, the will be hot but not boiling!

Turn the mixer to low and add the heated cream in a slow, steady, stream. Mix until thoroughly combined, about 3 minutes.

Pour the cream/egg mixture back into the pan and heat over medium-low heat stirring constantly. Heat to 155-160°F. If you don't have a thermometer heat until it thickens and coats the back of a spoon. It should NOT boil, however, a few bubbles may come up along the edges. Remove from the heat and add the vanilla.

Set a fine mesh strainer over a large bowl. Pour the warm ice cream mixture into the bowl (through the fine mesh strainer)*

Cool the mixture over an ice bath, stirring every few minutes. After about 10-15 minutes place the mixture in the refrigerator until completely chilled.

Set up your ice cream machine according to the manufacturers directions. With the machine running, add the mixture in a slow steady stream. Churn according to the directions.

Transfer the churned ice cream to an airtight container and place in the freezer for several hours to firm up. Serve with your choice in toppings!
RECIPE NOTES
*if you've heated the mixture properly you won't catch much in your fine mesh strainer. This is just to ensure you don't have any curdled eggs in your ice cream mixture. Mainly just an extra step to make sure you get an extra smooth ice cream.
Be sure not to scald your milk. Don't let your mixture come close to a boil. Scalded milk and cream taste bad. 
Calories:
414
kcal
|
Carbohydrates:
30
g
|
Protein:
4
g
|
Fat:
31
g
|
Saturated Fat:
18
g
|
Cholesterol:
256
mg
|
Sodium:
103
mg
|
Potassium:
101
mg
|
Sugar:
28
g
|
Vitamin A:
1295
IU
|
Vitamin C:
0.4
mg
|
Calcium:
93
mg
|
Iron:
0.4
mg
Did you make this recipe?
Leave a comment or share a photo on Instagram and tag @saltandbaker and hashtag it #saltandbaker.
This post contains affiliate links. I am a participant in the Amazon Services LLC Associates Program, an affiliate advertising program designed to provide a means for us to earn fees by linking to Amazon.com and affiliated sites.