Strawberry Mocktail
This post may include affiliate links. As an Amazon Associate I earn from qualifying purchases.
This Strawberry Mocktail is packed with fresh strawberries, fresh mint, and fresh limes. It's made with Sprite (or 7-UP) and has the perfect fizzy element. You will love this refreshing virgin strawberry mojito at your summer parties!
As you're gearing up for summer parties, spruce up your menu with my blue lagoon mocktail, raspberry mojito mocktail and blueberry mocktail recipes. It's always nice to have some fun Mocktail Recipes with Sprite to use for the summer months (or holiday season)!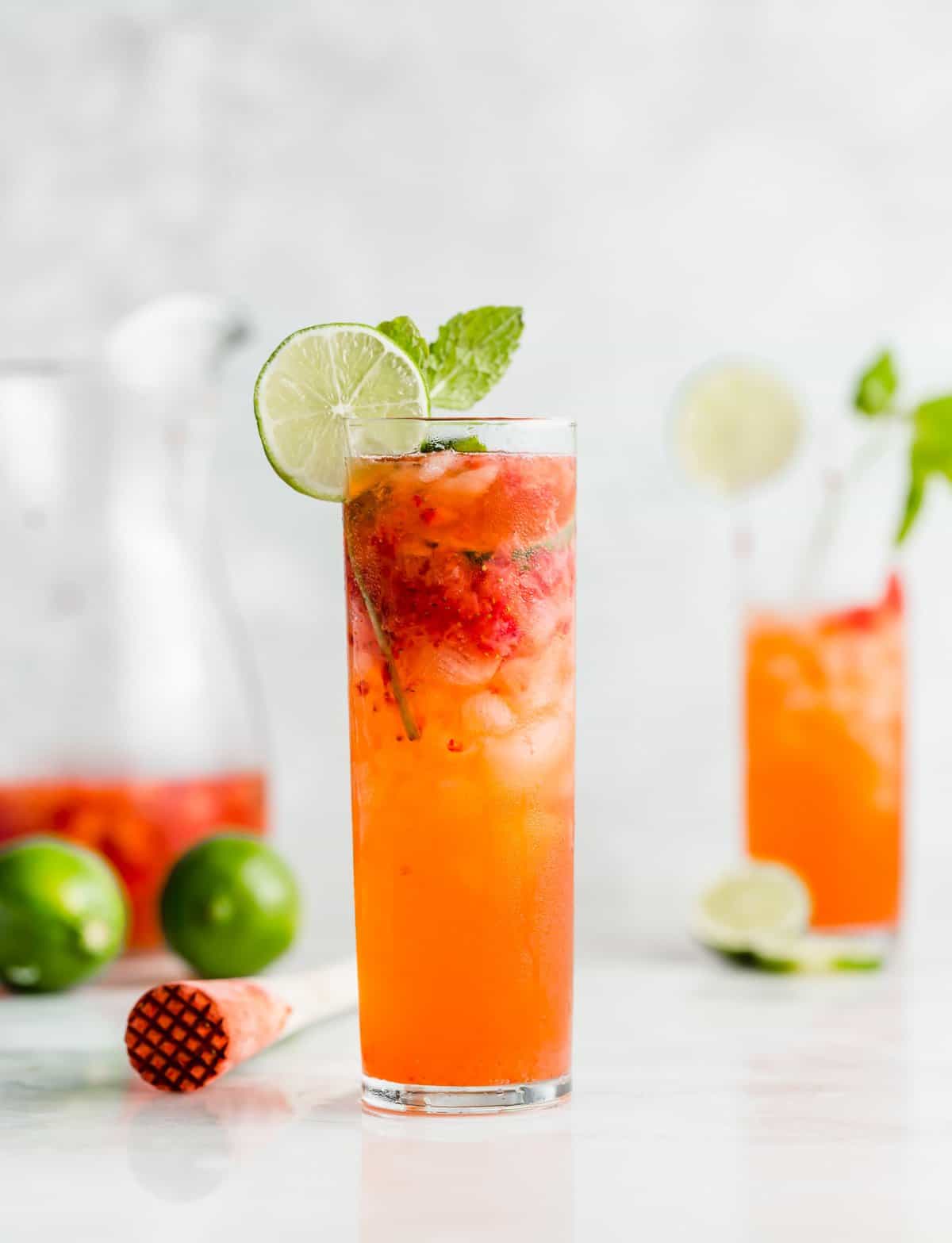 Why This Recipe Works
Beautiful and refreshing. There is something so fun about this strawberry mocktail drink is that it not only tastes amazing but looks pretty too!
Strawberry mojito without alcohol. Having non alcoholic options with kids and others who don't drink alcohol is a good look at parties and gatherings. Plus, this strawberry mint mocktail is so delicious that everyone will want to try it!
Easy to scale. This strawberry mojito mocktail recipe is also nice because it's super easy to make a lot of if you're wanting to serve it to a large group of people!
Ingredient Notes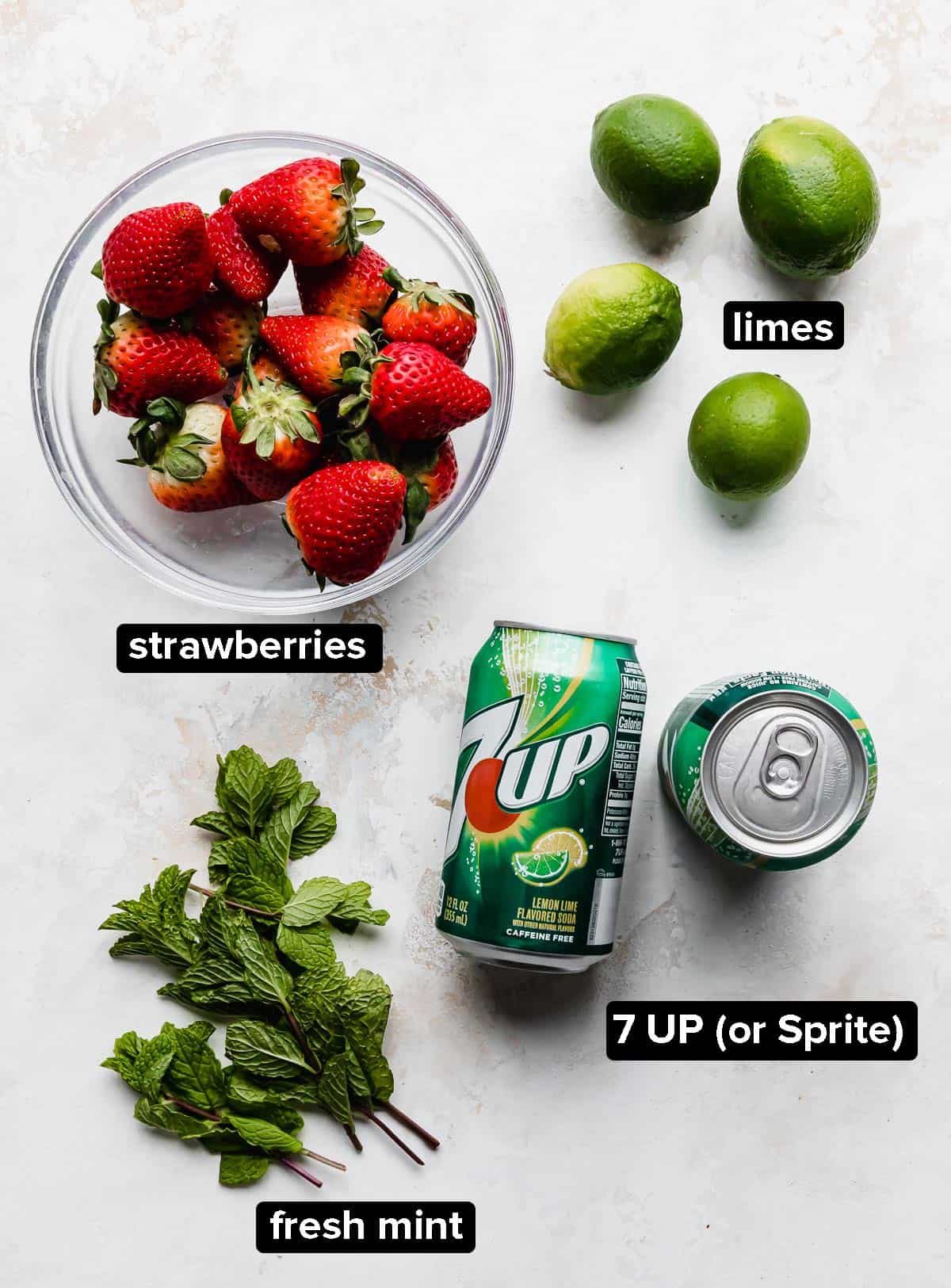 Strawberries: Be sure to wash and de-stem the strawberries. If you are looking for a raspberry option, check out my raspberry mojito mocktail recipe!
Limes: You are welcome to use store-bought lime juice. I like the freshly squeezed lime juice because I like a little bit of the pulp and because I feel like the flavor is a bit punchier.
Mint Leaves: I highly, highly recommend fresh mint. You really don't want dried herbs in drinks. Plus, the fresh mint leaves will penetrate the strawberry mojito mocktail better.
Sprite or 7-UP: Feel free to use Sprite or 7-UP. If you use a different soda (like Ginger Ale), you may need to adjust the ratio of strawberries/limes. With sodas that are less sweet, it may help to add a bit of sugar as well.
Step-by-Step Instructions
Smash the strawberries and mint. Add the de-stemmed strawberries and mint leaves to a pitcher. Using a muddle, or the back of a wooden spoon, muddle the fruit and leaves. You want to smash those strawberries really well! Muddling is all about extracting the juices from the fruit and mint leaves.
Add the lime juice. Once you get the strawberries and mint leaves muddled to perfection, add the lime juice.
Add the soda. Add the Sprite to the pitcher and stir everything together. Add crushed ice to your glasses and pour the virgin strawberry lime mojito into each glass.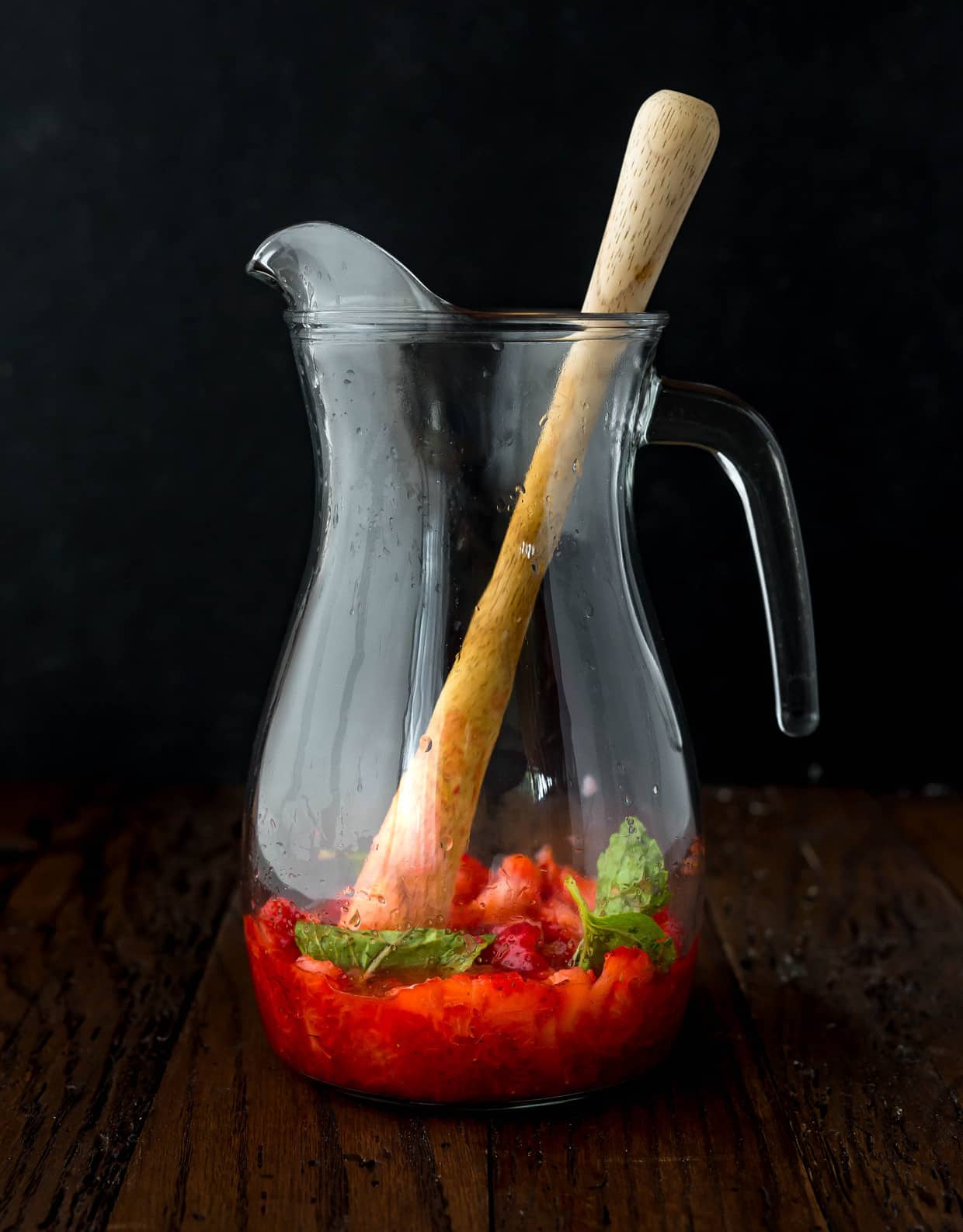 Recipe Tips
When muddling the mint leaves, don't be too aggressive. You want to extract their juices well, but you don't want the mint leaves to tear and shred to pieces. It's a balance.
If you don't want to use Sprite, use Ginger Ale or 7 UP. I used Sprite because to me it tastes sweeter. If you use something besides Sprite, just note you might want to add a couple tablespoons of sugar to the pitcher. If you taste the drink as you go, you can easily adapt it to your taste buds.
I only added 2 1/2 cups of Sprite because it kept each of the flavors balanced. If you'd like to make the flavors more subtle, add 3-4 cups of Sprite. This will increase the number of strawberry mocktail servings you'll get.
If you don't like tart drinks, add 1/8 cup of lime juice. If you like a tarter drink add 1/4 cup lime juice. I like tart drinks so I added 1/4 cup lime juice.
Make Ahead, Storing, and Freezing
Store any of the virgin strawberry mojito in the fridge for 3-4 days. The longer it's in the fridge, the less fizzy the drink will be.
If you want leftovers, I recommend making extra of the strawberry, mint, and lime muddled mixture and storing that in the fridge in an airtight container and adding the Sprite as you serve it.
You can freeze the strawberry, mint, and lime mixture in an airtight container for 2-3 months. Thaw and add soda. I do this with a lot of my drink recipes! It makes it much easier to prep for parties ahead of time.
Recipe FAQs
Can I use any type of fruit in this mocktail recipe?
Technically, yes! However, I would use a fruit that would pair well with lime and mint. If you want to use peaches, I would recommend my peach drink recipe. I also have a delicious raspberry drink recipe you can try as well.  
What is a mocktail?
A mocktail is the nonalcoholic version of a cocktail. 
What soda is used in mocktails?
You can pretty much use your favorite neutral-flavored soda. These include Sprite, 7-UP, Ginger Ale, Fresca, etc. Clear sodas are the best option so the colors of the mocktail come through. 
Do mojitos have alcohol?
Yes. Mojitos are made with alcohol, but a mojito mocktail is a non alcoholic beverage.
More Fun and Tasty Drinks
Strawberry Lime Mojito Mocktail
Strawberry, mint, lime, and Sprite make this virgin Strawberry Mojito recipe one worth repeating!
Ingredients
12-14

Strawberries, stems removed

8

Large mint leaves,

-

if they are on the small size add12 mint leaves

2 1/2

cups

Sprite*

1/8

cup

Fresh lime juice*
Instructions
Add strawberries and mint leaves to a pitcher. Using a muddle (or a wooden spoon), muddle the strawberries and mint leaves. You're basically crushing then strawberries and mint leaves to extract the juices. Be careful as you don't want to tear the mint leaves to pieces.

Add the lime juice and Sprite to the pitcher. Stir.

Fill glasses with crushed ice (optional). Pour the virgin mojito mixture over the ice. Garnish with extra mint and lime slices. Serve immediately.
Notes
*I only added 2 1/2 cups of Sprite because it kept each of the flavors balanced. If you'd like to make the flavors more subtle, add 3-4 cups of Sprite. This will increase the number of mojito servings as well. 
**feel free to add 1/4 cup of lime juice for a stronger lime flavor.
***I didn't add sugar to this drink because I used Sprite, which is pretty sweet already. If using Ginger Ale you may want to add a few tablespoons of sugar to sweeten the drink. Taste as you go to adjust to your liking. 
Did you make this recipe?
Leave a star rating and review on the blog post letting me know how you liked this recipe! Take a picture and tag @saltandbaker on Instagram and Facebook so I can see what you're making!