Virgin Strawberry Lime Mojito
 As you're gearing up for holiday parties, spruce up your menu with this fun virgin strawberry lime mojito!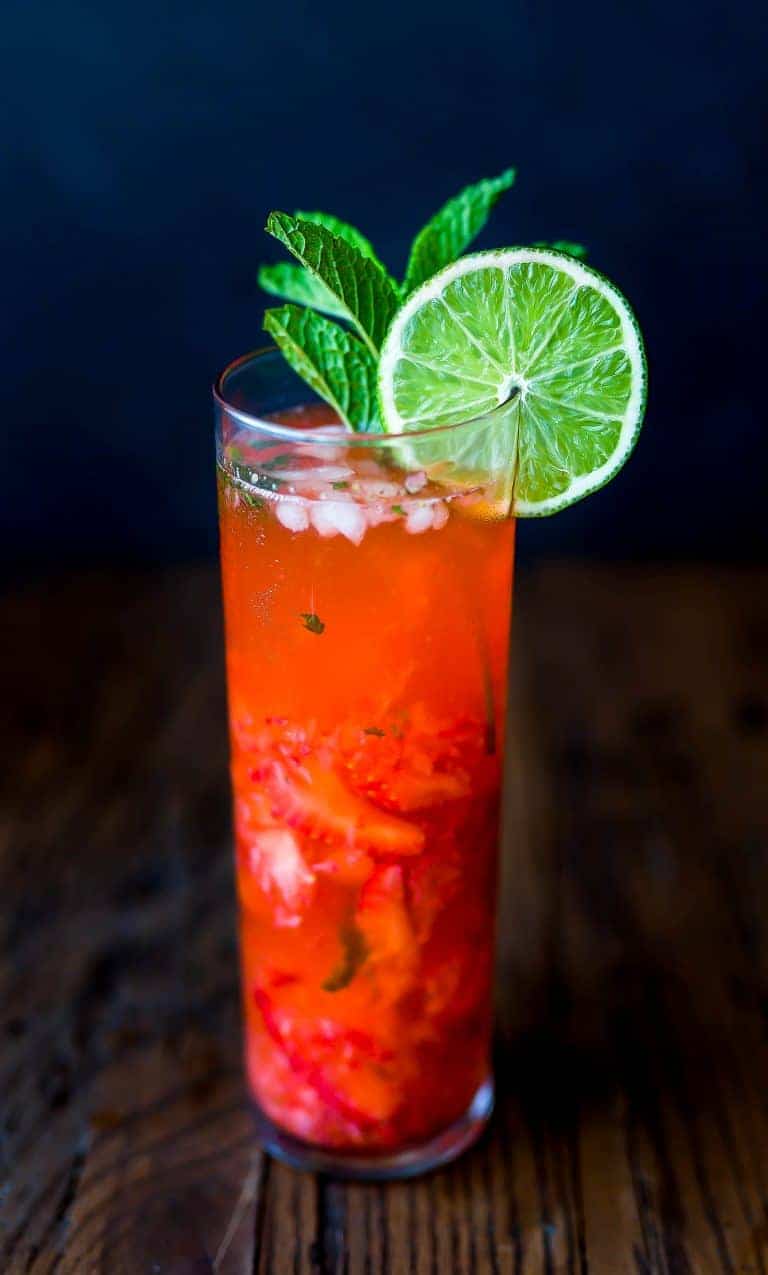 Yay for delicious virgin drinks! The thing is… not everyone drinks alcohol. You're gonna want a virgin drink option for them. This virgin strawberry lime mojito is exactly what you need! Not only is it beautiful to look at, it's refreshing and tastes AH-MAZING!! Immediately after taking these photos I drank two of the 4 glasses… 😳 I don't even feel bad about it.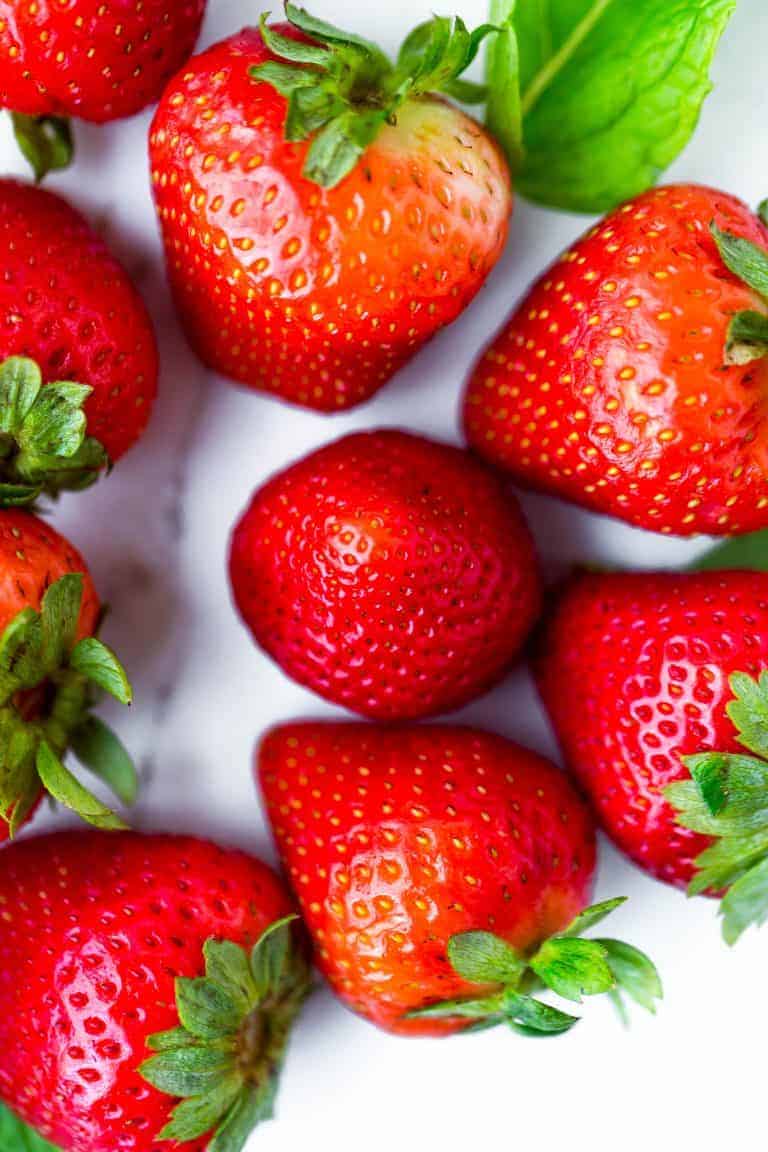 To make Virgin Strawberry Lime Mojitos:
You need strawberries, limes, mint leaves, and sprite.
If you have those 4 ingredients, you're in business! First, grab a pitcher. It doesn't need to be fancy. Place the strawberries (stems removed) and mint leaves into the pitcher. Using a muddle, or the back of a wooden spoon, muddle the fruit and leaves. You want to smash those strawberries really well! Muddling is all about extracting the juices from the fruit and mint leaves. When muddling the mint leaves, don't be too aggressive. You want to extract their juices as well, but you don't want the mint leaves to tear and shred to pieces. It's a balance. Isn't everything? Once you get the strawberries and mint leaves muddled to perfection, add the lime juice. If you don't like tart drinks, add 1/8 cup of lime juice. If you like a tarter drink add 1/4 cup lime juice. I like tart drinks so I added 1/4 cup lime juice. However, you can always air on the side of caution and add 1/8 cup lime juice and add more to your liking after you've added all of the ingredients.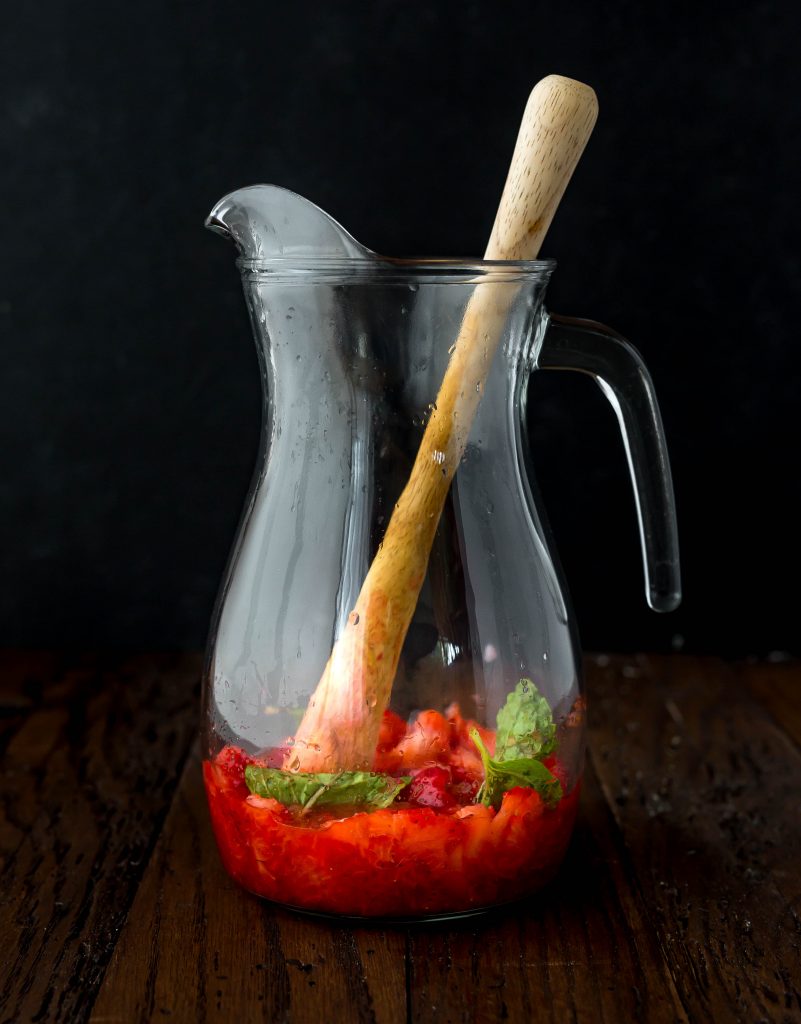 After adding the lime juice, add Sprite to the pitcher. If you don't want to use Sprite, use Ginger ale. I used Sprite because to me it tastes sweeter. If you use something besides Sprite, just note you might want to add a couple tablespoons of sugar to the pitcher. If you taste the drink as you go, you can easily adapt it to your taste buds. Once the Sprite has been added, stir everything together. Add crushed ice to your glasses and pour the virgin strawberry lime mojito into each glass. Whether you serve this at a summer barbecue or a holiday party, your guests will surely love it!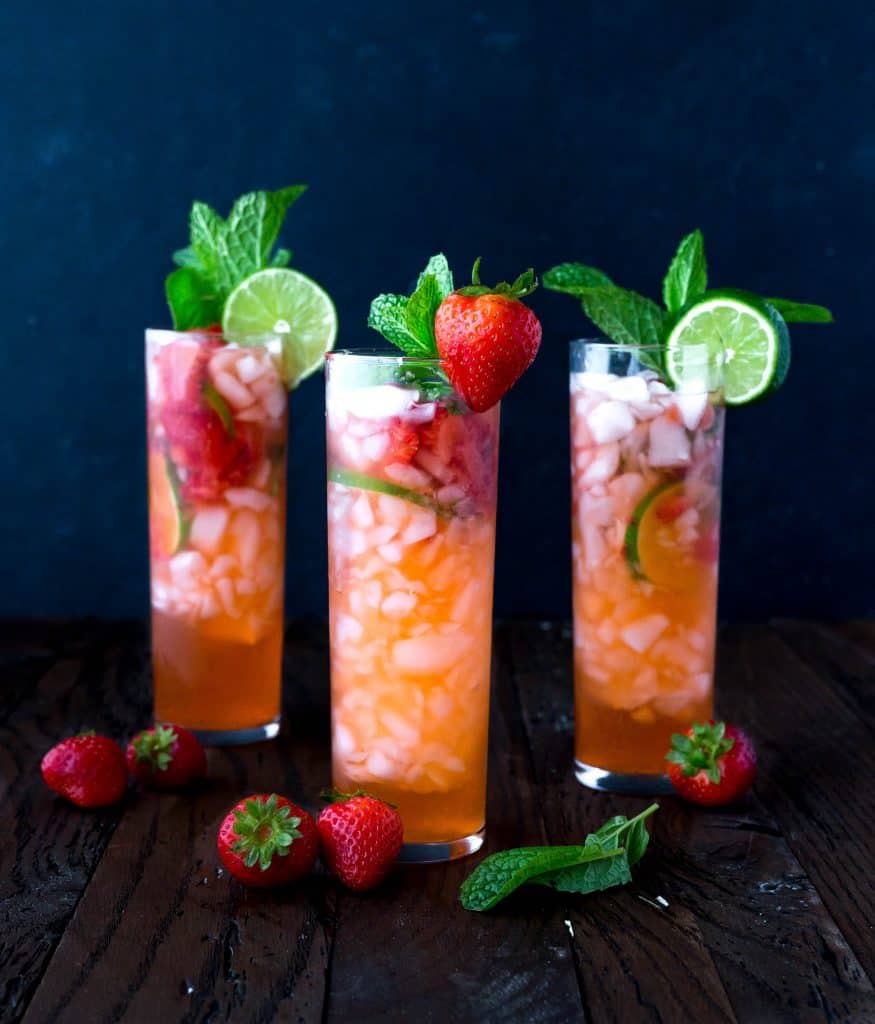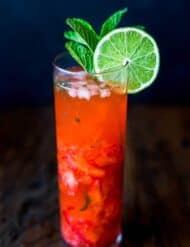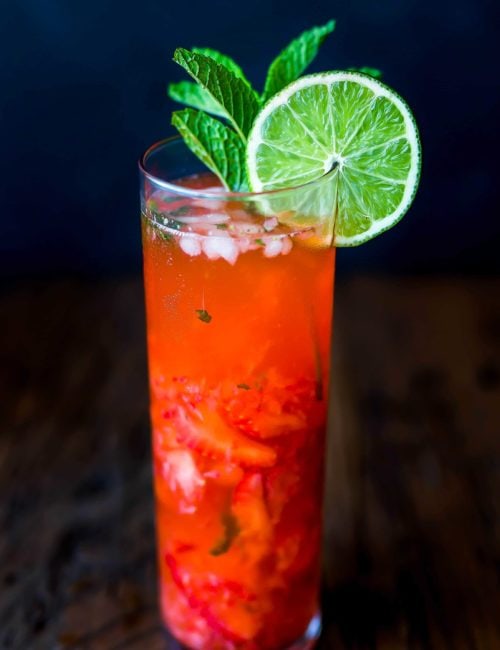 Virgin Strawberry Lime Mojito
Ingredients
12-14

Strawberries, stems removed

8

Large mint leaves,

if they are on the small size add12 mint leaves

2 3/4

cups

Sprite*

1/8

cup

Fresh lime juice*
Instructions
Add strawberries and mint leaves to a pitcher. Using a muddle (or a wooden spoon), muddle the strawberries and mint leaves. You're basically crushing then strawberries and mint leaves to extract the juices. Be careful as you don't want to tear the mint leaves to pieces.

Add the lime juice and Sprite to the pitcher. Stir.

Ion the joint glasses add enough crushed ice to fill the glass 3/4 full. Pour the virgin mojito mixture over the ice. Garnish with extra mint and lime slices. Serve immediately.
Recipe Notes
*I only added 2 3/4 cups of Sprite because it kept each of the flavors balanced. If you'd like to make the flavors more subtle, add 3-4 cups of Sprite. This will increase the number of mojito servings as well. 
**feel free to add 1/4 cup of lime juice for a stronger lime flavor.
***I didn't add sugar to this drink because I used Sprite, which is pretty sweet already. If using Ginger Ale you may want to add a few tablespoons of sugar to sweeten the drink. Taste as you go to adjust to your liking. 
Would you like recipes delivered straight to your inbox? Be sure to subscribe!