Mocktail Recipes with Sprite
This post may include affiliate links. As an Amazon Associate I earn from qualifying purchases.
These Mocktail Recipes with Sprite are delicious virgin mojito and mocktail recipes that your entire family can enjoy! Making a mojito mocktail with Sprite is a great way to serve your favorite drink at a family party where everyone can enjoy it!
You can find tons of delicious drink recipes and smoothie recipes here, which are great additions to any meal! Also, here's a quick tip: If you ever see recipes for Mocktails with Sprite, you can use 7-Up interchangeably! There are a few recipes I'm including here that have 7-Up pictured, but they are so similar in flavor you really can't tell a difference between mocktail recipes with Sprite and mocktail recipes with 7-Up!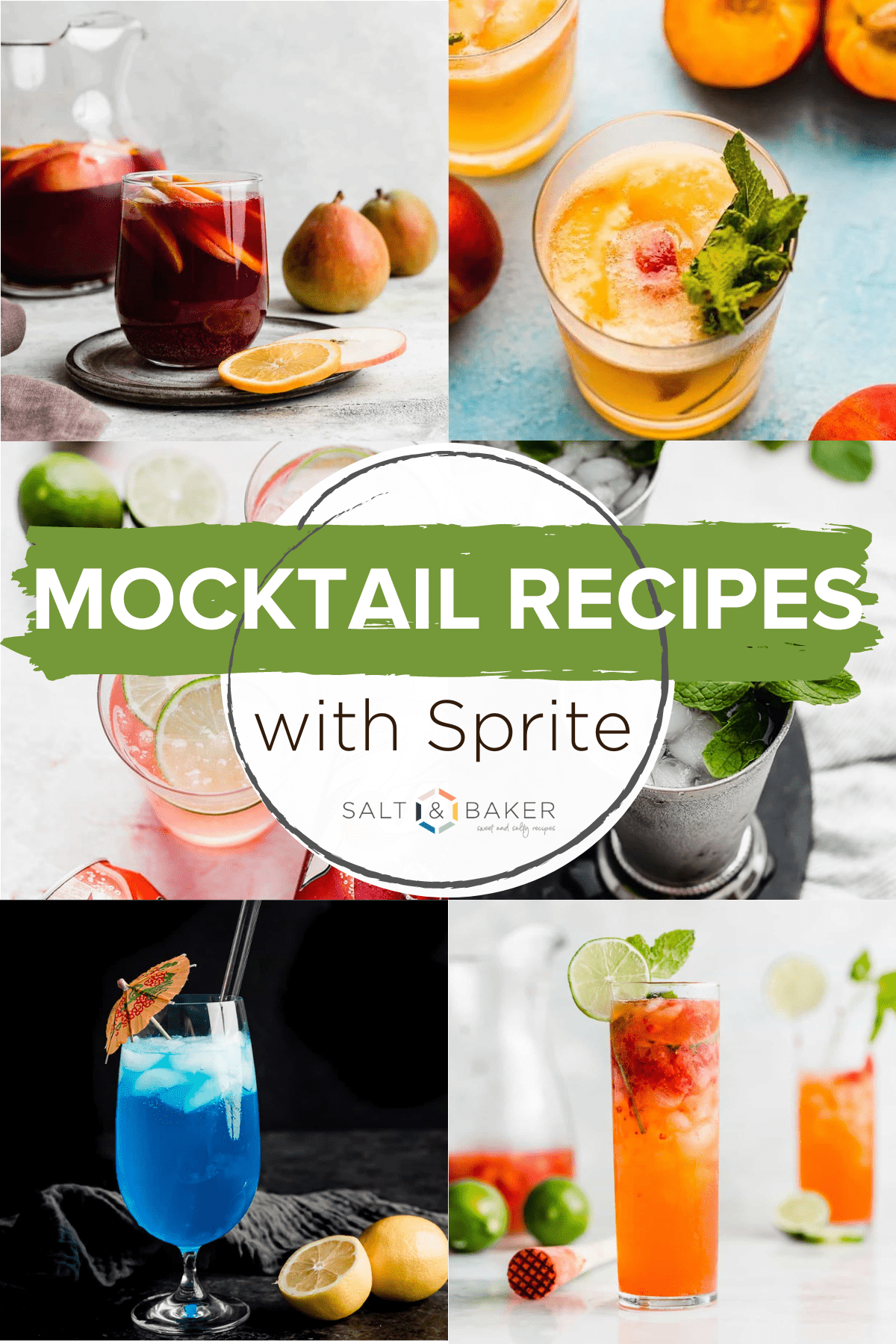 We're kicking off this list with a fresh blueberry mocktail! You can use Sprite, 7-up or Ginger Ale. I love this mocktail not just for the flavor but because of the deep purple color! It screams sophistication for me.
Next up is my Strawberry Mojito Mocktail! You really can't go wrong with a strawberry mocktail with Sprite! There's something about the combination of the carbonation and the strawberry that is so yummy.
This Blue Lagoon Mocktail recipe is so fun because of the delicious lemon flavor and the deep blue color! This virgin drink recipe is perfect for those boy baby showers!
Let's hop on over to Spain for this next mocktail recipe with my Non-Alcoholic Sangria! This recipe calls for Ginger Ale, but using Sprite is a deliciously easy adaptation. This drink uses fruit juices and soda to bring in a delicious flavor and deep red color!
Now plenty of these mocktail recipes with Sprite you can enjoy any time of you, but I wanted to share my favorite Christmas drink that uses Sprite. It's not a not a mocktail per se, but Christmas time is a big time for parties and cocktails, so I figured I'd share this amazing Christmas Cranberry Slush Punch with Sprite for another non-alcoholic drink you can share during the Christmas season!
This Fresh Peach Punch is a delicious twist on a peach cocktail! I love peaches! So turning peaches into a drink is my kind of idea of a party. With this peach punch with Sprite, you get all the delicious peach flavor and fizzy fun minus the hangover! Talk about win-win.
Limeade Slush Punch is the virgin version of cherry limeade cocktails. Its deliciously citrus lime flavor pairs super well with Cherry Sprite or Cherry 7-Up for a fun and family-friendly cherry limeade slush drink! (This recipe is pictured with 7-Up, but it tastes just as amazing with Cherry Sprite!)
Virgin Mint Julep is the famous drink for the Kentucky Derby, but you can make this delicious mocktail recipe any time of the year! It's classic mint flavor makes for a classic virgin mojito recipe with Sprite!
This non-alcoholic Raspberry Lime Mojito Mocktail Recipe is the perfect virgin mojito recipe with Sprite to use any time of year! With it's deliciously seductive red color, it's the perfect mocktail for Valentine's Day, the 4th of July or Christmas! Its raspberry lime flavor is punchy and prominent paired with the fizzy Sprite!
The Spruce Eats has this delicious virgin Shirley Temple mocktail made with part Sprite and part Ginger Ale which is mouth-watering!
This delicious strawberry citrus mocktail is made with a sweet strawberry puree!
Tis the season for another delicious holiday mocktail recipe with this cranberry orange mocktail from Dessert Now Dinner Later!
The Blue Curacao from my Blue Lagoon Mocktail recipe is used in this delicious frozen blue rose mint julep mocktail! The mint touch is delectable!