Biscoff Milkshake
This post may include affiliate links. As an Amazon Associate I earn from qualifying purchases.
This Biscoff Milkshake is made with vanilla ice cream, Biscoff cookie butter, and Lotus Biscoff cookies for a warm and cozy milkshake flavor! You are going to love Biscoff and ice cream! It's the perfect combination.
We have some delicious Biscoff desserts for you Biscoff lovers! My Crumbl Biscoff Butter Cookies have a delicious Biscoff Buttercream on top. And you can't go wrong with my thick and chewy Biscoff Brownies! If you are more of a cake lover, then you have to try my Biscoff Caramel Cake!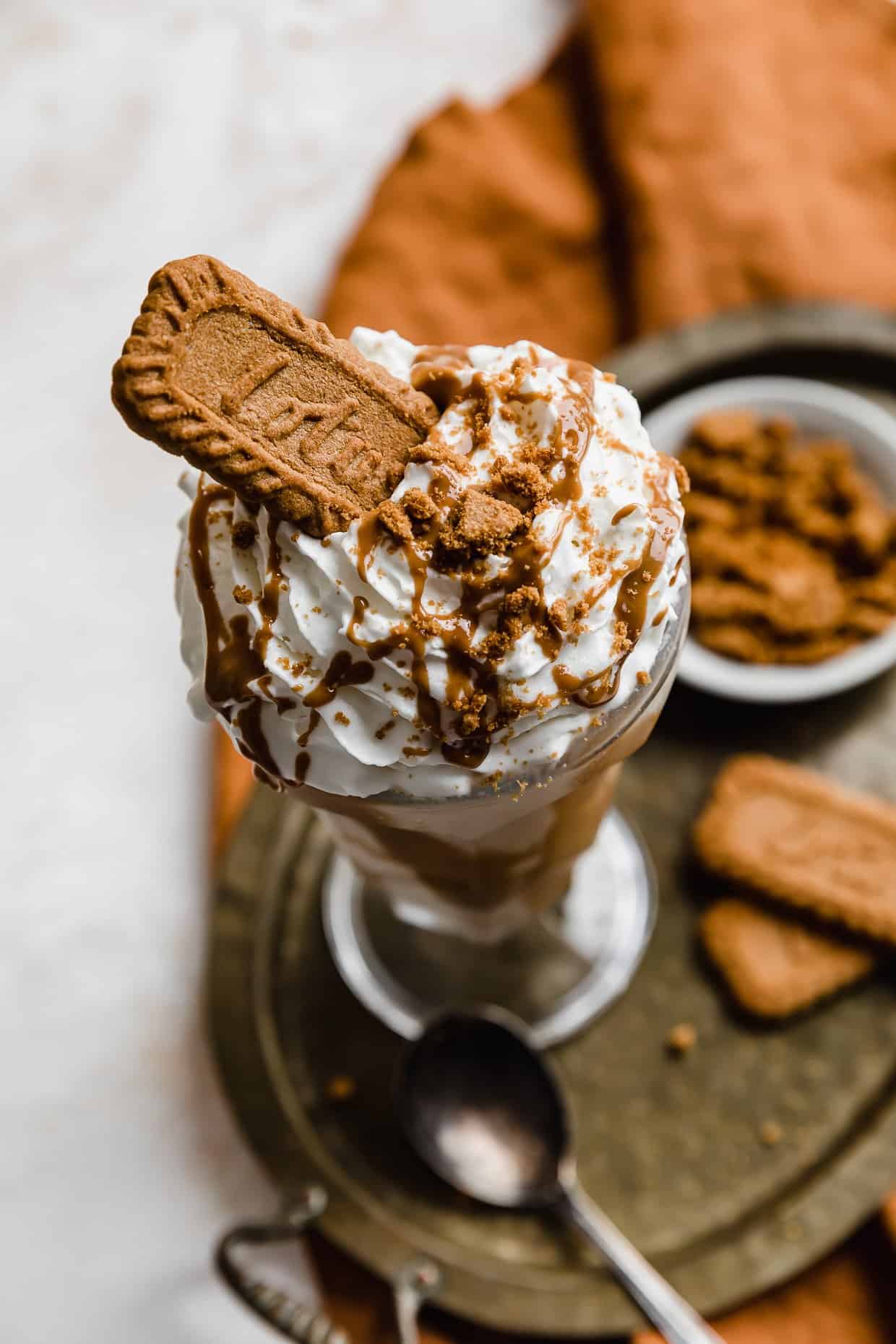 Why This Recipe Works
Biscoff milkshake with Biscoff spread and Biscoff cookies! This milkshake really delivers on the Biscoff flavor because it uses both the Lotus Biscoff spread and the cookies for a quick sweet treat! 
Creamy milkshake texture. The ratio of frozen vanilla ice cream to thick Biscoff cookie spread to milk gives this cookie butter milkshake recipe a deliciously smooth texture! 
Ingredient Notes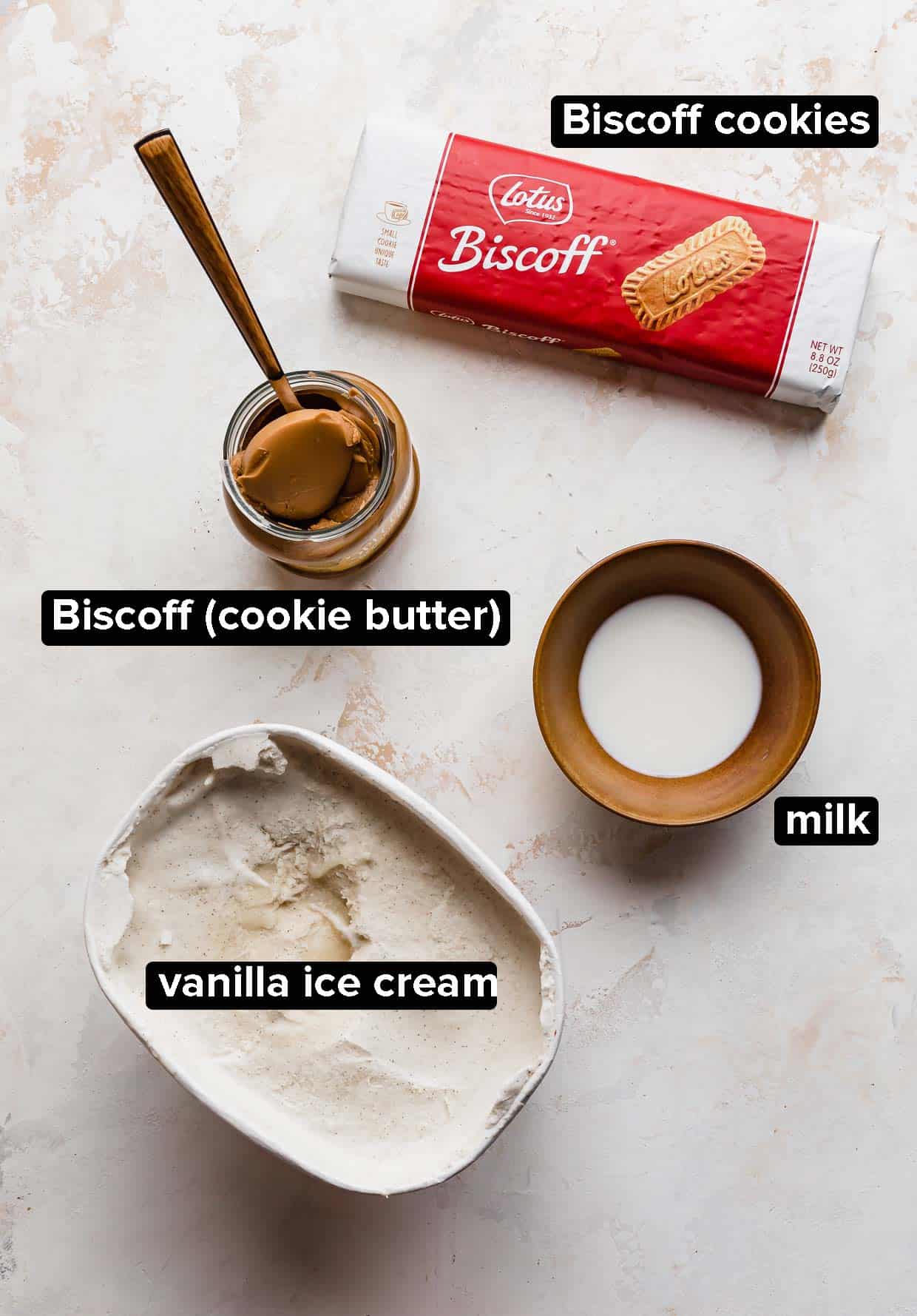 Biscoff Cookies: Biscoff cookies, or Lotus cookies, are famously served on Delta flights! If you've flown Delta, then you probably have had these cookies. They have a warm, cinnamon spice flavor. 
Vanilla Ice Cream: You can use vanilla bean ice cream for a richer vanilla flavor. Any brand of ice cream works!
Milk: The milk helps put the milk in milkshake! It provides the liquid to help the ice cream blend in the blender. You'll probably need the entire 1/4 cup of milk here since Biscoff butter is really thick. 
Biscoff Cookie Butter: Also known as Speculoos, Biscoff cookie butter spread is essentially Biscoff cookies in a spread form. If you can't find it at your local grocery store, you can find it at Target or online on Amazon. 
Step-by-Step Instructions
Combine ingredients. Add the Biscoff cookies, ice cream, milk and cookie butter to a blender. Blend the milkshake ingredients until smooth.
Serve. Pour into a serving glass and add whipped cream, crushed cookies and melted cookie butter drizzled on top! Serve immediately.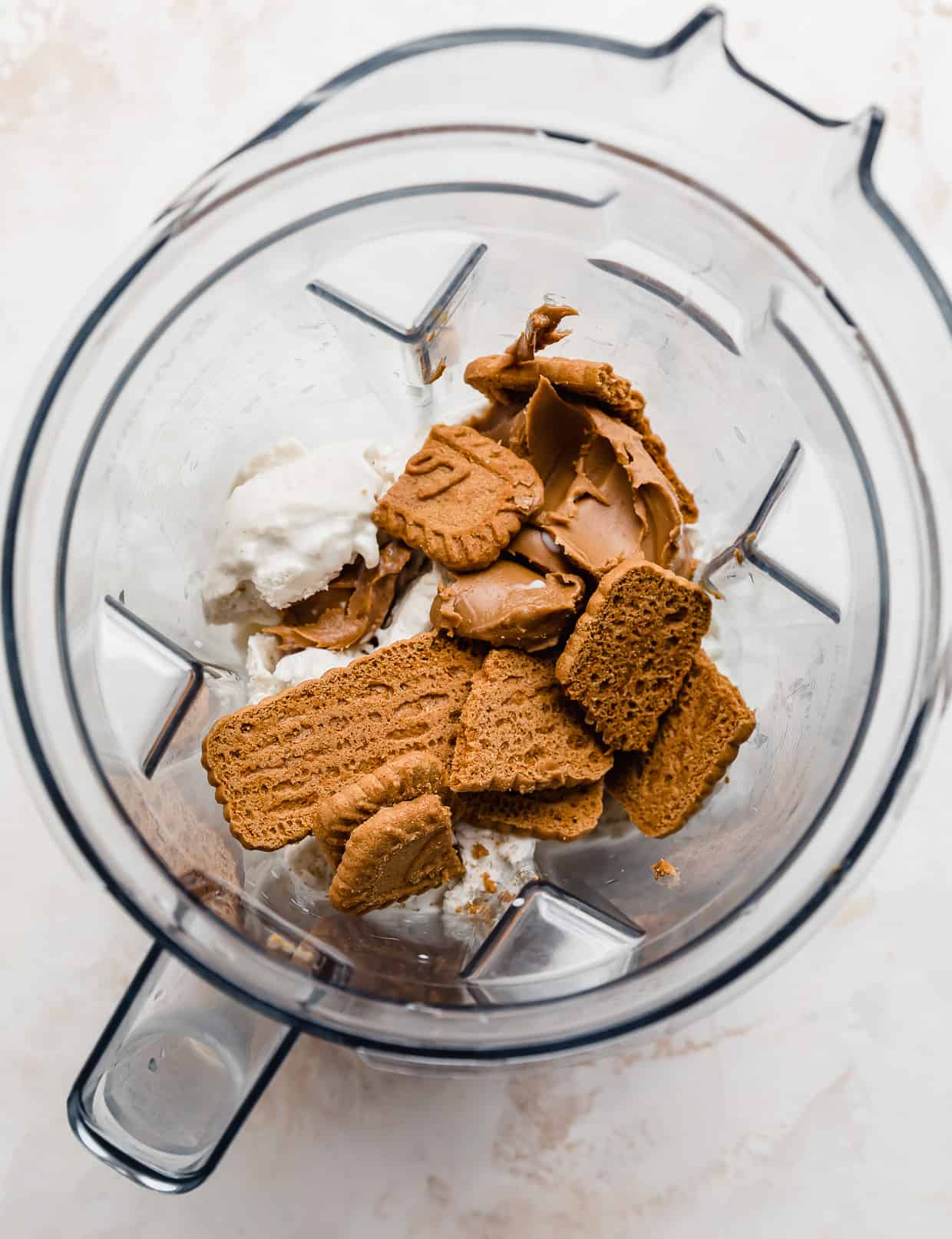 Recipe Tips
You'll probably need the entire 1/4 cup of milk in this lotus biscoff milkshake recipe because biscoff butter is pretty thick.
The biscoff cookies provide a little bit of texture and crunch to the biscoff milkshake recipe. If you want the texture smoother, either blend more fully so no pieces remain, or remove the cookies entirely.
If you want more crunch from the cookies, you can also add crushed biscoff cookies to the Lotus Biscoff shake after blending.
Put the cookie butter into the blender last. This will prevent the Biscoff spread from sticking to the bottom of the blender.
The higher fat content milk you use, the creamier milkshake texture you'll get. Whole milk will give you the best results. You can use almond milk and a dairy-free ice cream, but note the flavor and texture will be affected.
Want to keep your milkshake cooler and thicker longer? Freeze your glass! If you put your milkshake glasses in the freezer prior to making the lotus Biscoff milkshake, then the cold glass will help keep the milkshake colder longer.
Make Ahead, Storing, and Freezing
Make this lotus milkshake just prior to serving.
If you have leftovers, store them in a freezer-safe jar or container in the freezer for up to 1 month. Remove and let thaw just enough to transfer to a blender. Add milk enough to help the milkshake blend smoothly.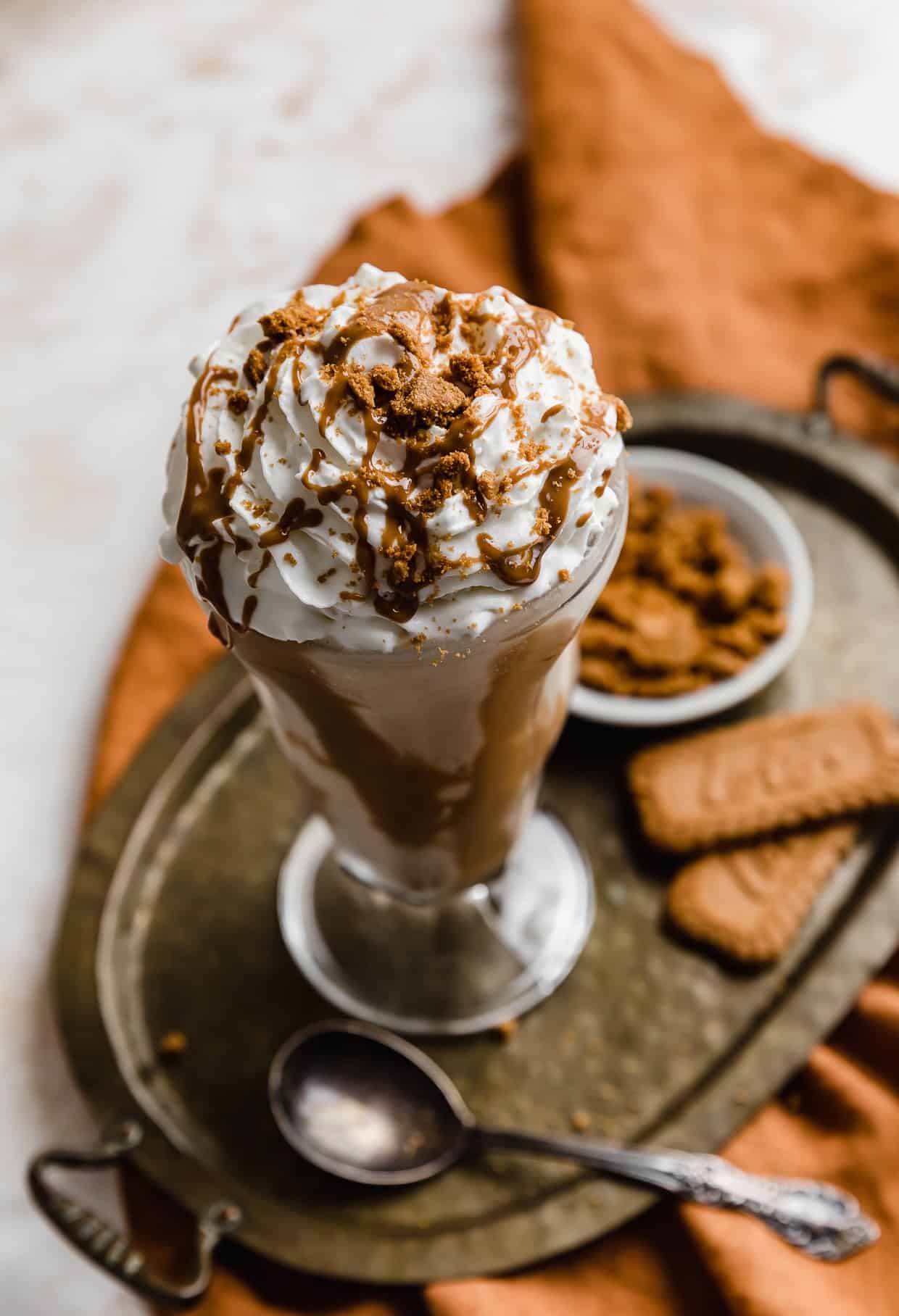 Recipe FAQs
How do I keep my milkshake from melting so quickly?
Chill your glass! When you pour a cold milkshake into a room temperature glass, the ice cream will melt more quickly. Pouring the milkshake into a cold glass will keep your biscoff milkshake colder longer! 
Why is my milkshake runny?
The consistency of milkshakes it all dependent on how frozen your ice cream is, how much milk you use, and how quickly you enjoy it! If you let the ice cream sit out too long, don't add milk or the texture will be too runny. If you pull the ice cream right from the freezer, then you'll need a bit of milk to get it blended. But don't add too much or it will be too runny! Enjoy the milkshake right away as they melt quickly. 
What is the flavor of Biscoff?
Biscoff has a caramel-like flavor with touches of warm spices. It has a hint of cinnamon flavor to it. Think fall flavors, fall spices, warm flavor, all that jazz! 
Why is it called Lotus?
It's often referred to as a lotus milkshake because the brand that makes Biscoff cookie butter is called Lotus.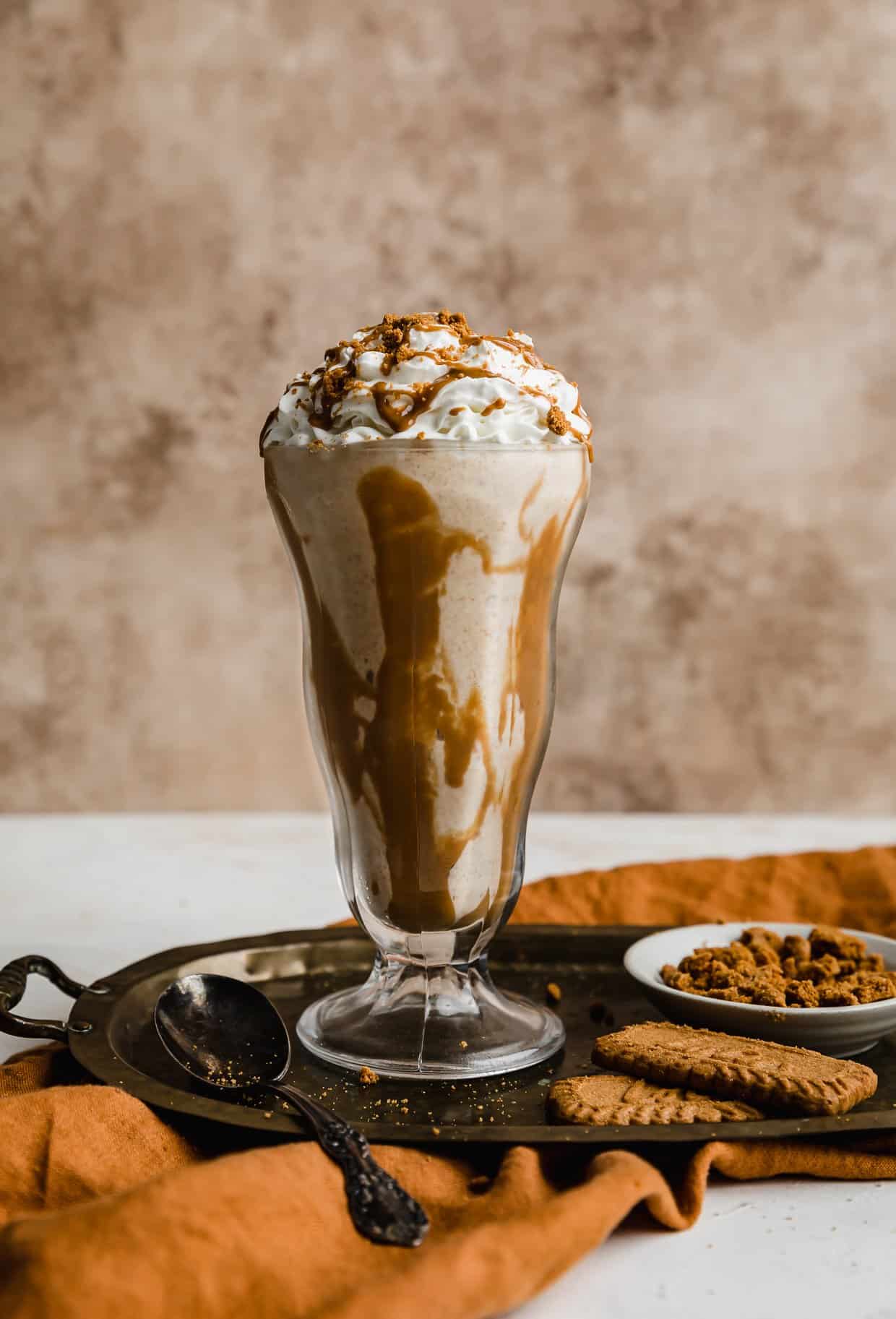 More Milkshake Recipes
Biscoff Milkshake
This easy milkshake is made with delicious Biscoff cookie butter, ice cream, and Biscoff cookies. It's absolutely amazing!
Ingredients
8

Biscoff cookies

3

cups

vanilla ice cream

1/4

cup

milk

-

may need more if you want a runnier consistency

1/4

cup

Biscoff cookie butter -

or Speculoos
Toppings (optional)
2

Biscoff cookies

-

crushed

2

tablespoons

Biscoff cookie butter -

melted, optional

whipped topping

-

optional
Instructions
To a blender add 8 biscoff cookies, vanilla ice cream, milk, and biscoff cookie butter.

Pour into a milkshake glass and top with whipped topping (optional), the remaining crushed biscoff crumbs, and melted cookie butter. Serve immediately. 
Notes
Put the cookie butter into the blender last. This will prevent the Biscoff spread from sticking to the bottom of the blender. 
Did you make this recipe?
Leave a star rating and review on the blog post letting me know how you liked this recipe! Take a picture and tag @saltandbaker on Instagram and Facebook so I can see what you're making!