Thai Massaman Curry
This post may include affiliate links. As an Amazon Associate I earn from qualifying purchases.
This Thai Massaman Curry is packed with chicken, peanut, fresh vegetables like carrots, onion and red pepper, all swimming in a rich and aromatic Massaman curry sauce made from coconut milk and Massaman curry paste! Serve this delicious chicken massaman curry recipe over a bed of steaming rice and with a side of Homemade Naan!
I'm a sucker for Indian and Thai cuisine, so this recipe is one of my favorites! If you're like me, don't miss out on my Thai red curry noodle soup, Coconut Curry Noodles and Indian Butter Chicken Recipe for more exotic and easy dinner recipes.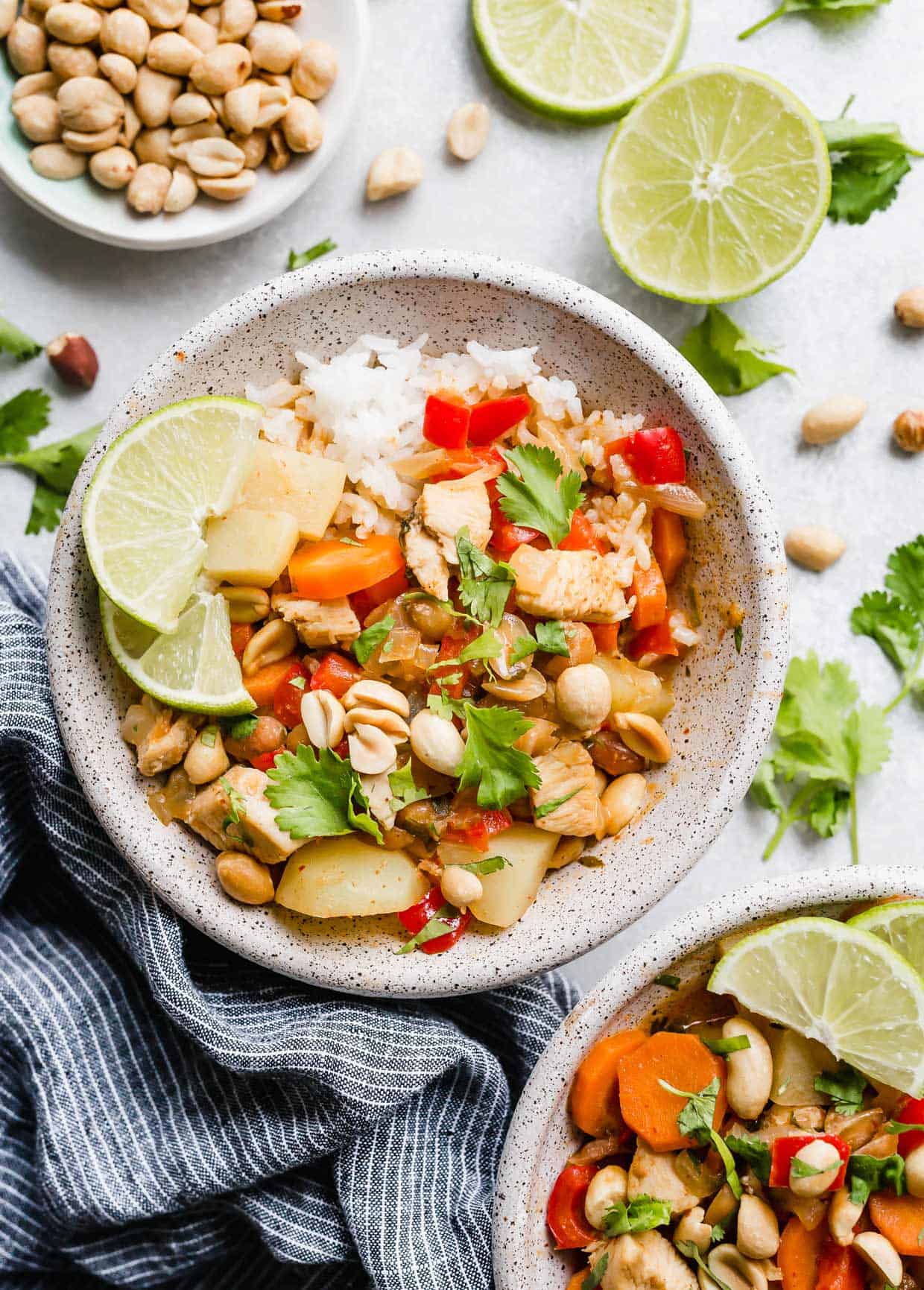 Why This Recipe Works
Best homemade Massaman curry. This Massaman curry is so good you'll put it on repeat for dinners, and it will be your go-to recipe you make to impress people. I'll tell you why: It's loaded with delicious flavors and healthy ingredients! But not only that, it's really easy to make that you can make it a regular dinner rotation for busy weeknights.
Packed with delicious ingredients. This chicken and vegetable Massaman curry has potatoes, carrots, red peppers, and onions. My family loves chicken, so I made this Massaman vegetable curry recipe with chicken for added protein! The building blocks of this recipe includes such delicious and fresh ingredients! Just wait till I talk about the sauce.
Delicious Thai Massaman curry sauce. This homemade Massaman curry sauce has coconut milk as the liquid base, fish sauce for it to be like an authentic Massaman recipe, peanut butter for a creamy complement to the peanuts, and Massaman curry paste.
Ingredient Notes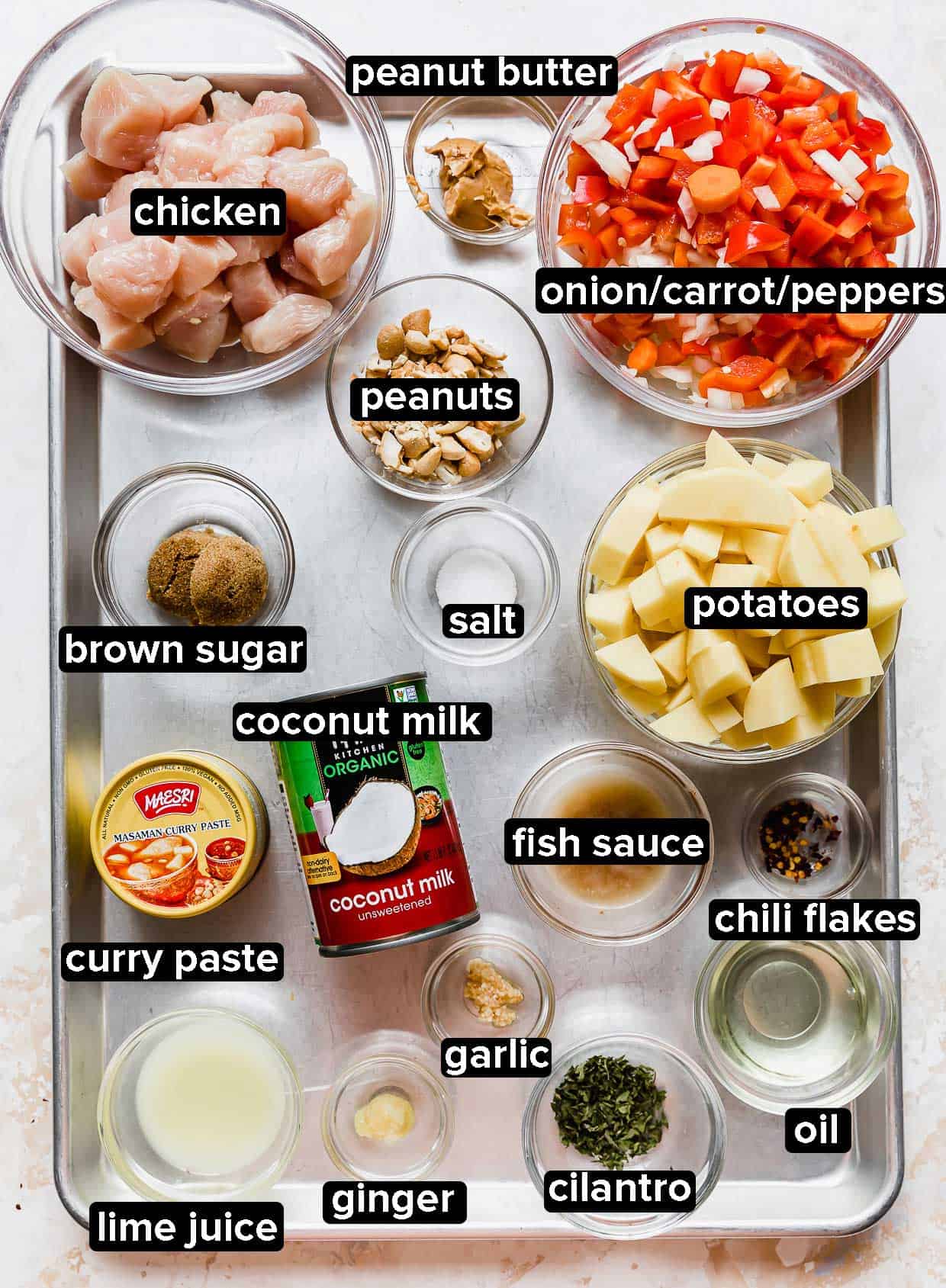 Massaman Curry Paste: See my Recipe FAQs section below on where to buy Massaman curry paste.
Fish Sauce: Sounds gross, but it's just a little bit, and it does help the sauce become that iconic massaman flavor.
Chicken: Since this is homemade Massaman curry is specifically a Chicken massaman curry recipe, we are using chicken. However, you can use chopped lamb, beef, or shrimp if preferred.
Potatoes: I used Yukon gold potatoes. If you don't have this specific potato you can use what you have on hand, but this is my favorite because the potatoes cook to be soft and almost creamy when bitten into.
Dry Roasted Peanuts: These will add a delicious crunch to the dish and will pair well with the peanut butter in the sauce. Adding peanuts to the dish is one of the distinguishing elements of Thai massaman curry.
Red Pepper Flakes: This is just a pinch to give it the teeny, tiniest spice that massaman curry has. For super mild, omit. For spicy, add more!
Creamy Peanut Butter: Use creamy because we will have the peanuts added to the dish. Crunchy peanut butter would be peanut crunch overload.
Cooked Rice: For serving with the Thai Massaman curry. I recommend using Jasmine rice as its aromatic and goes very well with Thai foods. You can also use brown rice, too.
Step-by-Step Instructions
Cook the vegetables. Add 1 tablespoon oil to a large pot or dutch oven pot. Add the carrots, red bell peppers, and onions and cook for about 8 minutes. Add the minced garlic and cook for 1 minute. Remove to a separate bowl.
Make the Thai massaman curry sauce. Add the remaining oil and Massaman curry paste to the pot. Cook for a few minutes, stirring occasionally. Once it starts to brown, add 1 can of the coconut milk and stir until combined. Add the ginger, lime juice, brown sugar, fish sauce and cilantro. Stir and bring to a boil.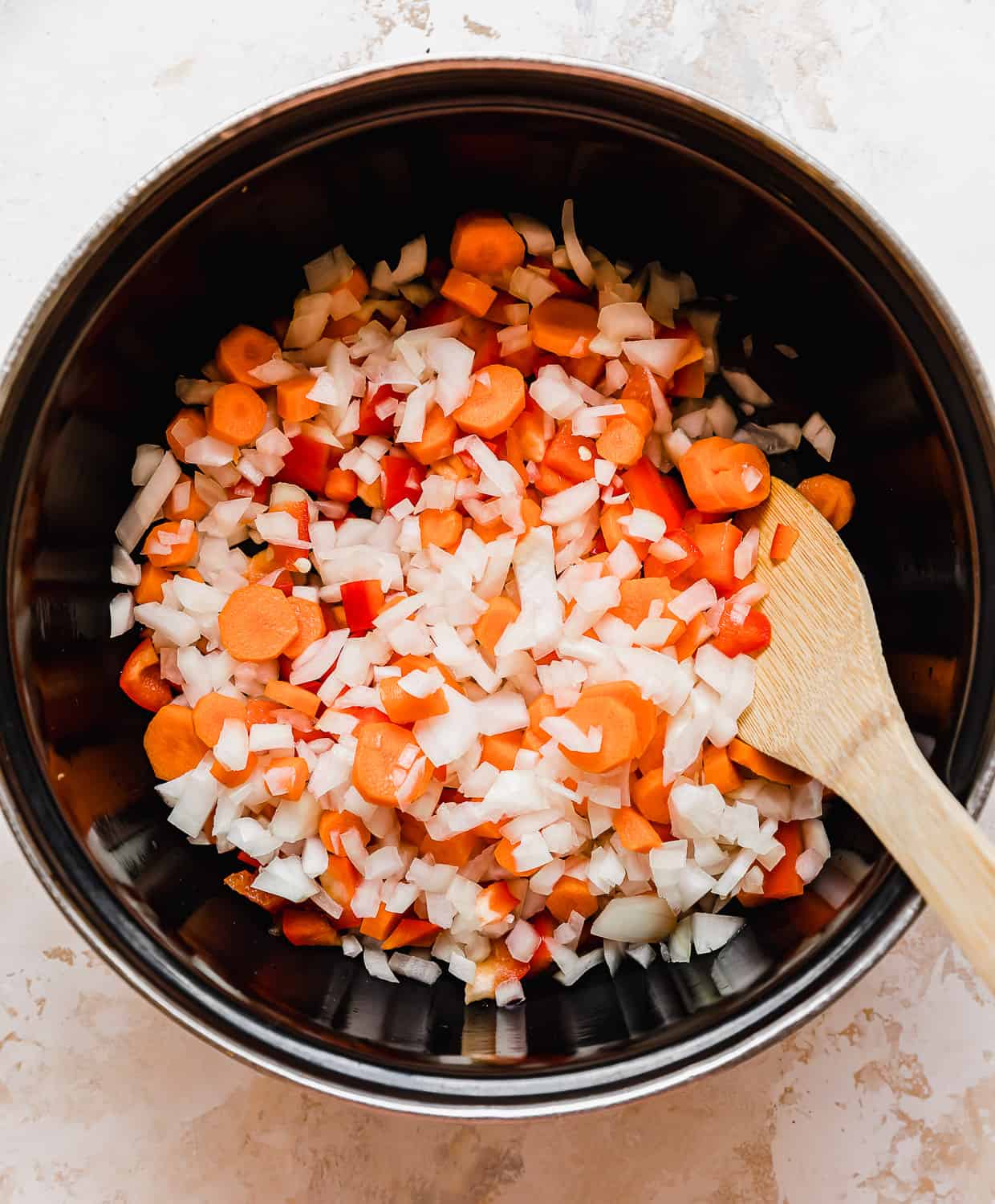 Cook the chicken. Add the chicken to the pot and reduce to a simmer. Cook for about 7 minutes or until the chicken is cooked through.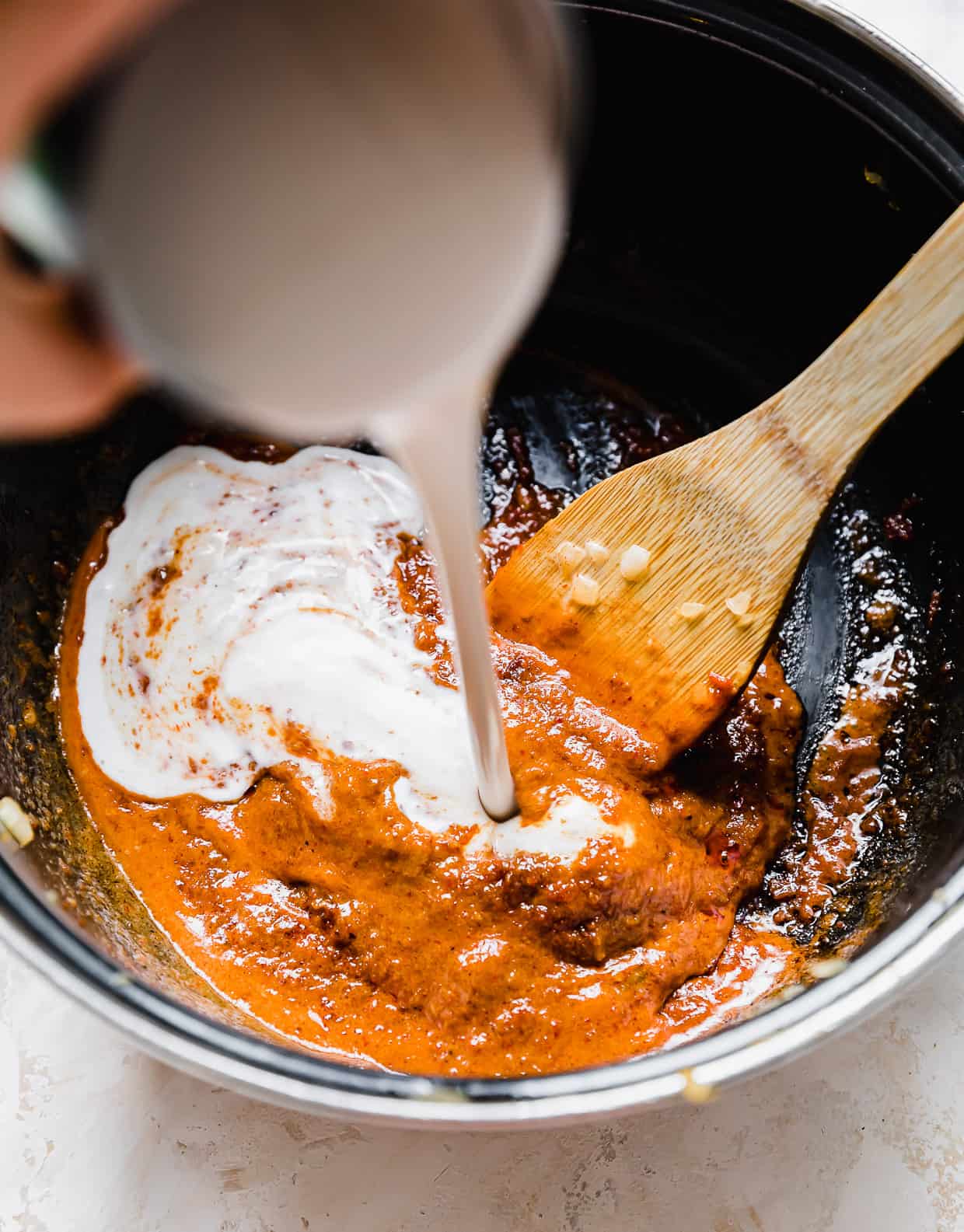 Add the vegetables. Add the other can of coconut milk, the cooked vegetables, potatoes, peanuts, peanut butter, red pepper flakes and salt. Let boil then reduce to a simmer and cook for 15-20 minutes to cook the potatoes.
Serve! Serve this delicious Thai massaman curry over a bed of rice with fresh cilantro and lime wedges for garnish.
Recipe Tips
The best way to make this recipe is by preparing the ingredients beforehand. Open the cans of coconut milk and curry paste prior to making this chicken Massaman curry recipe. Have the vegetables and chicken chopped and ready to go.
There isn't really a substitute for the Massaman curry paste. You can buy curry paste online. Some Asian Markets or specialty grocery stores might carry the paste as well. Make sure you use Massaman curry paste not Massaman curry sauce.
To simplify this recipe, I purchased my curry paste, however, you're more than welcome to make homemade Massaman curry paste if you'd like. I think it's easier and dinner comes together quicker if I use the store-bought option. When you add it to the dish, it will have a really strong aroma, but once cooked and combined with the coconut milk, the flavor and aroma won't be as overpowering.
I like to make this dish with Yukon gold potatoes, but it doesn't really matter which potatoes you use for Massaman curry.
Is Massaman curry spicy? You can definitely make it as spicy or as mild as you like! If you want to up the heat, add more red pepper flakes, if you want it more kid-friendly and mild make the recipe as written or remove the red pepper flakes entirely.
I recommend you serve this recipe with jasmine rice. Jasmine rice is an aromatic long-grain white rice that pairs well with Thai dishes. You can also use brown jasmine rice (which is really delicious). Basmati rice can also be used.
I used chicken in this recipe, but you're welcome to use another form of protein such as beef, lamb or shrimp.
For a vegetarian Massaman curry, substitute tofu for the chicken.
You can also have some lime wedges for people to squeeze on top!
Make Ahead, Storing, and Freezing
You can make this chicken massaman curry recipe ahead of time and store it in the fridge overnight. I find that this can even help the flavors marinate together even more!
Store any leftovers of this Thai Massaman curry recipe in an airtight container in the fridge for 3-4 days.
To freeze Thai massaman curry, store in a freezer safe bag or container in the freezer for up to 1 month. Remove and let thaw. Warm in the microwave or in a large pot. The carrots and potatoes will be softer after freezing and thawing.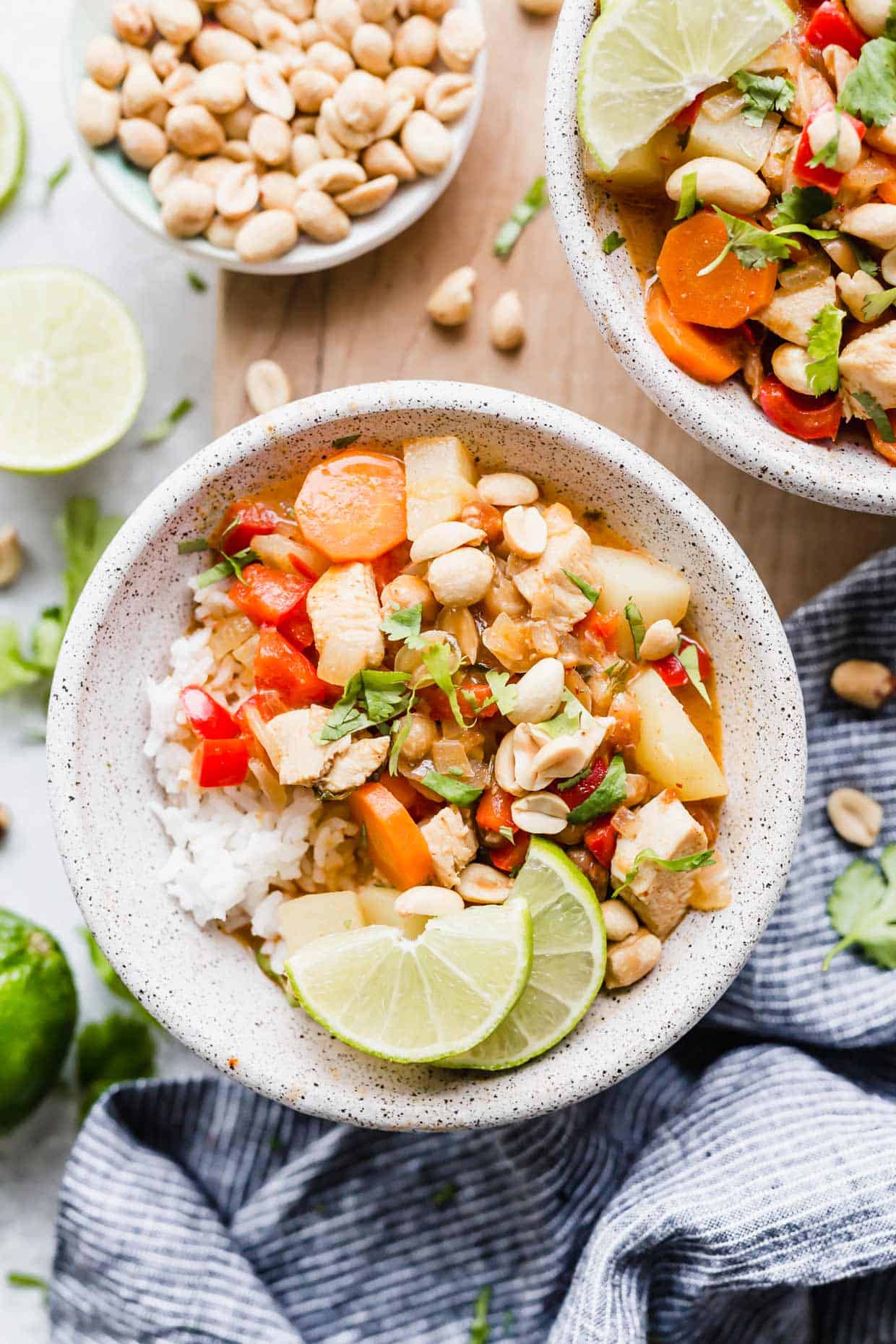 Recipe FAQs
What is Massaman curry?
Massaman curry is a Thai dish, but it has Malayan and Indian cuisine influences. The name actually comes from a Malayan word, masam which means "sour." (But don't worry, this curry isn't sour.) Now, Massaman curry is most commonly made with chicken, but you can make it with beef, duck, goat, lamb, shrimp, or pork. I like chicken, as does my family, so we made this chicken massaman curry recipe and it turned out perfectly. I think this is one of my all-time favorite recipes!
Is Massaman curry gluten free?
Everything in this recipe is gluten free. However, while fish sauce is naturally gluten free, some companies have added wheat to it. So, just double check that the brand you use is wheat-free!
What is Massaman curry paste?
It is one of the Thai curry pastes. The flavors in Massaman paste aren't normally found in other Thai curries. These include cumin, cinnamon, cardamom, star anise, bay leaves, cloves, nutmeg, and mace. These spices are then combined with coriander seeds, lemongrass, chili peppers, shrimp paste, galangal, white pepper, shallots, and garlic to make the Massaman curry paste.
Where does Massaman curry come from?
Massaman curry is a fusion of both Thai and Indian cuisine. The massaman curry is made of a red-style curry paste (Thai) and additional spices such as cumin, cinnamon, nutmeg, and coriander (Indian). 
Where do you buy Massaman curry paste?
I purchase Massaman curry paste online so I don't have to go to a bunch of different grocery stores when I do my shopping. If you're not one for store-bought curry paste you can make it homemade. To purchase, Massaman curry paste should be available at an Asian grocery store or at speciality grocery stores, usually around the Asian section. Quick reminder: make sure you get the paste and not the sauce.
Can Massaman curry be frozen?
Yes! You can freeze Massaman Curry. Simply place the curry in an airtight container or ziplock bag. You can freeze it for 1 month. When you're ready to eat it, remove the curry from the freezer and let it thaw. Empty the curry into a microwave safe bowl and microwave it, or place it in a pot and warm it up on the stove. The only noticeable difference I observed after freezing the curry was the potatoes and carrots were just a tad softer after being frozen. Other than that you won't be able to tell any difference between frozen and fresh.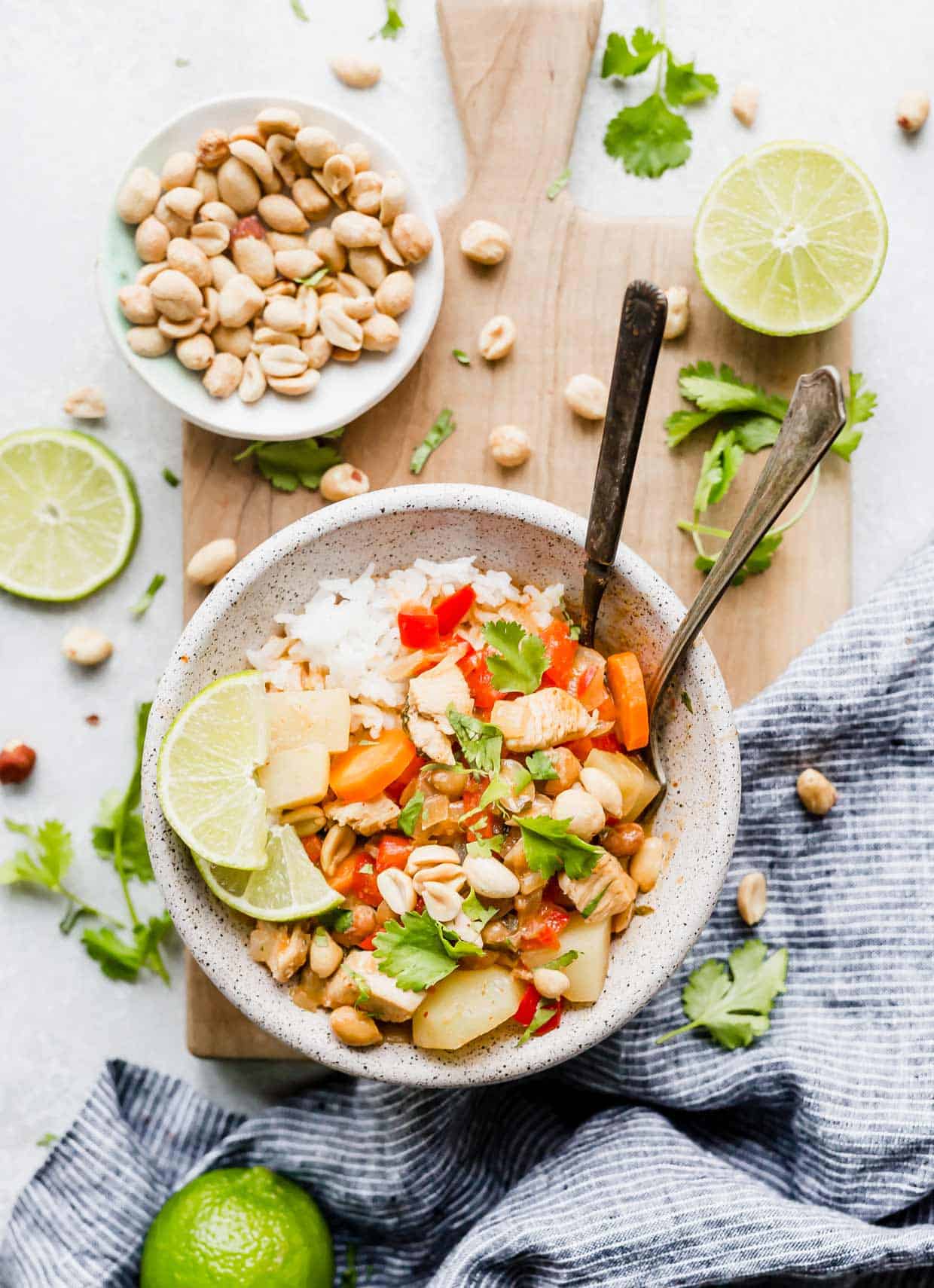 Related Recipes
Thai Massaman Curry
This Massaman Curry recipe is loaded with chicken, potatoes, carrots, coconut milk, and peanuts. Garnish the dish with a sprinkling of cilantro and serve it over rice for a flavorful and hearty meal!
Ingredients
2

tablespoons

vegetable oil

3

carrots

-

peeled and sliced into 1/8″ coins

1

red pepper

-

diced

1

yellow onion

-

diced

1

garlic clove

-

minced

2

cans

coconut milk

-

(13.6 oz cans)

2

tablespoons

lime juice

1/2

teaspoon

fresh ginger

-

grated

2

tablespoons

cilantro

-

chopped

2

tablespoons

brown sugar

-

packed

1

tablespoon

fish sauce

1

lb

chicken breast

-

cut into bit size pieces

4

Yukon Gold potatoes

-

peeled and cut into 1/2″-1″ inch cubes

1/2

cup

dry roasted peanuts

pinch

red pepper flakes

1

tablespoon

creamy peanut butter

1/2

teaspoon

salt

cilantro

-

for garnish

cooked rice

-

for serving, preferably jasmine rice or another aromatic rice
Instructions
Heat 1 T oil in a large pot or dutch oven, add the onions, diced pepper, and carrots. Stir and cook for 6-8 minutes or until the onion is translucent. Add the garlic clove, stir, cook for 1 minute more. Transfer the vegetables to a bowl.

Heat oil in the now empty pot or dutch oven. Add the curry paste and cook until it starts to brown, about 2-3 minutes.

Add one can of coconut milk to the curry paste and stir until blended. Add the lime juice, ginger, cilantro, brown sugar, and fish sauce. Bring to a boil.

Once boiling add the chicken to the pot. Reduce to a simmer and cook for 6-7 minutes or until the chicken is white and cooked through.


Once chicken is cooked add the second can of coconut milk, vegetables (the ones you set aside in the bowl), potatoes, roasted peanuts, red pepper flakes, peanut butter, and salt to the pot. Stir to combine everything.


Cover. Simmer for 15-20 minutes or until potatoes are fork tender.


Serve warm with rice and extra cilantro and peanuts for garnish.

Did you make this recipe?
Leave a star rating and review on the blog post letting me know how you liked this recipe! Take a picture and tag @saltandbaker on Instagram and Facebook so I can see what you're making!