Crumbl Peanut Butter Blossom Cookies
This post may include affiliate links. As an Amazon Associate I earn from qualifying purchases.
These Crumbl Peanut Butter Blossom Cookies are a delicious take on the classic Peanut Butter Blossoms Cookie recipe with a thick and chewy Peanut Butter Cookie topped with a delicious chocolate frosting swirl in the center!
I'll be honest when I say I love making copycat Crumbl cookies especially when it comes to peanut butter and chocolate flavors! The Crumbl Peanut Butter Brownie Cookies is another delicious favorite of mine with the peanut butter cookie center and the swirl of chocolate and peanut butter on top! The Crumbl Muddy Buddy Cookies also has a peanut butter cookie base to swoon over!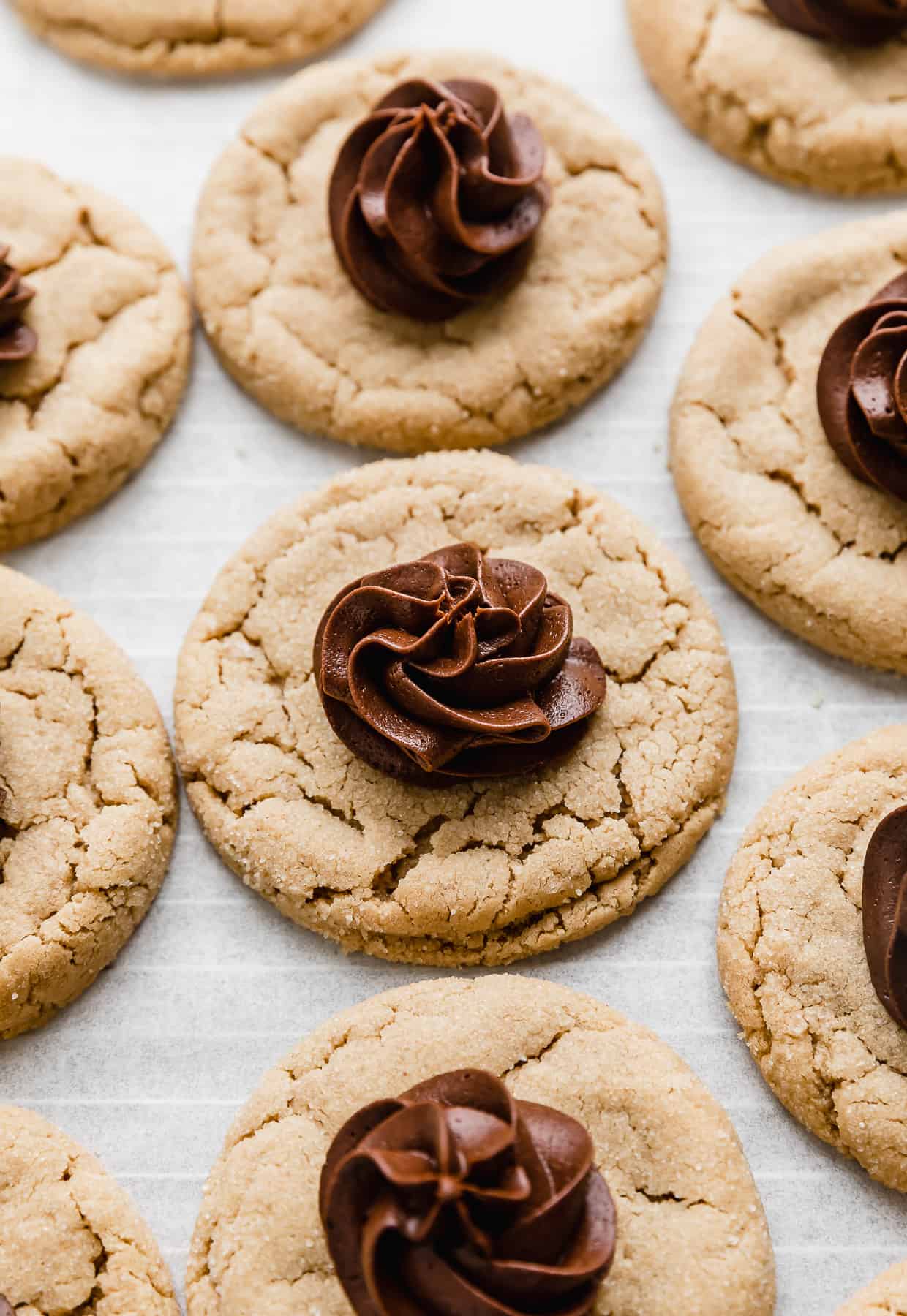 Why This Recipe Works
Chewy peanut butter cookies. This recipe is one of my all-time favorites because of how deliciously moist and chewy these peanut butter cookies are! Your teeth just sink into these moist peanut butter blossom cookies!
Crackly tops. I love these Crumbl peanut butter blossom cookies because the cookies have this beautifully crackly appearance. The sugar coating on the cookies gives it a sweet crunch exterior that pairs perfectly with the soft cookie centers.
Smooth and rich chocolate frosting. Crumbl had a fun idea of switching up the topping from a chocolate kisses in the center to a swirl of chocolate frosting. I made my chocolate frosting with Dutch process cocoa powder for a richer chocolate flavor and a deep chocolate color! 
Ingredient Notes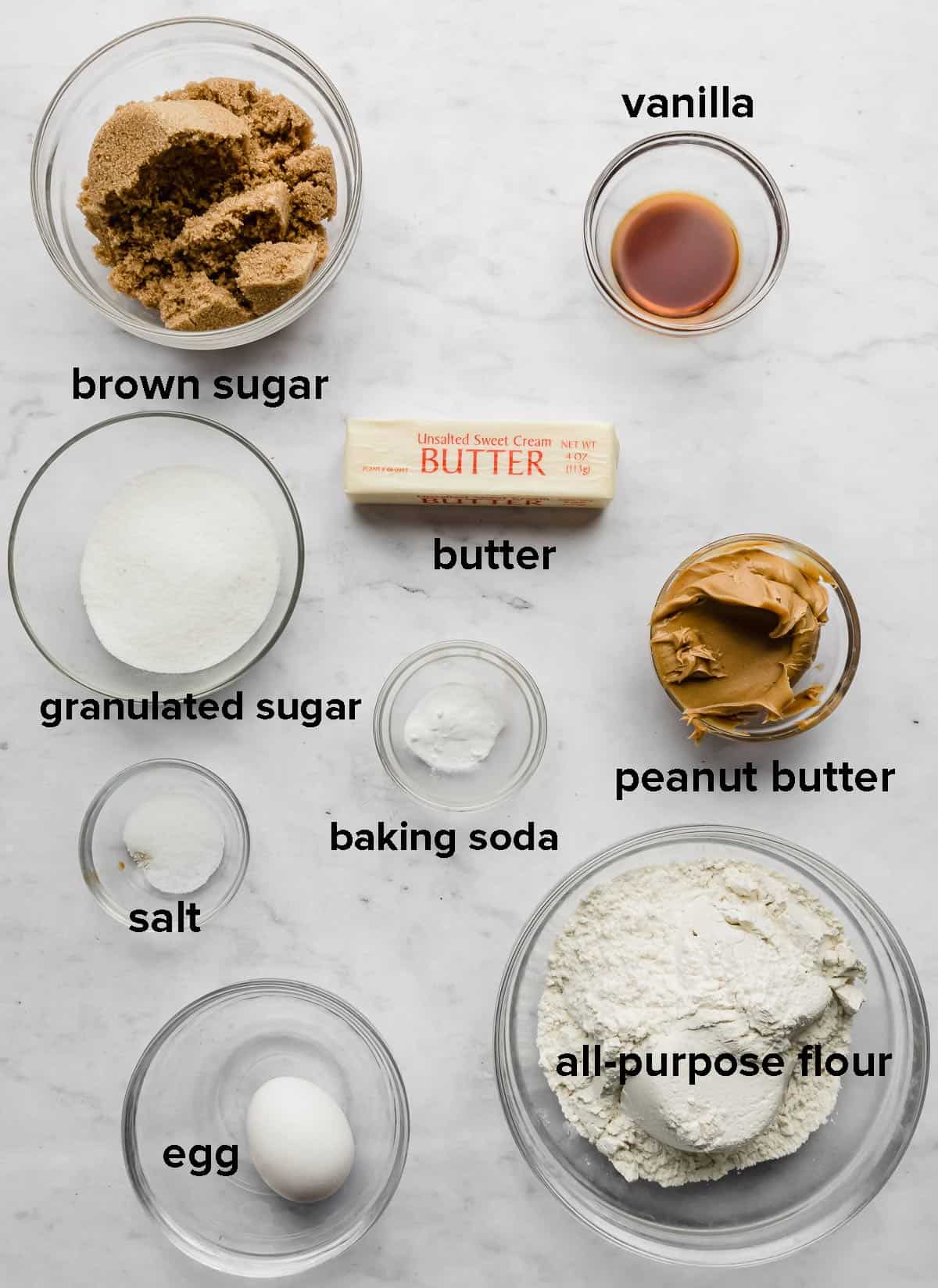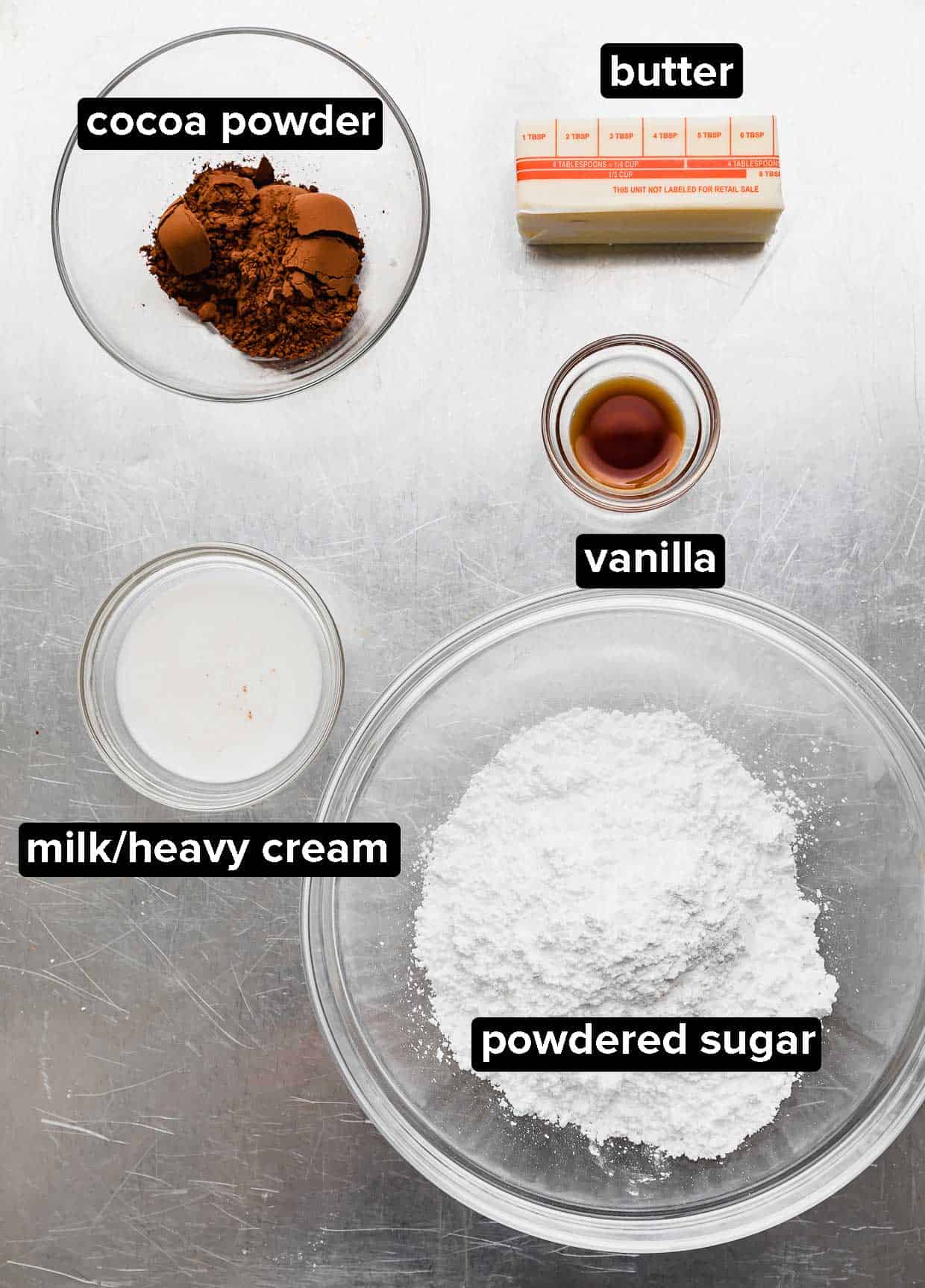 Unsalted Butter: The butter for the cookies should be softened to room temperature. The butter for the chocolate frosting should be cool but not room temperature and not right out of the fridge. 
Creamy Peanut Butter: Use creamy peanut butter to get a smoother texture in the cookies. If you want a crunch of peanut in the cookies, then you can definitely use crunchy peanut butter instead and still get a delicious peanut butter flavor. 
Vanilla Extract: Vanilla extract acts as a flavor enhancer and balancer in desserts, similar to what salt does in savory recipes. 
All Purpose Flour: The ratio of flour to fat in cookies is important because it is what determines the chewiness and moistness of the cookies. 
Granulated Sugar: The cookie dough uses granulated sugar, but you'll also have a little bit of granulated sugar in a bowl that you will roll the dough balls in prior to baking. This will give them that crackly sugary top look!
Powdered Sugar: Use sifted powdered sugar to get a silky smooth frosting texture. 
Dutch Process Cocoa Powder: Dutch process cocoa powder is what gives the frosting that deep chocolate color and flavor. You can learn more about the different types of cocoa powder in my Best Cocoa Powder for Baking post. 
Step-by-Step Instructions
Make the peanut butter cookie dough. Cream the butter, peanut butter, light brown sugar, and 1/4 cup granulated sugar until smooth. Add the egg and vanilla extract and mix until combined. Add the flour, salt, and baking soda and mix until just incorporated.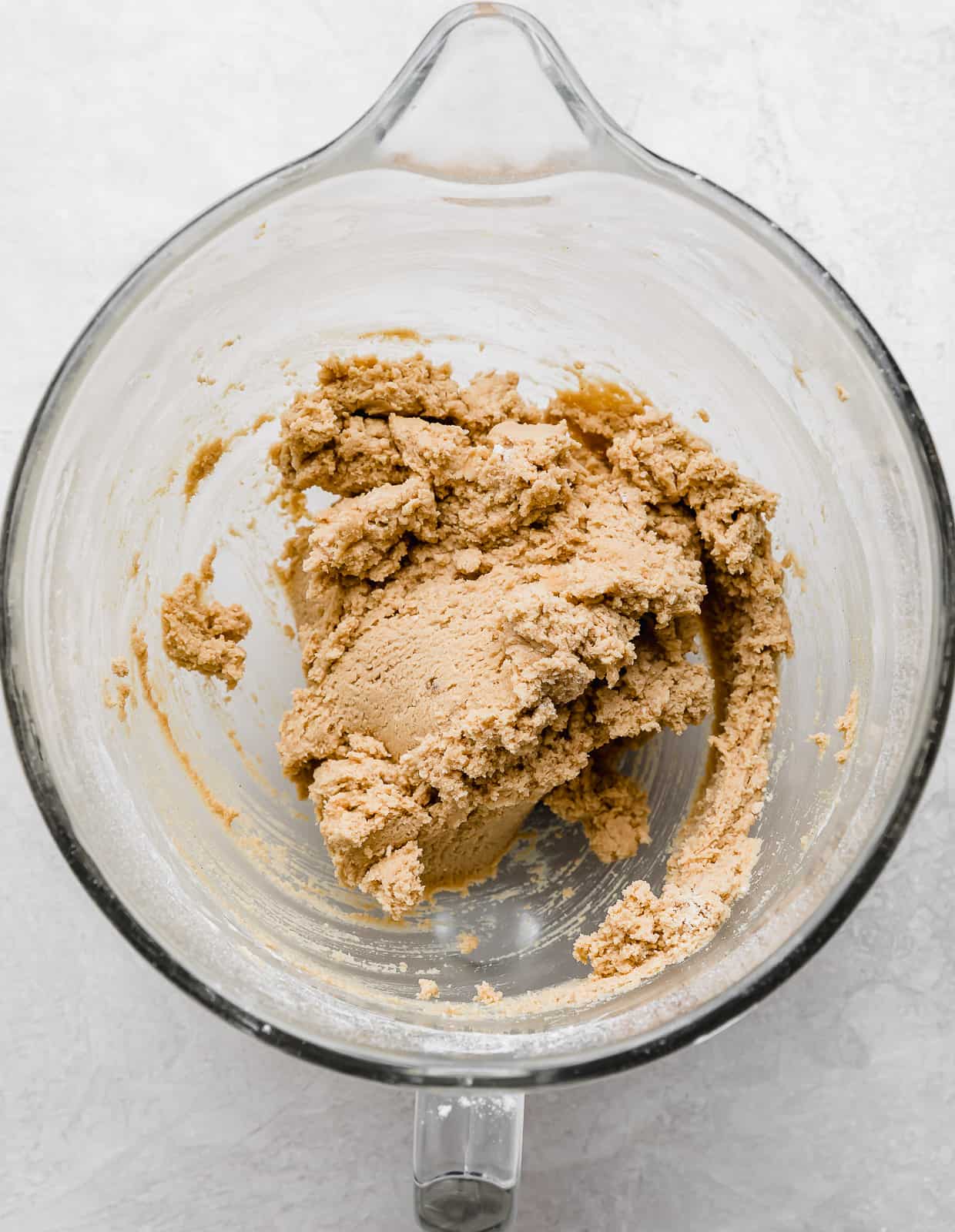 Make the chocolate frosting. Cream the butter until smooth, add the powdered sugar, cocoa powder and milk and beat on medium speed until light and fluffy. Transfer to a piping bag.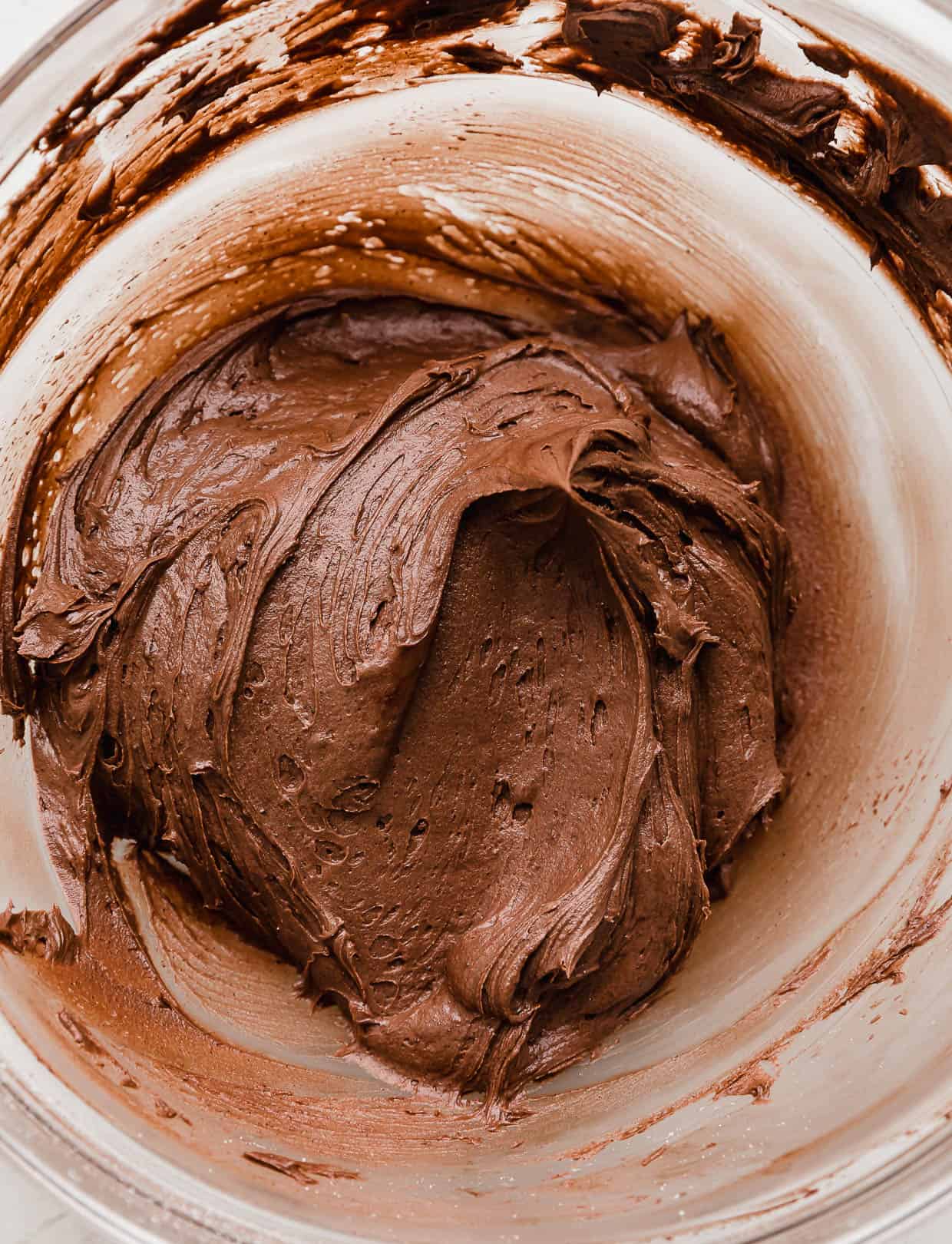 Portion into balls and roll in sugar. Take the peanut butter cookie dough and portion into 1/4 cup-sized dough balls. Roll the cookie dough balls in granulated sugar. Place 6 on a baking sheet lined with parchment paper and gently press down so the balls look like thick disks. 
Bake the peanut butter blossom cookies. Bake at 350°F for 11-13 minutes or until the edges are set and the centers look slightly underdone but crackly. They will set and continue baking as they cool on the pan. Remove and let cool on the pan for 5 minutes. 
Top with frosting. Pipe a swirl of the chocolate frosting in the center of each cookie (similar to how classic peanut butter blossom cookies have the Hershey's kiss in the center). Enjoy!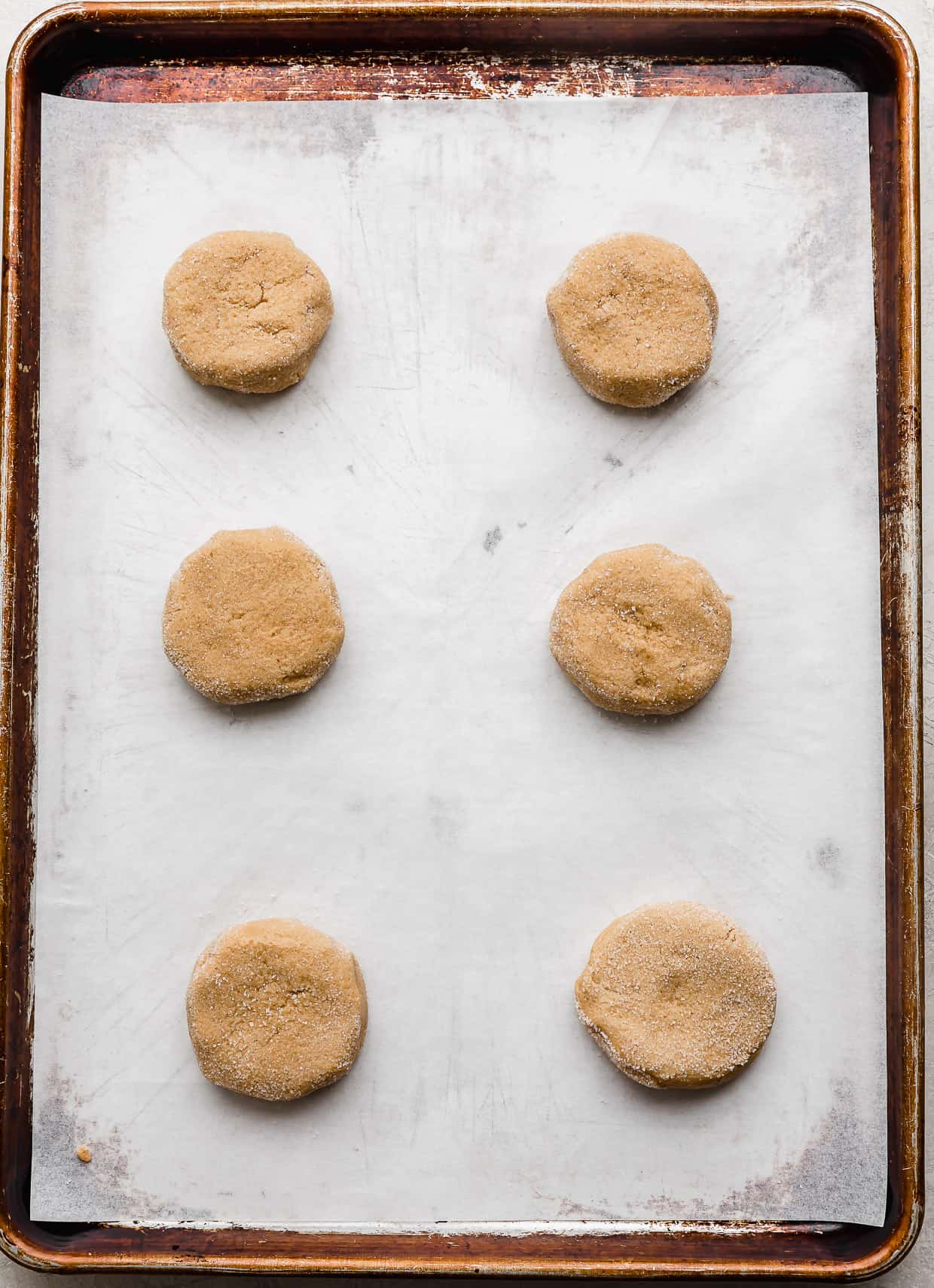 Recipe Tips
I avoid using natural peanut butters since the oils separate and this can create texture problems in the cookie dough which can affect the bake.
Do not over bake the cookies. You want to pull them out of the oven when the edges are set, the centers are no longer shiny, but they look just slightly underdone. This will ensure that the cookies don't over bake. They will still be baked in the center because they'll continue cooking while setting on the cookie sheet as they cool.
To get perfect circle cookies, take a biscuit cutter or a large glass and place over each cookie right after you pull the sheet out of the oven. Then take the glass or cutter and move in a circular motion around the cookie. This will help form the cookie into a perfect circle while the cookies are still hot and haven't set up yet.
Use dutch process cocoa powder in the frosting to get that deep chocolate color and flavor. You won't get the same color and flavor if you use unsweetened cocoa powder.
Make Ahead, Storing, and Freezing
You can make the Crumbl peanut butter blossoms cookie dough ahead of time and let it chill in the fridge for up to 24 hours. Remove and let come to room temperature prior to rolling into balls.
Store unfrosted cookies at room temperature in an airtight container or ziplock bag for 2-3 days or in the fridge for 4-5 days. If the cookies are frosted, you'll need to refrigerate them because of the heavy cream in the frosting.
Store any leftover frosting in an airtight container in the fridge for 7 days or in the freezer for up to 2 months. 
See my posts on Freezing Cookie Dough and Freezing Cookies post for tips and tricks on all things storing and freezing when it comes to cookies!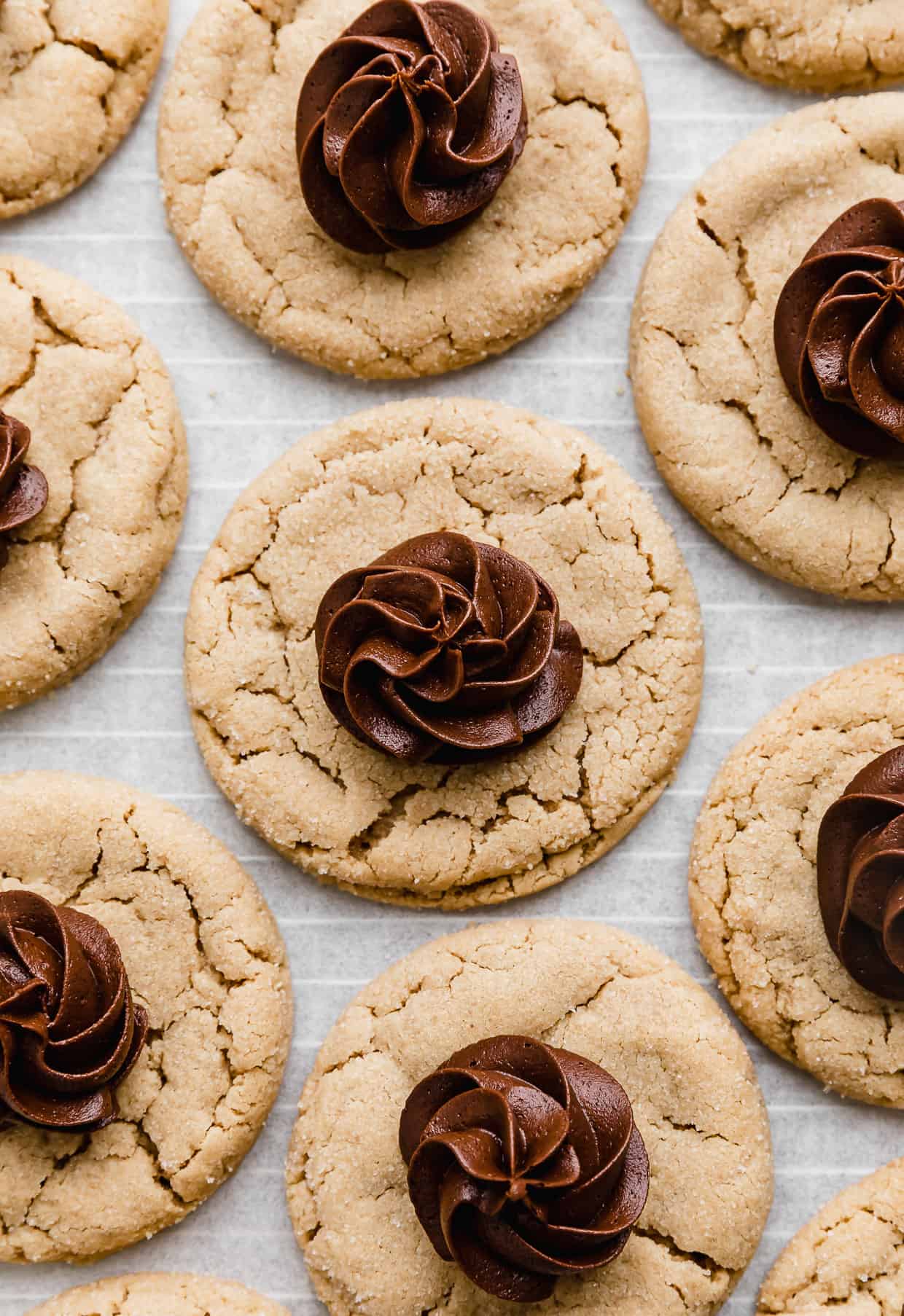 Recipe FAQs
What are peanut butter blossom cookies?
Peanut butter blossom cookies are traditionally made with a peanut butter cookie dough and then when you take the cookies right out of the oven, you press a Hershey kiss into the center of the cookies. The bottom of the chocolate kiss melts a little bit so it sticks into the cookie once it hardens. My Peanut Butter Blossoms Recipe is the classic cookie if you want to make them they are also delicious! 
Why are my peanut butter blossom cookies dry?
The biggest culprit of dry cookies is over baking them. I always tell people that the best time to take the cookies out of the oven is when the edges look set but the centers look slightly underdone. This will give you the best and softest results because the cookies will continue to set up on the cookie sheet while they are cooling, so you don't have to worry about super underdone cookie centers, but it will ensure the cookies aren't over baked! 
Why are my peanut butter blossom cookies flat? 
You shouldn't have a problem with flat cookies in this recipe. The dough is pretty thick. In fact, that's why I give you the tip to gently flatten the cookie dough into a thick disk so that the cookies bake in an even thickness and don't ball up while baking. However, if you've used melted butter, or super soft butter, or butter that was softened in the microwave so there are pockets of melted butter, this can affect the consistency of your dough and could cause flatness when baked.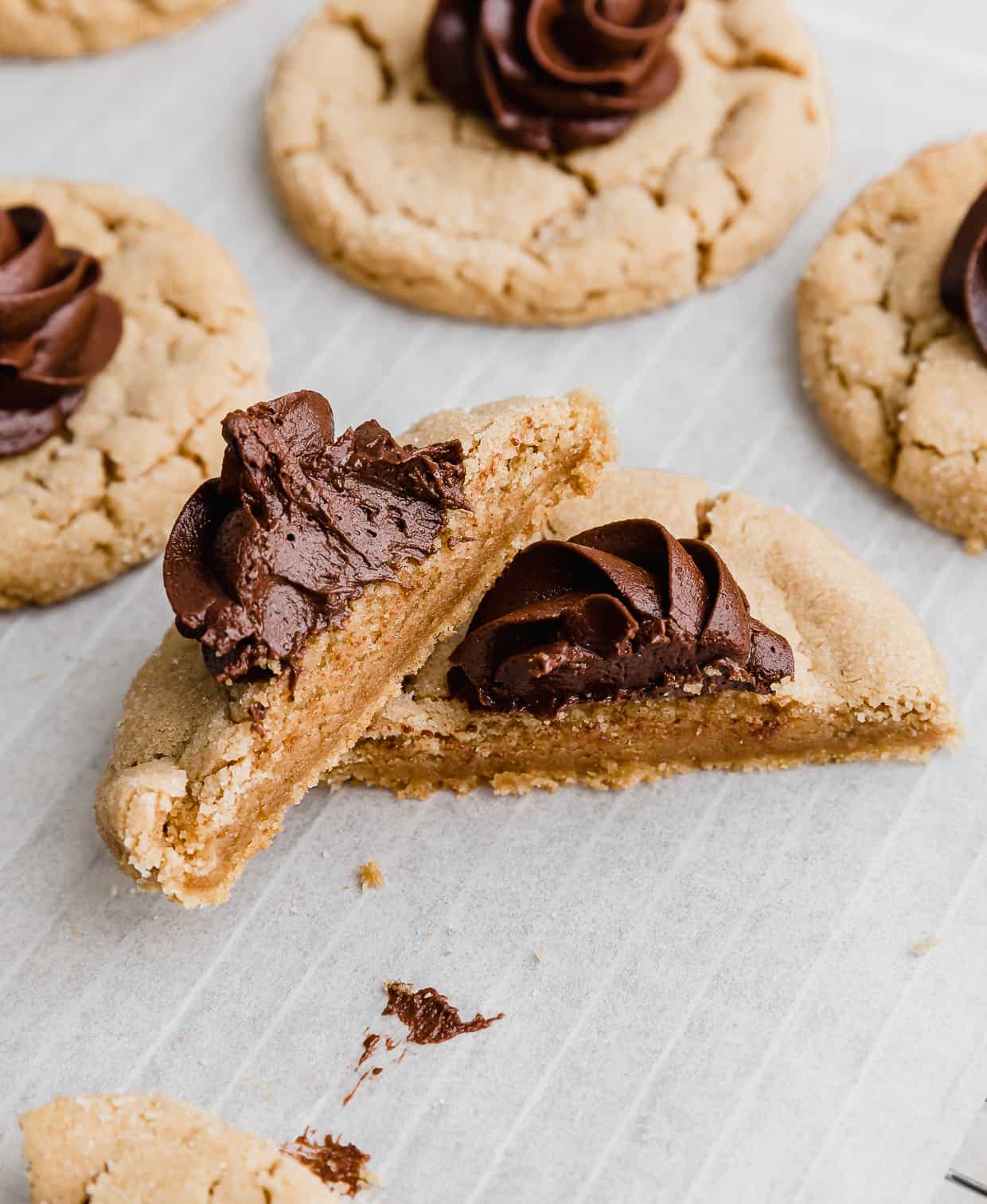 More Chocolate Peanut Butter Recipes
Crumbl Peanut Butter Blossom Cookie
A soft peanut butter cookie topped with a rich chocolate fudge frosting. This recipe is absolutely amazing and so yummy! It's a true Crumbl copycat that you'll want to make time-and-time again!
Ingredients
Peanut Butter Cookies
1/2

cup

unsalted butter -

softened to room temperature

3/4

cup

creamy peanut butter

3/4

cup

light brown sugar

-

packed

1/4

cup

granulated sugar

1

large

egg

2

teaspoons

vanilla extract

1/4

teaspoon

salt

1

teaspoon

baking soda

1 1/2

cups

all purpose flour

2

tablespoons

granulated sugar

-

for rolling the cookie dough balls in
Instructions
Preheat oven to 350°F. Line baking sheet with parchment paper or a baking mat. 

Using a stand mixer fitted with a paddle attachment, or a hand mixer, cream butter, peanut butter, brown sugar, and ¼ cup of granulated sugar for 2 minutes. Add egg and vanilla and mix again until well combined.

Add the salt, baking soda, and flour and mix until combined. 

Portion into ¼ cup sized balls. Roll each ball in the 2 tablespoons granulated sugar. Place 6 balls on baking sheet. Using the palm of your hand press down on each ball until it makes a thick disk. Bake for 11-13 minutes. The cookies will appear crackly and the centers will look slightly underdone but will set as they cool.

Remove from oven and let cookies cool on pan for 5-10 minutes, the. Transfer to wire rack to cool completely. 

Make the chocolate frosting: cream the butter, powdered sugar, cocoa powder, and milk on medium speed until smooth. Place in a piping bag.

Pipe a swirl of chocolate frosting in the center of each cookie. 

Serve at room temperature. 
Notes
Store unfrosted cookies in an airtight container at room temperature for 2-3 days. Frosted cookies should be refrigerated due to the cream in the frosting. 
Did you make this recipe?
Leave a star rating and review on the blog post letting me know how you liked this recipe! Take a picture and tag @saltandbaker on Instagram and Facebook so I can see what you're making!