Black Cocoa Brownies
This post may include affiliate links. As an Amazon Associate I earn from qualifying purchases.
These Black Cocoa Brownies are not only deeply black in color but they have a deliciously deep black cocoa powder flavor! These ultra fudgy brownies have a beautiful crackly top and are perfect served with Vanilla Ice Cream!
We have tons of delicious Black Cocoa Powder Recipes here! Some of my favorites are my Oreo Donuts and Homemade Oreo Cookies! If you are looking for more recipes with black cocoa, then you'll love those!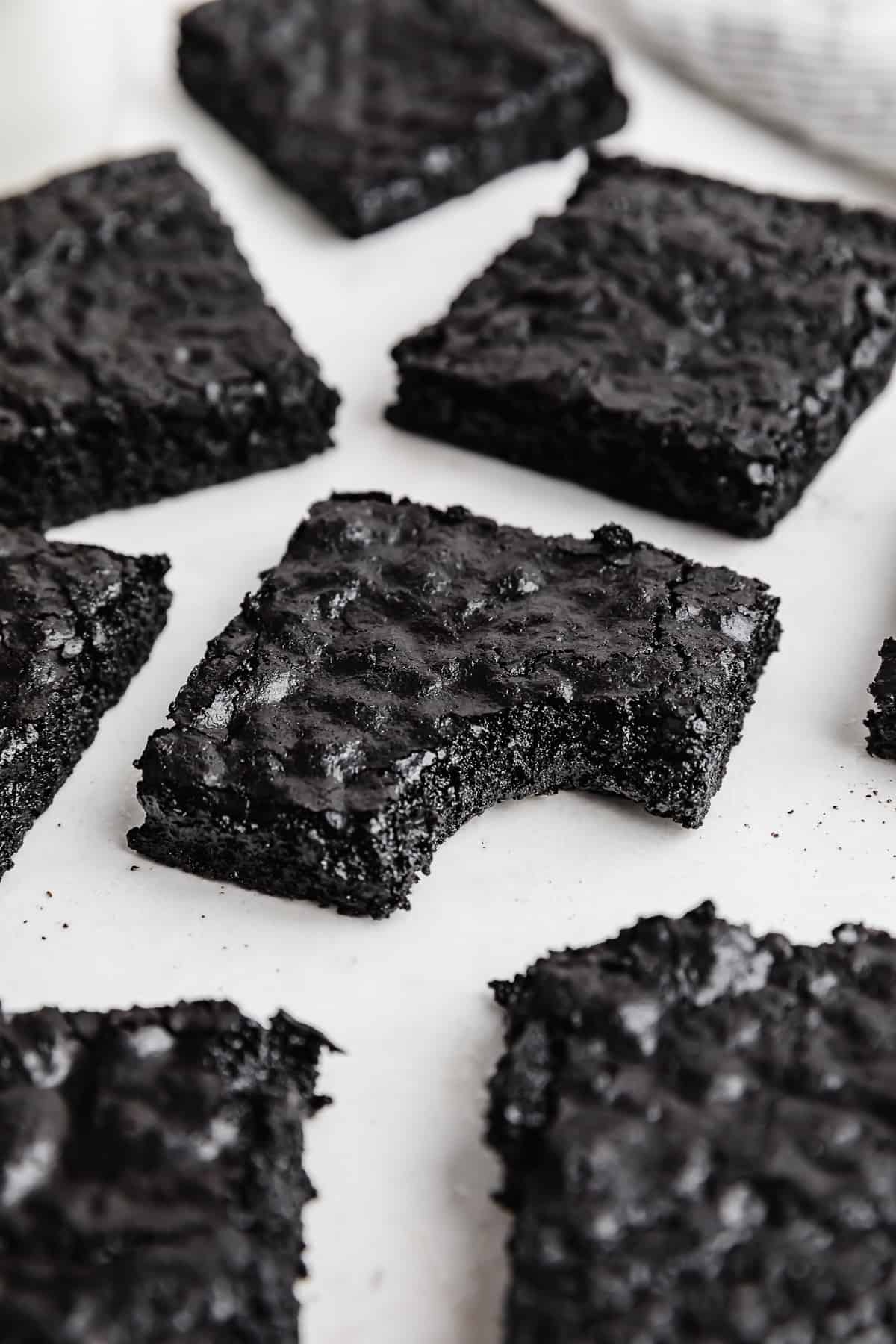 Why This Recipe Works
Packed with black cocoa powder. These black cocoa powder brownies are packed with black cocoa! In fact, there's an entire 1/2 cup of cocoa powder in the recipe! This helps give a super deep black color and ensures the flavor is prominent. Is this your first time exposed to black cocoa powder? Learn more about Black Cocoa Powder!
Uses melted butter. Did you know that melted butter is important in a brownie recipe? It's the key to making a fudgy brownie recipe. When you use melted butter in a recipe, it means you are using the butter for flavor and moistness but not to build structure (like it would in a cookie recipe for example!).
Deep black color. Because we use black cocoa powder, these midnight brownies (so named for their dark color!) are perfect for celebrating Halloween! Add some spider webs piped on with white icing for an extra spooky look. 
Ingredient Notes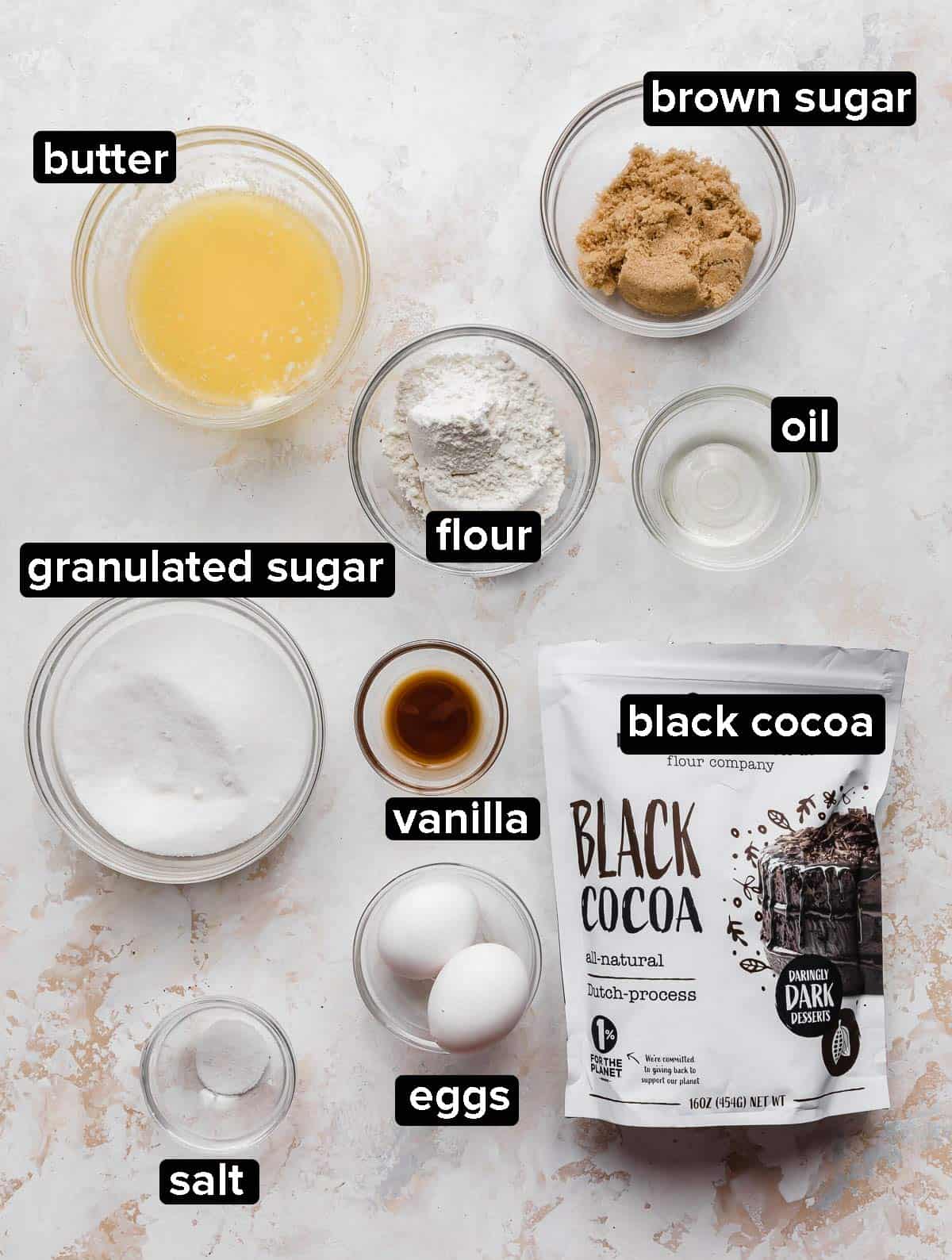 Unsalted Butter: You want the butter to be melted. This is what helps build the brownie texture.
Brown Sugar: Since the color of these black cocoa brownies is so dark, it doesn't really matter if you use dark brown sugar or light brown sugar. 
Eggs: Eggs act as a binding agent for all the ingredients as well as a leavening agent. 
Vanilla Extract: The vanilla extract helps to balance out the chocolate flavor from the dark cocoa powder.
All Purpose Flour: You only need a 1/2 cup of flour because there is so much black cocoa powder in the recipe that also gives a big of flour-like structure.
Black Cocoa Powder: In order to get the deep black color and the flavor with it, you'll need black cocoa powder. If you use a different cocoa powder, it will just end up being a different brownie! For more information on black cocoa powder, check out my Black Cocoa Powder Guide.
Step-by-Step Instructions
Make the black cocoa brownie batter. Combine the melted butter, vegetable oil, and sugars in a medium bowl. Whisk to combine. Add the eggs and vanilla extract and mix vigorously until slightly pale in color. Add the flour, black cocoa powder, and salt. Using a rubber spatula, fold the dry ingredients into the wet ingredients.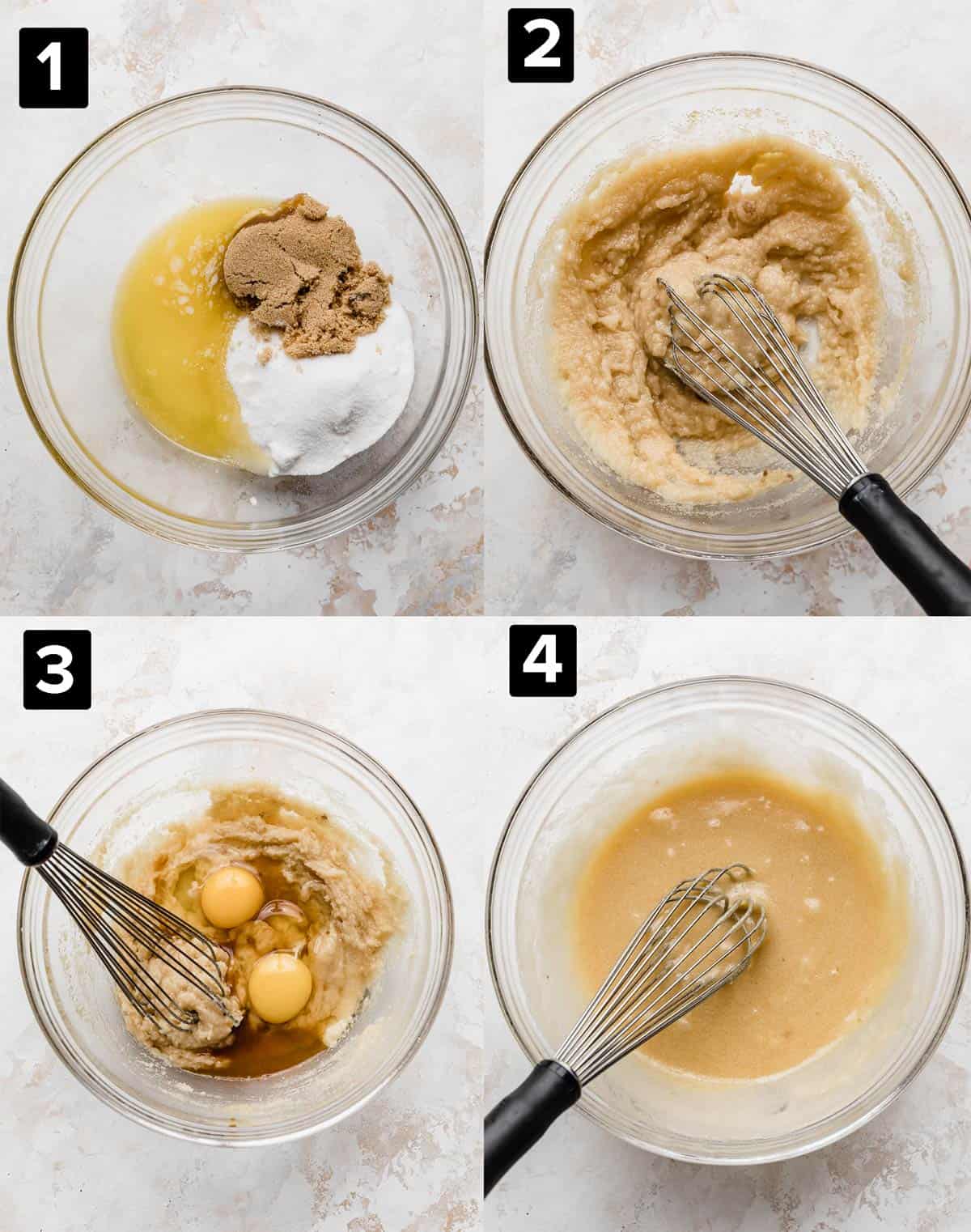 Bake. Pour the batter into an 8-inch square pan lined with parchment paper and sprayed with nonstick cooking spray. Bake the black cocoa brownies at 350°F for 18-20 minutes. Remove when the middle no longer jiggles and a toothpick in the center comes out with some fudgy moist crumbs.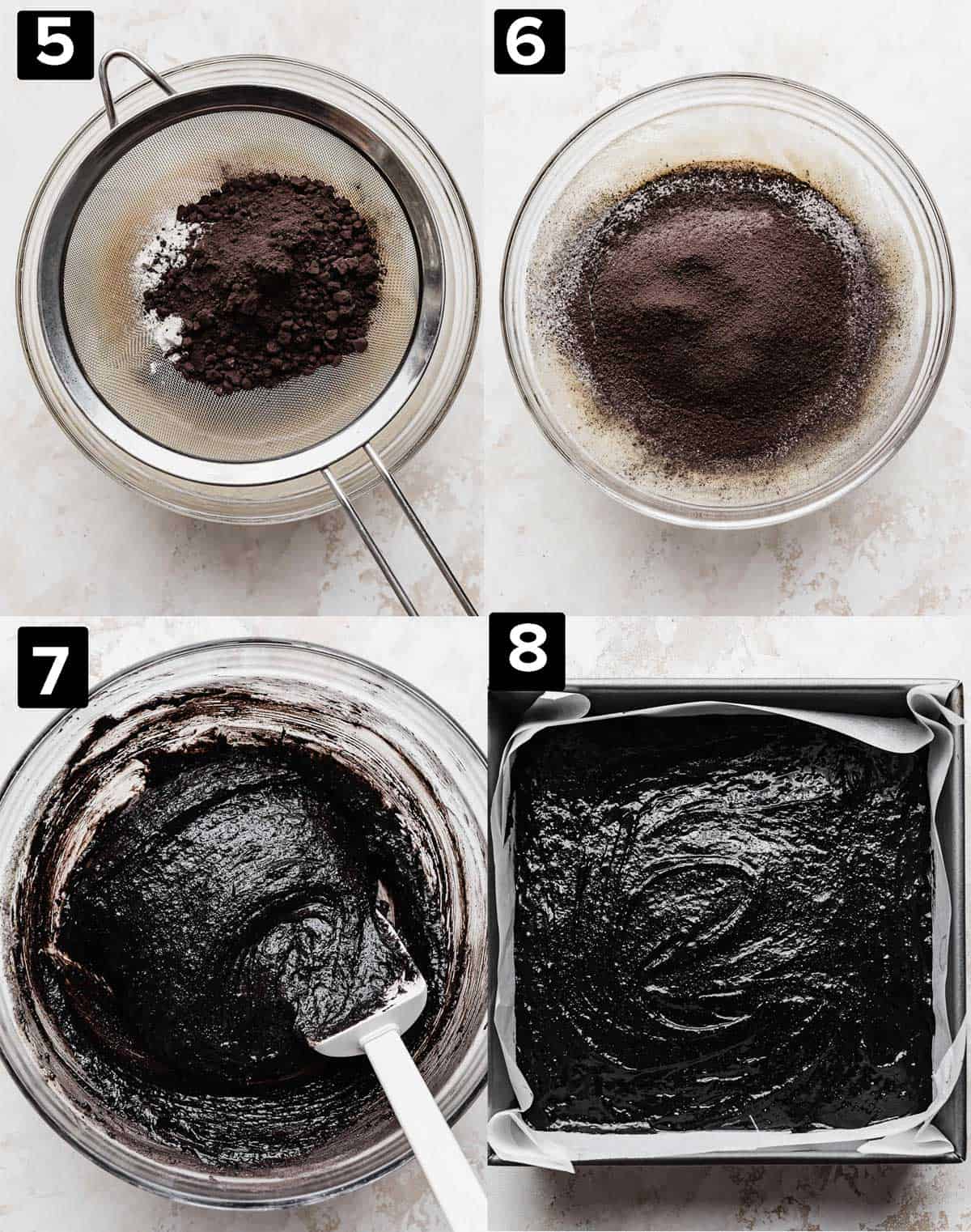 Serve! Serve these fudgy black cocoa powder brownies warm or at room temperature with some Homemade Vanilla Ice Cream!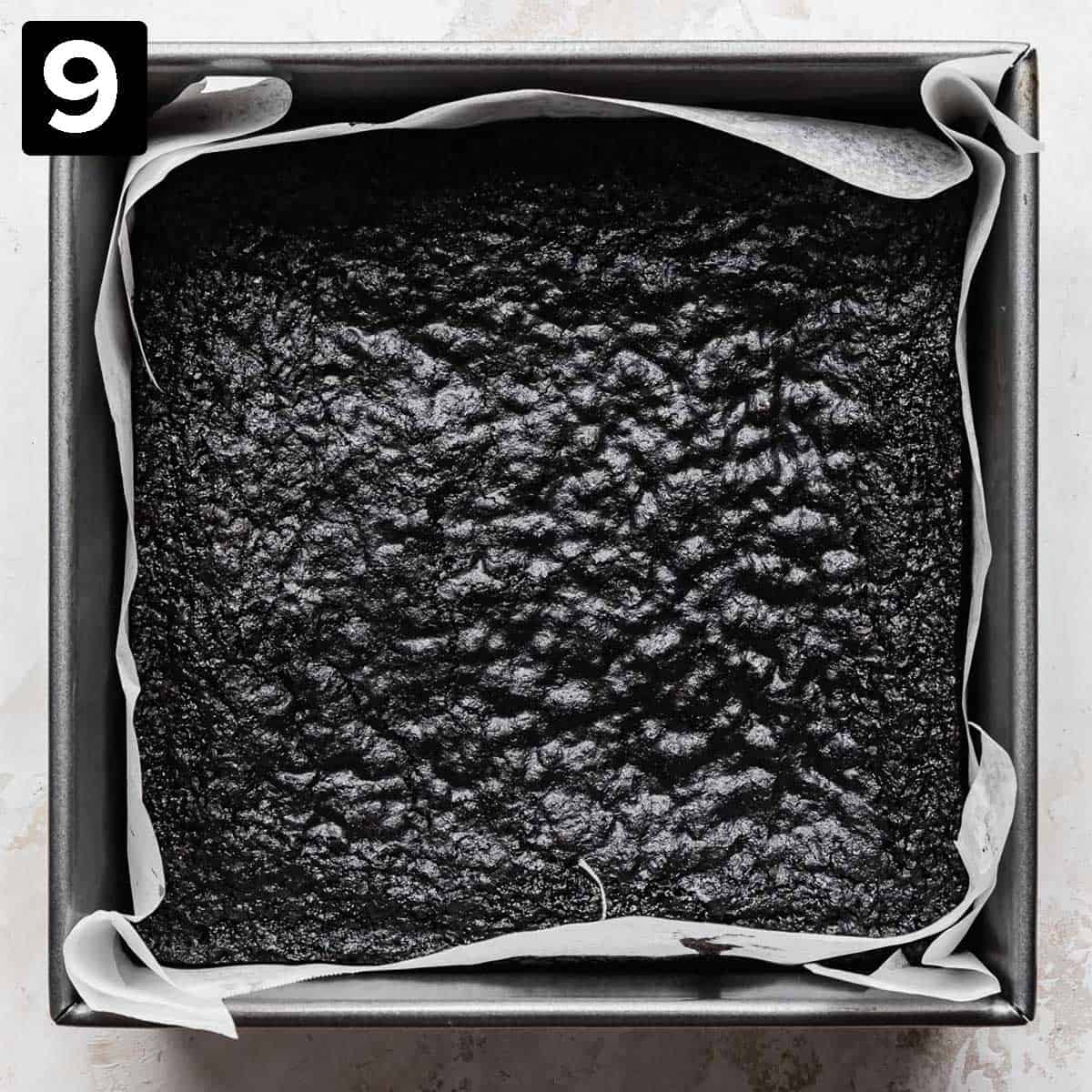 Recipe Tips
Don't over bake the black cocoa brownies. They will continue to bake in the pan, so when you put the toothpick in, you want it to come out with some fudgy crumbs on it but not full blown wet batter. If you over bake the brownies, they won't be that iconic gooey brownie texture.
This brownie recipe doesn't have baking soda or baking powder in it. This gives the brownie a denser, fudgier texture.
Note: This black cocoa brownie recipe isn' an Oreo brownies recipe because we haven't added any Oreo crumbs to it. If you are looking for a prominent Oreo flavor, I would add some crushed Oreos to the brownie batter prior to baking. You can also make my Oreo Truffle Brownies which has an Oreo truffle layer and ganache layer on top of baked brownies!
For homemade brownies made with Dutch-process cocoa powder, try my Homemade Fudgy Brownies recipe. You can also use Nutella in my Nutella Brownies! My Lunch Lady Brownies recipe uses unsweetened cocoa powder and has a delicious frosting on top too!
For more information on the different types of cocoa powders, when to use them and why, read my post on the Best Cocoa Powder for Baking! 
Make Ahead, Storing, and Freezing
You can make this black cocoa brownie recipe ahead of time and store the brownies. They'll keep at room temperature for 2-3 days or in the fridge for 3-4 days.
Store in an airtight container or ziplock bag at room temperature or in the fridge.
To freeze, let the brownies cool and then cut into squares and wrap in plastic wrap. Store in a Ziploc bag in the freezer for up to 1 month. Remove and let thaw. Warm in the microwave for a few seconds to return to a gooey and warm texture.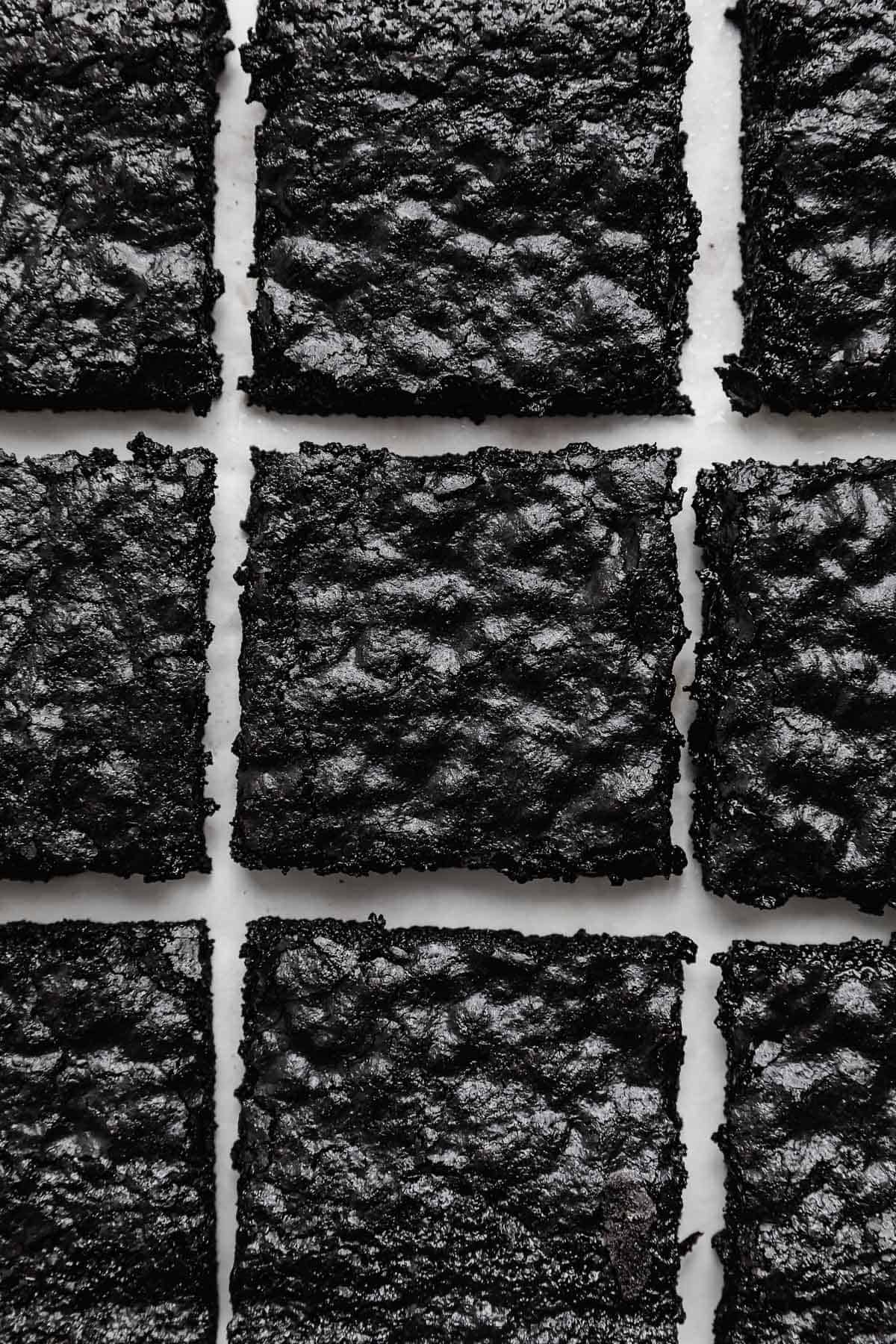 Recipe FAQs
Where can I buy black cocoa powder?
I've never seen black cocoa powder at my local grocery store, so I buy my Black Cocoa Powder online at Amazon.
Why are my brownies hard?
If you find your brownies are hard, they could have been over baked. You want to remove the brownie pan from the oven when the center doesn't jiggle anymore but is still a fudgy center. You'll notice because you'll get some moist crumbs on the toothpick but no wet batter. If you over bake the brownies, you won't get that fudgy texture that is so iconic of this delicious dessert! 
Can I use dark cocoa powder?
So dark chocolate cocoa powder or special dark cocoa powder is a deeper cocoa, but it isn't the same as black cocoa. You can definitely use dark cocoa powder or even regular cocoa powder (also known as unsweetened cocoa powder)! The result just won't be a black color and the flavor won't be like the black chocolate brownies.
What does black cocoa taste like?
You can read all about black cocoa in my Black Cocoa Guide. Black cocoa has a really deep flavor. The closest thing to use to describe the flavor is the cookie portion of an Oreo. Oreos don't necessarily taste like dark chocolate, so that's the best way to describe how black cocoa powder tastes — not chocolatey per se, but a definite deep flavor.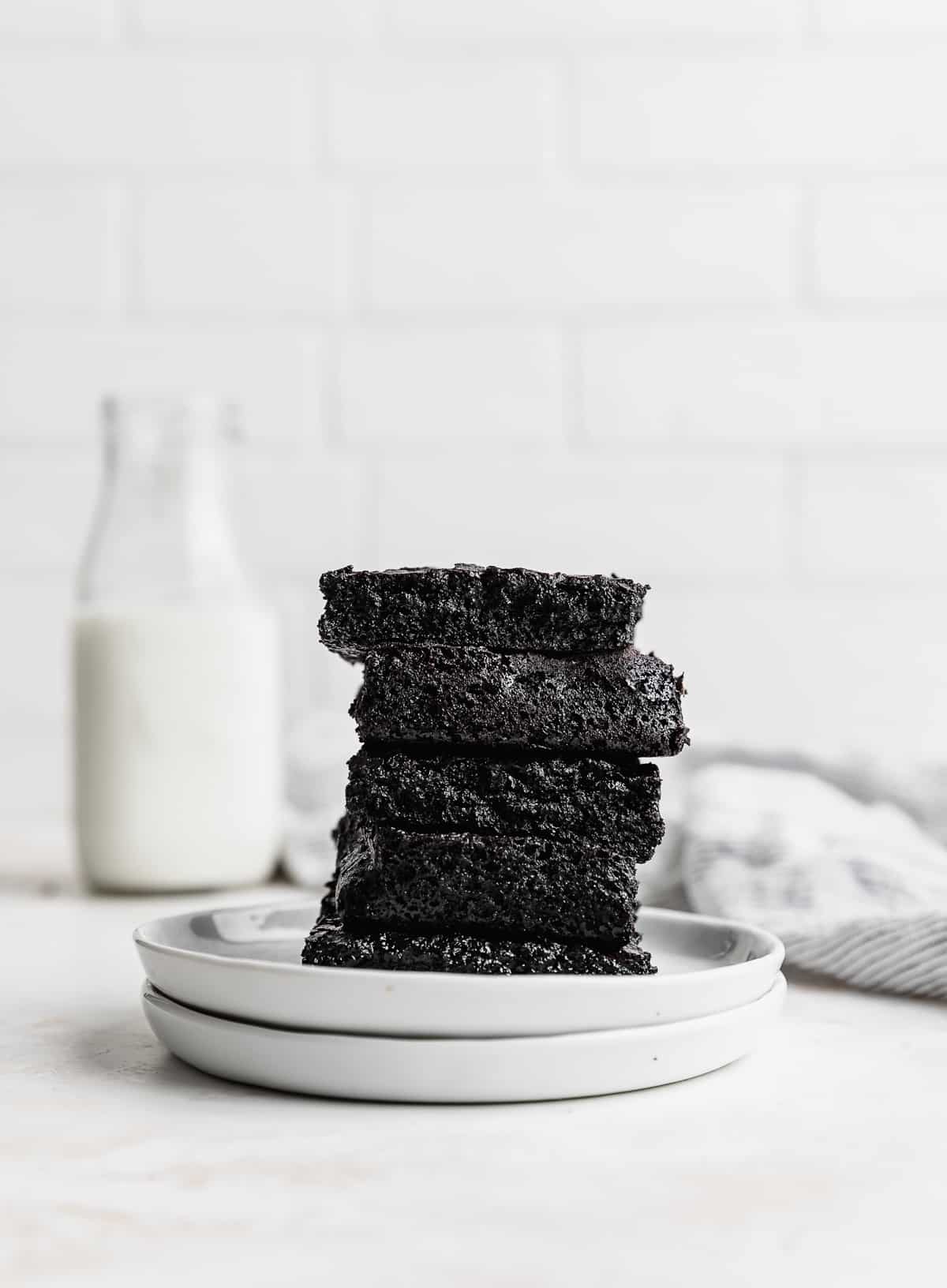 More Black Cocoa Desserts
Black Cocoa Brownies
These crackly top black cocoa brownies are rich and deep with black cocoa flavor! They're really easy to make and taste amazing served with ice cream.
Ingredients
1/2

cup

unsalted butter -

melted

1

tablespoon

vegetable oil

1

cup

granulated sugar

1/3

cup

brown sugar

-

packed, can be light or dark brown sugar

2

large

eggs

-

at room temperature

2

teaspoons

vanilla extract

1/2

cup

all purpose flour

1/2

cup

black cocoa powder

1/4

teaspoon

salt
Instructions
Preheat oven to 350°F. Line an 8 inch square pan with parchment paper or spray with nonstick cooking spray.

In a medium sized bowl whisk the butter, oil, and sugar for 1 minute. Add the eggs and vanilla and mix vigorously for 1 minute or until slightly paler in color.

Sift the flour, cocoa, and salt into the wet ingredients. Using a rubber spatula fold the dry ingredients into the wet mixture until just combined. 

Pour batter into the prepared pan and bake for 18-20 minutes. Bake until the middle no longer jiggles. The tops will be just set, and will continue to bake in the pan as it cools. If you insert a toothpick into the center the toothpick should come out with some fudgy crumbs. This will provide a very fudgy type brownie. 

Remove and cool to room temperature. 
Did you make this recipe?
Leave a star rating and review on the blog post letting me know how you liked this recipe! Take a picture and tag @saltandbaker on Instagram and Facebook so I can see what you're making!