Black Velvet Cupcakes
This post may include affiliate links. As an Amazon Associate I earn from qualifying purchases.
These Black Velvet Cupcakes are a spooky twist on the southern classic red velvet cake! These cupcakes are unbelievably tender, fluffy, and moist; and full of a deep, rich black cocoa flavor and subtle hints of vanilla. Topped with a lusciously tangy black cocoa cream cheese frosting, these cupcakes are frightfully delicious!
Looking for more ghoulishly delicious Halloween treats? Don't forget to try my Halloween Dirt Cups, Halloween Oreo Balls, mummy hotdogs and my super easy Spider Web Halloween Crackers.
Why This Recipe Works
Color. The black color really comes through thanks to the use of black cocoa powder which gives it a smooth taste and deep color. We add some black gel food coloring to intensify the color as well. It's the perfect spooky treat for Halloween!
The crumb. The cupcakes are so fluffy but incredibly moist thanks to the vegetable oil and buttermilk in the cake batter. Because this cupcake recipe is made with vegetable oil the cupcakes will bake up loftier and more moist than one made with butter. The crumb is more even throughout and the cake will stay moist and more tender for longer. You'll really see why velvet is used to describe this cake texture!
The creamy frosting pairs beautifully with the black velvet cake and is the perfect balance of cream cheese and black cocoa.
Ingredient Notes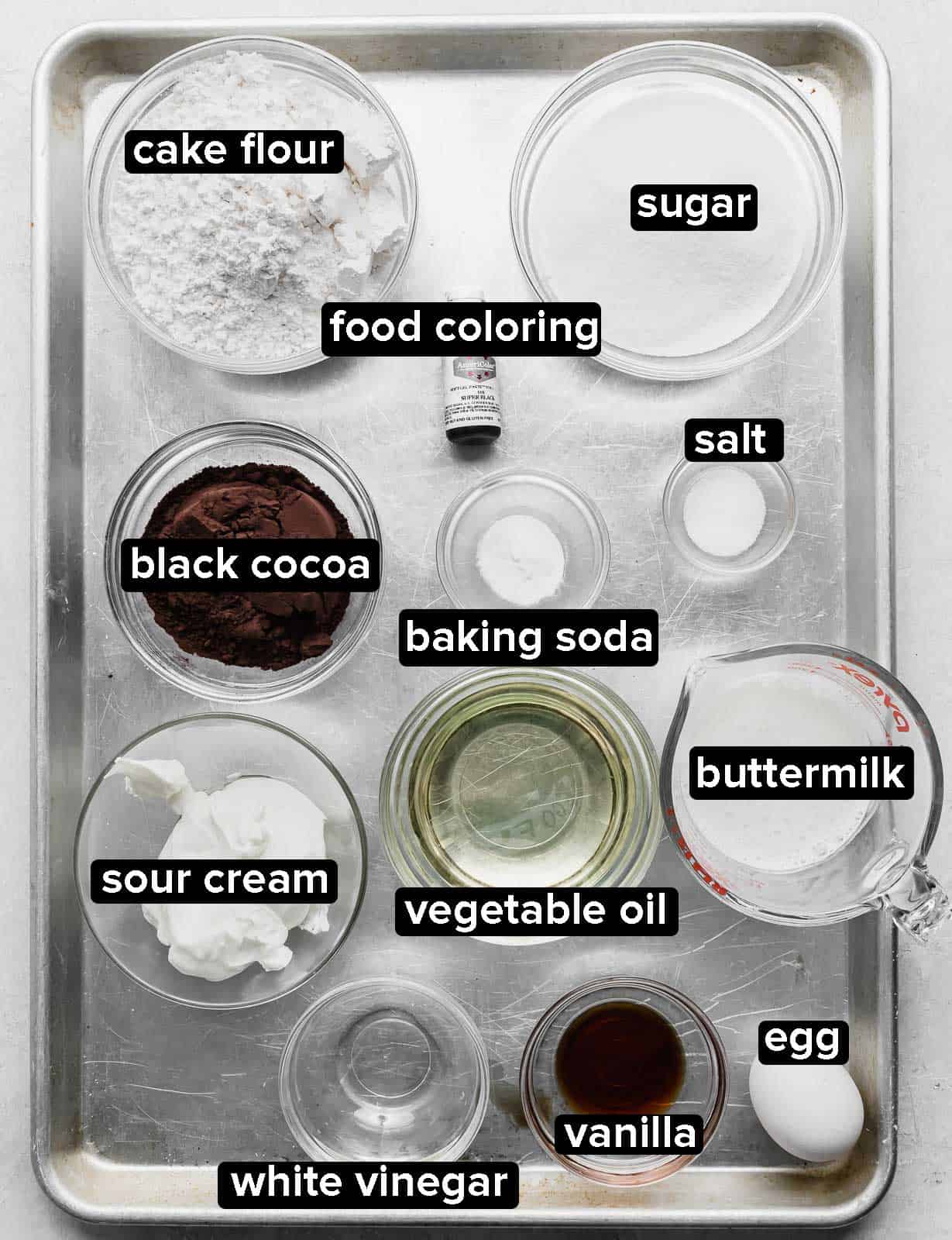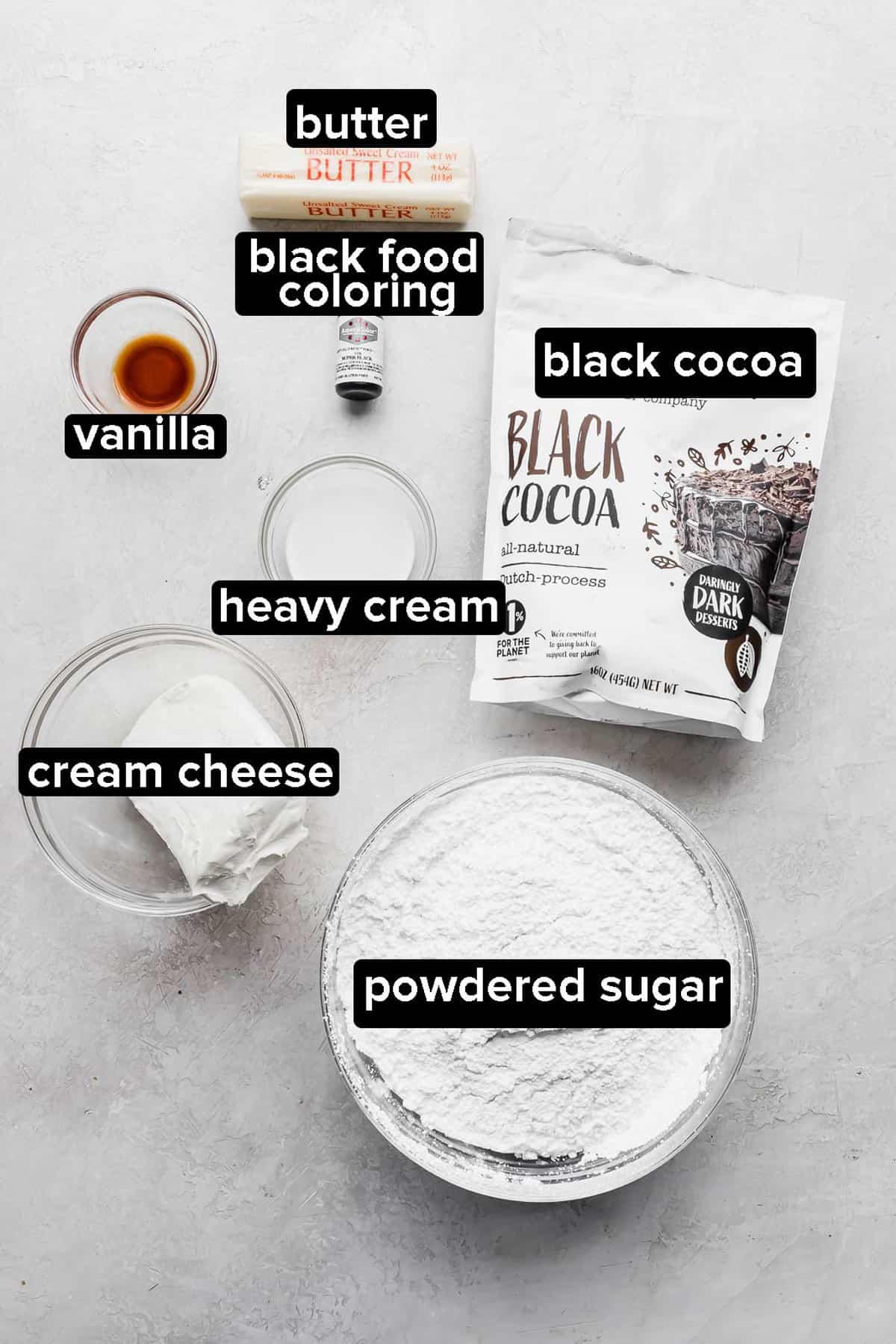 Cake Flour: Cake flour is much lighter than all-purpose flour, which gives these cupcakes their soft crumb. If you do not have cake flour, you can make your own. Take 2, scooped and leveled, cups of all purpose (AP) flour and place in bowl. Remove 2 tablespoons of AP and add in 2 tablespoons of cornstarch. Then sift mixture to help incorporate cornstarch throughout the flour.
Black Cocoa Powder: Black cocoa powder helps contribute to the deep chocolate flavor as well as the color. Read more here. For more black cocoa powder recipes, check out my Black Cocoa Powder Recipes Roundup.
Black Food Gel: I prefer to use Americolor soft gel pastes, which can be found here on Amazon. If you are unable to locate this brand or cannot order online, any brand of black gel food coloring will do.
Buttermilk: Gives velvet cakes their slightly tangy yet creamy flavor as well as makes them extremely moist. The buttermilk also helps to activate the baking soda to leaven the cake.
White Vinegar: White vinegar also helps to activate the baking soda but also helps intensify the deep black color of the food coloring.
Sour Cream: Sour cream adds to the moist texture of these cupcakes. Feel free to use full fat, reduced fat, or fat free version. Just bring it to room temperature for easier incorporating.
Cream Cheese: This recipe uses the full fat version (personally, I think it tastes so much better) but feel free to use reduced or low fat, or even fat free cream cheese. Just be sure to soften it close to room temperature so it's easily mixed.
Heavy Cream: If you are unable to find heavy cream, you can substitute with milk or half-and-half; however, the frosting will have a less thick and creamy consistency.
Step-by-Step Instructions
Preheat oven to 350°F. Line 12 muffin cups with liners. Set aside.
In medium bowl whisk together dry ingredients and set aside.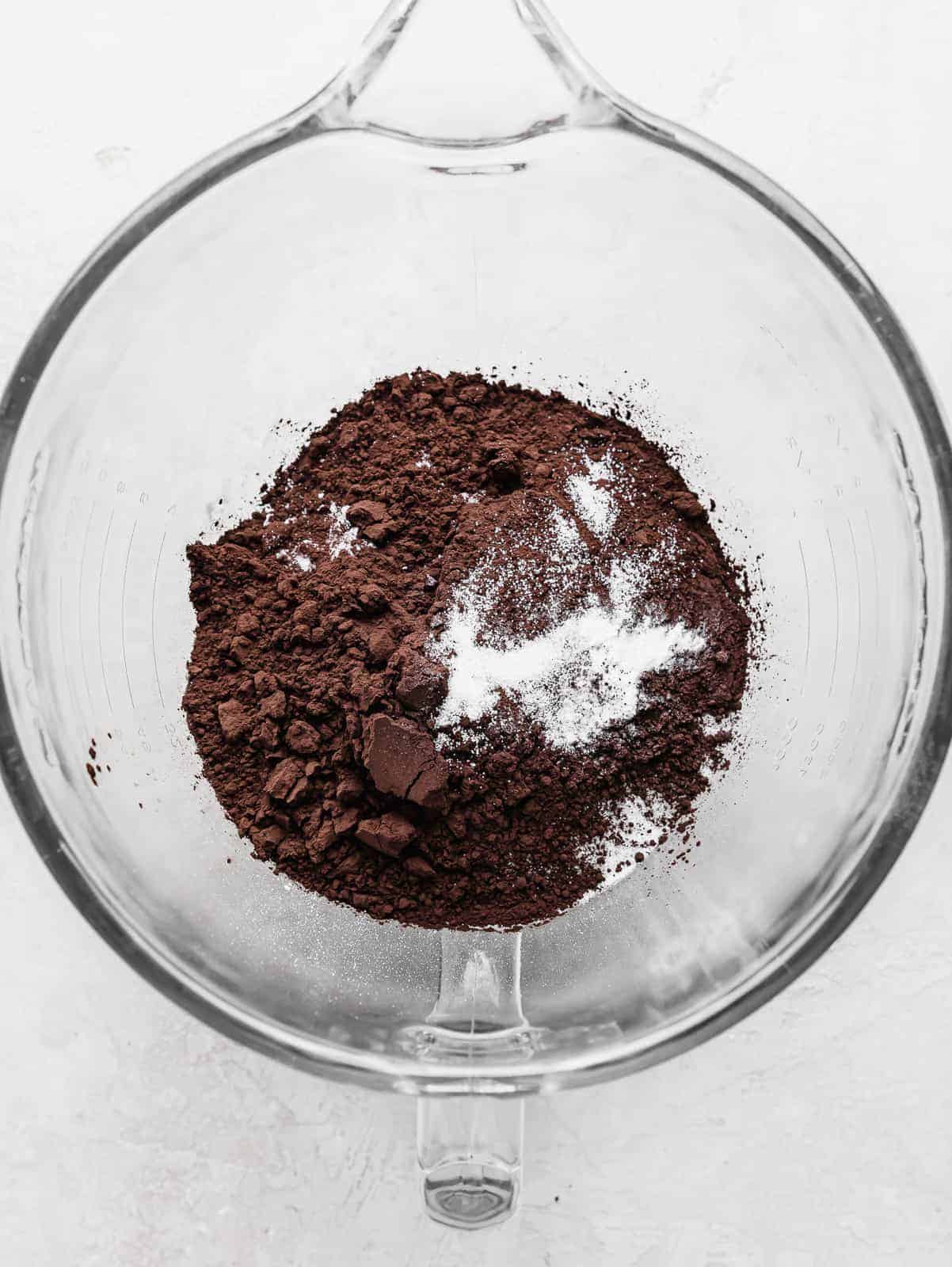 In a large bowl, mix together the oil, sour cream, buttermilk, egg, vanilla extract, white vinegar, and black food coloring.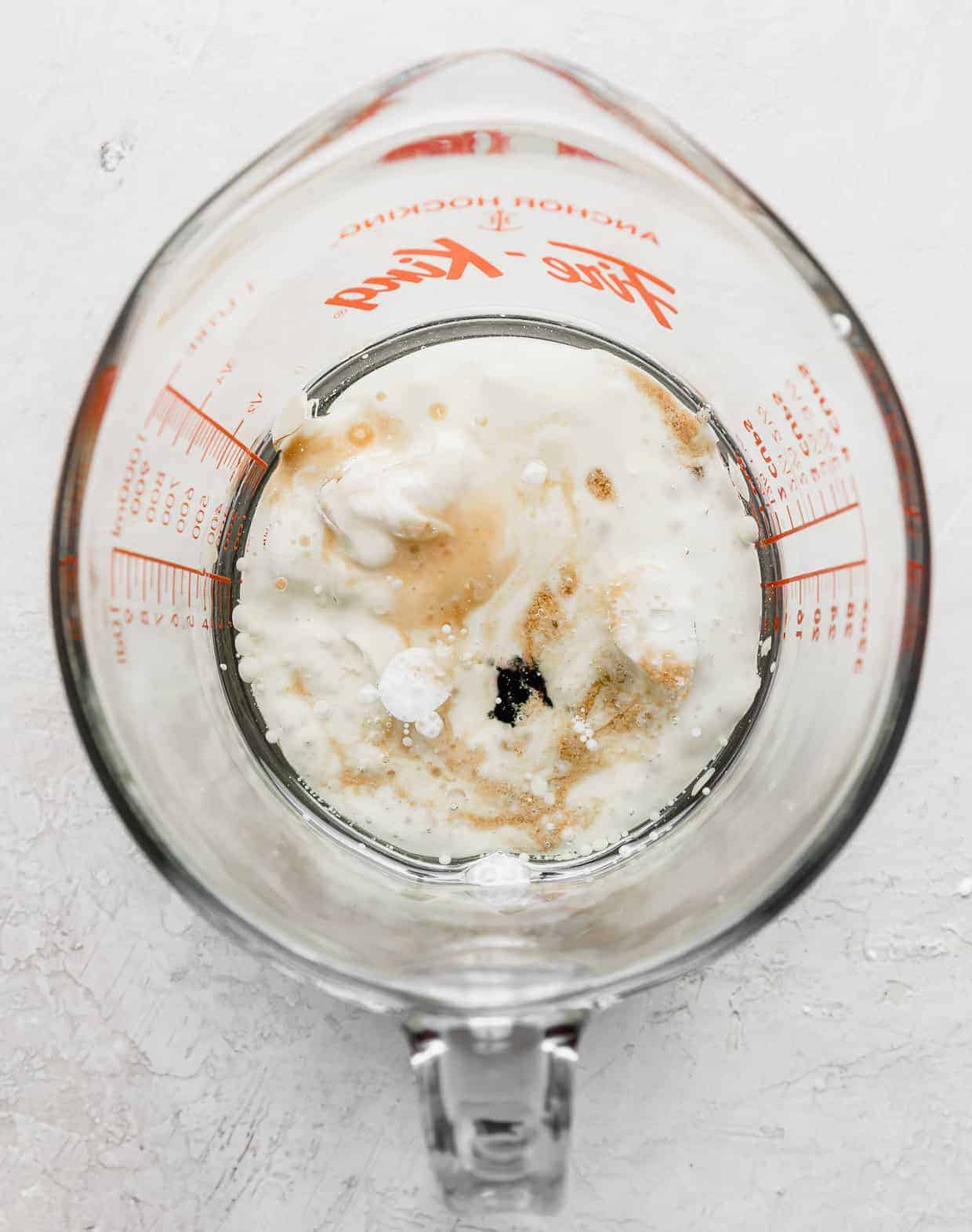 Slowly add dry ingredients to wet until combined.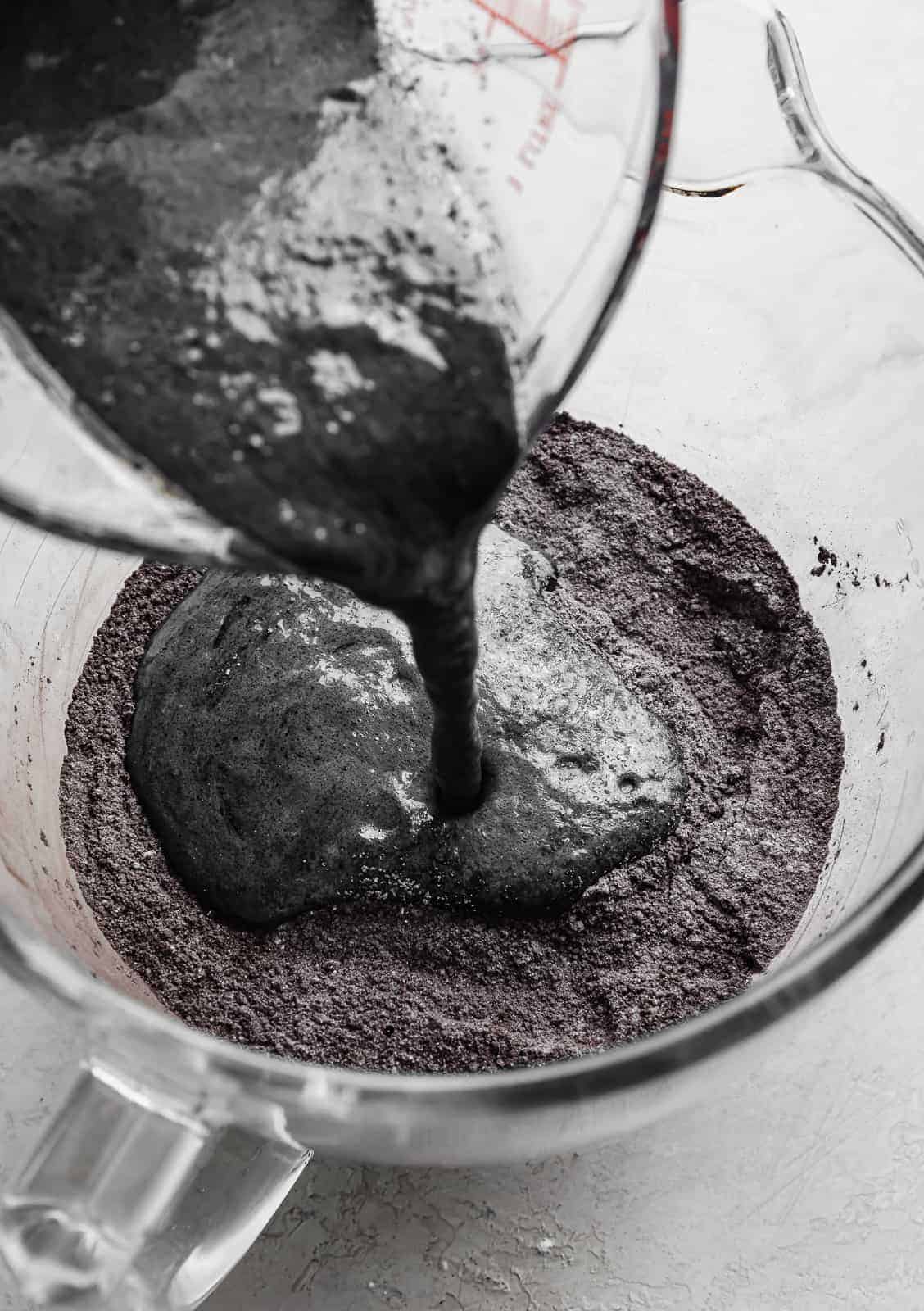 Fill each muffin tin 1/2 of the way full and bake for 15-18 minutes or until a toothpick inserted in the center comes out clean. Remove from oven to wire rack and allow to cool completely.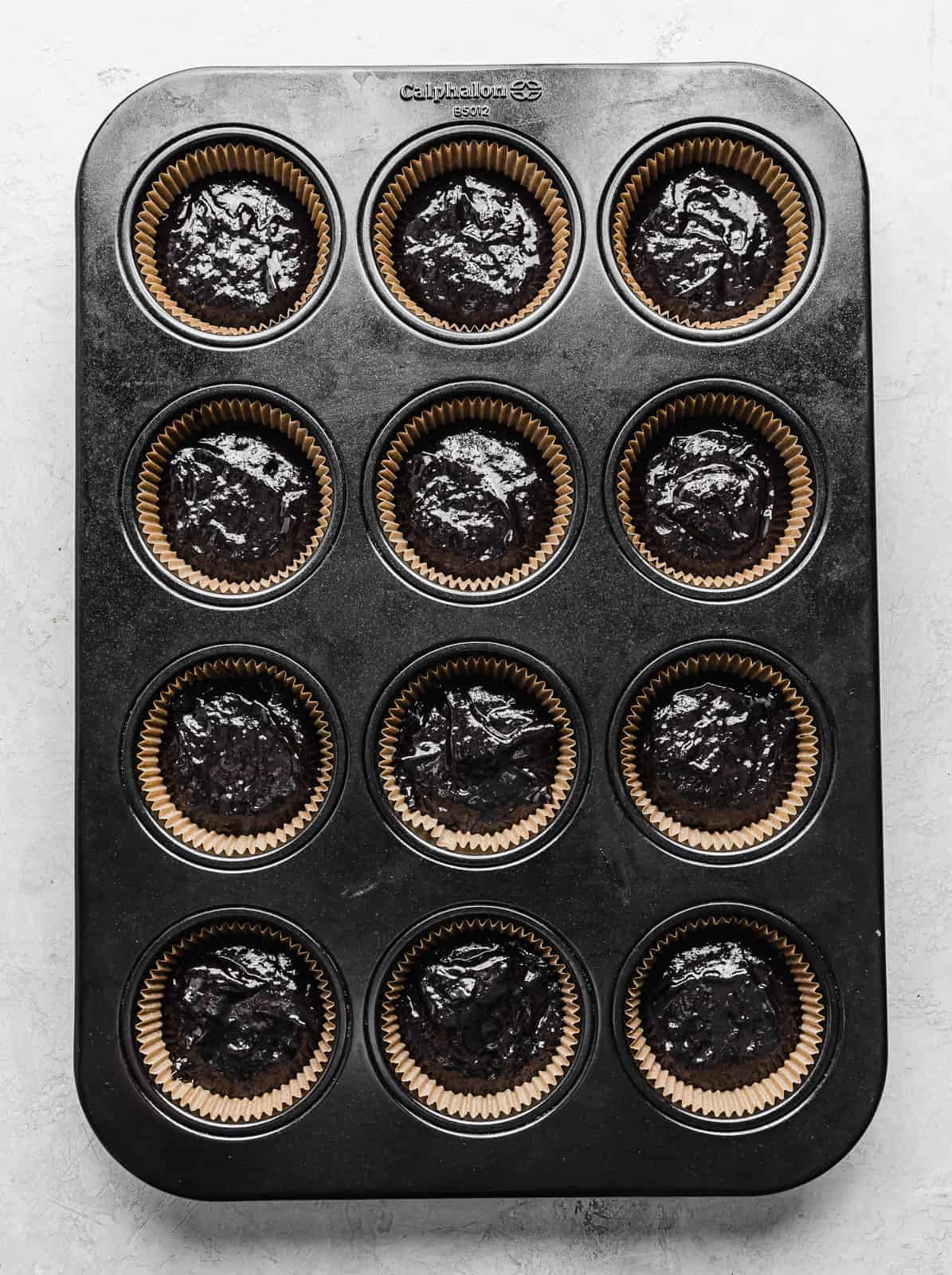 Once they are cooled, it's time to break out that spookily delicious black cream cheese frosting!
Black Velvet Cupcake Frosting
Cream butter and cream cheese until smooth.
Gradually add the powdered sugar, black cocoa powder, vanilla extract, and black coloring gel. Whip until smooth. Add a splash of heavy cream to get desired consistency.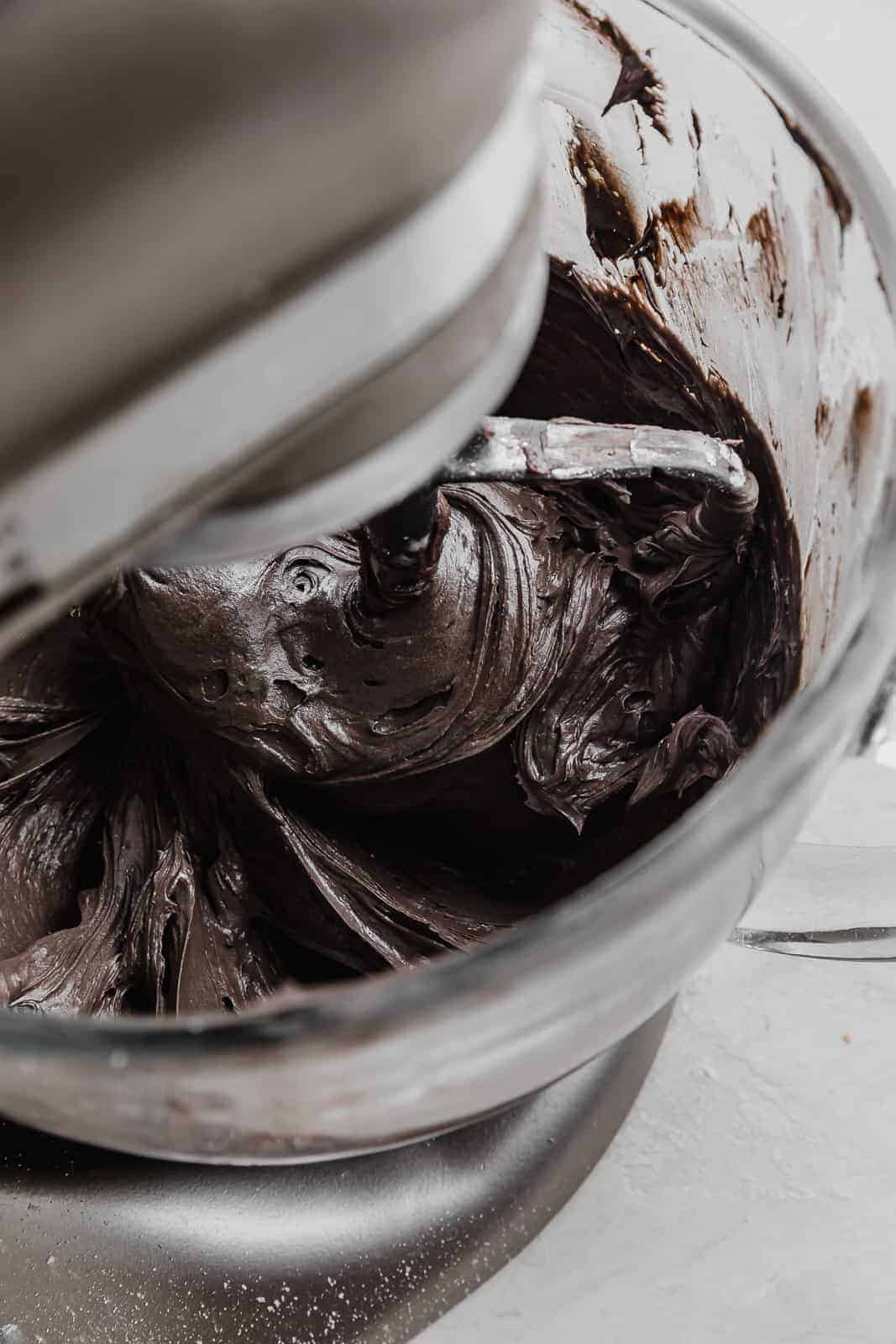 Decorate the cupcakes. Store leftovers in the fridge.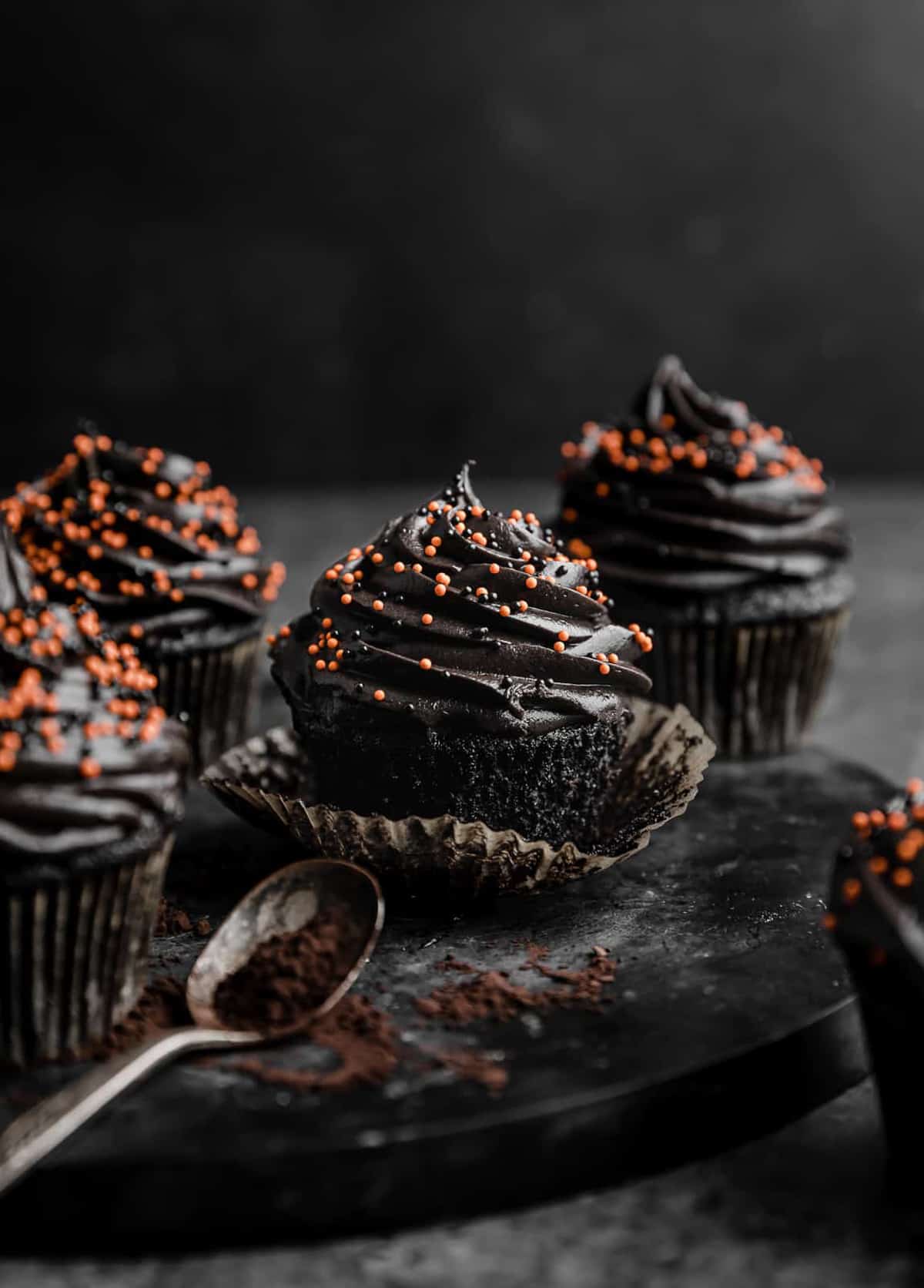 Recipe Tips
Bring all cold ingredients to room temperature prior to mixing. Room temperature ingredients combine quickly and evenly, so you won't risk over-mixing.
The amount of food coloring you use, is up to you. To get the deep, rich black color you see here, use about 2-3 drops of the gel coloring. Dye the batter until you are pleased with the color. Of course, you do not have to dye the batter at all if you don't want to. The black cocoa powder will give you a pleasantly dark color to both the cupcakes and frosting.
Buttermilk is needed to make any type of velvet cake. However; if you are in a pinch and cannot find buttermilk at your local grocer, you can make your own. In a liquid measuring cup, add 1 teaspoon of white vinegar or lemon juice. Then add enough whole milk to the same cup until it reaches ½ cup. Mix well and let it sit for 5 minutes. The homemade "buttermilk" will be somewhat curdled and ready to use in recipe!
Make Ahead, Storing, and Freezing
Store cupcakes in an airtight container in the refrigerator up to 3 days.
Unfrosted cupcakes can be placed in an airtight freezer-friendly container or bag and frozen for 2-3 months. When ready to eat, thaw overnight in the refrigerator.
FAQs
Can cupcakes and frosting be made ahead?
Cupcakes can be made 1 day in advance.  Cover and store at room temperature. 
Frosting can also be made 1 day in advance.  Cover and store in the refrigerator until ready to use.
When ready to serve, frost and decorate the cupcakes prior to plating.
Can these cupcakes be filled?
Of course! To add an extra spooky element, scoop out the middle and fill with a raspberry jelly or any other red jelly of your choosing.
Why should I use a scoop when filling my cupcake liners?
Using a scoop ensures you will have evenly baked cupcakes with a consistent look.   Plus, you can easily fill a dozen cupcakes in less than a minute with a scoop, all while making little to no mess! 
What size scoop should I use when filling my cupcake liners?
The scoop size you use will depend on the size cupcakes you wish to make. For this recipe, I used a size 20 which is equivalent to 3 tablespoons. However; if you wish to make these mini, I would recommend using a small-sized scoop which is roughly equal to 2 tablespoons.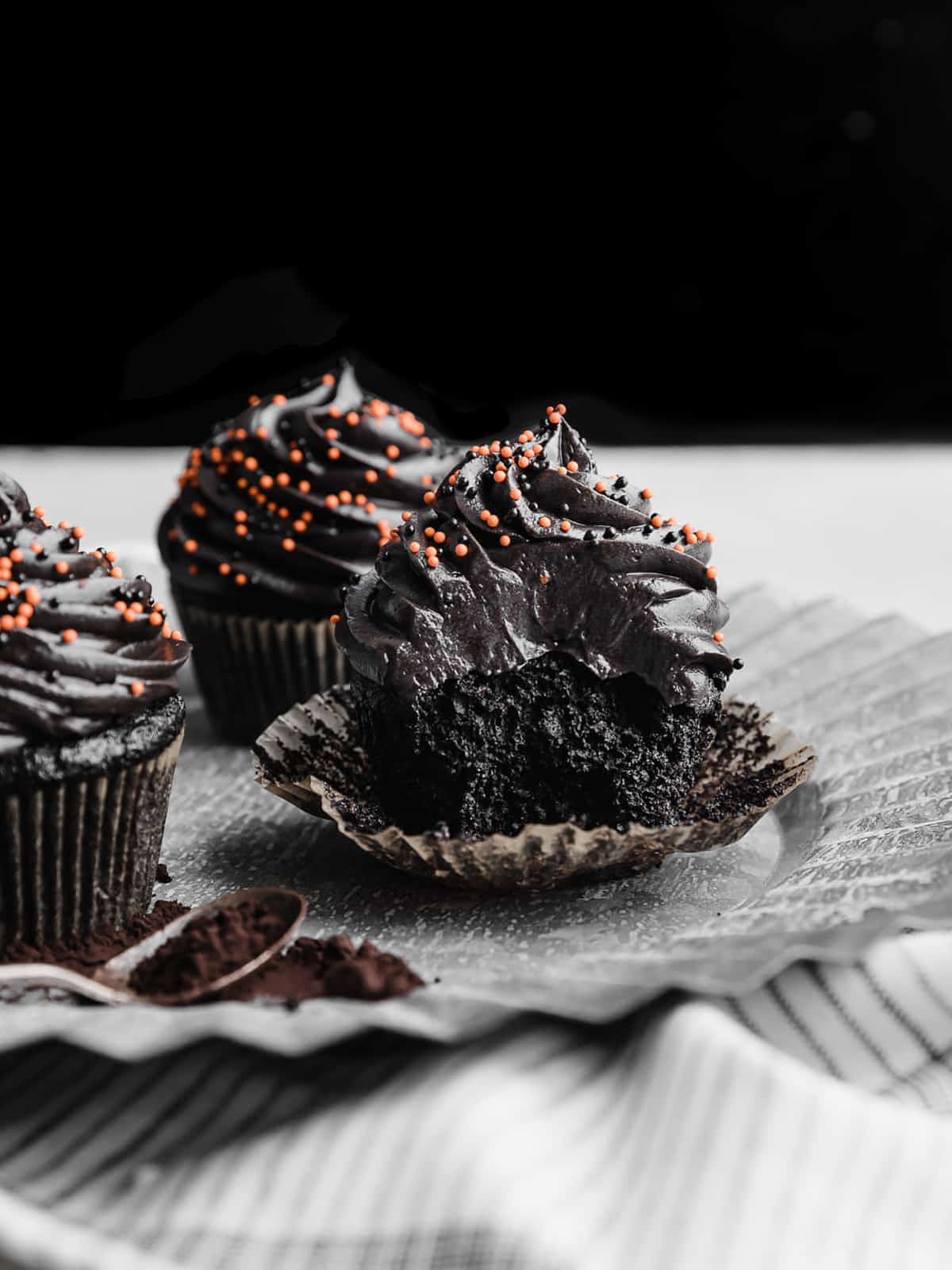 More Halloween Recipes
Did you make this recipe? I'd love to hear about it! Click here to leave a rating and review, or scroll below the recipe card and do so there.
Stay up-to-date by following us on Instagram, Facebook, and Pinterest.
Black Velvet Cupcakes
Not only do black velvet cupcakes have a deep color, they have a rich and deep flavor, thanks to the black cocoa powder used in this recipe.
Ingredients
Cupcakes
1 3/4

cups

cake flour

1 1/4

cups

granulated sugar

2/3

cup

black cocoa powder

3/4

teaspoon

baking soda

1/2

teaspoon

salt

1/2

cup

vegetable oil

1/2

cup

sour cream

-

full fat or light is fine

1/2

cup

buttermilk

-

room temperature

1

egg

2

teaspoons

vanilla extract

1/2

teaspoon

white vinegar

black food coloring -

preferably gel food coloring
Black Frosting
1/2

cup

butter

-

softened to room temperature, but still slightly cold (salted or unsalted is fine)

8

oz

cream cheese

-

softened

4

cups

powdered sugar

-

measured then sifted

3

tablespoons

black cocoa powder

1

teaspoon

vanilla extract

1

tablespoon

heavy cream

-

if needed
Instructions
Cupcakes
Preheat oven to 350°F. Line a regular sized cupcake pan with cupcake liners and set aside. 

In the bowl of a stand mixer whisk the cake flour, sugar, cocoa powder, baking soda, and salt. 

In a separate bowl, or large liquid measuring cup, whisk the vegetable oil, sour cream, buttermilk, egg, vanilla extract, white vinegar, and black food coloring. 

Add the wet ingredients to the dry ingredients (using a paddle attachment) and mix on low until ingredients are combined. 

Portion the batter into the cupcake liners until ½ full (I use a size 20, 3 tablespoon sized cookie scoop to portion my batter evenly amongst the cupcake compartments). Bake for 15-18 minutes or until a toothpick comes out clean from the center of the cupcakes.

Remove and transfer the cupcakes to a wire rack to cool completely. 
Black Frosting
Beat the butter and cream cheese in a stand mixer until smooth and creamy about 2-3 minutes. Add the powdered sugar ½ cup at a time. Mix in the black cocoa powder, vanilla extract and black gel coloring, about 2-3 drops. Whip until smooth. Add a splash of heavy cream if needed, to get desired consistency. 

Frost the cooled cupcakes and add sprinkles if you'd like. Store frosted cupcakes covered in the fridge.
Notes
Cake flour: If you don't have cake flour you can make a homemade cake flour substitute by measuring 1 cup of all purpose flour, removing 2 tablespoons of all purpose flour (so you now have 14 tablespoons of all purpose flour) and adding 2 tablespoons of cornstarch. Sift this mixture together (sifting helps combine and aerate the flour so that its similar to cake flour). Then measure the amount of cake flour you need. 
Black cocoa powder: is a dutch processed cocoa powder. The black cocoa powder has a distinct flavor, its much deeper and I LOVE it! If you want to experience true black velvet cupcakes, use black cocoa powder. I highly encourage you to do so! If you don't want to buy it you can use a dutch process cocoa powder or natural cocoa powder (dark or regular) and add gel black food coloring to the batter. The batter won't be as dark, but will get it closer. And note, the taste won't be the same. 
Cream cheese should be the block cream cheese and not the cream cheese spread.
Frosting tip: You can make the frosting in advance and store it in the fridge. Making the black frosting in advance also allows the color to deepen slightly. Frosting can be stored in the fridge for up to 3 days. Let it sit in the fridge, covered. When ready to use remove from the fridge and let it come back to room temperature. Using a rubber spatula give it a good stir from side to side for a few minutes or place it back in the bowl of your stand mixer and beat until smooth.
Storing: Cupcakes can be stored in the fridge, covered (so they don't dry out), for up to 1 week. Frosted cupcakes will last about 3 days. 
Did you make this recipe?
Leave a star rating and review on the blog post letting me know how you liked this recipe! Take a picture and tag @saltandbaker on Instagram and Facebook so I can see what you're making!