Halloween Crackers
This post may include affiliate links. As an Amazon Associate I earn from qualifying purchases.
These orange, black and white colored Halloween Crackers are a delicious and sweet festive Halloween treat! This is a fun and simple Halloween snack that will make the holiday special for your kids without taking tons of time or breaking the bank!
When October hits, I pull out my Halloween decorations and try to make things look fun and festive around the house. In addition to the spooky holiday decor, you can also make some fun, spooky Halloween recipes! Mummy Hot Dogs, Halloween Dirt Cups, and Halloween Oreo Balls are all super easy recipes to make Halloween special!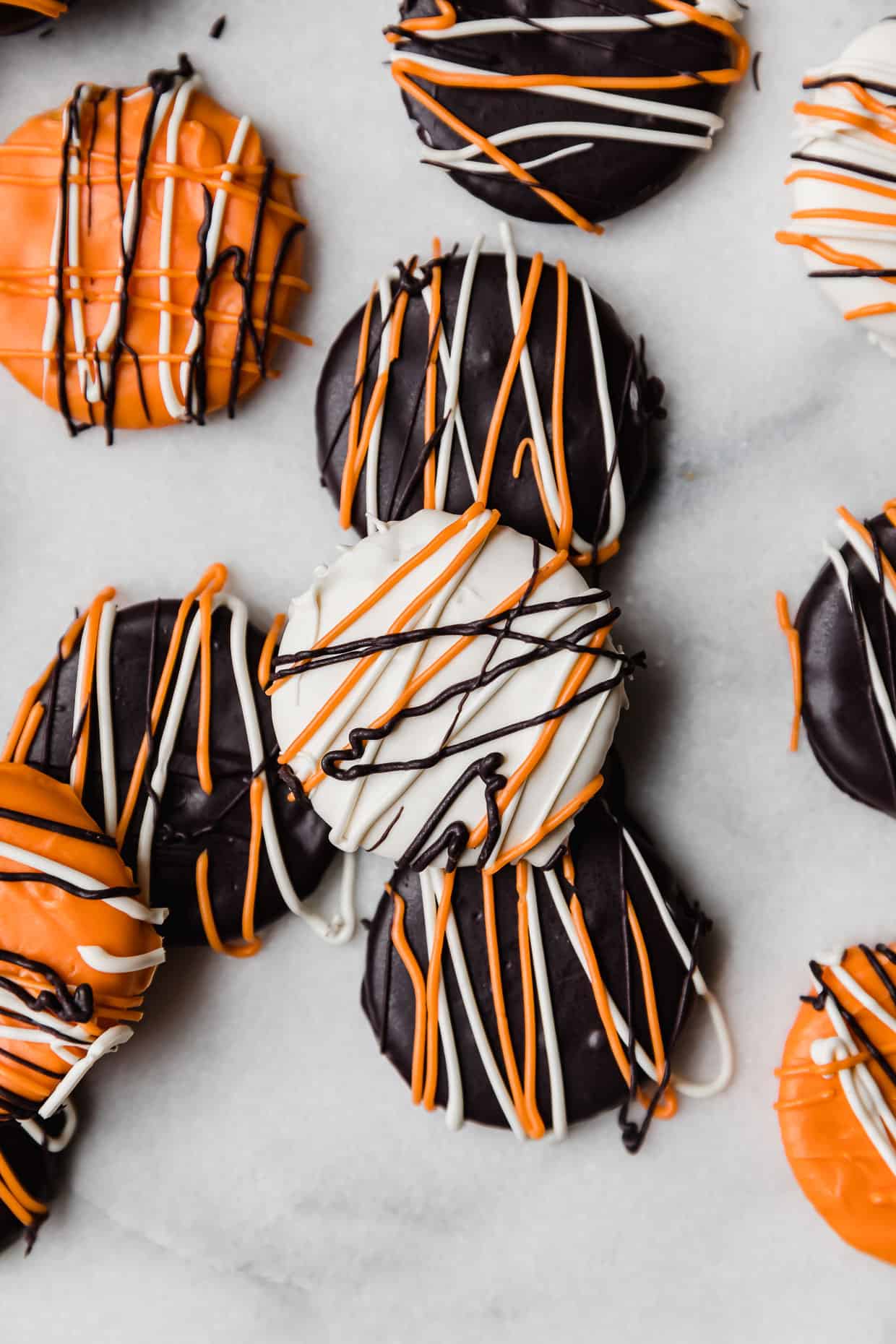 Why This Recipe Works
Easy Halloween snack. Easily spruce up your Halloween holiday by serving your kiddos these fun Halloween snacks!
Turn them into Halloween spider crackers! I've included a picture in the post of an easy way to change the decorations on these crackers to be spiders! Serve these at snack time or Halloween parties.
Kid-friendly Halloween recipe. My son was all over this recipe! It was so fun for him to dip his favorite crackers in chocolate and help drizzle the decoration on. It was a fun way to commence the fall weather and the fast approaching Halloween holiday!
Ingredient Notes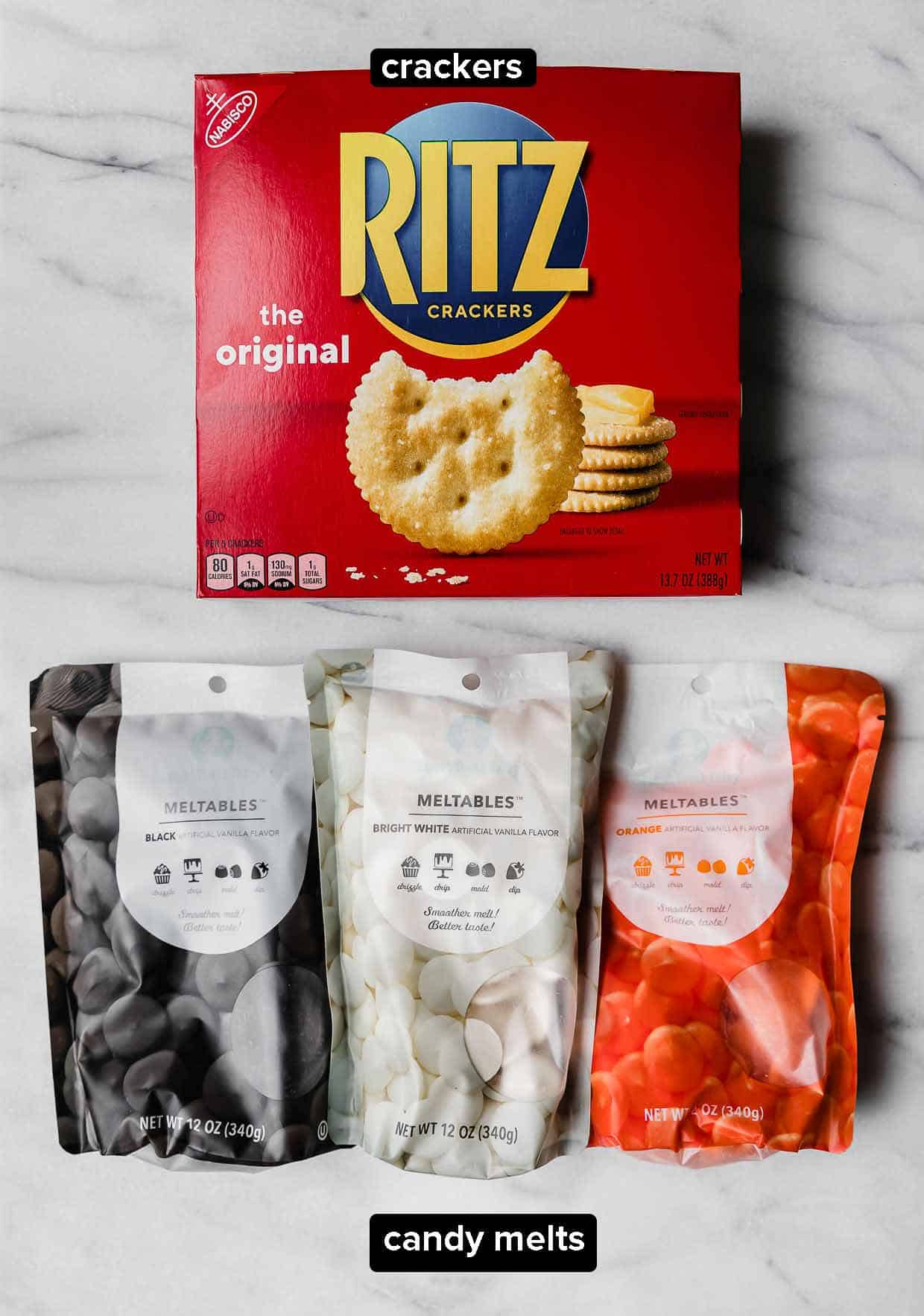 Candy Melts: Feel free to use whatever colors you'd like! You can do a combination of purple, black and white candy melts to be more witch themed; you can do the orange, white and black for more of a pumpkin like look; or you can do green, black and purple!
Ritz Crackers: Easily scale up or down this Halloween crackers recipe by using more or less crackers.
Step-by-Step Instructions
Melt the candy melts. Place the colored candy melts in separate microwave-safe bowls. Melt according to the package directions (I did 30-second increments and stirred after each interval).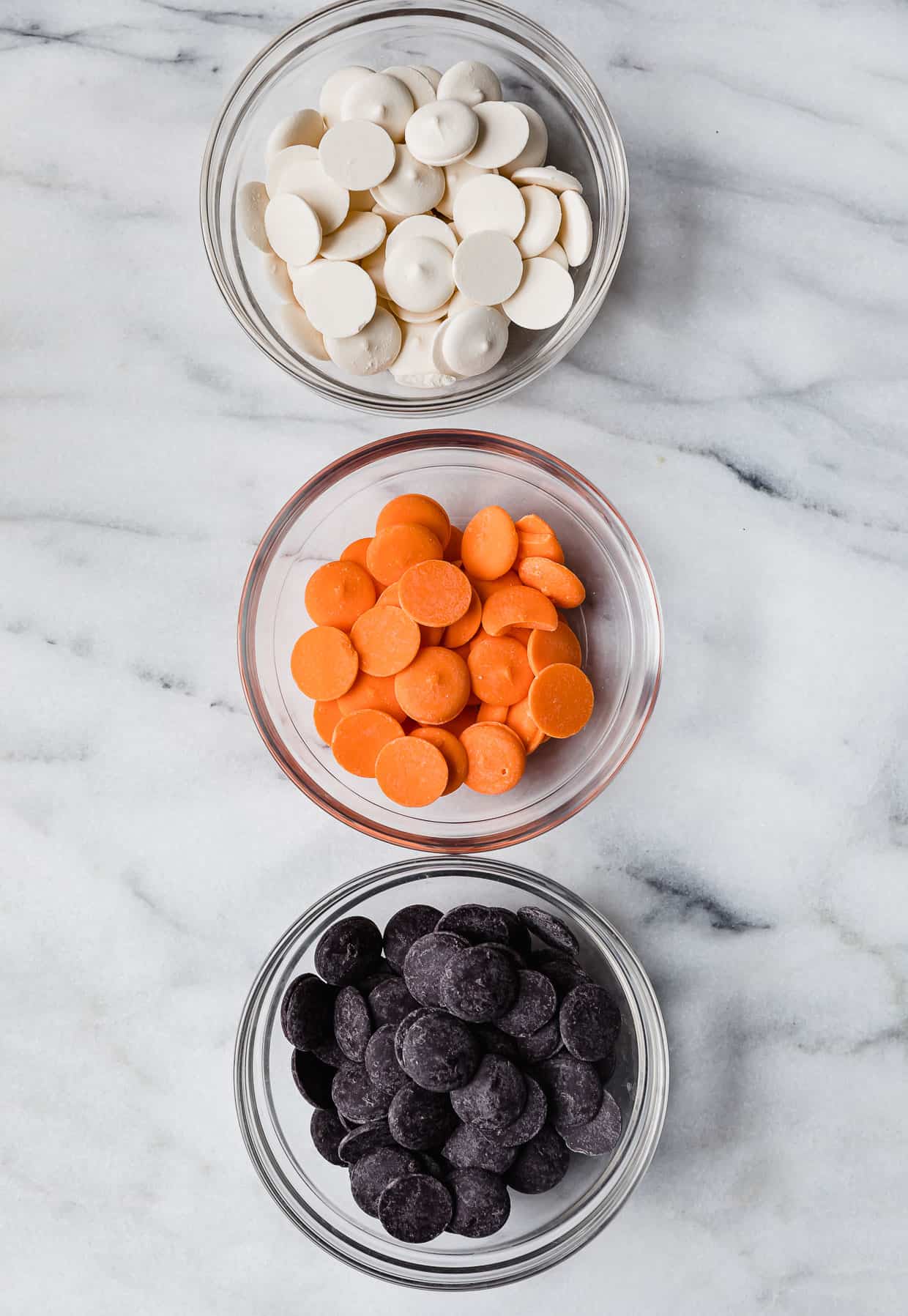 Dip the Ritz Crackers. Once the chocolate is melted, dip the Ritz crackers into the bowls and flip to fully coat. Tap off any excess by tapping the crackers against the edge of the bowl. Place the chocolate coated crackers on a sheet of wax paper to set at room temperature.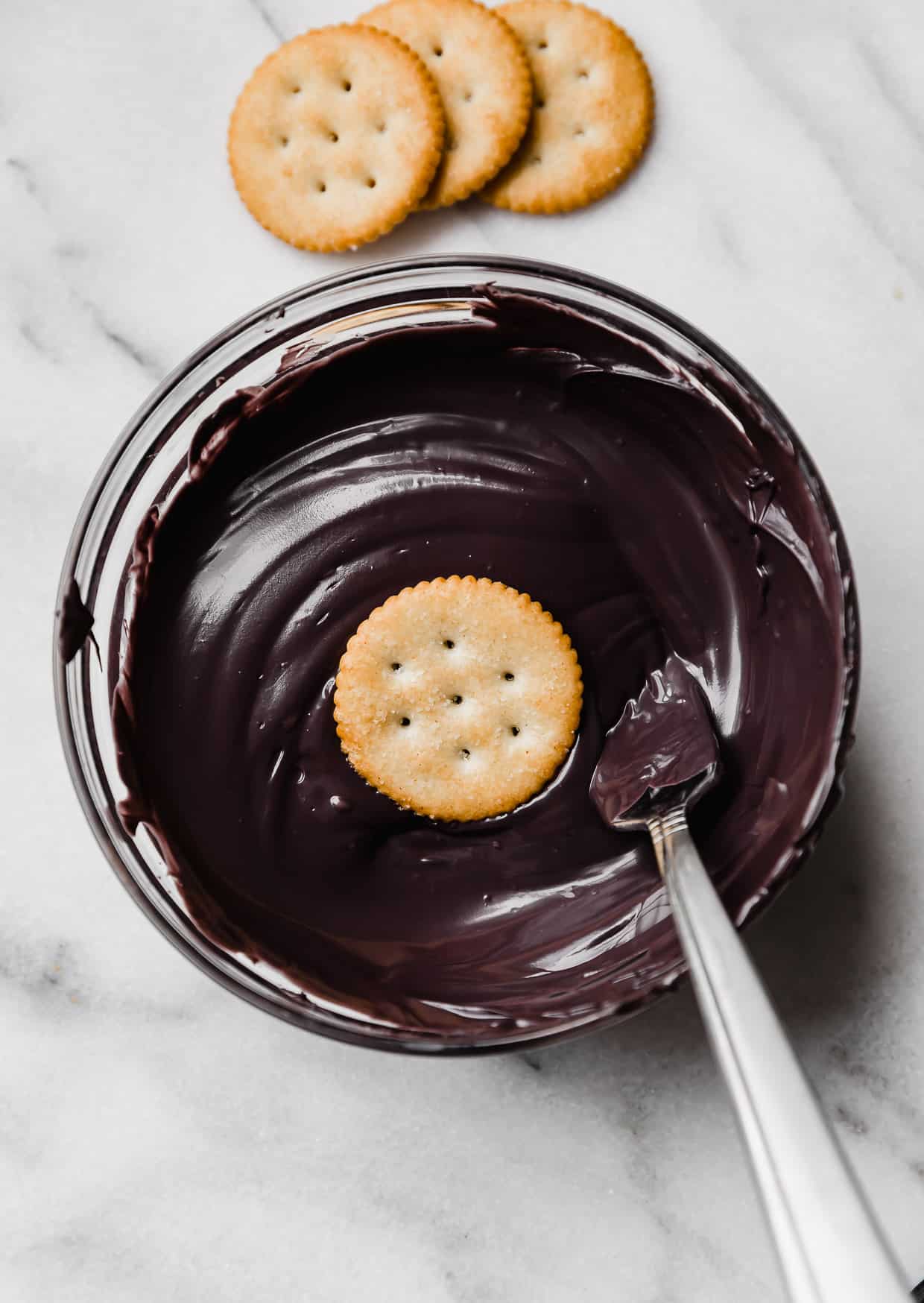 Drizzle or decorate. Decorate these as spider crackers or mummy crackers by using white candy melts on black dipped crackers. Use black or white candy melt on an orange cracker and draw jack-o-lantern faces for pumpkin crackers! For something super simple, drizzle the different colors on top. Enjoy!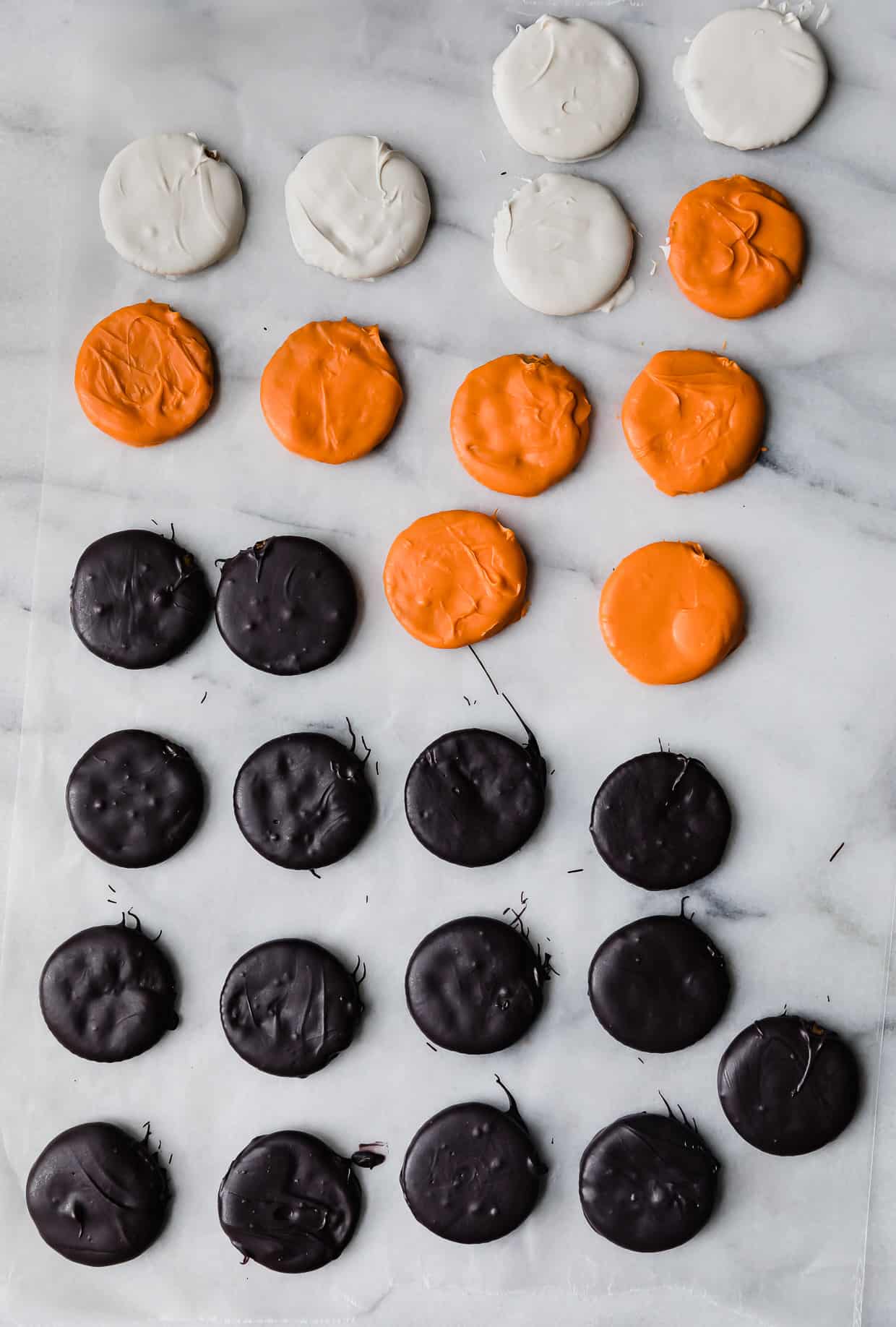 Recipe Tips
1 oz of chocolate will cover 4 Ritz crackers. If you want to make more than 12 crackers, melt more chocolate.
You want to microwave the candy melts in increments to reduce any previously melted areas from burning. Stir after each interval to create a smooth texture.
Fun Designs for Halloween Crackers
Dip in purple candy melts and decorate with black, white and green
Dip in purple candy melts and draw a witch's hat on them!
Use green candy melts and drizzle with purple, black an white
Dip in black and use white drizzle to make a mummy. Use black to dot some eyes on the mummy crackers!
Use white or black to draw triangle eyes and a mouth to look like a jack-o-lantern on the orange crackers
Make a spider cracker by drawing spider webs with the white chocolate on black crackers
Turn them into ghost halloween crackers by dipping in white chocolate and using black to dot on eyes and a big O for the mouth!
Top with Halloween sprinkles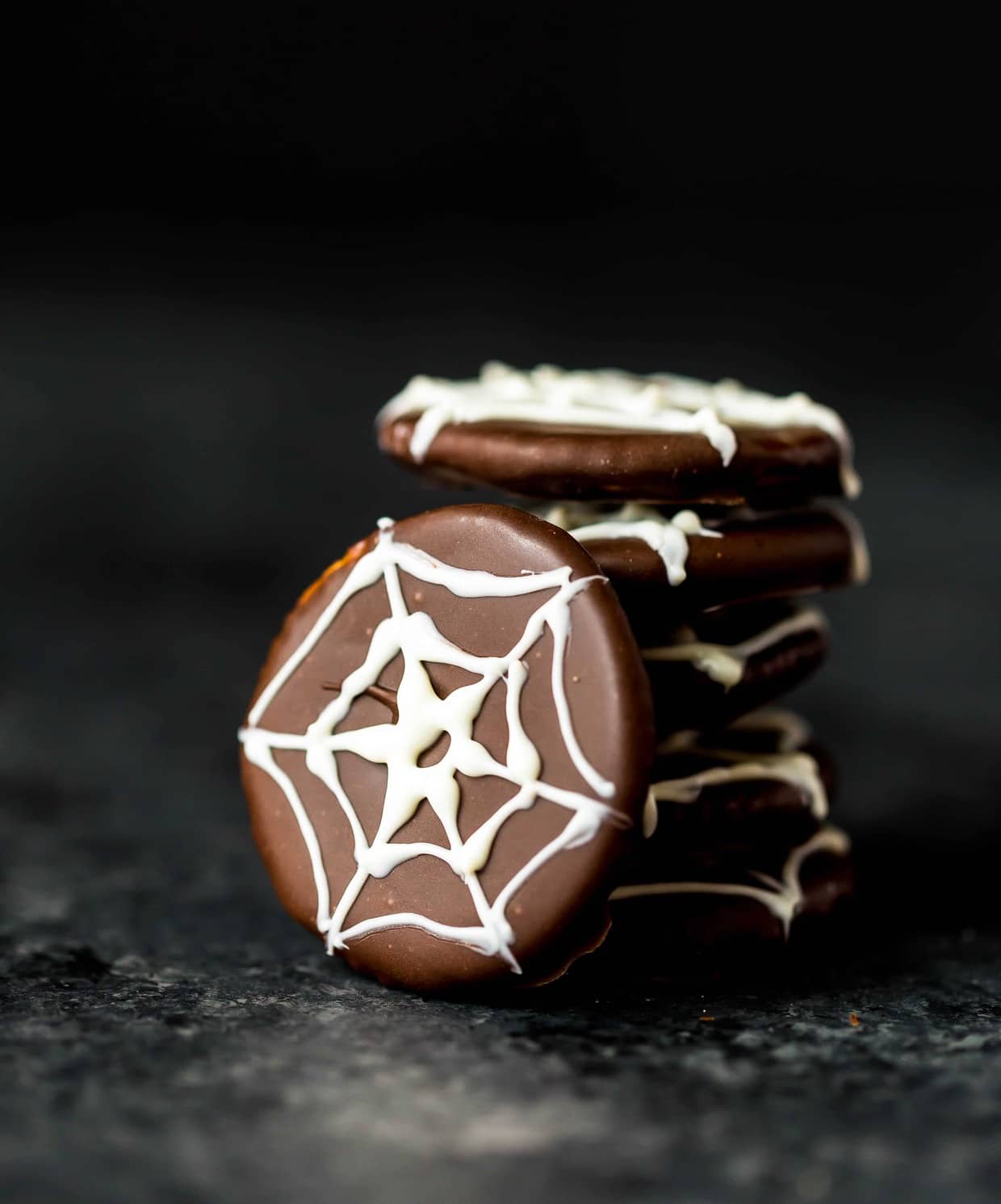 Make Ahead, Storing, and Freezing
Make these Halloween party crackers ahead of time and store in the fridge (to keep the candy melts set) in a ziplock bag until ready to serve.
These will keep for up to 10 days so I don't think you'll need to freeze them! Plus they are so easy to make that if you need to whip up more just melt more candy melts and dip away!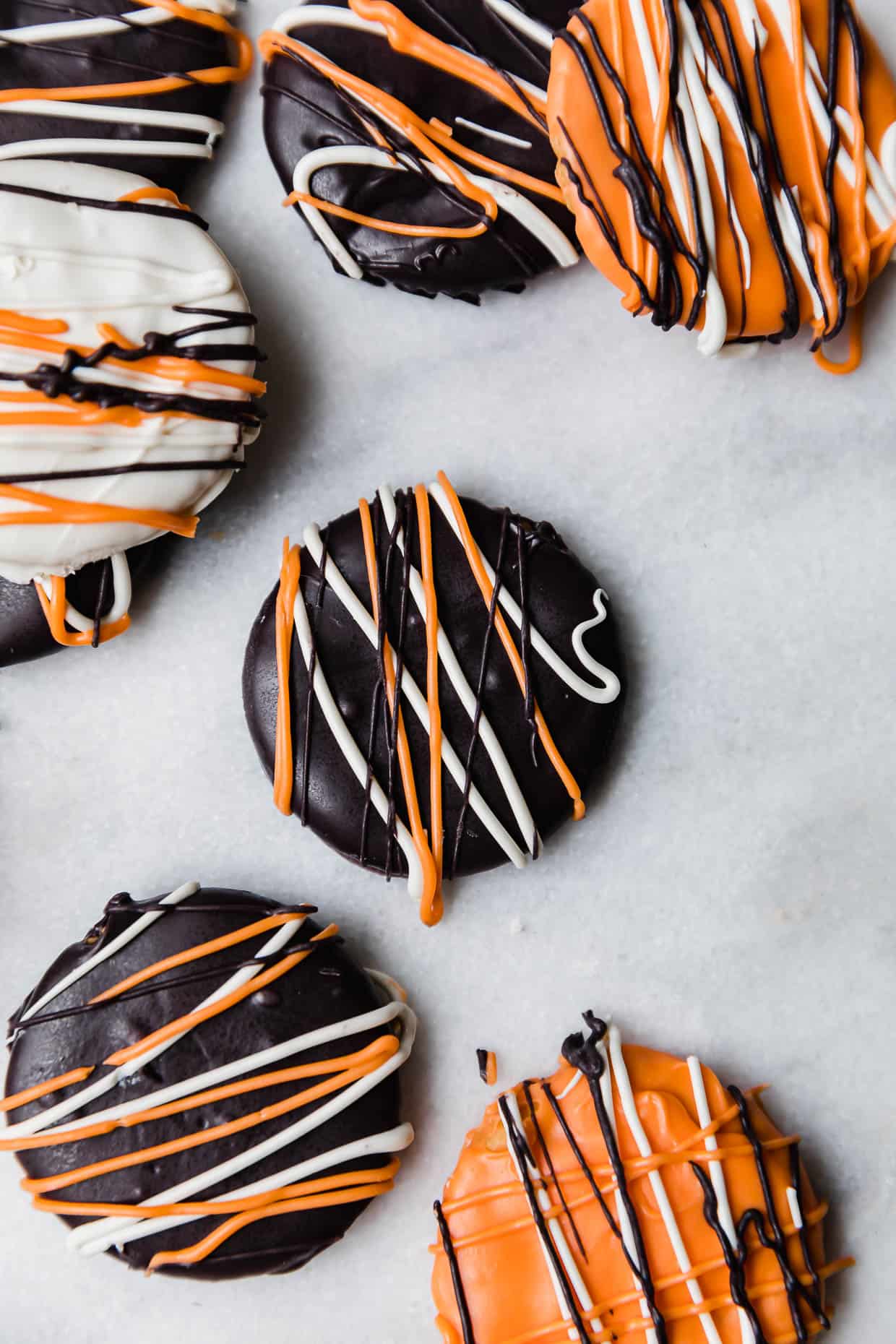 Recipe FAQs
Can I use chocolate chips?
Sure you can! However, you'll be limited to white chocolate chips and regular chocolate chips. Using the candy melts is a great way to add in some color. You can also use white chocolate chips and food coloring if you'd like!
How do I draw designs on the Halloween crackers?
I would put the melted candy melts in a piping bag (or ziplock bag with a teenie tiny corner snipped off). You want a really fine tip to make the piped lines small. 
Do crackers go out of date?
Yes they can go stale. Be sure to store the crackers in an airtight container to stay good longer. 
Can I use graham crackers or saltine crackers? 
You can, but the great thing about Ritz crackers is they are circular. So you can draw on faces and turn them into spider webs and ghosts! If you are just doing Halloween colors and using sprinkles to decorate you can definitely use different crackers.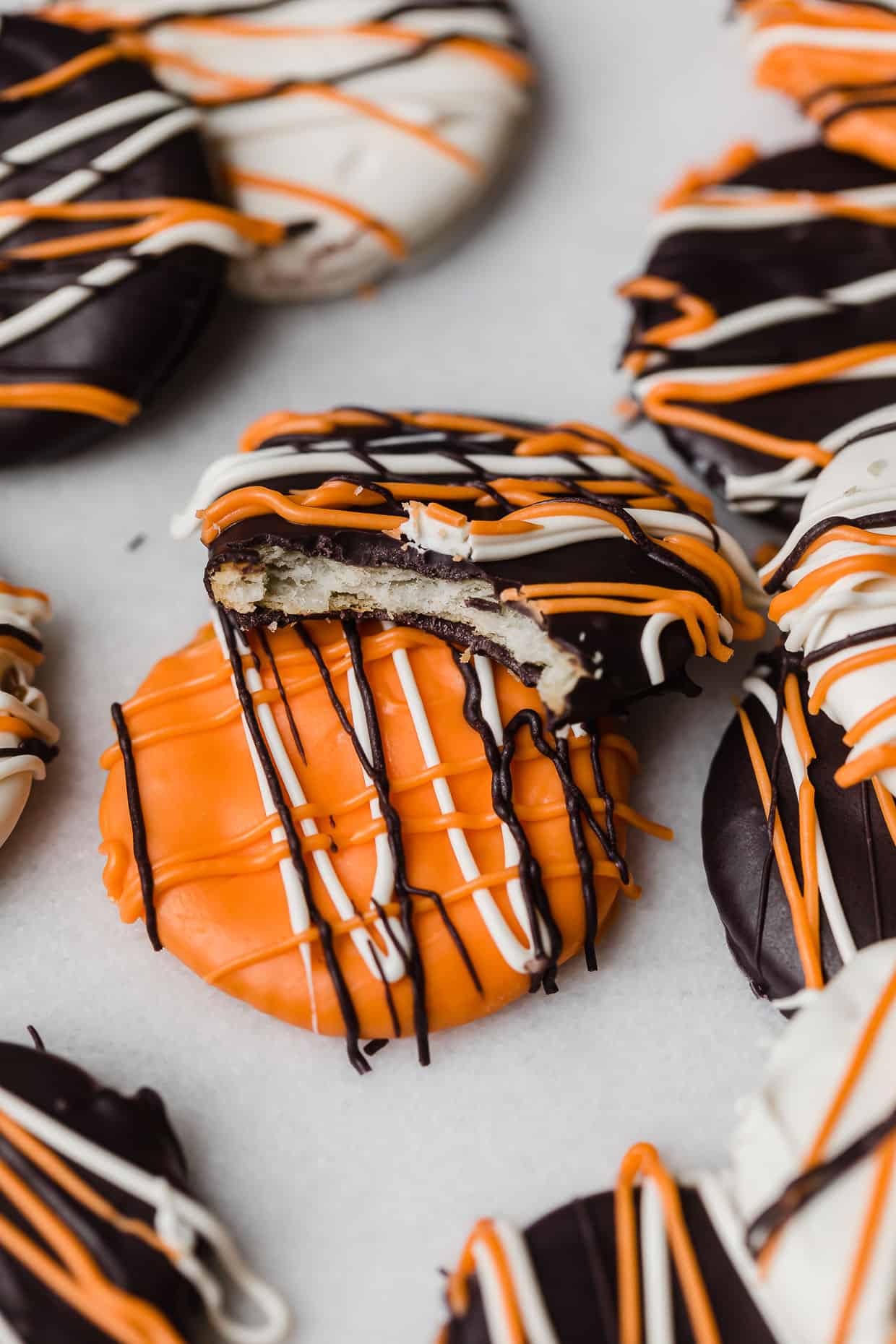 Halloween Crackers
These colorful halloween crackers will make a perfection addition to any Halloween party. 
Ingredients
12

oz

candy melts

-

I used an array of colors: black, orange, and white

20

Ritz Crackers

-

more or less as needed
Instructions
Place the candy melts in a microwave safe bowl. Melt according to package directions. Or, microwave in 30 second increments stirring after each interval. Once melted dip Ritz crackers into the chocolate. Flip cracker until coated.  Tap off the excess. 

Place the chocolate covered cracker on a piece of wax paper. Let set.

Once set, melt additional candy melts, place in a piping bag (or a ziplock bag with the corner snipped off). Drizzle the melted chocolate overtop of the crackers. You can also make fun designs such as spider webs, mummy's, pumpkins etc.
Notes
1 oz of chocolate covers 4 Ritz crackers. Melt more chocolate to dip more crackers!
Store in an airtight container at room temperature or in the fridge.
Did you make this recipe?
Leave a star rating and review on the blog post letting me know how you liked this recipe! Take a picture and tag @saltandbaker on Instagram and Facebook so I can see what you're making!