Chewy Monster Cookies
This post may include affiliate links. As an Amazon Associate I earn from qualifying purchases.
These Chewy Monster Cookies are thick, soft in the center, and packed with peanut butter, oats, chocolate chips and M&Ms for the best monster cookies you will ever have!
We are definite oatmeal cookie lovers over here! My Best Oatmeal Chocolate Chip Cookies recipe produces thick, chewy and soft cookies (plus they have a delicious secret ingredient)! Don't forget my Oatmeal Butterscotch Cookies and White Chocolate Cranberry Oatmeal Cookies for more delicious oatmeal cookie recipes!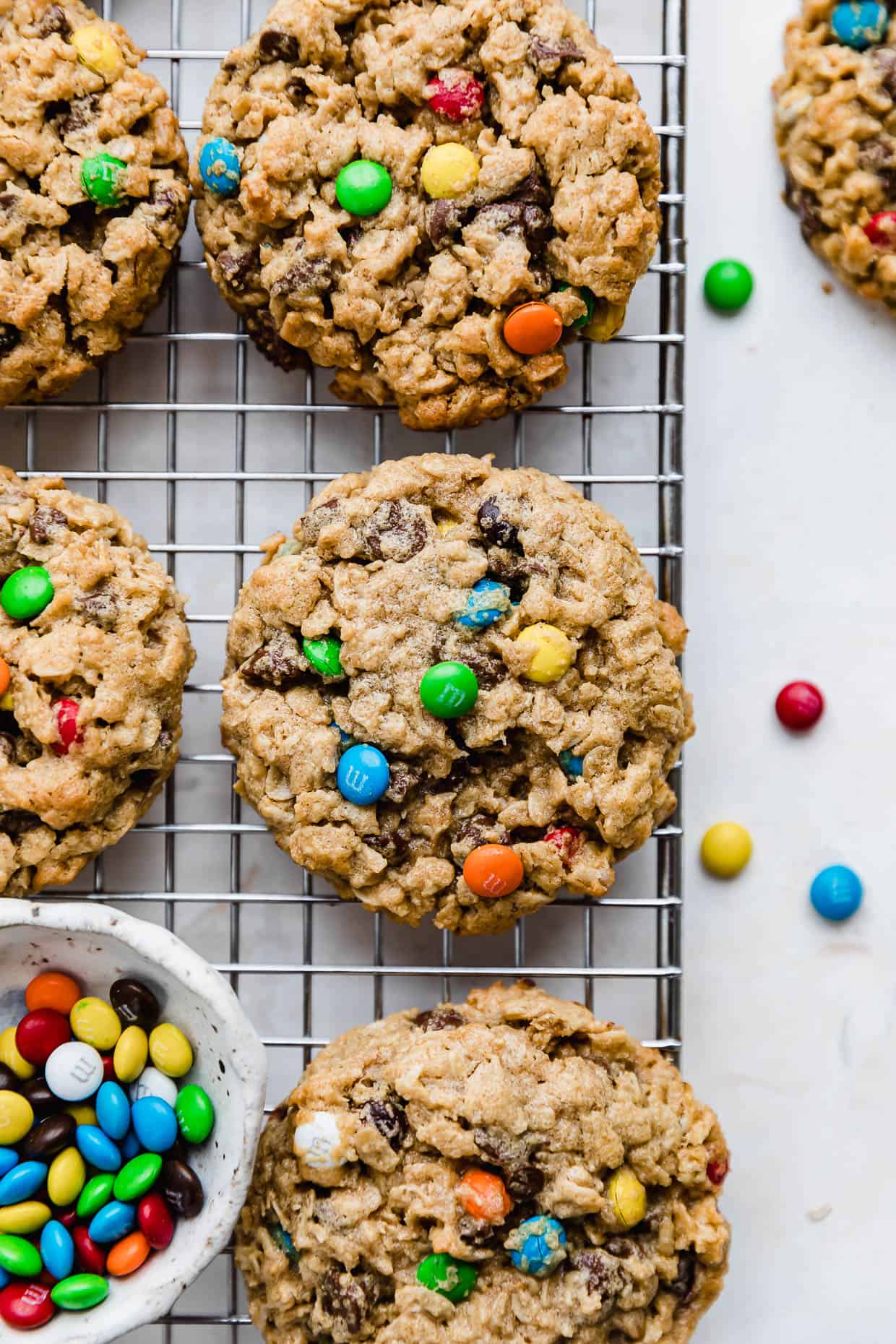 Why This Recipe Works
Great chewy cookies. These oatmeal monster cookies have the most amazing texture because of the old-fashioned oats! They create a chewy texture that your teeth sink right into.
Flourless monster cookies. This monster cookies recipe doesn't use flour. The oats provide the main bulk of the cookies, making these gluten free. (*See FAQs)
Packed with chocolate and M&Ms. The key to getting the right distribution is to use mini M&Ms as well as mini chocolate chips! This will give you small packets of chocolate throughout. Since they are smaller in size, the cookies will hold together better since the add-ins aren't so big and bulky.
Ingredient Notes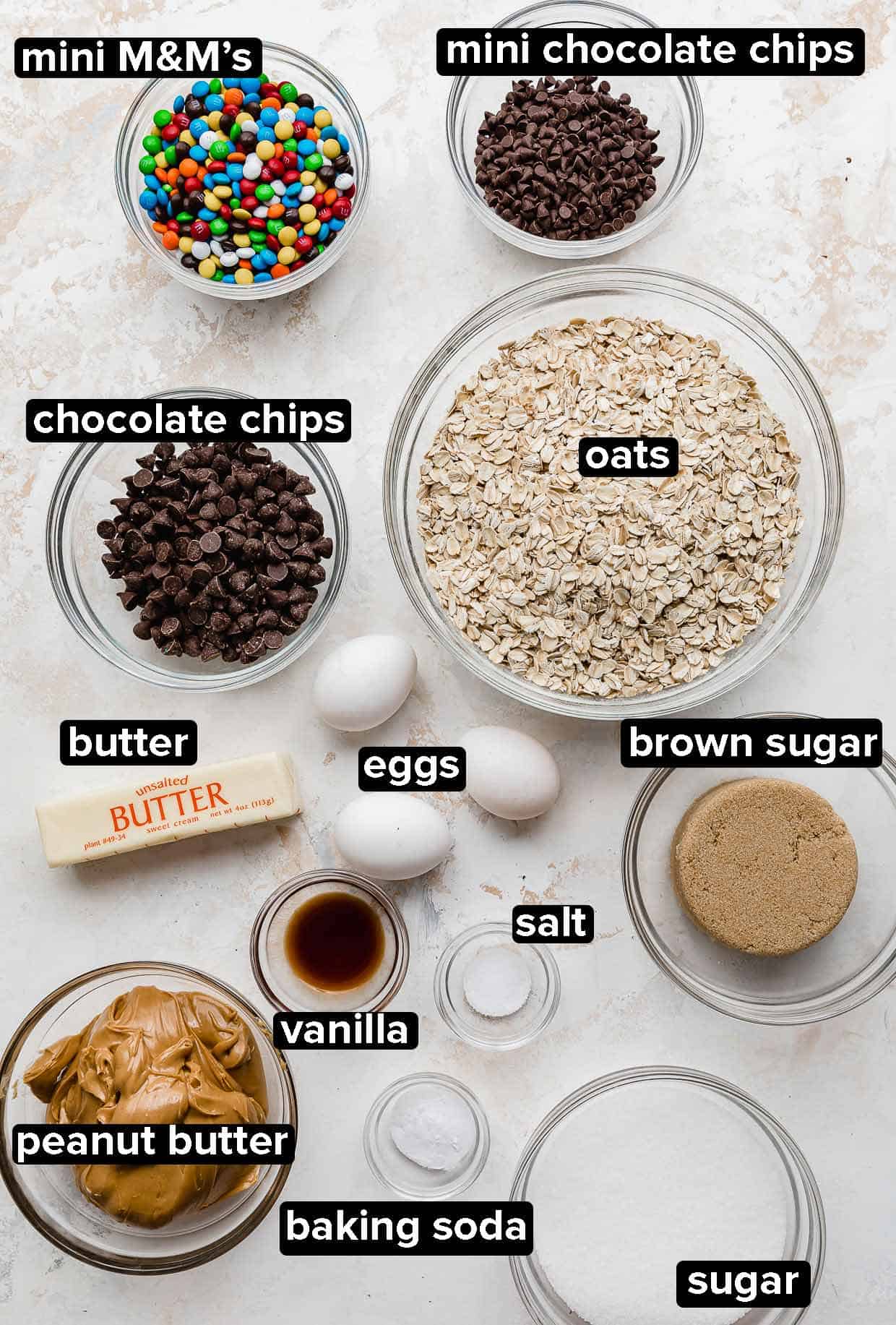 Unsalted Butter: Be sure to use room temperature butter. You also don't want any melted pockets so keep that in mind if you are microwaving your butter to bring it to room temperature. Pockets of melted butter can make the dough softer, causing them to over spread in the oven.
Sugars: Thecombination of light brown sugar and granulated sugar will give us a chewy texture and sweet flavor.
Large Eggs: The eggs are an important binder ingredient!
Peanut Butter: I used creamy peanut butter for these peanut butter monster cookies. You can use crunchy peanut butter if you'd prefer. Don't use natural peanut butter because it can dry out the cookies.
Old Fashioned Oats: I used old fashioned oats for the texture. You can us quick oats (instant oats) if that's what you have, they will just have a slightly different texture.
Mini M&M's: I highly recommend mini M&Ms because they will give you better dispersion throughout the monster chocolate chip cookies while not being so bulky.
Semi-Sweet Chocolate Chips: I used a combination of chocolate chips and mini chocolate chips.
Step-by-Step Instructions
Cream the wet ingredients. Add the butter, brown sugar, and granulated sugar to the bowl of a stand mixer fitted with the paddle attachment. Beat for 1-2 minutes or until light in color and texture. Add the eggs, vanilla extract, and peanut butter. Mix until uniform and combined. Scrape the sides of the bowl.
Add the dry ingredients. Add the oats, salt, and baking soda and mix until partially combined. Add the chocolate chips, mini chocolate chips, and mini M&Ms and mix until combined. Do not over mix.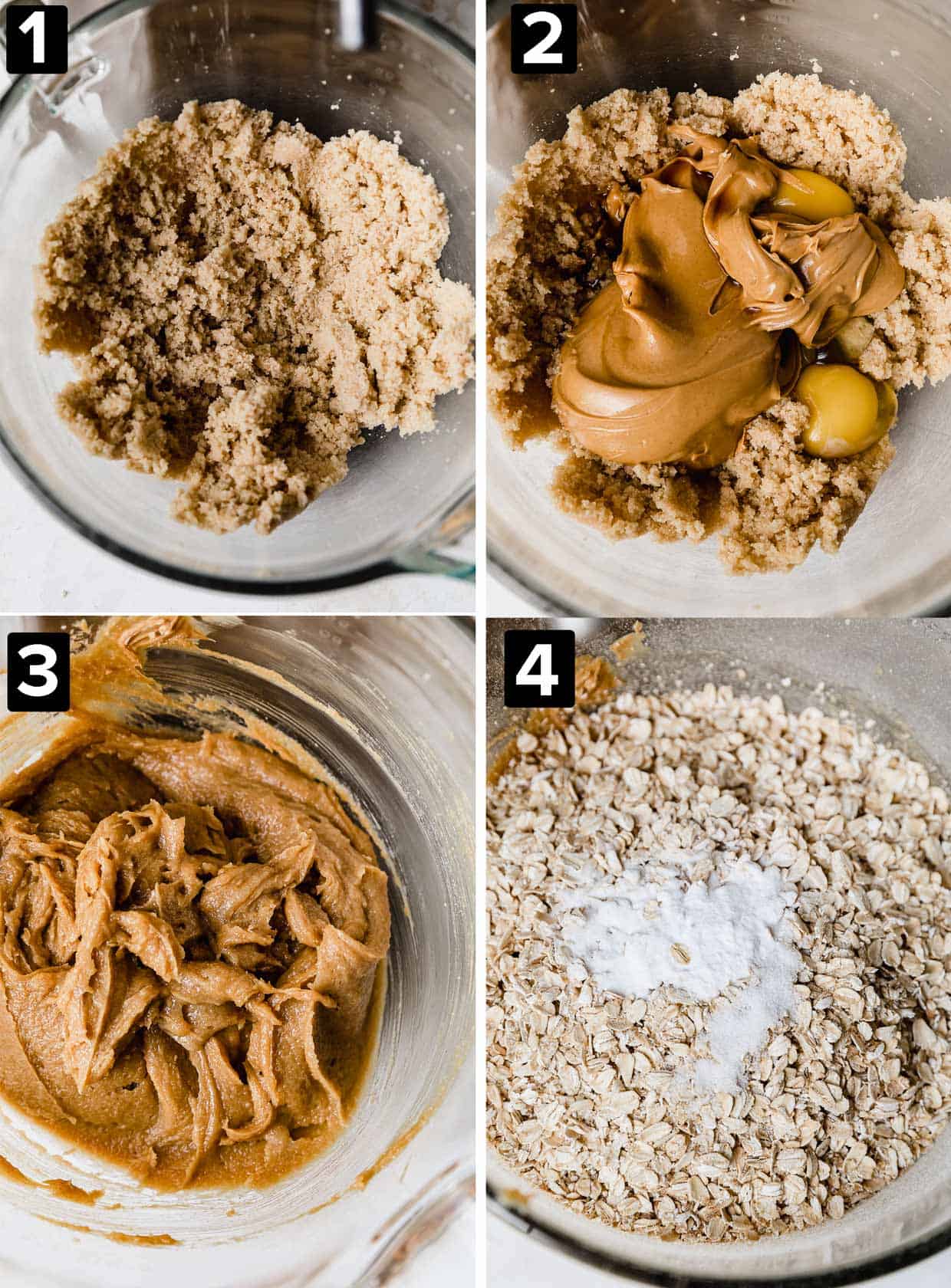 Bake. Using a 3 T large cookie scoop, portion the dough into balls. Place on a baking sheet lined with parchment paper. Press down on the cookie dough balls gently to resemble a thick disk. Bake at 350°F for 11-13 minutes or until the edges are set and slightly golden and the centers look slightly underdone but not doughy. Remove and let cool on the baking sheet for 5 minutes. Transfer to a wire rack to cool completely. Enjoy!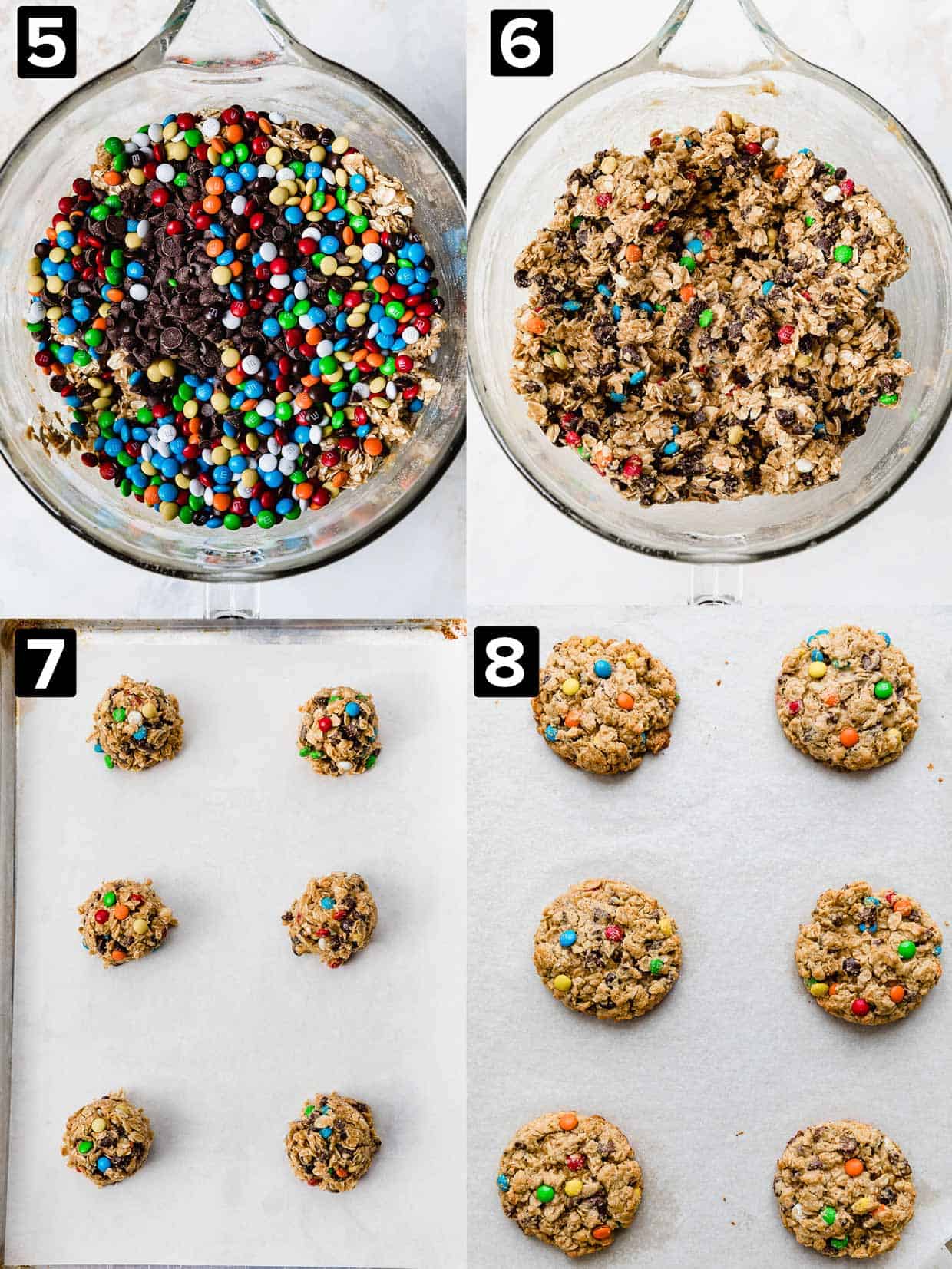 Recipe Tips
The best way to get chewy monster cookies is to underbake them slightly (remove from the oven when edges are set and centers look just slightly underdone) and let them continue to bake while cooling on the cookie sheet for 5-10 minutes. Otherwise you won't have soft monster cookies!
This best monster cookie recipe can be used with many of the leftover chocolate candies from your candy bowl! Reese's pieces, peanut m&ms, pretzel m&ms, heath toffee bits, peanut butter chips, white chocolate chips, and more! I would stick to about 1 1/2 cups of extra add-ins through so as to not overcrowd the cookies with add-ins (which could affect the bake)
Use regular peanut butter (Skippy or Jif work great!). Natural peanut butter won't work as well with these soft and chewy monster cookies because it will dry them out.
This is a flourless monster cookie recipe. If you want to add flour, I would recommend using my Crumbl Classic Peanut Butter Cookie recipe and adding some chocolate chips and M&Ms.
Make Ahead, Storing, and Freezing
Store leftovers of these chewy monster cookies in an airtight container at room temperature for 2-3 days or in the fridge for 3-4 days.
To freeze baked cookies, let cool completely and then store in an airtight container or freezer bag in the freezer for up to 2 months. Remove and let thaw before enjoying. Warm in the microwave for warm monster cookie goodness!
Freeze the dough balls by flash freezing on a baking sheet until firm and then storing in a ziplock bag or airtight container in the freezer for up to 3 months. Remove and bake frozen dough balls by adding an additional minute or two onto the bake time.
More questions on storing and freezing? Check out my Freezing Cookie Dough and Freezing Cookies posts for more details.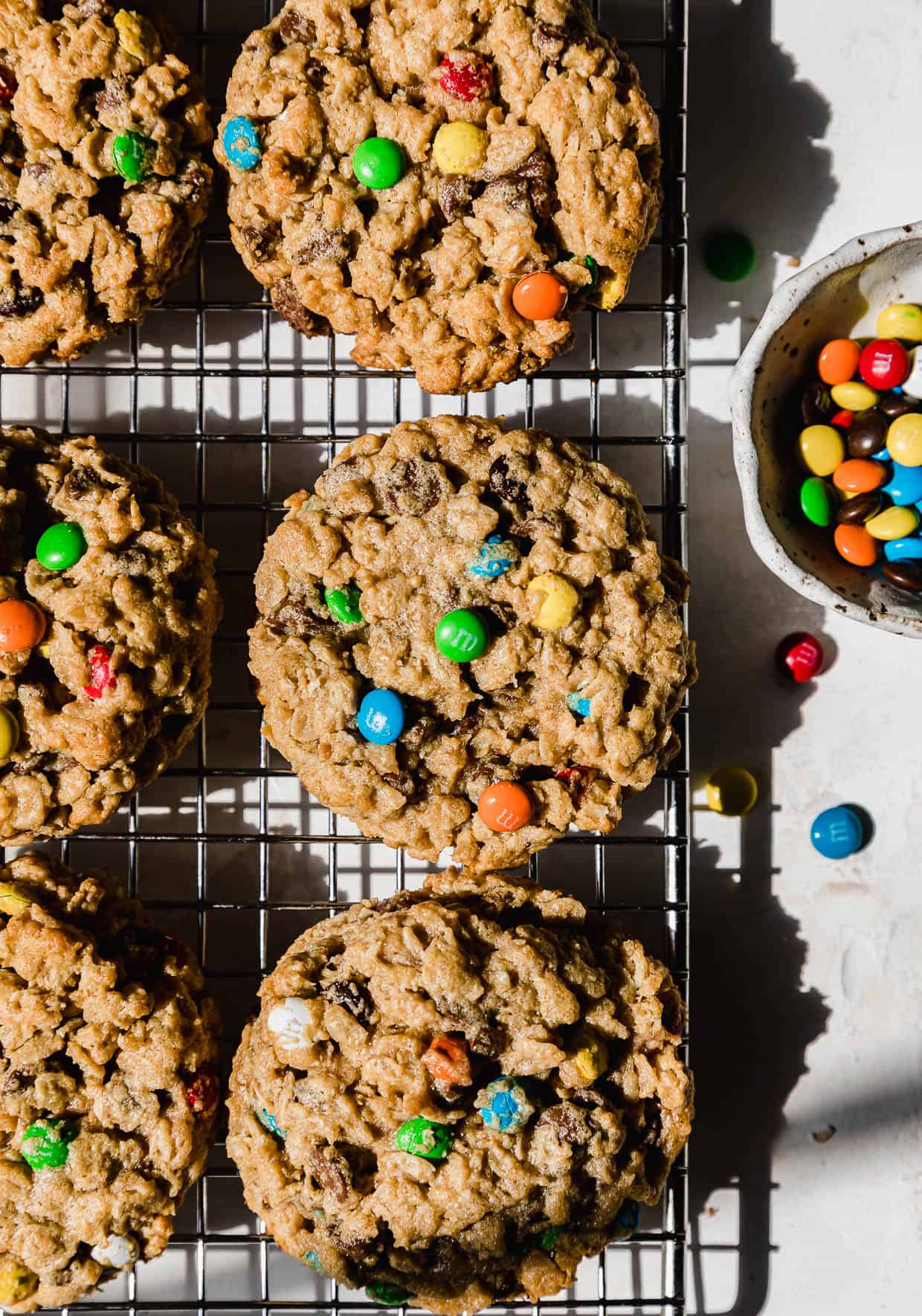 Recipe FAQs
What are monster cookies made of?
Soft and chewy monster cookies are made of oats, peanut butter, chocolate chips, and m&ms! (Obviously they include other ingredients as well, but these are the most iconic!) 
Why is it called monster cookie?
There's really no general consensus on why the cookies are called monster cookies. However, it could be for a few reasons! These cookies can be made as giant cookies, hence the "monster" description. Another reason could be that they are stuffed with mix-ins, making them the monster cookie of cookies. The colorful m&ms could also be a reason — referring to colorful monsters! 
Why did my monster cookies go flat?
If you are baking on a warm day or if your peanut butter is extra soft, this can cause the dough to be softer and more easily spread. You can try chilling the dough for 15-20 minutes and then bake. 
Can I make these into monster cookie bars?
Sure! I would use an 11×7-inch pan. Bake at the same temperature (350°F) but it will probably take anywhere from 25-30 minutes to bake. Keep an eye on it and use a toothpick to check the center of the pan. You'll want the edges to be set and golden brown and the center to be soft but done. Toothpick can come out with a few crumbs but no wet cookie dough stuck to it! 
Are these gluten free monster cookies?
If you are using certified gluten free oats (some oats contain trace amounts of gluten) then yes, they are gluten free. 
More Chocolate Chip Cookies
Soft & Chewy Monster Cookies
These cookies are the best and so yummy! They're a traditional monster cookie filled with peanut butter, oats, chocolate chips, and M&M's.
Instructions
Preheat the oven to 350°F. Line a baking sheet with parchment paper and set aside. 

In the bowl of a stand mixer fitted with a paddle attachment cream the butter, brown sugar and granulated sugar on medium speed for 1-2 minutes. Add the eggs, peanut butter, and vanilla extract and mix for another minute until combined. 

Scrape down the sides of the bowl with a rubber spatula.

Add oats, baking soda, and salt and mix until partially combined. Add the mini M&M's, chocolate chips, and mini chocolate chips and mix to combine. 

Portion the dough into 3 tablespoon sized balls. Place the cookie dough balls on the baking sheet, leaving 2 inches between each ball. Using the palm of your hand press down on the tops of the cookie dough balls until they become a thick disk. 

Bake for 11-13 minutes or until the edges are set and lightly golden. 

Remove from the oven and let the cookies cool on the baking sheet for 5 minutes before transferring them to a wire rack to cool completely. 
Did you make this recipe?
Leave a star rating and review on the blog post letting me know how you liked this recipe! Take a picture and tag @saltandbaker on Instagram and Facebook so I can see what you're making!