Chocolate Chip Cookies
This post may include affiliate links. As an Amazon Associate I earn from qualifying purchases.
A chocolate chip cookie recipe you can count on! These chocolate chip cookies are soft, thick, chewy, and sprinkled with a touch of sea salt to excite your taste buds on a whole new level! 
If you want more cookie variations we have chewy oatmeal chocolate chip cookies, double chocolate chip cookies, and Ben and Jerry's cookie dough bites! Or if you like something a bit different, try my oatmeal butterscotch cookies, too!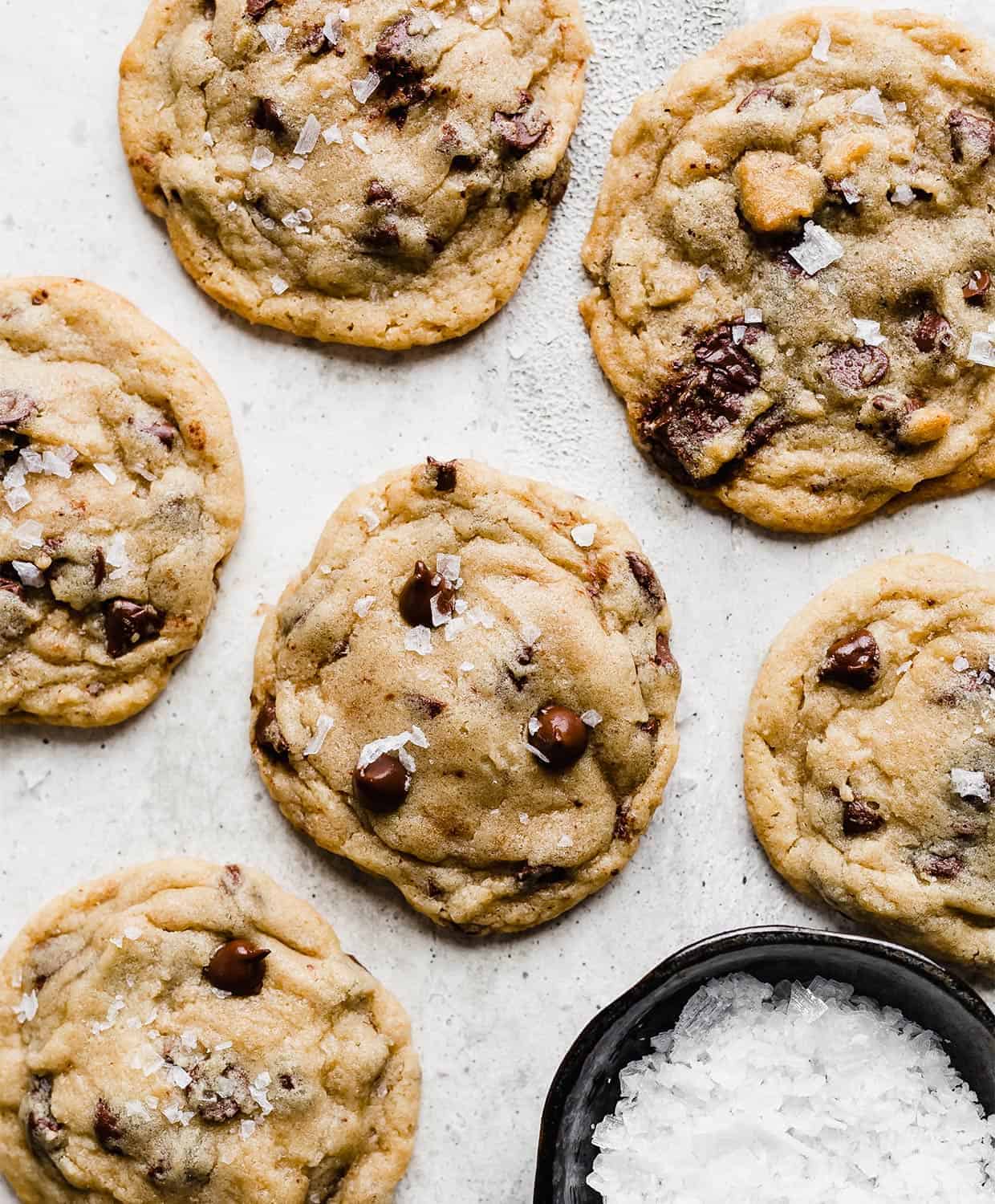 A Spin on Tradition
When you think of traditional cookies, of times the first thing to your mind is a chocolate chip cookie. I mean, it doesn't get much more traditional than that. It's been around for decades (if not longer) and everyone has eaten a few in their lifetime.
While I grew up making Nestle Tollhouse chocolate chip cookies and have experimented with a good deal of chocolate chip cookie recipes in my day I have to swear that these are probably the best things ever.
Through my trials, errors, and experimenting I have found what it takes to make the BEST chocolate chip cookie recipe and I'm sharing it here with you now. I also have the best chocolate chip cookie bars too!
Some of the most important things to note are the mixture of chocolates used, the dough chilling time, and the salt flakes at the end. While these changes may not seem significant, I assure you they are and I'll be walking you through exactly HOW they affect the cookie recipe as we continue, so keep reading.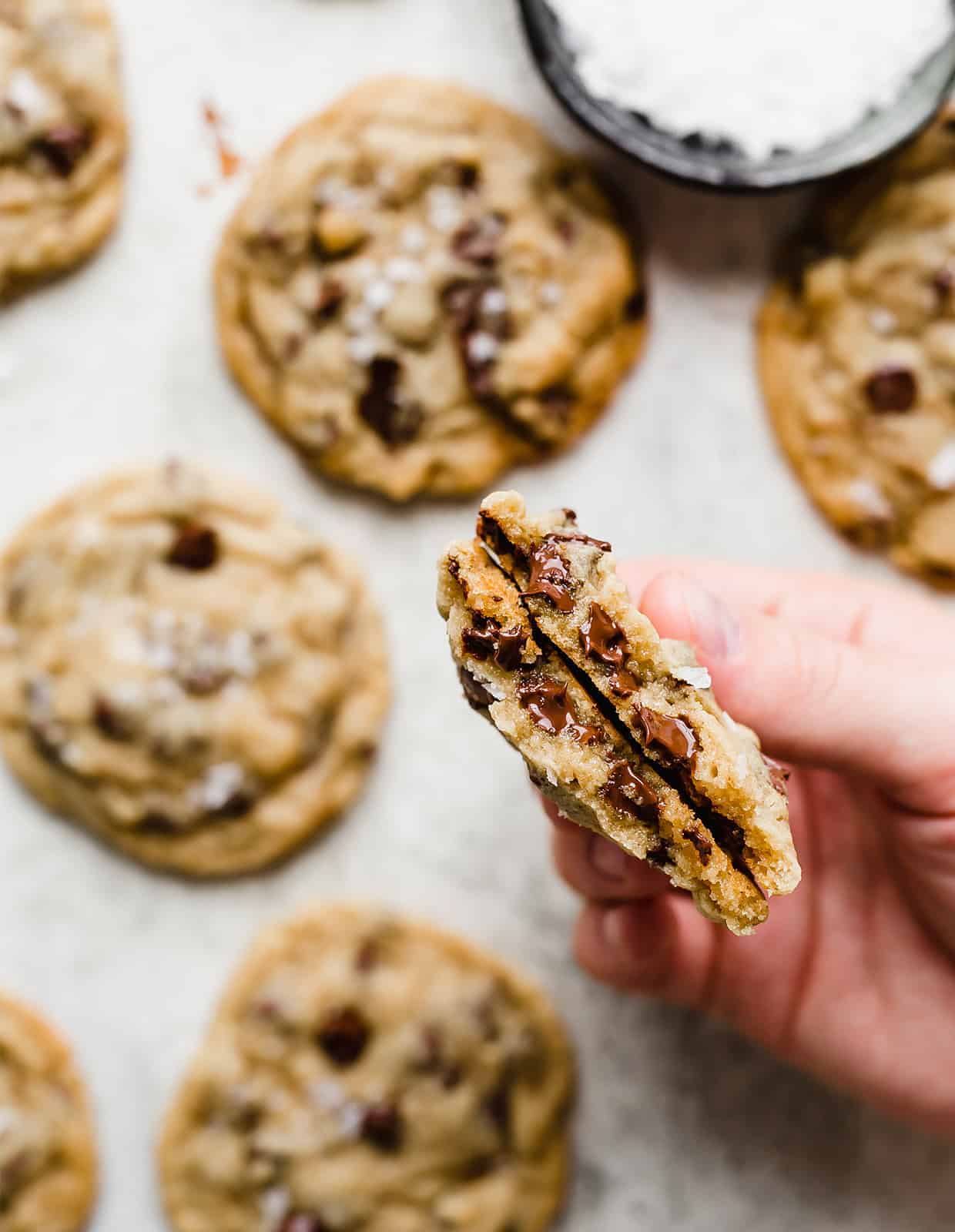 Ingredients Needed
Flour. Using all-purpose flour we can create a good cookie dough base.
Cornstarch. Normally seen as a thickener in soups, but in cookies, cornstarch helps to give a little puffier end result for those perfectly soft cookies.
Leavening Agents. Baking powder and soda are both used to help create a lighter cookie.
Salt. While it's in practically every recipe out there, it's for good reason. Salt helps to bring the flavors together and make recipes taste better.
Butter. I use unsalted because salt has already been added to the dough, but butter helps add that savory melt in your mouth feel in every bite. If you want a brown butter cookie try my brown butter chocolate chip cookies. They're amazing!
Sugars. A mix of both brown sugar and granulated sugar gives you a sweet and chewy cookie with crisp edges just like the ones you're dreaming of.
Vanilla Extract. While you may not notice the vanilla flavor in the dough, you will notice if it's ever missing. This vital flavoring agent helps to make your cookies taste fantastic.
Eggs. Make sure that they're room temperature, but if you forget to pull them out in time you can always stick them in a bowl of warm water for 10 minutes to make them room temp!
Chocolate Mixture. Using a mixture of mini chocolate chips, semi-sweet chocolate chips, and chocolate chunks you know you'll have that classic melted chocolate look and a good amount of chocolate in every single bite!
Flaky Sea Salt. Years ago I would have never thought of this, but flaky sea salt really helps to deepen the flavors and make them pop. It's amazing and you only need a sprinkle over each cookie!
How to Make Soft Chocolate Chip Cookies
In a mixing bowl, combine your flour, cornstarch, baking powder, baking soda, and kosher salt with a whisk and then set it aside.

In the bowl of a stand mixer or in a mixing bowl with an electric mixer, cream the butter and sugars together for about 3 minutes until light and fluffy. Add in the vanilla and 1 egg, mix and then add in the other egg and mix again until well incorporated.

While mixing on low speed, slowly add in the dry ingredients. Mix until incorporated and then add in the chocolates. Note that you may have to mix the chocolate in by hand because the batter will be thick.

Once the chocolate has been added, place the dough in an airtight container and place it in the fridge for 24-72 hours. This is a HUGE secret to getting the perfect taste out of the cookies. The flavor is more pronounced after the cookie dough has been chilled for a longer period of time.

When the dough is ready to be baked, preheat your oven to 375°F degrees and line a baking sheet with parchment paper.
Using a 2 tablespoon sized scoop, scoop the dough onto the prepared sheet and then top with a sprinkle of flaked sea salt.

Bake for 9-11 minutes or until the edges are a light golden brown and the centers still appear soft. Remove the pan from the oven and let the cookies cool on the baking sheet or 5 minutes before transferring to a wire rack to cool completely.
FAQs and Recipe Tips
Storing Chocolate Chip Cookies
Baked chocolate chip cookies should be stored in an airtight container. They will last at room temperature for 3-4 days.
Can Chocolate Chip Cookies Be Frozen?
Yes! Chocolate chip cookie dough can be frozen as well as baked cookies. For freezing the dough I recommend freezing it in already portioned baking sizes so that it's easy to grab a few at a time and bake. This allows you portion control so you don't have to bake an entire batch at once if you don't want to and you still get fresh from the oven taste and feel.
For freezing cookies, flash freeze them on a baking sheet for about an hour before transferring to an airtight container of zipper topped baggy in the freezer.
Can Chocolate Chip Cookies Be Made Without Brown Sugar?
Yes they can but that molasses in the brown sugar is what helps to give chocolate chip cookies their iconic chewy goodness. You can make your own brown sugar substitute if you find yourself trying to avoid the store. Simply mix 1 cup of white sugar with 1 teaspoon of molasses and it becomes 1 cup of brown sugar. Use what you need and follow along as directed.
When is National Chocolate Chip Cookie Day?
Every year on August 4th is national chocolate chip cookie day, so if you find yourself looking for reasons to make cookies (as if you really need a reason) then this would b the most perfect holiday to try them on.
Why Chocolate Chip Cookies Are Flat
If you follow along with this recipe as I suggest this shouldn't be an issue, but one of the biggest reasons for flat cookies is a warm dough. By chilling our dough we allow the butter and everything in it to set up so much that while baking it gives the cookie a puffy result instead of a flat one. So even if you are in a hurry to get your hands on these tasty cookies, make sure you chill the dough before baking because it's super important!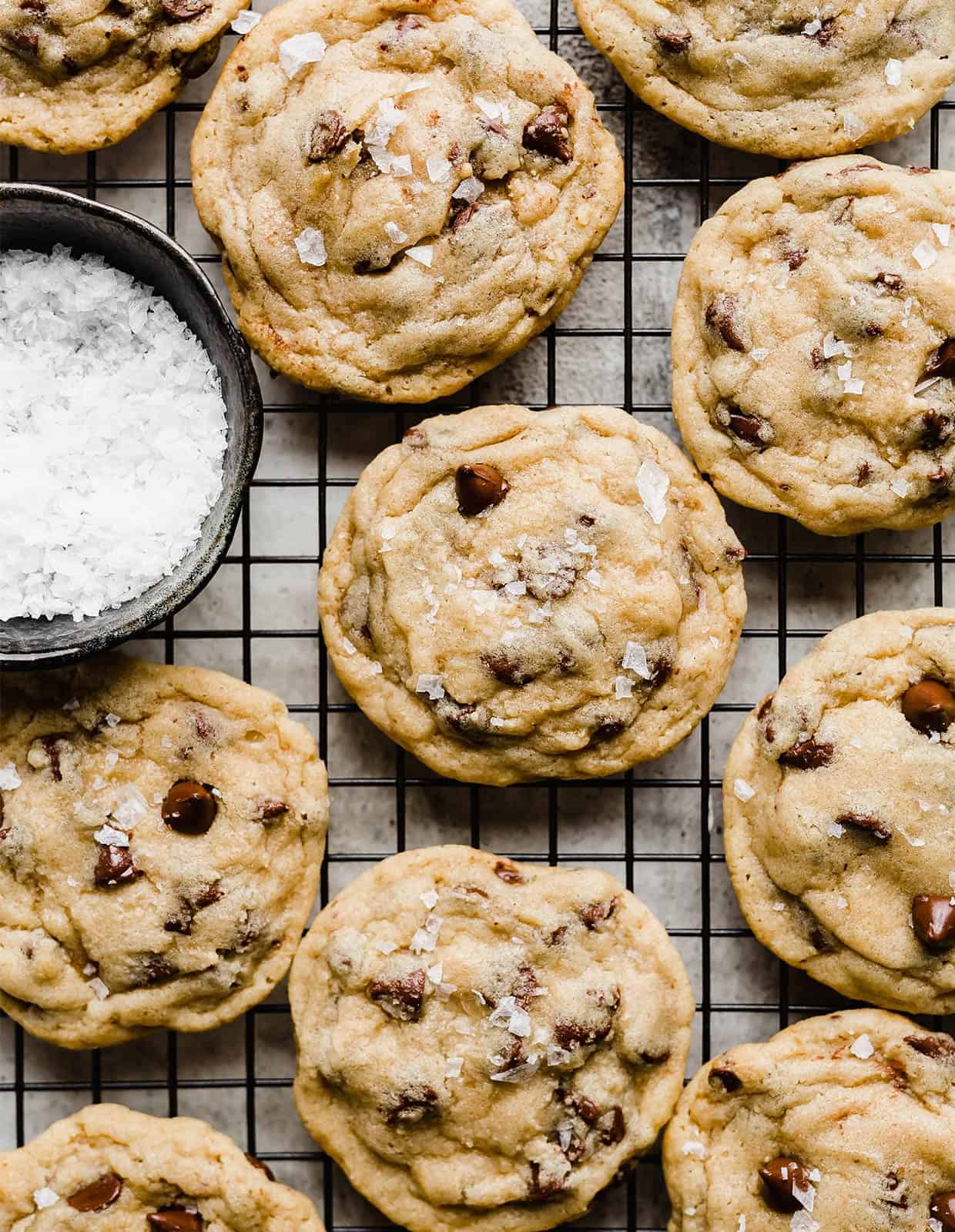 My Favorite Cookie Recipes
If you make a recipe from Salt & Baker and love it, please come back to leave a rating. Thank you! ❤️
Chocolate Chip Cookies
The BEST chocolate chip cookies ever! This is my go-to recipe. Always has been, always will be.
Ingredients
3 1/2

cups

flour

1

tsp

cornstarch

1 1/2

tsp

baking powder

1 1/4

tsp

baking soda

1 1/2

tsp

kosher salt

1 1/4

cups

unsalted butter, room temp

1 1/2

cups

brown sugar, packed

1

cup

granulated sugar

2

tsp

vanilla extract

2

eggs, room temp

1 3/4

cups

semi-sweet chocolate chips

1/4

cup

mini semi-sweet chocolate chips

1/2

cup

bittersweet chocolate (70% or higher),

-

chopped into chocolate chip size chunks

flaky sea salt to sprinkle over chocolate chip dough balls before baking
Instructions
Combine flour, cornstarch, baking powder, baking soda, and kosher salt. Whisk to combine. Set aside.

In the bowl of a stand mixer, or with hand held beaters, cream the butter, brown sugar, and granulated sugar. About 3 minutes. Add the vanilla extract and 1 egg. Mix. Add the second egg. Mix to combine. With mixing speed on low, slowly add the dry ingredients. Mix until incorporated. Add in the chocolate chips, and chocolate chunks. Mix. (You may have to mix in the chocolate by hand). Once the chocolate is mixed into the dough, place the cookie dough in an airtight container and place in the refrigerator for 24-72 hours.

When ready to bake preheat the oven to 375°. Line a baking sheet with parchment paper or a silicone baking mat. Using a 2 T size cookie scoop, scoop the cookie dough and place on the prepared baking sheet. (12 cookies per sheet). Lightly sprinkle the cookie dough balls with flaky sea salt. Bake for 9-11 minutes or until lightly golden brown on the edges. The centers will appear soft. Remove from the oven and allow to cool on the baking sheet for 5 minutes. Remove and place on a wire rack to cool completely.
Did you make this recipe?
snap a photo and tag @saltandbaker in your posts and stories so I can see what you're making!