Chocolate Chip Cookies
A chocolate chip cookie recipe you can count on! These chocolate chip cookies are soft, thick, chewy, and sprinkled with a touch of sea salt to excite your taste buds on a whole new level!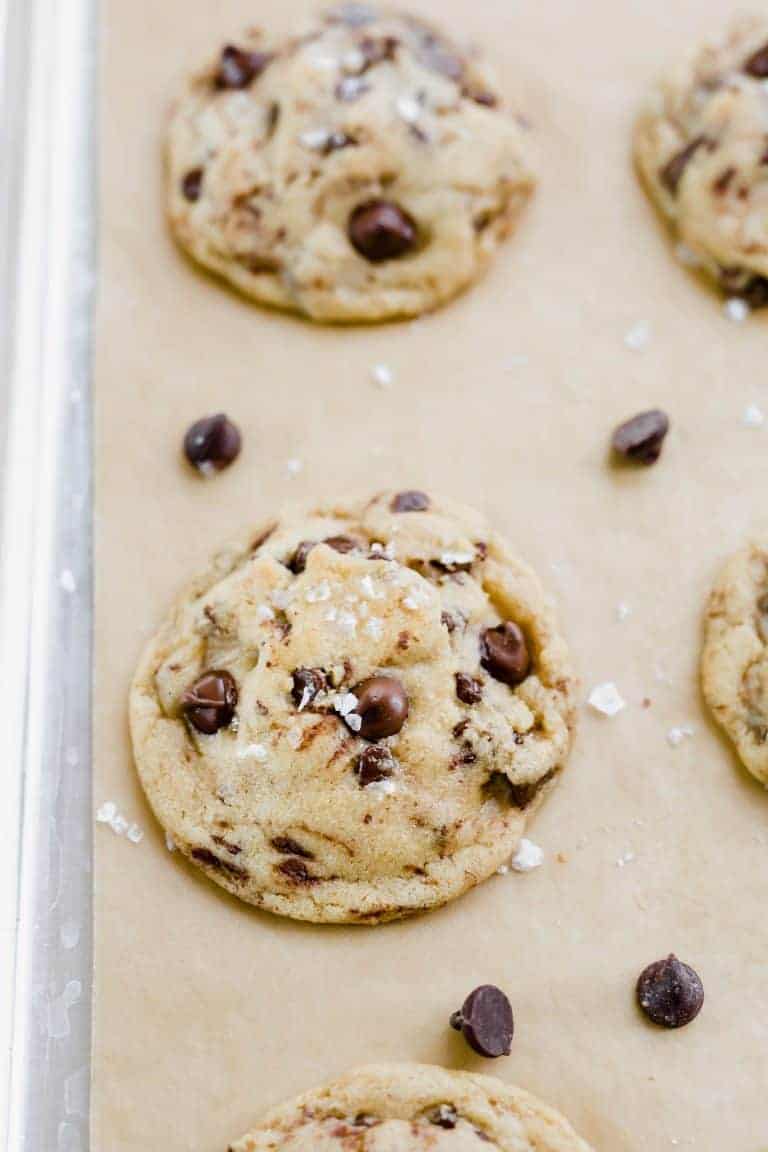 I've made a good deal of chocolate chip cookies throughout my life. I grew up making the Nestle Toll House chocolate chip cookie. Truthfully, they lack flavor and are bland.
A few years ago I came across a chocolate chip cookie recipe from Life Made Simple, and I've been making them ever since! I've made some minor adjustments with my recipe, such as adding mini chocolate chips to the mix. The mini chocolate chips melt down to create small pockets of chocolate. You're guaranteed chocolate in every single bite = chocolate chip cookie perfection!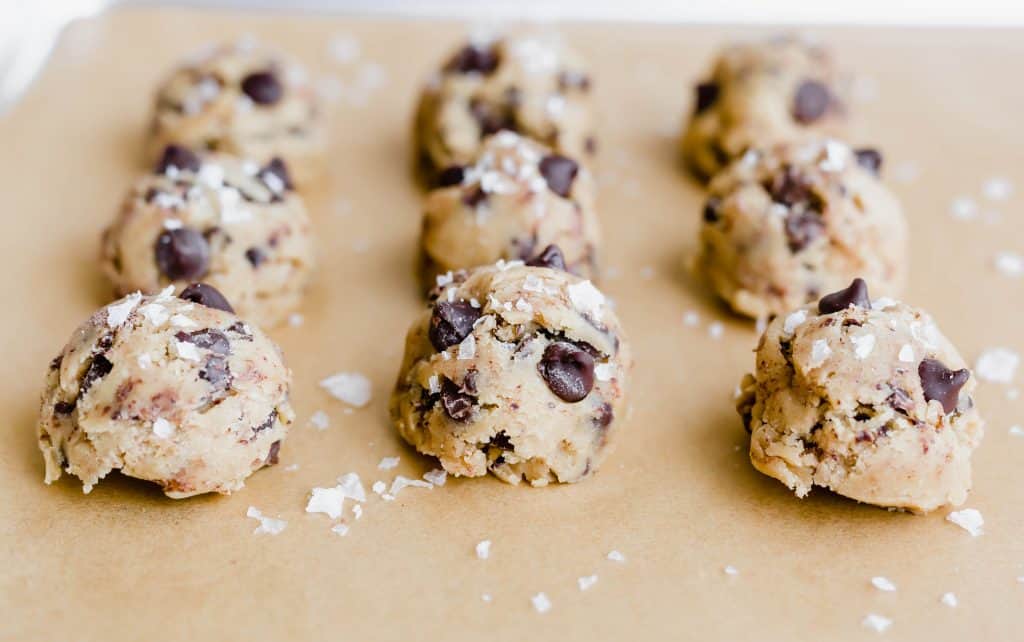 There's a secret to getting a more developed chocolate chip cookie flavor. Chill the dough.
I'm not talking about a 30 minute chill in the fridge. I highly recommend you chill this cookie dough for 24-36 hours. Yikes! If you haven't exited out of my website by now, then I'm impressed! I was skeptical about chilling dough for that long too. But once I did, I've never gone back.
The flavor is more pronounced after the cookie dough has been chilled for a longer period of time. If you need to, start by chilling this chocolate chip cookie dough for just 24 hours and then bake the cookies. Once you eat them, you'll be so glad you listened to me!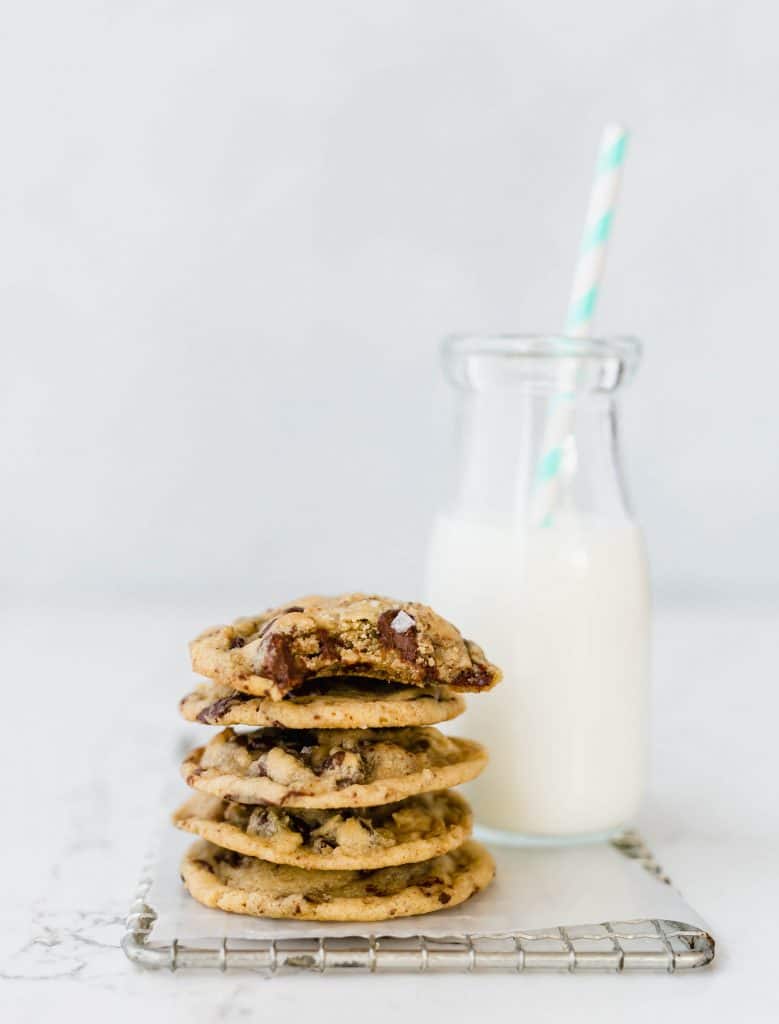 Years ago I would have never salted my cookies. Salt on top of cookies? Eww. NOOOO!
I was so wrong. It's amazing! Sprinkle a pinch of sea salt on each ball of cookie dough before you place them in the oven. Salt on the surface of the cookie will deepen the flavor and really let the flavors pop.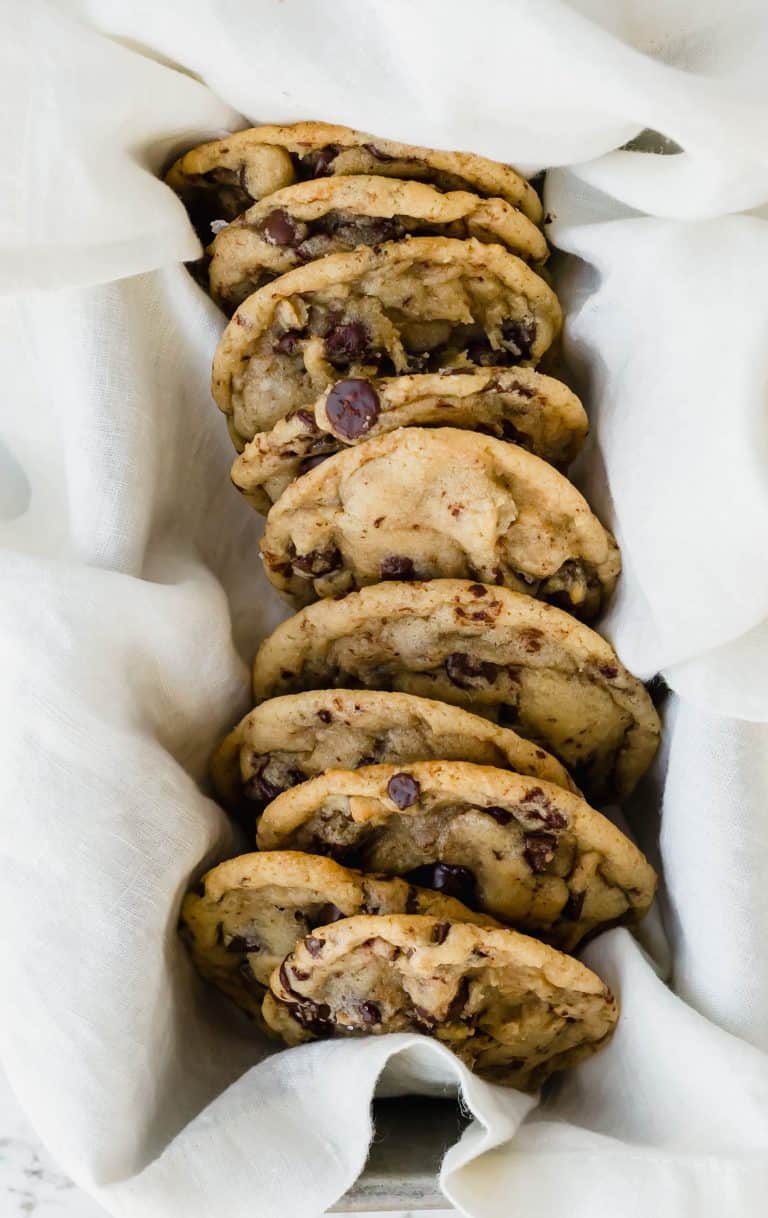 Do you love these Chocolate Chip Cookies? Here are more reader favorites: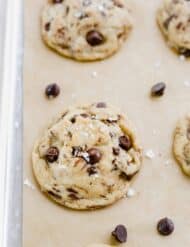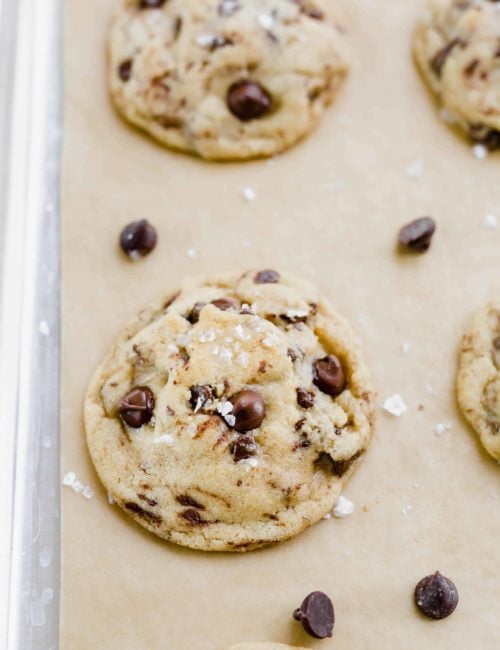 Chocolate Chip Cookies
The BEST chocolate chip cookies ever! This is my go-to recipe. Always has been, always will be.
Ingredients
3 1/2

cups

flour

1

tsp

cornstarch

1 1/2

tsp

baking powder

1 1/4

tsp

baking soda

1 1/2

tsp

kosher salt

1 1/4

cups

unsalted butter, room temp

1 1/2

cups

brown sugar, packed

1

cup

granulated sugar

2

tsp

vanilla extract

2

eggs, room temp

1 3/4

cups

semi-sweet chocolate chips

1/4

cup

mini semi-sweet chocolate chips

1/2

cup

bittersweet chocolate (70% or higher),

chopped into chocolate chip size chunks

flaky sea salt to sprinkle over chocolate chip dough balls before baking
Instructions
Combine flour, cornstarch, baking powder, baking soda, and kosher salt. Whisk to combine. Set aside.

In the bowl of a stand mixer, or with hand held beaters, cream the butter, brown sugar, and granulated sugar. About 3 minutes. Add the vanilla extract and 1 egg. Mix. Add the second egg. Mix to combine. With mixing speed on low, slowly add the dry ingredients. Mix until incorporated. Add in the chocolate chips, and chocolate chunks. Mix. (You may have to mix in the chocolate by hand). Once the chocolate is mixed into the dough, place the cookie dough in an airtight container and place in the refrigerator for 24-72 hours.

When ready to bake preheat the oven to 375°. Line a baking sheet with parchment paper or a silicone baking mat. Using a 2 T size cookie scoop, scoop the cookie dough and place on the prepared baking sheet. (12 cookies per sheet). Lightly sprinkle the cookie dough balls with flaky sea salt. Bake for 9-11 minutes or until lightly golden brown on the edges. The centers will appear soft. Remove from the oven and allow to cool on the baking sheet for 5 minutes. Remove and place on a wire rack to cool completely.