Brown Butter Chocolate Chip Cookies
This post may include affiliate links. As an Amazon Associate I earn from qualifying purchases.
These delicious Brown Butter Chocolate Chip Cookies are thick, chewy (thanks to the oat flour), soft in the middle with a slight crunch on the exterior, and they are loaded with melty chocolate chips.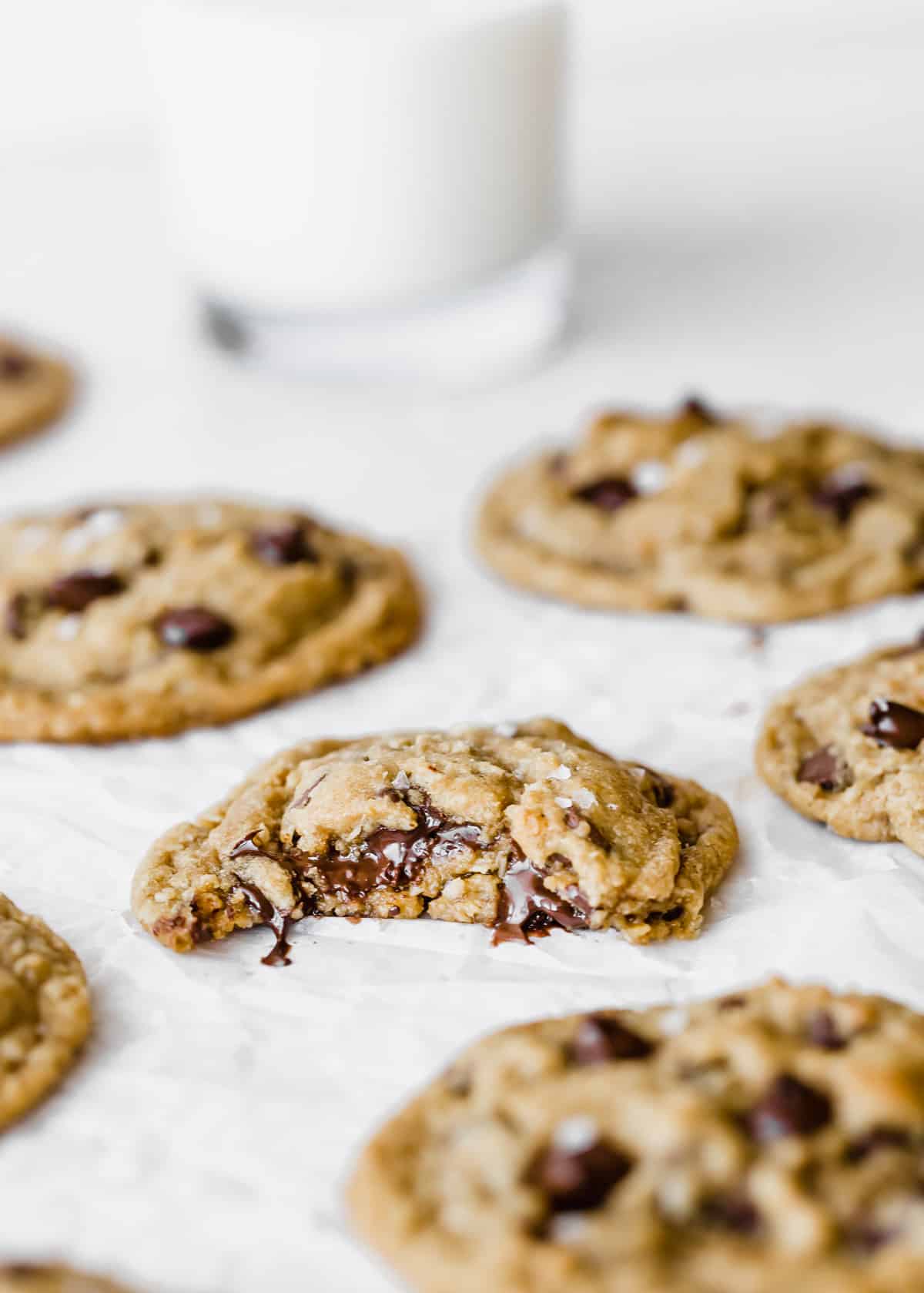 I love a great cookie recipe! Which means Salt & Baker has loads of cookie recipes, so make sure you check out some of my favorites: chocolate crinkle cookies, pumpkin chocolate chip cookies, brownie cookies, and lemon ricotta cookies. And a crowd favorite includes my Crumbl chocolate chip cookie recipe.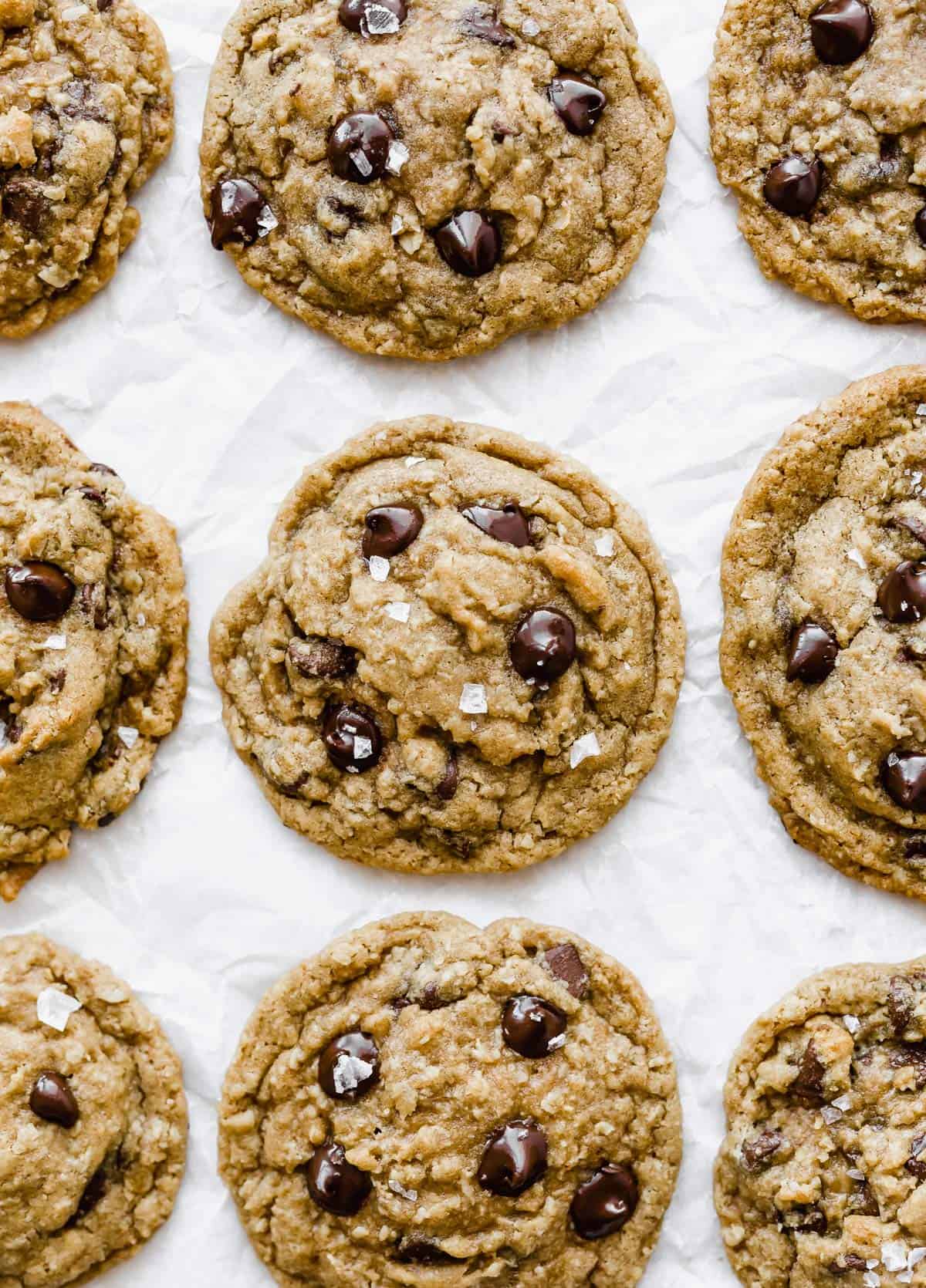 Brown Butter Chocolate Chip Cookies
Have you ever had a cookie with browned butter? Oh my gosh! It's soooo good! Adding a simple step such as browning the butter does wonders for a chocolate chip cookie. It adds a nutty and toasted flavor and it brings a greater richness to the cookie, almost making the cookie (or baked good) taste gourmet.
I'm doing a terrible job of explaining the flavor of brown butter to you; the truth is, you need to try it for yourself!
Ingredients
This recipe uses basic cookie ingredients and a couple unique ingredients to get the perfect texture and taste.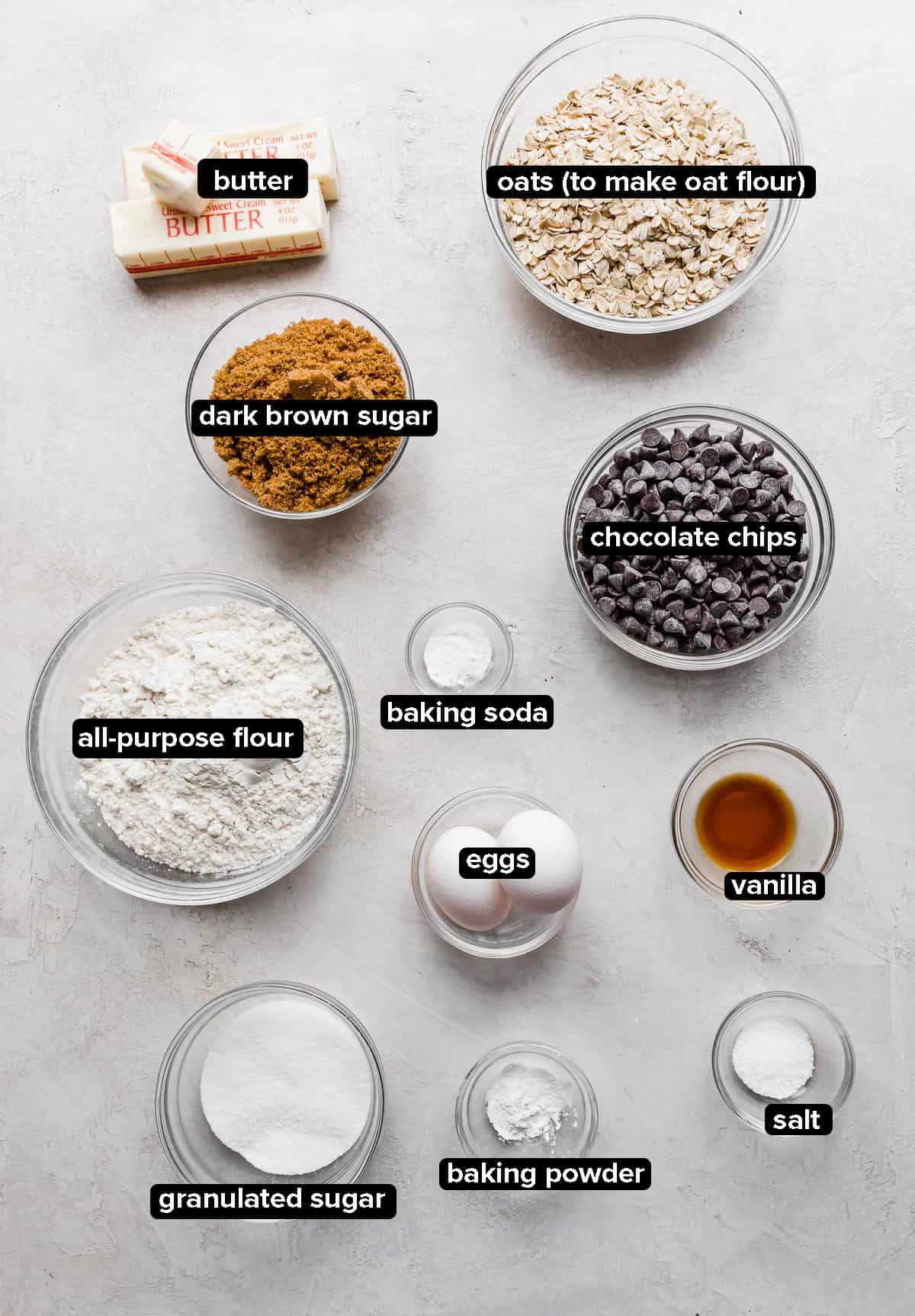 Brown Butter – browning the butter is an art. It takes a little patience but if when done correctly the butter tastes amazing when added to baked goods. By using browned butter, it adds a deeper and richer flavor. I go over how to properly brown butter in my pumpkin pancakes recipe blog post; I make a cinnamon brown butter pecan syrup for the pancakes and it's to die for.
All purpose flour – for structure.
Oat flour aids in the thickness and chewiness level. I got the idea to add oat flour from my good friend, Kristin at Baker Bettie.
Salt – for flavor.
Baking soda – leavening agent to help the cookies have a little lift.
Baking powder – another leavening agent used for better lift and rise.
Dark brown sugar – you can use light brown sugar if you'd like. Dark brown sugar has more molasses in it than light brown sugar, so this gives a slightly deeper molasses flavor in the cookie. But don't worry, you can't taste molasses.
Granulated sugar – helps in browning and adds sweetness.
Homemade oat flour
This recipe calls for oat flour, if you have oat flour on hand, great, use it! If you don't, it's super easy to make it yourself.
I made homemade oat flour because it's really easy and I have a lot of old fashioned oats I need to use up.
First, add the old fashioned oats to the bowl of a food processor or a blender. Pulse until the oats have ground down to a flour.
The oat flour (pictured below) will appear much finer than the old fashioned oats.
You can see in my photo that it's fine, but there's still a slight "chunkiness" appearance to it.
Step-by-Step Instructions
Brown the Butter
See this blog post for a more detailed explanation of why we brown butter and how. Melt the butter over low heat. Once the butter begins to foam, stir constantly until you see light brown specks appear on the bottom of the pan. The butter will have a nutty aroma to it and the butter will be a light amber color. Continue to cook over low heat until the light brown specks are *slightly* darker in color. Be careful not to burn the butter! It's a matter of seconds that butter can go from perfectly browned to burnt.
Tip: The specks on the bottom of the pan should not be a really dark brown/black color. It's better to remove the butter from the heat too soon, rather than to late.
Once you've successfully browned the butter transfer it to a bowl and let it set until firm.
Pro tip: if you're in a time crunch, place the browned butter in the fridge to set faster. Is this even a tip? It seems obvious to me, but then again I'm always looking for ways to speed up the cooking and baking process.
As the butter is setting you can whisk the dry ingredients together.
Now that the butter is firm place it in the bowl of your stand mixer, add the brown sugar and granulated sugar and cream on medium speed for 3-4 minutes. Remember to scrape down the sides of the bowl, we want all of the ingredients thoroughly combined. It should like similar to the image below.
Next, add the eggs one at a time, beating well after each addition (15-20 seconds). Then add the vanilla extract.
Add the dry ingredients and mix until just combined.
Mix in the chocolate chips.
Cover the bowl of cookie dough with plastic wrap and chill in the refrigerator for at least 60 minutes.
Pro Tip #2: Chilling the dough helps the flavor develop and it firms up the dough so that when the cookies bake they don't spread as much. You're welcome to chill the dough for longer than 60 minutes, I think 12 hours would be great! You'll get some amazing flavor if you do it anywhere from 1-24 hours. However, if you chill the cookie dough for longer than 60 minutes, you will need to remove the dough from the fridge and let it sit at room temperature for an hour or so, otherwise the cookie dough will be nearly impossible to scoop.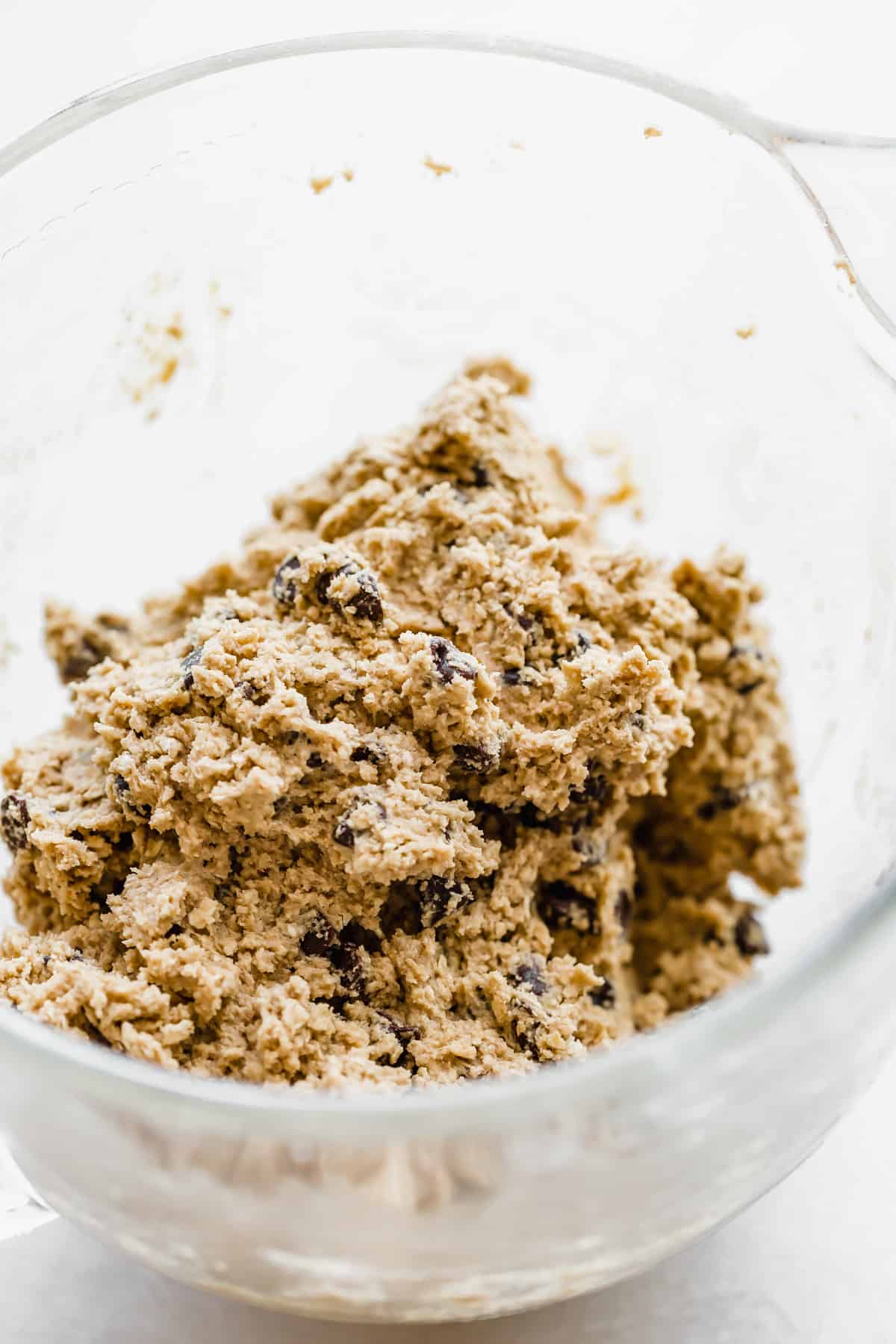 After you've chilled the dough, remove it from the fridge and scoop the dough into 3 tablespoon sized cookie dough balls. I use this cookie scoop (affiliate link) the same scoop I use to fill my cupcake and muffin tins.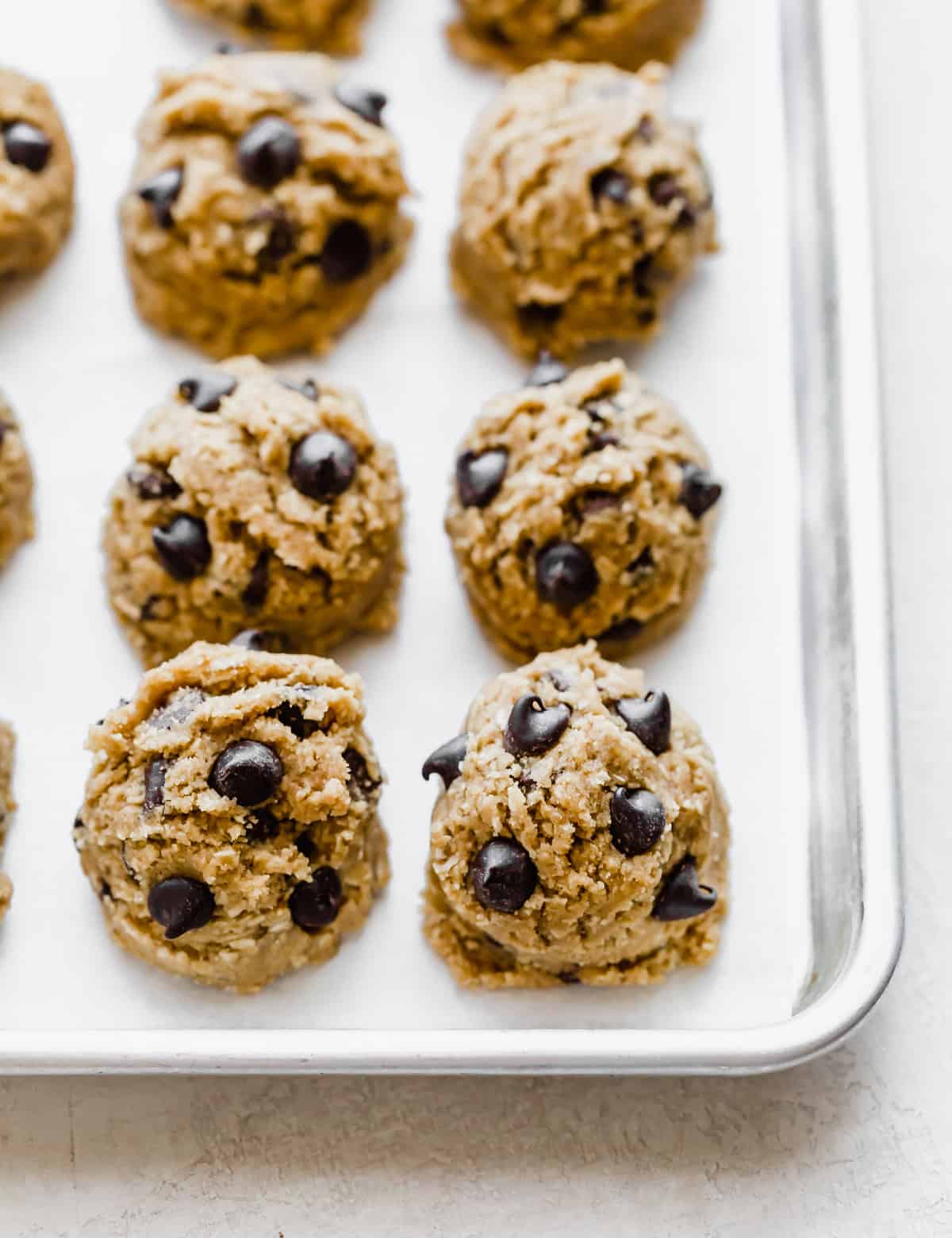 Place 6 cookie dough balls on the baking sheet and bake fro 8-9 minutes. Remove the cookies from the oven when the edges have set, are barely golden brown, and the middles still appear under baked. Let the cookies sit on the baking sheet for 5 minutes and then transfer them to a wire rack to cool completely.
Baker's tip: Cookies continue to bake after they're removed from the oven. If you like soft cookies follow the instructions above. If you prefer a well-done crispy cookie, bake until the cookies are golden brown about 10 minutes.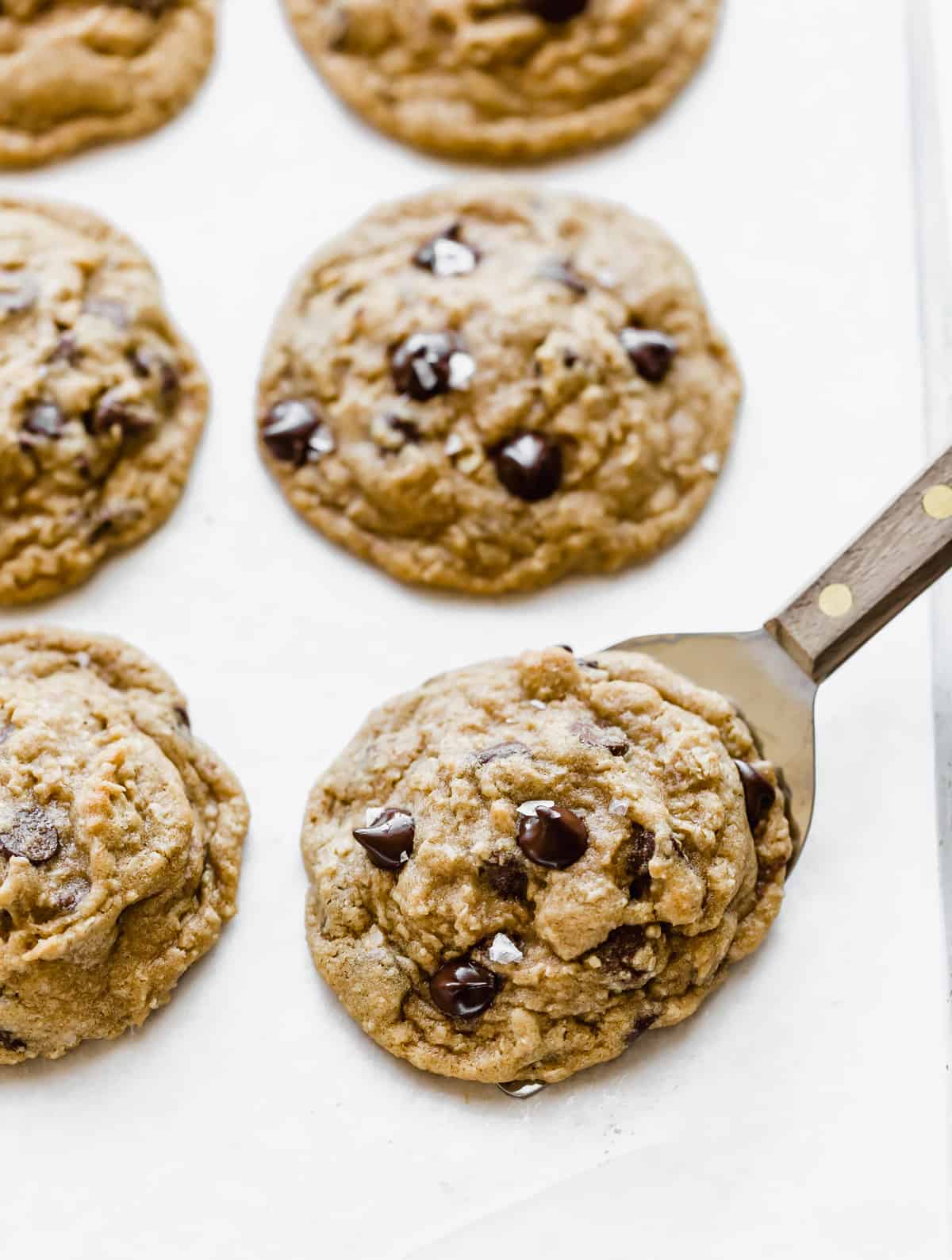 FAQs
Can I skip the butter setting up step? NO. Please don't. We want the butter to set up so that we can successful cream the brown butter and the sugars.
Do I have to chill the cookie dough before baking? You don't have to, but I highly highly recommend you do! (So maybe I should say, yes, you need to chill the dough)! It will improve the flavor, structure, and overall end result of the cookie.
What should I do if I prefer a flatter, more spread out cookie? (This recipe produces a thick and chewy cookie, not thin and flat). Rather than bake at 375°F, bake the cookies at 350°F. The cookies will bake a tad longer, so for about 10-11 minutes or until the tops are just barely golden brown. If you want a crisp cookie, bake for even longer; until the tops are golden in color.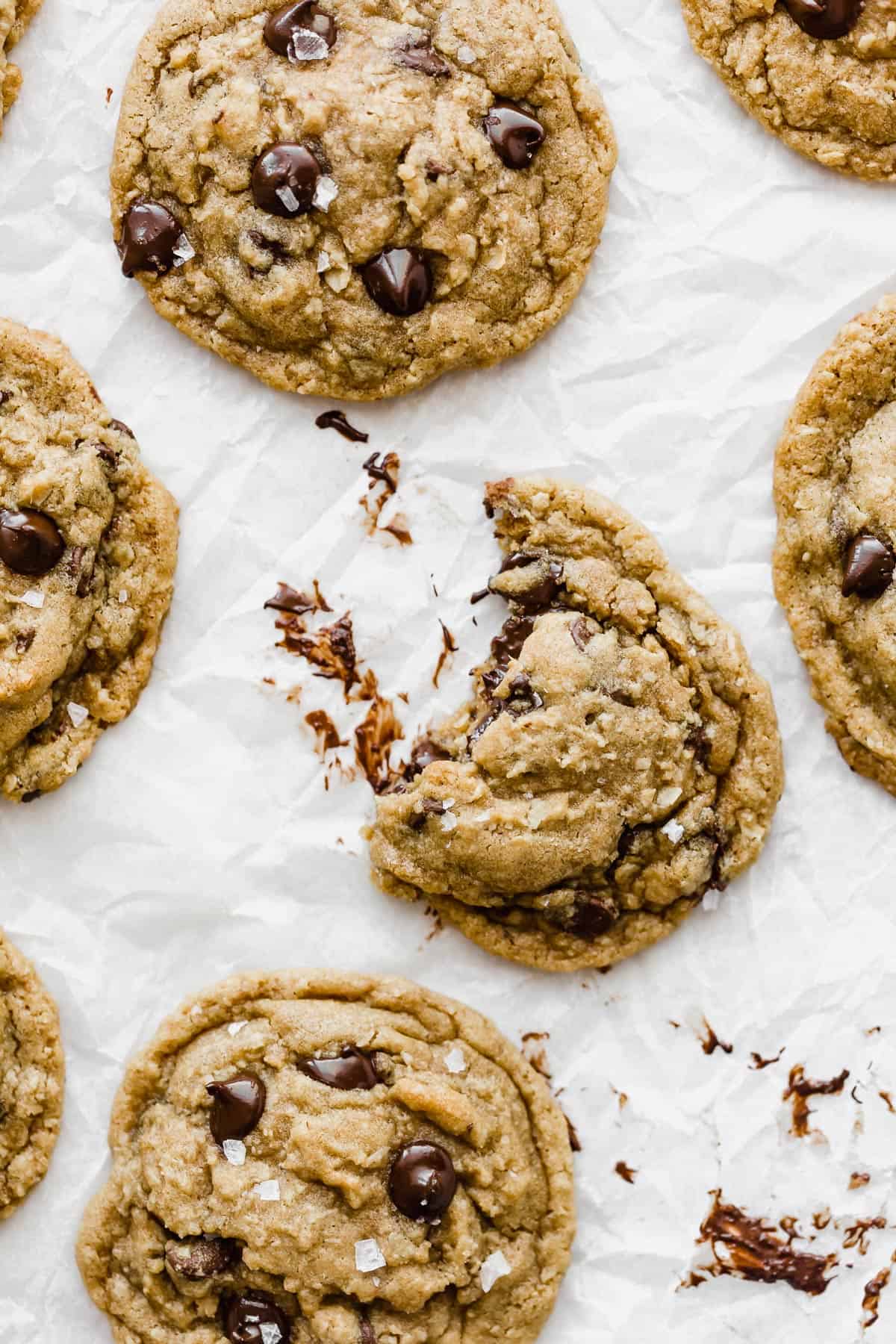 If you like this Brown Butter Chocolate Chip Cookies, try these recipes: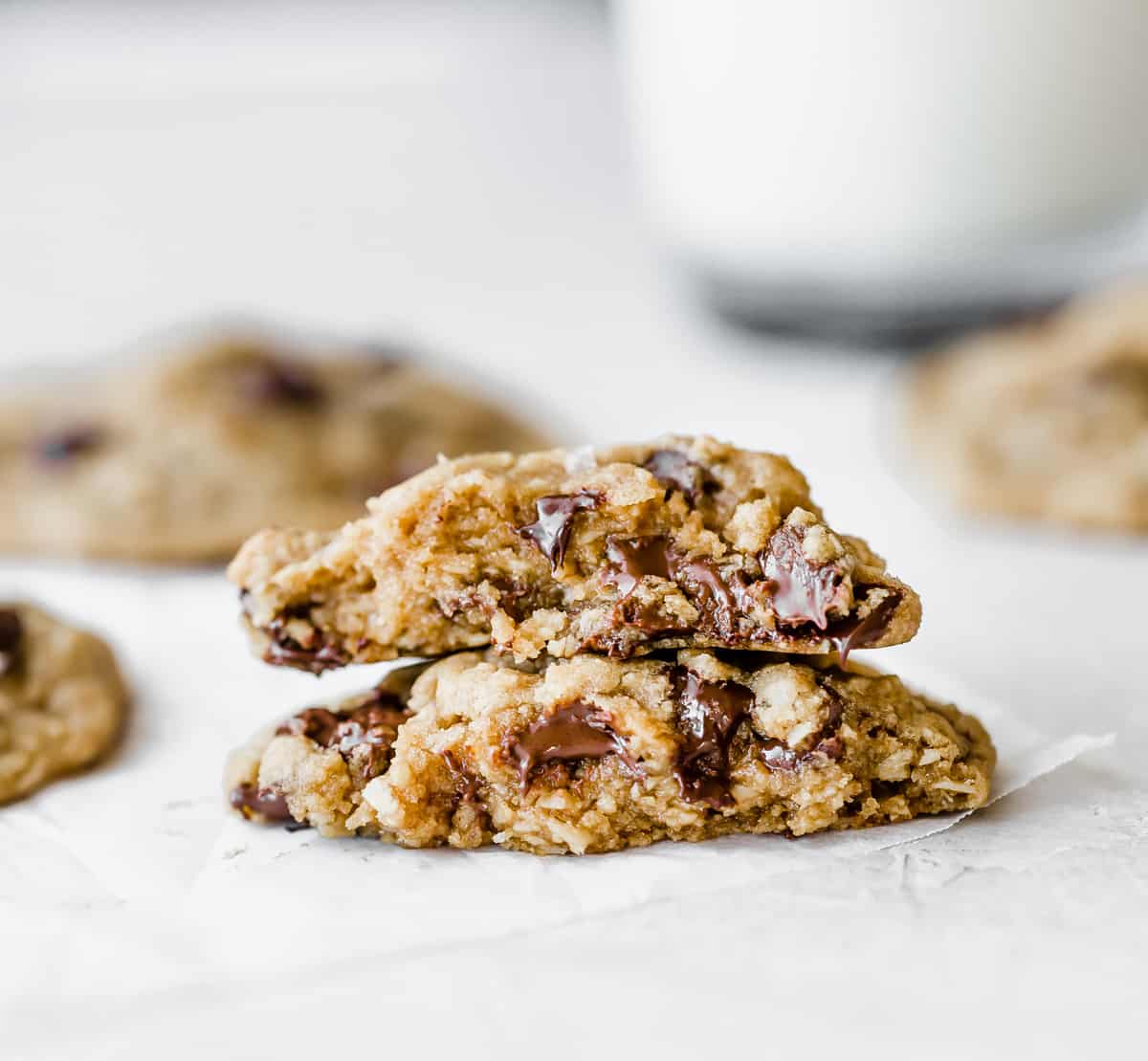 If you make this recipe or any other recipe on the blog please come back and leave a review. If you take a picture of your food creations tag #saltandbaker and share it on social media so that I can see what you made!
And remember to subscribe to Salt & Baker so that we can stay forever friends; because let's be honest, the internet is huge and I want you to come back and try more of my recipes. I have some really good ones coming your way!
Brown Butter Chocolate Chip Cookies
Thick and chewy brown butter chocolate chip cookies are literally the best cookie you'll ever have! The brown butter adds nice richness and deep flavor. This recipe uses oat flour (which you can easily make yourself from ground rolled oats), which adds amazing texture!
Ingredients
1 cup + 2 tablespoons

unsalted butter

1 1/2

cups

dark brown sugar

-

packed

1/4

cup

granulated sugar

2

large

eggs

-

room temperature

3

teaspoons

vanilla extract

1

teaspoon

baking soda

1

teaspoons

baking powder

1

teaspoon

kosher salt

1 3/4

cups

all purpose flour

1 3/4

cups

oat flour

-

(about 2 cups old fashioned oats ground in a food processor or blender)

2

cups

semi sweet chocolate chips
Instructions
Brown the Butter
In a saucepan or deep skillet, melt butter over medium low heat. Stir constantly. The butter will start to melt and bubble, then it will begin to foam. With time you'll see very light brown specks appear towards the bottom of the pan. Keep stirring. The butter will turn a light amber color and the specks will be a bit more golden brown. Remove from heat. DON'T burn the butter! Best to remove from heat too early, than too late. The butter can burn quickly!!!


Let the butter cool and then transfer to a separate bowl to solidify (I place mine in the fridge to speed up the process).

Make the Cookie Dough
In a medium size bowl whisk the baking soda, baking powder, salt, flour, and oat flour.


Once the butter is firm again, place the butter, dark brown sugar, and granulated sugar in the bowl of a stand mixer fitted with a paddle attachment. Cream on medium speed for 3-4 miinutes scraping down the sides of the bowl halfway through.


Add 1 egg to the creamed butter, mix until fully combined. Add the last egg and mix until fully combined, about 15-20 seconds.


Beat in the vanilla extract.


Add the dry ingredients to the wet ingredients. Mix until JUST combined. Stir in the chocolate chips.


Cover the cookie dough bowl with plastic wrap and place in the refrigerator for 30- 60 minutes to chill. 


Preheat oven to 375°F. Line a baking sheet with parchment paper or a silicone baking mat. 


Remove the dough from the refrigerator. Using a 3 tablespoon sized cookie scoop, scoop the cookie dough into dough balls.

Place 6 dough balls on one sheet, spacing the cookie dough at least 2 inches apart from one another.

Bake for 8-9 minutes, or until edges are barely golden brown. The centers will still appear a tad under baked.


Let cool on baking sheet for 5 minutes then transfer to wire rack to cool completely. Store in airtight container for 3-4 days.

Notes
You can keep the cookie dough in the fridge for 12-24 hours for a deeper flavor. Chilling cookie dough allows the flavors to meld together, it produces a really delicious and beautifully tasting cookie! But you don't have to chill it for that long. I recommend you chill it for 30- 60 minutes so that the dough firms up, this prevents the cookies from spreading too much while baking. If you chill it for longer than 1 hour, you will need to let the cookie dough sit at room temperature for until soft enough to scoop into cookie dough balls. Sometimes this can be a bit finicky, so I like to chill it for just an hour. 
I like to sprinkle my cookies with some sea salt before baking. If you choose to do this simply sprinkle a pinch of sea salt over each cookie dough ball prior to baking. 
The unbaked cookie dough can be frozen in an airtight container for up to 3 months. Wrap the cookie dough in plastic wrap, place the wrapped cookie dough in a plastic zip top back or freezer safe container and store in freezer. 
If you prefer a flatter, more spread out cookie bake at 350°F. Cookies will need to bake a tad longer, so about 10-11 minutes or until the tops are just barely golden. 
Did you make this recipe?
snap a photo and tag @saltandbaker in your posts and stories so I can see what you're making!