Oatmeal Chocolate Chip Cookies
This post may include affiliate links. As an Amazon Associate I earn from qualifying purchases.
Hands down the BEST Oatmeal Chocolate Chip Cookie recipe out there! I guarantee soft, chewy, and flavorful cookies every time!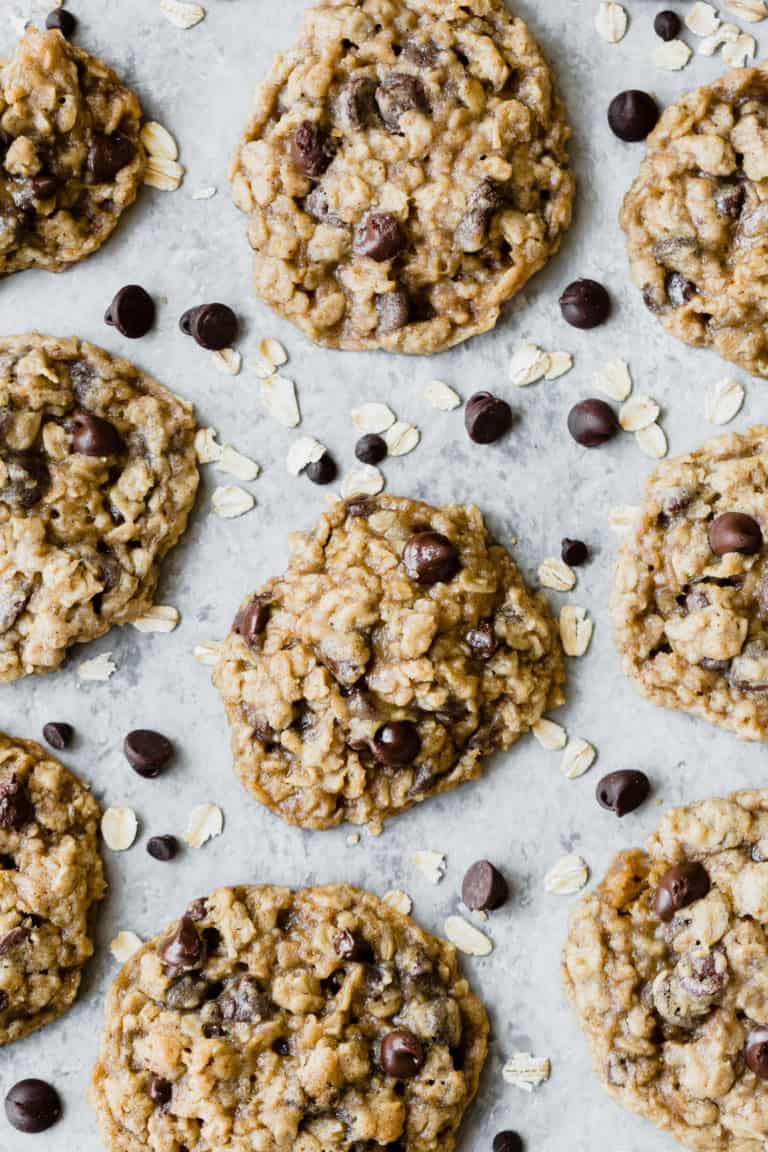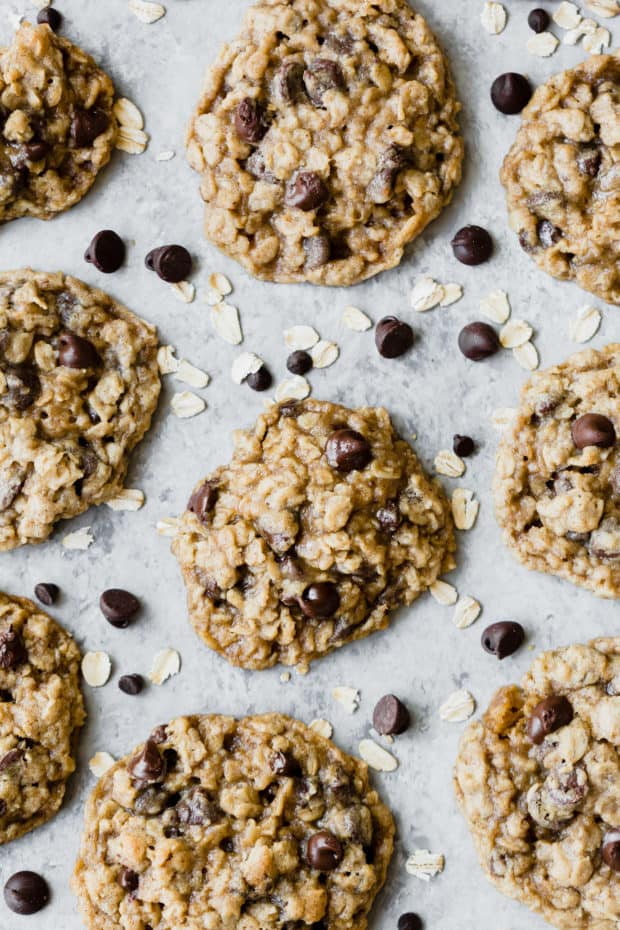 Adding oatmeal to chocolate chip cookies is a fun way to add new dimension and texture to the traditional cookie. I'm also a huge fan of brown butter chocolate chip cookies! There are lots of ways you can add bold flavors to the traditional cookie recipe.
I'm sharing my tips and tricks for making the perfect oatmeal chocolate chip cookies.
But first, you need to go pull out some butter from your fridge so that by the time you've finished reading this, you'll be ready to make these delicious oatmeal cookies!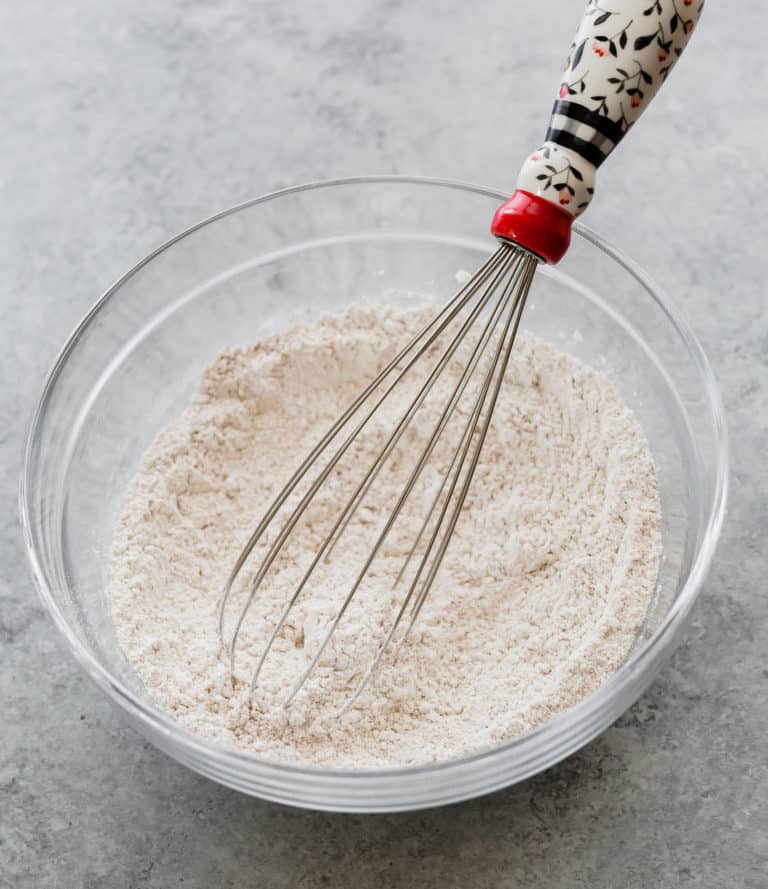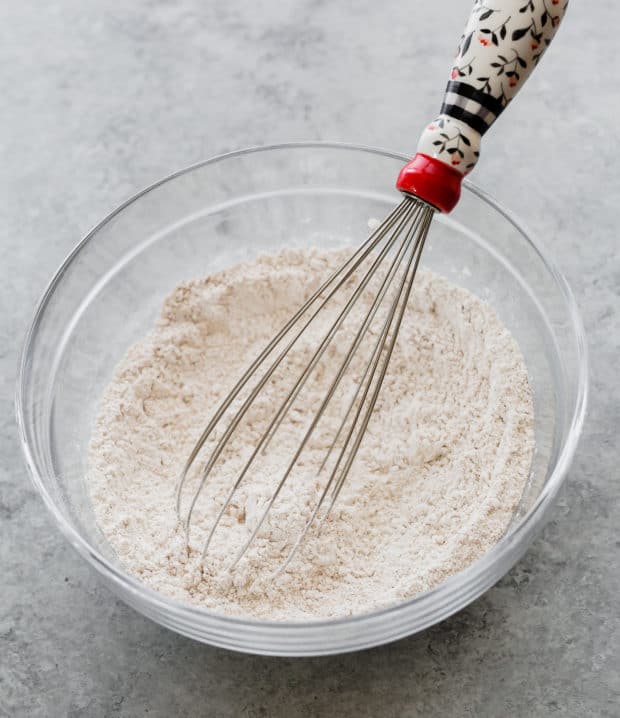 How to make Oatmeal Chocolate Chip Cookies
Like most cookie recipes, begin by whisking the dry ingredients together, (pictured above).
Then cream the butter and sugars together, (pictured below). For these oatmeal chocolate chip cookies I use more brown sugar than white sugar. I love the flavor brown sugar brings to a cookie! Using a higher ratio of brown sugar guarentees a softer, chewier, and moist cookie. The recipe calls for light brown sugar, however, you can use dark brown sugar so that the cookies have a richer molasses flavor to them.
Add the eggs, vanilla, and molasses and mix. (I talk about why I add molasses a few paragraphs down).
After the dry ingredients have been added to the wet ingredients mix in the Old-Fashioned Rolled Oats and chocolate chips. The dough will be sticky and thick.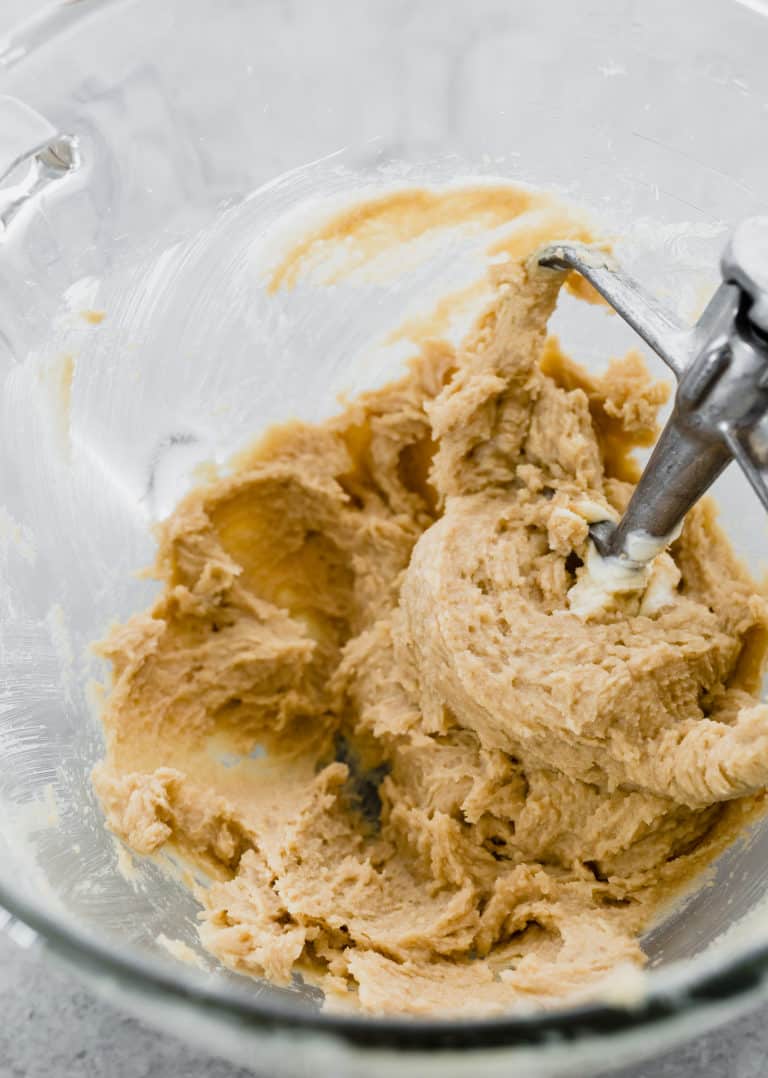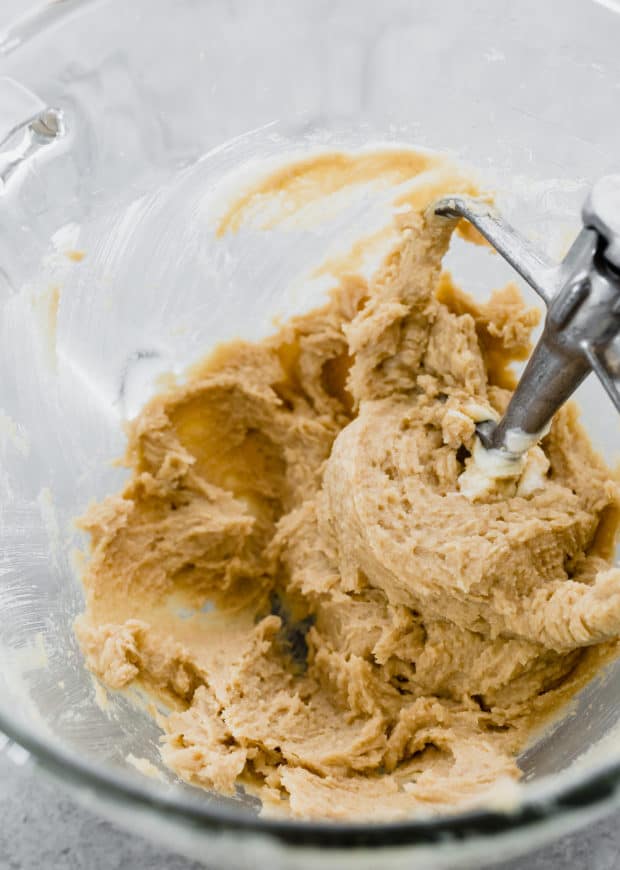 Do you need to chill oatmeal chocolate chip cookie dough?
Because we use a cup of butter, we need to chill the cookie dough before baking. If you skip this step, your cookies will overspread! We don't want that!
Chilling cookie dough will also help the flavor develop more so than if you don't chill the dough.
After you scoop the cookie dough onto the baking sheets, make sure the dough is still partly chilled. If the dough has come to room temperature and appears to be sticky, place the cookie sheet with the cookie dough balls in the fridge to chill for 15-20 minutes or until they are slightly firm.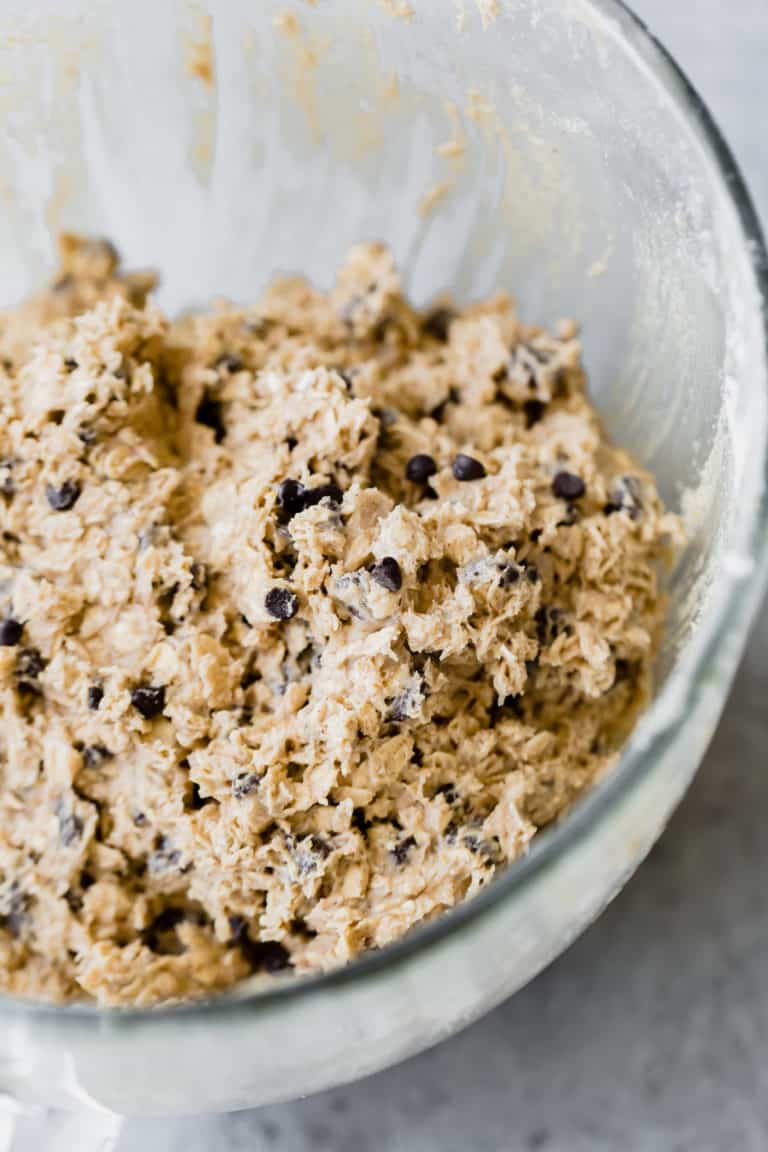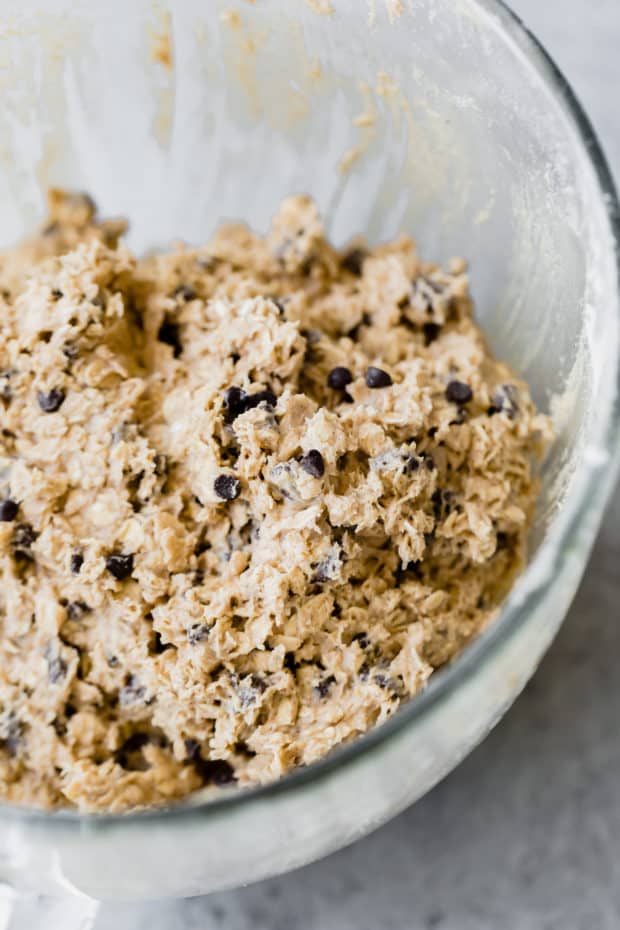 Tips to getting the PERFECT Oatmeal Chocolate Chip Cookie
For the perfect oatmeal cookie, use Old-Fashioned rolled oats! Not quick oats. The thicker oats allows for a much chewier and all around better cookie. The quick oats are very thin and powdery, refrain from using those in this recipe.
Don't overbake your cookies. If you like SOFT cookies, you can pull the cookies out of the oven when they look slightly underbaked. I found that around 9 minutes they were done. To some 9 minutes may not be long enough. You judge the doneness based on your oven. (All ovens are different!)
They're done when the edges are lightly browned and the center still looks unset.
Just remember, cookies will continue to set and bake while on the cookie sheet. After they've sat on the cookie sheet for 5 minutes, transfer the cookies to a wire rack to cool completely.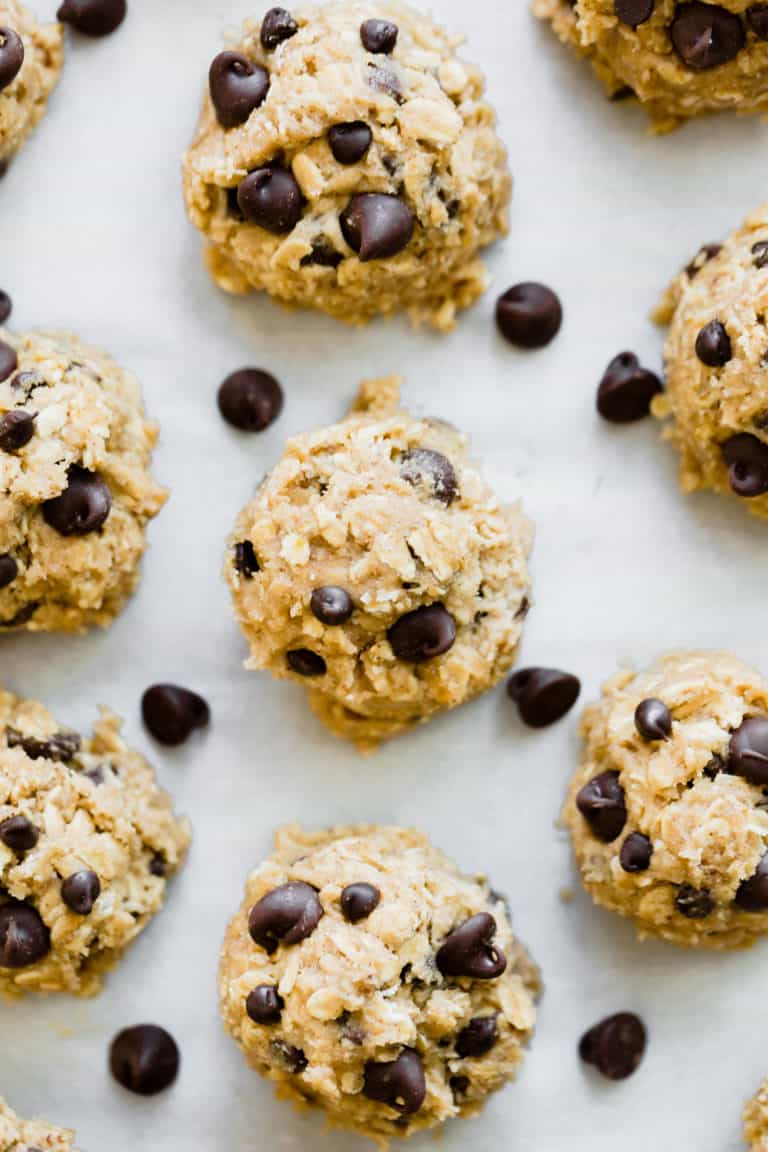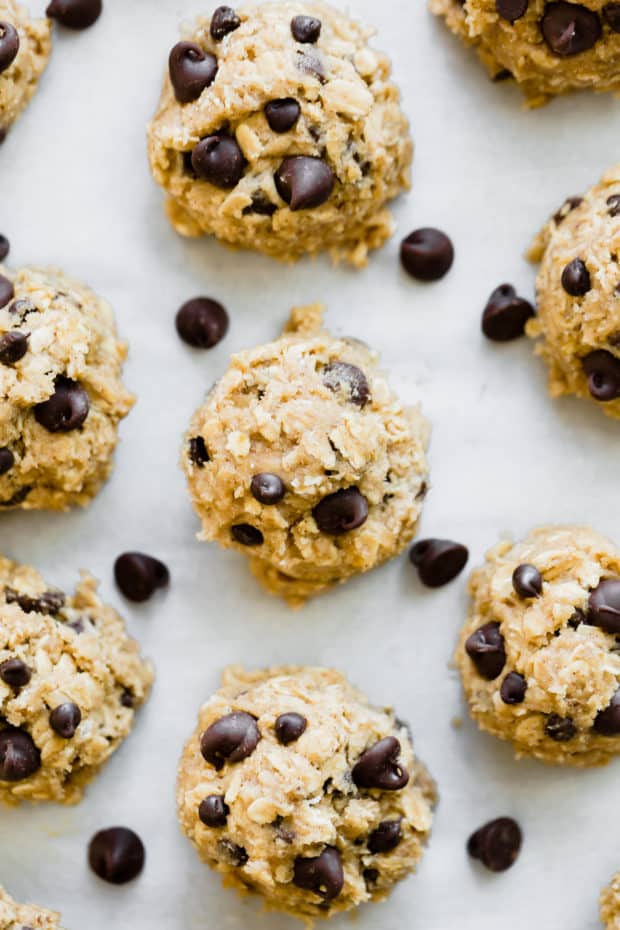 How to get more flavor
Add a teaspoon of molasses. You're welcome to add more, but I've found that 1 teaspoon does the trick for us! The addition of molasses adds a richer flavor to these oatmeal chocolate chip cookies.
Cinnamon. I LOVE cinnamon in my oatmeal cookies! Don't go overboard. But a few teaspoons of cinnamon elevate the flavor in this cookie ten fold! It's amazing the difference it makes.
Oatmeal cookie variations
If you love raisins, swap out the chocolate chips for 1 1/2 cup of raisins. You can adjust the amount of raisins according to your liking.
Add chopped nuts! This is a perfect way to add some nice crunch and flavor to an already delicious cookie. Chopped pecans or walnuts would pair perfectly with this oatmeal cookie recipe.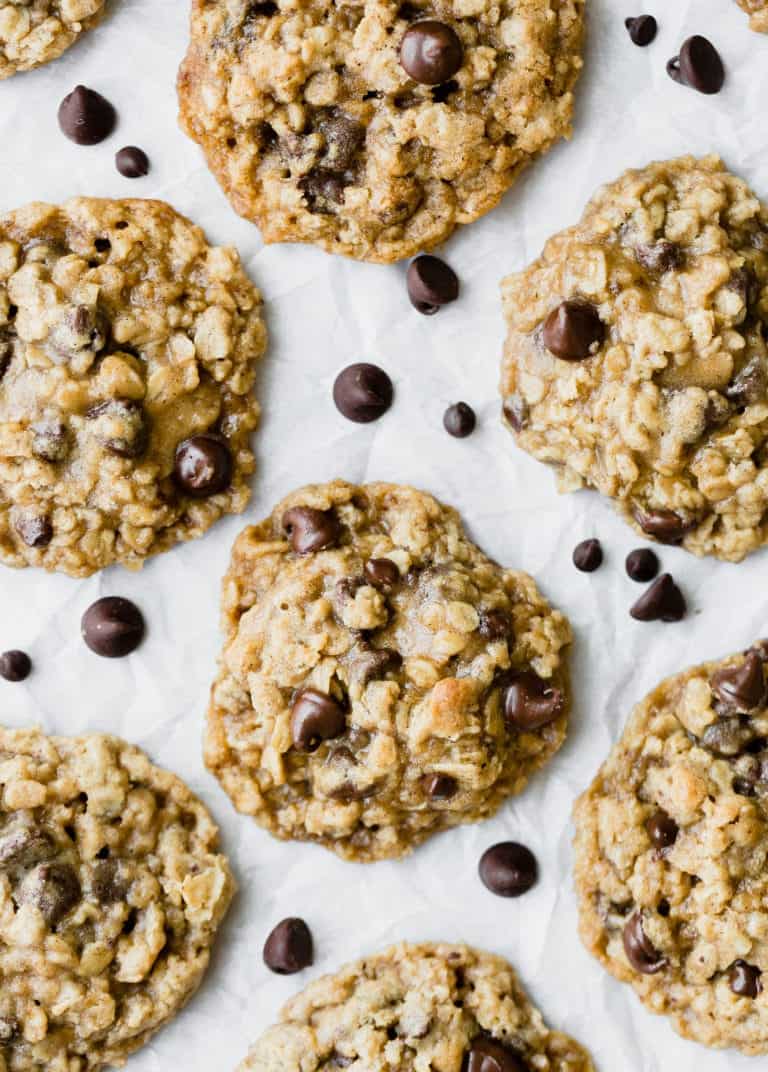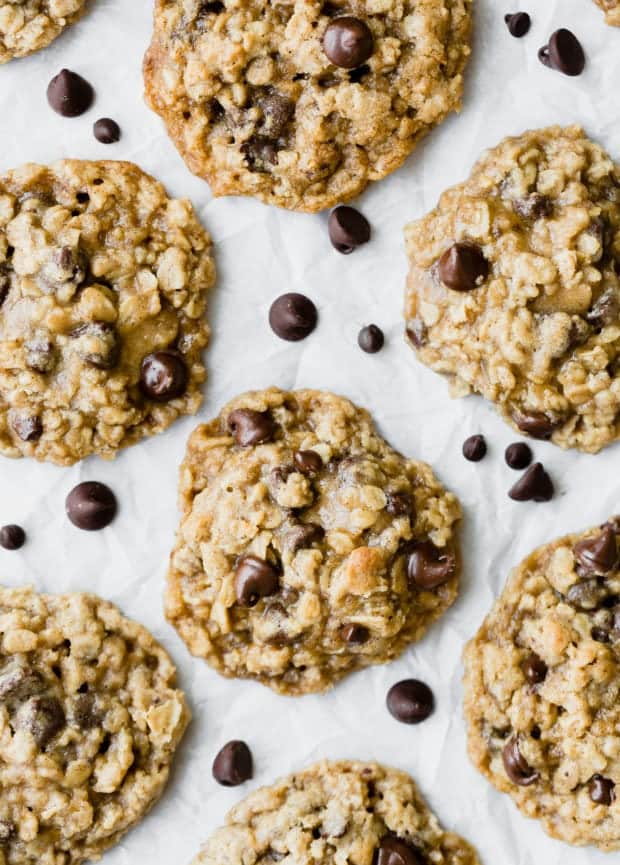 If you like these Oatmeal Chocolate Chip Cookies check out these:
Craving more?  SUBSCRIBE TO SALT & BAKER to get new recipes delivered straight to your inbox!
Oatmeal Chocolate Chip Cookies
The BEST oatmeal chocolate chip cookies you'll ever have! These cookies are soft and chewy. Everyone who eats these RAVES about them!
Ingredients
1 1/2

cups

all-purpose flour

2

teaspoons

ground cinnamon

1

teaspoon

baking soda

1

teaspoon

salt

1

cup

unsalted butter

-

softened to room temperature

1

cup

light brown sugar, packed

1/2

cup

granulated sugar

2

eggs, room temperature

1

teaspoon

molasses

2

teaspoons

vanilla extract

3 1/8

cup

old-fashioned rolled oats

1 1/4

cup

semi-sweet chocolate chips

1/4

cup

mini chocolate chips
Instructions
In a medium bowl whisk the flour, cinnamon, baking soda, and salt together. Set aside.

In the bowl of your stand mixer fitted with the paddle attachment, beat the butter until smooth, about 1 minute. Add the brown sugar and granulated sugar and beat on medium speed until well creamed, about 2-3 minutes.

Add the eggs, vanilla, and molasses to the creamed butter and sugar. Beat on medium-high speed until well combined. Scrape down the bowl with a spatula as needed so that everything is evenly incorporated.

Add the dry ingredients to the wet ingredients. Beat on low speed until everything is combined.

Add the oats and chocolate chips. Mix until evenly combined. Dough will be thick.

Cover and chill the dough for at least 1 hour.

Preheat the oven to 375°F. Line baking sheets with silicone baking mats or parchment paper.

Using a 3 tablespoon cookie scoop, scoop balls of dough onto the parchment paper, leaving 2 inches between each cookie.

Bake cookies for 9-13 minutes or until lightly browned on the sides. Take note, the centers will still look fairly soft. (In my oven, my cookies are done at 10 minutes).

Remove cookies from the oven and allow them to cool on the baking sheet for 5 minutes before transferring to a wire rack to cool completely. Cookies can be stored in an airtight container for 5 days, if they last that long 🙂
Notes
*You can use a 2 Tablespoon cookie scoop as well, but just know that the cookies won't need to bake for as long.
Recipe Source: adapted from Sally's Baking Addiction 
Did you make this recipe?
snap a photo and tag @saltandbaker in your posts and stories so I can see what you're making!