Chocolate Peanut Butter No-Bake Cookies
This post may include affiliate links. As an Amazon Associate I earn from qualifying purchases.
Chocolate peanut butter no-bake cookies are my favorite cookie of all time — and my kids' favorite too. This is your go-to, no-hassle dessert option. Everything's in one pot, and you don't have to worry about preheating your oven or anything. These cookies set up for a couple minutes and then they are ready to be enjoyed!

A Classic Combination
Whoever purposely or accidentally put chocolate and peanut butter together, bless them. You really can't go wrong with the chocolate and peanut butter combo here.
And please promise me you will never make dry no-bake cookies again. This no-bake cookie recipe makes soft, creamy and rich classic no-bake cookies. Trust me, you're going to be hooked on this recipe. It's all about getting the oats and the peanut butter right.
I've been making these cookies for years and as a result, they've become a signature dish of mine. I've also become well known for my Texas sheet cake, my (no-bake) Magnolia Bakery Banana Pudding, and my brown butter chocolate chip cookies to name a few. But nothing beats that winning combination of chocolate and peanut butter, yum!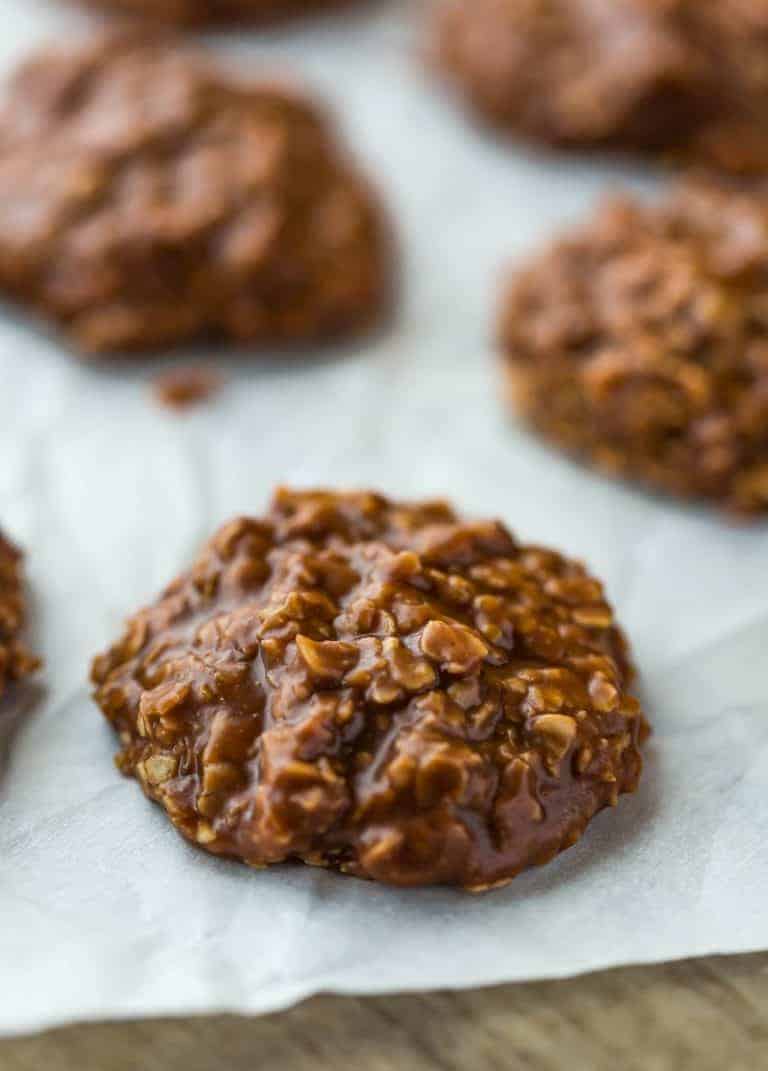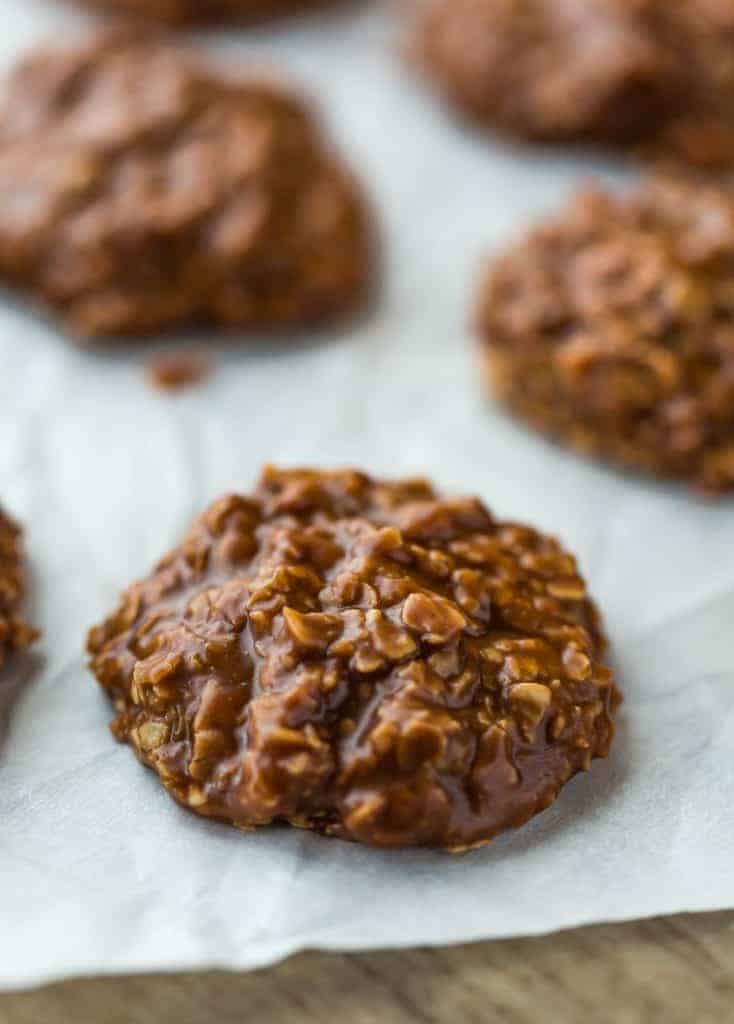 Ingredients for Chocolate Peanut Butter No-Bake Cookies
Butter. You can use salted or unsalted butter but once melted, this butter will help bind the ingredients together and add a rich flavor.
Sugar. We don't need too much sugar, but we do need some. It's going to help these cookies taste sweet and delicious!
Milk. Milk will help to thin down the liquid mixture so that it's not too unbearably thick.
Cocoa powder. Giving us that incredibly rich and delicious chocolate flavor we want and crave.
Peanut butter. I use creamy peanut butter because it makes the cookies melt in your mouth, but chunky is always an option too.
Vanilla extract. Helps create a flavor base to build off of.
Quick oats. Make sure you use quick oats because they are the perfect size and texture, old fashioned oats can't compete here. I repeat, quick oats. The old fashioned oats are a bit larger and will take on more of the moisture from your chocolate mixture, making the cookies dry.
How to Make No-Bake Peanut Butter Cookies
Melt your butter in a saucepan over medium low heat.

Once the butter has melted, add in the milk, sugar, and cocoa powder. Stir while slowly bringing the mixture to a boil.

Let the mixture boil for 2 minutes, stirring occasionally.



Remove the pan from the heat and add in the peanut butter and vanilla. Stir to combine.

Add in the quick oats and stir until they've been evenly coated.



Lay a piece of wax paper down on a solid surface and then drop the no-bake cookies on top, by the spoonfuls. Let cool completely and then enjoy.

FAQs and Recipe Tips
Can I double this recipe?
Yes! While this is a small batch recipe and designed to make about 12 no-bake cookies, you can easily double it to make 24. The steps and instructions are the same, the only difference is that the measurements are twice the amount currently requested.
What do I do if my no-bake mixture seems too thin?
If your no-bake cookies seem to be too runny, add in another ¼ cup of quick oats. This will help to thicken the mixture up without detracting from the flavor and taste.
Can I freeze no-bake cookies?
Yes! After the cookies have completely set, place them on a large plate or baking sheet, and then stick them in the freezer for 1-2 hours to flash freeze. After they've been frozen solid, transfer them to a Ziploc bag and let them remain in the freezer for up to 3 months. Now you can grab a no-bake cookie to eat whenever you're in the mood.
Are no-bake cookies gluten free?
If you use a certified gluten free oat then yes, they can be! Those with allergies against gluten such as Celiacs know that oats and wheat are rotated on farmer fields and can contain traces of wheat, despite not being a wheat product. Certified GF oats are not rotated crops and are 100% gluten free and safe to consume.
How to make nut-free no-bake cookies
Thanks to a kind reader it was suggested to use SunButter in place of the peanut butter for a nut-free no-bake cookie.
Tips
Don't turn the heat up too high. You want to keep the heat at a good medium-low temperature because anything higher than that can burn the cocoa mixture.
Use a timer. When the mixture begins to boil, start the timer and let boil for 2 minutes, making sure to stir occasionally while it boils.
This is a pretty fast paced recipe, so make sure to have the peanut butter all ready and pre-measured and set to the side before you begin. This will help make the process go much more smoothly.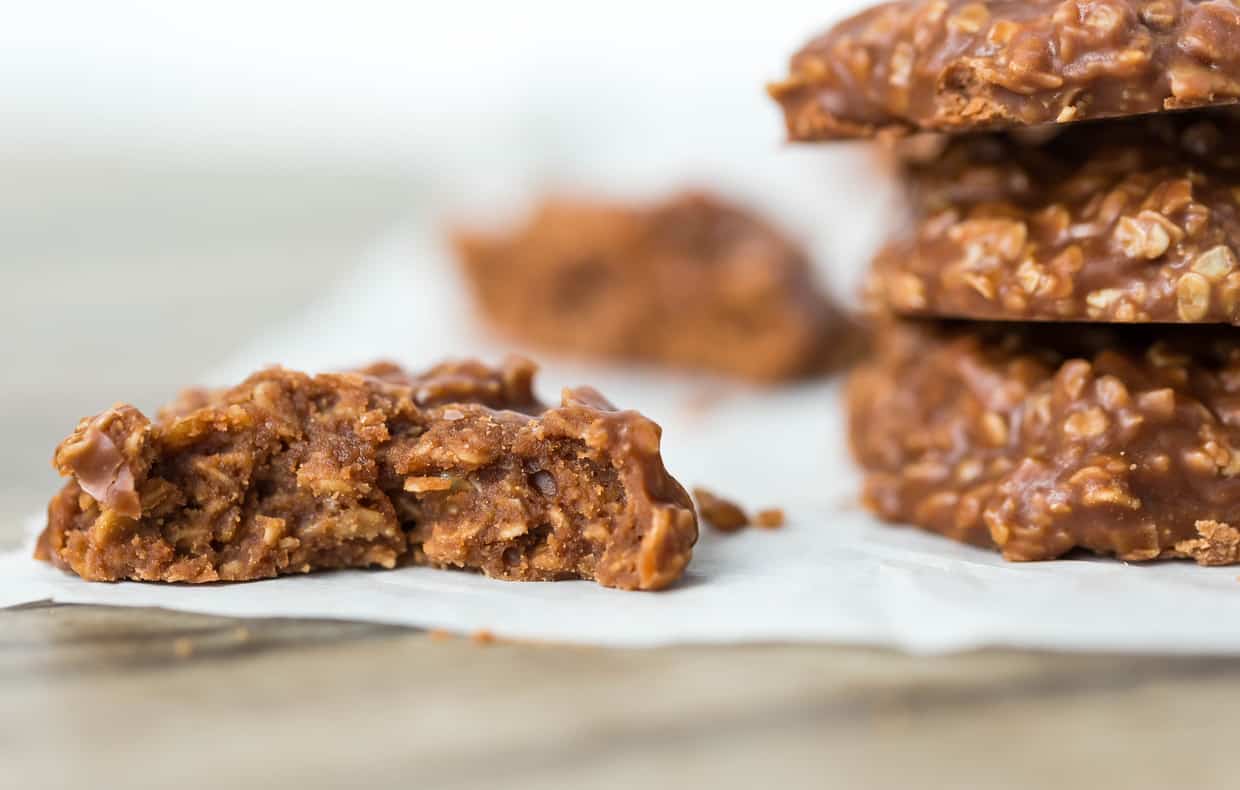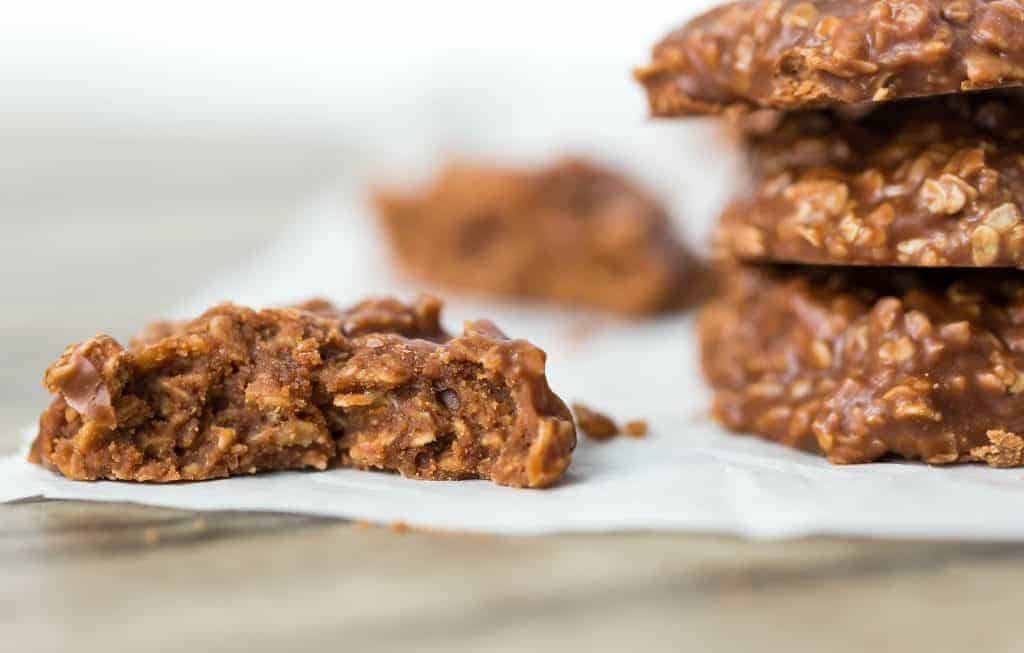 If you make a recipe from Salt & Baker and love it, I would really appreciate if you come back to leave a rating and review. Thank you! ❤️
Chocolate Peanut Butter Oatmeal No-Bake Cookies
My most favorite cookie of ALL TIME! These chocolate peanut butter oatmeal no-bake cookies are soft, rich, and completely irresistible!
Ingredients
1/4

cup

butter

3/4

cup

sugar

1/4

cup

milk

1 1/2

T

cocoa powder

1/4

cup

peanut butter -

I use creamy peanut butter

1/2

tsp

vanilla extract

1 1/4

cup

quick oats,

-

if the mixture seems too runny, add up to 1/4 cup more oats
Instructions
In a small saucepan over medium-low heat, melt the butter.

When the butter has melted, add the milk, sugar, and cocoa powder. Stir. Slowly bring the mixture to a boil. Boil for 2 minutes, stirring occasionally. I never let it sit too long without stirring.

Remove from heat. Add the peanut butter and vanilla. Stir. Add the quick oats and stir until evenly coated.

Lay out a small piece of wax paper. Drop by spoonfuls onto the wax paper. Let cool. Enjoy!
Did you make this recipe?
snap a photo and tag @saltandbaker in your posts and stories so I can see what you're making!