Chocolate Crinkle Cookies
This post may include affiliate links. As an Amazon Associate I earn from qualifying purchases.
Satisfy your chocolate craving with these perfect Chocolate Crinkle Cookies! We use granulated sugar and confectioners sugar to create the signature crackly exterior.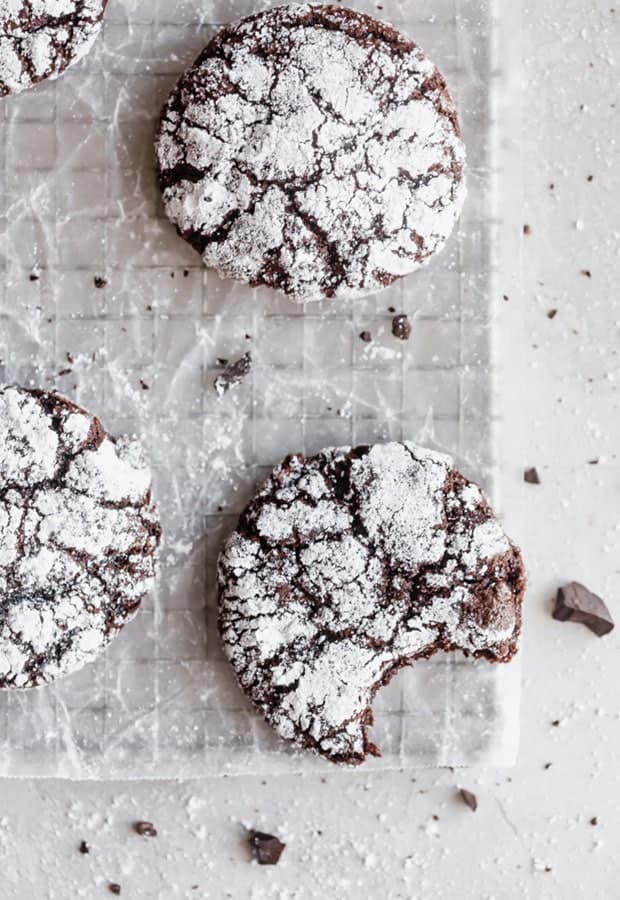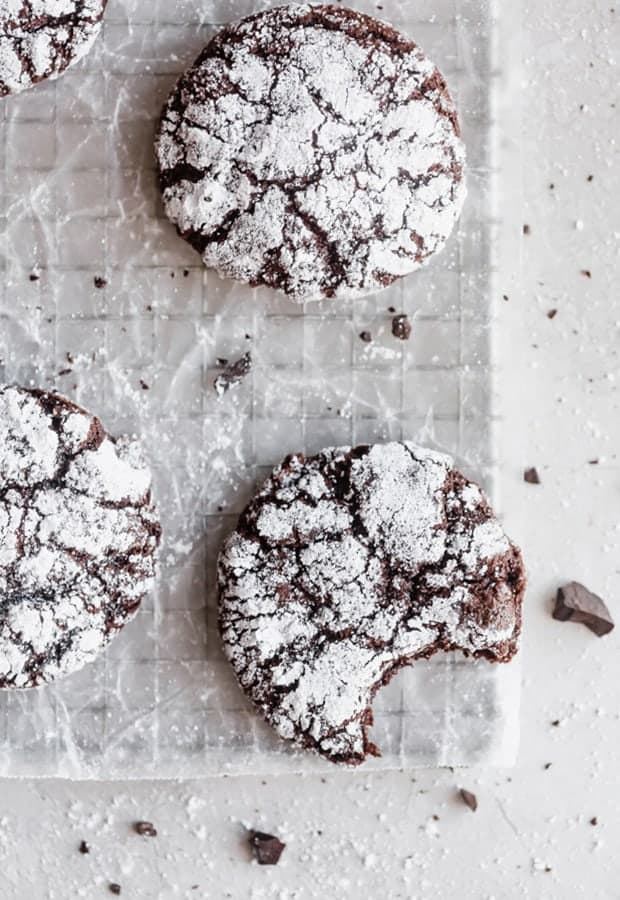 It's December which means it's time to bake! I have some delicious recipes coming your way.
We're kicking it off with this easy chocolate crinkle cookies recipe!
It's no secret that I love chocolate. I have a variety of chocolate recipes floating around my blog. My double chocolate chip cookies are a huge hit as is my chocolate cake and my ice cream cake roll recipe.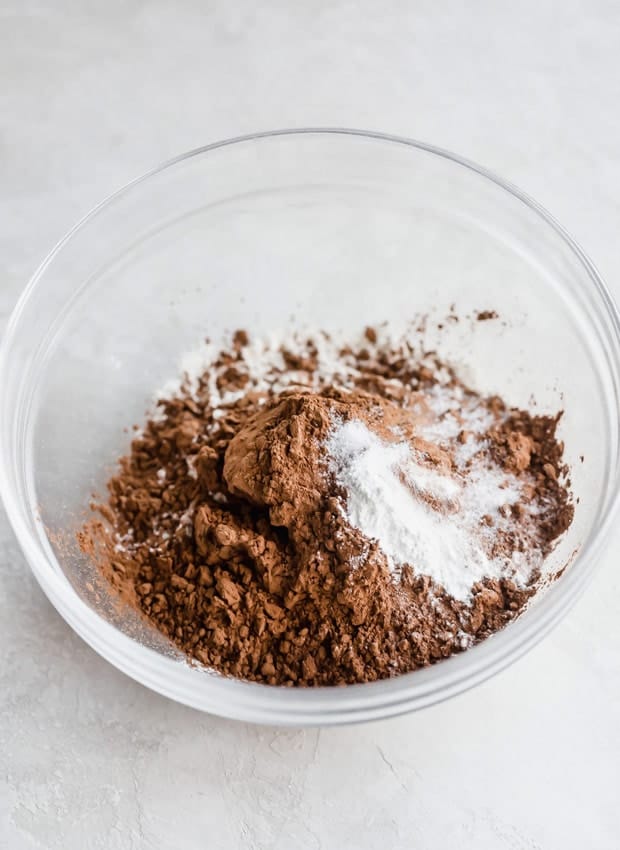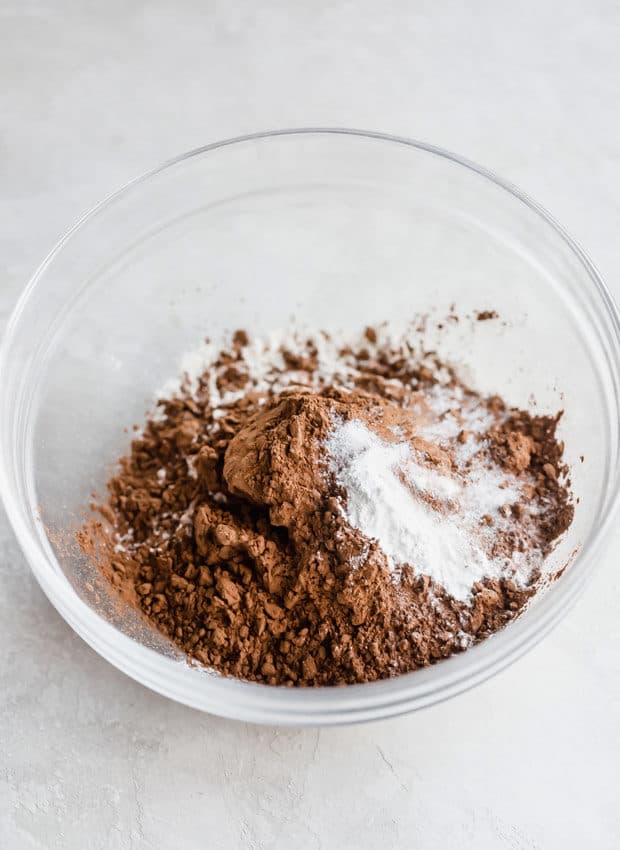 But lets talk about these *insanely rich* crinkle cookies.
These cookies are so fudgy! Almost brownie-like. Then you take those chocolate cookies and roll them in sugar and powdered sugar… um, yes please!!!
Chocolate Crinkle Cookies
To achieve maximum chocolate flavor these chocolate crinkles use cocoa powder and unsweetened chocolate.
If you scroll down to the recipe card you'll see that this recipe calls for only 1 cup of flour. Those of you who are familiar with baking will know that this isn't a lot of flour for a cookie recipe.
Not to worry! The cocoa powder has starch in it that allows the recipe to work with less flour. We're using less flour but incorporating MORE chocolate flavor with the cocoa powder.
Let's not forget the melted chocolate we're adding to these chocolate crinkle cookies. Boom!
Tons of chocolate. *Maximum flavor*.
It's all you've ever wanted.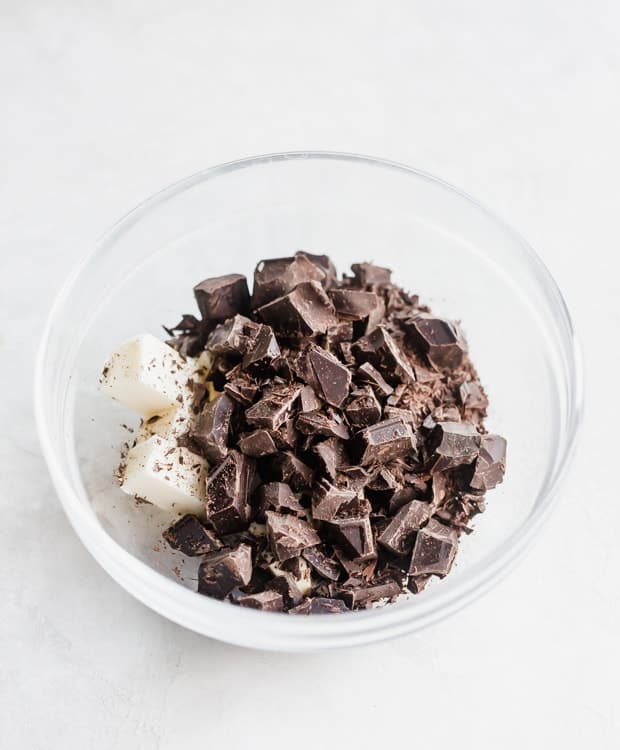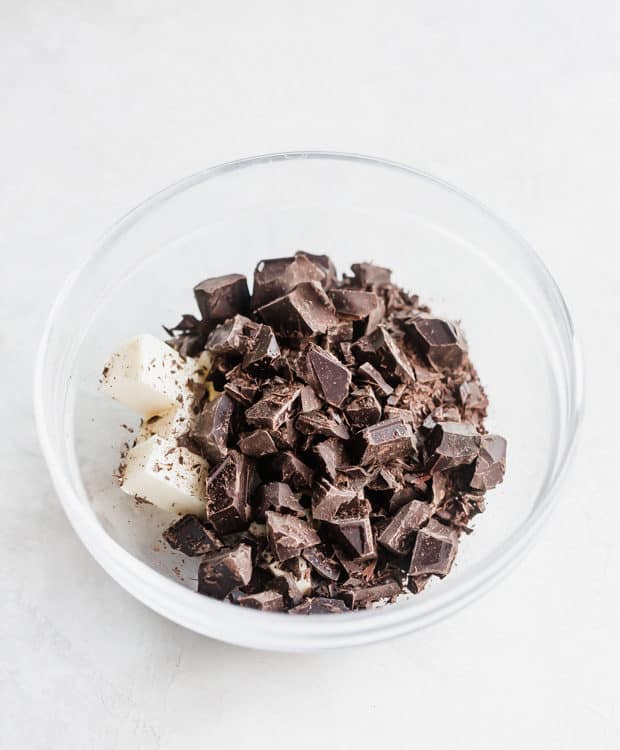 Crinkle Cookies
What makes these THE BEST Chocolate Crinkle Cookies?
I'll let you in on a secret… roll the cookie dough in granulated sugar and powdered sugar.
Coating the cookies with granulated sugar AND powdered sugar (confectioners sugar) also dries out the surface of the cookie. When placed in the oven the tops of the cookies are dried out, they harden and set. Why is this a good thing?
When placed in the oven, the cookie dough balls begin to spread. The tops of the cookies are essentially set (because of the sugar drying them out). As the cookies spread out, the set tops crinkle and crack, creating a beautiful fissured exterior.
I know what you're thinking… "Dried out cookies?! Those are words I don't want to associate with a cookie."
I get it. I dislike dry and hard cookies. But guess what, these cookies are anything but hard! They are perfectly soft and rich.
Coating the chocolate crinkle cookies in granulated sugar helps keep the powdered sugar adhered to each cookie. The end result is a perfectly snow capped (soft) white crackly cookie.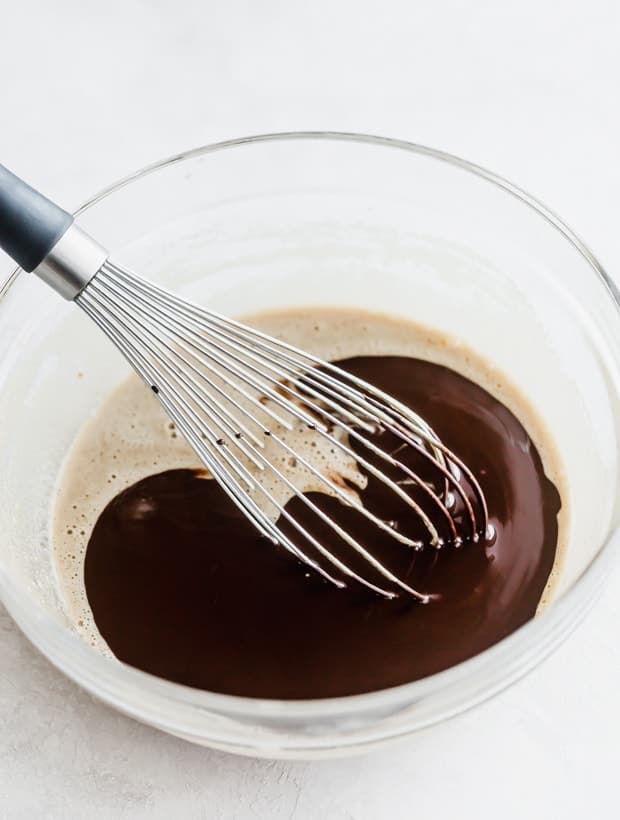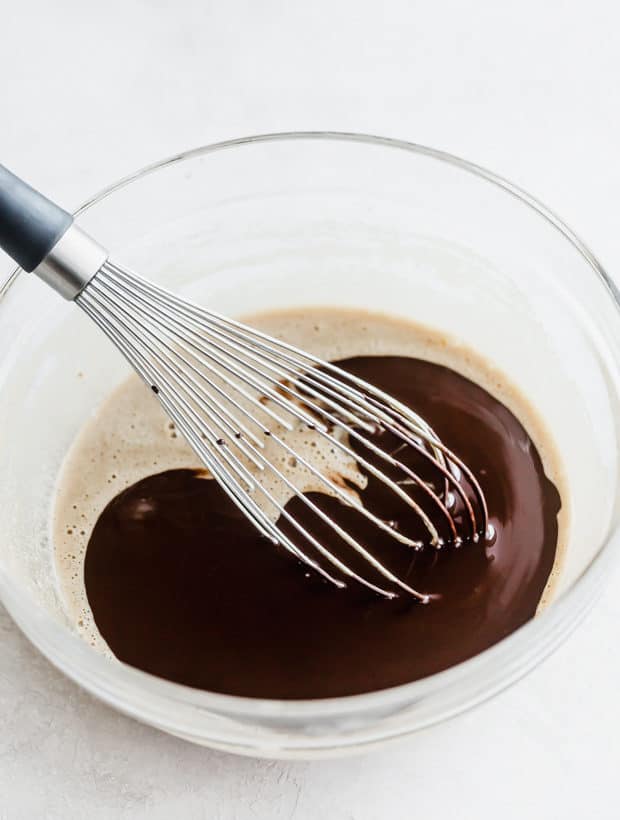 How to make Chocolate Crinkle Cookies
No need to bust our your stand mixer for this recipe; a simple whisk and bowl will do.
You need 5 separate bowls to make this recipe.
In the first bowl, combine the dry ingredients. Whisk until thoroughly combined.
To the second bowl add the brown sugar, egg, and vanilla extract. Whisk these ingredients together until nice and smooth.
Lastly, the third bowl will house the butter and finely chopped unsweetened chocolate. Melt the chocolate and butter in the microwave at half power, stirring often, until completely melted.
Pour the silky smooth chocolate mixture into the wet ingredients. Stir this until smooth and evenly combined. Should only take one minute.
Next, fold the dry ingredients into the chocolate mixture. Stir until just combined and no flour streaks remain. Place the bowl in the fridge for 5 minutes to allow the butter and chocolate to set slightly.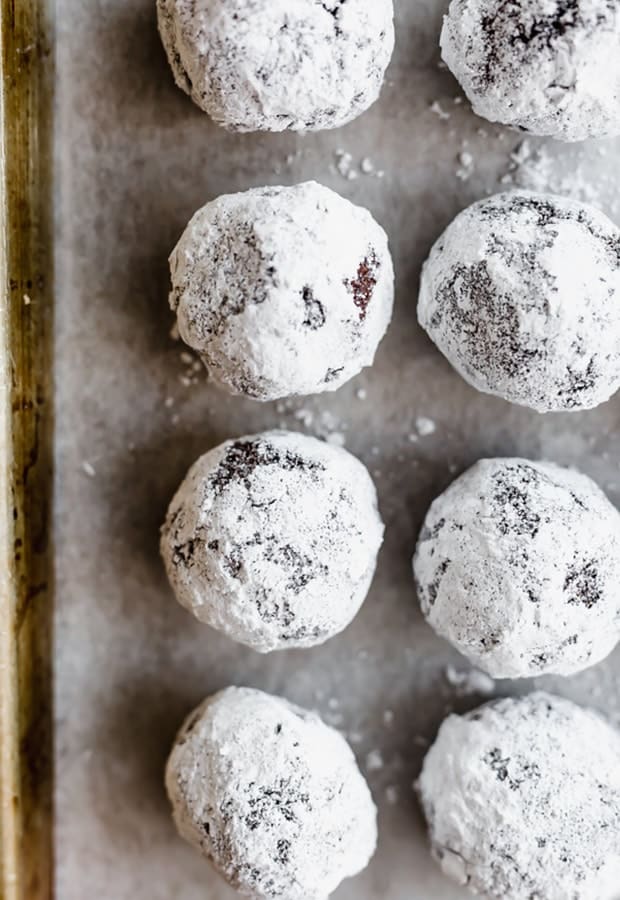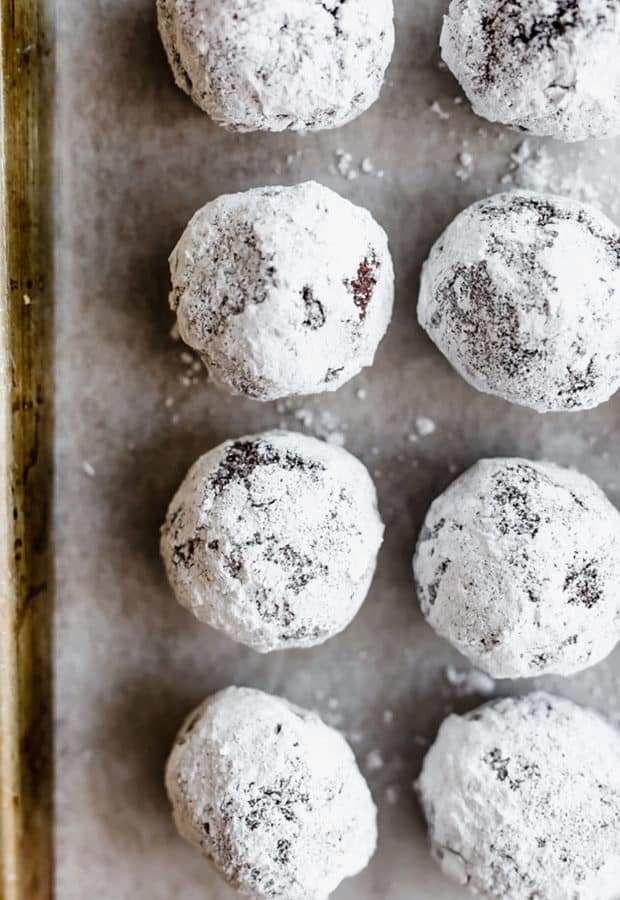 Grab two more bowls. Add granulated sugar to one bowl and confections sugar (powdered sugar) to the second bowl.
Roll the chocolate cookie dough into 2 tablespoon sized balls. Roll the dough ball into the granulated sugar first and finish by rolling it in the powdered sugar.
Place the sugar coated balls on a parchment or silicone lined baking sheet.
Bake.
Remove the cookies from the oven and let cool.
Refrain from eating every single cookie. (Easier said then done).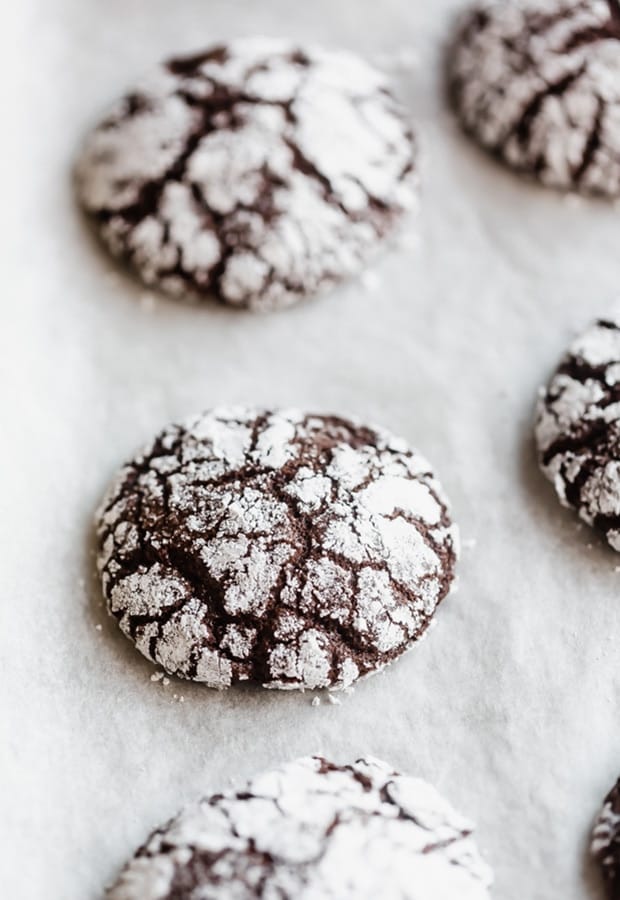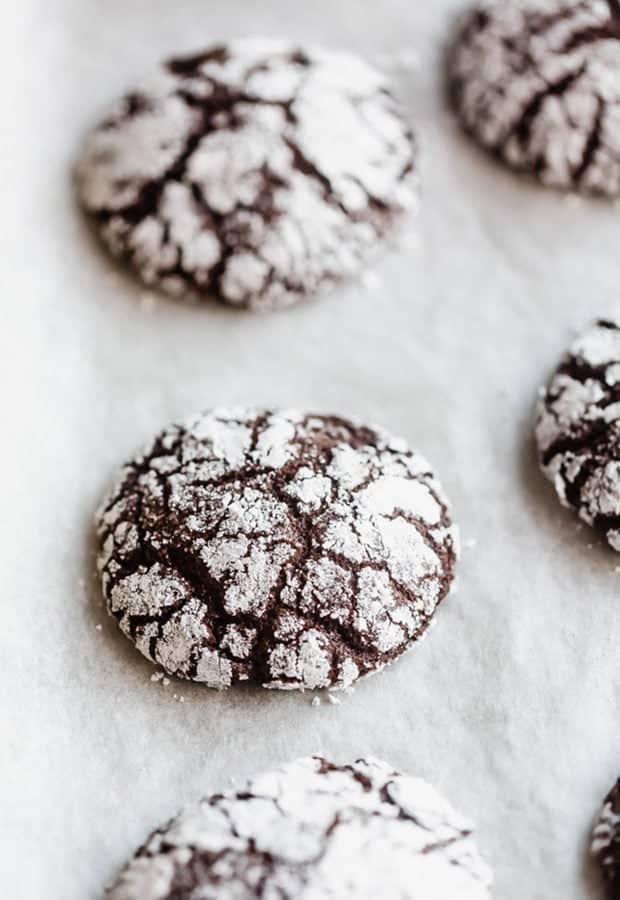 Pro Tip: you can freeze chocolate crinkle cookies! Simply store them in an airtight container or zip top bag and freeze for up to one month. These cookies will also stay fresh for 3 days stored at room temperature in an airtight container.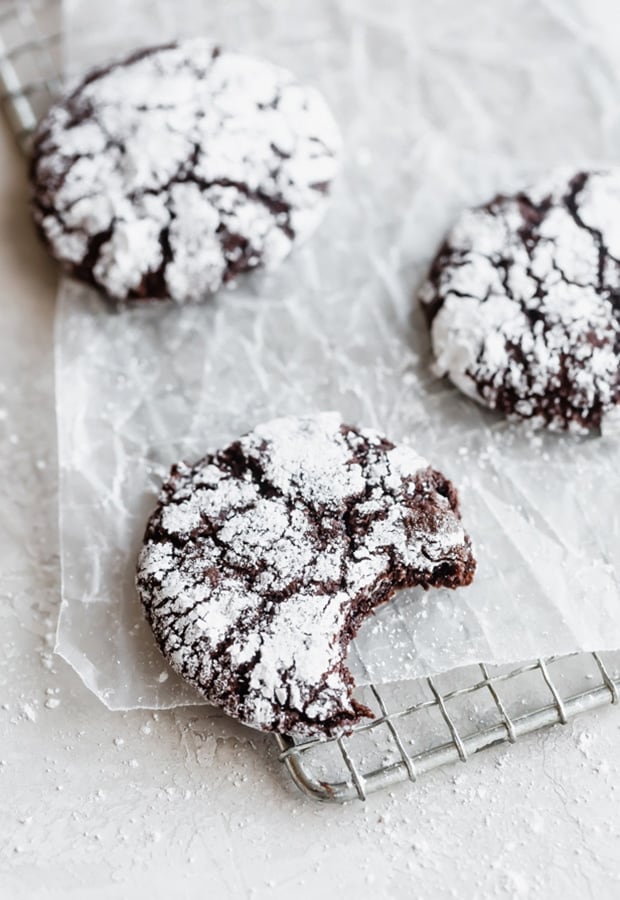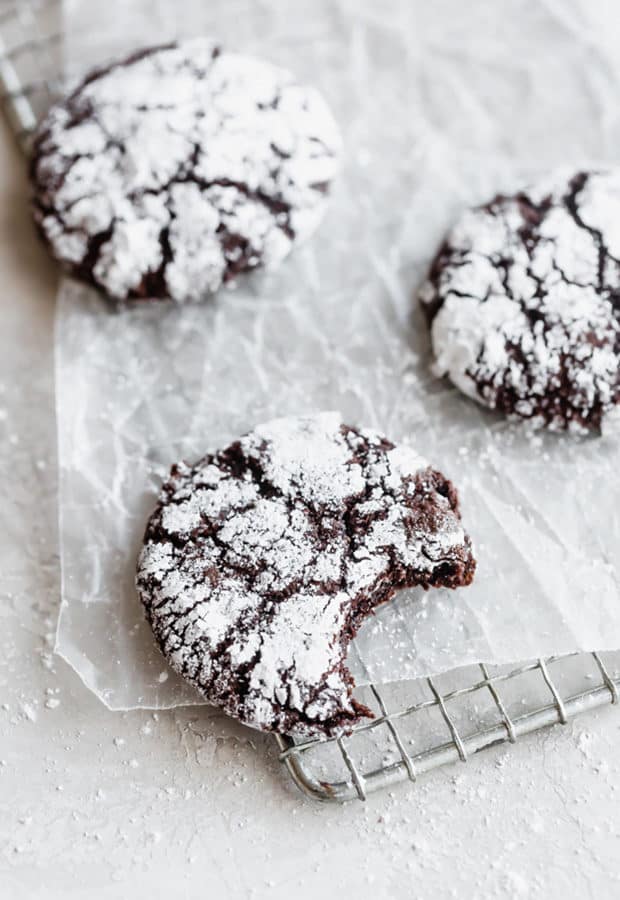 This chocolate crinkles recipe results in soft, fudgy, and perfectly textured cookies!
What are you waiting for? Get in the kitchen, it's time to bake!
---
Craving more?  SUBSCRIBE TO SALT & BAKER to get new recipes delivered straight to your inbox!
Chocolate Crinkle Cookies
Satisfy your chocolate cravings with this easy chocolate crinkles recipe. We use granulated sugar and confectioners sugar to create the signature crackly exterior.
Ingredients
1

cup

all purpose flour

1/2

cup

unsweetened natural cocoa powder

1

teaspoon

baking powder

1/4

teaspoon

baking soda

1/2

teaspoon

salt

1 1/2

cups

light brown sugar, packed

3

large

eggs

1

teaspoon

vanilla extract

4

oz

unsweetened chocolate, finely chopped

4

tablespoons

unsalted butter

1/3

cup

granulated sugar

1/3

cup

powdered sugar
Instructions
Preheat oven to 325. Line 2 baking sheets with parchment paper or a silicone baking mat. Set aside.

In a medium bowl, whisk the flour, cocoa, baking powder, baking soda, and salt.


In a large bowl whisk the brown sugar, eggs, and vanilla until smooth. This will only take about 1 minute.

In a small bowl add the finely chopped chocolate and butter. Microwave at half power stirring often, until melted. About 2-3 minutes.


Whisk the chocolate mixture into the egg mixture until combined. Fold the flour mixture into the chocolate and egg mixture until just combined and no flour streaks remain.


Place the granulated sugar and powdered sugar in two separate small bowls.


Roll the chocolate cookie dough into 2 T. size balls. Drop the balls into the granulated sugar and roll to coat, then roll the dough balls in the powdered sugar to coat. Place the sugar and powdered sugar covered balls on the baking sheet. Repeat until all of the cookie dough has been used.


Bake cookies 1 tray at a time for 12 minutes. Cookies will look raw between the cracks and appear undone, but that's normal.


Remove the cookies from the oven and let cool for 5 minutes on the baking sheet, then transfer to a wire rack to cool completely.

Notes
Store the cookies in an airtight container for up to 3 days. You can also freeze the cookies. Place them in an airtight container or a zip top bag and store in the freezer for 1 month. 
Recipe adapted from America's Test Kitchen.
Did you make this recipe?
snap a photo and tag @saltandbaker in your posts and stories so I can see what you're making!
Some of the links above are affiliate links, which pay me a small commission for my referral at no extra cost to you! Thank you for supporting my website!