Candied Pecans Recipe
This post may include affiliate links. As an Amazon Associate I earn from qualifying purchases.
Candied pecans don't need to be intimidating! I'm sharing all the tips and tricks for making this delicious and easy snack! This candied pecan recipe is the perfect combination of sweet and crunchy, with a hint of cinnamon! You won't be able to stop after eating just one!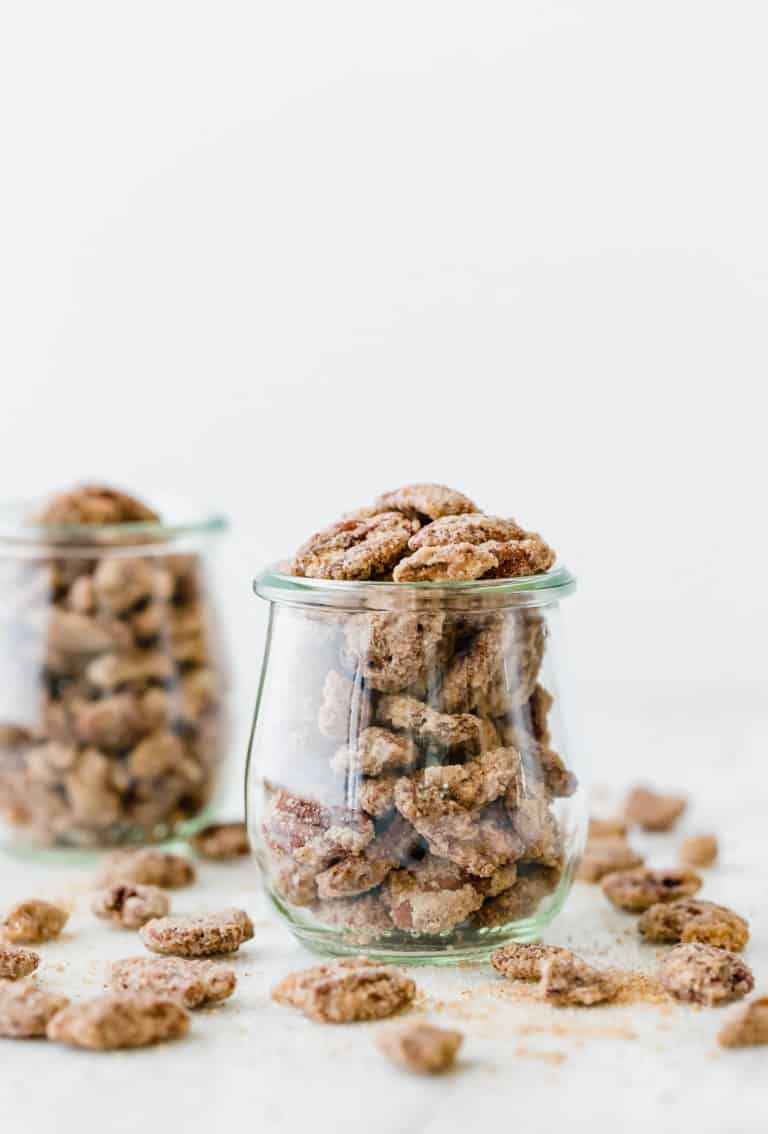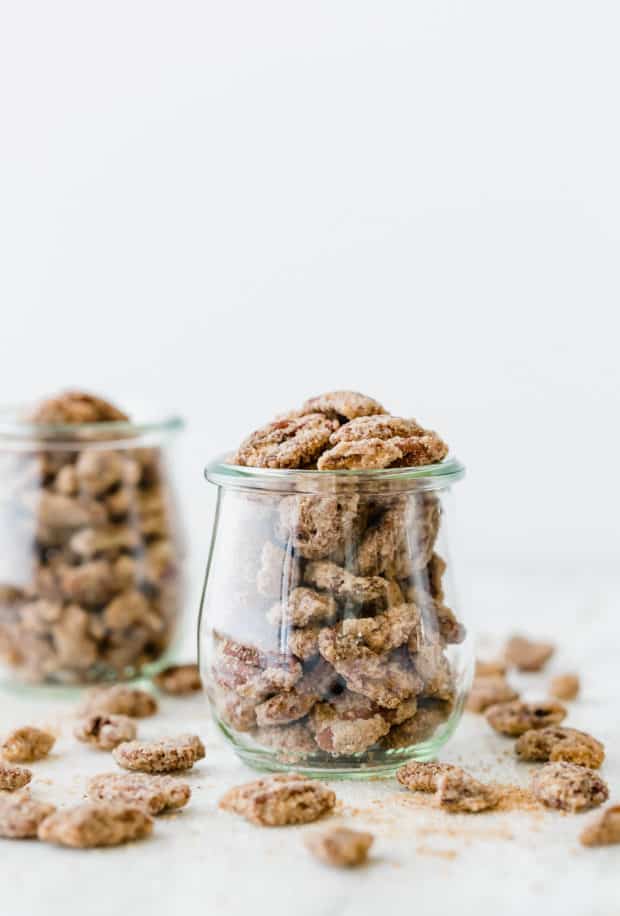 Once upon a time, I used to purchase candied pecans from a store.
Not anymore.
Making candied pecans is simple to do and saves you money. Yes. It SAVES you money! A store bought bag of 8 ounces of candied pecans cost me between $7-8 dollars. That's not cheap folks. Instead of purchasing sugared pecans pre-made, lets make our OWN!
How to make candied pecans
Candied pecans require very few ingredients. The first ingredient one might think of when they envision candied pecans is most likely sugar. Yes, sugar is a very important ingredient in this recipe, but in order to get that sugar to stick to the pecans we need an adhering agent. This is where the egg white comes in.
Take the pecans and toss them in the frothy egg white mixture. Once the pecans are evenly coated toss them in the cinnamon sugar mixture.
After the pecans are fully coated in the yummy sugar mixture transfer them to a baking sheet. Bake the pecans for 25-30 minutes. Let cool and then dig in!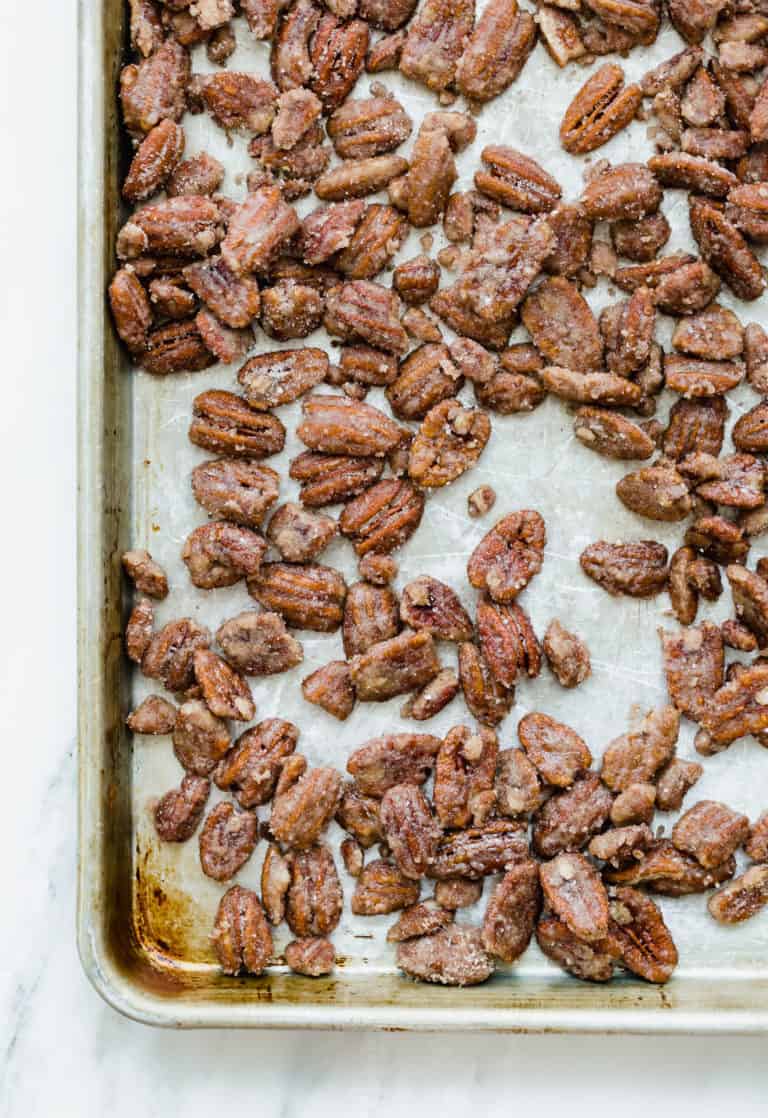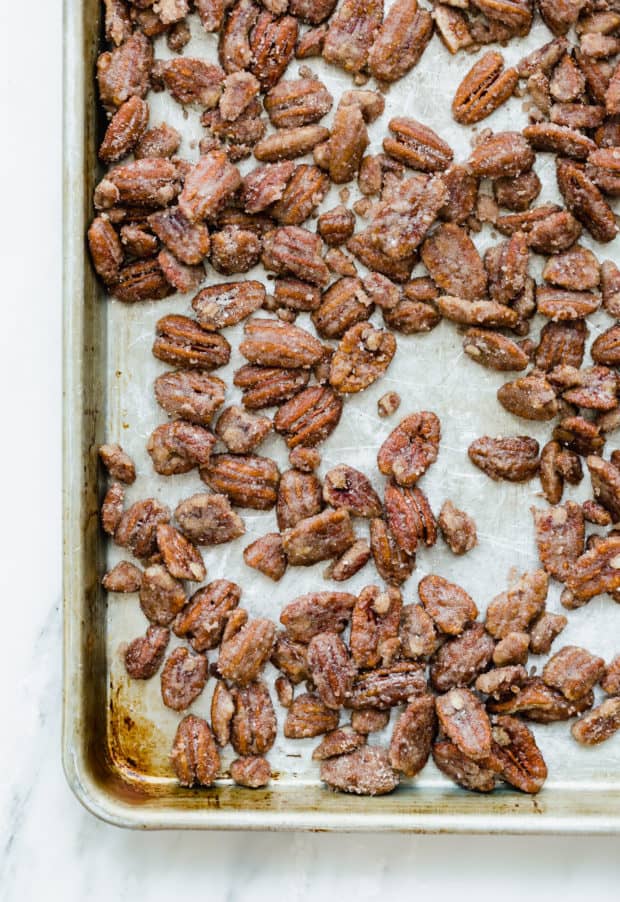 What can you eat with candied pecans?
Soooo many things! These cinnamon sugared pecans are the perfect grab-and-go snack for yourself and your kids. (My son devoured these, by the way).
These pecans pair perfectly with salad. Any salad for that matter, but I'm partial to having them on a spinach salad with a poppy seed or fruit flavored vinaigrette.
Cinnamon sugar pecans are delicious in a yogurt parfait, in oatmeal, or atop ice cream.
I dare say, you could be a generous and selfless person by gifting these sugared pecans to friends, neighbors, and family during the holiday season. Yes, I know, it's hard to part with this delicious snack; however, the recipients will be so grateful you shared! They will be coming to your home for more and begging you for the recipe!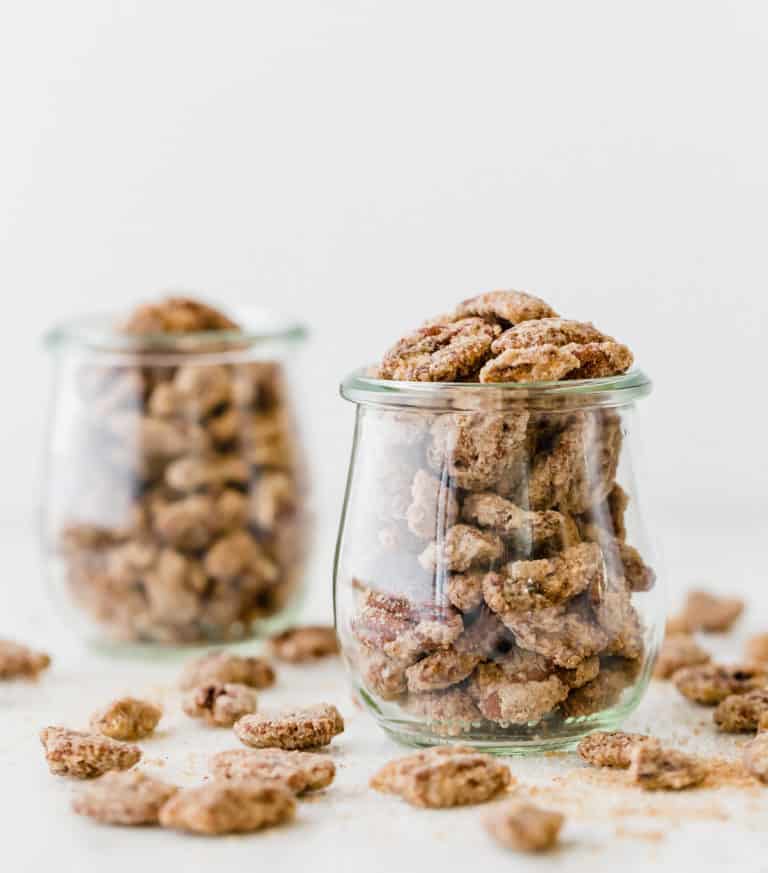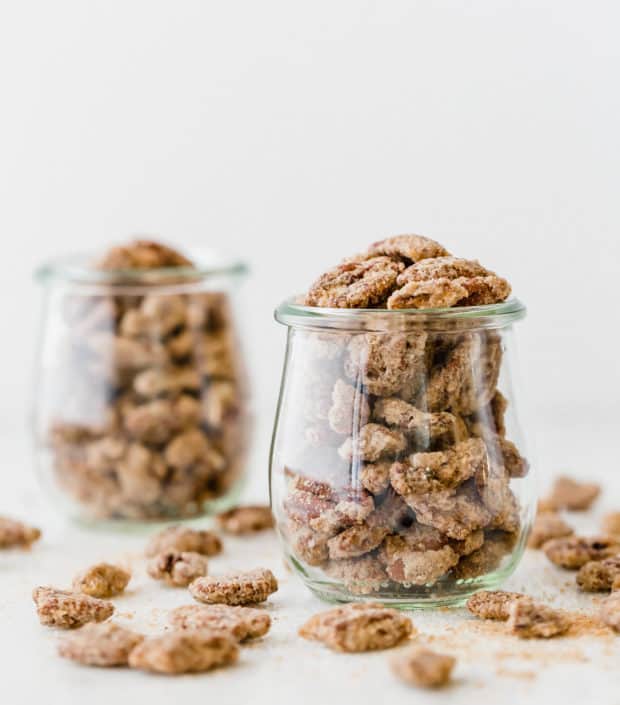 You're officially ready to get in the kitchen and whip up a batch of these yourself! Lets recap a few key points that set this candied pecans recipe apart from the rest.
Why you'll love this recipe
They taste DELICIOUS!
Great to have on hand for salads or a quick snack.
They're easy to make! 35 minutes from start to finish to be exact!
Your home will smell INCREDIBLE! Cinnamon sugar mixed with a nutty aroma… what more could you want?!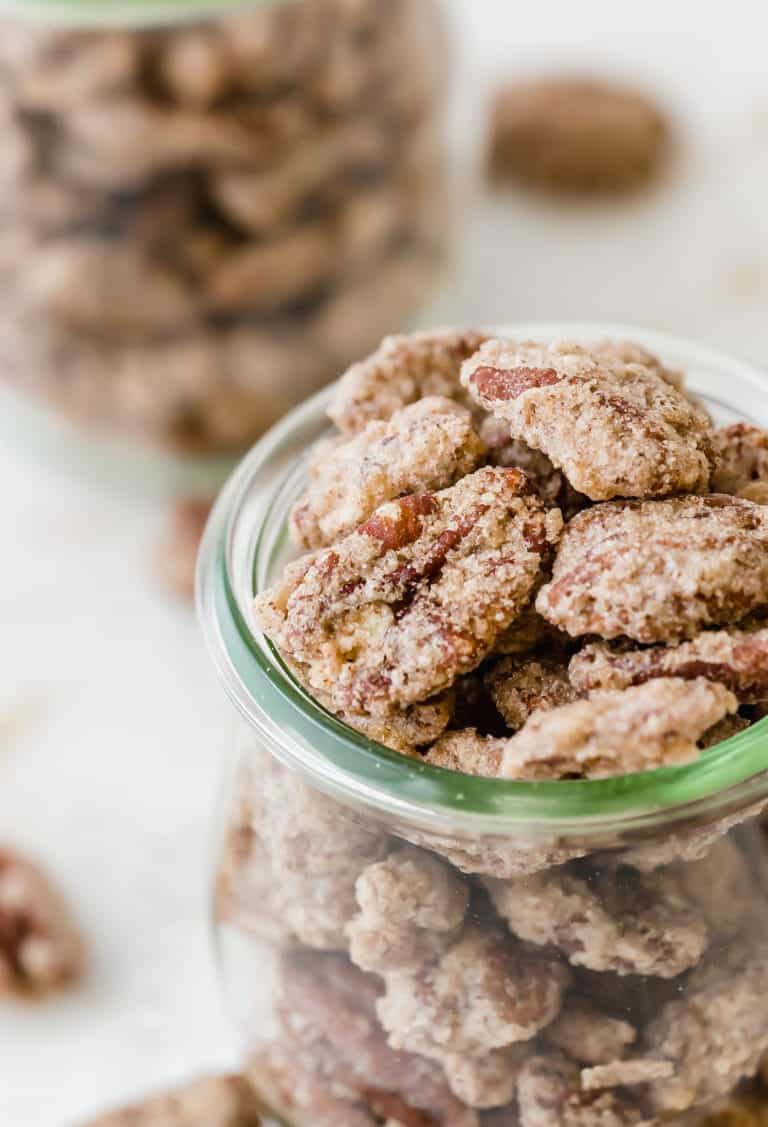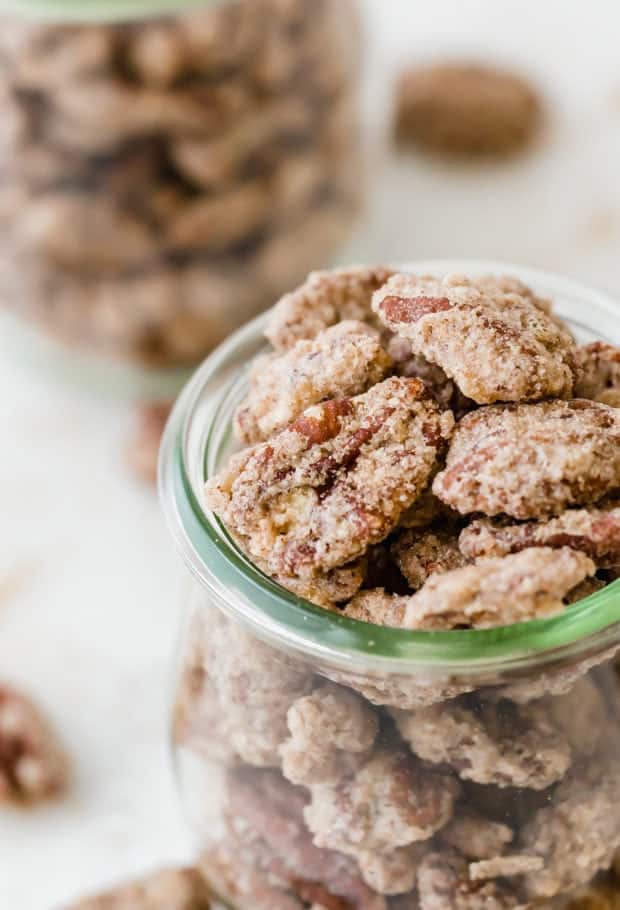 Looking for more delicious snack recipes? Check out these:
If you enjoy these recipes, I'd love for you to join thousands of others in the Salt & Baker community! You can do so by signing up below!
Candied Pecans
This Candied Pecans Recipe will become a well utilized recipe in your stockpile! These sugared pecans are delicious atop salads, yogurt, ice cream, and as a grab-and-go snack!
Ingredients
1

egg white

1

tablespoon

water

16

oz

pecan halves

1

cup

granulated sugar

1/2

teaspoon

kosher salt

1

teaspoon

ground cinnamon
Instructions
Preheat the oven to 300°F. Grease a baking sheet or line a baking sheet with parchment paper. Set aside.

In a medium size bowl, whip together the egg white and water until frothy.

In a second medium bowl combine the sugar, salt, and cinnamon. Mix to combine. Set aside.

Add the pecans to the egg white mixture. Stir to evenly coat the pecans.

Transfer the egg white coated pecans to the cinnamon sugar mixture and toss to coat until all of the pecans are evenly covered.

Spread the nuts on the prepared baking sheet.

Bake at 300°F for 25-30 minutes, stirring every 10 minutes.

Remove from the oven, let cool. Store in an airtight container.
Did you make this recipe?
snap a photo and tag @saltandbaker in your posts and stories so I can see what you're making!