Greek Chicken Gyros
This post may include affiliate links. As an Amazon Associate I earn from qualifying purchases.
This Greek Chicken Gyros recipe is made with chicken tenderloins marinated in a delicious chicken gyro marinade and is served with authentic tzatziki sauce and fresh vegetables.
Serve these authentic greek gyros with my Greek Pasta Salad or Creamy Cucumber Salad on the side!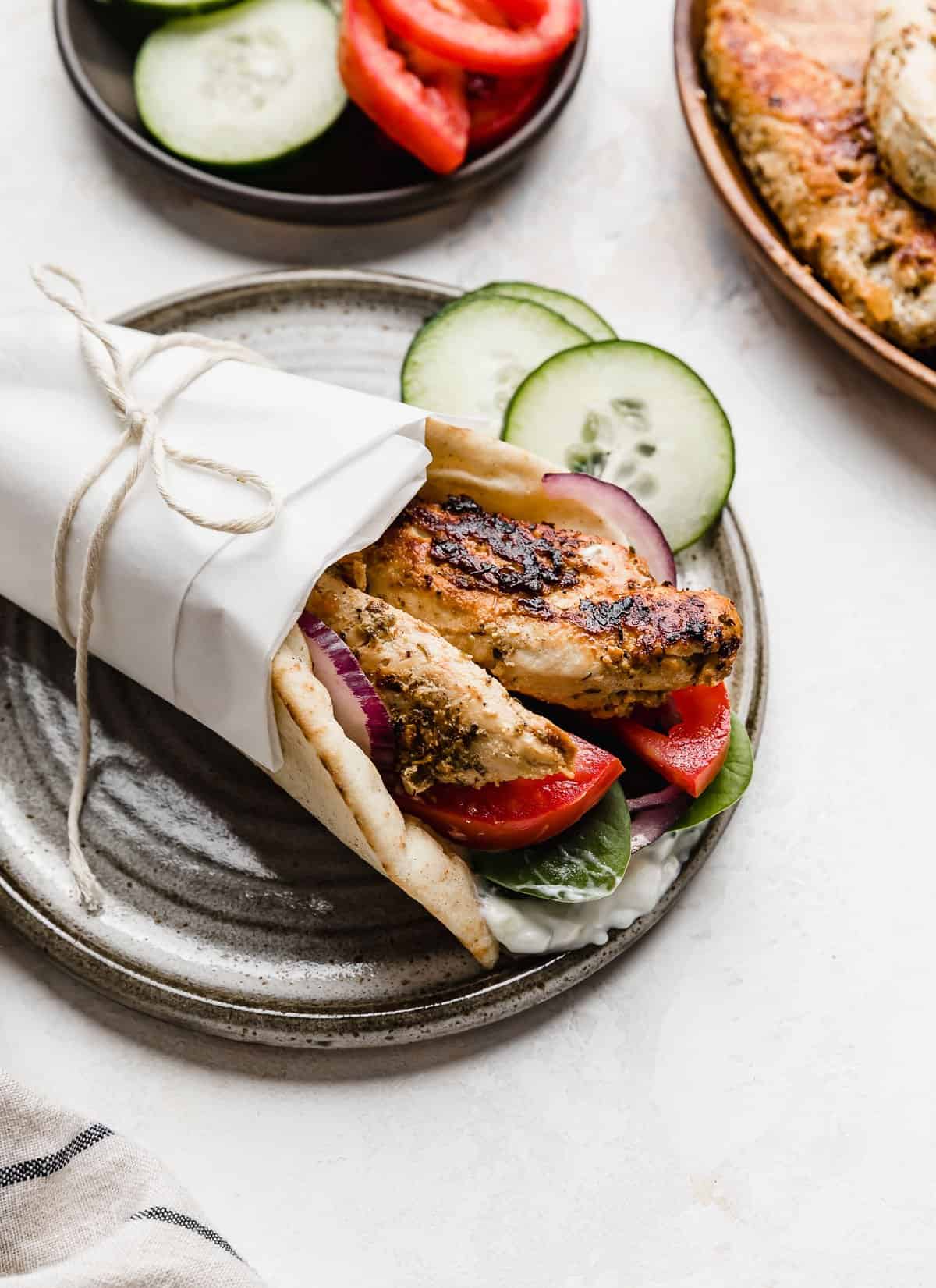 Why This Recipe Works
Greek style gyro. These chicken gyros are so delicious and bursting with Greek flavor thanks to the Greek marinade. The tzatziki sauce with cucumber and yogurt + the fresh vegetables is the perfect combination!
Great recipe for large or small groups. This is such an easy recipe to make lots of if you need it for a bigger dinner group! Or you can make the recipe as is and feed a family of 6 (1 gyro per person) or 3 adults (2 gyros per person). It still makes enough for a small group, but doubling it is super easy! You can also make this chicken gyro marinade and freeze it for meal prep!
Chicken tenders means quicker prep time. Using chicken tenders means the chicken doesn't have to cook as long and you don't even have to cut it to use it! Just place them on the pita bread and they fit perfectly!
Best vegetable and chicken pitas! I'm always looking for a new way to incorporate good protein and vegetables into my meals for my kids. This is a great recipe for that because the chicken is marinated in fresh ingredients and the pitas are stuffed with freshly chopped or sliced vegetables. It's also a fun, colorful meal for kids!
Ingredient Notes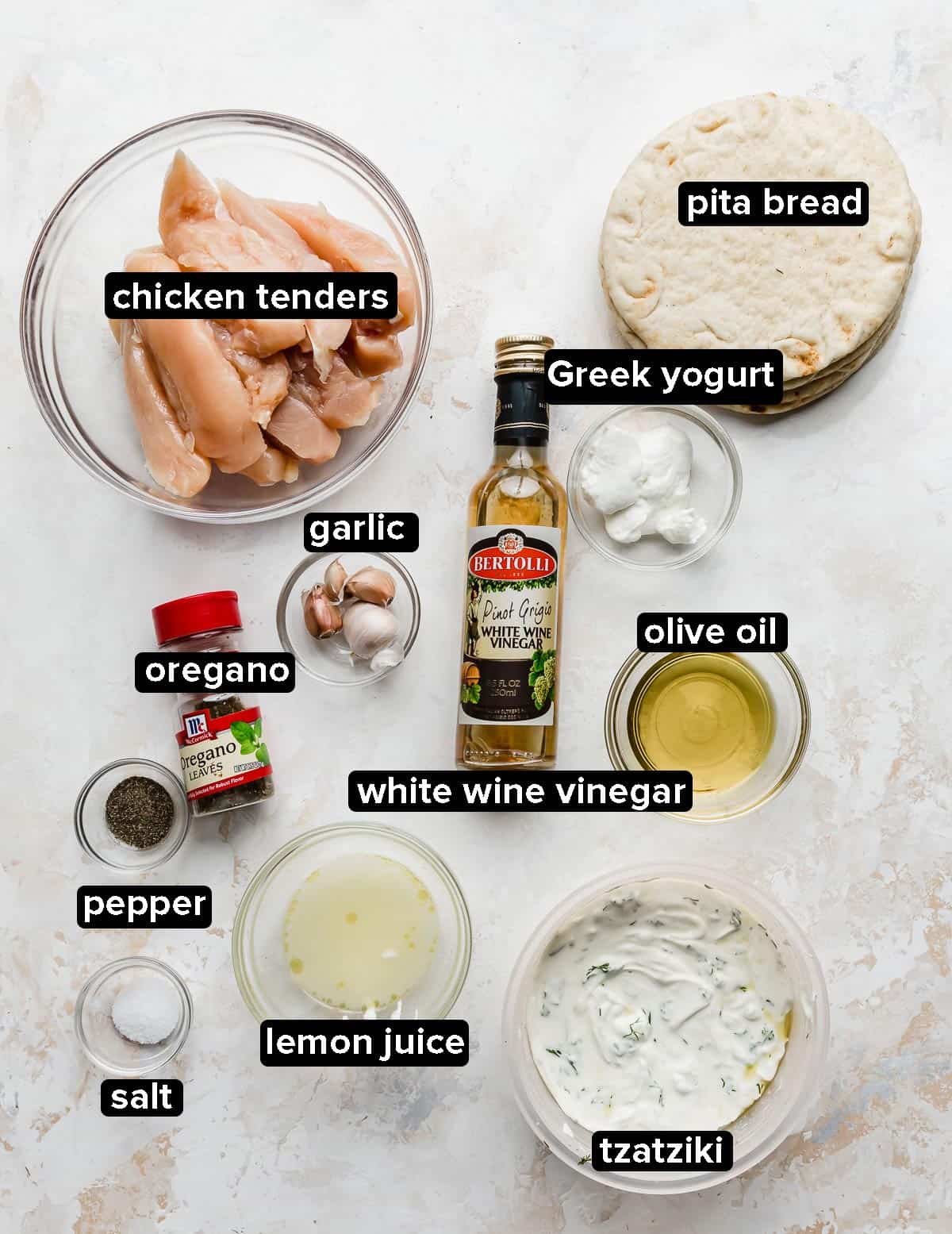 Chicken Tenderloins: You can also use chicken tenders if you want. The chicken tenderloins are easier to work with than chicken breasts for this recipe because you don't have to cut them and they fit really well in the pita bread! 
White Wine Vinegar: When I think of Greek salad dressings, they have the olive oil base and then a sharp vinegar in there too. The white wine vinegar provides that in this Greek chicken marinade. If you don't have white wine vinegar than you can substitute distilled white vinegar or apple cider vinegar.
Lemon Juice: The lemon juice provides a fresh element and flavor to the marinade. The acid in the lemon juice also helps to tenderize the chicken! 
Extra Virgin Olive Oil: This has a sharper olive oil flavor than regular olive oil. I usually opt for extra virgin olive oil when I'm using it for flavor (like in a salad dressing, pasta sauce, etc.) rather than using it to cook with. For example, I'd use regular olive oil when cooking the chicken in this recipe and extra virgin for the marinade. 
Plain Greek Yogurt: Did you know that Greek yogurt is in Tzatziki sauce? So by using it in the marinade, we are bringing in some of that flavor to enhance it throughout the Greek chicken gyros. The yogurt also helps to tenderize the chicken and infuses the marinade throughout the meat. 
Homemade Tzatziki Sauce:I'm all about an excuse to make this sauce! It's so good and fresh. It's a must when eating gyros! 
Pita Breads: Warm the pitas on a skillet by heating both sides or in the oven at 250°F on a baking sheet for 10 minutes. Having them warm will reduce the risk of them breaking while you are eating. 
Toppings: Add in some fresh toppings like tomatoes, red onion, cucumbers, spinach, lettuce, kalamata olives, etc. 
Step-by-Step Instructions
Make the Chicken gyro marinade. Add all the marinade ingredients into a Ziplock bag. Add the chicken to the bag and massage to mix. Refrigerate for at least 2 hours, if possible 12 hours, but no longer than 24 hours.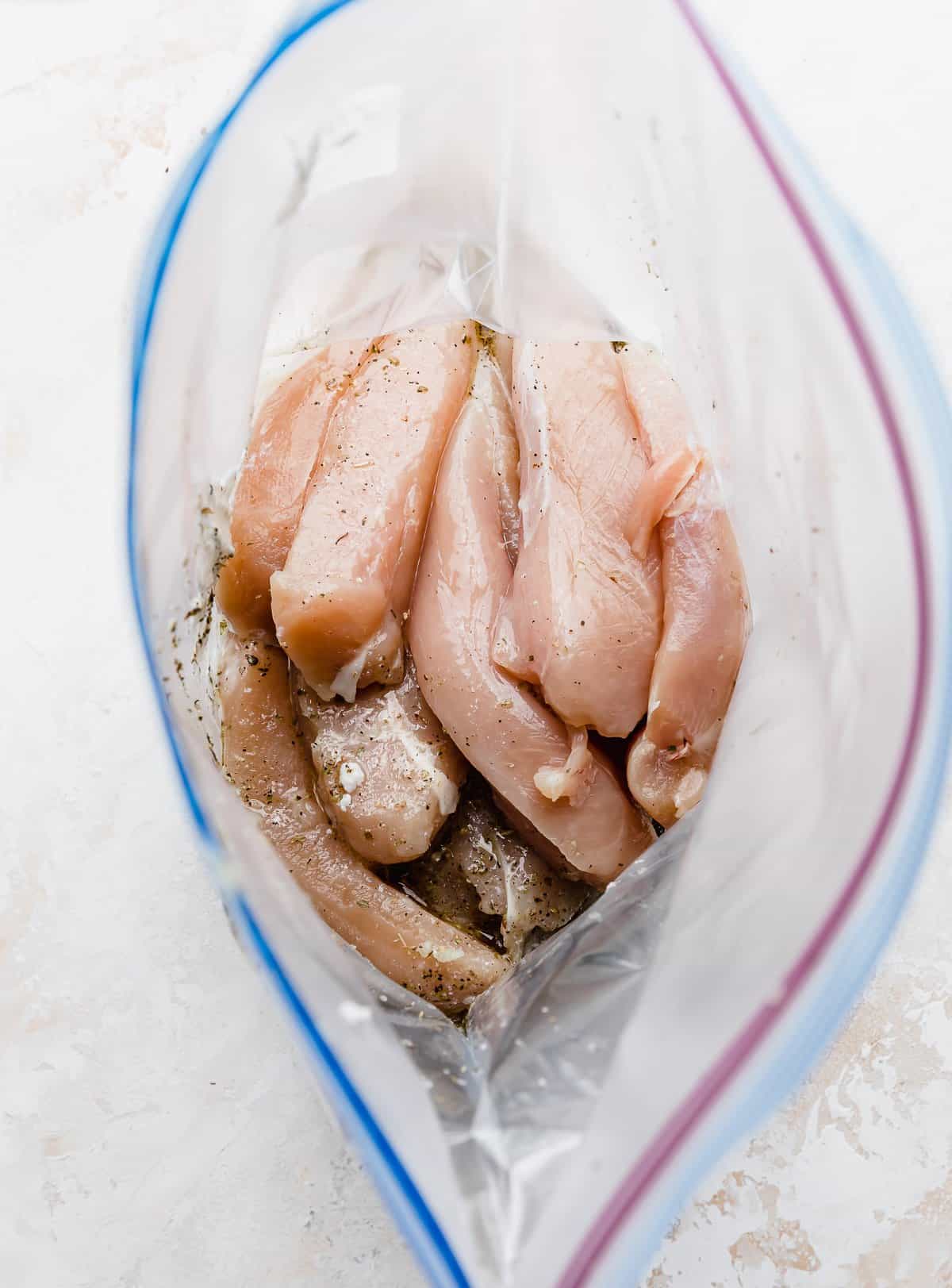 Cook the chicken. Remove the chicken from the marinade and cook on a grill or in a skillet over medium heat. Add two tablespoons of olive oil before adding the chicken. Cook 5-6 minutes per side or until Internal temperature reaches 160-165°F.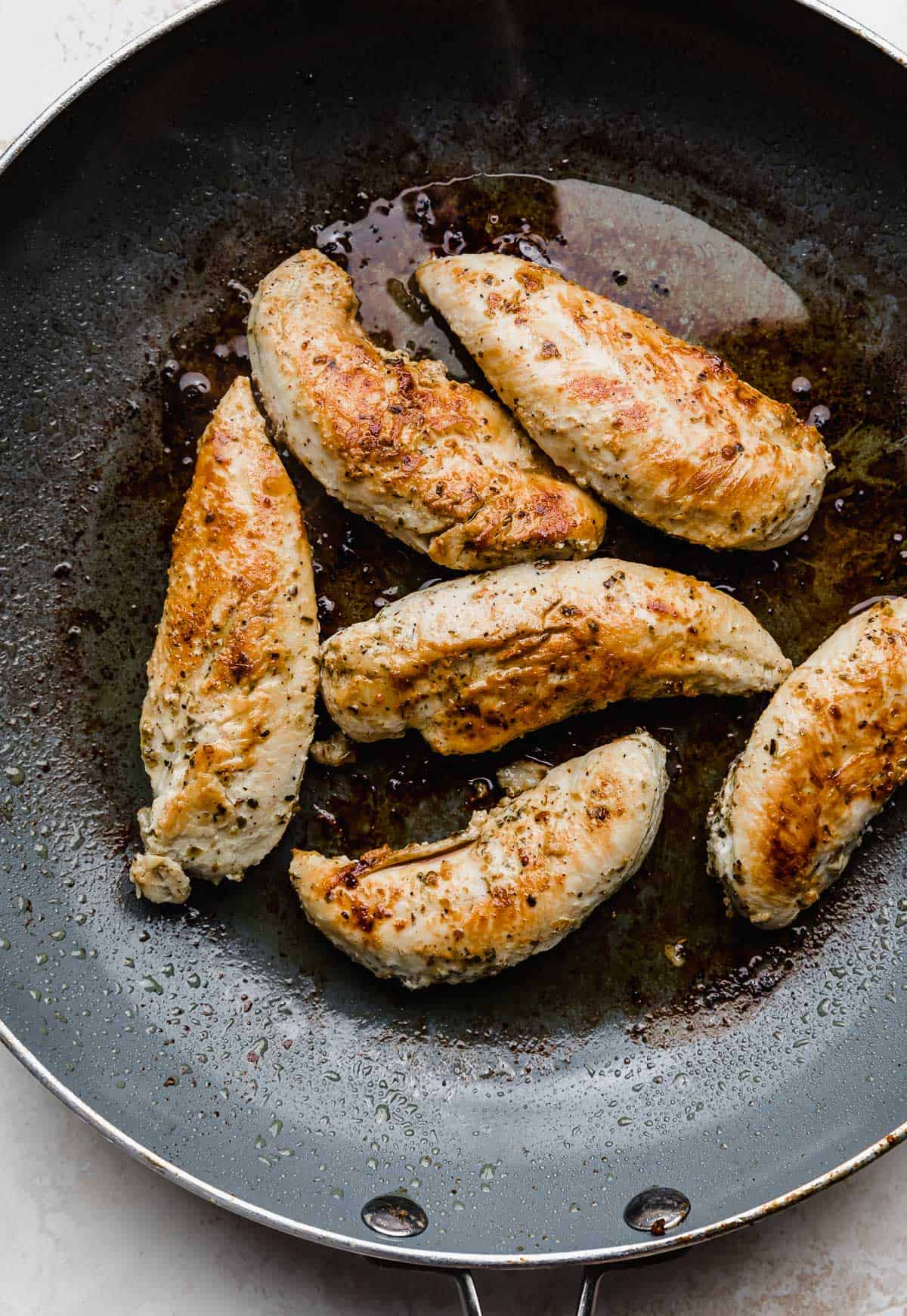 Assemble the Greek chicken gyros. Slather the pita bread with tzatziki sauce, fresh spinach, topped with chicken, tomatoes, onions and olives if desired. Fold the pit over or roll it up. Serve immediately.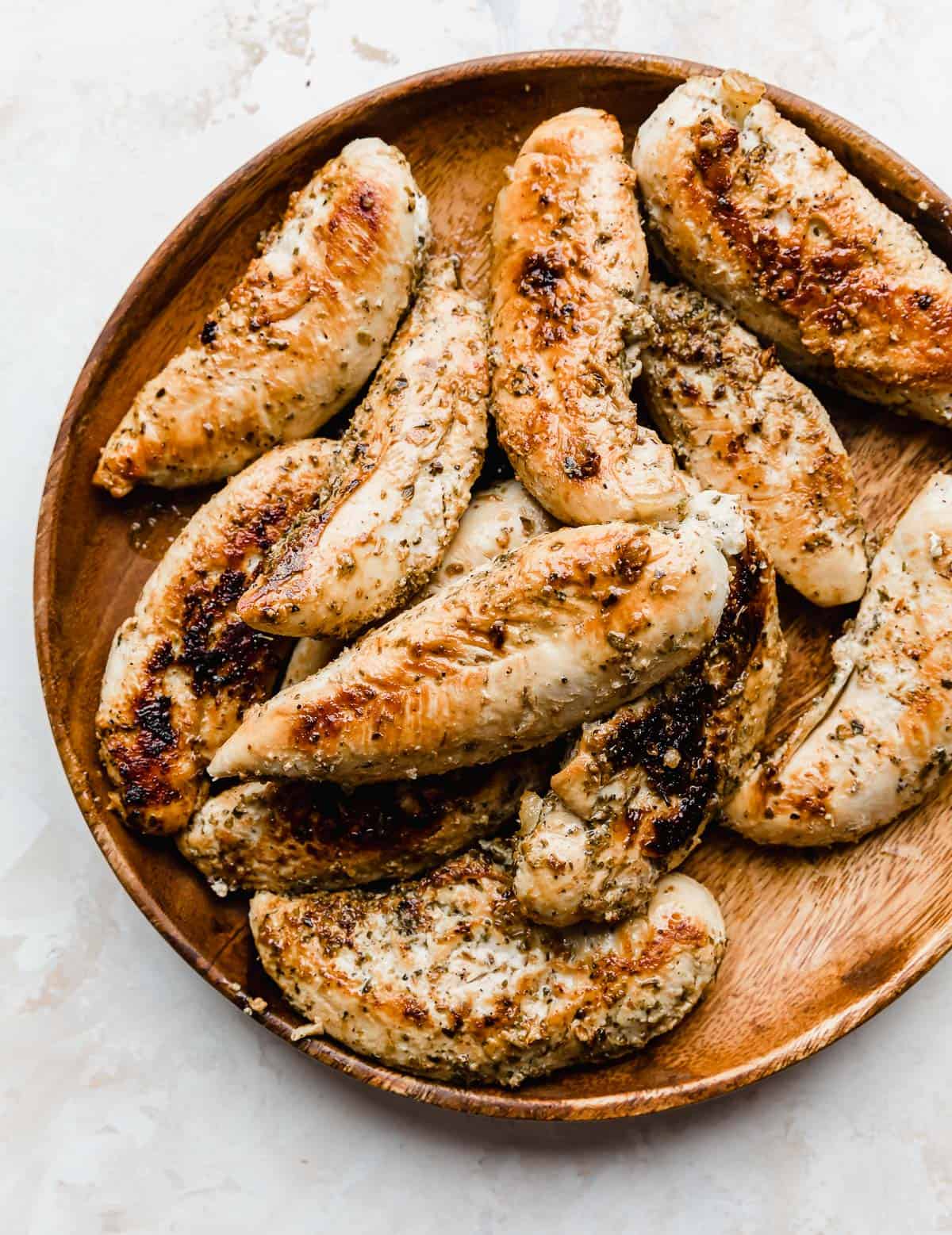 Recipe Tips
Feel free to use tortillas instead of pita breads to make it into a chicken tzatziki wrap! 
You can cook the chicken in a skillet, on the grill or in the air fryer!
Cut the chicken into pieces and cook or grill for chicken gyro skewers! Simply cut the tomatoes and cucumbers into chunks instead of slices and put them on a skewer with some kalamata olives and sprinkle with feta cheese! Make sure to have the sauce close by for dipping! 
Cut the cooked chicken and serve it on top of lettuce for a delicious Greek chicken salad! Add the fresh veggies to the salad plus some feta cheese. Use the tzatziki sauce as the salad dressing. So yummy!
Make Ahead, Storing, and Freezing
Store any leftover cooked chicken in the fridge in an airtight container for 3-4 days. Warm in the microwave with a squeeze of lemon juice and drizzle of olive oil to maintain the moisture in the chicken. Top with fresh vegetables and more tzatziki sauce in the pita bread.
You can make this authentic Greek chicken gyros recipe ahead of time by making the marinade and marinating the chicken for up to 24 hours. Do not marinade for longer than that. You'll want to cook the chicken. Raw chicken should only be stored for so long before cooking it.
You can marinate and freeze the chicken. Remove from the freezer and let thaw in the fridge. Follow the recipe as instructed. 
I recommend making the tzatziki sauce ahead of time too! The flavors will develop and get more delicious the longer it can sit in the fridge.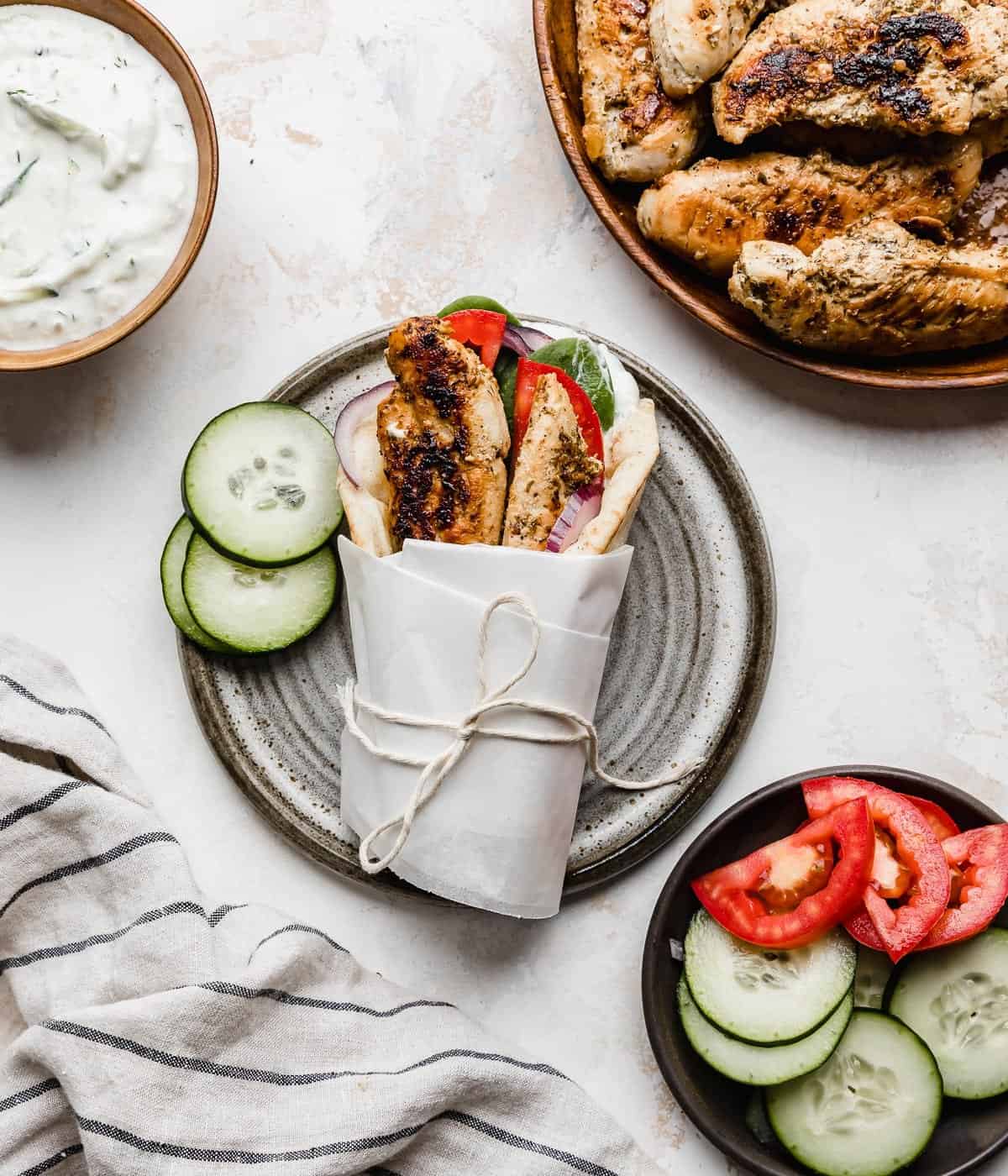 Recipe FAQs
What do I use as bread for gyros? 
Gyros and pita bread is the most traditional combination. However, you are welcome to use this recipe with tortillas to make a Greek chicken wrap. If you use tortillas, I recommend flour and not corn because they will hold up better. 
Can you freeze tzatziki sauce?
You can, but note that there is dairy in the recipe. Dairy that has been frozen and thawed will separate. So keep that in mind if you are wanting to freeze it. If you do choose to freeze tzatziki sauce, store it in an airtight container or jar in the freezer. 
Can I use chicken breasts?
Yes you can! I like using the chicken tenderloins because I don't have to worry about cutting them into strips. They fit perfectly in the pitas! Plus, they cook faster than full chicken breasts. But you are definitely welcome to use chicken breasts. I would either cut them before marinating the chicken or after cooking them.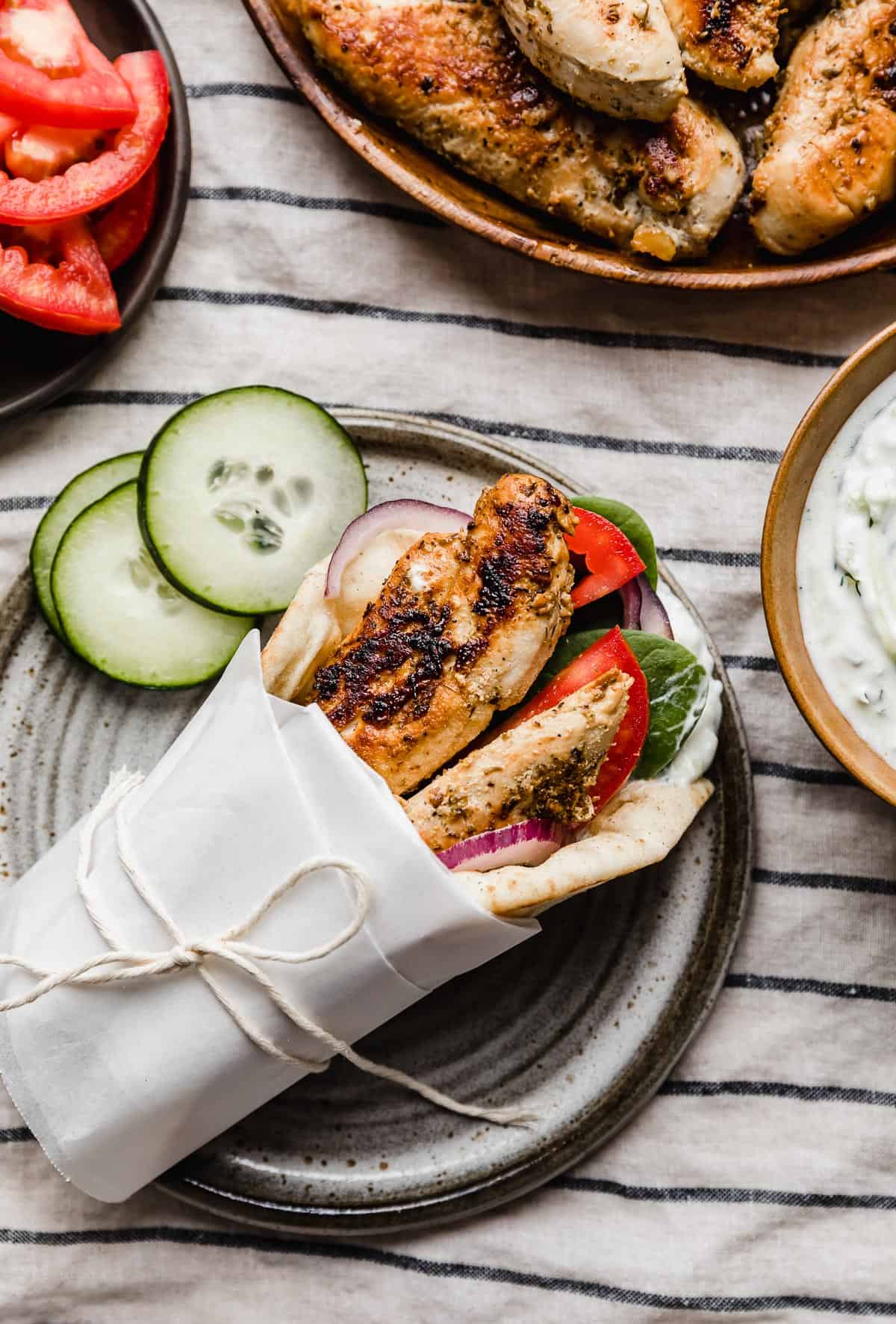 More Greek Recipes
Did you make this recipe? I'd love to hear about it! Click here to leave a rating and review, or scroll below the recipe card and do so there. 
Stay up-to-date by following us on Instagram, TikTok, Facebook, and Pinterest.
Greek Chicken Gyros
Chicken tenderloins are marinated in a flavorful chicken gyro marinade. This flavorful chicken combined with homemade tzatziki makes the absolute best gyros! A really quick and healthy meal that can be prepped ahead of time.
Ingredients
1.75

pounds

chicken tenderloins

-

or up to 2 pounds of chicken tenders
Chicken Gyro Marinade
1

tablespoon

garlic

-

minced

1

tablespoon

white wine vinegar

-

can sub distilled white vinegar or apple cider vinegar

3

tablespoon

fresh lemon juice

2

tablespoon

extra virgin olive oil

3

tablespoons

plain Greek yogurt

2

tablespoons

dried oregano

1

teaspoon

salt

1/2

teaspoon

black pepper

2

tablespoons

olive oil

-

for cooking the chicken
For serving
1

batch

homemade tzatziki sauce

6

pita breads

-

warmed (can do this on a skillet by heating both sides or in the oven at 250°F on a baking sheet for 10 minutes).

3

tomatoes

-

sliced

1/2

red onion

-

thinly sliced

baby spinach

-

or lettuce, optional
Instructions
Place the marinade ingredients in a ziplock bag. Add the chicken to the bag and massage to mix. Place the bag in the fridge for at least 2 hours, if possible 12 hours but no longer than 24 hours. 

When ready to cook, remove the chicken from the marinade. Can cook on a grill or a skillet. Cook for 5-6 minutes per side or until cooked through. I cooked mine on a skillet set over medium heat (add a tablespoon or two of olive oil to prevent the chicken from sticking). Cook 5-6 minutes per side or until Internal temperature reaches 160-165 °F. 

Assemble the gyros by filling the pita bread with a generous slather of tzatziki sauce, fresh spinach, topped with chicken, tomatoes, onions. Fold the pit over or roll it up. Serve immediately. 
Notes
Make the tzatziki ahead of time as it needs to sit in the fridge to enhance the flavors.
Freeze the chicken + marinade for an easy meal prep. 
See recipe tips for delicious variations! 
This recipe does not include nutritional information for the tzatziki sauce. We use a third party nutrition calculator and the nutritional information offered is a suggestion and not a guarantee. 
Did you make this recipe?
Leave a star rating and review on the blog post letting me know how you liked this recipe! Take a picture and tag @saltandbaker on Instagram and Facebook so I can see what you're making!