Chickpea Gyros
This post may include affiliate links. As an Amazon Associate I earn from qualifying purchases.
If you are looking for a delicious, vegetarian-friendly option for gyros night, look no further than this 15-minute Best Chickpea Gyros Recipe! This simple recipe will make for easy meal prep that you can customize to your tastes — with a delicious helping of Homemade Tzatziki Sauce, too, of course!
I've been fascinated by the idea of Meatless Monday and love the opportunity to make a meatless meal that is healthier by creating a vegetarian version of something my family already loves. This vegetarian chickpea gyros recipe is a definite winner for that. It's easy, it's super flavorful, and it's so quick to make! That's what I call a win-win-win. 😏 While I love having a vegetarian option, I also love meat! Check out these amazing Lamb Gyros and Chicken Gyros that taste better than any Greek restaurant I've been to!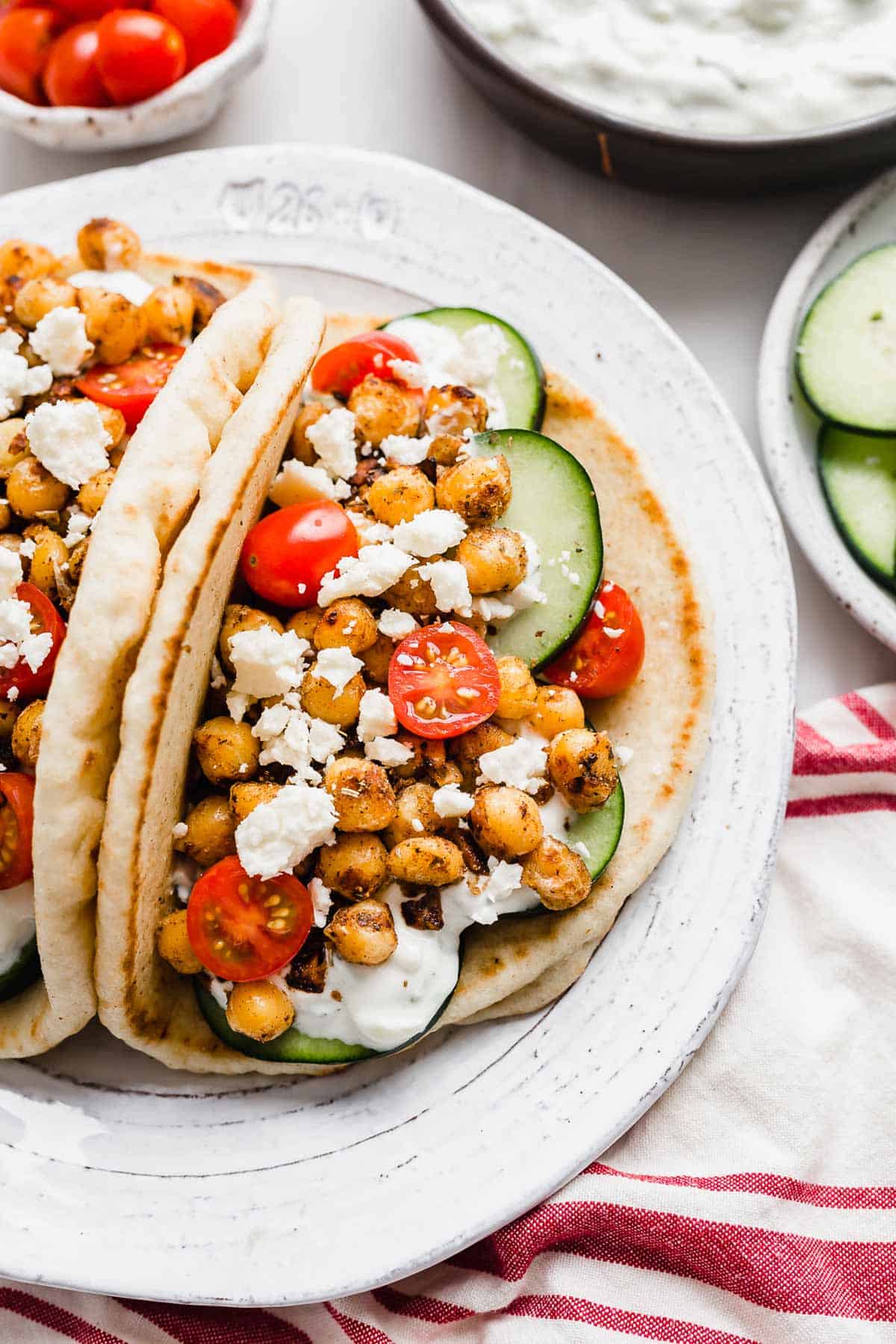 Why This Recipe Works
Flavorful vegetarian gyros. The combination of savory chickpeas, juicy tomatoes, crisp cucumber, creamy Tzatziki, and a traditional Greek pita pocket will tantalize your taste buds with the perfect combination of flavors.
Versatility with a variety of toppings. Customize this meal by adding your favorite gyro toppings, such as feta cheese, sliced onions, olives, or lettuce. You can also adjust the flavors of the chickpeas and the Tzatziki sauce according to your own personal preferences.
Easy chickpea gyros. None of the components in this dish are particularly complicated to prepare, making it perfect for busy weeknights. You can make the chickpea mixture in advance and then just assemble the gyros next day or when you're ready to eat.
Ingredient Notes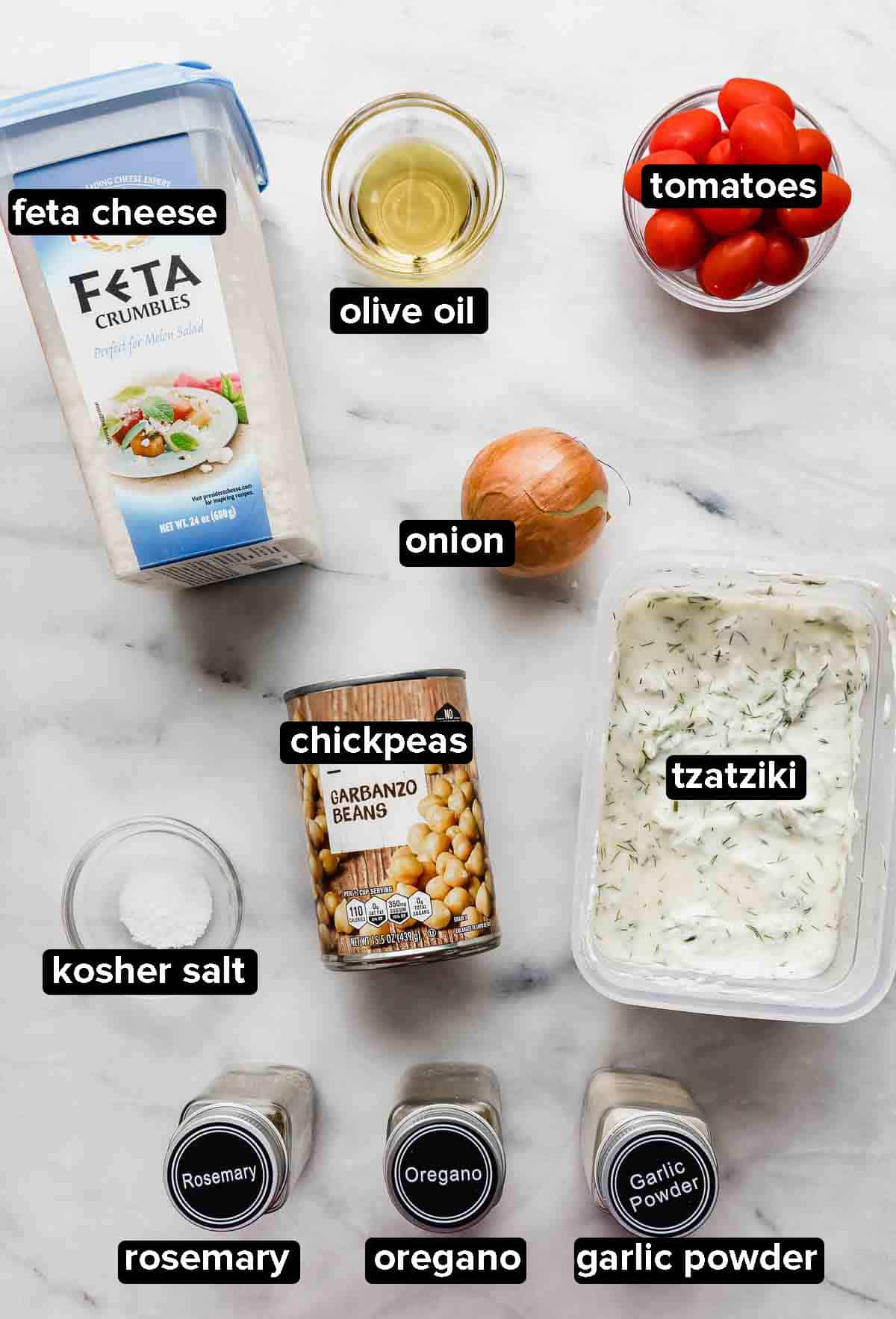 Chickpeas: This recipe uses a can of chickpeas, not dry chickpeas (AKA garbanzo beans). Fully drain and pat dry the chickpeas. If you want to go the extra mile, remove the outer layer of the chickpeas by gently rolling the chickpeas around on the paper towel until the little shells fall off.
Spices: The combination of oregano, rosemary and garlic provide the perfect depth of flavor for these roasted chickpea gyros.
Gyros Toppings: We love enjoying our chickpea gyros with some crumbled feta cheese, grape tomatoes or cherry tomatoes, freshly chopped cucumbers, and kalamata olives!
Tzatziki Sauce: This tzatziki sauce is amazing! You'll want to make it again and again for dips or spreads.
Step-by-Step Instructions
Prepare the chickpeas. Drain chickpeas and place on a large paper towel or clean kitchen towel. Pat dry as thoroughly as possible.
Cook the chickpeas and onions. Heat 2 tablespoons olive oil in a large skillet over medium-high heat. Once sizzling, add the drained and dried chickpeas and the diced onion. Season with salt and black pepper and cook for 5-8 minutes, stirring frequently while cooking chickpeas to reduce burning.
Add the spices. Reduce to low heat and add 1 tsp dried oregano, 1/2 tsp dried rosemary, and 1/4 tsp garlic powder. Mix to coat the chickpeas. Cook until you have crispy chickpeas but not burned.
Serve! Serve the veggie gyros on warm pita (Greek flatbread) with fresh vegetables like fresh cucumbers, tomatoes, and lettuce, as well as feta cheese and homemade tzatziki sauce. Enjoy!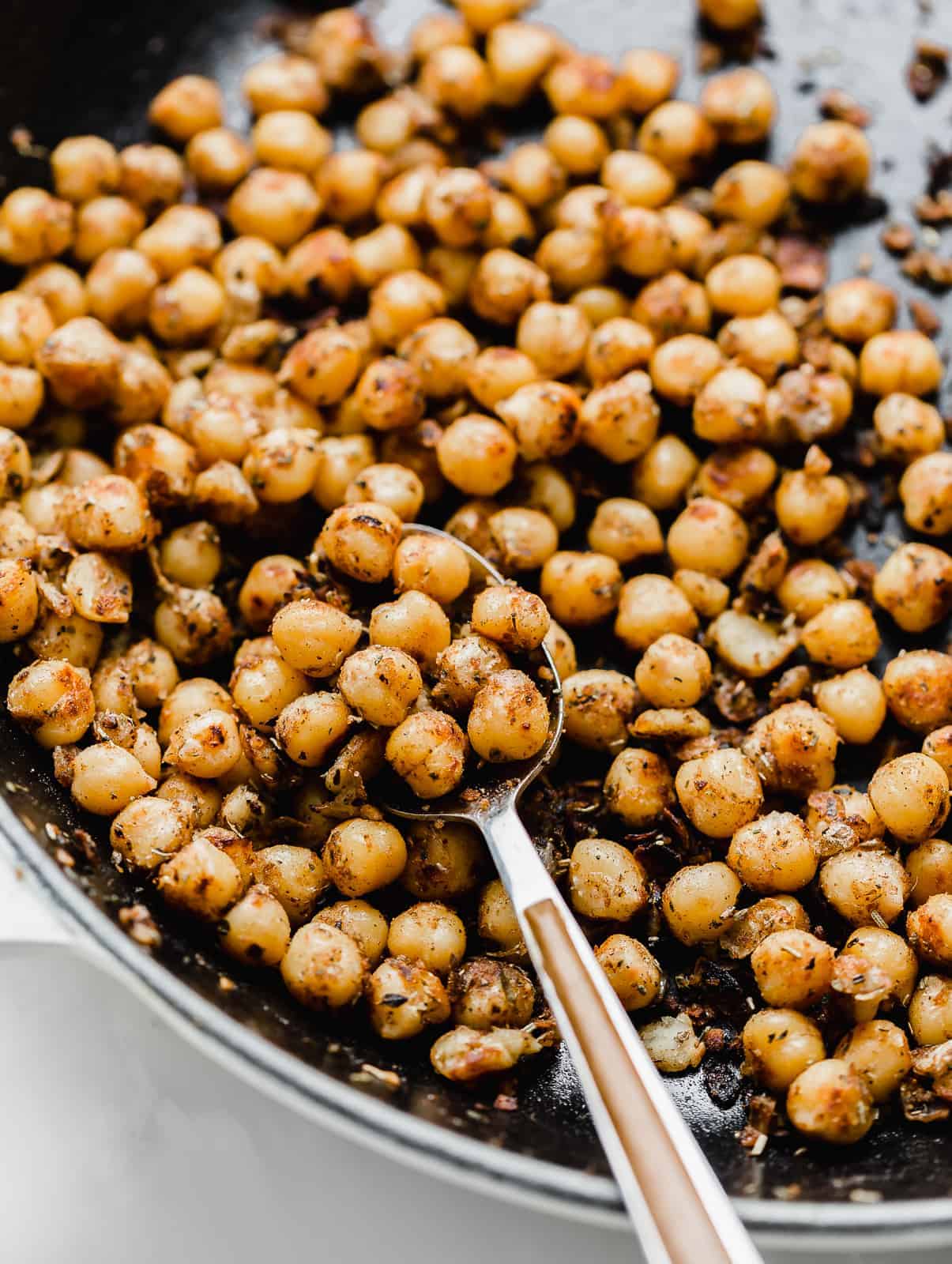 Recipe Tips
If you prefer raw onions to cooked onions, you can leave out the diced onion when cooking the chickpeas and add raw onions for topping the vegetarian gyros. If you want uncooked onions, I think red onion would be the best!
If you're looking for a gluten-free option or don't have any flatbread around, you can forgo the flatbread and do chickpea gyro bowls with cooked barley topped with cucumbers, tomatoes, and a greek yogurt tzatziki sauce.
Toast your pita bread until lightly browned to give it a nice crisp on the outside and a soft center. Use whole wheat pitas for a healthier veggie gyro option.
Make Ahead, Storing, and Freezing
Prepare all sliced veggies and make the tzatziki ahead of time for easier meal prep the day of.
Place cooked chickpeas in an airtight container and store in the refrigerator for 3-5 days.
The only thing I would freeze from this recipe is the chickpea mixture. Let cool completely then store in a freezer-safe bag for up to 3 months. Remove and let thaw, then warm and serve with fresh tzatziki sauce and gyros toppings.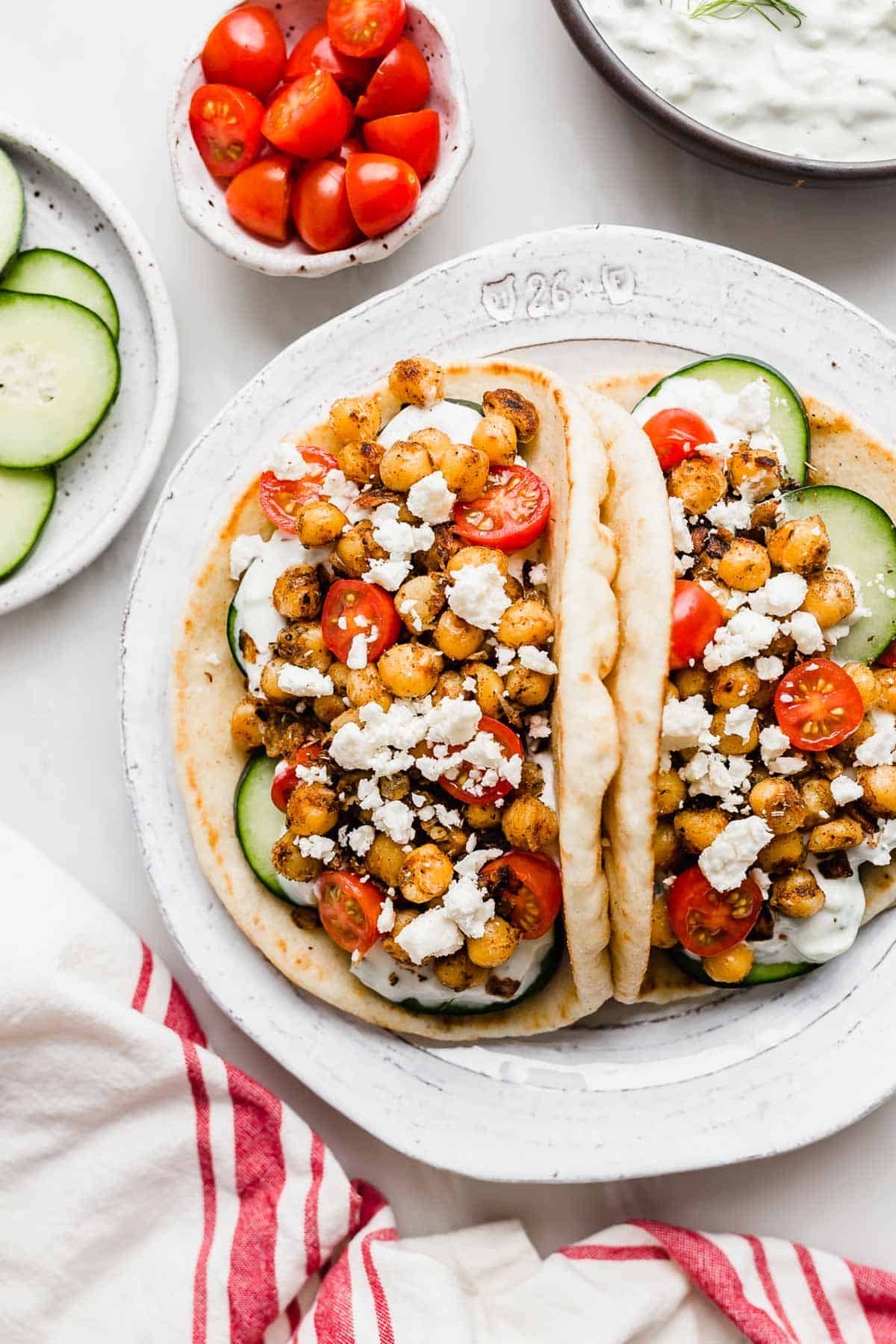 Recipe FAQs
What are gyros?
If you don't know what traditional gyro meat is, I'm sure you've seen it before. It's a big cylinder of meat that's rotating on a vertical rotisserie. You'll see people use a big knife and shave some of that meat off for gyros sandwiches and wraps. I'm not really sure what's in the meat, and part of me probably doesn't want to know, 😂 — which is why we are sticking to chickpeas! Chickpeas are a clean protein option that are also high in fiber and essential vitamins and minerals.
Are chickpeas good for you? 
Yes! Chickpeas are legumes, and legumes are a great, clean source of protein. They are also high in fiber and vitamin B.
How do you make homemade tzatziki sauce? 
That's a great question! I have a separate post on how to make the best tzatziki sauce. 
How do you pronounce gyros? 
Don't worry, I had to look this up. It's pronounced, yee-roh. And, another fun fact: gyros is the singular and gyri (yee-ree) is the plural! I know, I know.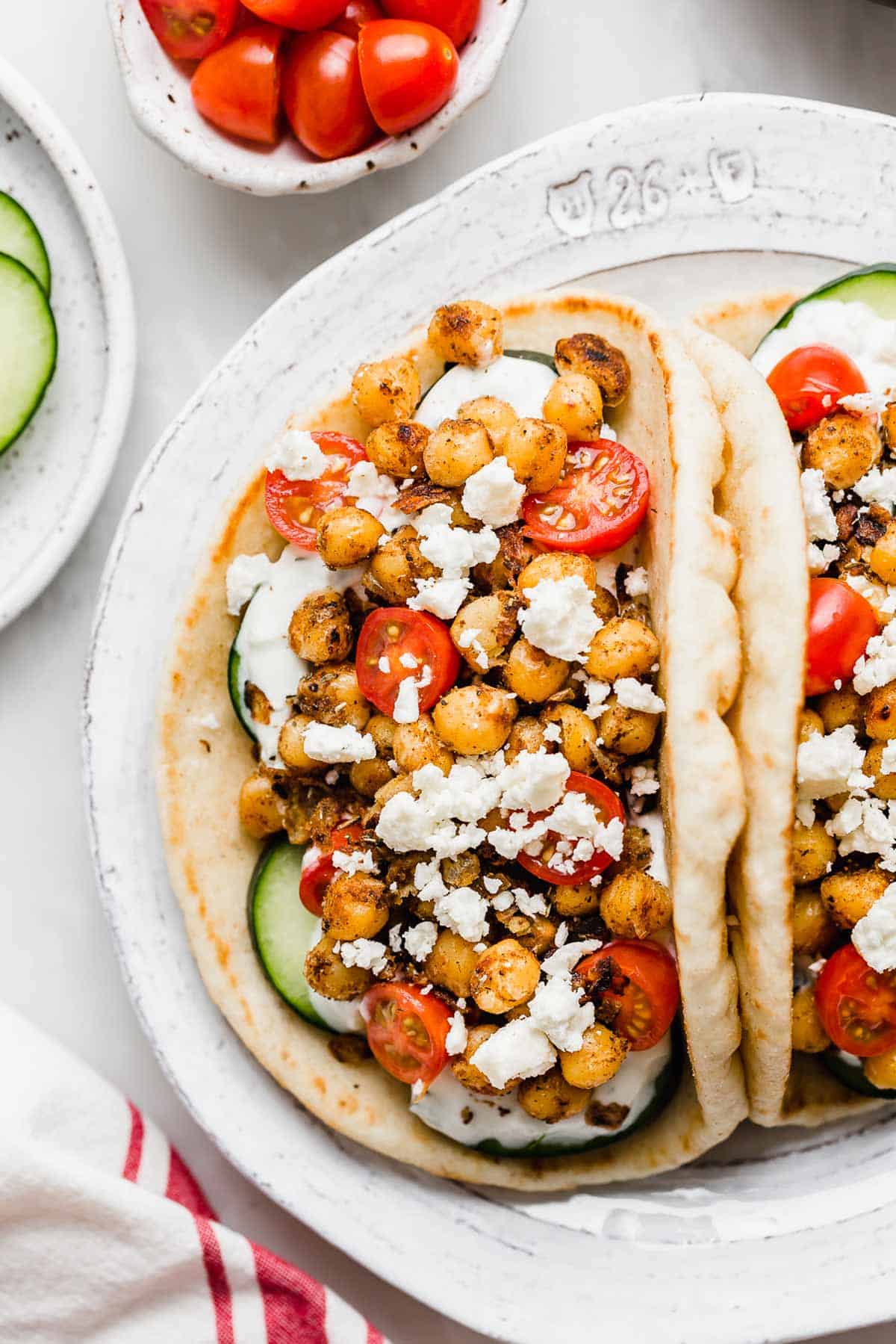 More Delicious Recipes
Chickpea Gyros
A flavor-packed vegetarian gyro recipe.
Ingredients
2

tablespoons

olive oil

15

oz

can of chickpeas

-

drained

1/2

cup

yellow onion

-

diced (see notes)

1

teaspoon

dried oregano

1/2

teaspoon

dried rosemary

1/4

teaspoon

garlic powder

kosher salt

fresh cracked black pepper
For Serving
Greek flat bread

Tzatziki sauce

fresh cucumbers

-

chopped

crumbled feta cheese

grape or cherry tomatoes

-

halved
Instructions
Place the drained chickpeas on a large paper towel. Do your best to dry them thoroughly. 

Heat the oil in a large skillet over medium high heat. Once the oil is sizzling add the chickpeas and the diced onion to the pan and season with salt and pepper. 

Cook the chickpeas for 5-8 minutes, stirring frequently (to prevent them from burning). 

Reduce heat to medium and add the oregano, rosemary, and garlic powder. Stir to combine until the chickpeas are evenly covered. Continue cooking the chickpeas until they are crispy but not burned. 

Remove from heat and serve the chickpeas on Greek flatbread topped with tzatziki sauce, cucumbers, chopped tomatoes and crumbled feta cheese. 
Notes
Alternatively, you can leave out the diced onion when cooking the chickpeas and add raw onions for topping the gyros. (But I'm not the biggest fan of raw onion, so I opted to cook them with the chickpeas). 
Nutrition facts based per serving. Nutrition facts does not include the "for serving" ingredients. 
Did you make this recipe?
Leave a star rating and review on the blog post letting me know how you liked this recipe! Take a picture and tag @saltandbaker on Instagram and Facebook so I can see what you're making!