Tzatziki Recipe
This post may include affiliate links. As an Amazon Associate I earn from qualifying purchases.
This authentic Tzatziki Recipe is homemade with grated cucumbers, fresh dill and plain greek yogurt. It's creamy, delicious and great on more foods than just gyros!
It's common knowledge that Tzatziki goes great on gyros, but there are so many additional options for this yummy Greek sauce. We love serving it with my Greek Chicken Gyros, Lamb Gyros, and Chickpea Gyros, but you can use it as a dip for fresh vegetables like cucumbers, carrots or celery or even pita chips. You can use it on falafel or in wraps or sandwiches!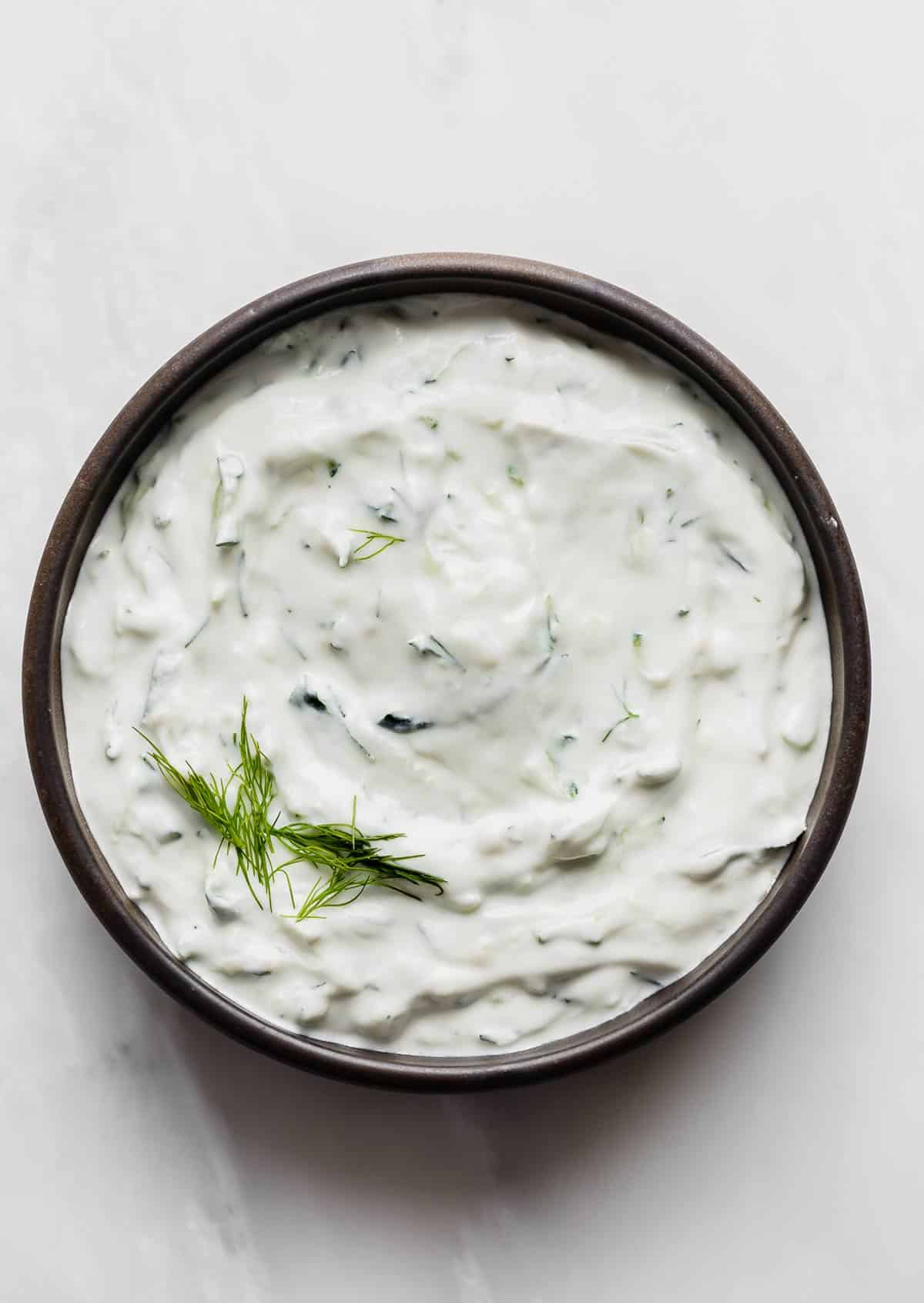 Why This Recipe Works
Authentic tzatziki recipe. I've never been to Greece and had authentic tzatziki sauce, but if I were chilling on Santorini Island eating some authentic Greek food, my creamy sauce would measure up for sure!
Best tzatziki recipe. This is the authentic, real deal, best tasting Tzatziki I've ever had. And I've had a lot of Tzatziki at greek restaurants.
So many ways to use tzatziki sauce. You can serve this delicious cucumber yogurt sauce on gyros, as a salad dressing, on wraps or sandwiches, with meat, or as a dip.
Ingredient Notes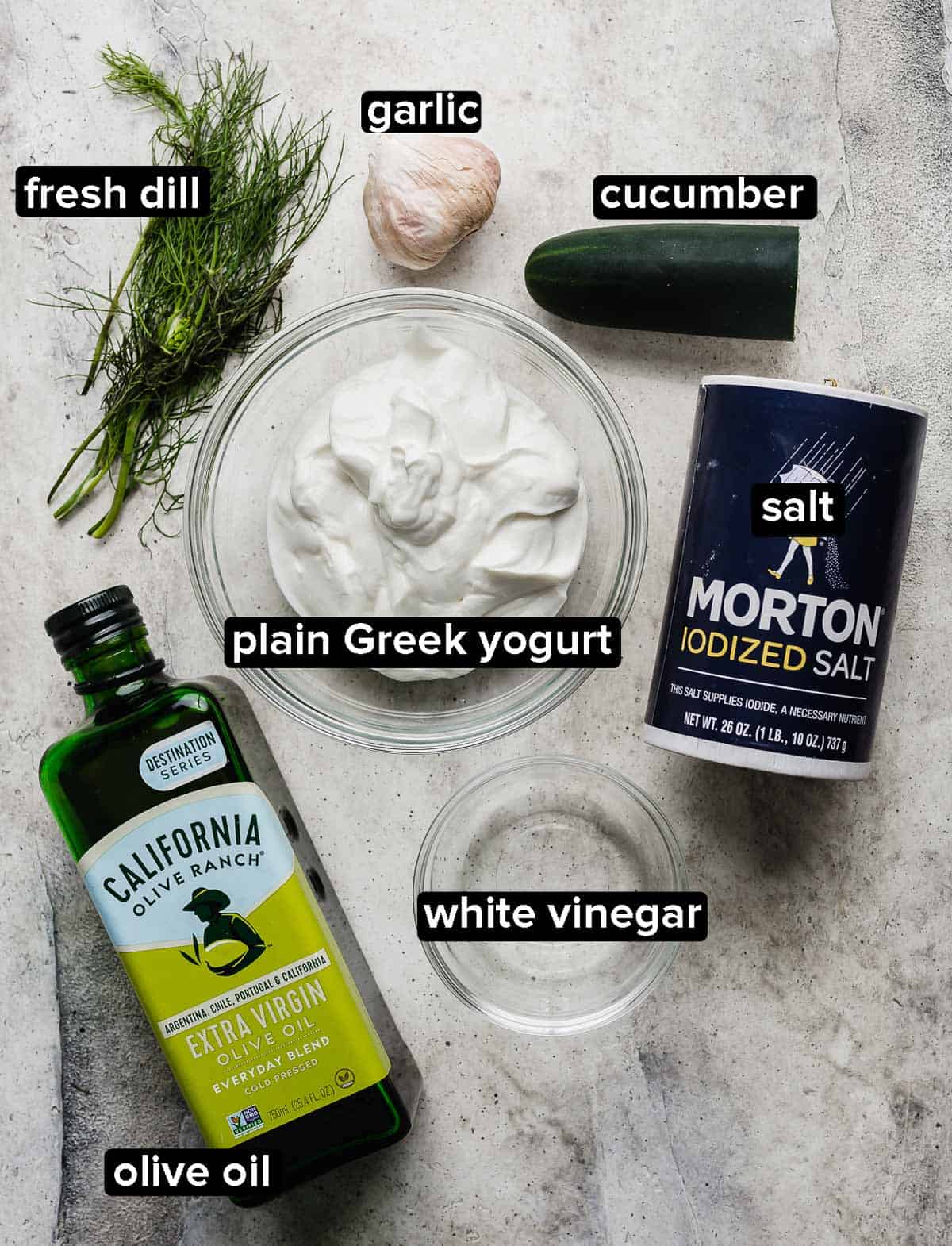 Plain Greek Yogurt: Use low fat yogurt for low fat tzatziki. However, full-fat greek yogurt is also yummy. Either works! You'll want the thick Greek yogurt though instead of regular yogurt.
Extra Virgin Olive Oil: The olive oil adds a nice flavor to the tzatziki sauce recipe.
Vinegar: I love using vinegar in this tzatziki recipe instead of fresh lemon juice because I feel like the lemon can overpower the cucumber and dill flavor.
Fresh Dill: If you don't have fresh dill, you can use dried dill. I love using fresh herbs because you get a stronger flavor.
Fresh Cucumber: Be sure to fully wash the cucumber before grating it. You can leave the skin on.
Step-by-Step Instructions
Combine all ingredients except for the cucumber. To a medium bowl combine 1 1/2 cups Plain Greek Yogurt, 2 tablespoons olive oil, 1 tablespoon white vinegar, the minced garlic, and 1/2 tsp salt. Mix to combine. Store in the fridge overnight for best flavor (if desired).
Remove excess water from the cucumbers. Take the grated cucumber and place in several layers of paper towels. Wring out any excess liquid over the sink.
Add cucumber and dill. Add the drained cucumber and 1 tablespoon fresh dill. Stir to combine. Serve this cucumber sauce chilled!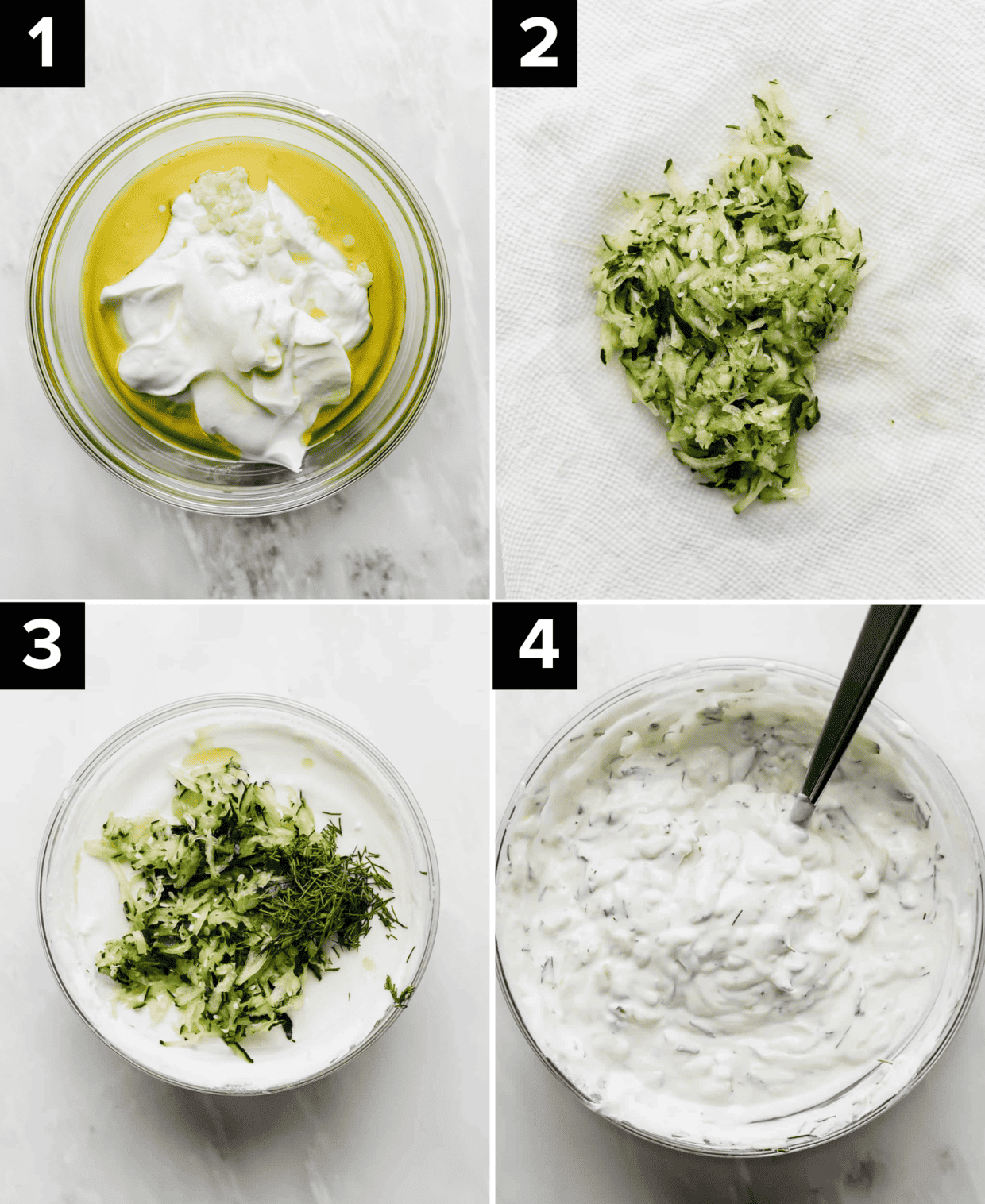 Recipe Tips
Letting the yogurt mixture sit in the fridge overnight will help the flavors deepen more. But if you don't have time, it's still delicious made same day.
Use a box grater to grate the cucumber.
Tzatziki dip is a great dipping sauce or spread when you are looking for a healthier option.
You can use regular cucumbers or English cucumbers. English cucumber typically have less seeds (and smaller), and they tend to not have as bitter of an aftertaste.
If you find the dip is too runny, removing the seeds from the cucumber next time will help eliminated excess moisture.
Make Ahead, Storing, and Freezing
You can make the homemade tzatziki sauce recipe days in advance. The tzatziki recipe will keep in the fridge for 3-4 days.
Store this recipe for greek tzatziki in an airtight container.
While you can freeze this sauce, keep in mind the yogurt-based dip may separate once frozen and thawed.
Recipe FAQs
Where does tzatziki sauce come from? 
I figured you guys would ask this question, so I did some reading. It looks like tzatziki sauce is the Greek adaptation for the Indian raita sauce. It's dated back to the Ottoman empire (which was established in the 13th century!) You can read up more about it from The Traveling Cook Abroad. Although mostly associated with Greek food, it is commonly used in many Mediterranean recipes.
What to serve with tzatziki sauce?
We love serving tzatziki sauce with gyros. It's also delicious to serve with meat or fish, served with falafel, in wraps, on burgers, sandwiches, or even as a dip with veggies, chips or pita bread.    
Is tzatziki healthy? 
Tzatziki sauce is known as being "healthy" since it is low in fat and low in calories. Use a nonfat yogurt for a healthy tzatziki sauce.
Is tzatziki sauce dairy free? 
I'm sure there are dairy free tzatziki sauce recipes out there, but tzatziki sauce is most commonly made with a yogurt base. You'd have to find a dairy-free yogurt to make this recipe dairy free.
Is tzatziki sauce gluten free? 
Most yogurts are gluten free, so yes, but I would double check the ingredients list on the Greek yogurt brand you buy just to make sure, though! Better safe than sorry in my book. 
Why is my tzatziki sauce watery? 
If you find that your tzatziki sauce is watery, it's probably because you either didn't squeeze the water out of your grated cucumbers or you didn't squeeze out enough water. This is an important step, so make sure you get all that water out. This will make it less watery.
Can tzatziki sauce be frozen? 
Since the level of dairy in this recipe is low, you can freeze this sauce. However, the sauce may separate once thawed from the dairy in the Greek yogurt. Also, cucumbers can become a bit mushy after being frozen, so keep that in mind. With everything else, once frozen, consistency can be affected.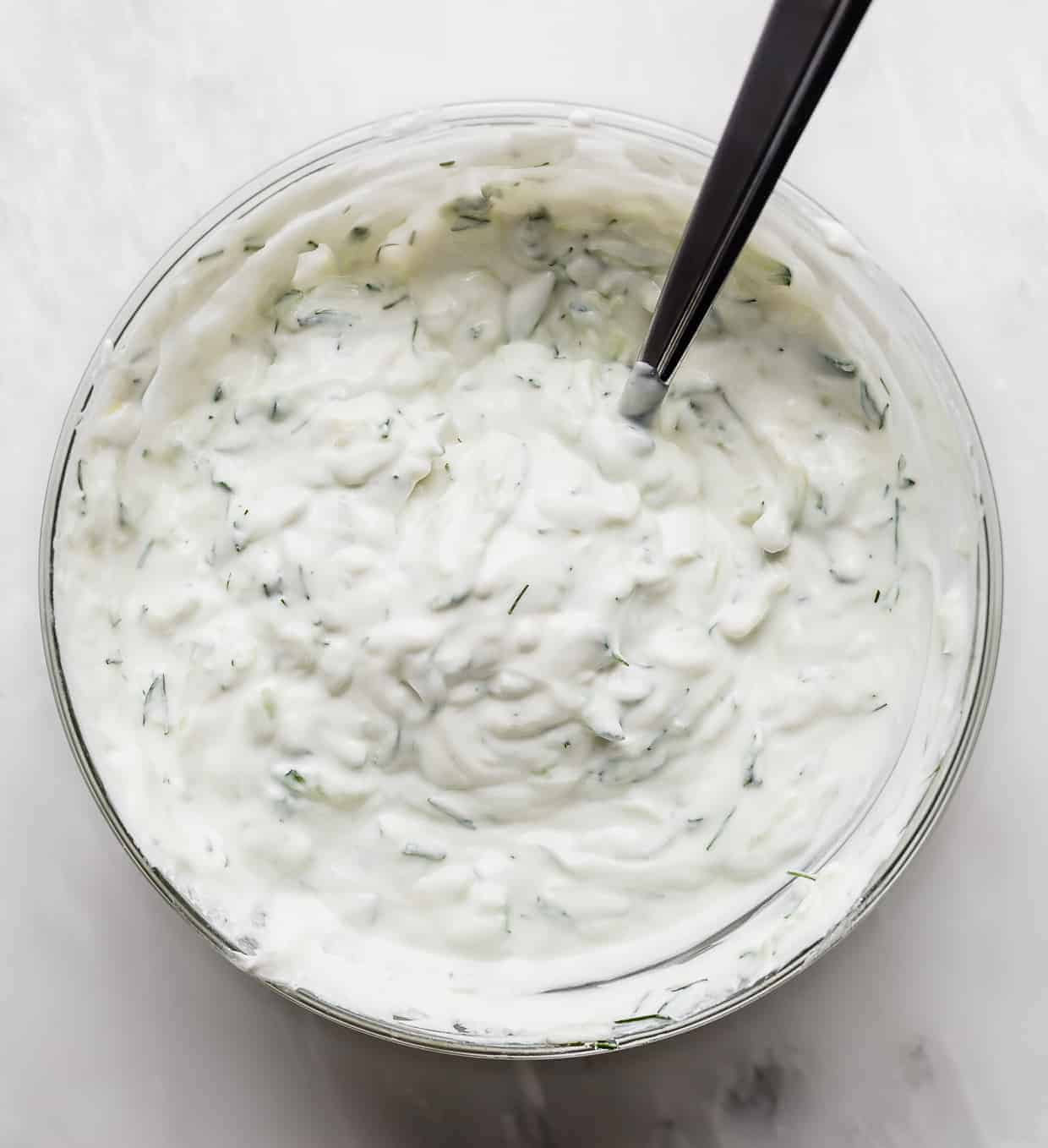 Recipes to Serve with Tzatziki
Tzatziki Recipe
Authentic tzatziki sauce (seriously tastes SO good!!) that you can use for dipping, with gyros, on wraps, sandwiches… so many options!!
Ingredients
1 1/2

cups

plain Greek yogurt

2

tablespoons

olive oil

1

tablespoon

white vinegar

2

garlic cloves

-

minced

1/2

teaspoon

salt

1

tablespoon

fresh dill

-

chopped

1/2

large

cucumber

-

unpeeled, grated, and squeezed to drain excess liquid
Instructions
In a medium sized bowl stir together the yogurt, olive oil, vinegar, garlic and salt. Cover and refrigerate overnight. (This will help the flavors develop!)

Place the grated cucumber between several paper towels and wring out the excess liquid over a sink. After doing that, stir the grated cucumber and fresh dill into the sauce. Serve chilled. 

You can make this in advance. Once made cover and store in the fridge for 3-4 days.
Notes
If crunched for time you can mix all of the ingredients together and serve the same day you make it. However, letting the ingredients meld overnight does wonders!
Did you make this recipe?
Leave a star rating and review on the blog post letting me know how you liked this recipe! Take a picture and tag @saltandbaker on Instagram and Facebook so I can see what you're making!